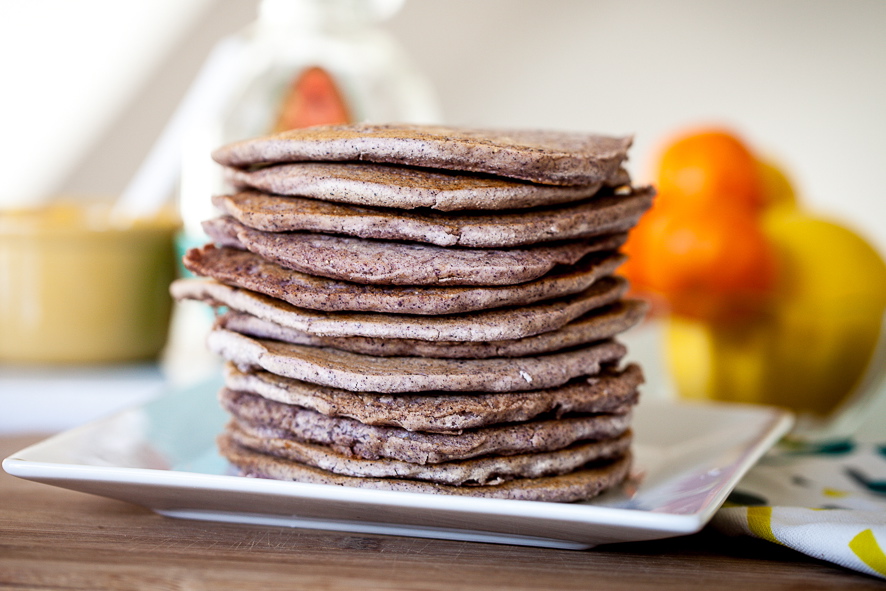 One of my favorite games to play with the twins is "Guess the Secret Ingredient."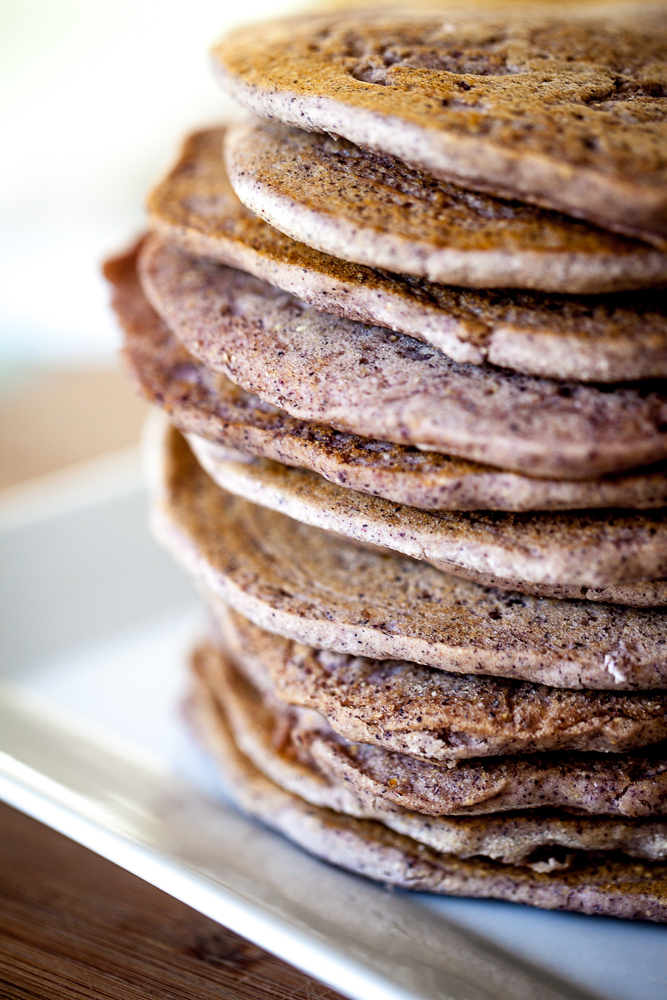 Maxwell and Sophia, I learned early on, will willingly try new foods as long as they do not know the ingredient list.  For example, if I told them ahead of time that there was cauliflower in their quesadillas, they never would've touched them.  However, if they go in under the assumption that they are your ordinary quesadillas, they'll eat it enthusiastically.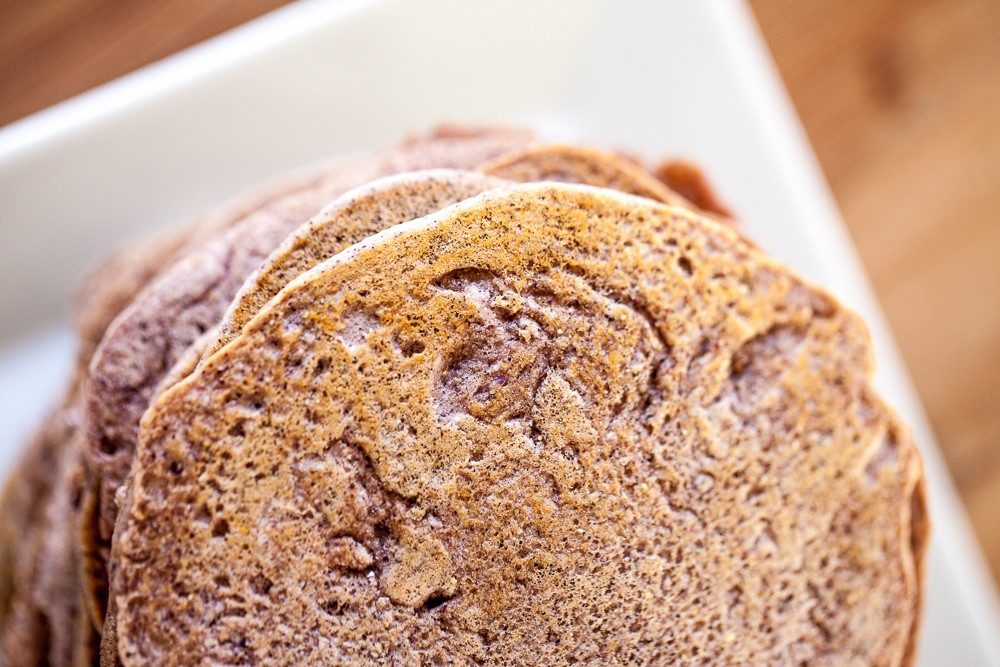 It has become our Sunday morning routine to make a variation of a normal breakfast item (pancakes, waffles, french toast, scrambles, etc.), incorporating an out of the ordinary (for them) ingredient.  The topic of conversation for the duration of the meal consists our game of "Guess the Secret Ingredient."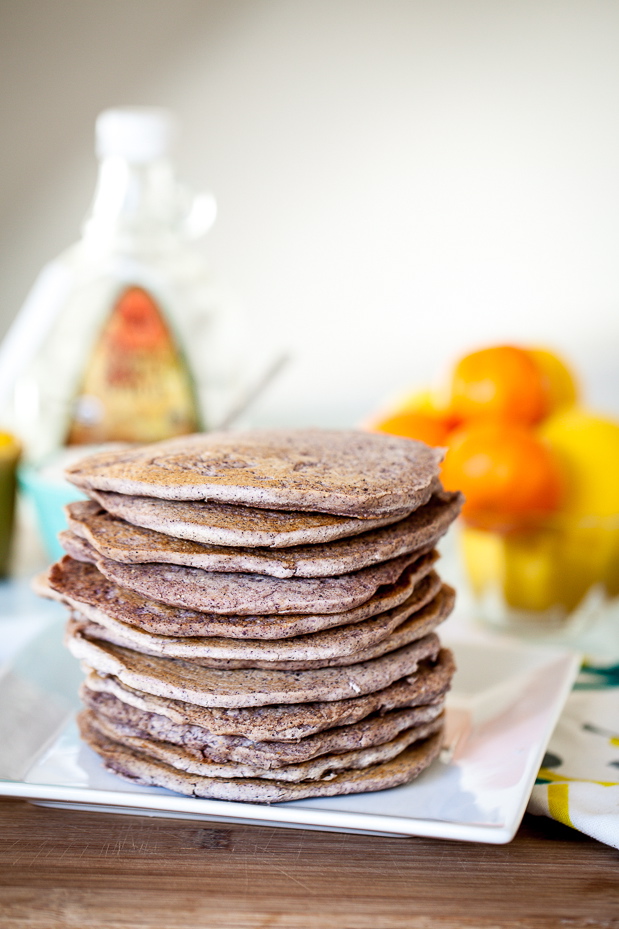 The twins will ask yes and no questions ("Is it a fruit?," "Is it a spice?," "Is it a type of wood?") and make guesses ("Is it cinnamon?," "Is it pinecones?," "Is it banana?"), and I will respond accordingly ("No," "No," "No," "There is cinnamon, but that's not the secret ingredient," "What?," and "No.").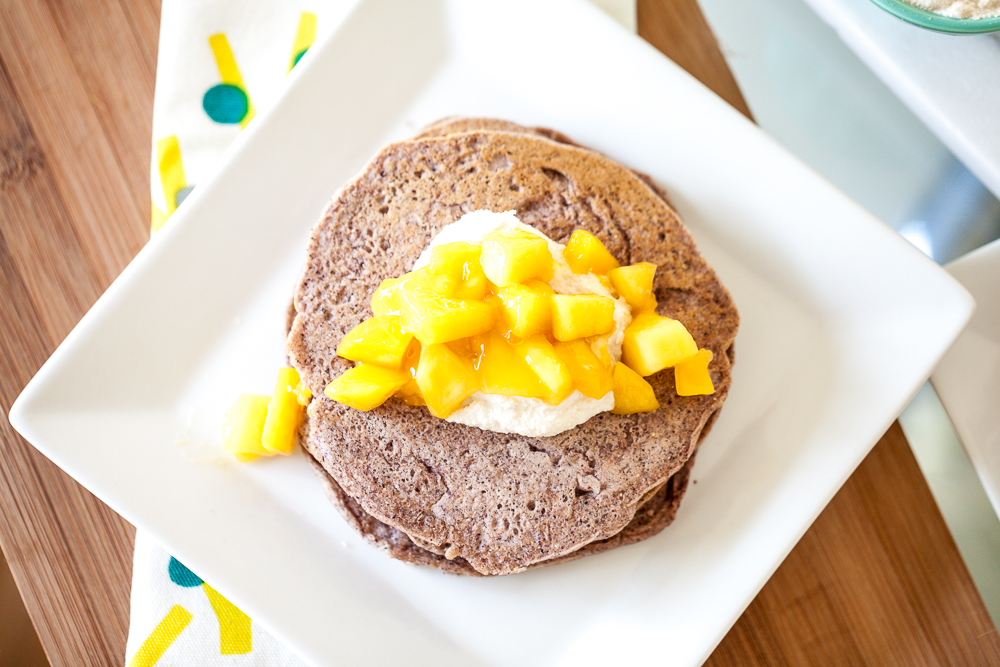 Most recently, the secret ingredient was blue cornmeal.  Both Max and Sophie were confused by the light blue hue of these puffy pancakes.  The obvious first guess was blueberries.  It was also the fifth, thirteenth, and twenty-secondth guess, in what seemed to be a hope that I had changed my mind about what the actual secret ingredient was.  Other guesses included raisins, potato, raspberries, a blue-type of plastic, grapes, green eggs and ham, and blueberry juice.  When Sophia had finished and Max only had a few bites left, they asked for a hint.  I told them it was a grain that was often confused as a vegetable.  Still baffled, I told them it becomes very popular around Thanksgiving.  Sophia guessed it immediately.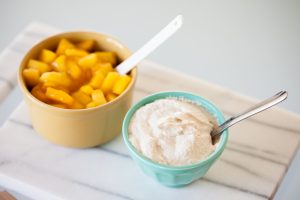 These pancakes are perfect with a simple spread of vegan butter and a bit of maple syrup, though Max enjoys all of his pancakes plain and Sophie likes hers with some homemade cashew butter.  Because I like to get a little adventurous, I made some sweet, tangy cashew ricotta and bright mango sauce to top these hearty blue corn pancakes.  It was the perfect combination and so incredibly filling.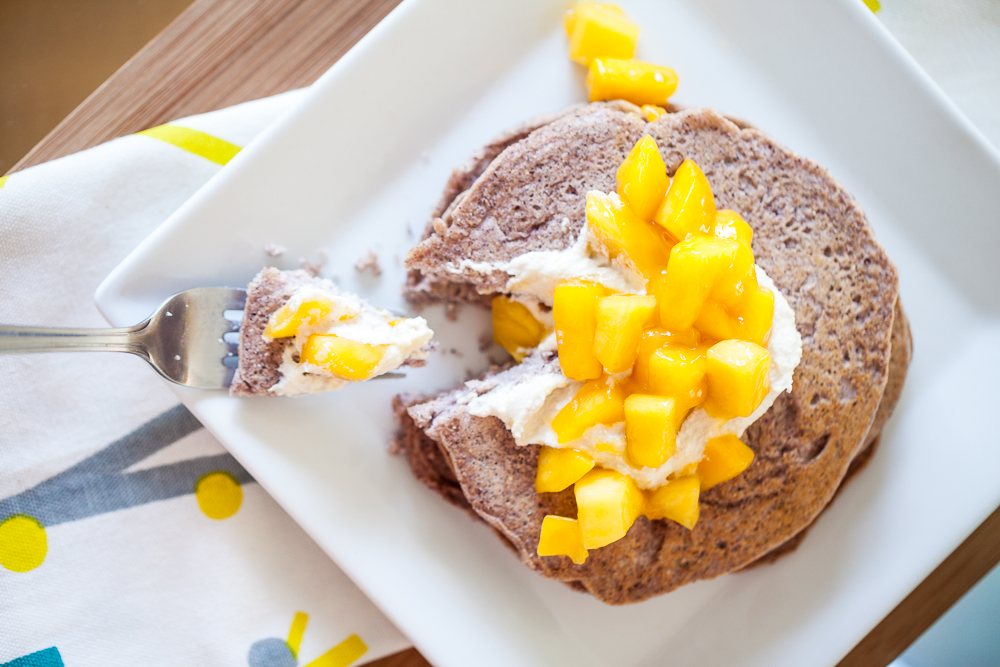 Whether you are looking for a healthy, hearty, delicious-yet-filling break from your normal weekend brunch or you need something to stump some youngins in a round of "Guess the Secret Ingredient," these pancakes are the perfect choice.  I recommend using them for both, even if it means having to find some random kids to serve breakfast to.  Wait, actually, don't do that.
Blue Corn Pancakes with Sweet Cashew Ricotta and Mango Sauce
Ingredients
For the Pancakes: wet ingredients

2 cups almond milk (or other non-dairy milk)
1 tablespoon apple cider vinegar

For the Pancakes: dry ingredients

1 3/4 cups blue cornmeal
3/4 cup gluten-free flour blend(I used Cara's)
3 tablespoons coconut sugar
2 tablespoons Ener-G Egg Replacer
2 tablespoons baking powder
1 teaspoon salt
dash of nutmeg

For the Sweet Cashew Ricotta

1/2 cup raw cashews, soaked for 1 hour or overnight
3 tablespoons of the cashew-soaking water
2 tablespoons fresh lemon juice
1 packet of stevia or 1 teaspoon vegan sugar
dash of cinnamon
1 1/2 cups mango, diced small (I used frozen)
1/2 cup water
1 tablespoon fresh lemon juice
1 tablespoon maple syrup
1 teaspoon arrowroot powder
Instructions
Make cashew ricotta before everything else. Combine all ingredients in a food processor and process until smooth. Refrigerate until ready to use.
Combine all ingredients in a small pot and bring to a boil. Once it begins to boil, lower to a simmer. Let it simmer, stirring frequently, until it becomes thick and sauce-like, about 6-8 minutes. Remove from heat.
Combine the milk and apple cider vinegar and allow to curdle for about 5-10 minutes.
In a large bowl, whisk together all dry ingredients. Once the milk has curdled, add to the dry ingredients and mix until just combined. Allow to sit for 10 minutes before cooking.
Heat a large pan over medium/low heat for a couple minutes. Very lightly spray the pan with vegan cooking spray and use a measuring cup (1/4 cup or 1/3 cup), also lightly sprayed with cooking spray, to pour the batter into the pan. Don't overcrowd the pancakes, giving them enough room to spread as needed. Remember to respray the measuring cup and the pan in between pancakes. Once the pancake edges begin to lift up, after about 3-4 minutes, flip the pancake and let cook for another 2-3 minutes. Remove from heat.
If not serving immediately, let rest on a cooling rack, covered with a clean kitchen towel or aluminum foil. Top the pancakes with the cashew ricotta and mango sauce or just maple syrup and serve. Enjoy!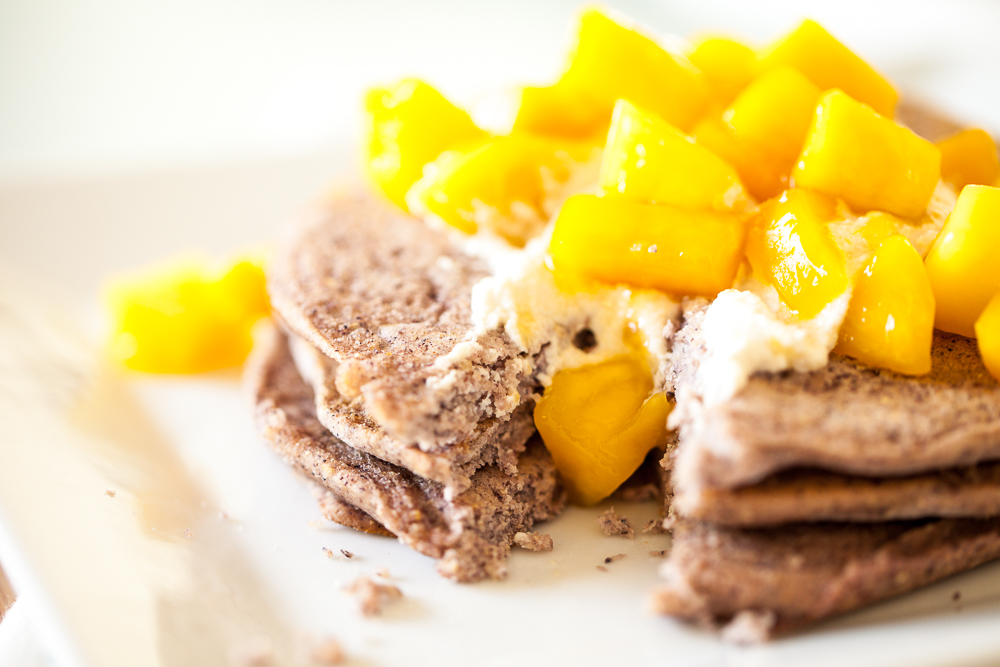 Photography by Chris Miller