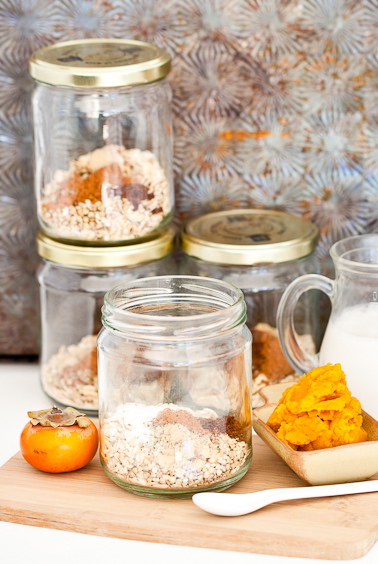 Over the summer, I became pretty attached to my morning acai bowl.  When I began working again, I realized I had forgotten how to make the breakfast I'd made every morning for about four years prior to the acai bowl: oatmeal.  Making oatmeal felt strangely foreign to me and I had to struggle to remember how to do what used to be second nature.  In the morning, I have about three minutes to make breakfast and pour coffee in my to-go cup.  Since the time it was taking me to figure out how much almond milk I was supposed to add to the oats was taking up most of that three minutes, I needed to come up with a better solution.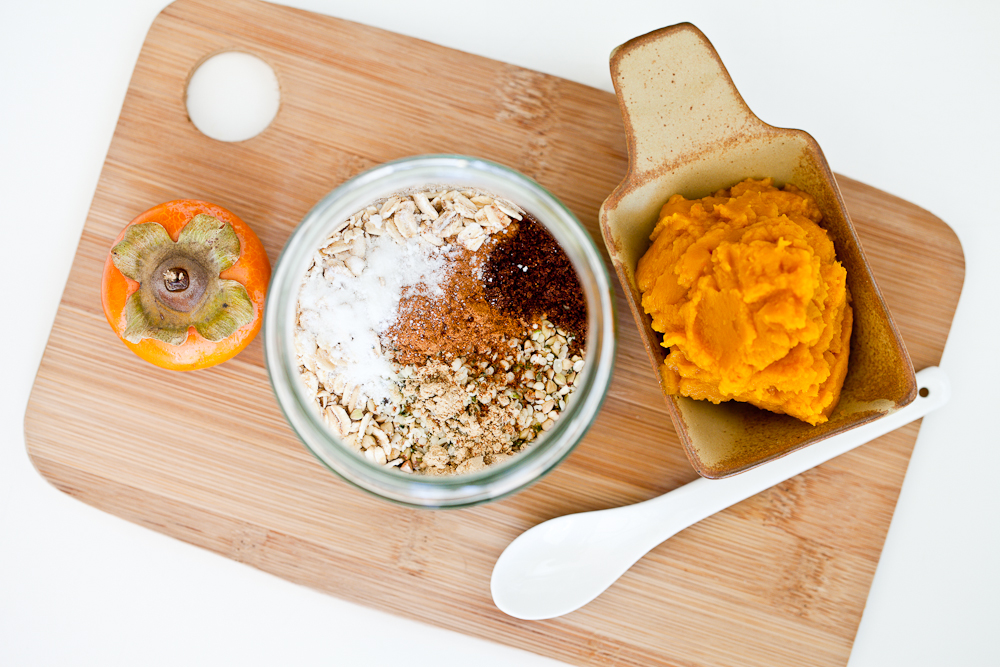 I decided that I should check out this whole "overnight oats" that everyone was raving about.  I love the thickness the oatmeal gets from soaking in milk overnight, so I decided to play around with different flavors.  It all began to come back to me.  Soon, I was preparing 5 jars of oats and spices every Sunday.  All I would have to do is add milk and fruit each night so I would have breakfast in the morning.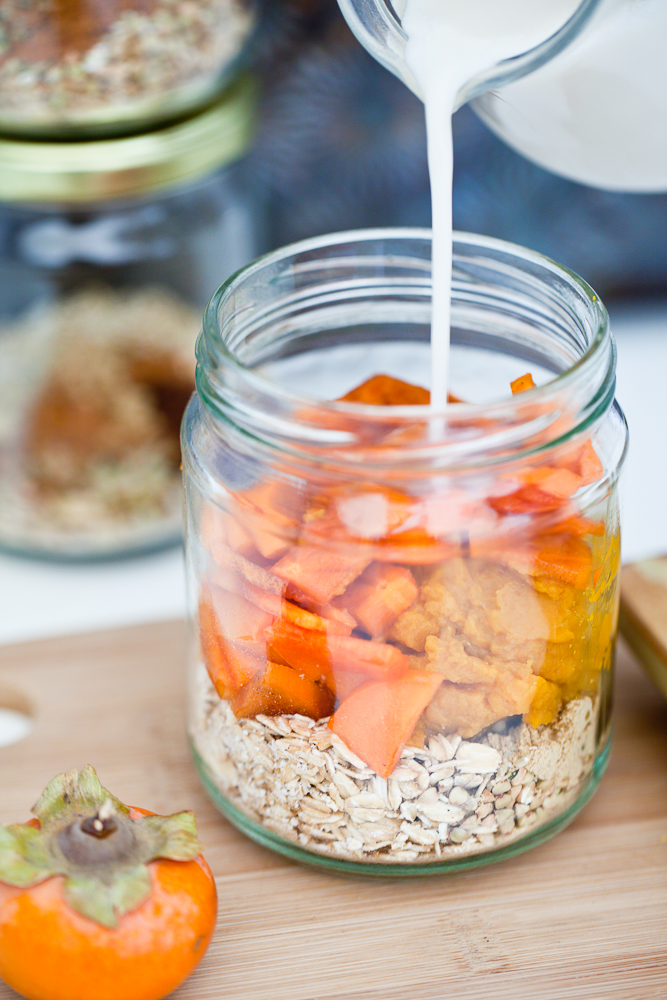 I started adding pumpkin to the mix and though it was fantastic, it was still missing something.  Then my CSA sent persimmons.  Persimmons are by far, my favorite fall fruit and that Sunday night, when I was adding pumpkin and milk to my jar of oats, the persimmon went in too.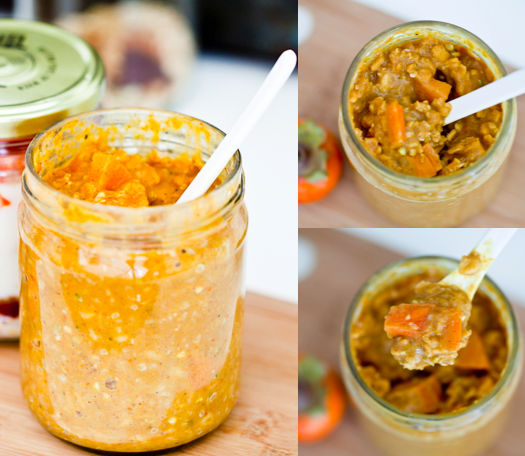 The next morning, after my three minute whirlwind of microwaving and coffee pouring, I grabbed my pumpkin persimmon oatmeal and headed out the door.  The bright, sweet, juicy bits of persimmon mixed with the rich, cinnamon-scented pumpkin was just what I was looking for.  It felt like an indulgence, a Thanksgiving-type dessert almost, disguised as a healthy breakfast.  The fact that it's almost effortless to prepare makes it even better.  It's like autumn in a jar.  Warm, delicious, pumpkiny autumn in a jar.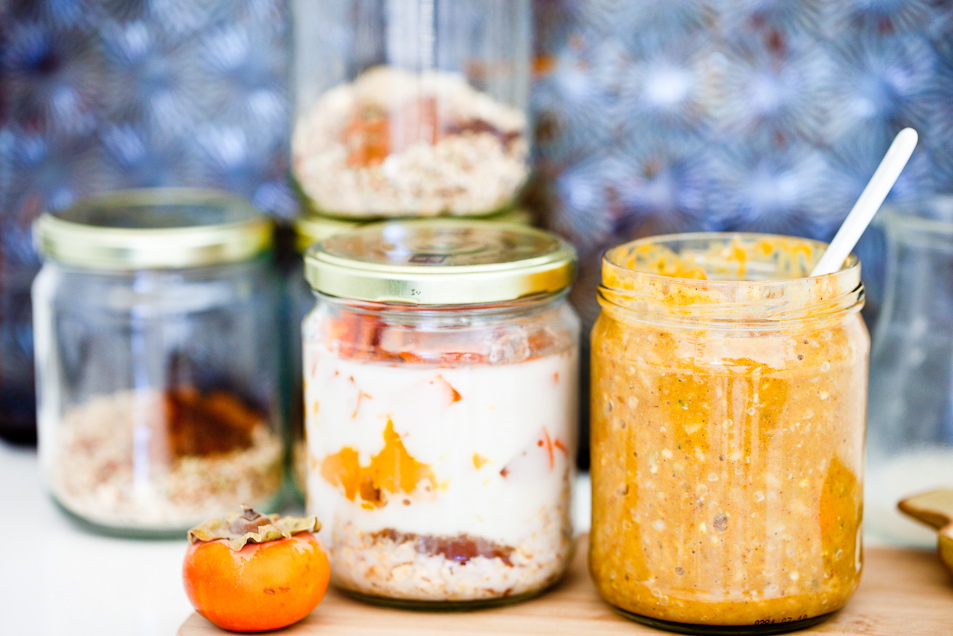 Pumpkin Persimmon Overnight Oats
Ingredients
1/3 cup rolled oats (certified gluten-free if necessary)
1 tablespoon buckwheat groats
1/2 tablespoon hemp seeds
1 packet of powdered stevia
3/4 teaspoon cinnamon
1/2 teaspoon ginger
1/4 teaspoon cloves
couple dashes of nutmeg
pinch of salt
1/3 cup pumpkin puree
1 cup of almond milk, or other vegan milk
1 persimmon, diced
1 teaspoon blackstrap molasses
Instructions
Add all dry ingredients to a jar or container with an airtight lid. Put the lid on and shake to combine.
Add the wet ingredients, reapply the lid and shake to combine again. Refrigerate overnight, or at least an hour. You can eat it cold, or heat it in the microwave (I do 1 minute and 30 seconds, stir, then heat for 1 more minute). Top with chopped nuts (I like pecans), cacao nibs, coconut, or whatever topping you're into. Serve hot and enjoy!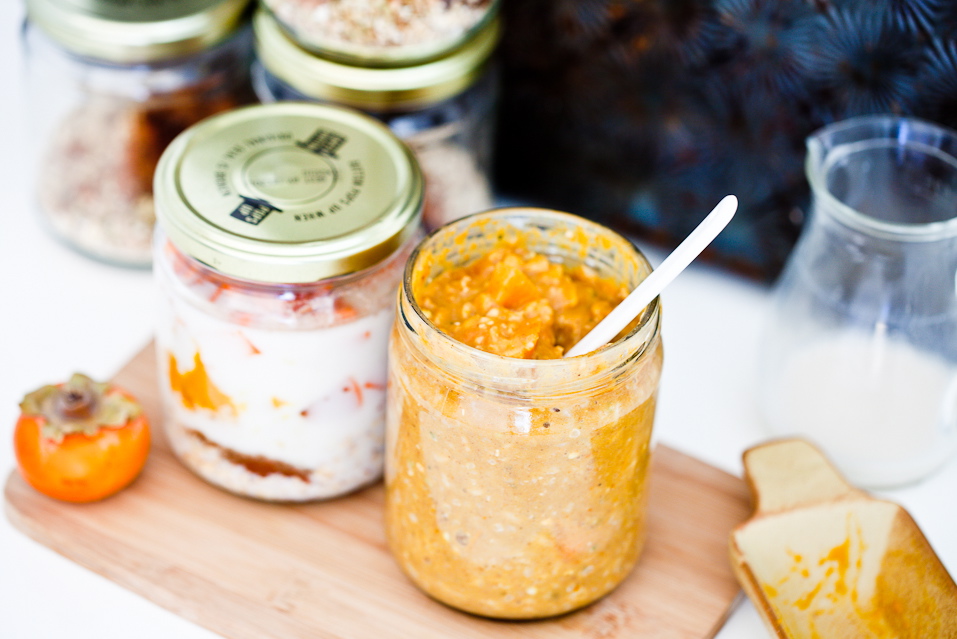 Photography by Chris Miller