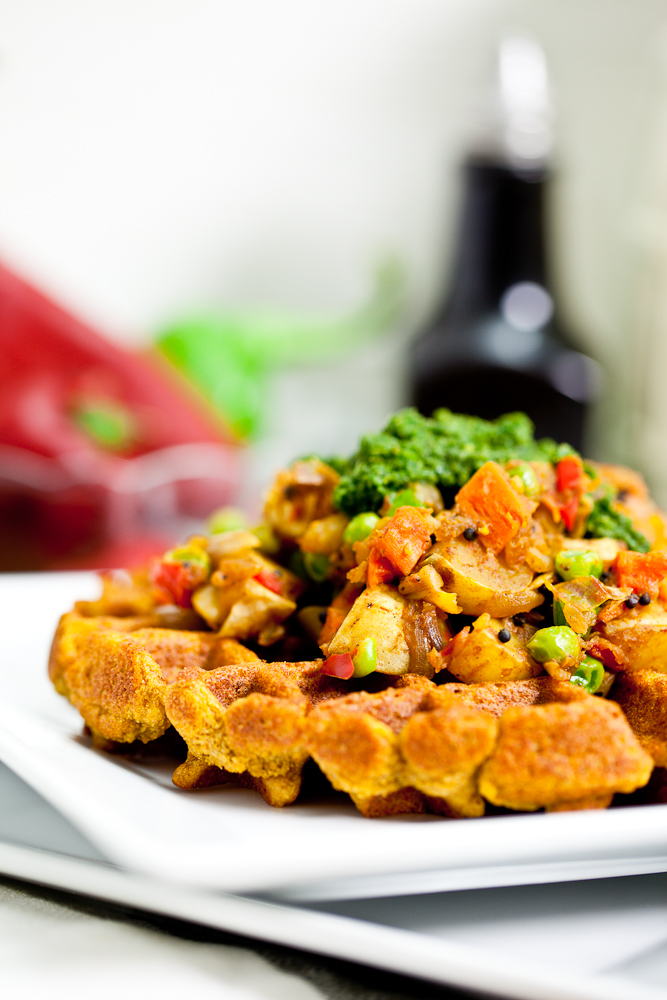 The other day, The Chickpea and I were trying to decide what to have for dinner.  He wanted Indian, but I was in the mood for breakfast. Breakfast for dinner.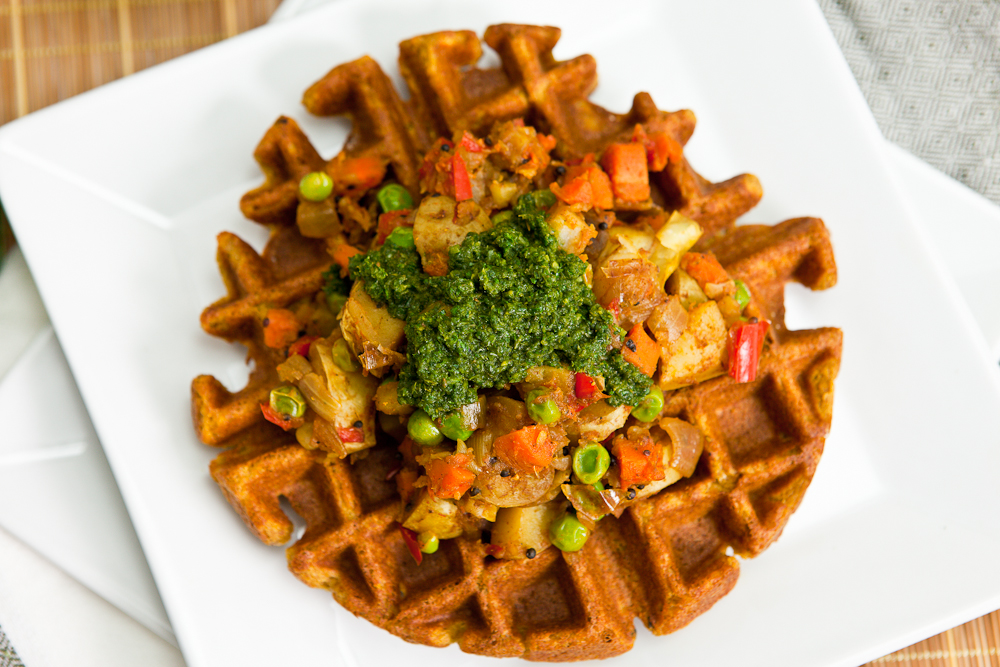 Breakfast for dinner is one of my most favorite things in the world, but relationships are about compromise (as I've been told), right?  Also, some beans people seem to think that "it can't always be about me," so it seemed that a stack of pancakes was not in the cards for my dinner that night.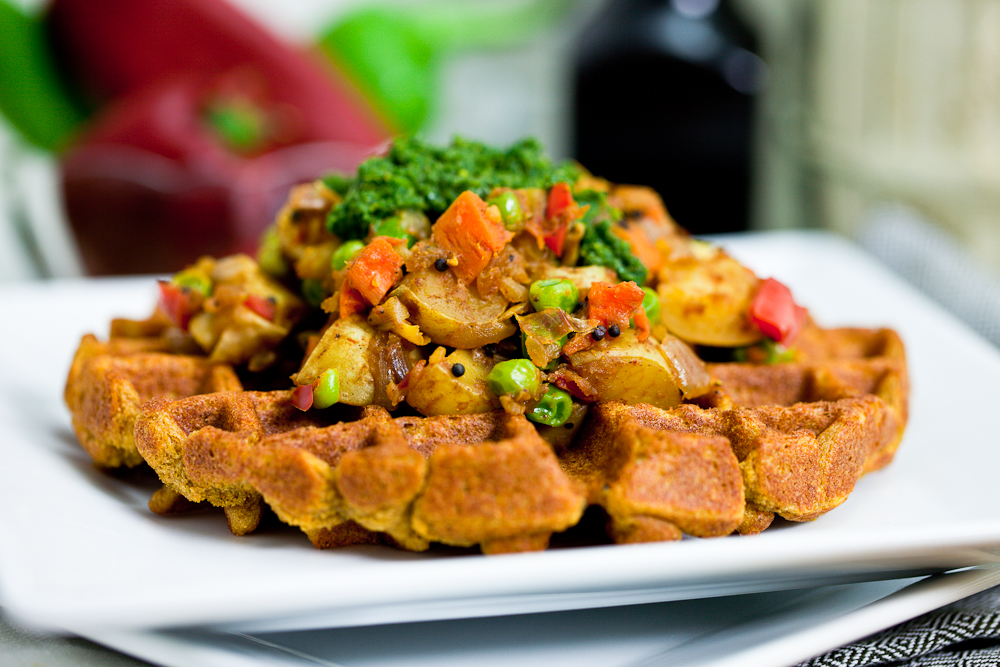 This recipe has been boiling up inside me ever since my Green Onion Chickpea Waffles.  I kept putting off trying them out because "I need to use up those vegetables I got last week" or "I'm craving _____ right now."  Given our different preferences for dinner and my wanting to be a good partner, I decided to step up to the plate (pun intended?).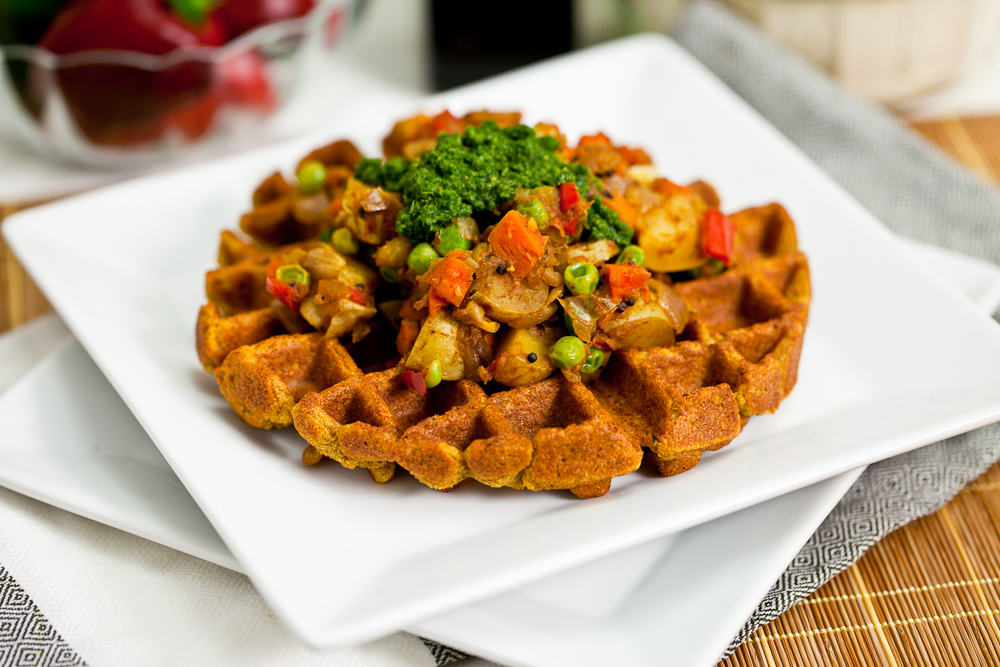 There is something about savory waffles that just warms your soul and makes you feel like you're indulging in a brunch classic while eating a healthy, satisfying meal.  With chana masala spices, these waffles are spicy and filled with robust flavor, making this meal even more satisfying than your typical "breakfast for dinner" entrée.  Since syrup obviously wasn't a viable topping option for these savory gems, I opted for a spin on one of my most favorite Indian potato dishes- samosas.  Sautéed with onion, bell pepper, carrots, peas, and lots of spices, then slightly mashed, these potatoes were the perfect sidekick to my spicy waffles.  Since neither the waffles or the potatoes are too hot, a jalapeno-filled cilantro mint chutney put these waffles over the top.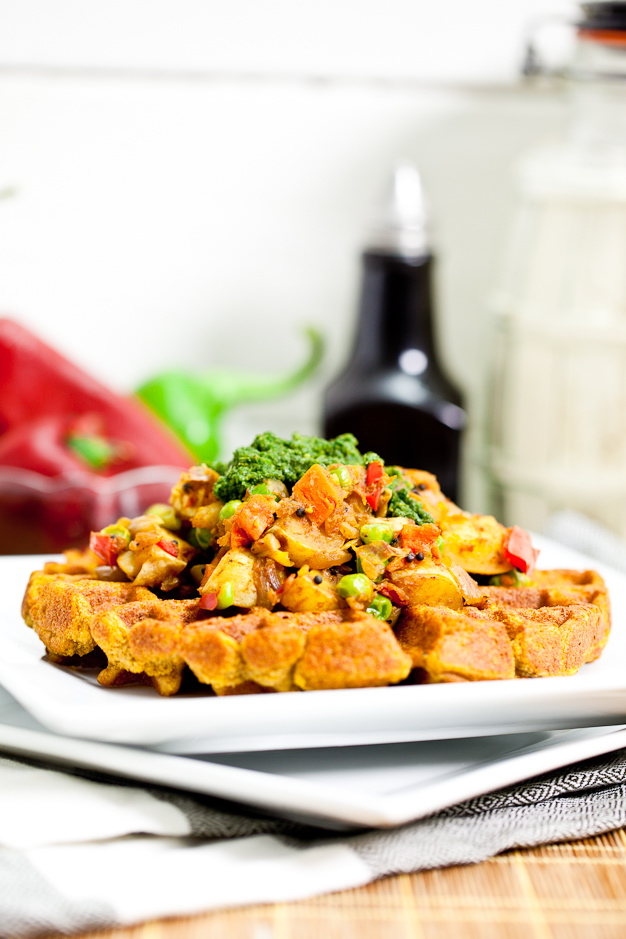 When we sat down for dinner, The Chickpea scrunched up his nose, because this was not the typical Indian food he had been expecting, but after one bite, he was completely on board with my "compromise."  In fact, he went back for seconds and thirds!  After we cleared the table and did the dishes, we decided to watch a movie on Netflix.  He wanted to watch that Mr. Bean movie (again) but I was in the mood for an old James Bond flick.  We "compromised" again, much to his favor, and watched (Ok, he watched and I slept through) Johnny English.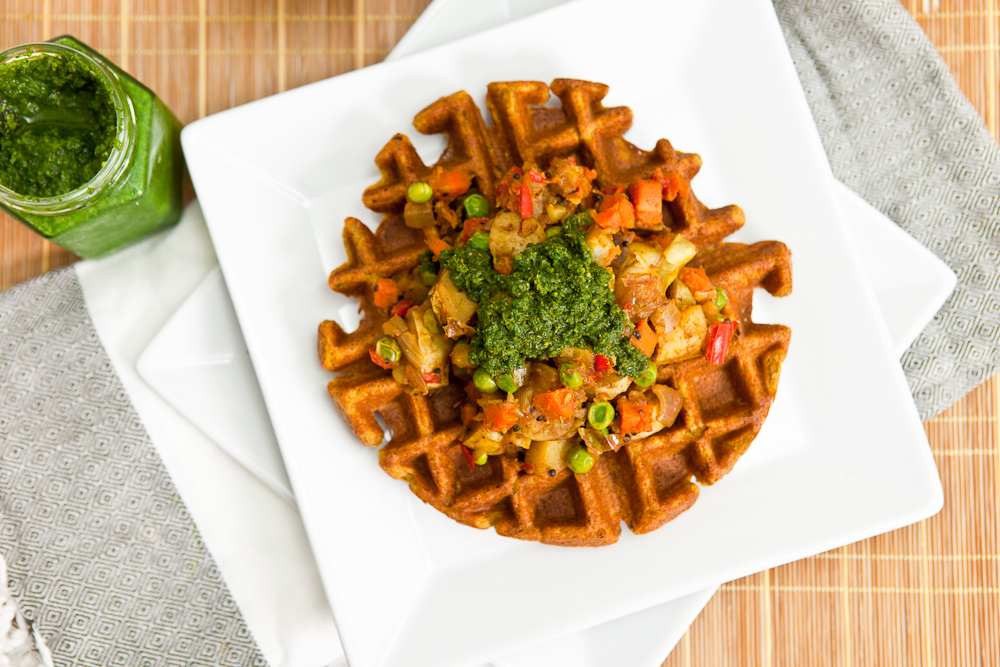 Chana Masala Waffles with Samosa Potatoes and Cilantro Mint Chutney
Ingredients
1 cup chickpea flour
¼ cup nutritonal yeast
1 teaspoon baking powder
1 teaspoon coconut sugar (or other vegan sugar)
1 teaspoon chana masala spice blend
1 teaspoon toasted cumin seeds
½ teaspoon ground cumin
½ teaspoon smoked paprika
½ teaspoon ground coriander
½ teaspoon turmeric
½ teaspoon black salt
½ teaspoon baking soda
pepper to taste
1 clove garlic, chopped
¼ inch ginger, peeled and chopped
1 tablespoon tomato paste
¾ cup milk
2 flax eggs (2 tablespoons flax meal mixed with 6 tablespoons warm water)
¼ cup canola oil
2 teaspoons olive oil
1 lb small golden potatoes, chopped
½ red onion, chopped small
½ red bell pepper, chopped small
½ cup green peas
1-2 cloves garlic, minced
1 carrot, chopped small
1/2 cup vegetable broth
1 teaspoons mustard seeds
2 teaspoons curry powder
1 teaspoon cumin
1 teaspoon ground ginger
½ teaspoon paprika
½ teaspoon ground cardamom
¼ – ½ teaspoon cayenne pepper
salt and pepper to taste
Instructions
Mix the curry powder, cumin, ginger, paprika, cardamom, and cayenne pepper with the vegetable broth in a small bowl. Set aside.
Add the olive oil and mustard seeds to a large shallow saucepan and heat over medium heat until the seeds begin to pop. Add the onion and garlic and sauté until the onion is almost translucent. Add the potatoes, carrot, bell pepper, and vegetable broth/spice mixture and sauté until potatoes and carrots are soft. If the liquid absorbs too quickly, or the potatoes begin to stick, lower the heat and add a bit more vegetable broth to deglaze the pan.
Once the vegetables are soft enough to bite into, remove from heat. Use a masher to very lightly mash the potatoes and vegetables (you still want big chunks, but just slightly smashed). Stir in the peas, add salt and pepper to taste, and cover until ready to use. Enjoy!
Prepare your flax eggs. Set aside.
In a food processor, pulse the garlic, ginger, tomato paste and the milk about 10 times, until mostly smooth (little pieces of garlic and ginger are okay).
In a large bowl, combine your dry ingredients. In a medium bowl, combine the wet ingredients, including the green onion/milk mixture and the flax eggs. Add the the dry ingredients and stir to combine.
Cook waffles according to your waffle maker's instructions. Top with Samosa Potatoes (below) and Mint Cilantro Chutney (I used this recipe). Enjoy!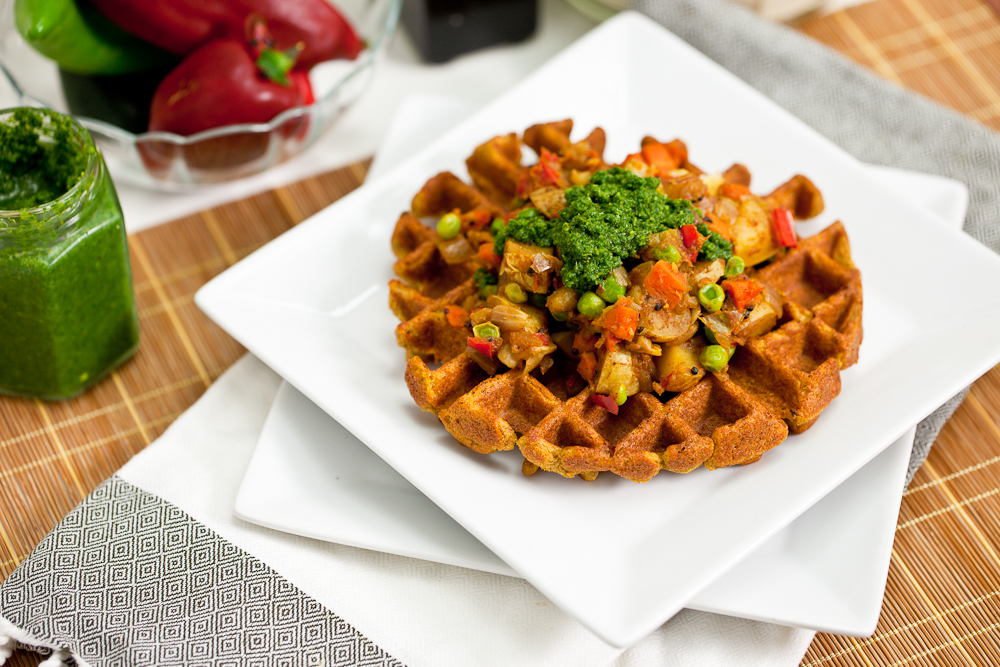 First time here?  Check out the rest of my Chickpea Love Affair Vegan MoFo Entries!
TODAY IS THE LAST DAY THAT YOU CAN HELP US!!!  Keepin' It Kind is participating in the Walk for Farm Animals to give hope to millions of abused and neglected farm animals! Please support me by making a Donation today. Together we can make the world a more compassionate place for animals!  Learn more about Why I am Walking for Farm Animals and join our team!
Photography by Chris Miller