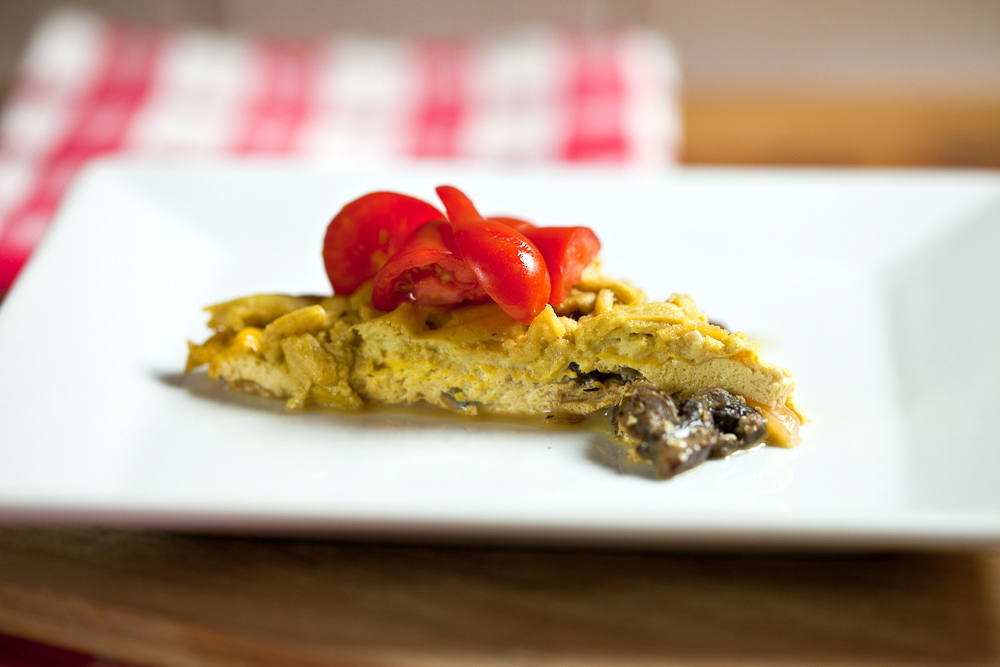 A question I get from my family often is "Don't you miss (insert type of animal-based food here)?"  I always tell them that I do not miss (type of animal food) and I crave new things now.  These days, instead of my old stand-by snack of apple slices and cottage cheese, I really love a great piece of Super Nut Butter Toast.  In the past, I couldn't pass a bowl of super creamy, mayonnaisey potato salad without snagging at least one bite, but now I like my potato salads to be made with pesto.  The truth is that my tastes have changed to prefer the huge variety of foods I have added to my diet since becoming vegan and the few things I have excluded actually turn my stomach a bit.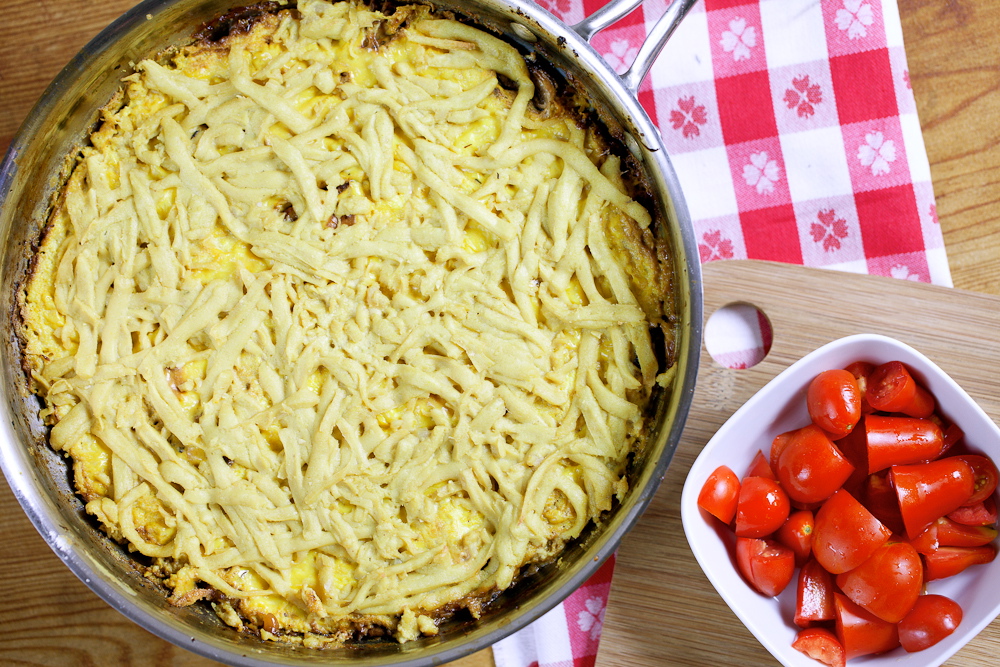 Despite that fact, however, I do love to try new vegan products, even if they were created to resemble animal-based foods.  I know I'm a little late to the party, but I recently was able to score a free package of the Vegg (Vegan Essentials had a deal), the plant-based formula designed to mimic egg yolk, and I couldn't wait to give it a try.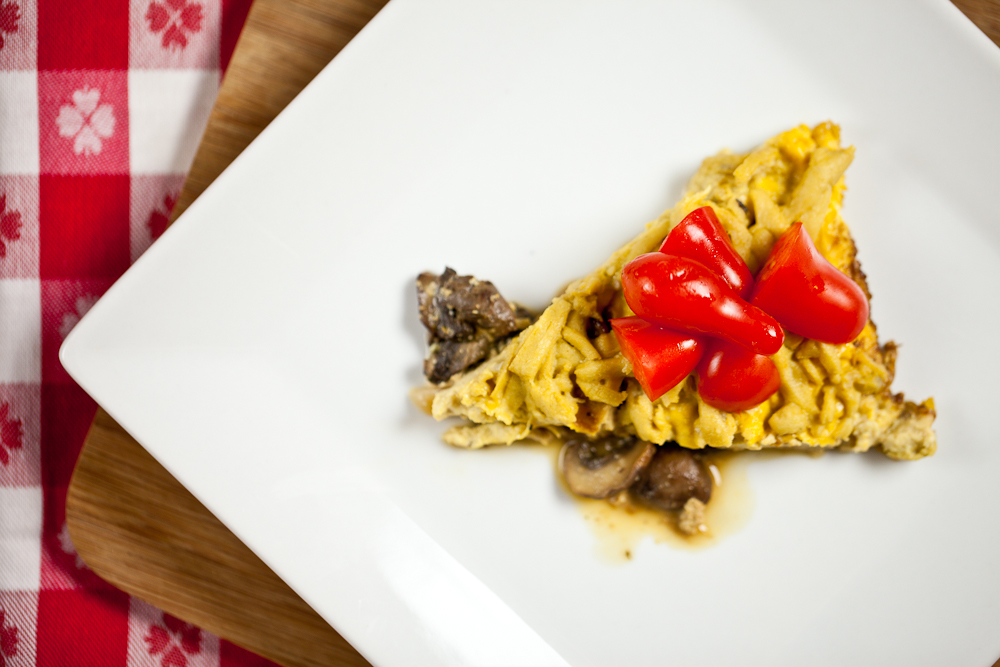 When I first got this product, I had one recipe in mind.  I thought the Vegg was going to revolutionize my world (or at least this recipe), but my inexperience with this product led my recipe idea to be a colossal flop (I'm not going to tell you what it was because I still have an inkling of hope that someday, I will succeed).  I did notice however, once you blend the powdered mixture with water, it smells remarkably like egg.  It's uncanny.  Rather than be discouraged from using the product due to the fact that my trash can was full of a mess that smelled strongly of eggs, I was intrigued to push forward in my experimentation.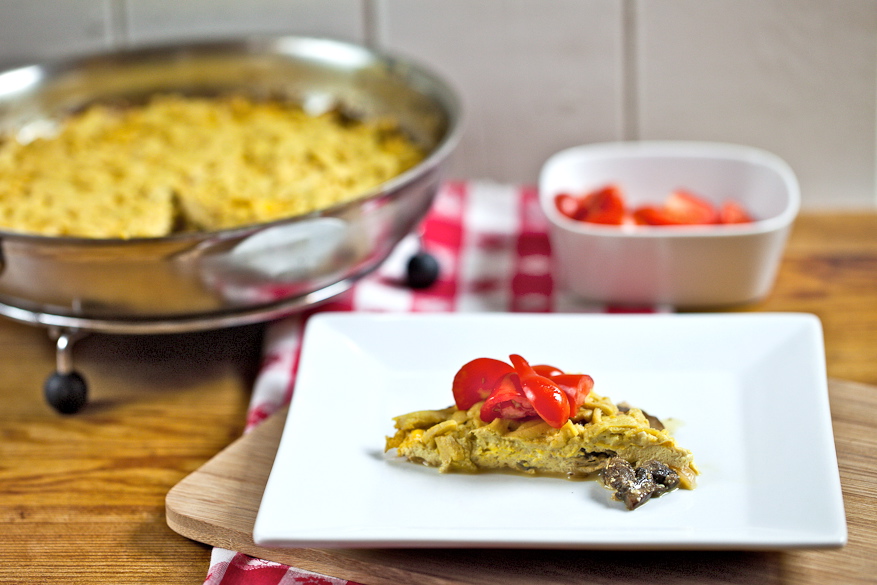 With the invention of my Sunflower Cheddar and my desire to put it in/on everything came the idea for one of my favorites from long ago: The Mushroom Cheddar Frittata.  I excitedly came up with a recipe concept and got to work.  Hours later (and I'm not exaggerating), I had to call it- this frittata was not going to cook.  It remained a liquid mess after being in the oven forever, so I scrambled it on the stove-top and we ate it as a scramble.  The taste was amazing, but my recipe and my technique needed tweaking.  Back to the drawing board.
They weren't kidding when they said the third time's the charm.  This one had to stay in the oven for awhile too but it was worth the wait.  It was lighter than the Mushroom Cheddar Frittata of my past, but the taste was spot on.  It was fantastic, and the Vegg truly gives the tofu base a very egg-like taste (I wouldn't say it tastes exactly like egg, but I can't say I even remember what egg tastes like.  Let's just say it's pretty darn close) and the chunks of mushrooms and sunflower cheddar mixed in with every bite was amazing. There is no doubt that this was a delicious meal and the Vegg has the potential to be a very helpful ingredient.  With that said, I don't know how much I'll be using the Vegg in the future, because I really don't miss the taste of eggs.  My tastes have actually come to prefer the taste of tofu scrambles and chickpea omelets.  I don't mean to confuse you with my opinion of this meal- if you are looking for a Vegg frittata recipe, give this recipe a go- I'm sure you'll love it.  If you're just looking for a vegan mushroom cheddar frittata, still give this recipe a try, but perhaps use the base I used for this frittata- it may appeal more to your vegan tastebuds.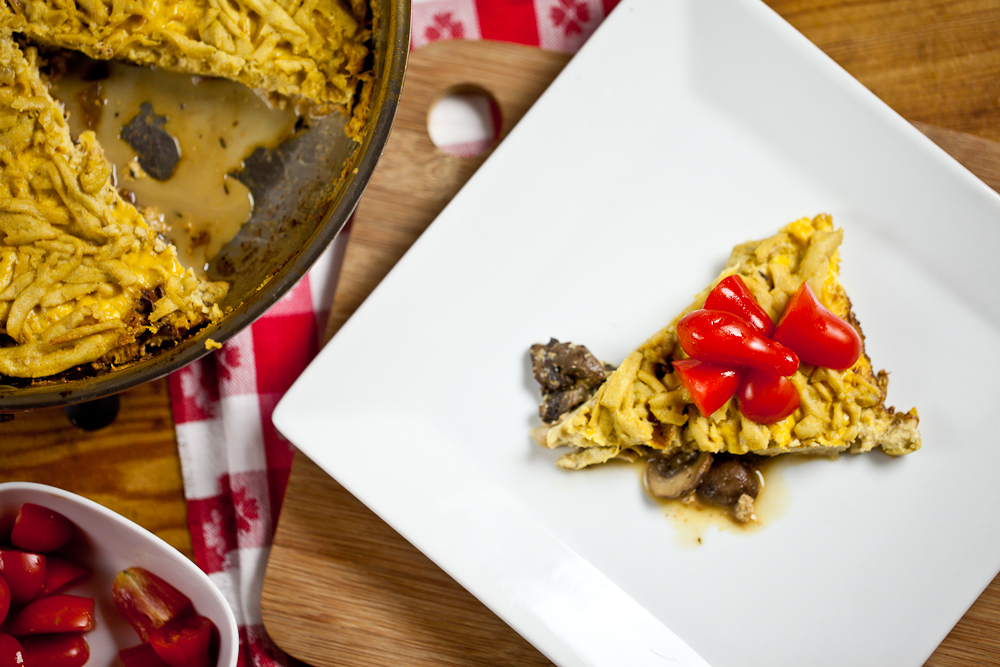 Mushroom Cheddar Frittata
Ingredients
5 teaspoons Vegg powder
1 cup water
1 box of extra-firm tofu, pressed for 15-30 minutes
2 cups mushrooms, sliced
½ teaspoon olive oil
1 medium onion, chopped
2 cloves garlic, minced
1 ½ teaspoon dried thyme
½ teaspoon smoked paprika
black salt and pepper to taste
1 cup Sunflower Cheddar (or other vegan cheddar cheese), grated
Instructions
Preheat oven to 400. In a blender or food processor, combine your Vegg powder with the water. Add the tofu and pulse until smooth.
In a large pan, heat olive oil over medium heat for about 30 seconds. Add the onion and sauté until translucent. Add the garlic and cook for 1 minute. Add the mushroom slices and sauté for about 8-10 minutes, until mushrooms are brown and slightly soft. Add the thyme and smoked paprika, then add black salt and pepper to taste. Mix to combine and remove from heat.
Transfer the mushroom mixture to a bowl or plate for a moment. Use a kitchen towel to wipe down any debris left from vegetables, then lightly spray with olive oil spray. Arrange the mushroom and onion mixture evenly in the pan and then pour the Vegg mixture over it.
Place the pan back on the stovetop over medium heat. Let the bottom of the frittata firm up for about 10-15 minutes, until the edges have turned golden and separated from the edge of the pan.
Bake for 45-50 minutes or until the center seems to be cooked through (use a toothpick or tip of a knife to inspect). Remove from oven and sprinkle the cheddar on top and return to the oven for 10 more minutes. Let stand for about 10 minutes before slicing and serving. Enjoy!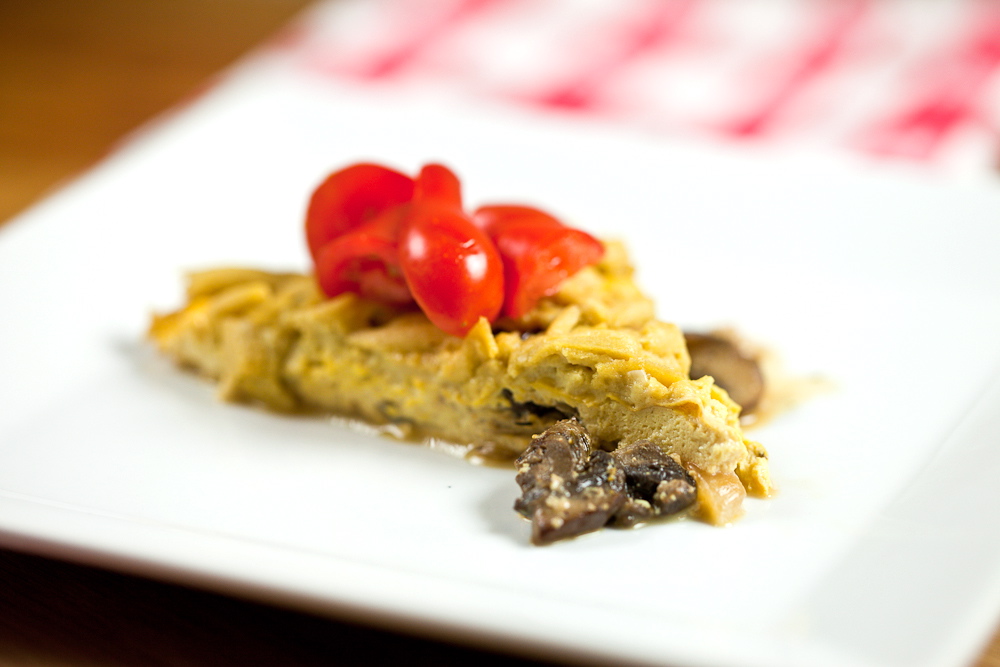 This recipe is being shared with Wellness Weekends and Healthy Vegan Fridays.
Have you entered to win your copy of the Bravo Cookbook?  You better hurry- there's only a couple more days...
Keepin' It Kind is participating in the Walk for Farm Animals to give hope to millions of abused and neglected farm animals! Please support me by making a Donation today. Together we can make the world a more compassionate place for animals!  Learn more about Why I am Walking for Farm Animals and join our team!
Photography by Chris Miller