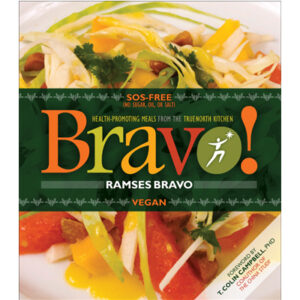 When I was asked recently to review Chef Ramses Bravo's new cookbook, Bravo!, I have to admit, I had not heard of Chef Ramses or his book.  Ramses Bravo is the executive chef at True North's Health Center in Santa Rosa, California.  Through his vegan cuisine, Ramses—who has worked in numerous hotels and restaurants over his 14-year career, including a position as executive chef for the renowned Kenwood Inn and Spa in Sonoma County—has helped thousands of people heal from diabetes, high-cholesterol, and other chronic illnesses.  I truly admire people who dedicate their lives to helping others improve their own lives, especially through vegan cuisine, so I readily agreed to review his new cookbook.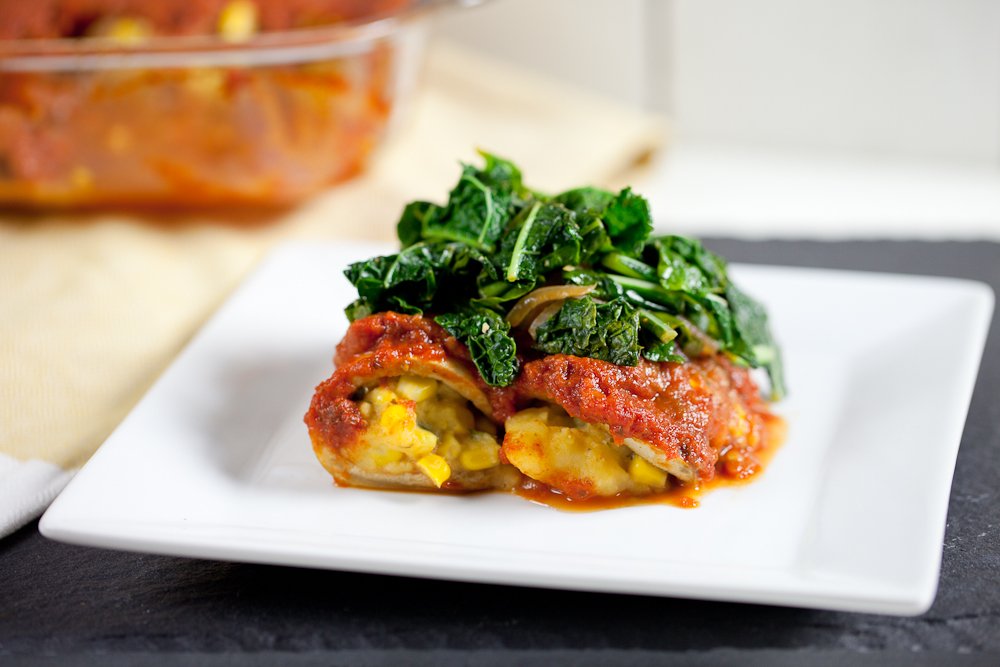 All of the nearly 100 recipes in Bravo! are SOS Free, meaning that they contain no salt, oil, or sugar.  According to Chef Ramses, removing these three non-nutrtious elements from one's diet and replacing them with more nutrient-dense ingredients is the key to finding perfect health.  Eating an unprocessed diet, full of whole, plant-based foods will free you from any other "diets" you may have tried and help you find your true, healthy, natural self.
"When you focus on what you eat and not on how much, you'll never have to count calories again.  Enjoying the right foods in abundance will leave you feeling satisfied, not hungry or deprived.  Before long, you'll grow accustomed to this new "normal."  In fact, after just a few weeks of eating whole, natural foods, your taste buds will readapt. You'll remember what real food tastes like, and you'll love it."
Chef Ramses not only provides a huge variety of helpful recipes to begin your healthy lifestyle full of whole foods, he provides two weeks of menus to help you plan your meals.  He also provides a list of cooking equipment you should use, as well as tips on how to run an efficient kitchen.  There is also a section dedicated to instructions for vegan kitchen basics such as steaming vegetables and soaking nuts.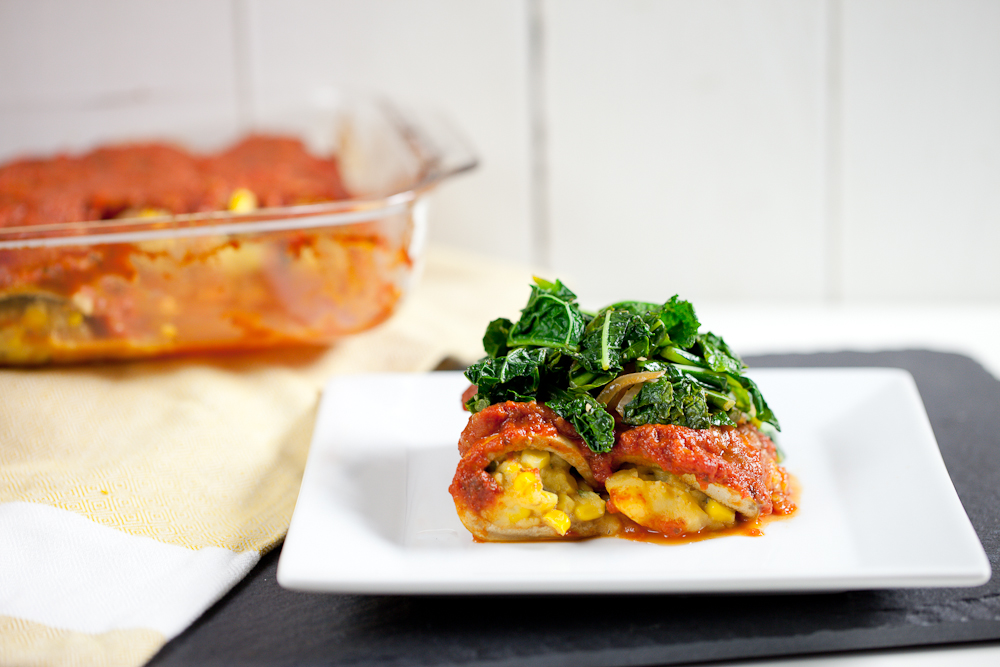 There are so many good-looking recipes in Bravo!, that I had a hard time choosing one to test. I decided to be risky and try the Eggplant Cannelloni with Bravo Tomato Sauce.  It may not sound risky, but the only food that Chris would prefer not to eat is eggplant but the picture in the book looked so good, I thought he would have a hard time not liking it.  If you attempt this recipe, I should tell you that I found a few of the measurements to be off.  The recipe calls for 2 large eggplants, peeled and sliced into 1/8 inch slices.  I did that and got 14 slices.  Then later, it tells you to fill a total of 6 slices with the filling, each receiving one-sixth of the filling.  I ended up doing 12 rolls, each with about a 1/4 - 1/3 cup of filling, and still ended up with over half of the filling left.  I would recommend cutting the filling recipe in half and doing 12 rolls, rather than 6.  Or follow the recipe and use the tasty filling for something else (Hint: I plan on making a soup!).  I should also say I did not make my own broth, as the recipe called for (I'm lazy), and I topped it with kale, rather than spinach, because that's what I had on hand.  Other than the confusion with making the recipe, we both liked (yes, we both liked) the meal and as Chef Ramses predicted, we didn't miss the salt or the oil.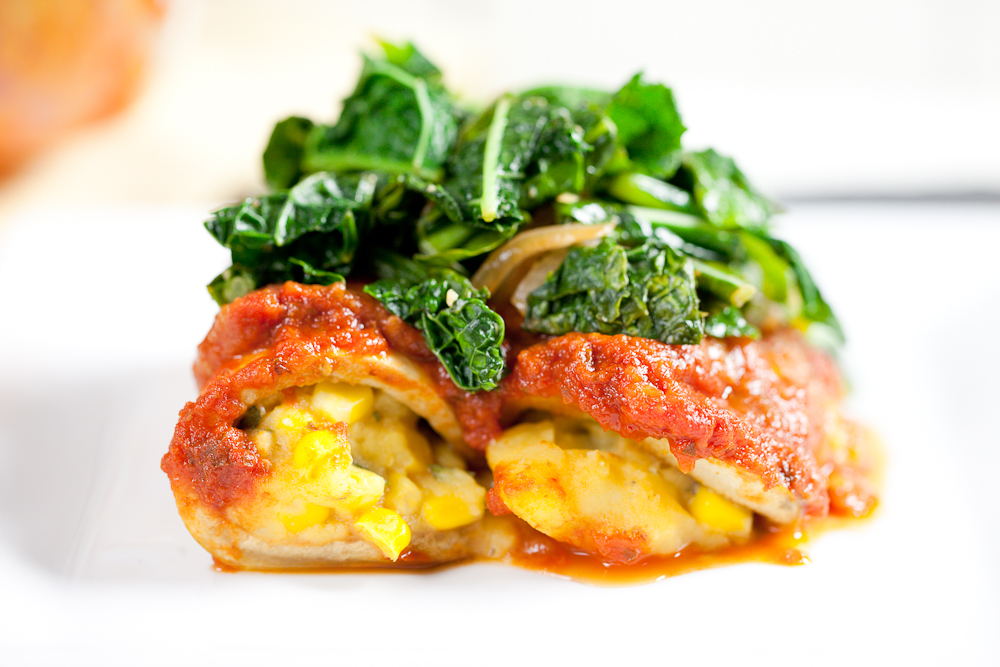 I think Bravo! is a great resource for people who are trying to improve their health through a plant-based diet.  Chef Ramses does a great job of motivating and encouraging people to a healthy lifestyle in addition to providing the steps they need to reach that goal.  Thank you so much to Chef Ramses and Book Publishing Company for providing me with a copy to review... and an additional copy to giveaway!
That's right, very soon, one of you lucky readers could be the proud new owner of a copy of Bravo! by Ramses Bravo!  To enter, all you need to do is:
Leave a comment below telling me what you do in your day-to-day life to improve your health, dietary or otherwise.
"Like"  Keepin' It Kind on Facebook
"Like" Bravo Cookbook on Facebook
Follow Keepin' It Kind on Pinterest
Pin an image from this review, with "Bravo! Cookbook Review" in the description.
Good Luck!
Disclaimer: I was kindly given this book by Book Publishing Company, but my opinions are my own.
Love animals? Help support Farm Sanctuary's mission to protect farm animals from cruelty! Keepin' It Kind's goal is $500, but we can't do it alone! Together, we can make a real difference for farm animals everywhere. Donate today!  Learn more about Why I am Walking for Farm Animals and join our team!
 Unless otherwise stated, all photography by Chris Miller