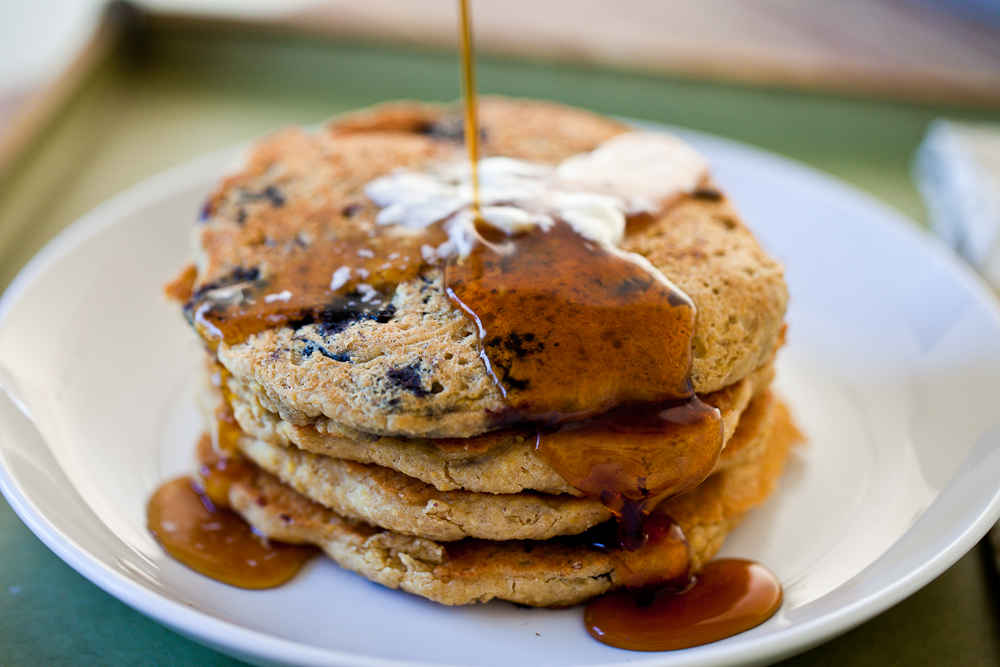 With our busy schedules, The Chickpea and I don't often get a chance to enjoy breakfast together.  What, with me being a working girl again and him being so popular with the ladies (at least he comes home to me!), breakfast is usually something quick that I can take on the road.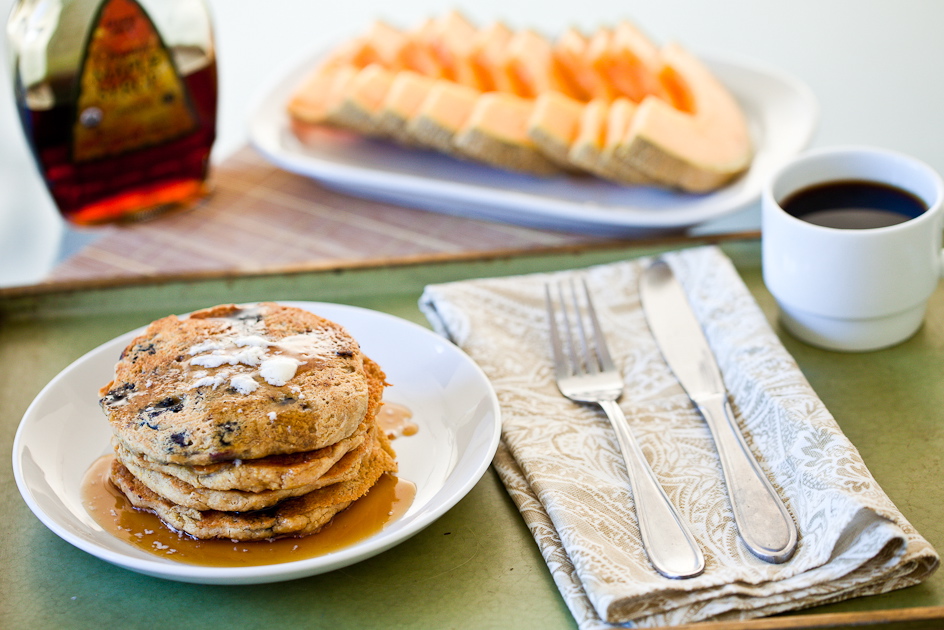 After my first week back to work, The Chickpea surprised me by making breakfast for me.  With no work to go to, I was able to sit down and enjoy a leisurely breakfast with the family.  Unable to decide if we should have oatmeal or pancakes, I decided to go with both.  I mean, it was Saturday- you've got to live it up sometimes!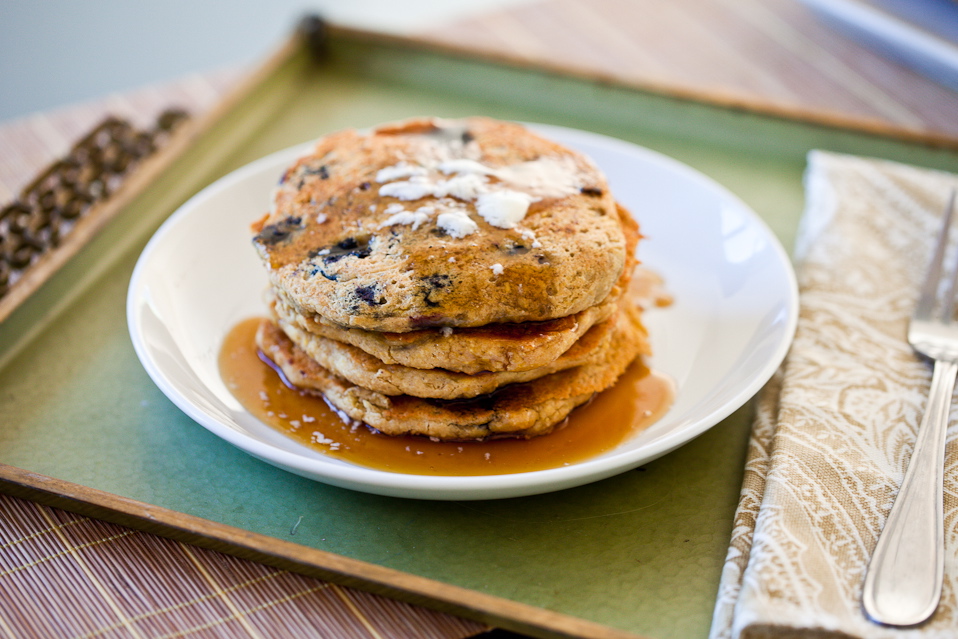 I made my own oat flour by throwing some rolled oats in the Vitamix and since I need a little protein in the morning, I combined the oat flour with chickpea flour.  This gave these bright, fruit-filled pancakes a nice, hearty base.  Topped with a little vegan butter and some maple syrup, these oatmeal pancakes were a creation made in breakfast heaven.  They were a huge hit at our breakfast table.  Even the youngins, one of whom has claimed he only likes plain pancakes, really enjoyed them.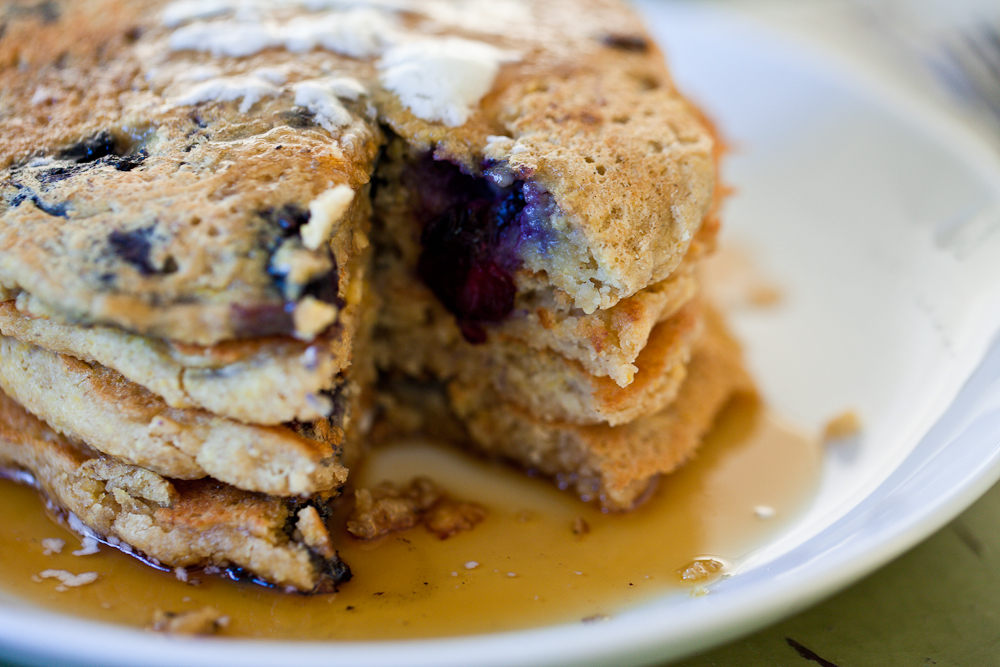 What I loved most about these pancakes, though, was how they not only indulged my occasional craving for a starchy breakfast, but they were also so filling.  These pancakes also made me realize how important it is, even though life might be crazy and busy, to take time to enjoy the things that make me happy.  Like pancakes and spending time with my family.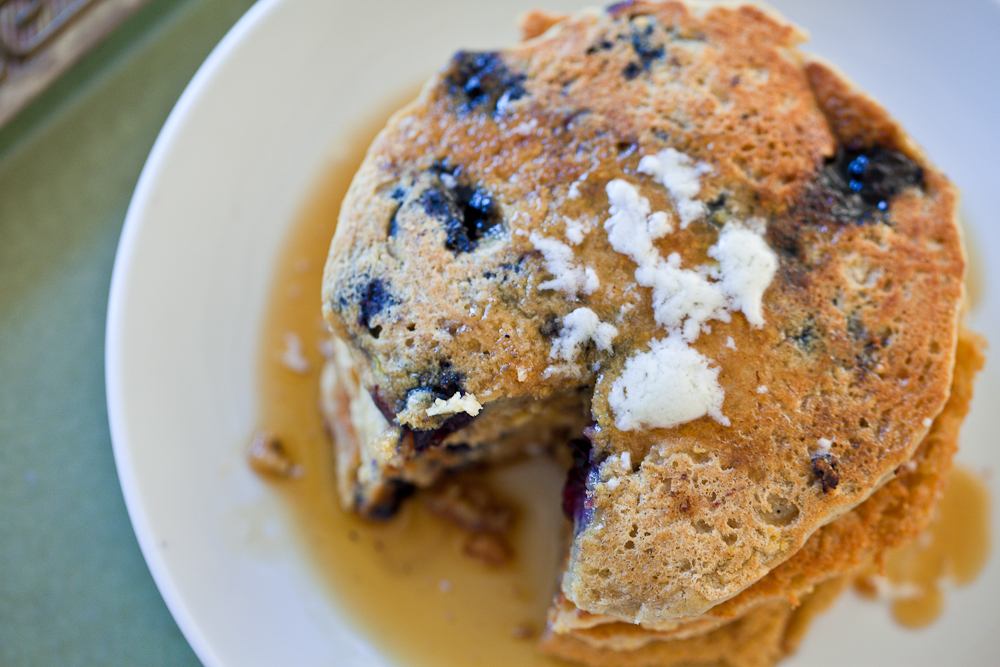 Thank you for the timely reminder, Chickpea.  You know me so well.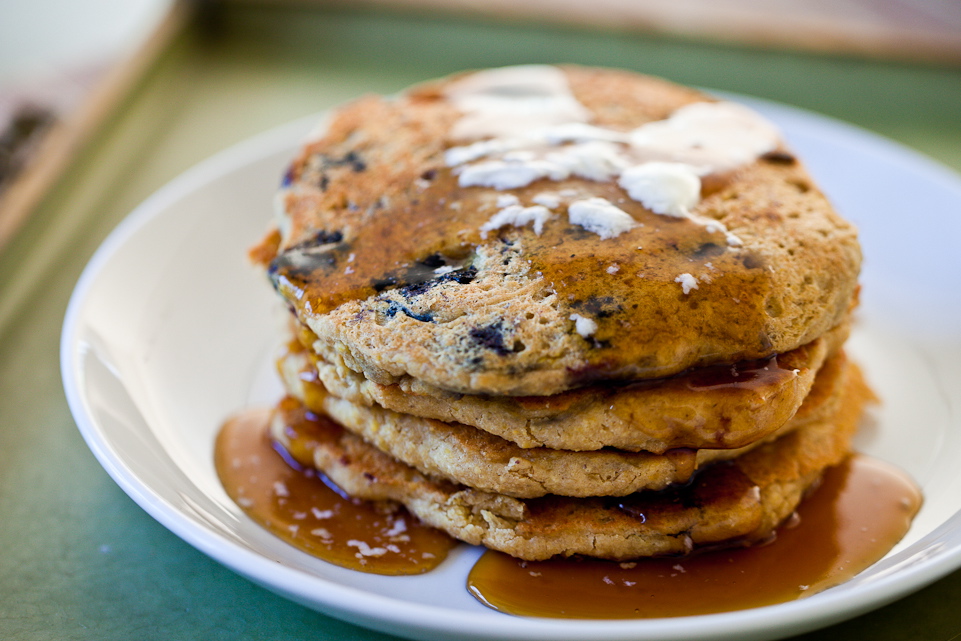 Lemon Blueberry Oatmeal Pancakes
Ingredients
1 cup rolled oats (certified gluten free, if needed)
¾ cup chickpea flour
2 tablespoons baking powder
2 tablespoons coconut sugar (or other vegan sugar)
1 teaspoon salt
1 ½ teaspoons Ener-G Egg Replacer
2 tablespoons warm water
1 ¼ cups vegan buttermilk (1 ¼ cup vegan milk mixed with 1 ½ teaspoons apple cider vinegar)
2 tablespoons coconut oil, melted but at room temperature
1 teaspoon vanilla extract
1-2 teaspoons lemon zest
1 cup blueberries (I used frozen, thawed and lightly patted dry)
Instructions
Make your buttermilk by mixing your vegan milk with apple cider vinegar. Set aside to curdle.
Place your oats in the food processor and process into a flour. Pour the oat flour into a bowl and add the rest of the dry ingredients. Use a whisk to fully combine.
In a small bowl, add the egg replacer to the warm water. Use a whisk to beat it rapidly into a frothy mixture.
Make a well in the middle of the dry ingredients and add in the frothy egg replacer mixture, the buttermilk, the oil, and the vanilla extract. Lightly mix all of the ingredients together until just combined. DO NOT OVERMIX. Lumps are good. Gently fold in the blueberries. Let the mix rest for about 10-15 minutes before using.
Heat your pan over medium/low heat for a couple minutes. Very lightly spray the pan with vegan cooking spray and use a measuring cup (1/4 cup or 1/3 cup), also lightly sprayed with cooking spray, to pour the batter into the pan. Don't overcrowd the pancakes, giving them enough room to spread as needed. Remember to respray the measuring cup and the pan in between pancakes. Once the pancake edges begin to lift up, after about 3-4 minutes, flip the pancake and let cook for another 2-3 minutes. Remove from heat and serve immediately or let rest on a cooling rack, covered with a clean kitchen towel or aluminum foil. Enjoy!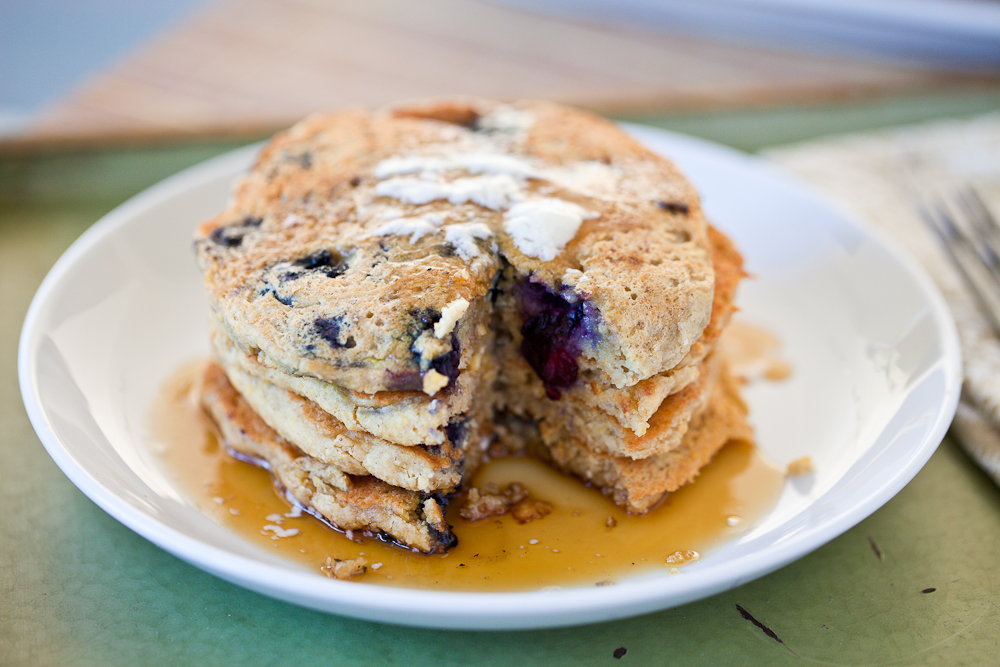 First time here?  Check out the rest of my Chickpea Love Affair Vegan MoFo Entries!
Photography by Chris Miller