"If you love it so much why don't you marry it?"  Sound familiar?  It's a phrase muttered by children on playgrounds everywhere.  Some obnoxious and/or drunk adults can even be heard using the phrase in what usually ends up being a somewhat awkward situation.  It's also a question I've been asking myself a lot lately.
You see, I have a secret crush and it's been going on for several years.  Ever since we met at a Marie Callendar's salad bar when I was just a child, I've been enamored with this little guy.  In recent years, he's shown me his many talents and I've been quite impressed, to say the least.  I've done a good job of keeping it on the down-low, but recently, my love has grown too big to keep it inside.  I feel like breaking out into that Pointer Sisters classic, but I don't want to draw a crowd.  Why don't I marry it?  People just wouldn't understand!   I've decided to do the next best thing: have a love affair and document it here at Keepin' It Kind, in honor of Vegan Mo Fo.
For those of you who are unfamiliar with Vegan Mo-Fo, it stands for "Vegan Month of Food."  Hundreds of bloggers are dedicating themselves to blogging about vegan food everyday for the month of October (or at least 20 posts).  Because I'm crazy, I've decided to not only participate in Vegan Mo-Fo, but I'm going to go back to work at the same time.  Yes, after being unemployed and living the life as a full-time blogger for several months,  I've decided to try to do at least 20 posts in the first month of working at a new job.  On top of all that, I'm beginning a new love affair and we all know that can eat up a lot of time.  We have a lot of romantic dinners, walks on the beach at sunset, and twirling around in meadows to do.
Without further ado, I would like to introduce my new (old) love, The Chickpea.  Sometimes I call him Garbanzo, but that's only when I'm feeling frisky.  Though he's a busy guy, he always finds time for me.  Sometimes, he appears as a whole bean inside of my salad, soup, or stew.  On some occasions, he is the flour in many of my favorite breakfast specialties and baked goods.  Then there are times that he's ground up and used in dips, like hummus, or used to make other specialties entirely, such as falafel.  Even though he's shown up in so many different applications, he still finds ways to surprise me and really keep the romance alive.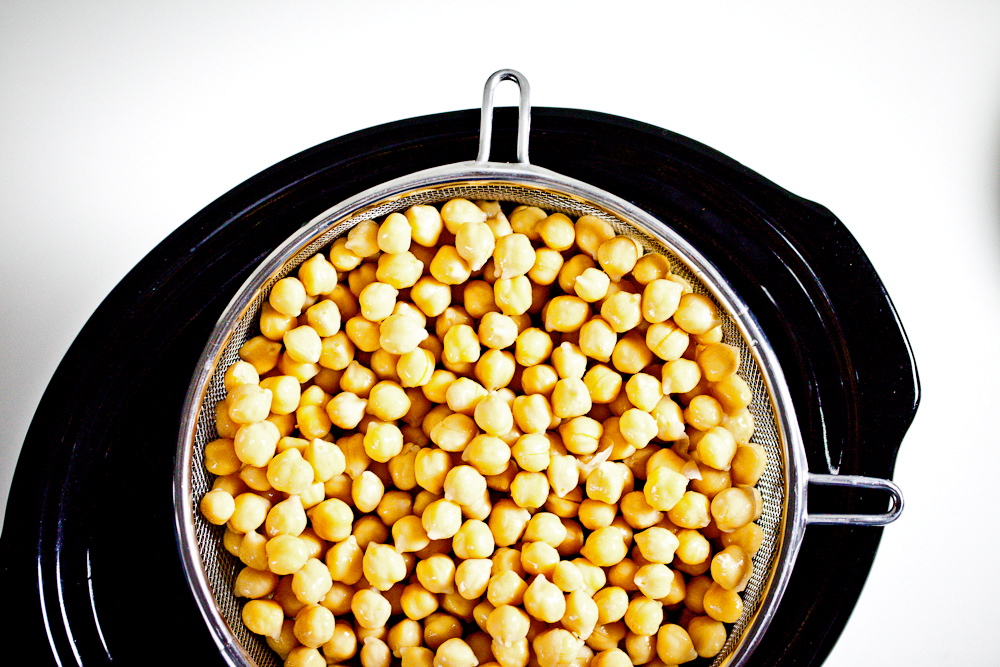 Let me tell you a little about The Chickpea.  He's a handsome Indian/Mediterranean fellow, though he changes shape and color often.  Sometimes he's large and white and sometimes he's smaller and darker.  He's an older man- I mean, he's been around forever!  There's even signs that he was around in 6790 BCE, but you can tell just by looking at him that he's aged really well.  In addition to being so versatile and talented, he's a great source of protein, fiber, folate, and zinc.  He can even help lower your cholesterol.  The best part about The Chickpea, however, is his flavor- Nutty, creamy, starchy and meaty all at the same time!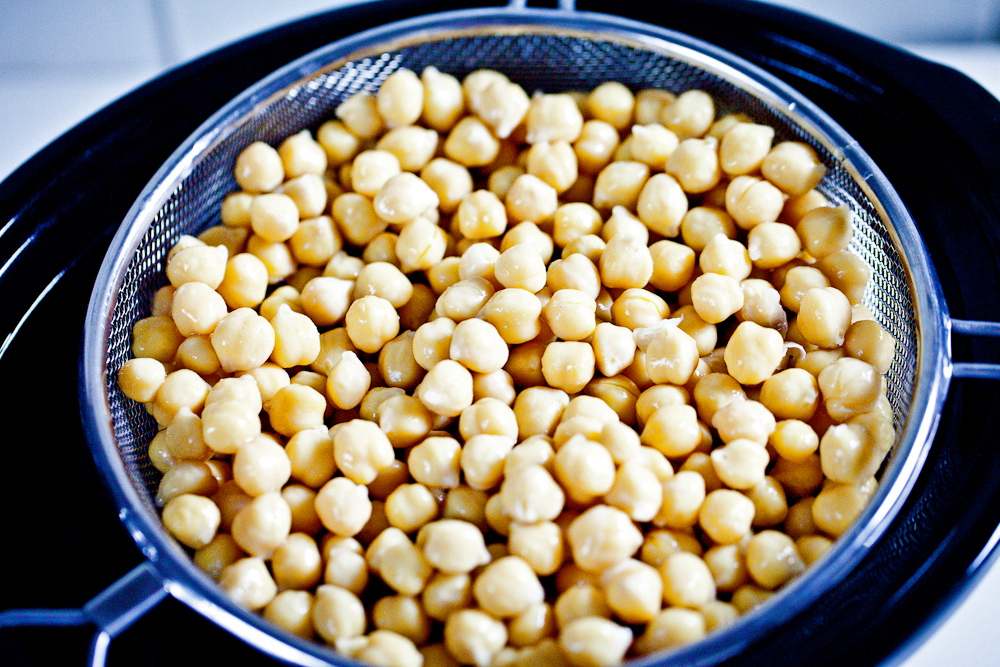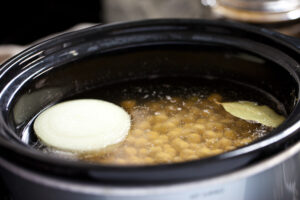 Okay, okay- I'll stopp bragging about my new beau and show you how you can meet him in person.  Ever since I got a slow-cooker, I've been trying to cook all of my beans in there, using Robin Robertson's method in Fresh From the Vegan Slow-Cooker, though cooking them on the stove-top works just as well.  Sometimes (very often), I need to reunite with my love immediately, so I'll get organic chickpeas in a (BPA-free) can.  I also always have chickpea/garbanzo flour (also called besan or gram flour) on hand as it's a staple in many things I make in the kitchen (In those crazy times I'm without chickpea flour, I just throw some dried beans in the blender and create my own).  Today, however, I'm going to focus on the basics of cooking dried chickpeas.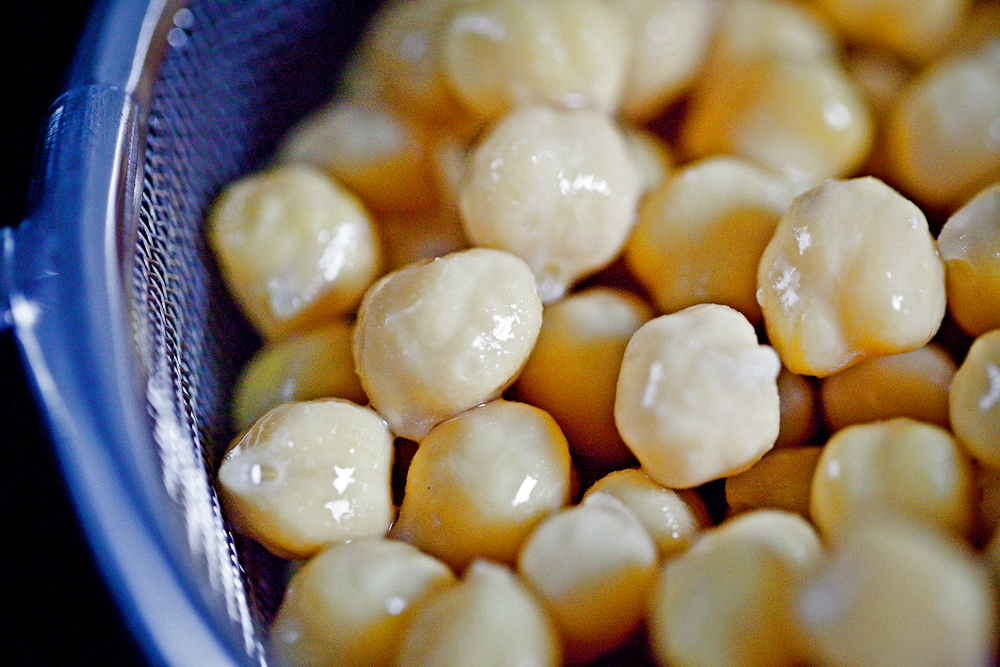 Ingredients
2 cups dried chickpeas (I like to use organic chickpeas that I buy in bulk from the bins at the grocery store)
4 quarts of water, plus water to cover beans during cooking
2 tablespoons salt
1/2 onion
4-6 cloves garlic, peeled
2-3 bay leaves
Instructions
Start by soaking your chickpeas. This will decrease the cooking time and how "windy" you get from eating the beans. Rinse your chickpeas and pick through them to discard any stone, particles or rotten beans. Place them in a large bowl, cover them with 4 quarts of water, and add the salt. Cover the bowl and leave at room temperature to soak for eight hours or overnight. Once they have soaked, rinse the beans thoroughly.
Stovetop method: Place the rinsed beans in a large pot and cover them with water. Bring the pot to a boil. Once it is boiling, decrease the heat to low, add the 1/2 onion, garlic, and bay leaves, and let cook for 1 1/2 – 2 hours. The beans are done once you can easily bite into one. Remove from heat and let cool in their cooking liquid. Remove the onion, garlic, and bay leaves and strain the beans.
Slow-Cooker Method: Place the rinsed beans in the slow-cooker, cover with water, and add the onion, garlic, and bay leaves. Cover and cook them for four hours on high. The beans are done once you can easily bite into one. Turn the slow-cooker off and let the beans cool in them cool in their cooking liquid. Remove the onion, garlic, and bay leaves and strain the beans.
They are now ready to be used in whatever recipe you desire. The beans can be kept in the refrigerator for one week or in the freezer for 6 months.
Notes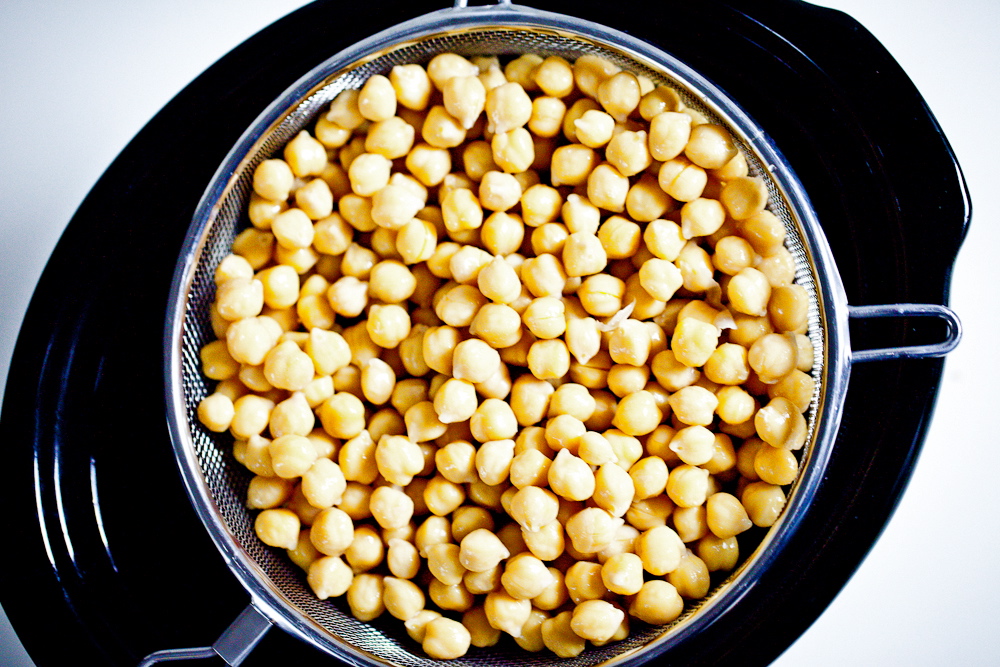 Please stay tuned for a month of recipes using The Chickpea and details on our juicy love-affair!  And yes, in case you were wondering, my husband is totally cool with this little affair of mine.  In fact, he's so supportive, he's even photographing the whole thing!  😉
Love animals? Help support Farm Sanctuary's mission to protect farm animals from cruelty! Keepin' It Kind's goal is $500, but we can't do it alone! Together, we can make a real difference for farm animals everywhere. Donate today!  Learn more about Why I am Walking for Farm Animals and join our team!
Photography by Chris Miller