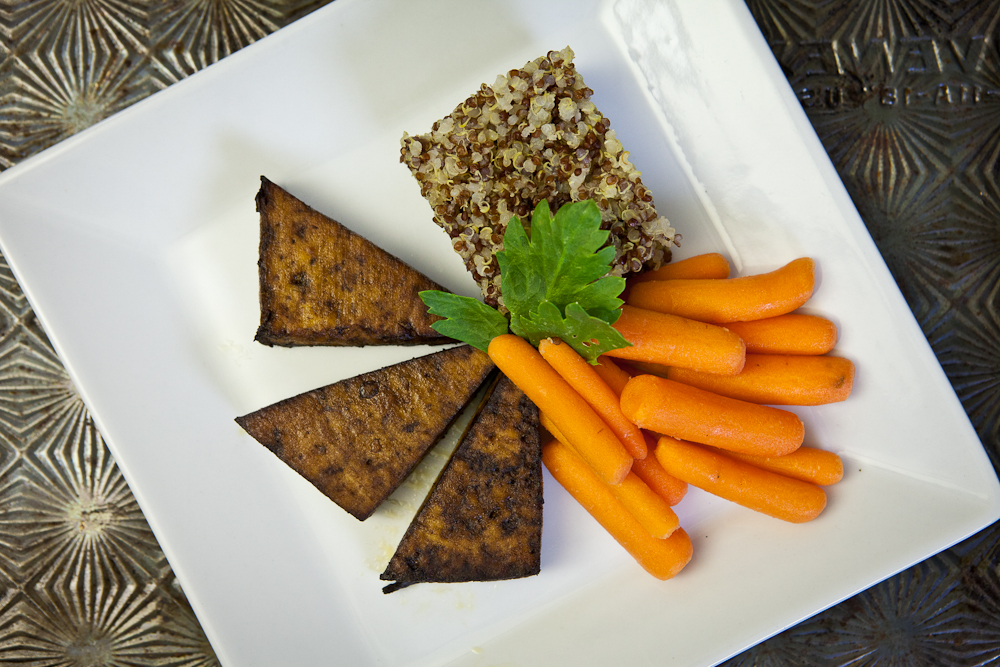 Tofu and Quinoa.  I think we could safely call tofu and quinoa staples in most vegan kitchens.  They are both inexpensive, versatile, and viable sources of plant-based nutrition.  Having a simple recipe for both of these items is a valuable resource for any vegan, and Chris and I use them often.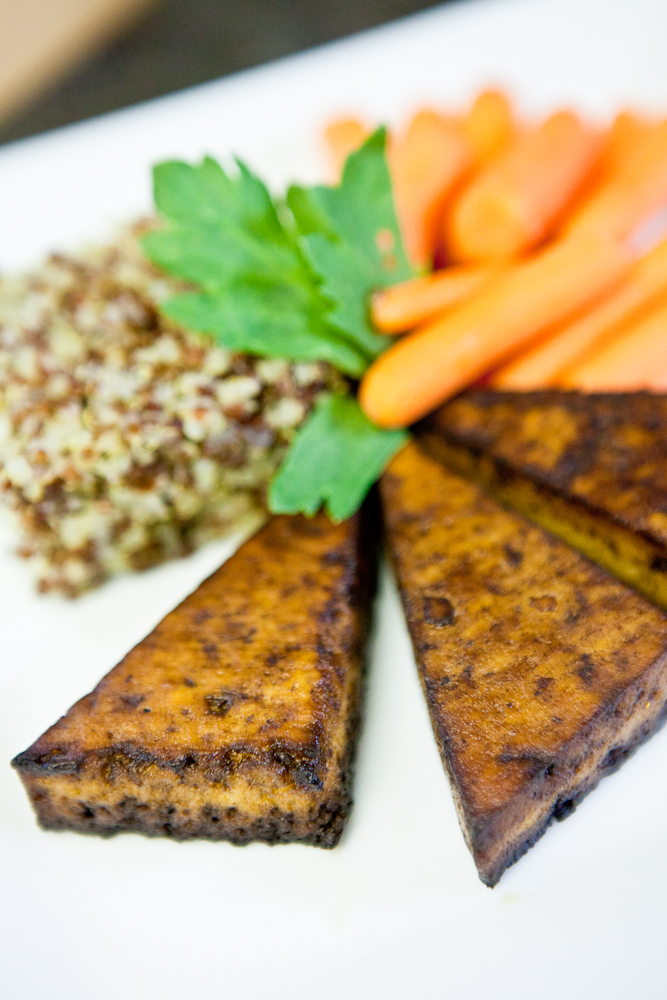 Up until now, the twins never showed any interest in grains, aside from pasta or, on occasion, rice.  Tofu was just out of the question since I once served them a very plain, basic tofu scramble and we can just say that it was not received positively.  When the twins' mother told me that Max and Sophie were eating both tofu and quinoa now, and liking it, I felt like I'd been given a gift.  To learn that these two ingredients that we always have in our kitchen were now twin-friendly options was big news.  Since Sophia has decided she wants to be vegan and learn how to cook,  it seemed necessary to teach her how to work with these two basic ingredients.
Since a scramble didn't seem like something Sophia would be interested in cooking, I decided to go with another basic tofu recipe: Baked Tofu.  To go with the tofu, some basic quinoa and raw veggies (cooked veggies are a whole other story).  In the process of Sophie's lesson, she learned how to press tofu with a huge book and cans and how to marinate and bake tofu.  She learned that it is important to rinse your quinoa thoroughly before cooking it to remove the saponin, making the quinoa more easily digestible.  She learned that for 1 cup of quinoa, you need 2 cups of water and it will yield 3 cups of cooked quinoa.  Most importantly, Sophia learned the importance of a well-balanced meal and how to use these two vegan kitchen staples to make a balanced meal for herself.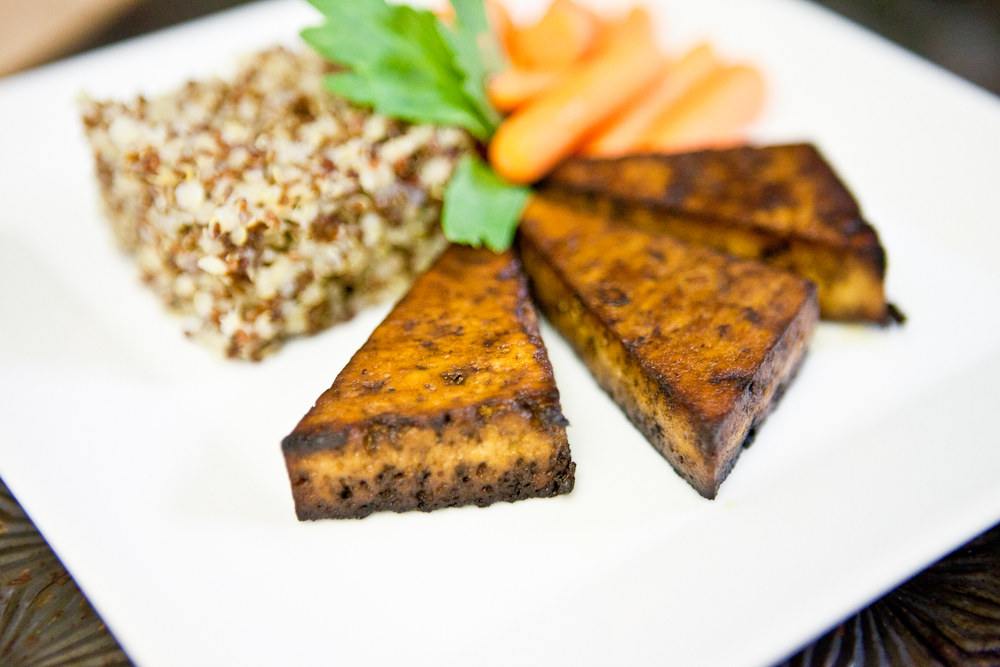 Basic Baked Tofu & Quinoa
Ingredients
1/8 cup Bragg Liquid Aminos (or tamari/soy sauce)
1/8 cup Balsamic Vinegar
1 teaspoon lemon juice (optional)
1 cup dry quinoa (we used a mixture of white and red quinoa)
1 cup water
1 cup vegetable broth (optional- if you don't want to use this, just double the water)
pinch of salt (optional)
Instructions
Press your tofu. You will need to do this at least 6 hours before you plan on cooking. I prefer to do it overnight. If you have a Tofu Xpress, by all means, use it. If you do not, you can do it the classic old-school way. Lay a clean kitchen towel over a plate. Place the block of tofu, removed from it's carton and it's water, on the clean towel. Lay another clean towel over the block and then place your heaviest book on top of that towel. Just to be safe, place a couple cans (like cans of beans, for example) on top of the book. Place your tofu "press" in the refrigerator and let it set for 6-8 hours or overnight, flipping halfway through, if possible (if not, it's not the end of the world).
Once your tofu is pressed, combine the Bragg Liquid Aminos with the balsamic vinegar and lemon juice in a 9×9 baking dish. Cut your pressed tofu in half, horizontally. Then cut each of those halves in half, lengthwise. You should have 4 sheets. Cut each of those sheets diagonally, making 8 triangles. Place the triangles in the marinade and use a marinade brush to cover the tops of the triangles. Marinate the tofu for 15 minutes, flipping halfway through.
While your tofu is marinating, preheat your oven to 375. Line a baking sheet with parchment paper or lightly grease it. Once the tofu is done marinating, place each triangle on the baking sheet. Use your marinade brush to brush more marinade on the tops of each triangle. Bake in the heated oven for 30-35 minutes, flipping halfway through and brushing more marinade on the tops of each triangle. Once the tofu is a dark, golden brown and lightly crisp on the outside, remove from the oven and serve. Enjoy!
Rinse your quinoa. Pour your quinoa into a fine-meshed sieve and rinse under warm water for 2-3 minutes, using your fingers to move the quinoa around, fully cleaning each piece.
Pour your quinoa into a pot withyour water and your vegetable broth. I use vegetable broth because I like the little bit of extra flavor it adds, but , 2 cups of water would be perfectly fine. If you'd like, you can also throw in a pinch of salt. If you want the quinoa to have a more nutty flavor, toast it in a pan for about 5 minutes before adding to water/vegetable broth. I only do that when I'm feeling pretty fancy.
Cover the pot and bring it to a boil. Once it is boiling, lower to a simmer and cover again.
Let the quinoa simmer for 15 minutes. Don't lift the lid after 15 minutes, just turn the heat off and let it set for 5-10 more minutes. Use a fork to fluff the quinoa and serve. Enjoy!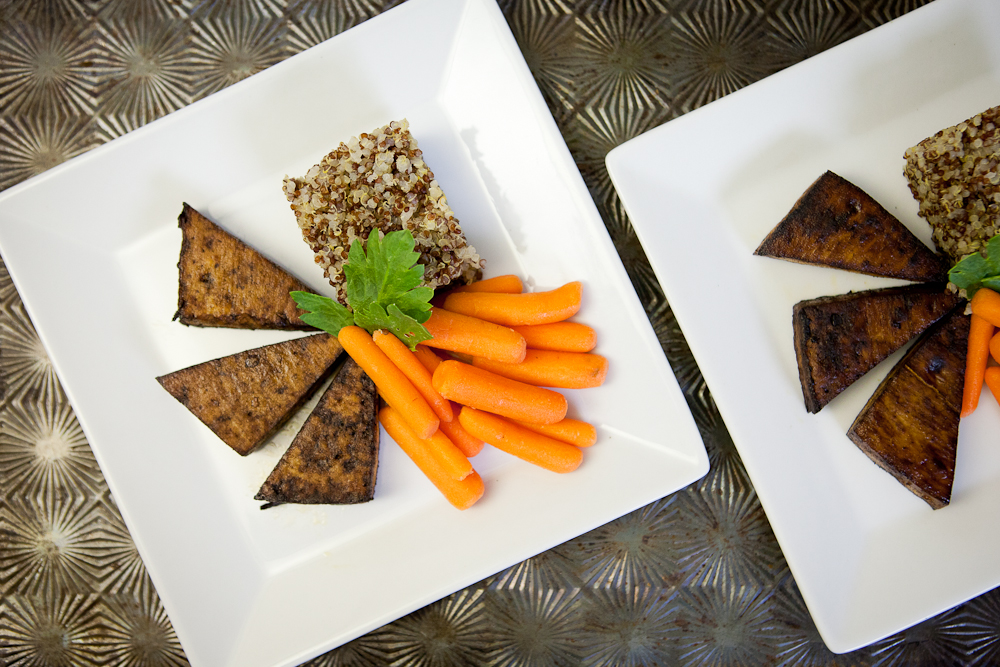 Keepin' It Kind is participating in the Walk for Farm Animals to give hope to millions of abused and neglected farm animals! Please support me by making a Donation today. Together we can make the world a more compassionate place for animals!  Learn more about Why I am Walking for Farm Animals and join our team!
Photography by Chris Miller