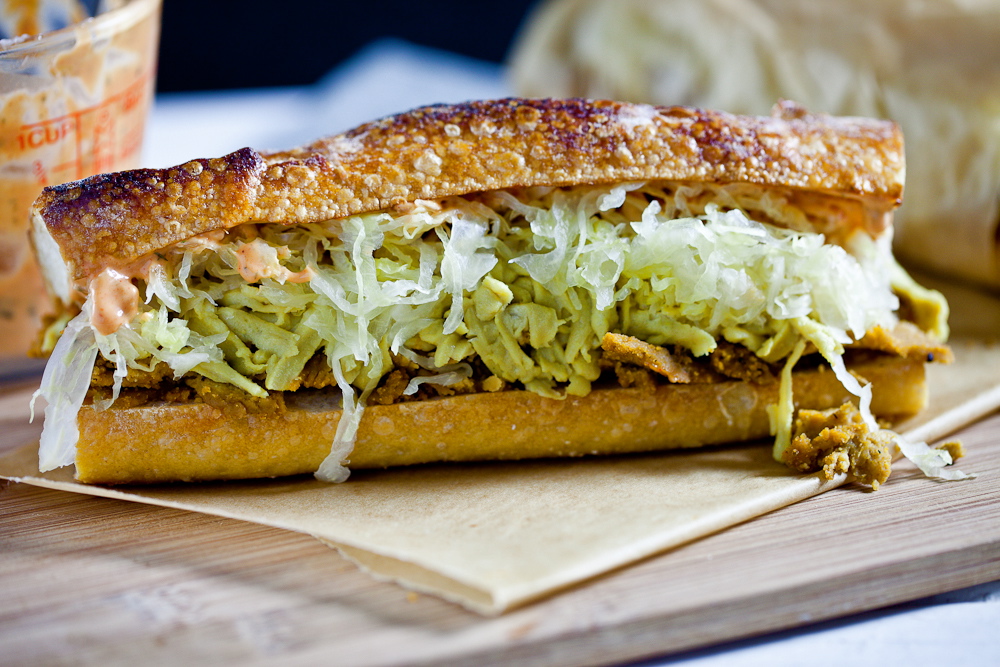 Do you ever have moments where you get a glimpse at what it feels like to be a genius?  Where a ground-breaking idea pops into your head, your heart starts racing, and you know beyond any shadow of a doubt that this idea will change your life forever?  Oh.  Yeah, me neither.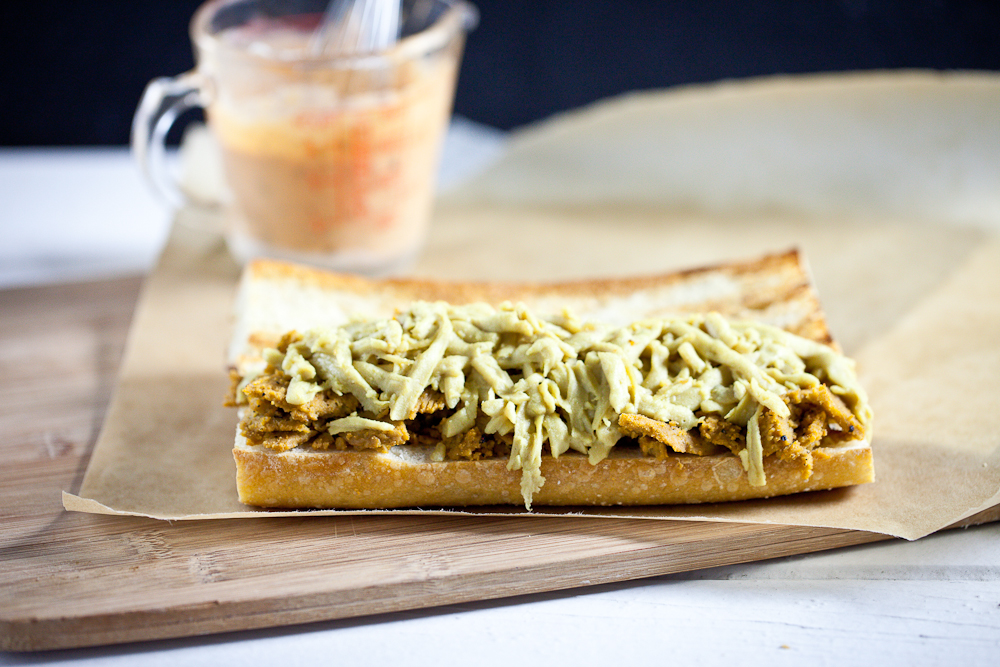 Except this one time.  This one morning when I was staring into the refrigerator at a chunk of homemade seitan and my sunflower cheddar, thinking that a Philly Cheese-Seitan sandwich sounded like a pretty dang good dinner.  My mind was made up and while I was running errands I made sure to pick up a nice baguette to make the sandwiches with.  Something happened, however, that caused that sandwich dream to be derailed.
That "something" was seeing some pictures on Facebook of new baby beagles that Beagle Freedom Project had just rescued.  I was reminded of the vegan bake sale the Beagle Freedom Project held at Locali Conscious Convenience.  Then I remembered the reuben sandwiches Chris and I ate that day and a new craving hit me hard.  I needed a hefty sandwich, filled with sauerkraut and tangy Russian dressing that oozed out of the edges of the sandwich with each bite.  I again found myself staring into the refrigerator, hoping that some marinated vegan deli slices or tempeh and some rye bread had somehow found their way there, but no such luck.  All I had was sauerkraut.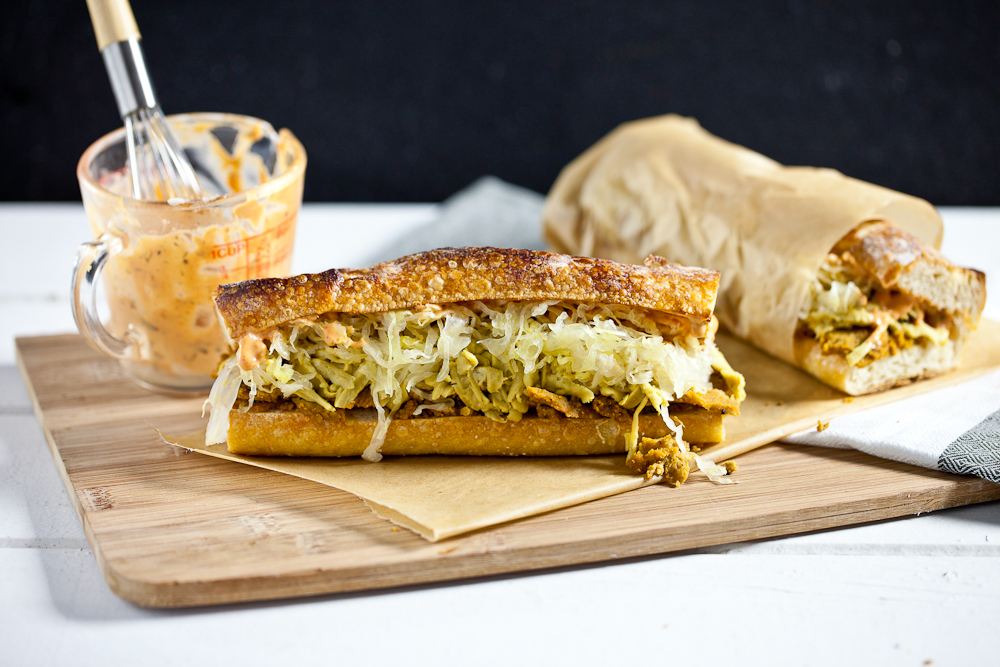 Then it hit me!  All at once, like a huge wave collapsing over me, the thought entered my brain.  I could have both sandwiches in one.  As I began to figure out how I would make the russian dressing and I how I would combine it all to bring this beautiful dream to life, my heart began racing.  I was frantic but extremely calm at the same time while I got to work in the kitchen.  Soon it was ready and I was tapping my toes while Chris snapped pictures.  As soon as he said he had what he needed, Operation: Eat The Philly Sandwich Reuben was a go.  We quickly grabbed our sandwiches sat down and took our first bite.  I know it's my job to describe to you how this sandwich tasted, but there are no words that can do it justice.  Exquisite?  Delectable?  Fit for a King?  Those just begin to describe how fantastically juicy, tangy, hearty, and cheesy this sandwich was.  Chris's only words during the whole meal:  "Are you eating this?!  I mean, are you eating this?!?!"  My only complaint was that there was no more seitan to make seconds.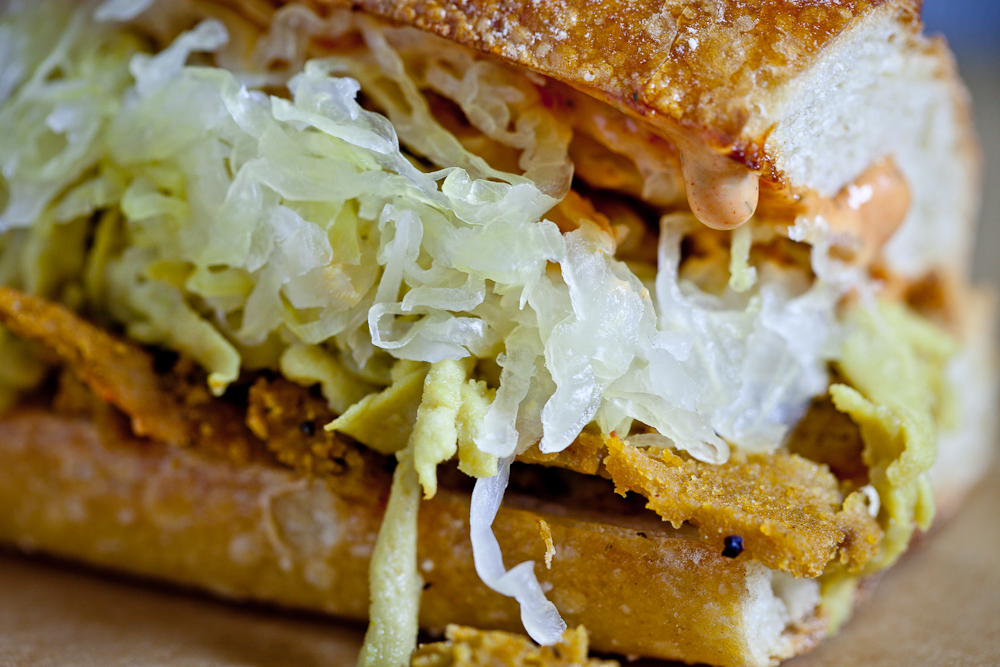 So that was it.  My moment of genius, shared with all of you.  Enjoy.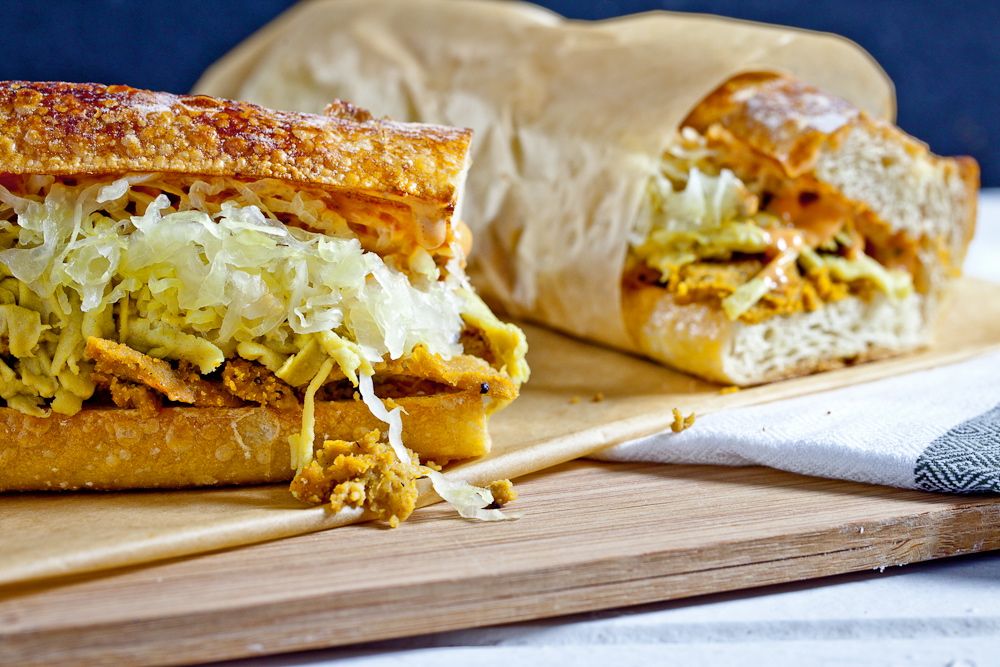 The Philly Reuben Sandwich
Ingredients
1 soft and fresh french or sourdough baguette, or 2 8-10 inch long sandwich rolls
2 cups seitan (I used the Slow-Cooker Seitan Recipe from Fresh from the Vegan Slow-Cooker, but I also like this recipe, very thinly sliced (I used a mandoline)
olive oil spray
3/4 cup Sunflower Cheddar, shredded (or other vegan cheese)
1/2 – 3/4 cup sauerkraut, drained
1/3 cup vegan mayonaise
1 tablespoon vegan ketchup
1/2 tablespoon tomato paste
2 teaspoons red wine vinegar
1 teaspoon dried dill
1/2 teaspoon smoked paprika
2-3 tablespoons sweet pickle relish (to taste)
Instructions
Make your dressing. In a cup or small bowl, mix together all dressing ingredients, except the relish. Once it is fully combined, add the relish to taste (I like lots of relish, so I used 3 tablespoons, but you may want less or more). Chill until ready to use.
Cut two 8-10 inch sections from your baguette (no pointy end pieces). Partially slice them in half lengthwise, leaving part of the bread still in tact, making a baguette "taco," if you will.
Turn the broiler on. Line a baking sheet with foil and set aside. Spray a medium frying pan with the olive oil spray and heat over medium heat. Add the seitan and stir frequently enough to prevent sticking, but giving the seitan time to turn brown and get the slightest bit crisp on the edges, about 10-15 minutes. If it sticks too badly, add a couple tablespoons of water or vegetable broth and lower heat.
Begin to assemble your sandwich. Divide the seitan between the two baguette sections. Top the seitan with the shredded cheese, dividing the cheese evenly between the two sandwiches. Place the sandwiches on the baking sheet, trying to lay the top part of the baguette as flat as possible (I had to prop a butter knife on top of one of the sandwich tops to get it to lay flat). Place in the oven, under the broiler, just long enough to melt the cheese and slightly toast the sandwich top, about 3 minutes. Remove from oven.
Spread the dressing on the tops of each of the sandwiches and then top the cheese with the sauerkraut. Close the sandwich and serve immediately. Enjoy!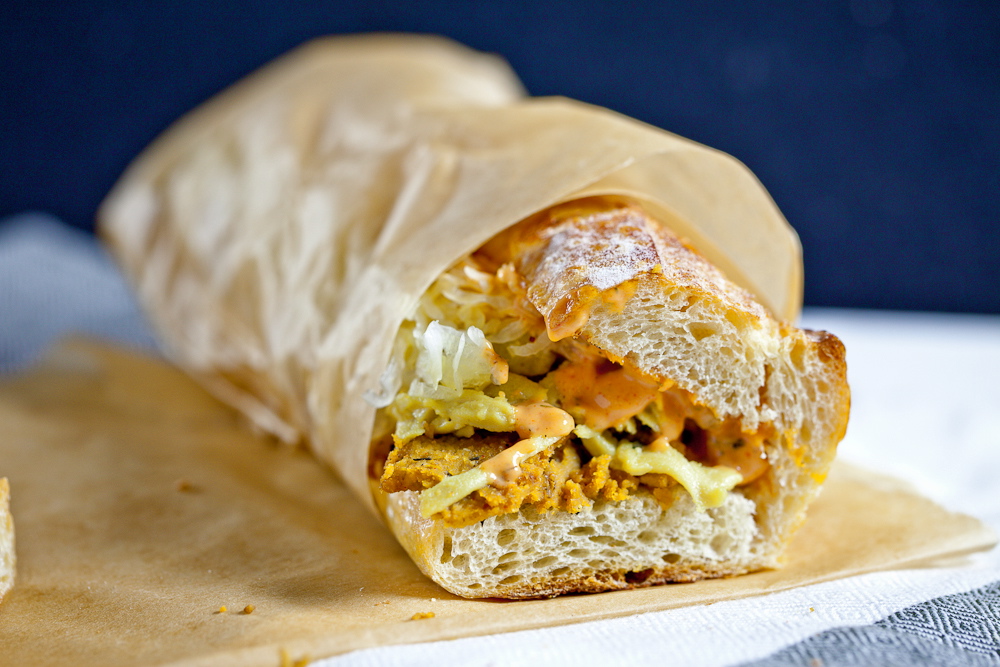 Have you entered to win your copy of
Bravo!
?
If not, you have until midnight tonight to enter the giveaway!  Good luck!
Have a great weekend and I'll see you all next week at
Vegan MoFo
!
Keepin' It Kind is participating in the Walk for Farm Animals to give hope to millions of abused and neglected farm animals! Please support me by making a Donation today. Together we can make the world a more compassionate place for animals!  Learn more about Why I am Walking for Farm Animals and join our team!
Photography by Chris Miller