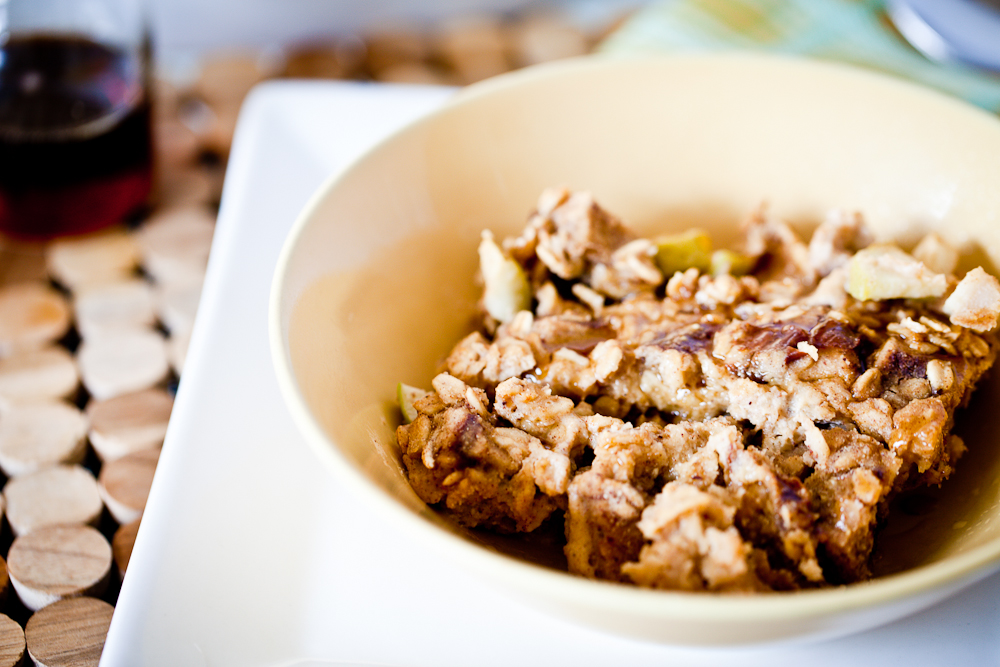 Cinnamon is one of my favorite things about fall.  That and getting to wear my boots all the time and bundle up in scarves and sweaters (in other words, the cute part of my wardrobe).  And the crisp chill in the air and the leaves changing color.  It's definitely my favorite time of year and I look forward to cinnamon flavored everything.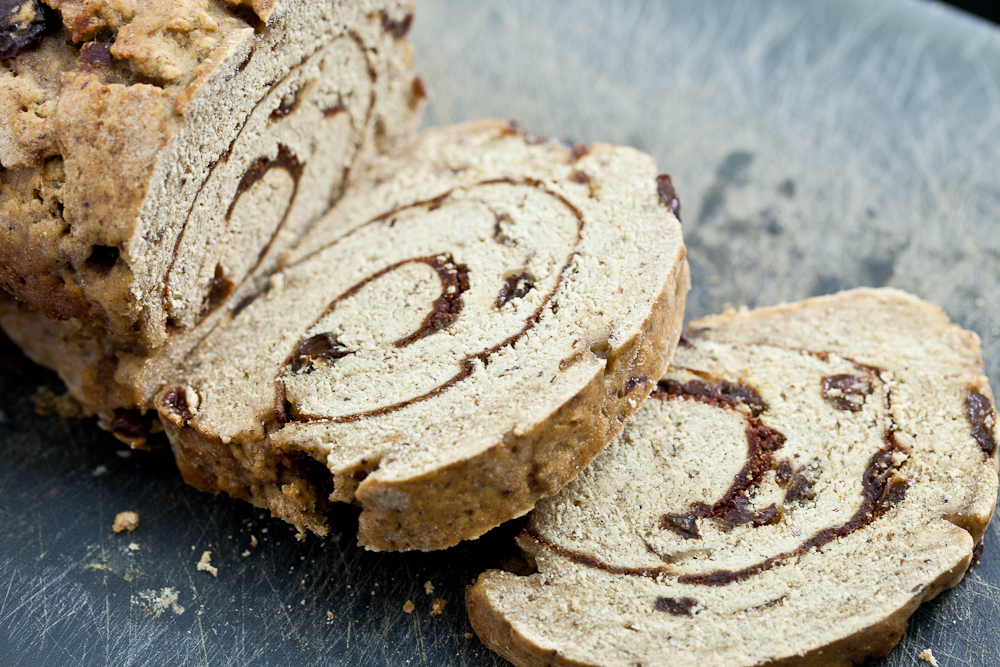 When I was a kid, my dad would make me cinnamon toast (buttered toast with cinnamon and sugar) and every once in awhile, we would have cinnamon raisin swirl bread and he would make my cinnamon toast with that.  Heaven.  There's nothing like curling up in a blanket on a fall morning with a warm piece of cinnamon toast made with cinnamon raisin bread.  Nothing compares.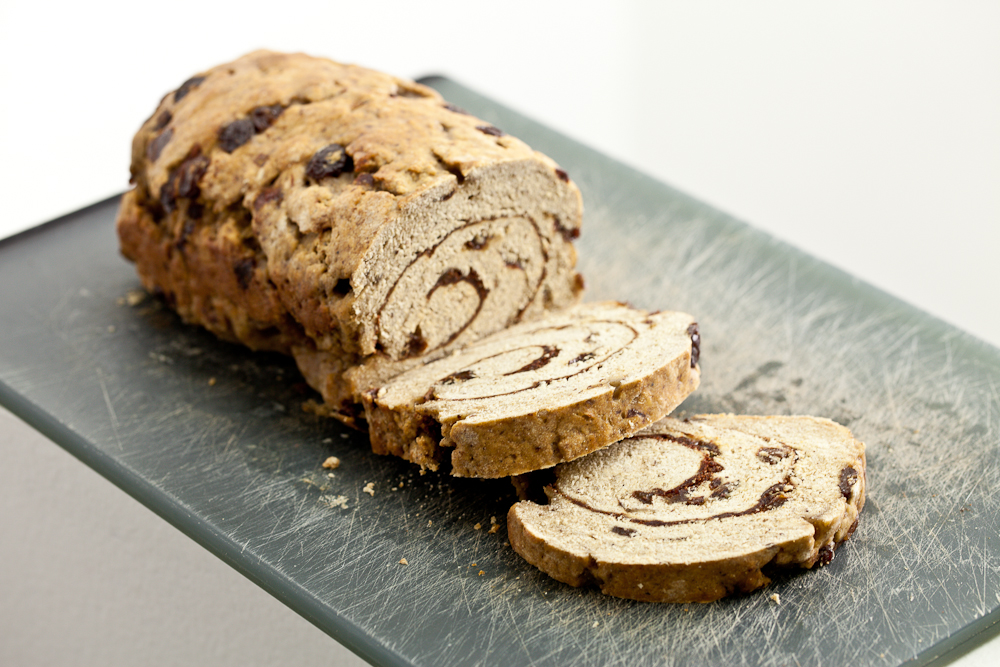 Cinnamon raisin swirl bread held a special place in my heart as the perfect treat, until I briefly had a crazy old Scottish lady (and I mean the "sleep-on-the-floor-of-the-closet-and-talk-constantly-about-my-dog-who-died-ten-years-ago-as-if-he-were-still-alive" kind of crazy) as my roommate in college and I am not exaggerating when I say that the only thing she ate was toasted cinnamon raisin bread.  It got to a point that the sickly sweet aroma of the toast mixed with whatever I was eating and turned me off cinnamon raisin bread entirely.  When I became vegan, I didn't care that I couldn't find a reasonably priced loaf of vegan cinnamon raisin bread.  I was over it.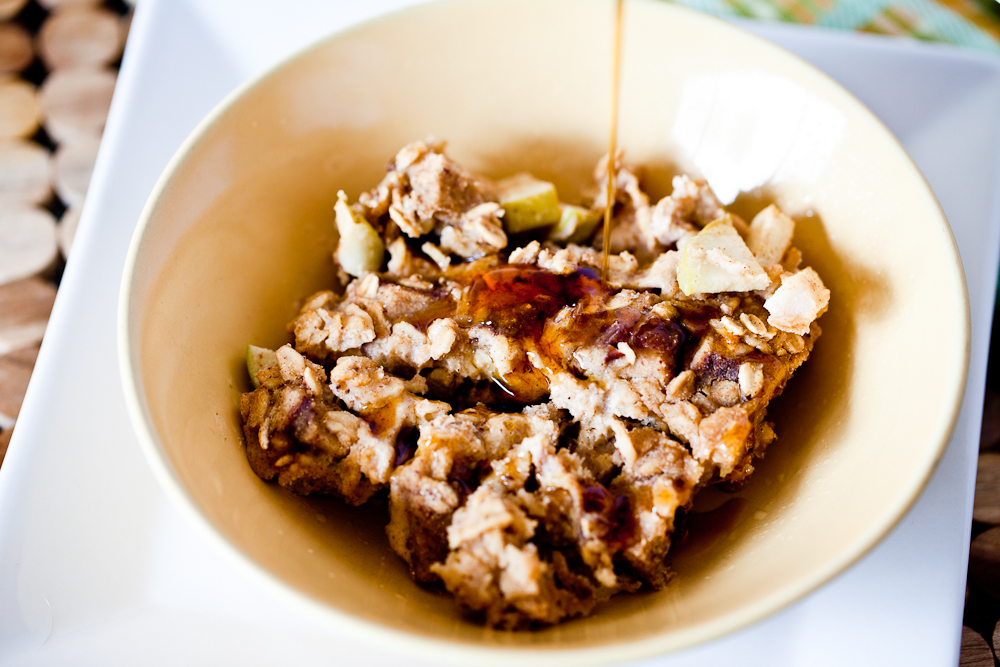 Fall has been teasing us here in southern california.  It will be cool for a moment, then goes right back to being hot.  I want so badly to be bundled in my cute fall clothes, my house smelling of cinnamon, but mother nature is not allowing it right now.  So I've kind of been forcing it- wearing a scarf with my tank top, lighting fires in the fireplace in the evening, and using cinnamon in everything.  I even made some gluten-free cinnamon raisin bread in hopes that Fall will get it's butt in gear.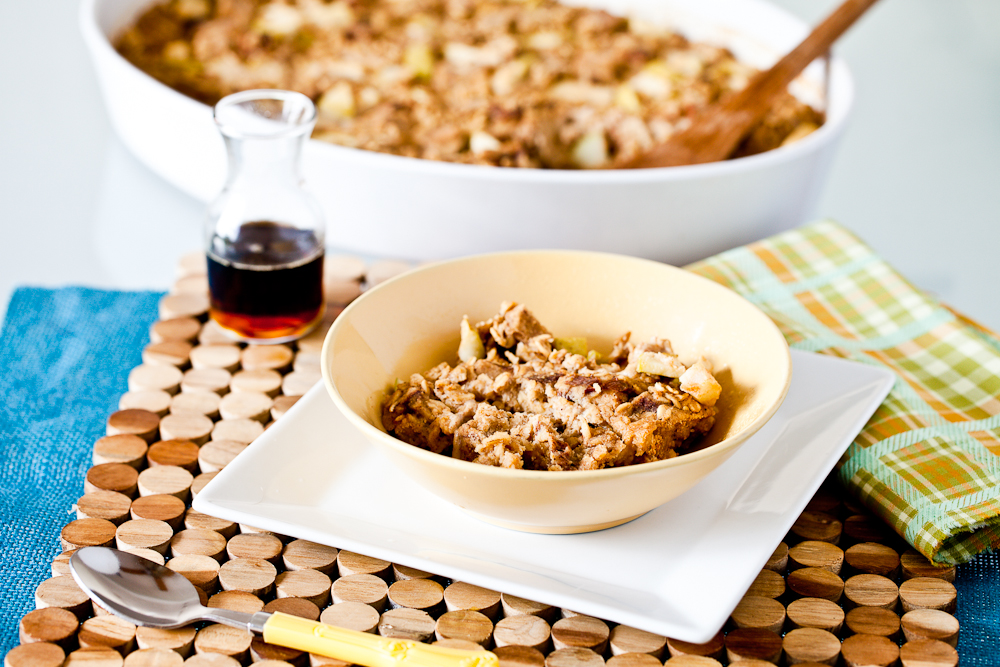 When that didn't work, I decided to make an even more cinnamon-y dish using that bread.  I decided to make baked oatmeal with chunks of cinnamon raisin french toast mixed throughout.  In case you didn't know, my man, The Chickpea, can turn regular vegan french toast into fabulous french toast, by adding some chickpea flour to the batter that you soak the bread in.  I soaked the cubes of cinnamon raisin bread in my chickpea flour batter with rolled oats and even more cinnamon.  I even threw in some apple for good measure. It was incredible.  Like, "I-just-want-to-eat-this-until-I-explode" kind of incredible.
My baked apple cinnamon french toast oatmeal didn't exactly scare summer off, but my family loved it and the tiny bit that was leftover made for great breakfasts on the go for a few days.  I just portioned the leftovers out into small containers, then in the morning, just drizzled some almond milk over it and heated it in the microwave.  It made every morning feel like fall.  The wafts of cinnamon-scented steam floating into the air while I savor each bite, wearing a scarf and boots, temporarily forgetting that it's actually 80 degrees out.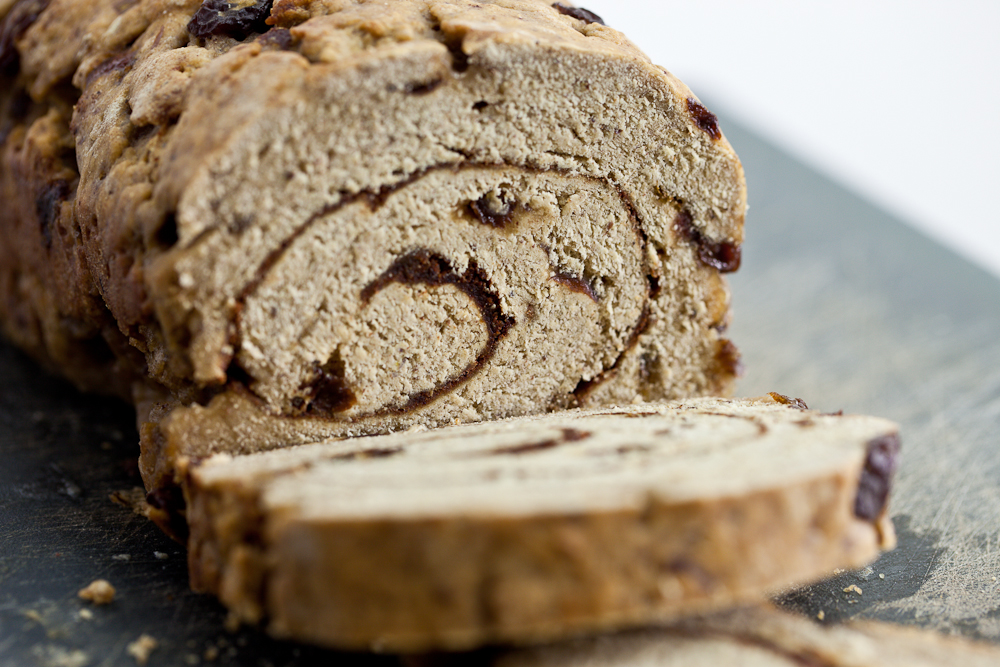 Gluten-Free Cinnamon Raisin Swirl Bread
Ingredients
3/4 cup of raisins
4 dates, chopped
1 cup + 2 T of almond milk + several tablespoons to drizzle over the bread
1 packet of dry yeast
1/3 cup + ¼ cup date sugar, divided
1 tsp vegan sugar
4 cups gluten free all-purpose flour,
3 tsp of xantham gum (optional)
1 tsp salt
1 tsp + 1 tsp ground cinnamon, divided
½ tsp ground cloves
couple dashes of nutmeg
¼ cup of silken tofu, pureed
1 flax egg (1 T flax meal, mixed with 3 T warm water and allowed to set until "gelled")
3 T coconut oil, melted
Instructions
Lightly spray a loaf pan with vegan cooking spray.
Soak raisins and chopped dates in a small bowl with hot water. Let stand 20 minutes then drain well.
Heat 1 cup and 2 tablespoons of almond milk over low heat on stove in a small saucepan to between 100° and 110°. Remove from heat.
Combine warmed milk, sugar, 1/3 cup date sugar, and yeast in a large bowl, stirring until well dissolved. Let stand 5 minutes.
Combine flour, salt, 1 teaspoon cinnamon, cloves and nutmeg (and optional xantham gum).
Add tofu, flax egg, and coconut oil to milk mixture. Stir well with whisk until combined.
Add to flour mixture and stir until a soft dough forms. Turn dough out onto a lightly floured surface. Knead raisins and dates into dough. Sprinkle the top with flour to prevent it from sticking to rolling pin.
Roll dough into a 14 x 7-inch rectangle on a lightly floured surface. Lightly coat surface of dough with cooking spray.
Combine ¼ cup date sugar and 1 teaspoon cinnamon in a small bowl. Sprinkle sugar mixture evenly over dough then press sugar mixture into dough so it will adhere.
Roll up rectangle tightly, starting with a short edge, pressing firmly. Pinch seam and ends to seal.
Place roll, seam side down, into lightly greased loaf pan. Cover and let rise 1 hour (It won't rise very much. This will be a dense bread.)
Preheat oven to 350°. Uncover loaf and drizzle about 3-4 tablespoons of almond milk over the top of the loaf. If a lot of the milk pools at the bottom of the pan, drain some of it out (a little is okay and will help keep the bread moist).
Bake at 350° for 30 minutes. Remove from oven, drizzle with 2-4 more tablespoons of almond milk, cover loosely with aluminum foil and bake for 30 more minutes. Let it cool in the pan for about five minutes before removing and transferring to a cooling rack. Slice and serve warm, slathered in a little vegan butter. Enjoy!
Notes
Recipe slightly adapted from Momables.
This recipe creates a very dense bread. If you are looking for a light, fluffy piece of gluten-free cinnamon raisin bread, this is not the best recipe for you. Even though it's dense, it's delicious and it's absolutely fantastic in the Baked Apple Cinnamon Raisin French Toast Oatmeal.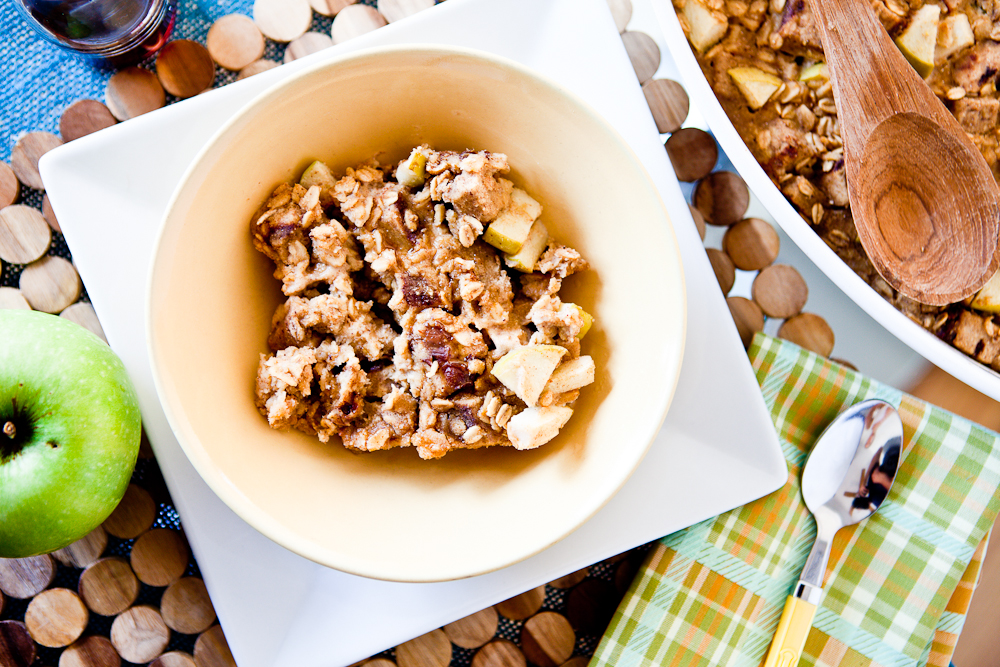 baked apple cinnamon french toast oatmeal
Baked Apple Cinnamon French Toast Oatmeal
Ingredients
2 cups almond milk
1 cup vegan creamer
1 cup chickpea flour
¼ cup maple syrup
3 T cornstarch
1 tsp vanilla extract
1 tsp cinnamon
dash of nutmeg
dash of salt
5 cups vegan cinnamon raisin bread, cubed
2 cups rolled oats (gluten free, if necessary)
1 small green apple, cut into small chunks
Instructions
Combine the milk, creamer, chickpea flour, maple syrup, cornstarch, vanilla extract, cinnamon, nutmeg, and salt in a large baking dish (9 x 13 or similar). Whisk together until smooth (some small bumps are okay).
Add the oats to the milk mixture and combine. Add the bread cubves and apple chunks and mix to make sure all pieces are fully coated. Use the back of a spatula to lightly press it all down. Cover and refrigerate over night.
Preheat the oven to 375. Place the dish in the oven and bake for 30 minutes. Serve warm with maple syrup. Enjoy!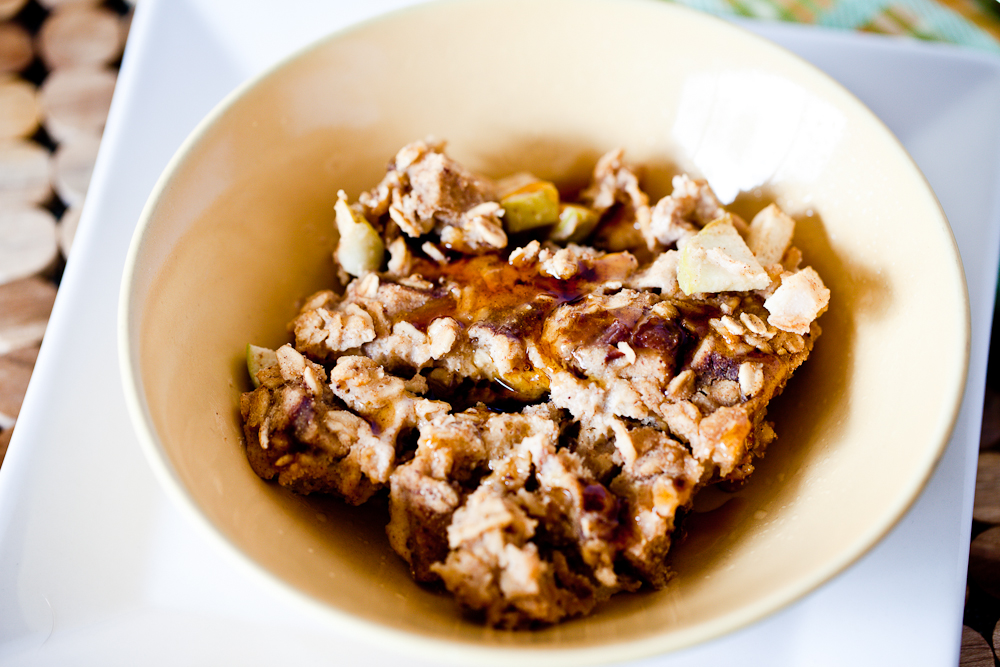 First time here?  Check out the rest of my Chickpea Love Affair Vegan MoFo Entries!
Thank you so much to everyone who supported Keepin' It Kind in the Walk for Farm Animals this last weekend!  We reached our goal of $500 and we couldn't have done it without each and every one of you.  Your kindness has truly overwhelmed me.  
***At the time this post was written, Hurricane Sandy had not been announced yet, and I realize that this post might be rather insensitive to those dealing with horrid weather conditions right now.  Please forgive me!***
Photography by Chris Miller