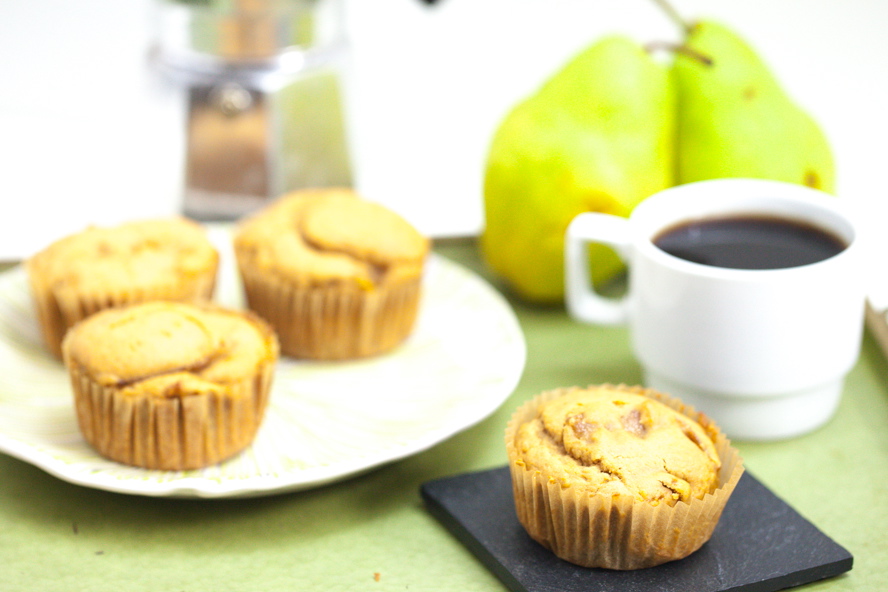 In L.A., when the weather dips below 65°, Los Angelenos like to pretend that it's actually 30° below.  During our four-day Thanksgiving break, it got to about 60°, so that called for us to pretend like it was freezing.  Chris and I did a lot of sleeping in, lounging about the house, and movie-watching.  We kept it cozy inside with a fire going in the fireplace.  We noshed on Thanksgiving leftovers and had pie with our coffee.  It was blissful.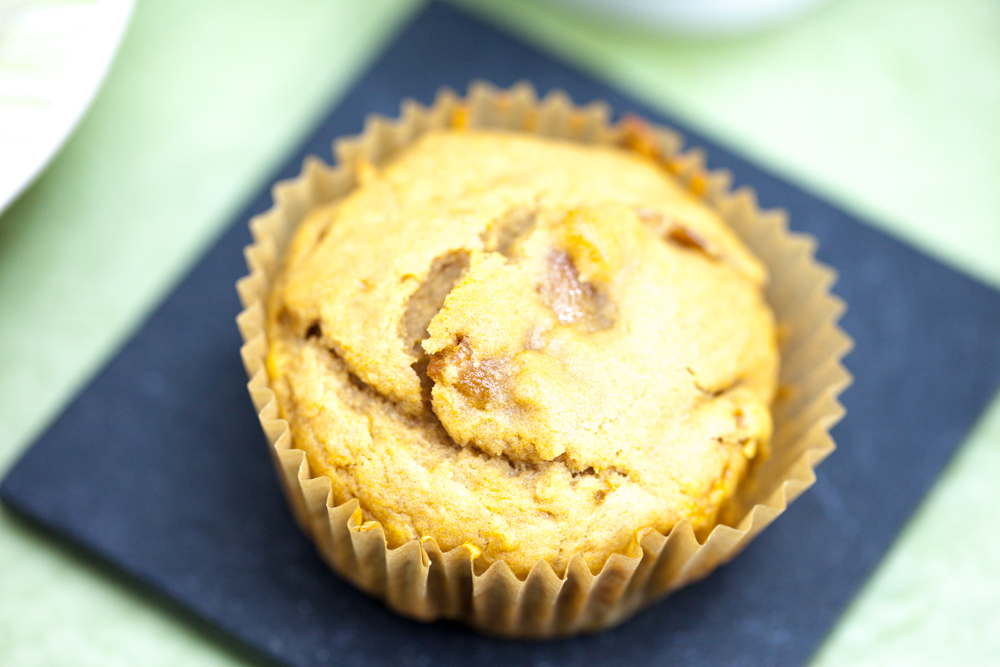 Do you know what goes really well with "cold," lazy, stay-inside days?  Baking.  Muffin baking, more specifically.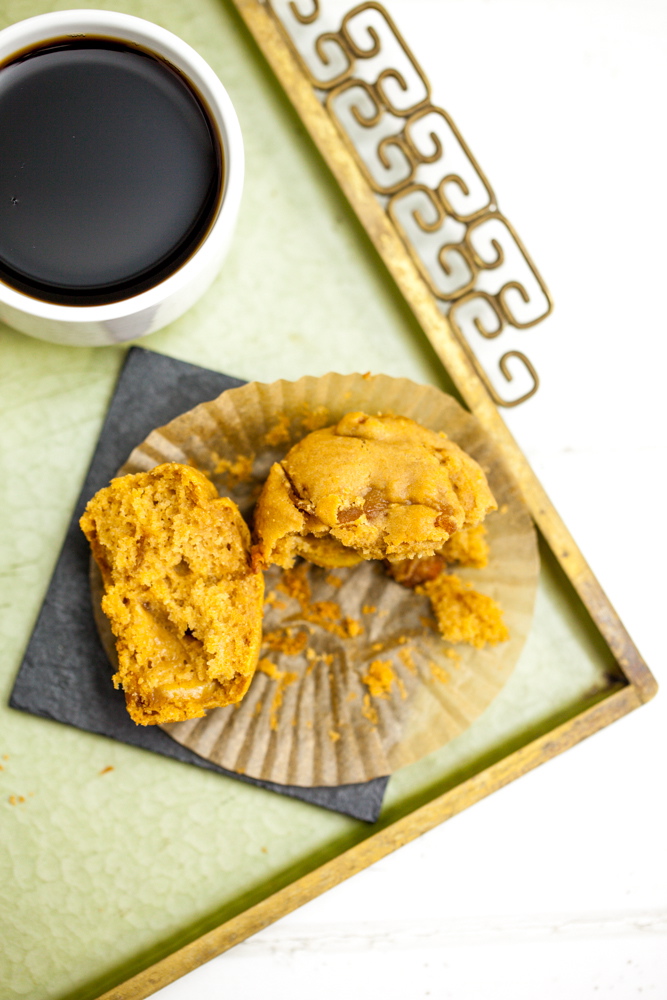 It was wonderful- filling the house with the sweet scent of caramelized pears and feeling the warmth from the oven as I sat at the dining table with a cup of coffee and a book, my canine friend leaning against my legs.  Can you imagine anything more heavenly?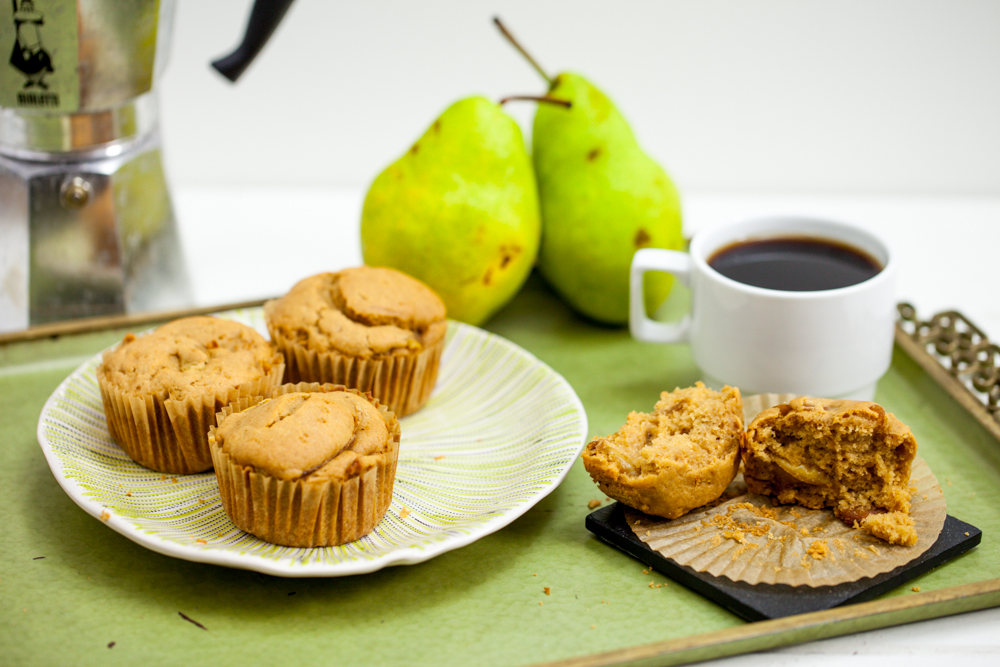 The outcome of my homebody baking experiments:  Fluffy, moist muffins filled with slices of caramelized pears.  These are some of the most indulgent-tasting muffins I've had in a long while, and the truth is, they're actually pretty healthy!  They're sugar-free since I only used coconut sugar in the muffin batter and to caramelize the pears.  Coconut sugar has a very low glycemic level, which means no sugar highs/lows and it's very nutrient dense.  There is a little bit of coconut oil, but if you wanted to make them lower fat, you could use (unsweetened) applesauce instead.  The best part about these muffins were the caramelized pear slices, hence the name.  I just cooked the pear slices in a pan with some vegan butter and coconut sugar until the pear slices were soft and covered in a thick, caramel sauce.  With every bite of the muffin, you get a chunk of these sweet, caramel pears and let me tell you, my friend, it is glorious!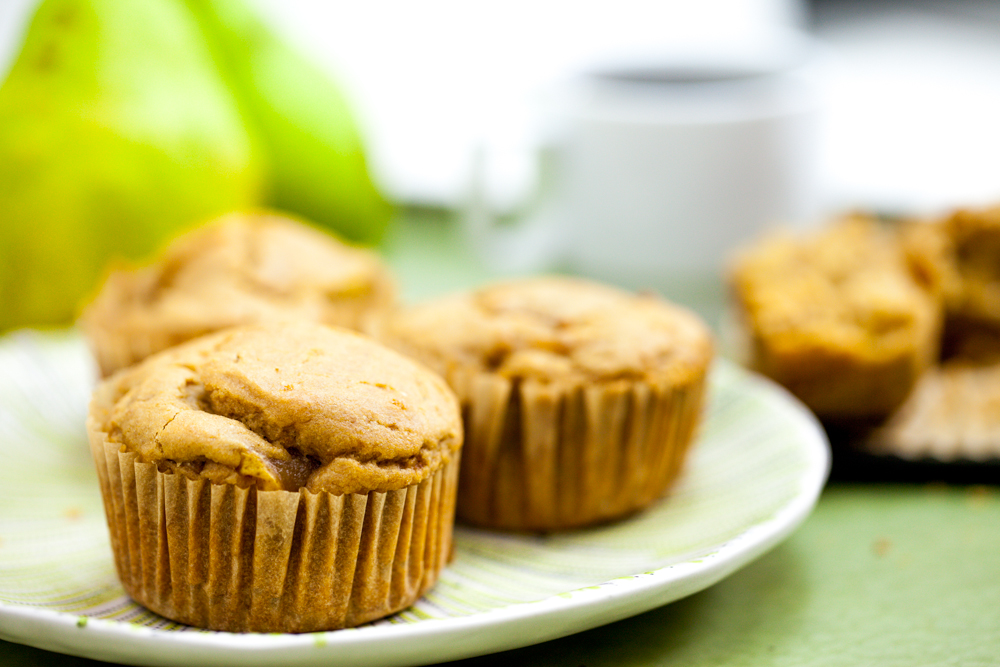 In order to go outside in 60° weather in Los Angeles, everyone likes to to get bundled up and hold cups of hot coffee as if they were just given hot cocoa after trekking through the snow for 6 hours.  It's pretty silly, but I admit, I love to do it too.  A few times during our long, lazy weekend, we ventured out to get soy lattes from our local Starbucks, where we would sit and people/dog watch, enjoying "being cold" while sipping our warm drinks.  The day after I made these muffins, however, we took it up a notch.  I packed a couple muffins in my purse (don't judge), and while others noshed on their 700 calorie, animal-secretion laden excuses for baked goods, we whipped out our decadent, yet healthy, caramelized pear muffins and munched while we sipped our lattes, pretending that the heat from the coffee was necessary for our survival.  Then we returned to the house to watch more movies.  Absolutely blissful.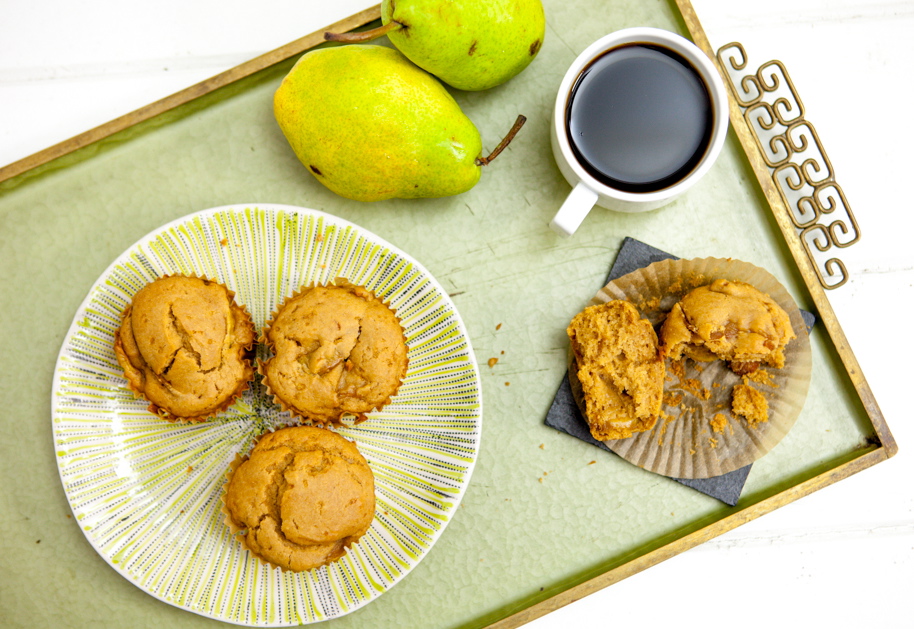 Ingredients
2 cups whole wheat pastry flour (or all-purpose/gluten-free all purpose flour)
½ cup coconut sugar
1 tablespoon baking powder
½ teaspoon salt
1 cup almond milk (or milk of choice)
1 teaspoon apple cider vinegar
1/3 cup coconut oil, melted
2 teaspoons vanilla extract
2 bartlet pears, cored and thinly sliced
1 tablespoon of butter
4 tablespoons coconut sugar (or other vegan sugar)
pinch of salt
Instructions
In a small bowl, combine the almond milk and apple cider vinegar. Set aside. This needs to set for at least ten minutes to allow the milk to curdle and become "buttermilk."
Combine all of your dry ingredients in a large bowl and set aside.
Preheat the oven to 375. Line a muffin tin with 12 cupcake/muffin liners.
Prepare your pears. Melt the butter in a frying pan over medium heat. Add the pear slices and coconut sugar and mix to combine. Let the pears simmer in the caramel sauce/juice, stirring occasionally, until the liquid is gone and the pears are soft and brown with the caramel sauce. Remove from heat.
Add the coconut oil and vanilla extract to the buttermilk mixture and mix to combine. Pour the wet ingredients in the bowl of dry ingredients and stir until just combined. Fold in the caramelized pears.
Evenly distribute the batter amongst the 12 liners. Bake in the oven for 25-30 minutes, until a toothpick inserted into the center of a muffin comes out clean. Remove from the oven. Let cool in the tin for about five minutes before removing the muffins and transferring them to a cooling rack. Let them cool completely before serving. Enjoy!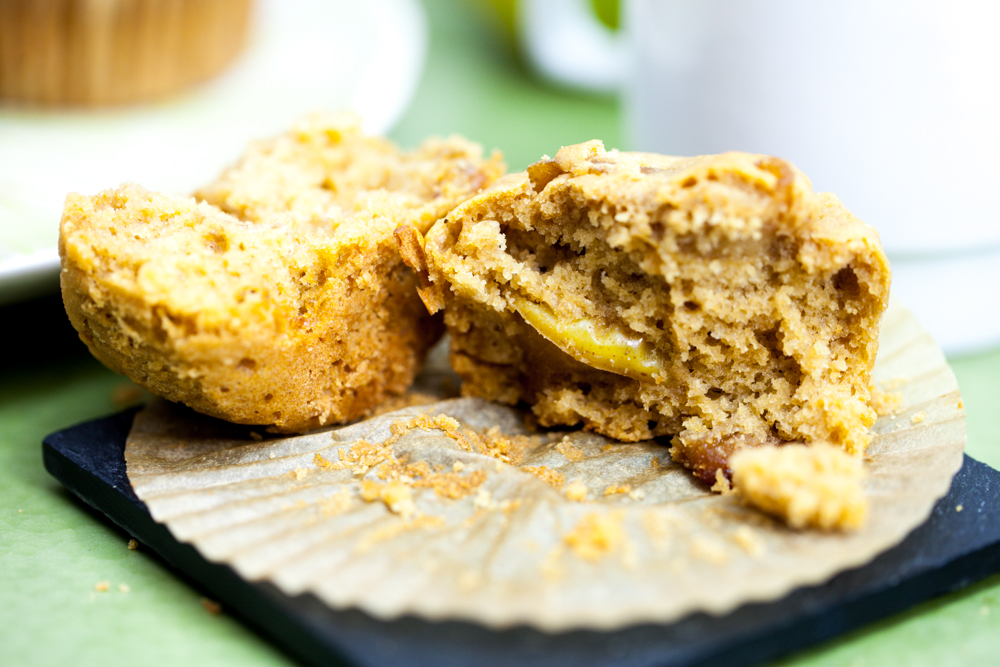 Photography by Chris Miller