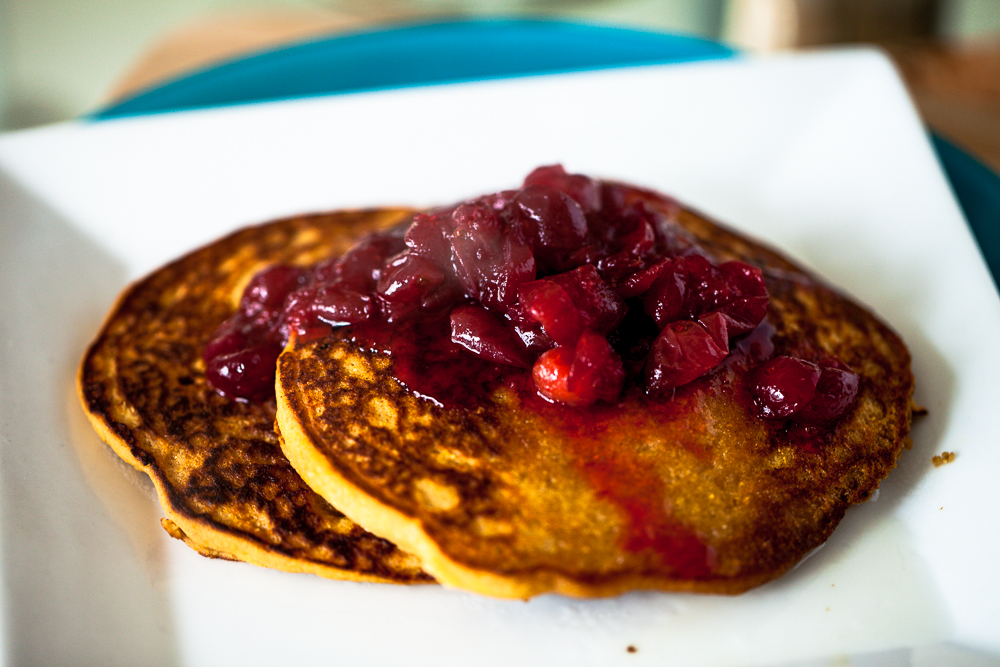 I don't remember ever having a traditional Christmas breakfast/brunch growing up.  When I was a kid, breakfast was usually whatever cookies Santa didn't eat, consumed while impatiently waiting for my mom to hurry up and get out of bed so we could open presents.  As I got older, I seem to remember breakfasts being more like snacks, really, just to tide me over until the big Christmas dinner.
I've grown to really love the idea of having a nice brunch with the family on Christmas morning: a table filled with freshly made cinnamon rolls and tofu scrambles and hash browns; christmas carols playing on the stereo; the house filled with the smell of cinnamon and sugar and the coffee brewing in the background; all of us still in our pajamas with messy hair, morning breath, and big smiles.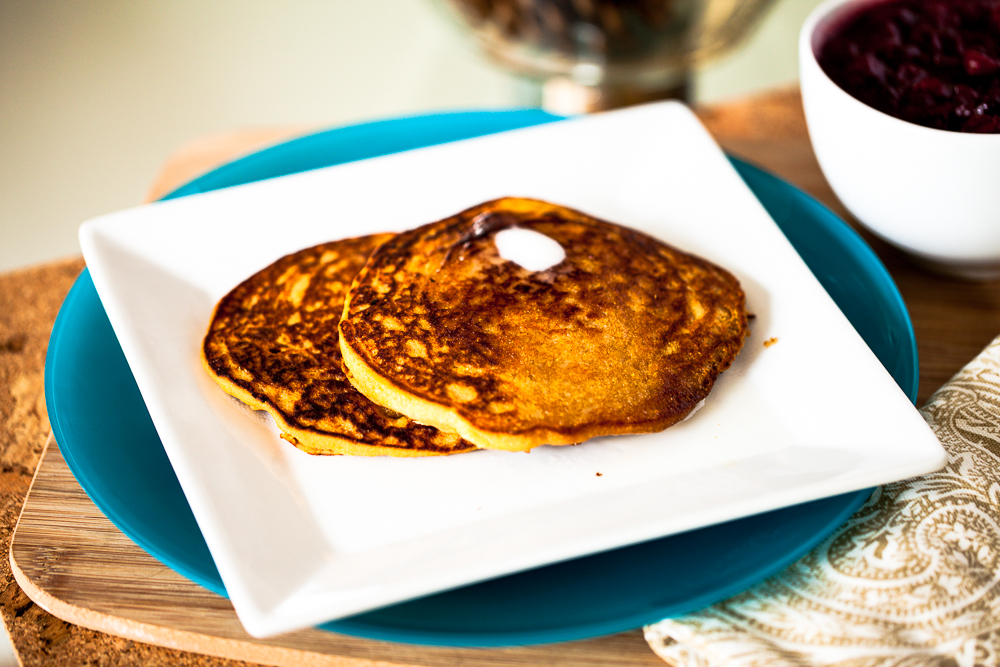 This is still just a dream of mine.  I have yet to muster up the courage to try and make cinnamon rolls, so having perfect ones made freshly on Christmas morning is likely to not happen anytime soon.  Then there's the fact that I feel kind of lazy on Christmas morning, so I would need some little fairies or elves to make breakfast while I was sleeping.  And we don't have any of those (that I know of).  We also have family spread out all over California, so our Christmas mornings are spent at the twins' mom's house, watching the twins open gifts before we begin our journey to visit family.  I always bring a platter full of homemade muffins and breads (baked the day before) for all of us to munch on during the present-opening extravaganza, and I love that little tradition, but it's not like rolling out of bed to a gorgeous spread full of breakfast goodies.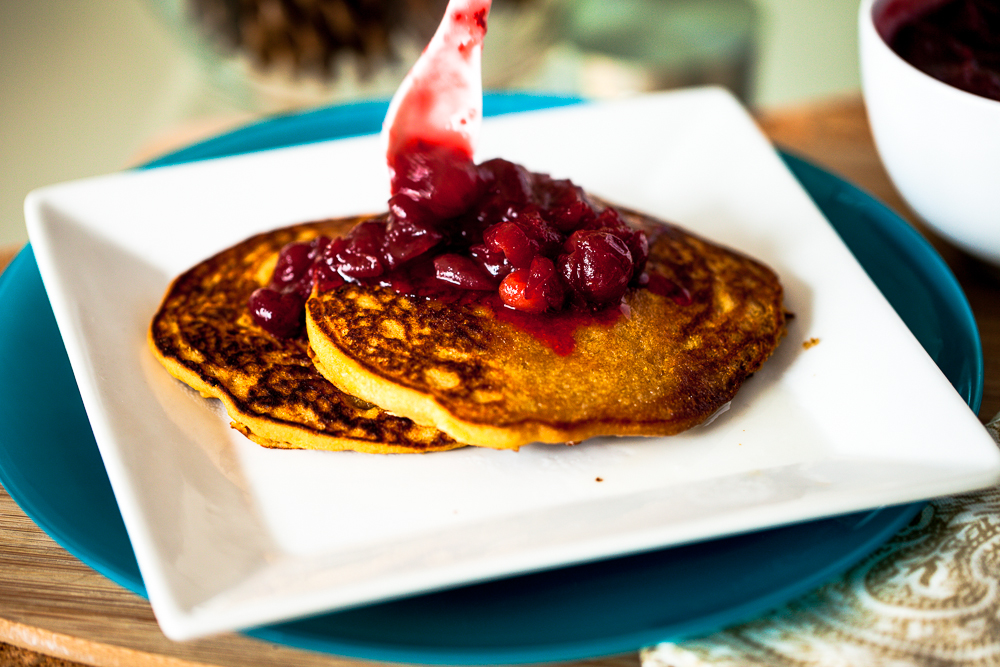 So, what I do is try to have wintery-types of brunches as much as possible before the holiday.  Most recently, we did pancakes.  Delicious pancakes made with a gluten-free flour blend (I used Cara's blend), cornmeal, and the puree of a hachiya persimmon.  Hachiya persimmons are only good when they're extremely ripe (and by "ripe," I mean "super soft and squishy").  If you try to eat them before they reach this state, you'll destroy your mouth it will cause your mouth to pucker in a way it never has before.  Once it is perfectly ripe, you just trim the top off and use a spoon to scoop out all of the juicy flesh.  It will give your pancakes a slightly sweet, subtly fruity flavor, a perfect pairing for the cornmeal.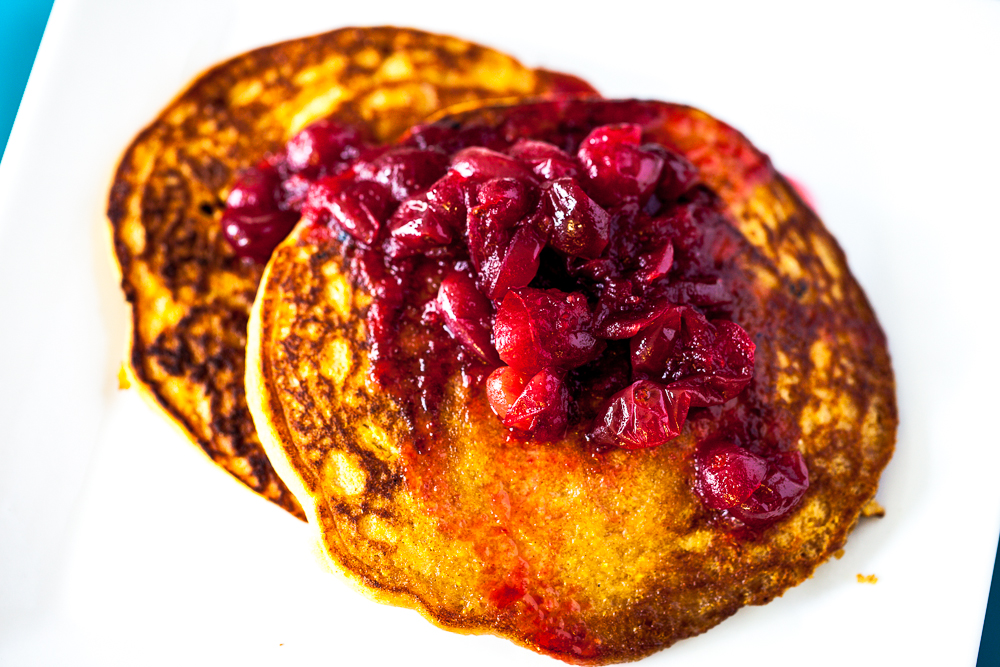 I topped these pancakes with a cranberry sauce made with maple syrup rather than sugar.  With some melty vegan butter, this warm cranberry sauce over these perfectly persimmony pancakes (heavens, I love alliterations!) is a perfect little gift for your holiday brunch.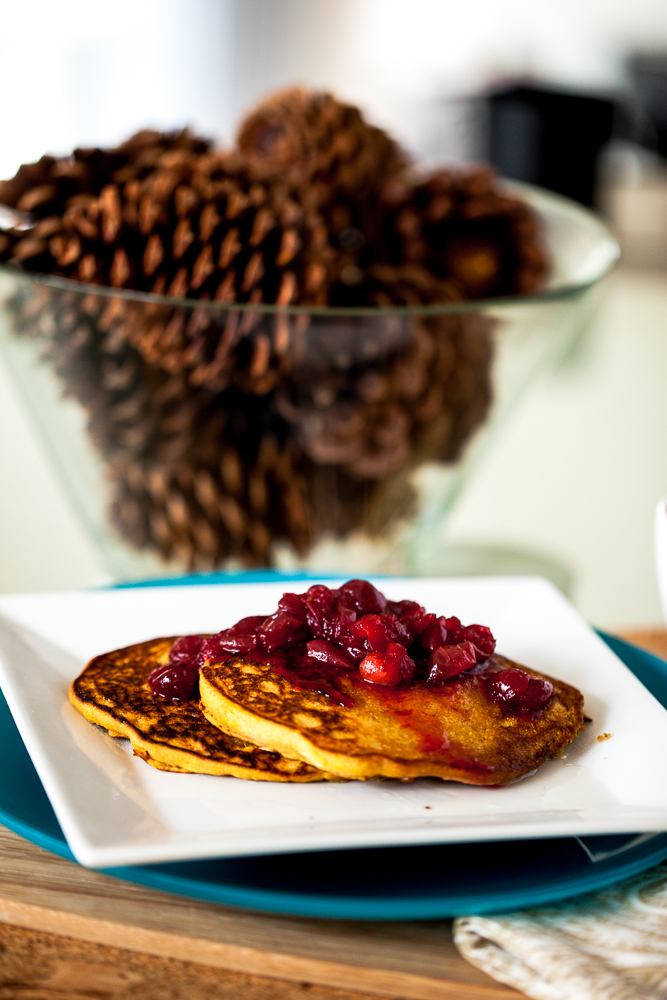 Persimmon Cornmeal Pancakes with Maple Cranberry Sauce
Ingredients
1 1/4 cups gluten-free flour (or all-purpose four)
¾ cup cornmeal
2 tablespoons baking powder
2-3 tablespoons coconut sugar (or other vegan sugar)
1 teaspoon salt
1 teaspoon cinnamon
1 1/2 cups vegan milk mixed with 2 teaspoons apple cider vinegar (and allowed to set for about 10 minutes)
1/2 cup hachiya persimmon flesh (the insides, not the skin)
2 tablespoons coconut oil, melted but at room temperature
1 teaspoon vanilla extract

for the maple cranberry sauce

1 cup cranberries
3/4 cup water
1/3 cup maple syrup
Instructions
for the maple cranberry sauce

Bring the water to a boil in a small pot. Add the cranberries and reduce to a simmer. Once the cranberries begin to pop, lower the heat and add the maple syrup. Let the sauce continue to simmer and thicken for about 5-8 minutes, stirring occasionally. Once it reaches the desired thickness, remove from heat.
Mix your dry ingredients together in a large bowl.
In a food processor, puree your persimmon flesh with the coconut oil. Add the buttermilk (milk/apple cider mixture) and vanilla extract and pulse until combined.
Make a well in the middle of the dry ingredients and add persimmon mixture from the food processor. Lightly mix all of the ingredients together until just combined. DO NOT OVERMIX. Lumps are good. Let the mix rest for about 10-15 minutes before using.
Heat your pan over medium/low heat for a couple minutes. Very lightly spray the pan with vegan cooking spray and use a measuring cup (1/4 cup or 1/3 cup), also lightly sprayed with cooking spray, to pour the batter into the pan. Don't overcrowd the pancakes, giving them enough room to spread as needed. Remember to respray the measuring cup and the pan in between pancakes. Once the pancake edges begin to lift up, after about 3-4 minutes, flip the pancake and let cook for another 2-3 minutes. Remove from heat.
If not serving immediately, let rest on a cooling rack, covered with a clean kitchen towel or aluminum foil. Top the pancakes with the maple cranberry sauce or maple syrup and serve. Enjoy!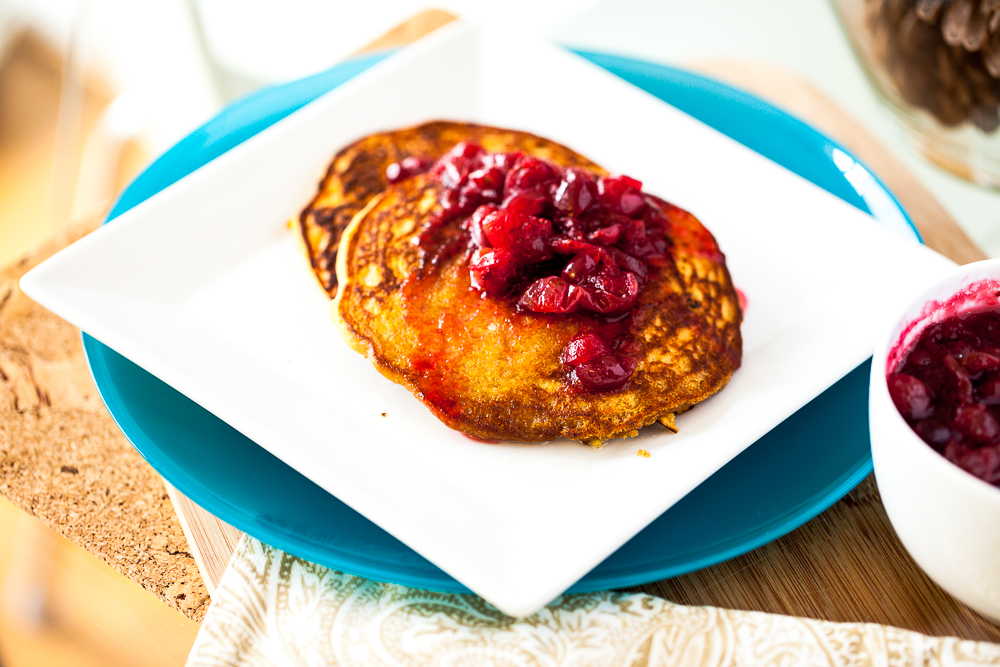 Photography by Chris Miller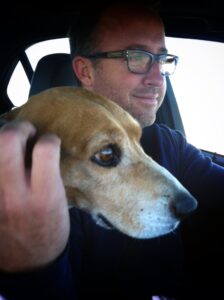 Speaking of gifts, our family recently got the greatest gift.  We certainly weren't planning on adding a member to our family, but sometimes life happens when you least expect it, as they say.  A couple weeks ago, while checking in on Facebook (something I've not been good at keeping up on recently), I stumbled upon a picture of a little dog, curled up in a ball on the concrete floor of a high-kill shelter in Lancaster, posted by ARME ( who runs Beagle Freedom Project, which I've spoken about before).  My heart broke, just thinking of this adorable little girl, locked in a cage, at risk of being put-down because she was abandoned by her former family (she had a chip implanted, and though her former owner had been called, mailed, and emailed, no one responded).  Luckily, Chris was working in Acton that day, a stone's throw from Lancaster, and he made time to stop by the shelter and visit her.  He instantly fell for her and her calm demeanor, even when all the other dogs in the other cages were loudly barking and crying.  We had to wait a week, while they continued to contact her former owner, but on Saturday, we drove up to Lancaster  with the twins and Samantha (our current canine roommate) and rescued our new family member.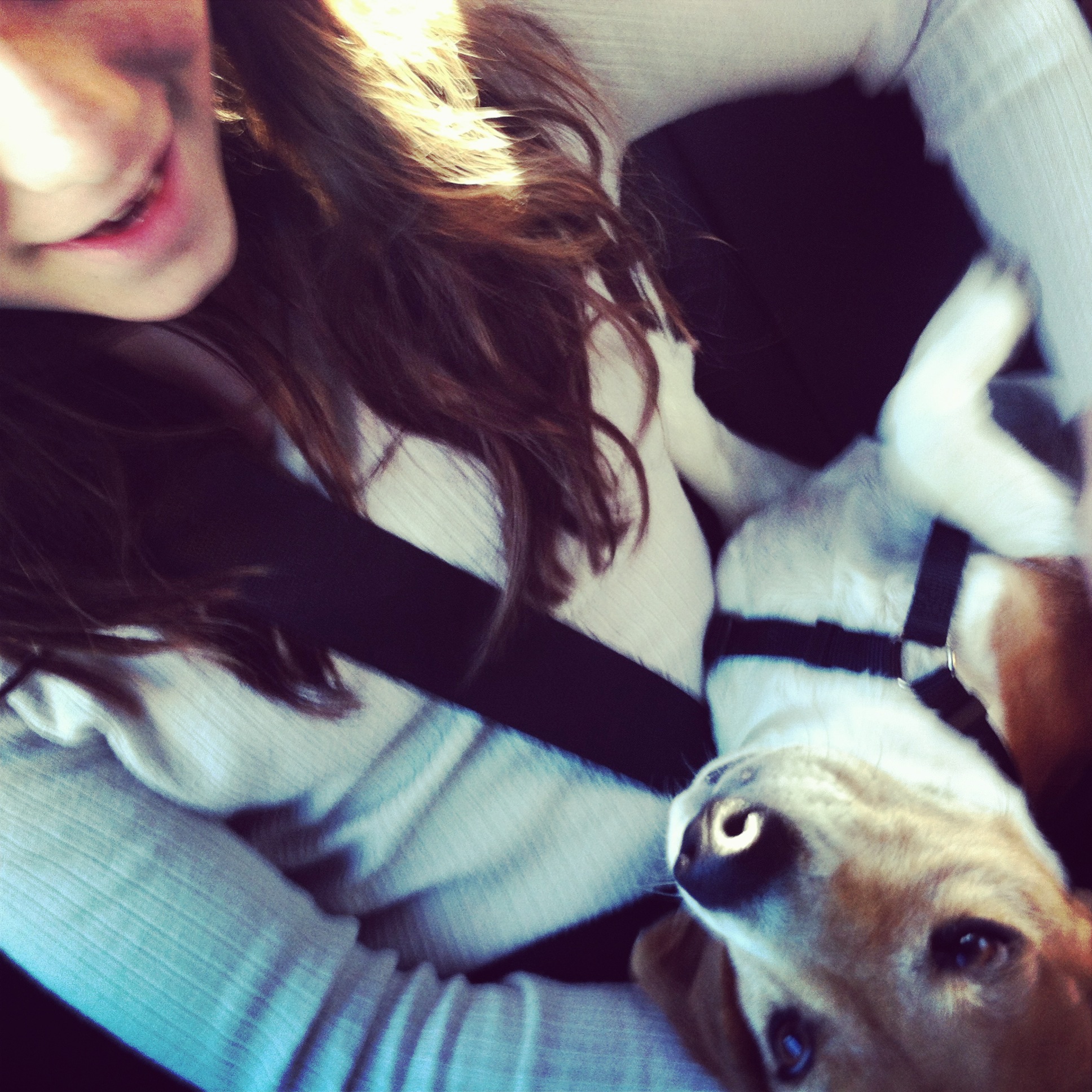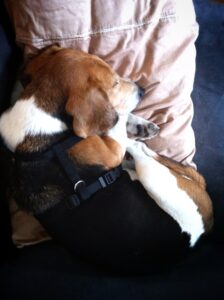 Maeby couldn't be any sweeter of a dog, and she and Sam seem to be getting along (as long as there is no food in the picture- that's something we're still working out).  I thought no dog could sleep more than Samantha (she needs her 20 hours a day or she just isn't herself), but Maeby sleeps (and snores) about 90% of the time.  I just can't get over how adorable she is and how well she's taken to all of us and how comfortable she is in her new home.  I just feel so warm and fuzzy right now, I can barely stand it.
If you have room in your home and your heart, please consider rescuing an animal (and please, please, please never, ever buy from a breeder or a shop).  It may be a small thing for you, but it will give that animal another chance at life.