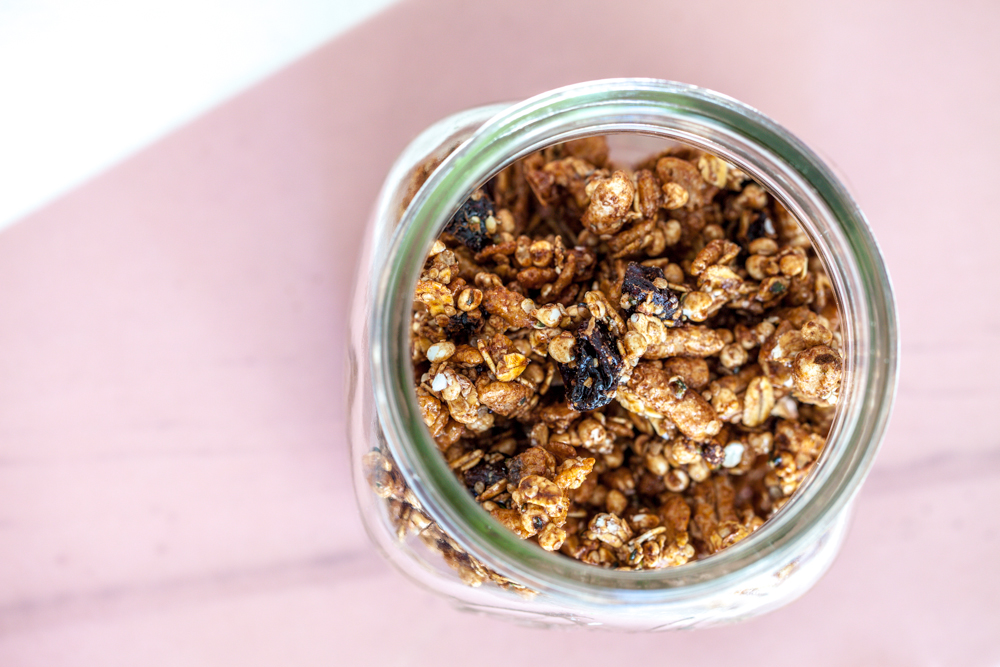 This last Christmas, I decided to get all crafty and make edible presents for people.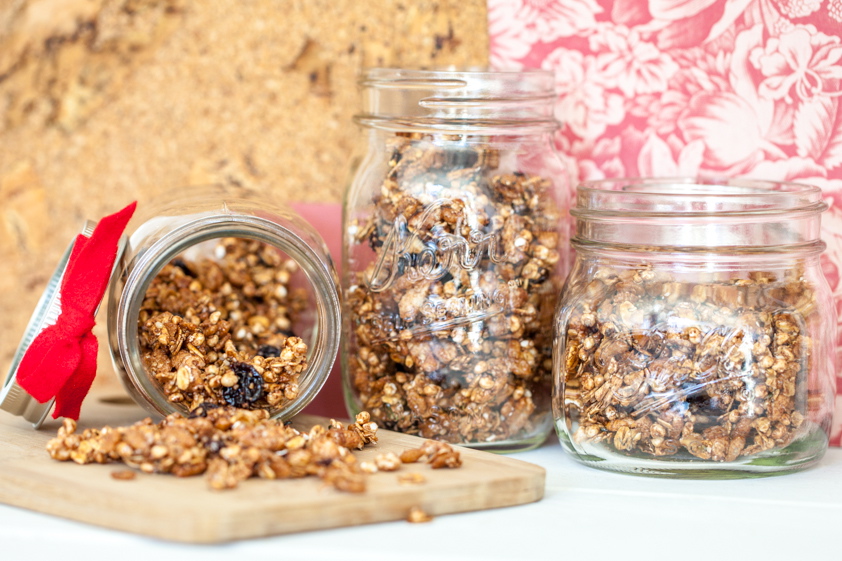 I bought lots of cute jars and ribbons and tags.  I made this Black Forest granola and typed up the recipe in a cute little font to be printed on cute little paper to be attached to the cute little jars with the cute little ribbons.  In my head, it was going to be adorable.  It would have put Martha Stewart to shame.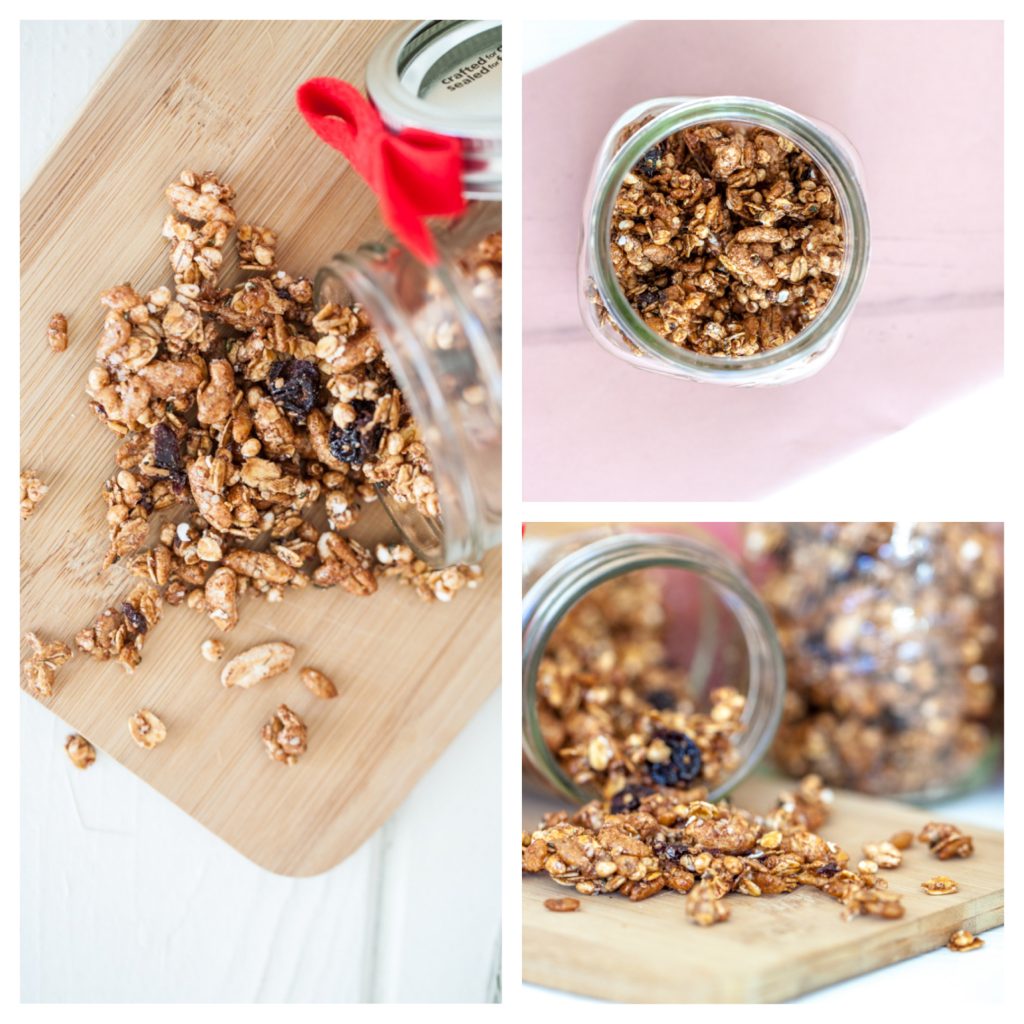 Reality:  On Christmas Eve morning, I spilt water all over my laptop in the midst of putting the finishing touches on the recipe before going to print.  This caused me to say a lot of naughty words and rendered my laptop absolutely useless as it spent the rest of the day in pieces, air-drying.  Then instead of cute little recipe cards being attached to the jars of granola, my giftees just got cute little ribbons and me saying "It's Black Forest Granola.  With chocolate and dried cherries.  It's gluten-free and sugar-free... Is the recipe on my blog?  Um, no..."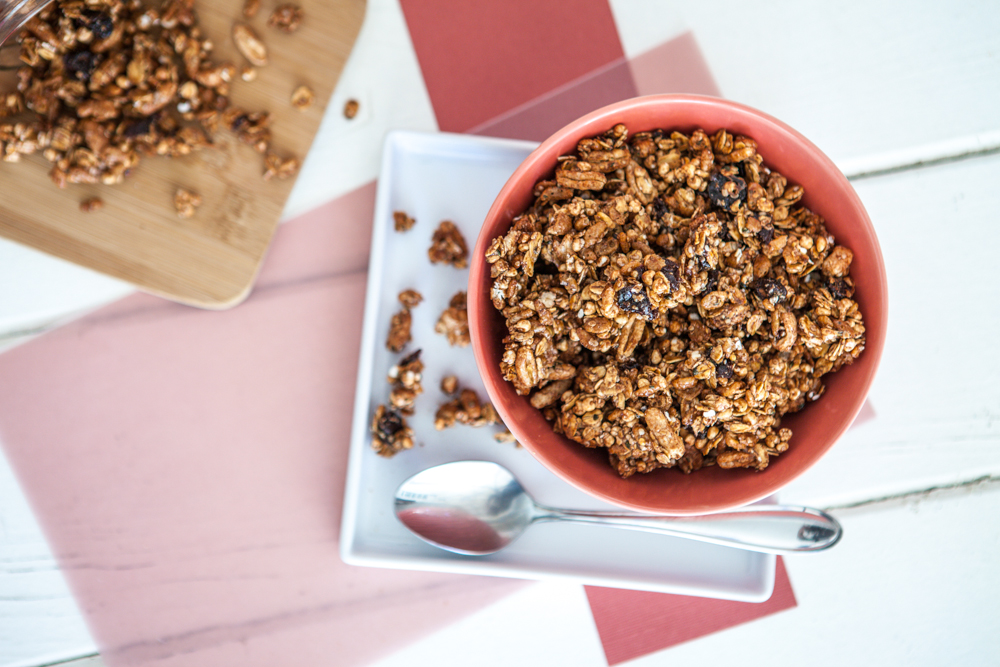 So, a month later, I decided to make it again so my giftees would have the recipe, should they want it.  I went looking for my adorable little recipe, but sadly, the water, along with ruining my trackpad, must have erased the recipe.  So I recreated it to the best of my memory.  I wish I still had some of that ribbon so I could show you how adorable the jars would have looked...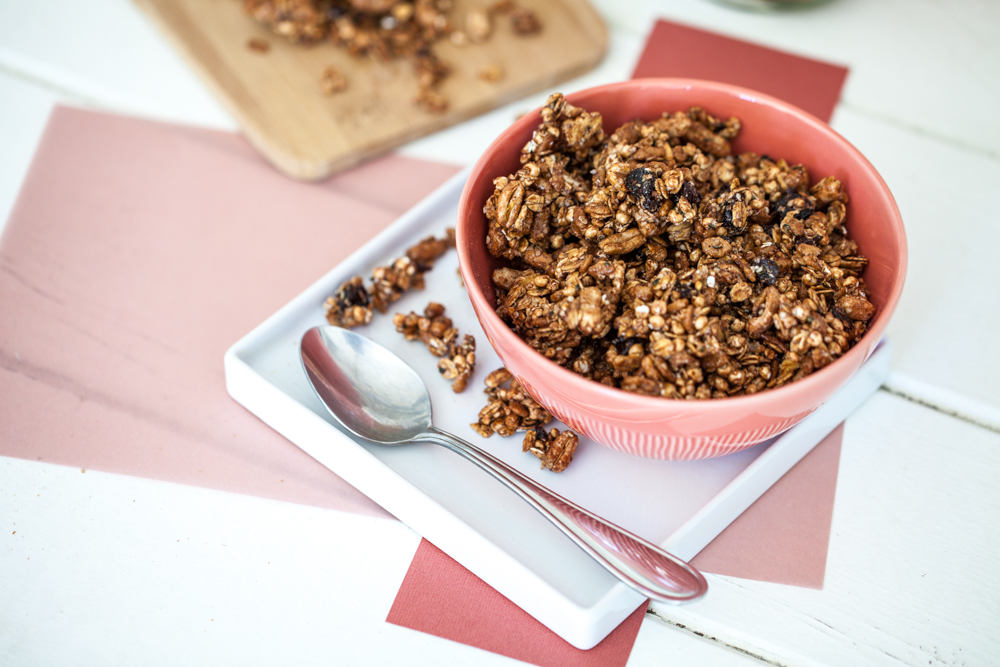 This granola is, like most granolas, absolutely delicious when eaten by the handful.  The rich chocolatey crunch combined with chewy dried cherries is terribly addictive.  However, this black forest granola truly shines when just simply poured in a bowl of almond milk.  At first, the creaminess of the milk takes on the role of whipped cream in a traditional black forest cake.  Every bite is both rich and refreshing, the cherries offering occasional bursts of tanginess.  Then the milk begins to get chocolatey, and you begin to feel like a kid, rushing to eat your cereal so you can drink the chocolate milk straight from the bowl.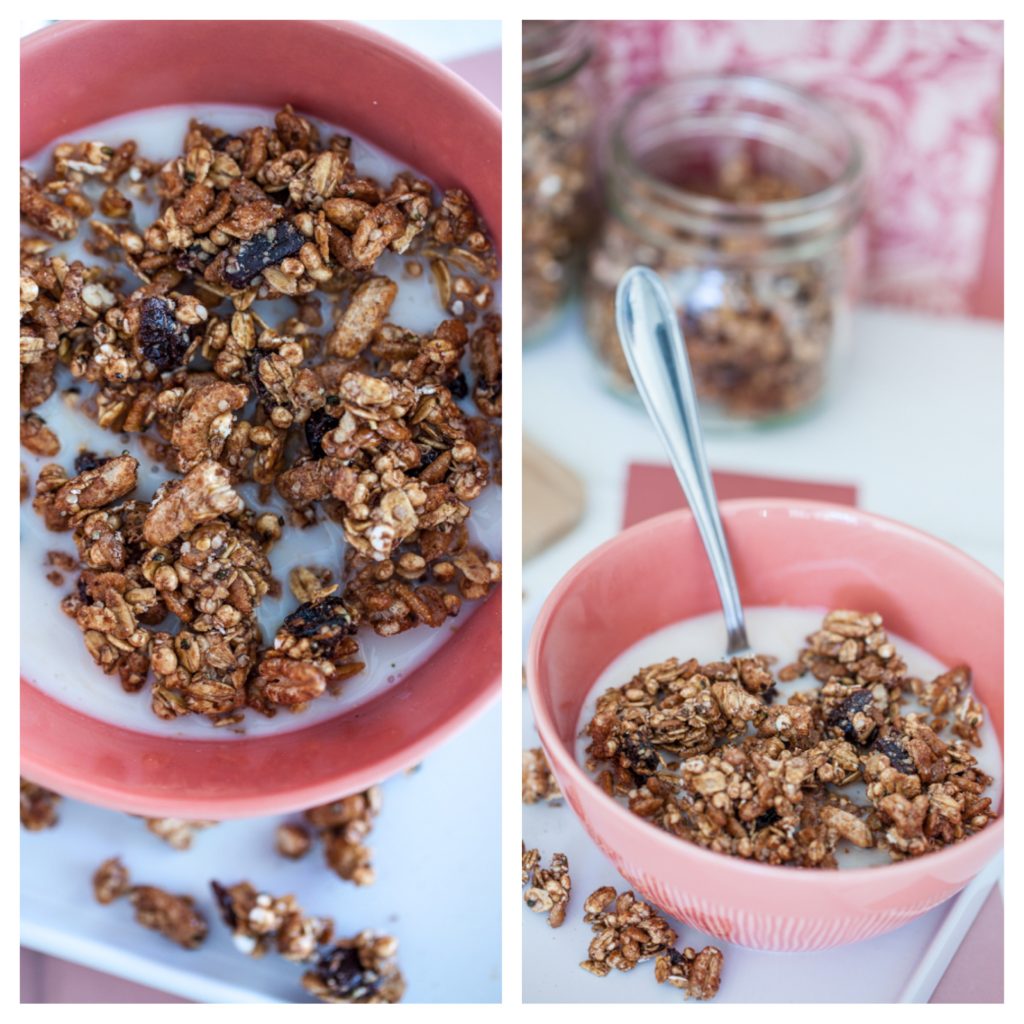 With Valentines Day coming up, might I suggest giving your loved ones this healthy yet deliciously rich little treat?  It tastes great and it looks really beautiful in a jar with some cute ribbon tied around it.  With, perhaps, a nicely typed recipe attached?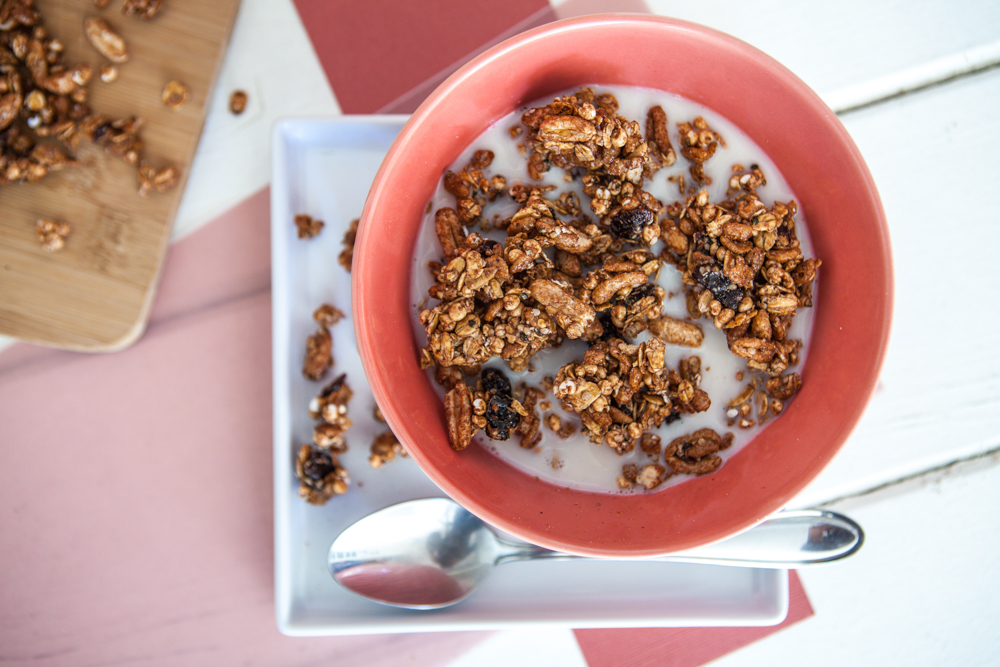 Ingredients
2 cups crisp brown rice cereal (gluten-free, if required)
2 cups rolled oats (gluten-free, if required)
2 cups puffed millet
2 cups puffed kamut
1/2 cup hemp hearts (shelled hemp seeds)
1/2 cup dried cherries, roughly chopped
3 tablespoons cacao powder or cocoa powder
1/2 cup + 2 tablespoons brown rice syrup
1 tablespoon maple syrup
2 tablespoons coconut oil, melted
1 tablespoon chocolate extract
Instructions
Preheat the oven to 275. Line two baking sheets with parchment paper.
In a large bowl, combine the dry ingredients. In a small bowl, combine the wet ingredients.
Heat the wet ingredients in the microwave for about 1-2 minutes. Alternatively, you can heat the wet ingredients in a saucepan, until it just begins to bubble around the edges.
Add the wet ingredients to the dry and thoroughly combine. Divide the mixture between the two baking sheets and spread out evenly.
Bake the granola for 45 minutes, switching shelves for each sheet (i.e. placing the sheet from the top shelf on the lower shelf and vice versa). Once done, let cool completely before transferring to an air-tight container.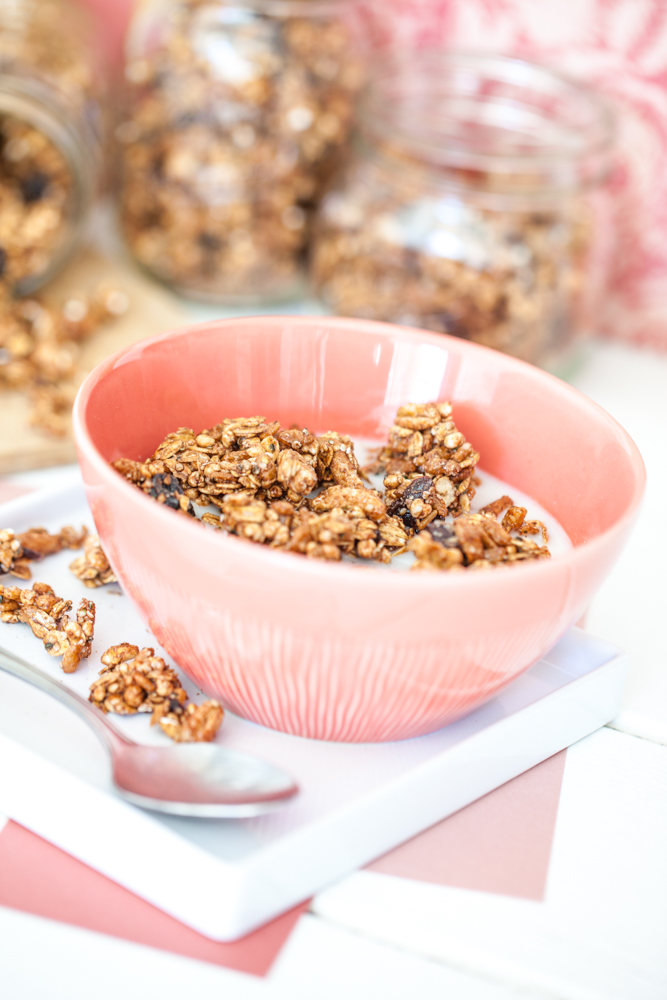 Did you give edible gifts this past holiday season?  What did you make?
Photography by Chris Miller