During the first week of January, Chris and I were fortunate enough to be able to spend a week in New York City.  We had so much fun and enjoyed so much great vegan food!  New York City, without a doubt, has Los Angeles beat when it comes to incredible vegan food.  We were just blown away with the quality of vegan eats in this city, and I can't wait to tell you all about them in this series, "Vegan Travel: NYC."  
Imagine a line splitting the island of Manhattan in half, ignoring all of the cute neighborhoods, beautiful parks parks and incredible landmarks- today I'm sharing with you "Part 2" of what we did/ate on the western side of that line.  Be sure to check out what we did in Part 1 and please pardon some of the not-so-great iphone photography!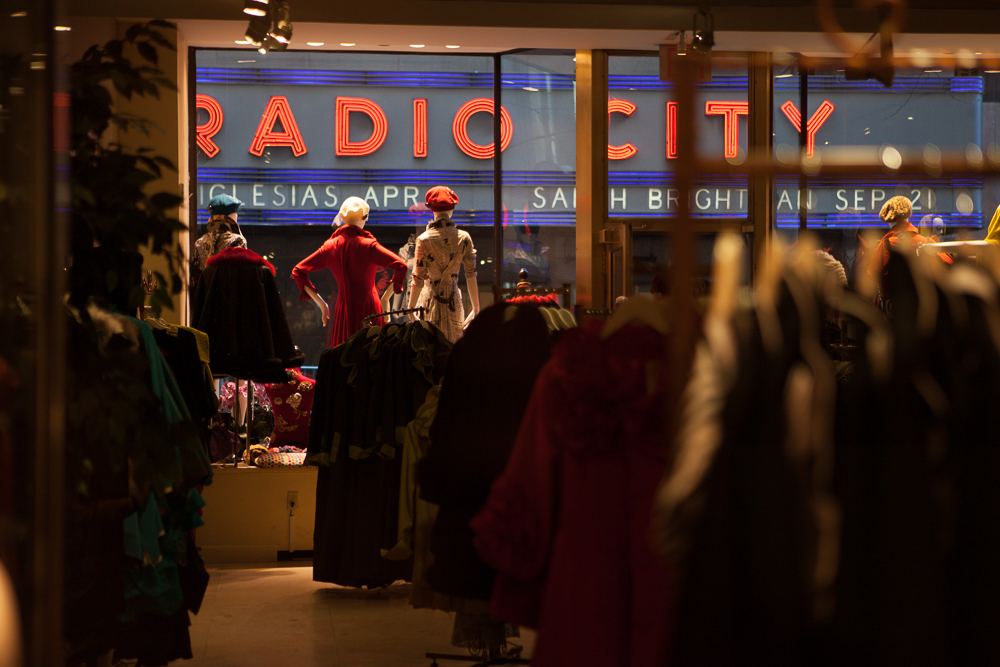 One day, we found ourselves wondering through the Upper West Side.  We'd had a light breakfast of coffee at 30 Rock (which is across the street from Radio City Music Hall) and shared a donut, leftover from explorations the day prior (more on that in a future post).  Once we left 30 Rock, we headed up the west side, stopping to take pictures of the famous Seinfeld Diner and more or less, just see the Upper West Side.  My favorite thing to do when visiting a city is to wander around, exploring the various neighborhoods, so these little walks are always my favorite.  Once our tummies started to growl for lunch, we were conveniently close to Peacefood Cafe.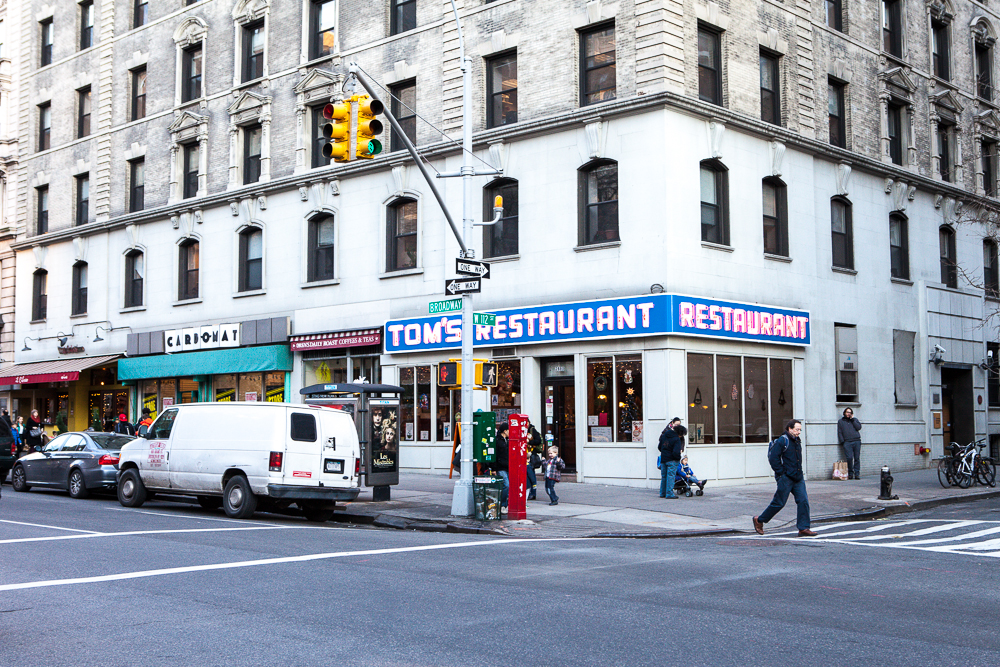 460 Amsterdam Ave, at 82nd St., Upper West Side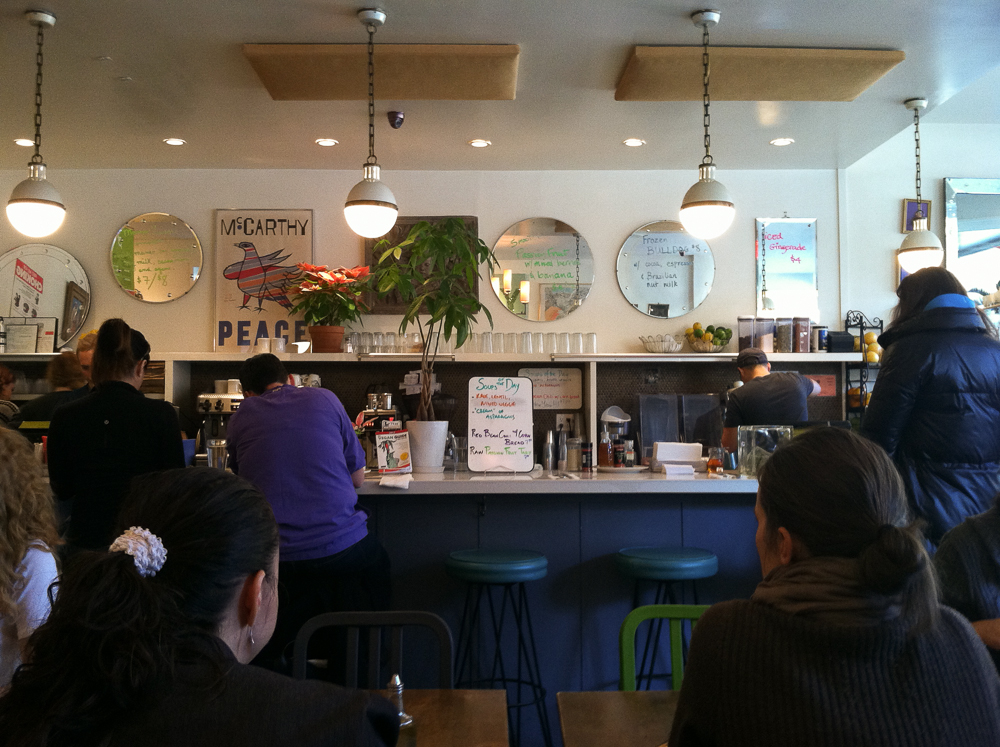 Once we entered this adorable, light-filled cafe, we could see that it was absolutely packed.  We love seeing vegan businesses thriving so we had no problem when they told us it would be a 15 minute wait.  It got even better when they let us wait in front of their dessert case.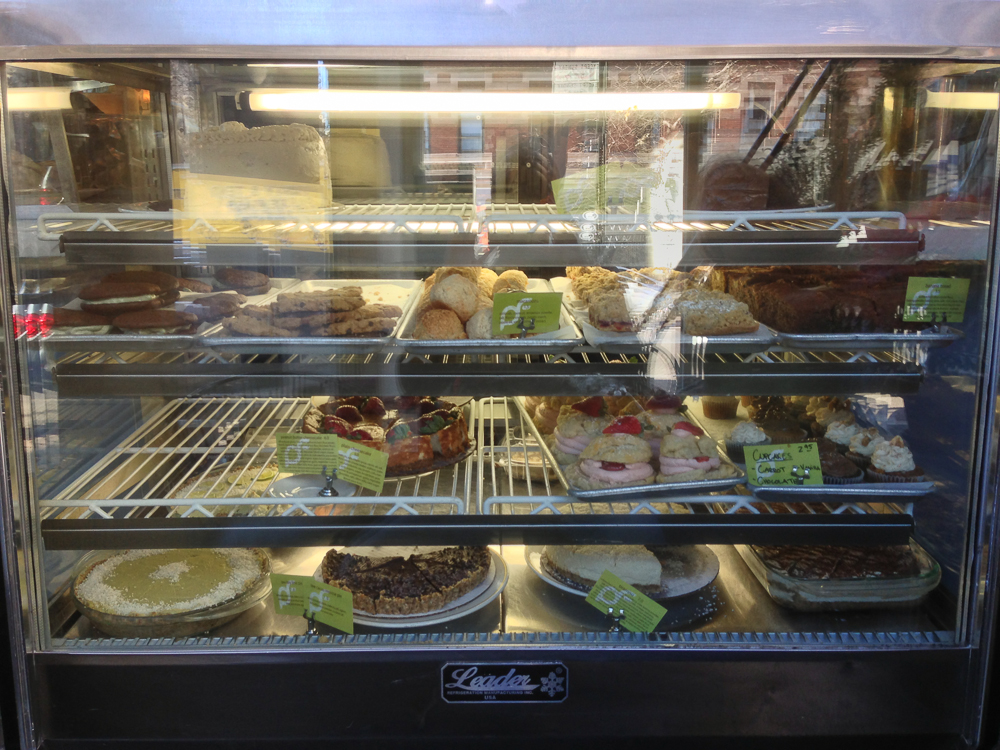 We were seated quickly and given menus.  The menus was filled with healthy, yet delicious-sounding plant-based dishes.  We had a hard time choosing, but finally narrowed it down.  We chose the Chickpea Fries as a starter.  Lightly seasoned with Indian spices and served with a light and creamy ranch-style sauce, this was definitely an instant favorite.  I vowed to teach myself how to make these at home.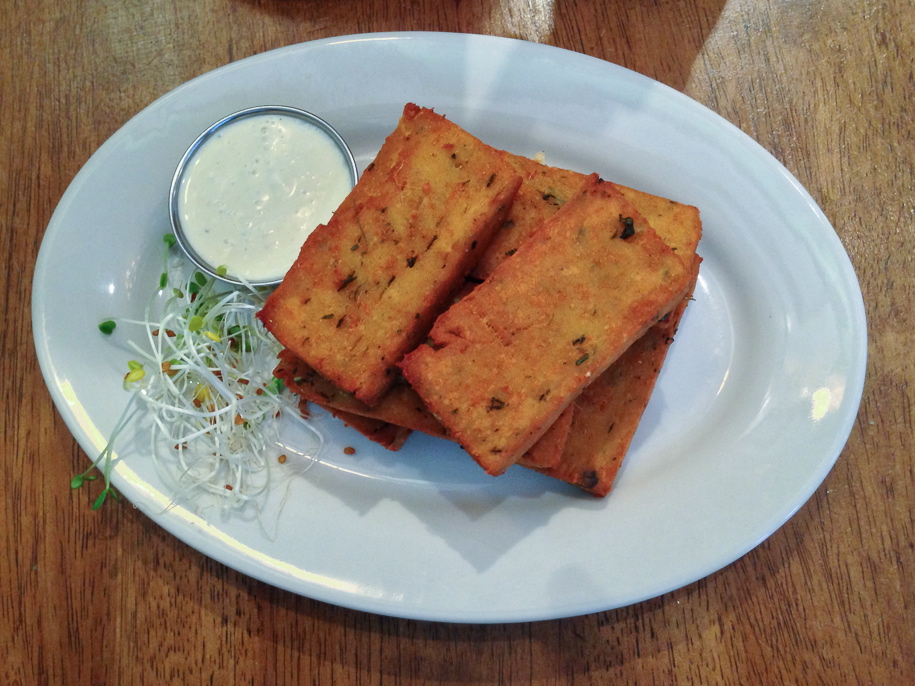 Chris ordered the Fried Seitan Medallion Panini.  It was exactly what it sounds like.  There was a big slab of fried seitan, which Chris likened to "Chicken Fried Steak" (a dish I've never tasted), as well as cashew cheese, arugula, tomatoes, and pesto.  He liked it, but said he had other sandwiches he liked more while on this trip (see next eatery).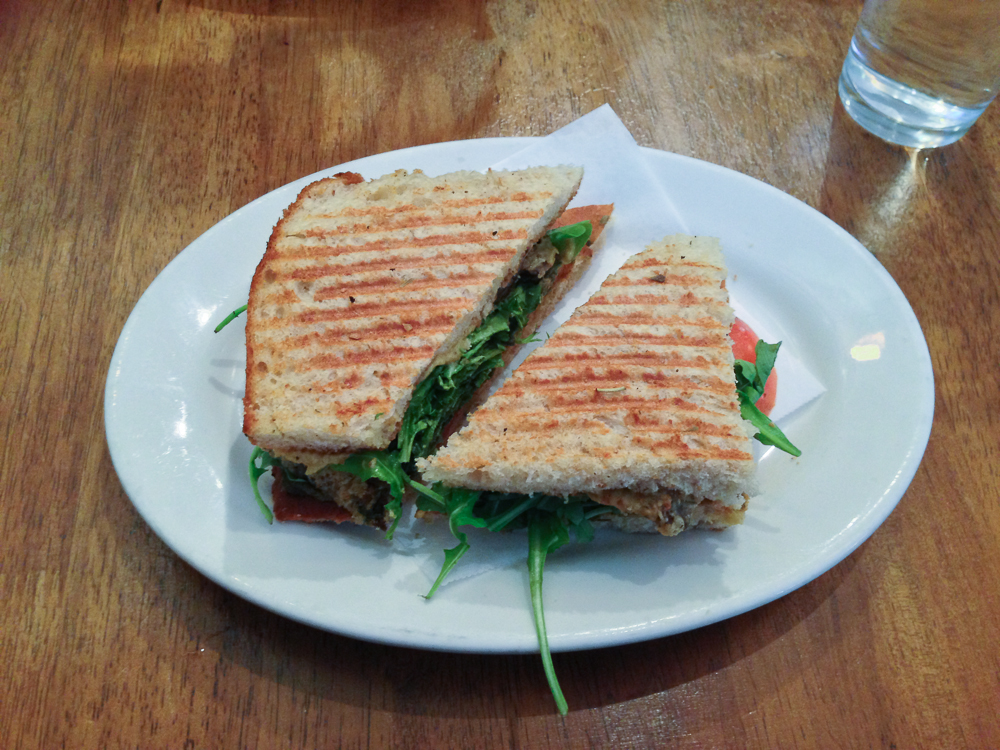 I ordered the Roasted Japanese Pumpkin Sandwich, filled with none other than roasted japanese pumpkin, along with caramelized onions, crushed walnuts, cashew cheese, and greens.  This was a close runner-up for the best sandwich I had on this trip.  The roasted squash was perfectly seasoned, the cashew cheese, was just cheesy and salty enough to balance out the sweetness from the squash.  The crushed walnuts added a great texture to what would otherwise be a pretty deliciously mushy sandwich.  I savored every bite, though I was only able to finish one half.  I saved the other half for later in the afternoon since I knew we were having a late dinner.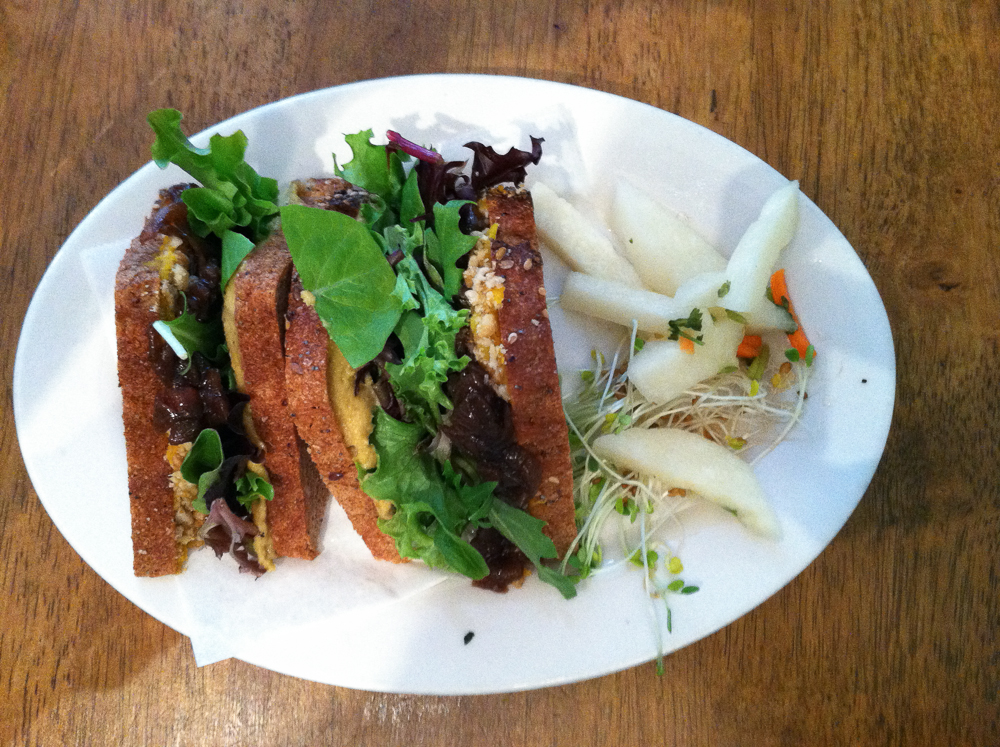 We spent the rest of the afternoon walking around.  At one point, we turned a corner and found a gorgeous cathedral with a beautiful little park where we spent some time exploring.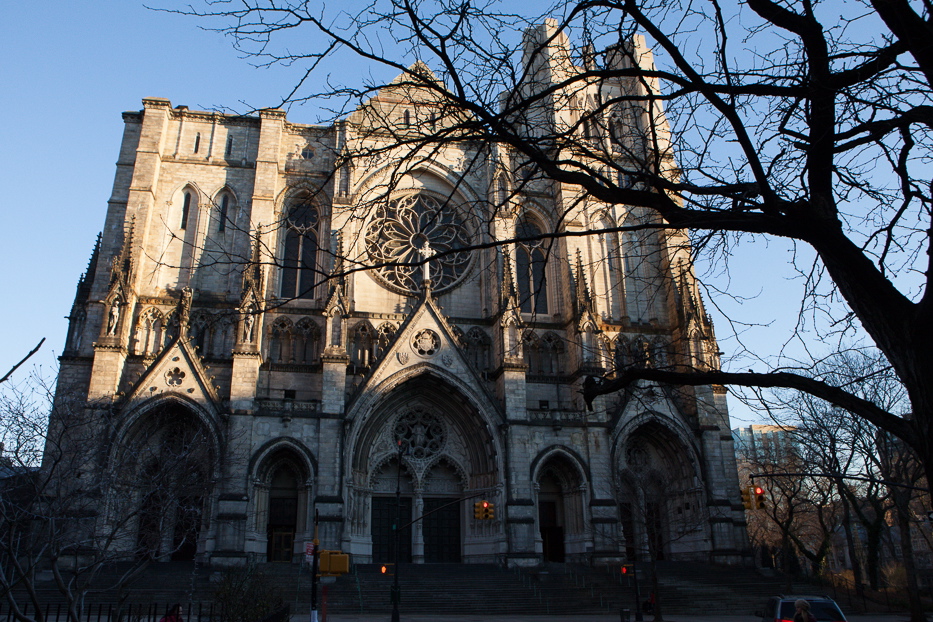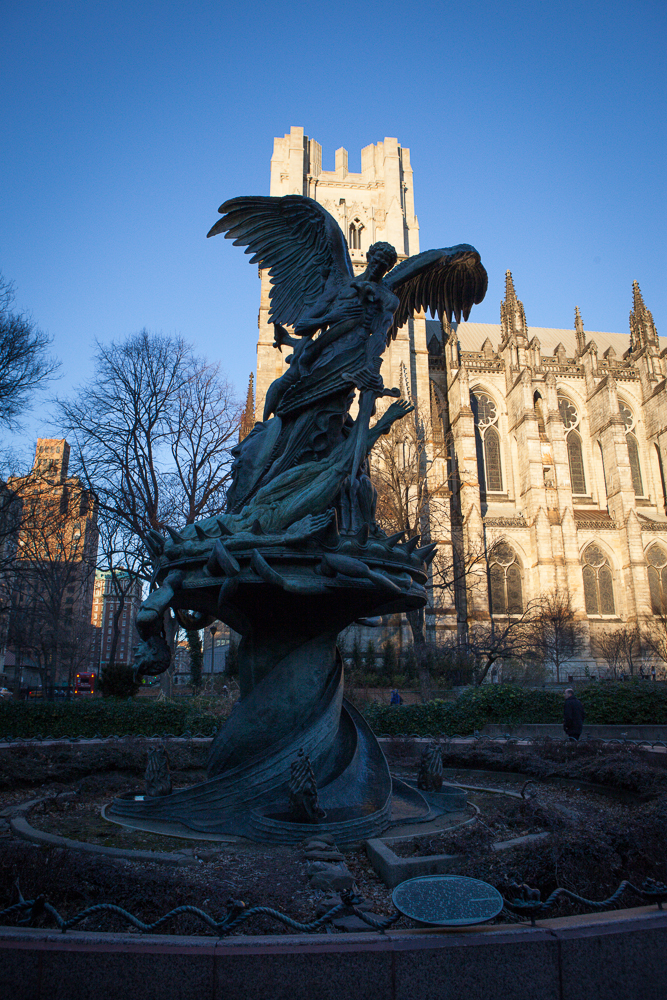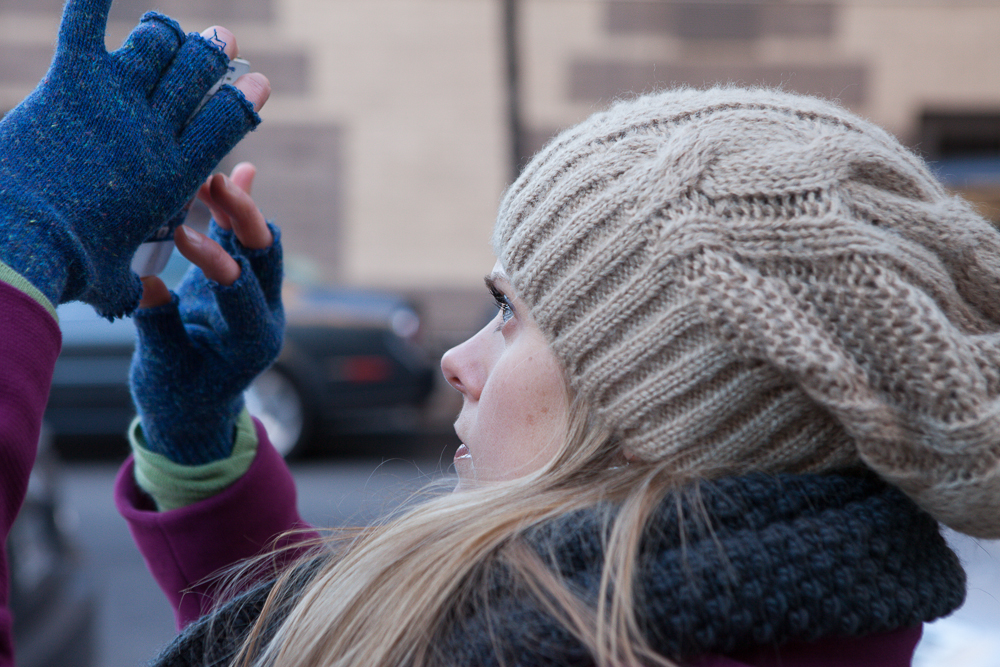 We continued through Central Park and then headed back down the Upper East Side, taking our time, enjoying every moment.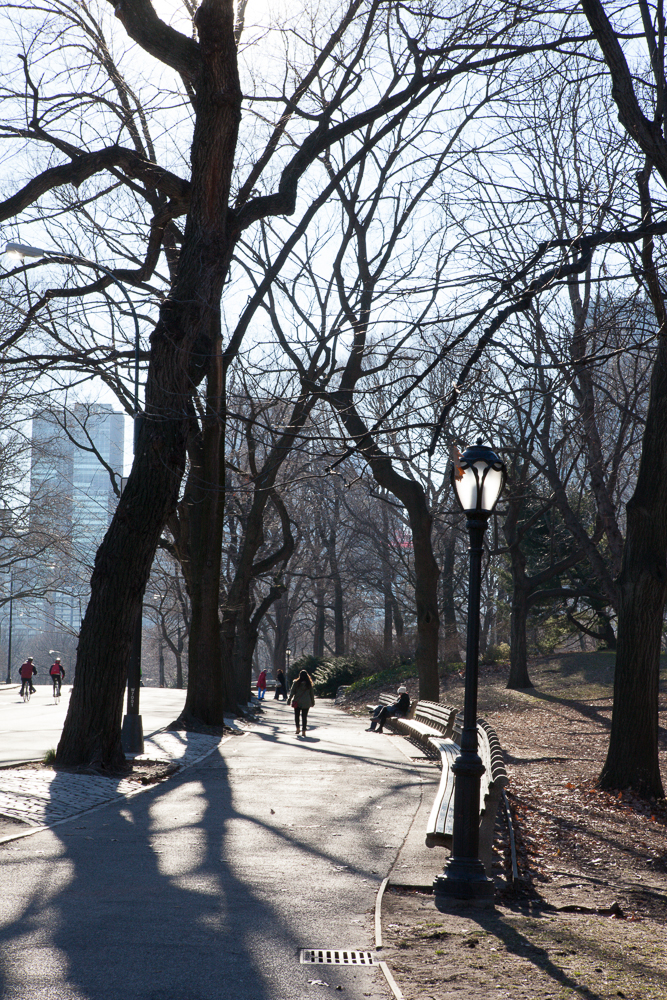 60 West 23rd Street, between 5th & 6th, Chelsea
As I mentioned in Part 1, the day we landed in NYC, we were extremely exhausted, jetlagged and slightly delirious.  After having breakfast at Blossom du Jour, we walked through Central Park for awhile until we found ourselves on 5th Ave, around 80-something street, when we got the call that our hotel room was ready.  We decided to walk 5th Ave all the way back to our hotel (44th street).  We looked at all the fancy shops, people watched, and basically just enjoyed the exercise.  By the time we got to our room, though, I wanted to pass out.  After watching some crappy TV (we never watch TV, ever, so when we're in hotels, we marvel at how terrible it all is.  Though we did find TV Land later and watched The Cosby Show until we fell asleep), we decided to head to Whole Foods in Chelsea and pick up a few snack items to keep in our room (nuts, crackers, pretzels, fruit, etc.) and then pick up some dinner to bring back as well.
We took the subway down to Whole Foods, then after we stocked up, we used Yelp again to find a little vegan eatery called Terri.  Terri is actually attached to a sports club/gym and serves up vegan sandwiches, salads, smoothies, juices and a few desserts.  After grabbing some dinner from Terri, we took our loot back to the hotel and in our exhausted, delirious stupor, took terrible photos (see below), ate, and fell asleep.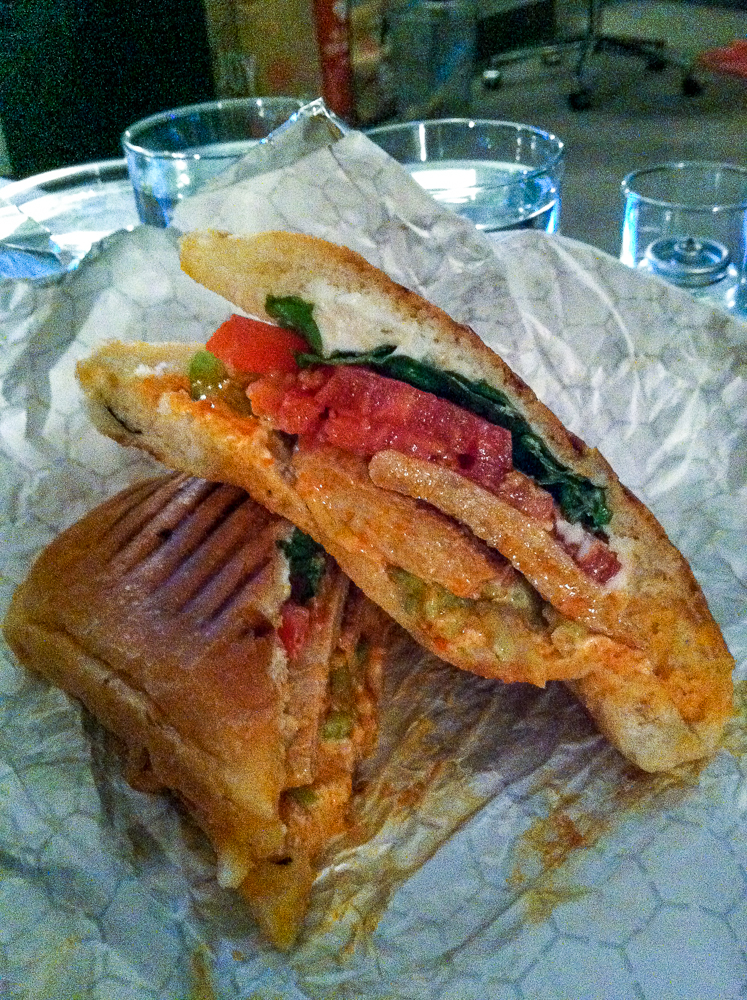 Chris chose the Buffalo Chicken Sandwich, which the charming young lady behind the counter said was their most popular.  It's filled with a vegan "chicken," buffalo sauce, Vegenaise, lettuce, tomato, onion, and celery.  Chris loved it.  He thought it was better than any sandwich you could get at Native Foods or the Veggie Grill, which is saying a lot because he loves those places.  I took a bite, but all I remember is that I didn't not like it.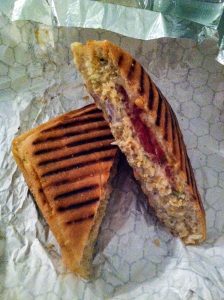 After having the small bit of faux meat in my morning meal (though it was pretty fantastic), I was not in the mood for any more, so I chose their Chickpea Tuna Melt with very, very light cheese (they use Daiya).  The sandwich was filled with their chickpea salad, daiya, Vegenaise, tomato, and red onions.  It was a great sandwich.  It wasn't my favorite thing we had on our trip, but definitely enjoyable and filling.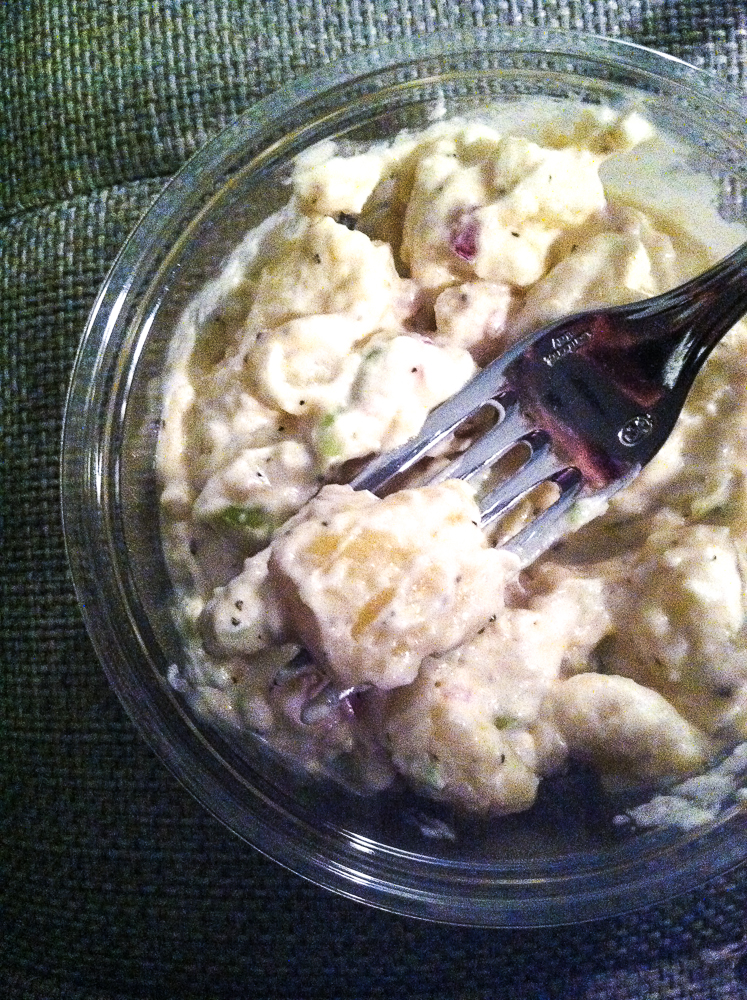 We also got a side order of vegan potato salad.  It was very good, though you can definitely tell that Terri likes their Vegenaise.
The lady behind the counter convinced us that we needed dessert and told us that the apple cider doughnuts were their claim to fame.  But we were craving chocolate so we chose the brownie.  It was, without a doubt, the best part of the meal, but sadly, was eaten too quickly to have it's picture taken.
food truck, various locations- see Facebook or Twitter to find their location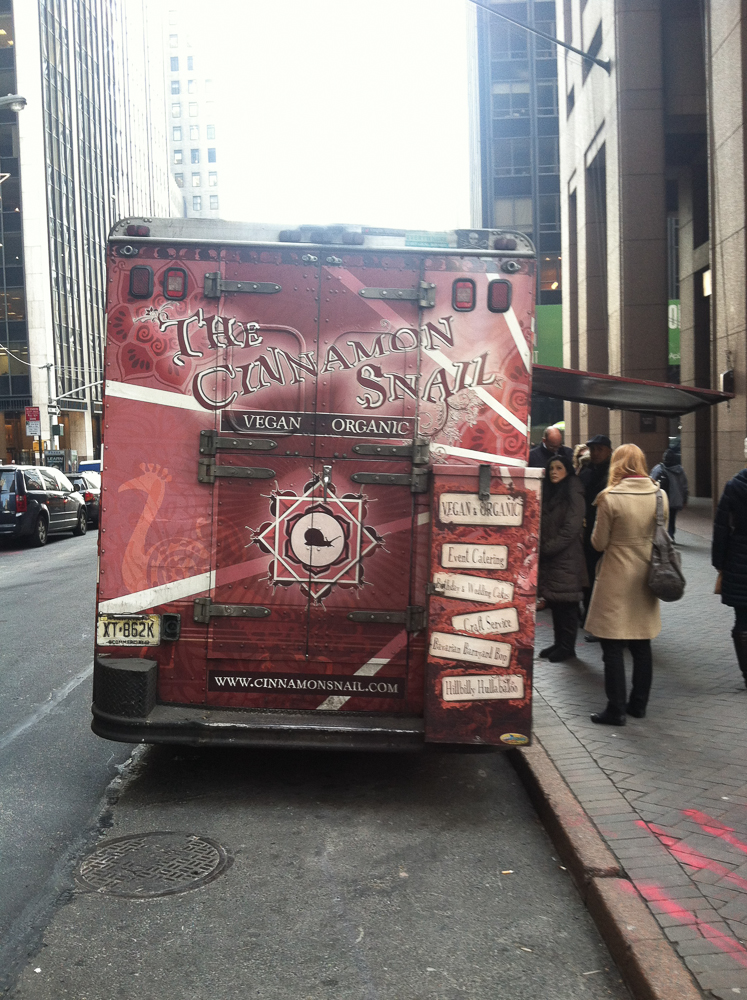 There were a few places a knew that I definitely needed/wanted to try when I was in NYC and The Cinnamon Snail was one of them.  The Cinnamon Snail received the 2012 Vendy Award for Best Food Truck.  Not Best Vegan Food Truck- Best Food Truck.  Out of all the Food Trucks.  It was also voted Best Vegan Food Cart by VegNews Magazine last year.  I have heard nothing but rave reviews about this truck from vegans and non-vegans alike.  In fact, their lines during the lunch rush will easily be 20-30 minutes long and the company claims that the majority of their customers aren't even vegetarian!  I love the idea of a food truck out there showing the masses that vegan food can be super tasty and delicious.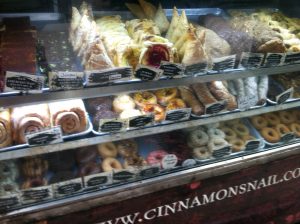 On our last full day in NYC, we took the subway down to Wall Street to pick up some grub from the Cinnamon Snail.  We stood at the end of a very long line of wall street business people.  We thought we were going to get breakfast, but alas, when we got to the counter, we were informed they were no longer serving breakfast (understandable as it was, like, noon or something.  We found a greatly entertaining Elvis movie on TV that kept us longer than expected had a lazy morning).  The owner was super patient with us as we looked over the menu to choose our lunch.  They also have an amazing dessert/donut display with cinnamon rolls that were hard for me to tear my eyes from so Chris got us one to have while we waited (we were pretty ravenous since we had waited so long to eat.  I blame Elvis.).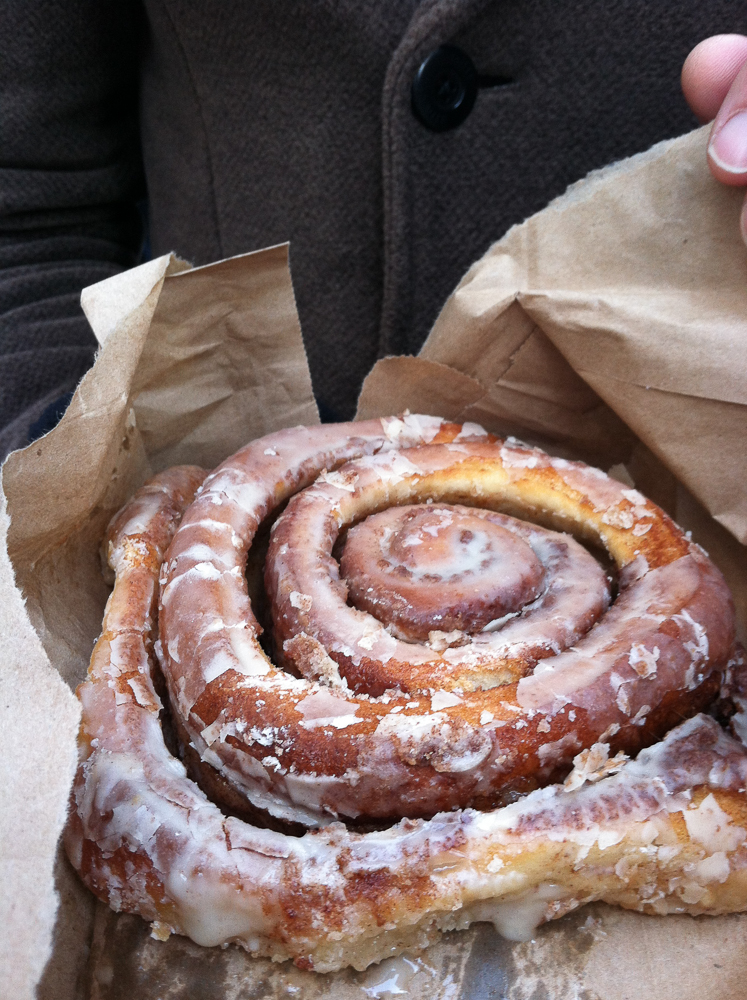 The cinnamon roll almost made me cry.  My dad used to take me to the donut shop when I was a kid and we would always share a giant cinnamon roll.  I haven't had one (the big, old fashioned kind like this) in probably 20 years.  It was better than I remember it ever being- softer, doughier, sweeter (but not too sweet), more cinnamony.  It was heavenly.  We only had a few bites and saved the rest to have later in the day with coffee.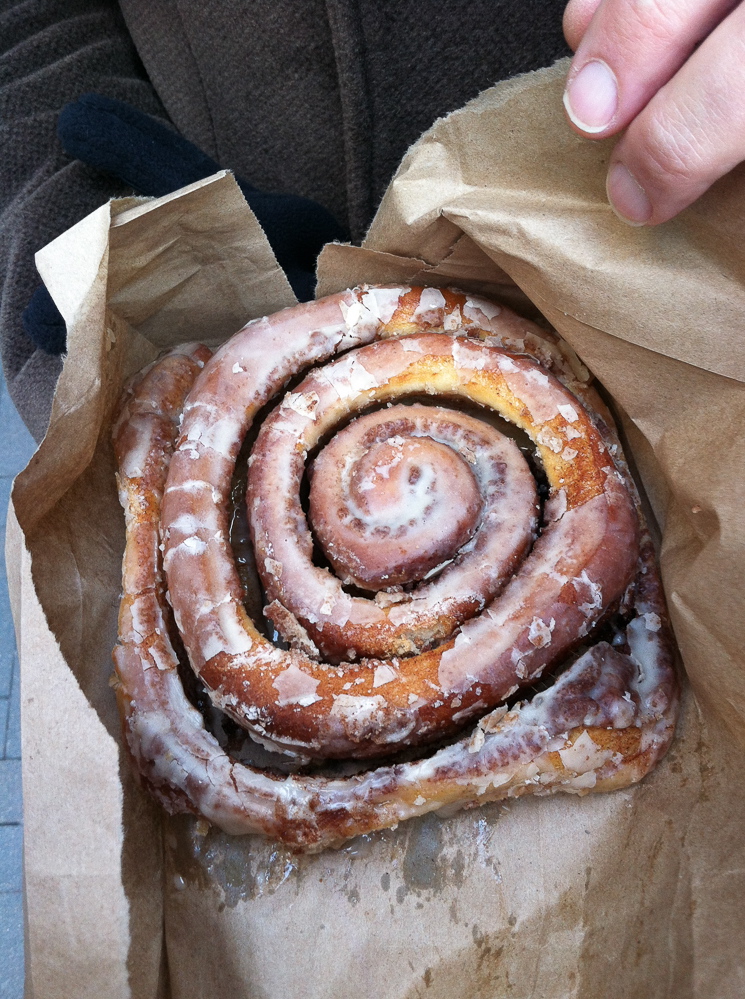 Once we got our food, we walked down to the water and sat on a bench overlooking the Brooklyn Bridge.  I got the Smoked Portobello Mushroom Carpaccio with fried caper berries, caramelized onions, truffled olive tapenade, and arugula on grilled herb focaccia.  The picture below does not do it justice.  This was just the perfect sandwich- all of the flavors worked so well together.  The focaccia was perfect.  I've never had portobello prepared like this before and it was just magnificent.  I wish I had taken a better picture.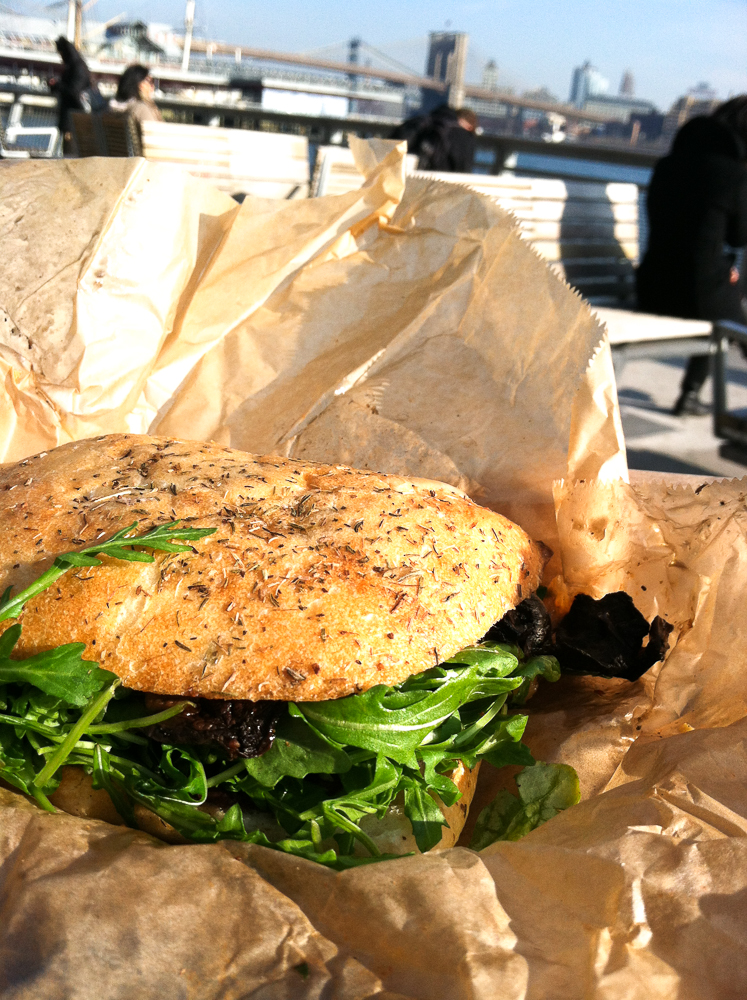 Chris chose the Korean Barbecue Seitan.  It was served open-face on a grilled tortilla with kimchee, chili butter and greens.  He loved this "sandwich."  There was a lot of swearing.  Chris, weeks later, still talks about this sandwich and how he wishes we could just walk down to the financial district and pick one up again.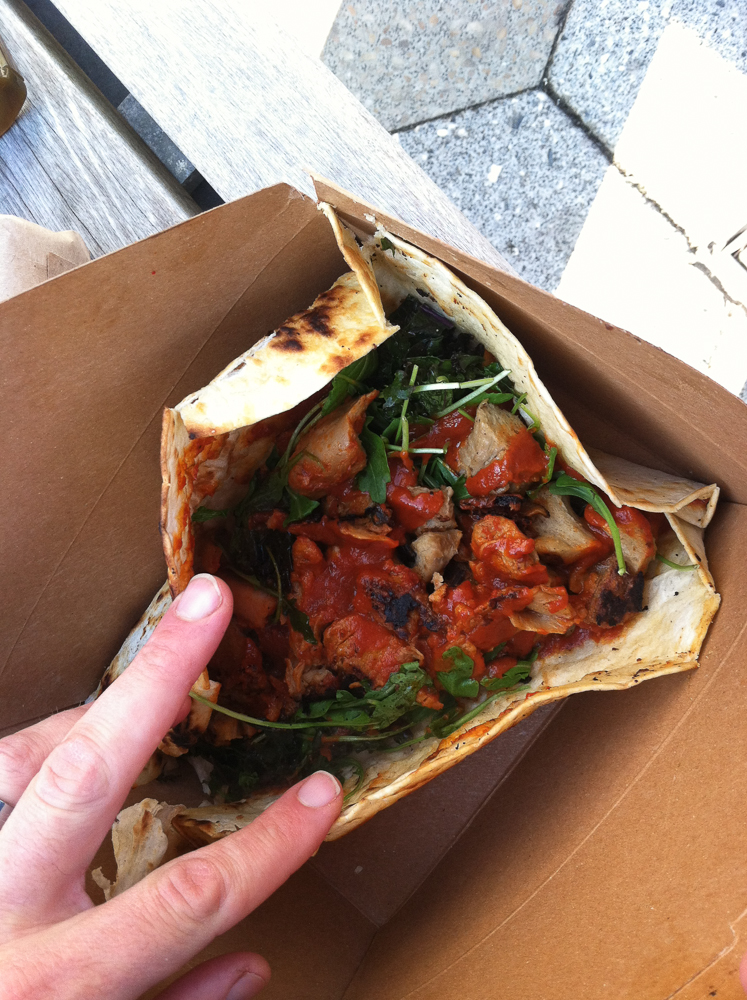 After sandwiches, we walked up to Battery Park and looked out at the Statue of Liberty.  Much of the financial district was being rebuilt due to damage from Hurricane Sandy and it was surreal walking through streets that resembled war grounds.  Battery Park was completely empty because no ferries were going to the statue because so much damage had been done to that island.  I remember going there with my family and being amazed at all of the street performers in Battery Park.  Then my cousin and I climbed to the top of the Statue of Liberty, something that is no longer allowed today.  It was an eye-opening realization of how much times have changed in the last twenty years.
We loved the Cinnamon Snail so much that we decided to go to their location on the Upper West Side the next day for breakfast (our flight wasn't until 8:30pm).  Chris said we had to get another cinnamon roll because the ones they had that day were a little different and "We never live like this!  When do we ever eat cinnamon rolls with reckless abandon?  Nice bodies be damned?!  Never!  And we're on vacation!"  So we got a cinnamon roll to share with our post-breakfast coffee.  For breakfast, we each got breakfast burritos, which was perhaps the best/worst thing we could have ordered.  We walked a couple blocks to Central Park and had breakfast near Columbus Circle.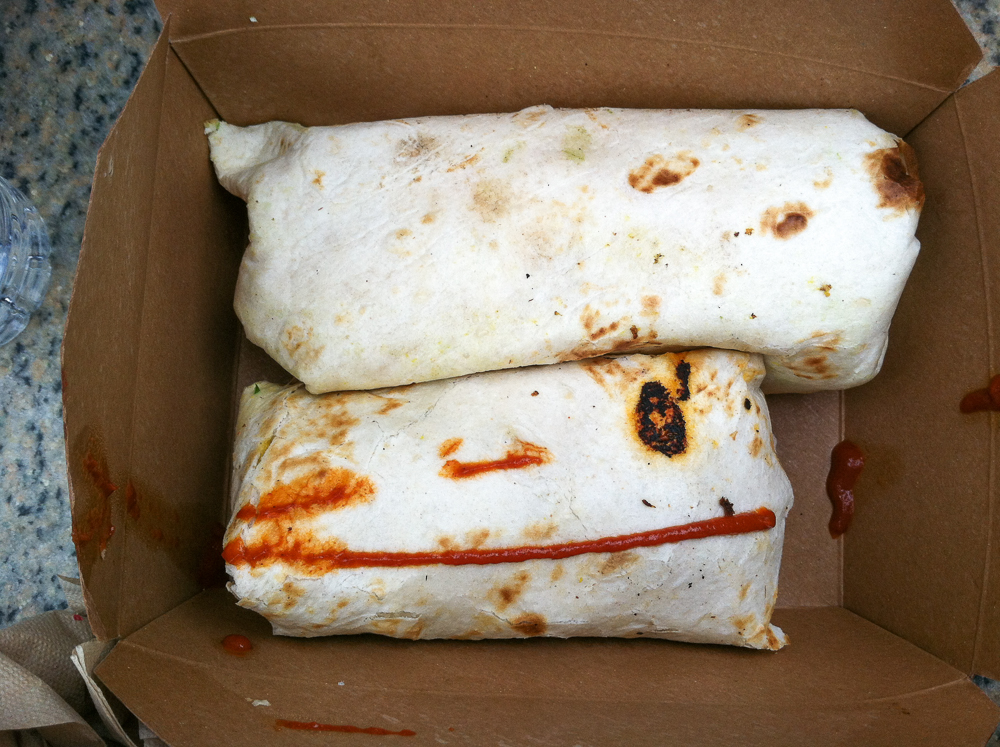 Chris ordered the Chipotle Seitan Burrito.  It was overflowing with chipotle grilled seitan, scrambled tofu, fresh jalapenos, marinated kale, and chipotle mayonnaise.  It was very spicy and delicious and full of seitan- all things Chris loves.  It was also ridiculously huge, as was my burrito.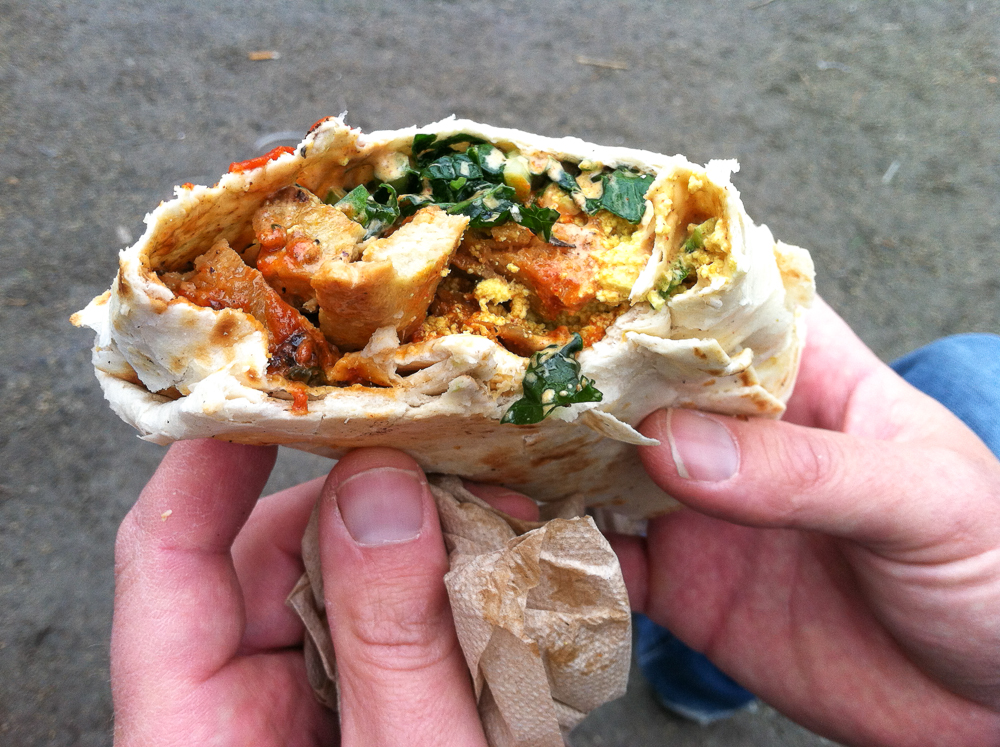 I ordered the Classic Breakfast Burrito.  This burrito was stuffed to the gills with scrambled tofu, refried beans, pico de gallo, and avocado.  My burrito was built in an odd way so that the majority of the scramble was at the top of the burrito.  The first several mouthfulls were just straight scramble and I was full after about 6 bites.  But I persevered because I don't know why.  I wanted avocado?  Because I can normally eat way more than that (I can put away quite a bit of food.  It's part of my charm.)?    Once I got halfway through, I finally got to some refried beans and more flavors but I was just too full to go on.  I couldn't do it.  And oh my goodness- my stomach stretched to new limits that morning.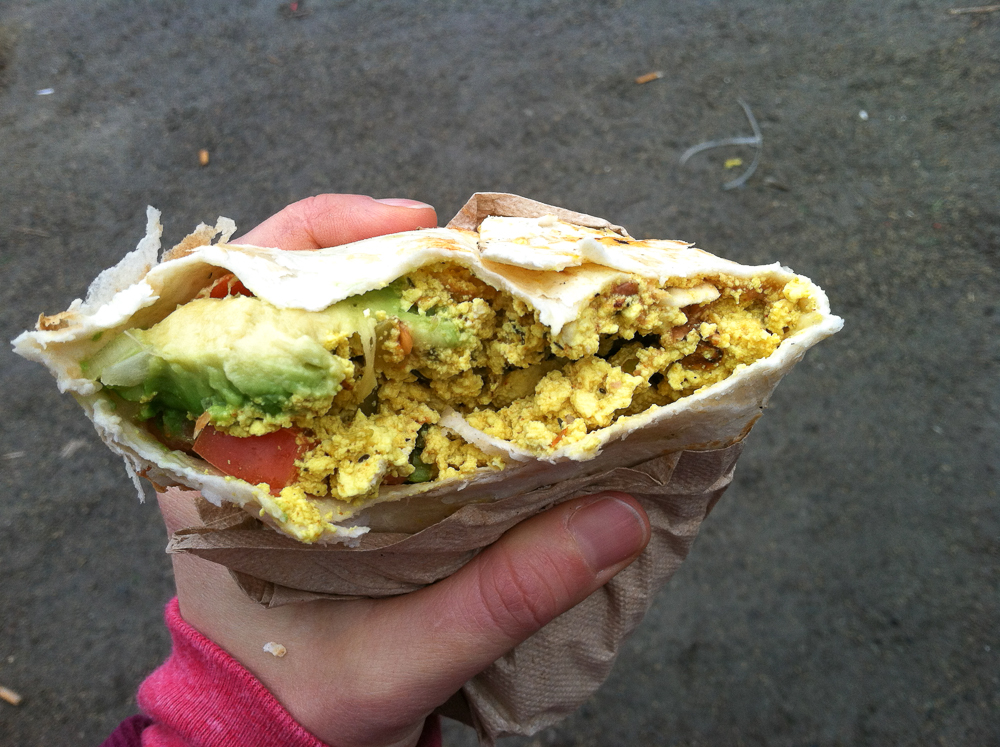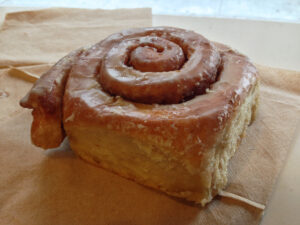 Then I went and had coffee and half of a cinnamon roll.  Chris and I agreed that we would spend the rest of our day walking this meal off, but not before going to the top of 30 Rock to see the beautiful New York City skyline (because from 30 Rock, you can see the Empire State Building.  You kind of miss that when you're actually on top of the Empire State Building.  And we'd both already done that.).  Fast forward to a couple hours later, when we wondered into Blossom Bakery...  Final verdict on The Cinnamon Snail:  Incredible food, ridiculous desserts, huge portion sizes and one of the main reasons that I would weigh 10,000 pounds if I lived in New York City.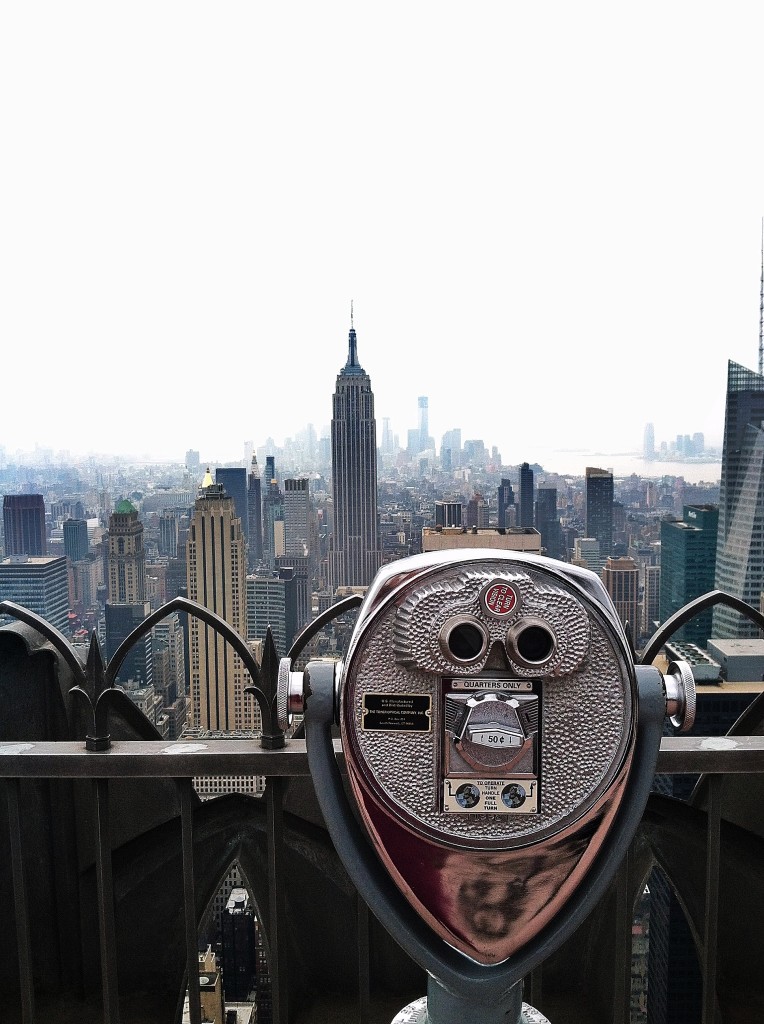 Please join me next week when I share our explorations of the east side of Manhattan!
Be sure to check out all of the posts in the "Vegan Travel: NYC" series: