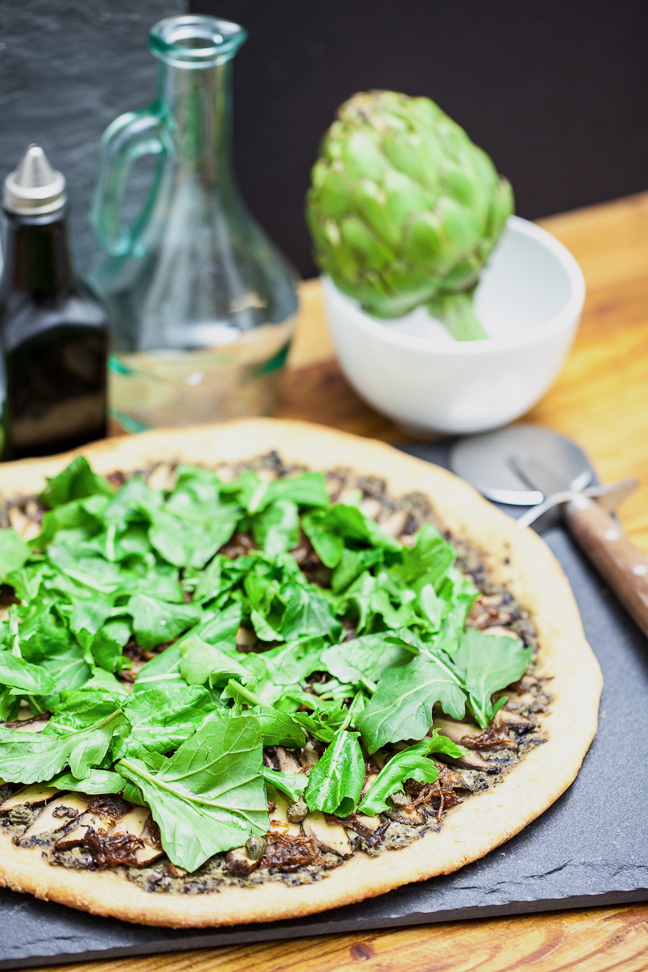 One thing I love about travel is how, without any obligations or to-do lists, you begin to fully live in the moment.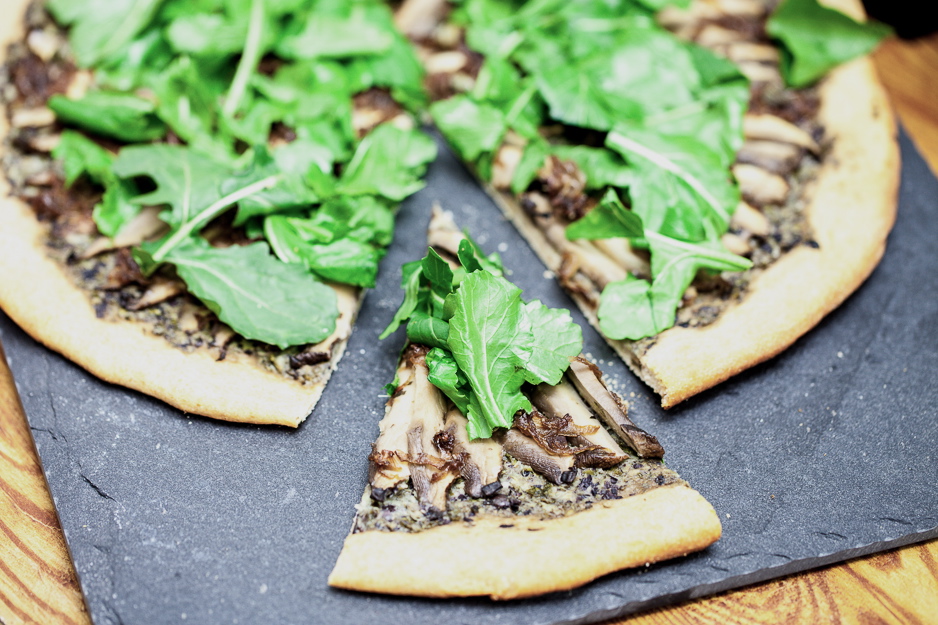 I also love how when you take a break from everything that is "normal" about your life for a little while, then return home, you can simplify your life by picking and choosing what to add back in.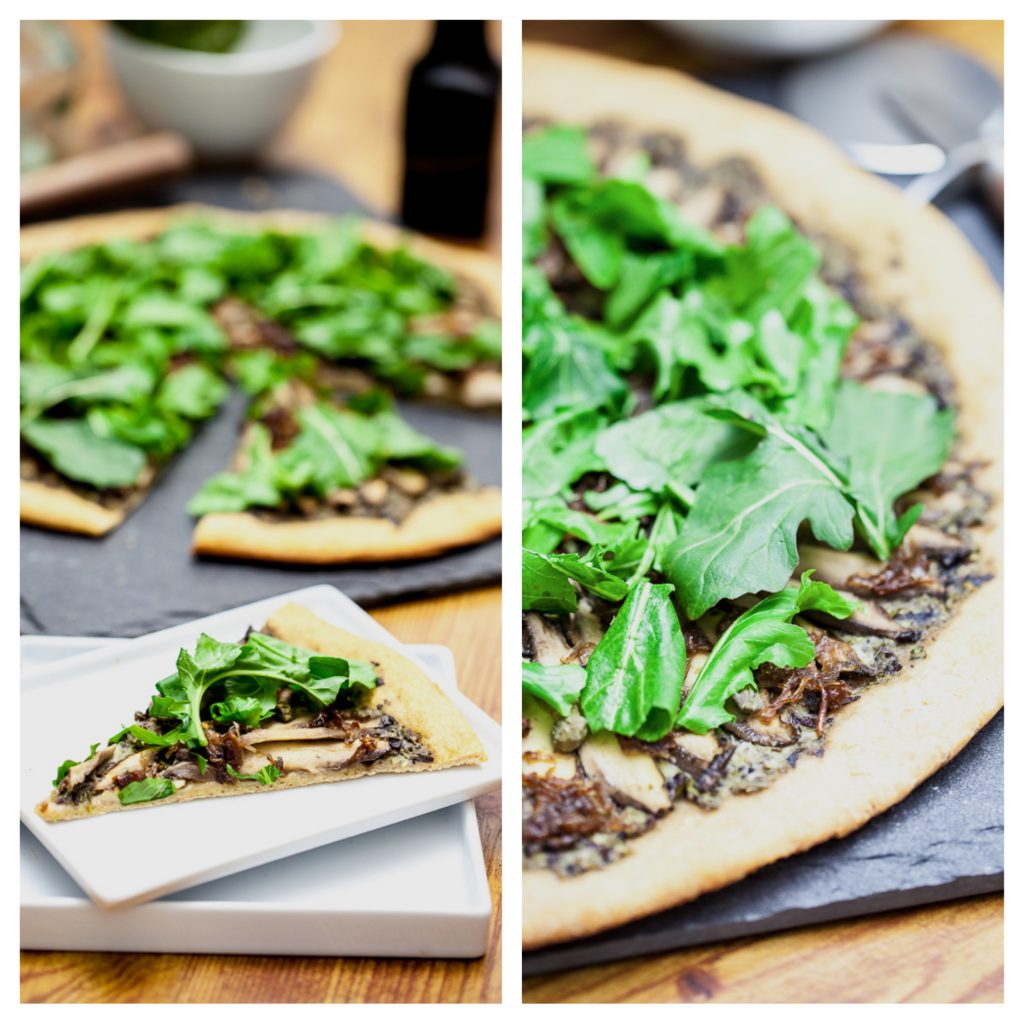 Another good one is how I get to eat a lot of new and amazing food and I get super-inspired when I return to my own kitchen.  On the flight home from NYC, I began making a list of all the things I wanted to make once I got home.  It was a long list.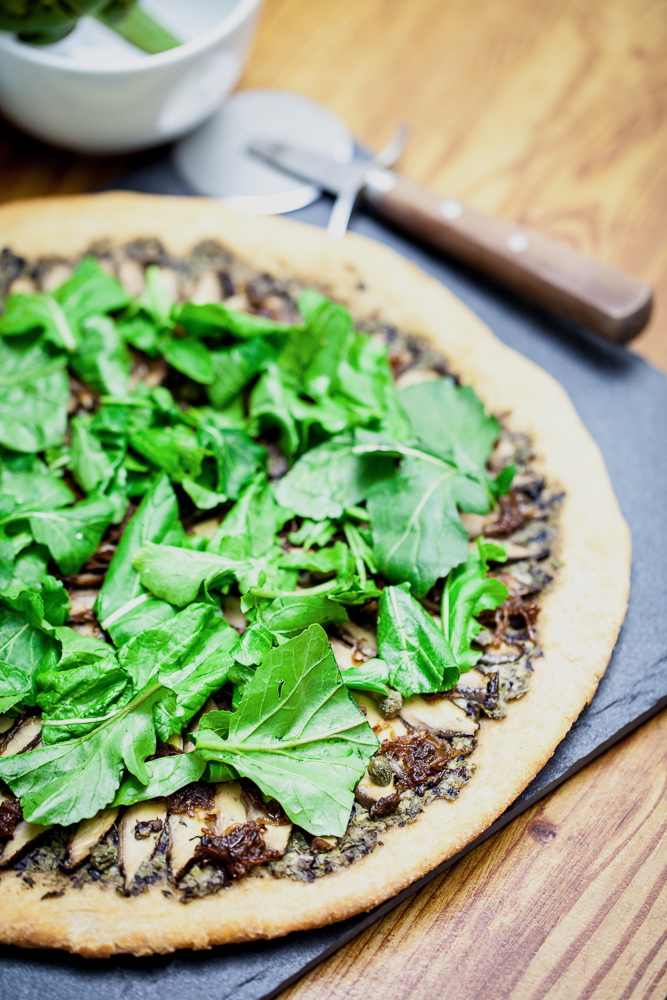 After the smoked portobello mushroom carpaccio sandwich I had from The Cinnamon Snail, I knew I needed more of it in my life.  Only, I didn't want it in a sandwich.  I had far grander ideas.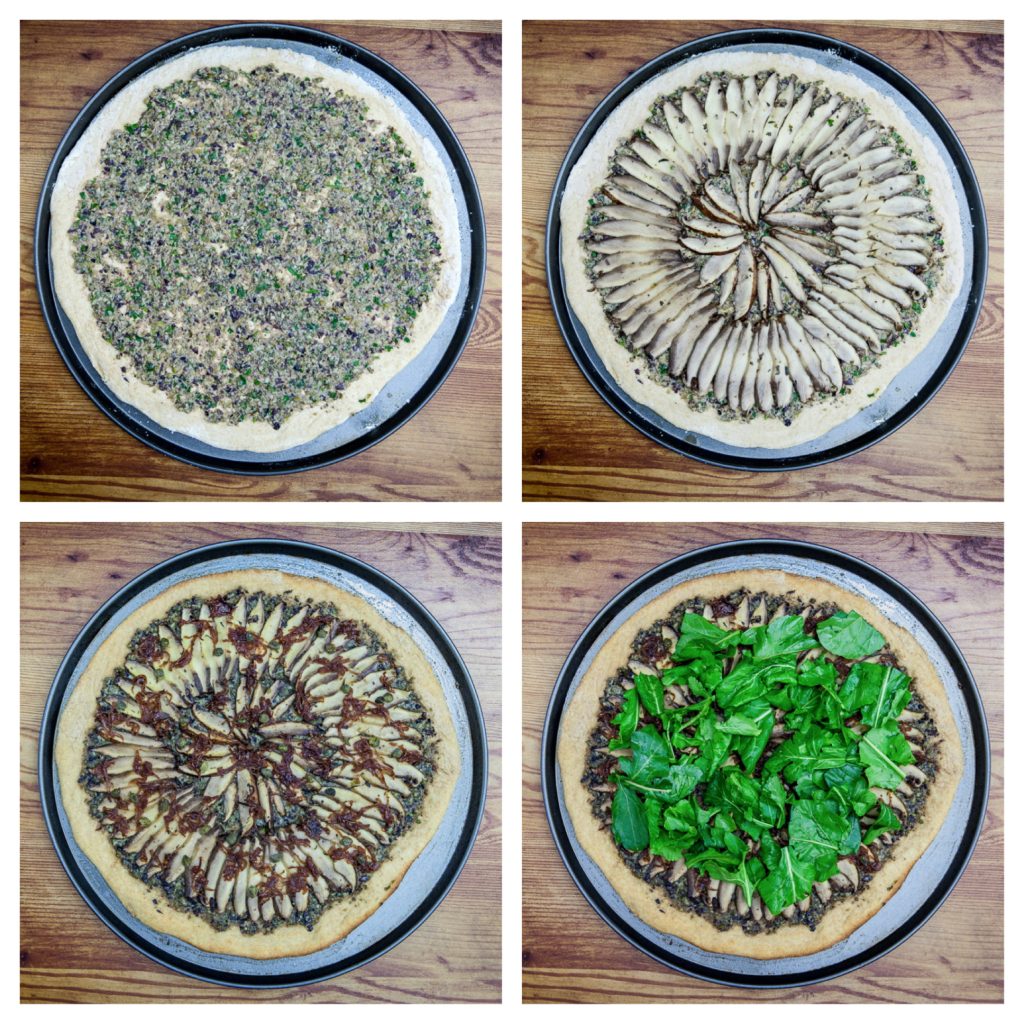 Soon after I made my artichoke olive tapenade, I knew I needed to make these ideas a reality.  I used basic pizza dough, covered in the tapenade, and then the very thinly sliced roasted portobello mushrooms, or portobello carpaccio, were delicately placed on the pizza.  I topped the portobello with caramelized onions and capers before baking in the oven.  As soon as it was done baking, I topped it with freshly chopped arugula tossed in lemon juice.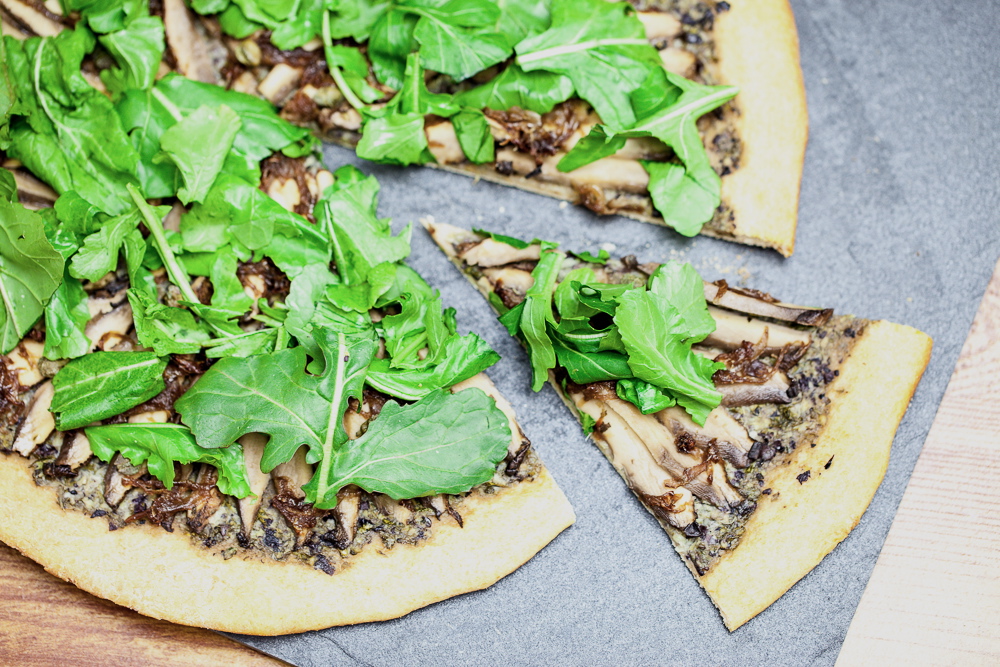 This was an "Oh my God" kind of pizza.  Because that's all Chris or I could say while we ate it.  All of the flavors mesh so perfectly that you want every bite to last forever.  It was as good as a vacation- allowing us both to forget all of our to-do lists and live fully in the (much too brief) moment that was eating this pizza.  After we finished off the last slice, nothing else mattered.  I don't even remember what movie we watched after that or if we had popcorn (our "dessert" of choice these days).  That night was all about the portobello carpaccio pizza.
Portobello Carpaccio Pizza
Ingredients
for the portobello carpaccio

4 medium/large portobello mushrooms, de-stemmed and gills removed (I saved the stems and gills to cook up with some mushrooms the next day)
1 tablespoon olive oil
1/2 tablespoon red wine vinegar
1/2 tablespoon Bragg Liquid Aminos (or tamari/soy sauce)
1/2 teaspoon dried oregano
1/2 teaspoon dried basil
1/2 teaspoon liquid smoke
juice of 1/2 a lemon

for the caramelized onion

1 red onion, halved and very thinly sliced (I used my mandoline)
1 teaspoon olive oil
small pinch of coconut sugar (optional)
salt to taste
1/3 recipe pizza dough (or pizza dough/crust of choice)
1/3 cup artichoke olive tapenade
3 tablespoons capers
1 1/2 cup arugula, stem removed and roughly chopped
juice of 1/2 a lemon
Instructions
for the portobello carpaccio

Preheat oven to 400. Line a baking sheet with parchment paper.
Mix the olive oil, vinegar, Bragg's, oregano, basil, salt, liquid smoke, and lemon juice in a small cup. Set aside.
Use a pastry brush to brush both sides of each mushroom with the sauce. Let them sit on the baking sheet (underside up) for 10 minutes. Reserve extra sauce.
After they've marinated for 10 minutes, place the baking sheet in the oven and roast for 4 minutes. Flip the mushrooms over, brush the tops with the remaining sauce and roast for 4 more minutes. Remove and allow to cool for about 10 minutes.
Once the mushrooms have cooled, use a serrated knife to very thinly slice them, on a bias (diagonally, as opposed to straight down). Once they are all sliced, set aside until ready to use.

for the caramelized onions

Heat the olive oil in a large frying pan over medium heat until the oil begins to simmer. Place the onions in the oil and toss until fully coated. Saute until translucent.
Once the onions have become translucent, lower the heat to medium-low and continue to saute, stirring every 3-4 minutes. If at any time the onions should begin to stick too much, use a little bit of water to deglaze the pan and lower the heat just a bit more. You can add a pinch of coconut sugar, which will aid in the caramelization, but it isn't necessary. Continue this process for about 25-30 minutes, until the onions are dark in color and very soft. Add a bit of salt to taste and remove from heat. Set aside until ready to use.
Prepare the dough according to instructions. Roll the dough out and place on your pizza pan/peel/parchment-paper lined baking sheet. Spread the olive tapenade on top, living a little room around the edge for the crust.
Lay out the carpaccio slices in whatever pattern you prefer (I chose to do a big circle). Drop bits of the caramelized onion on top of the carpaccio until you have as much as you want (I only used about half of the caramelized onions). Sprinkle the capers on top as well.
Place the pizza in the oven for 10-12 minutes, until crust is cooked and slightly golden. While the pizza is in the oven, prepare your arugula. In a bowl, or on the cutting board, toss the arugula with the lemon juice.
When finished, remove from the pizza from the oven and top with arugula. Slice and serve while warm. Enjoy!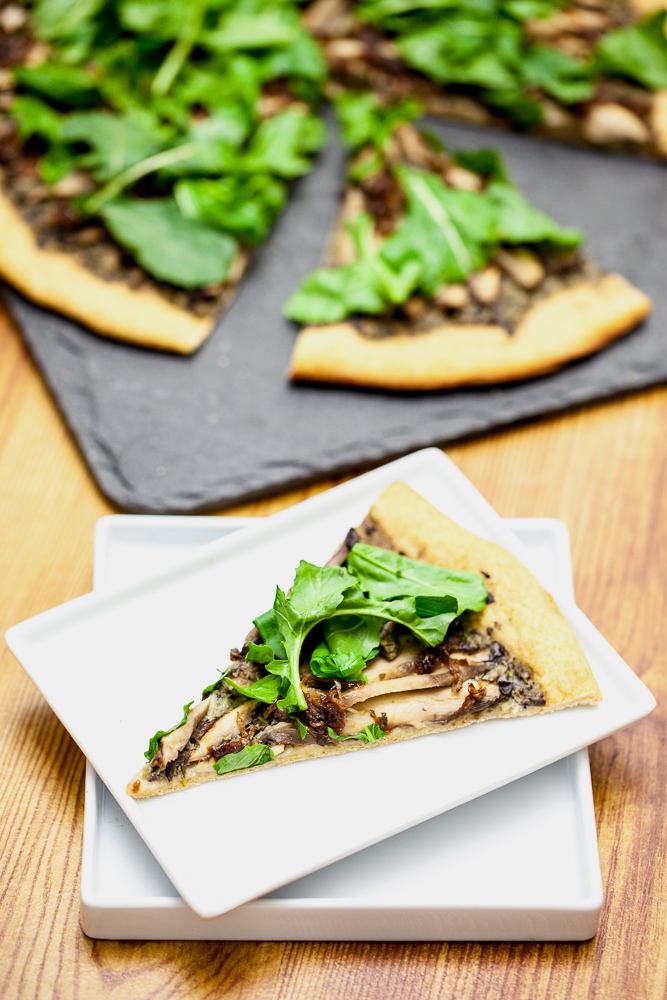 How has traveling inspired you in the kitchen?
Thank you to both Richa and Amy for participating in the Divine Dips donation giveaway!  Even though there were only two entrants, I still used a random generator to choose the winner, and that winner is... Amy!  I encourage everyone to consider donating to this fantastic company- this amazing ice cream needs to be available everywhere!
Photography by Chris Miller