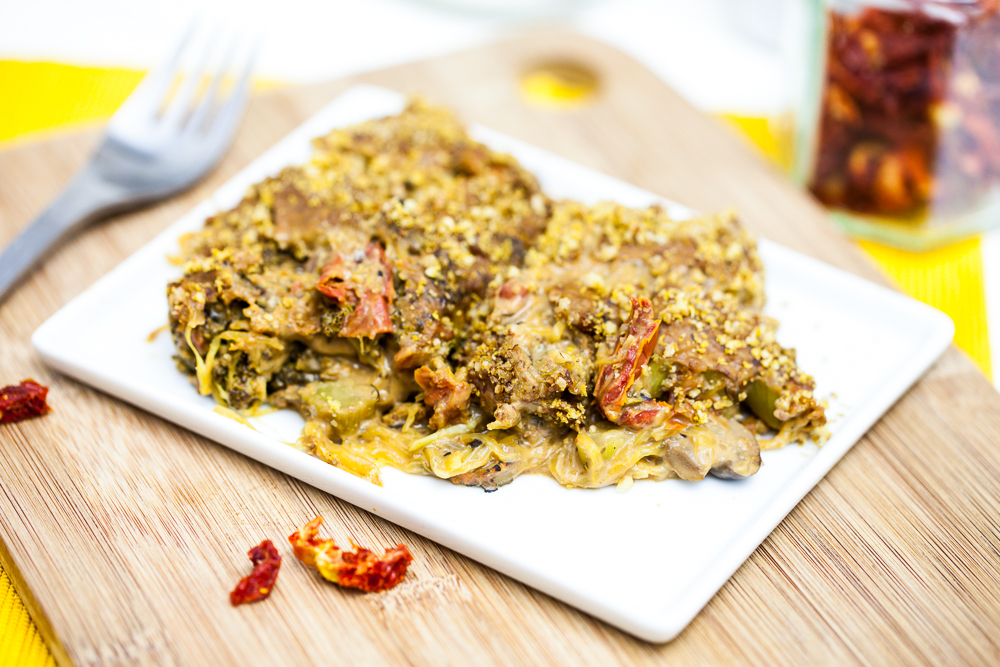 The winter holidays are my favorite.  I love Christmas, and New Year's is always fun, but that other holiday that happens at around this time, well, it's a super close second.  What holiday, you ask?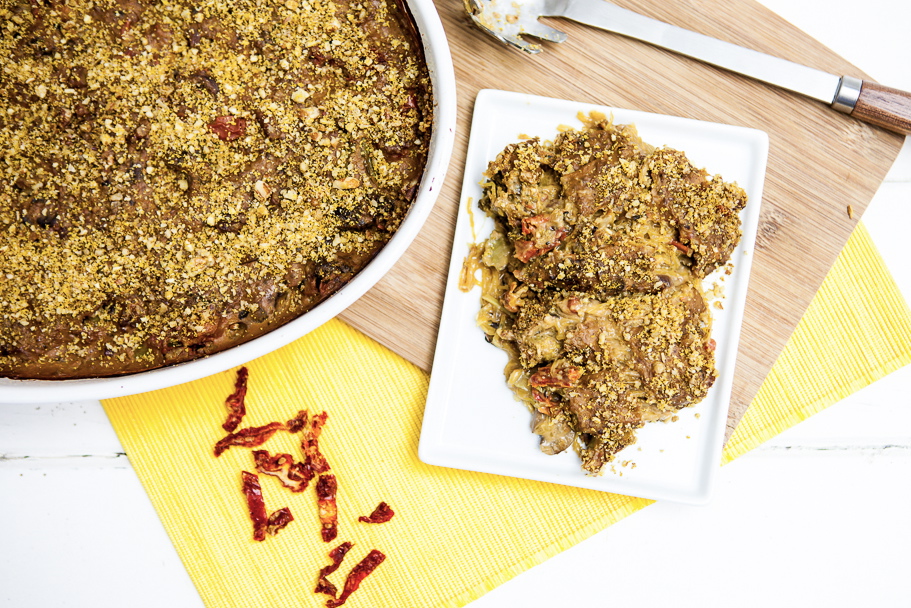 Festivus.  That's right, my friends, Festivus.  It's a Festivus for the rest of us.  Every year, for the last 8 years (I think- it may be longer, but my memory is crap these days), my San Jose friends and I get together and have a potluck in the name of Festivus.  These are the friends I've known since high school.  These are the friends who have seen me at my best and also in Vegas my not-so-fine moments.  They've stuck by my side, even in sticky situations.  Hanging with these guys (I say "guys" because this group is mostly guys, save myself and one other girl, as well as a few girlfriends/wives we've collected along the way) is like hanging with my family, but the family I never have to be on my best behavior around.  We grew up together, we know each other's quirks, we know each other's stories and we have stories together.  I may get to see one or two of these wonderful people throughout the year, but it's guaranteed that I'll see them all once a year at Festivus.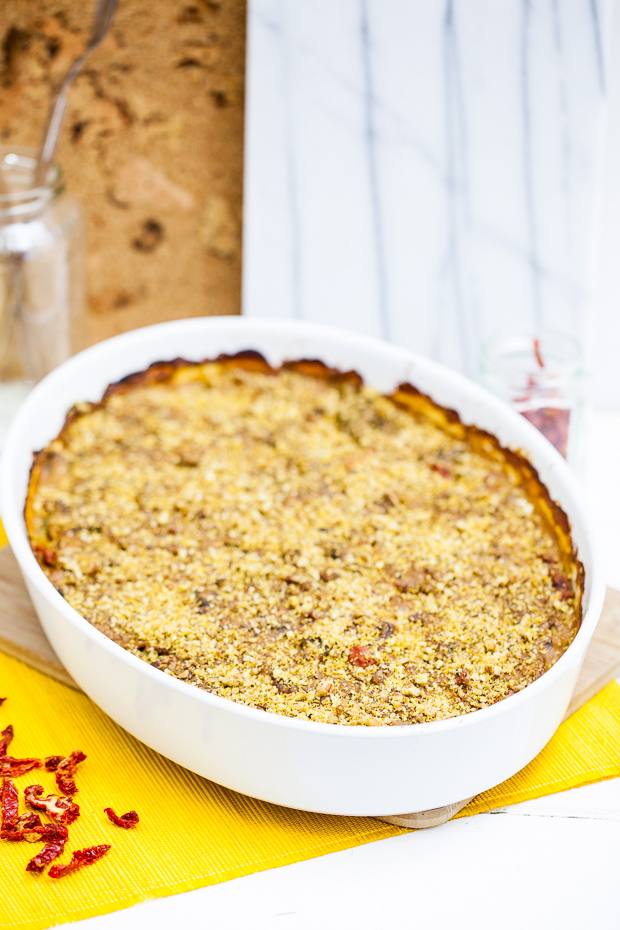 My friends and I prefer a traditional Festivus.  There's an aluminum poll of some sort, we "air our grievances" over dinner and well, we used to do the "Feats of Strength" but have given that up over time.  During the airing of grievances, we go around the table and discuss everything that has pissed us off upset us over the past year.  In recent years, I haven't had any grievances to share.  Sure, I could complain about gas prices and how much my canine roommate sheds and why, god, why did Flight of the Conchords have to end after 2 seasons(?????), but it sounds so ridiculous coming out of my mouth when I have been blessed with so much.  When my life is so incredible and every breath I take feels like a gift, it seems almost disgraceful to complain about those little things, when in reality, it's those little things that help make my life so great.  I do get a kick listening to my friend's grievances, though, and I'm thankful that I have these people in my life, sharing their grievances with me.  We also added a Festivus tradition of our own:  after airing our grievances, we go around the table, sharing everything we're thankful for.  This is my favorite part.  I love hearing about all the wonderful things happening for my friends.  I look forward to it every year.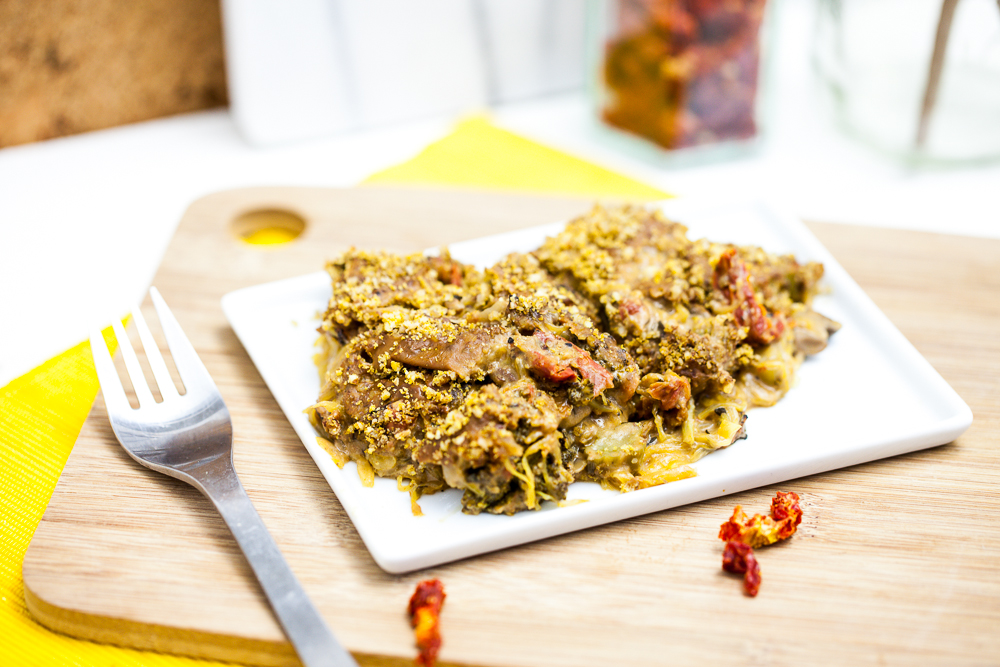 As I mentioned, Festivus is a potluck, composed of comfort food, most of which is vegetarian (a handful of my friends are vegetarian, though Chris and I are the only vegans).  I have been trying to decide what to bring this year.  I want it to be something that freezes well or that I can easily prepare the day of and I want it to be something that demonstrates how tasty and delicious vegan eats can be.  Much deliberation over this subject and the need to do something with the broccoli and spaghetti squash from my CSA led me to this casserole.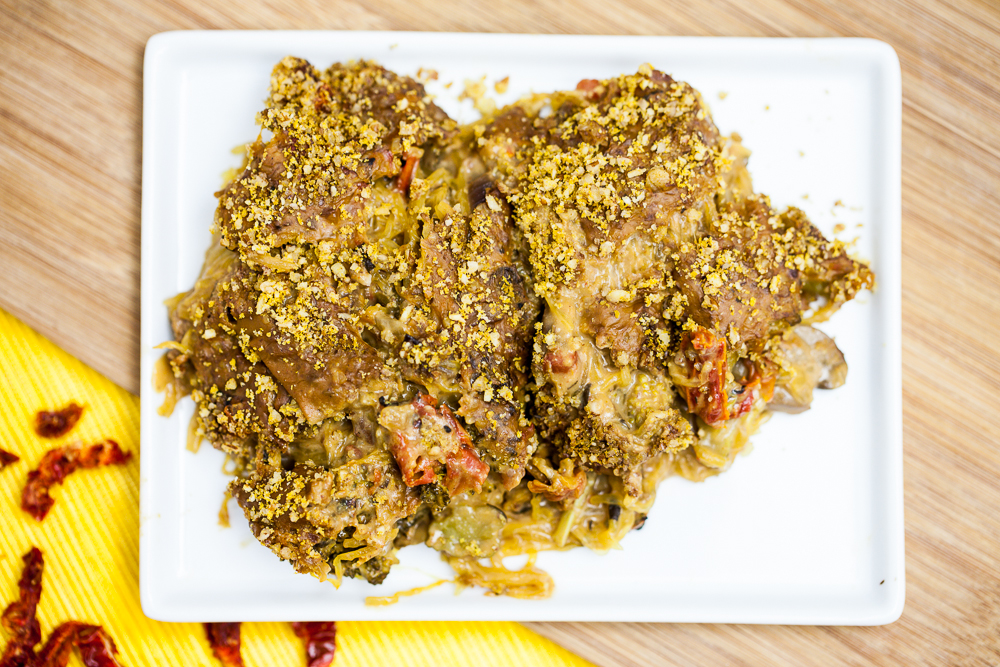 Broccoli and mushrooms and "spaghetti" and creamy, cheesy goodness, baked in a casserole with a crunchy pecan parmesan crust, is just the epitome of winter comfort food.  The cheese sauce is just a simple blend of coconut milk yogurt, nutritional yeast, miso, and a couple of spices, and is probably the best thing to happen to vegetables in the history of vegetables (that may be a slight exaggeration).  I know you all are probably sick of me going on and on about this pecan parmesan, but seriously, it totally ties this dish together.  It adds the perfect light, crispy texture to counter balance all of the creaminess going on inside the casserole.  If brought to a potluck, I can assure you that people will be going back for seconds.  It's also pretty wonderful as a meal all by itself, especially if eaten in front of the fire with a good movie playing.  It would also be a fantastic side dish at your holiday dinner table.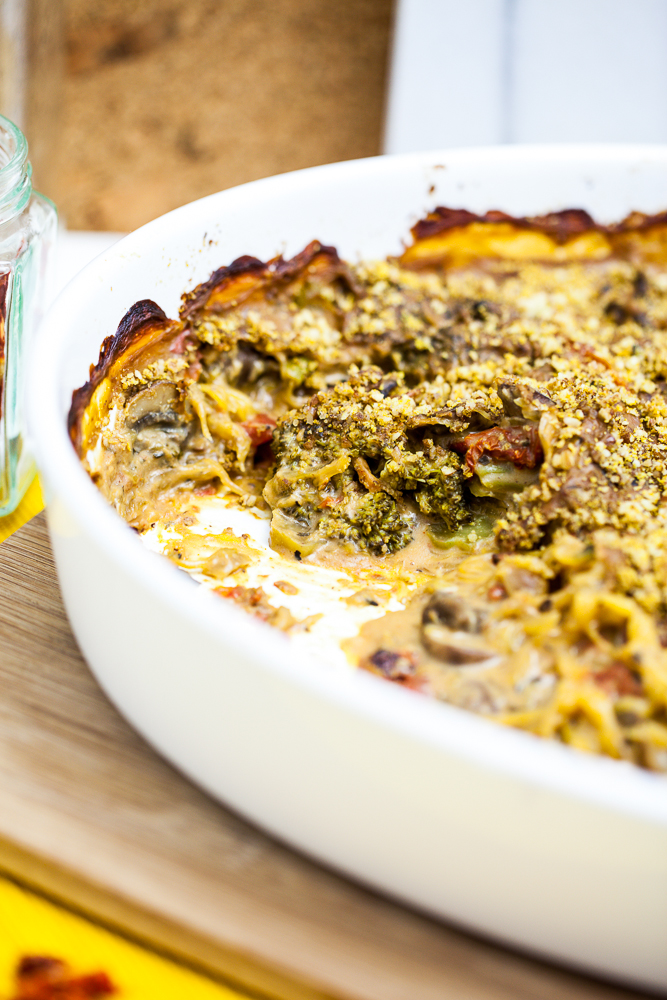 This dish is a definite contendor for my Festivus potluck contribution.  Chris did make me promise that the next time we have to bring food to a party, that I would bring this pizza, so I would have to say that's it's a toss-up between the two.  This year, due to scheduling conflicts, we are celebrating Festivus after Christmas (it's technically supposed to be on 12/23), so I have some time to think this over.  I think I'll need to make another batch of this to help me decide...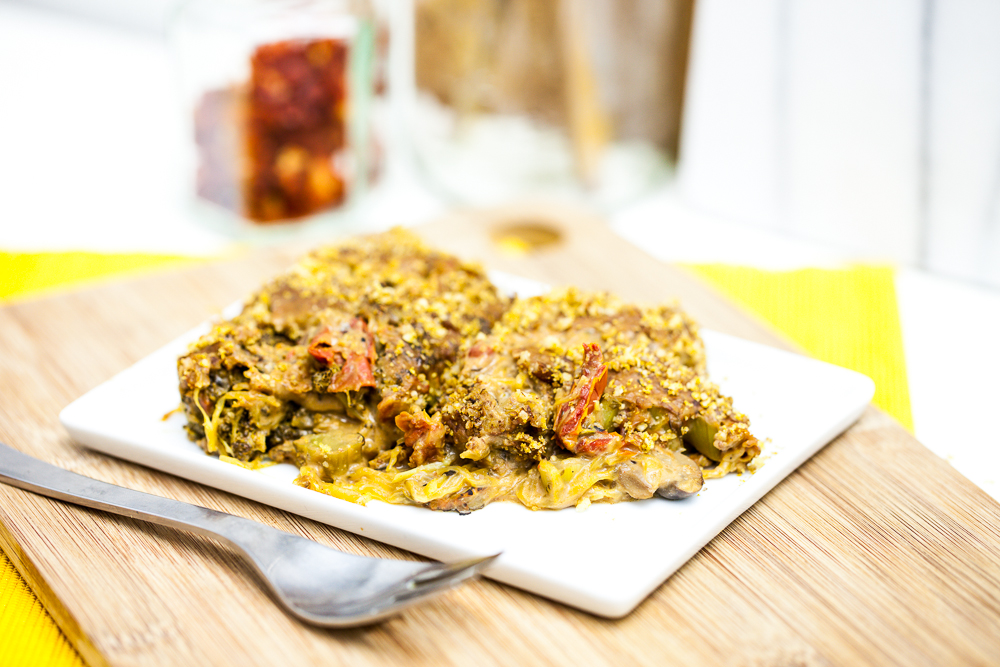 Cheesy Broccoli Spaghetti Squash Casserole
Ingredients
1 medium spaghetti squash
1/2 teaspoon olive oil
3 cloves garlic, minced
1/2 onion, diced small
2 cups mushrooms, thinly sliced
1 large head of broccoli, chopped into bite-sized pieces, including the stem
2 tablespoons Bragg Liquid Aminos (or tamari/soy sauce)
1 15oz can of organic fire-roasted tomatoes
1/4 cup sun-dried tomatoes, thinly sliced
2 teaspoons dried basil
1 1/2 teaspoons dried oregano
1 teaspoon dried thyme
salt and pepper to taste
1/3 cup pecan parmesan
1 16oz container coconut milk yogurt (I used So Delicious brand)
3/4 cup nutritional yeast
2 teaspoons miso
3/4 tsp garlic powder
1/2 teaspoon smoked paprika
a few dashes of salt
pepper to taste
Instructions
Combine all ingredients in the bowl of a food processor and pulse until smooth. Chill until ready to use.
Pierce the spaghetti squash with a fork about 20 times, all around the squash. Place on a microwave-safe plate in the microwave. Microwave on high for 10 minutes, flipping over halfway through. Alternatively, you can roast it in the oven, following instructions here. Remove and let cool.
Preheat the oven to 400. Lightly grease or spray a 9x13 casserole dish with olive oil. Set aside.
Once the spaghetti squash is cool enough to touch, use a large knife to cut it in half, lengthwise. Use a spoon to scoop out the seeds. Then use a fork to scrape out the "spaghetti" flesh and setting it aside, until all that is left is the outer skin of the squash. Discard the outer skin and set the spaghetti flesh aside.
In a large, shallow saucepan, heat the olive oil over medium heat. Add the garlic and saute until fragrant, about 2 minutes. Add the onion and saute until the onion is translucent. Add the mushrooms and saute for about 3-4 minutes. Add the broccoli and the Bragg's and saute until the broccoli just begins to get tender. Add the can of tomatoes, the sun-dried tomatoes, and the spices. Saute for about 2-3 minutes before adding the spaghetti squash and mixing well. Let cook for about 3 minutes, then add salt and pepper to taste. Remove from heat. Add the cheesy sauce and mix until fully combined.
Pour the contents of the saucepan into prepared casserole dish. Cover with foil and place in the oven. Bake for 30 minutes. Remove from the oven and sprinkle the top with the pecan parmesan. Return to the oven, uncovered, and bake for 10 minutes. Remove from oven and let stand for about 10 minutes before serving. Serve warm and enjoy!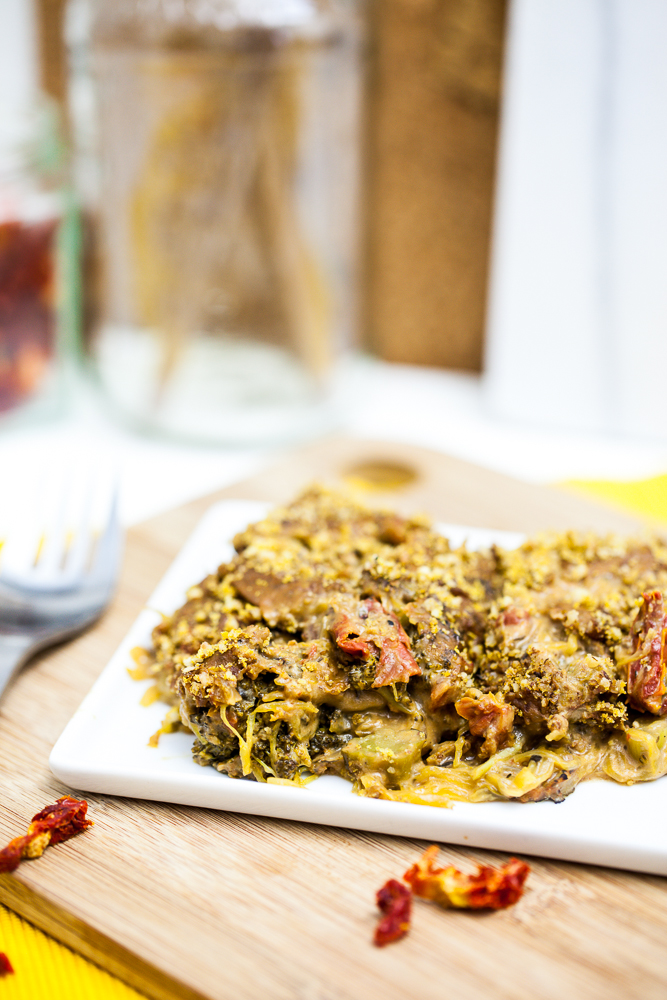 P.S. Festivus Yes!  Bagels No!
Photography by Chris Miller