The first time Chris and I ever spoke on the phone, we were both surprised to learn that we were both vegetarian.  Neither of us had ever dated a vegetarian before so we were excited to go to a vegan restaurant for our first date (Cru) where we would both enjoy the food.  After the first date, we went on a date the next night, and the night after that and we've been together ever since.  Within those first few dates, though, we quickly learned that in addition to us both being vegetarian, we also have almost identical tastebuds.  We like all the same foods (sometimes to differing degrees) and found that we would end up sharing all of our food.  I never have to worry about whether or not Chris will like something I prepare, because I know that if I like it, he will too.  Even when he is weary of a certain idea (like savory waffles), all I have to say is "Trust me, you'll like it."  And I'm always right.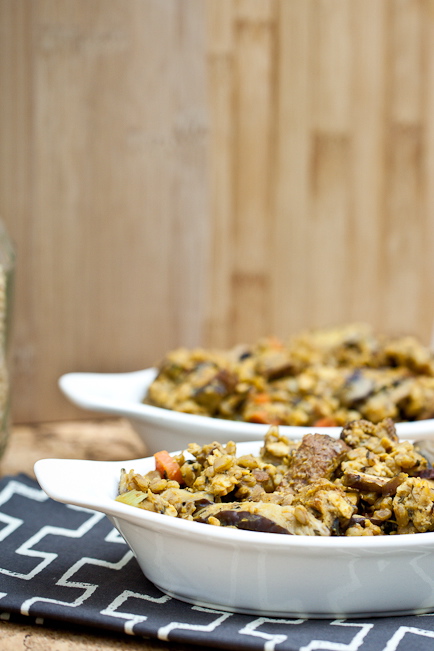 There is one exception to this rule, however.  It is an exception that I manage to forget every year and I am always taken aback when it's thrown in my face.  I just get so used to us liking all the same foods that I forget that there is one thing we differ on.  This exception is stuffing.  Chris doesn't like stuffing.  I know, I know.  I don't get it either.
Since it's just the two of us for Thanksgiving this year, and I didn't want to make stuffing just for myself, I decided it was necessary that I create a stuffing that both of us would enjoy.  Ok, to be totally honest, I was planning on making a regular stuffing until one day, when Chris and I were at Whole Foods, I picked up a box of vegan stuffing mix to read the ingredients.  Chris said "That's so cool that they have a vegan stuffing mix!  Too bad that I don't like stuffing."  I stood there, stunned, until memories of Thanksgivings past slowly resurfaced and I remembered that indeed, Chris had never liked stuffing.  On the drive home, it dawned on me that I could do a twist on the common stuffing, in hopes that it would please his palate.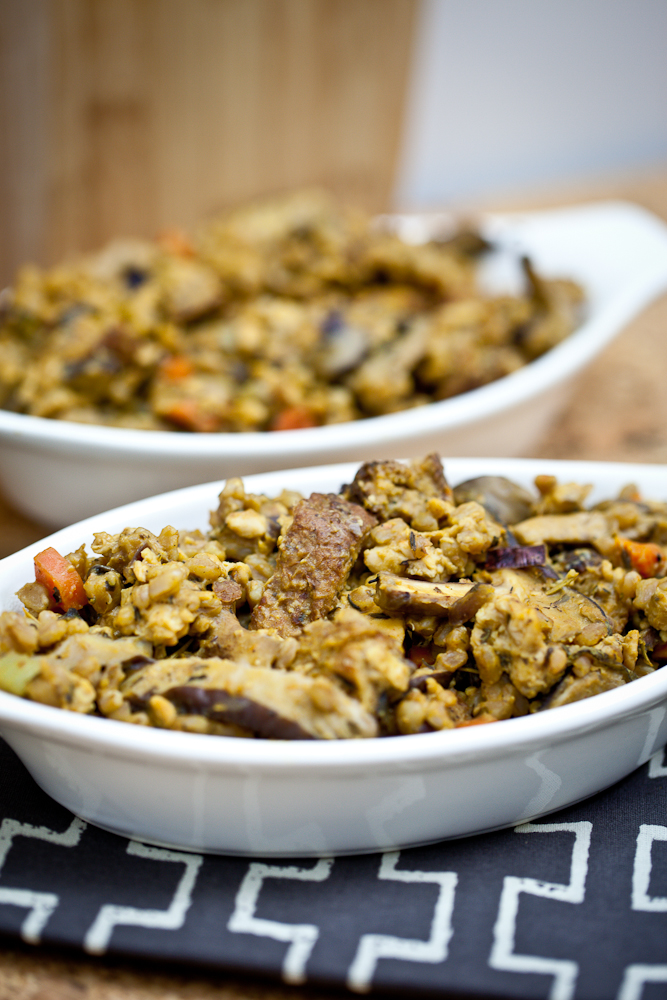 What Chris doesn't like about stuffing is all the bread (I know, I know.  He might as well be speaking Greek at this point because it makes no sense to me), so this stuffing needed to be composed of something other than bread.  Because I can't get enough farro these days and I've been wanting to make another farrotto ever since this went down, it became fairly obvious that this stuffing was going to resemble farrotto.  Some smoky tempeh sausage crumbles (recipe courtesy of Vegan with a Vengeance) and some gorgeous shiitake mushroom slices, combined with the traditional stuffing components (onion, carrots, celery, and sage) made for a a lovely stuffing-tasting farrotto, but it was missing something.  It was missing bread.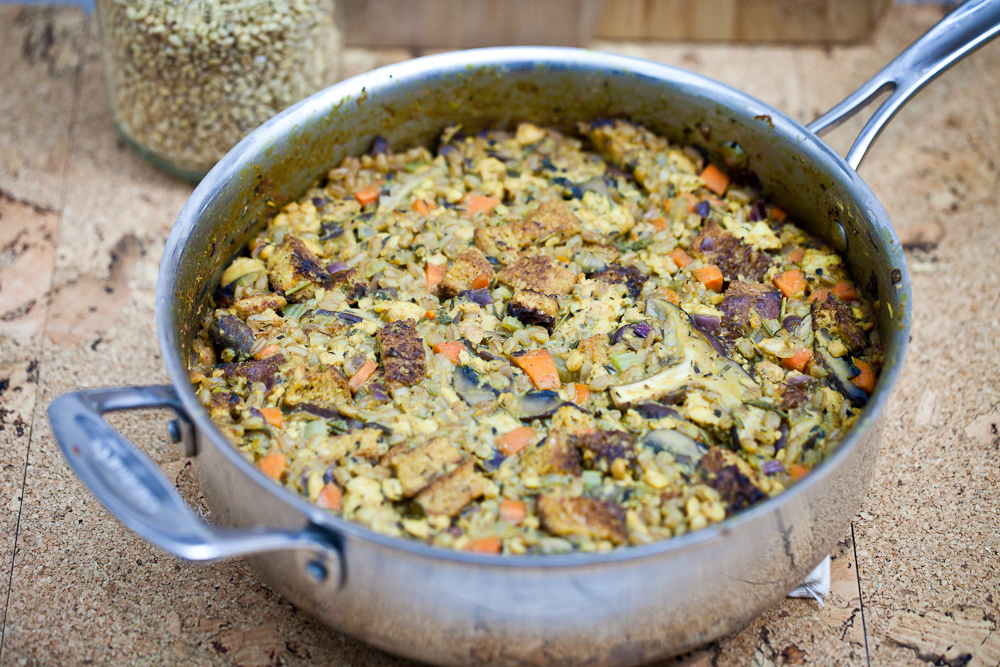 I decided to trust my tummy instincts and throw in some toasted cubes of whole grain bread before it went into the oven.  "Bread?  In farrotto?," I began asking myself as my stuffing creation baked in the oven.  This time it was me telling myself "Trust me, you'll like it."  I was probably as hesitant as Chris as we dug into my trial "stuffing."  I knew immediately that I liked it- the creaminess of the farrotto with crusty pieces of bread throughout, the tempeh sausage bringing immense flavor to the table and the multitude of mushrooms adding tons of texture and earthy flavor.  This stuffing was filling too- a larger serving of this stuffing could easily serve as the main course for your feast, and a smaller side serving would definitely quench your stuffing cravings.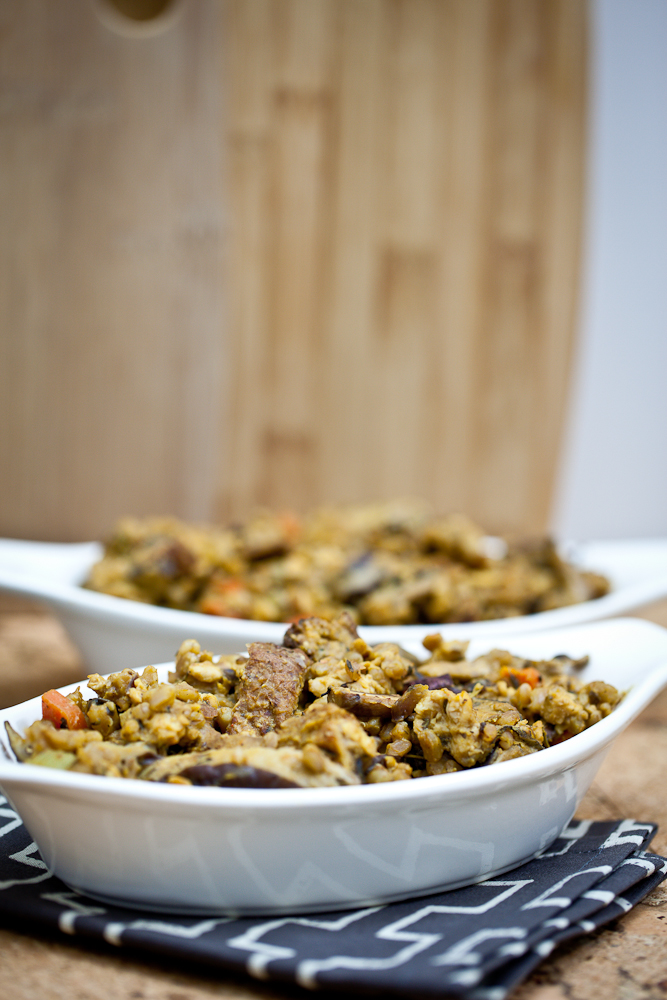 We ate our farrotto stuffing in silence, but as we finished our plates and set down our forks, Chris proclaimed that he actually liked the stuffing!  Victory was mine!  Farrotto stuffing for the win!  Chris and I found a stuffing we could agree on and all is right with the world.  Just remind me of this next year when I'm shocked again the fact that Chris doesn't like stuffing.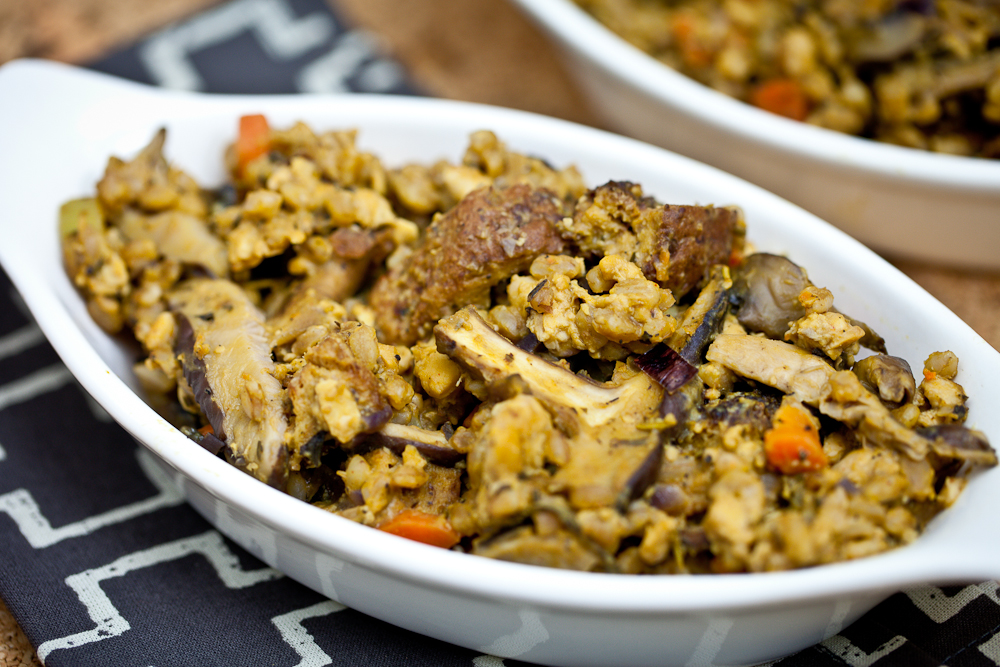 Smoky Tempeh & Shiitake Farrotto Stuffing
Ingredients
8 oz package tempeh
1 tablespoon fennel seed
1 teaspoon dried basil
1 teaspoon dried margoram or oregano
1/2 teaspoon red pepper flakes
1/2 teaspoon dried sage
2 teaspoons garlic, minced
2 tablespoons tamari or soy sauce
1 tablespoon olive oil
1 ½ tsp liquid smoke
juice of 1/2 a lemon
3 ½ cups of vegetable broth
1 cup farro, rinsed and soaked for 2-3 hours
1 teaspoon olive oil
2-3 cloves garlic, minced
½ red onion, diced small
2 celery stalks, diced small
2 carrot stalks, diced small
5-6 crimini mushrooms, thinly sliced
5-6 medium sized shiitake mushrooms, thinly sliced
2 T fresh sage, chiffonade
2 teaspoons dried thyme
1 teaspoon dried rosemary
salt and pepper to taste
2 tablespooons nutritional yeast
2 cups toasted bread cubes (I made toast out of stale bread and chopped it into cubes)
Instructions
Preheat the oven to 325.
Get started on your tempeh first. In a saute pan, crumble the tempeh and add enough water to almost cover it. Over high heat, steam the tempeh until most of the water is absorbed, about 15 minutes. Drain the remaining water and add the rest of the ingredients and cook over medium heat, stirring occasionally, until lightly browned, about 10 minutes.
While your tempeh is simmering the water, you can get started on the farrotto. Heat 1 teaspoon of olive oil with the garlic in a large, shallow, oven-safe saucepan (with a lid) over medium heat for about 1-2 minutes, or until garlic is fragrant. Add the onion and sauté for about 3 minutes. Add the carrots, celery, and mushrooms and sauté for about 3-4 minutes. Add the farro with ¼ cup vegetable broth, sage, thyme, and rosemary. Sauté for about 2 minutes or until liquid has mostly cooked away.
Add 1 ¼ cups vegetable broth, stir, and cover the pan. Let cook for about 5 minutes or until the liquid has mostly cooked away. Add ½ cup of vegetable broth, stir and cover. Once the liquid has mostly cooked away, add another ½ cup of vegetable broth, stir and cover. Continue this pattern until there is only ½ cup of vegetable broth left and the farro is fully cooked and thick. Add lemon juice, nutritional yeast, and salt and pepper to taste, and stir to fully combine. Add in the bread cubes and the remaining vegetable broth. Stir to combine.
Cover the saucepan (or transfer to a greased baking dish) and bake for 15 minutes. Uncover and cook for another ten minutes. Remove from the oven. Serve warm and enjoy.
Notes
Tempeh sausage recipe adapted from Vegan with a Vengeance (the only change I made was the addition of liquid smoke).
 For more vegan Thanksgiving recipes, check out my Holiday Salad and my Cornucopia of Thanksgiving Goodness.
 Photography by Chris Miller