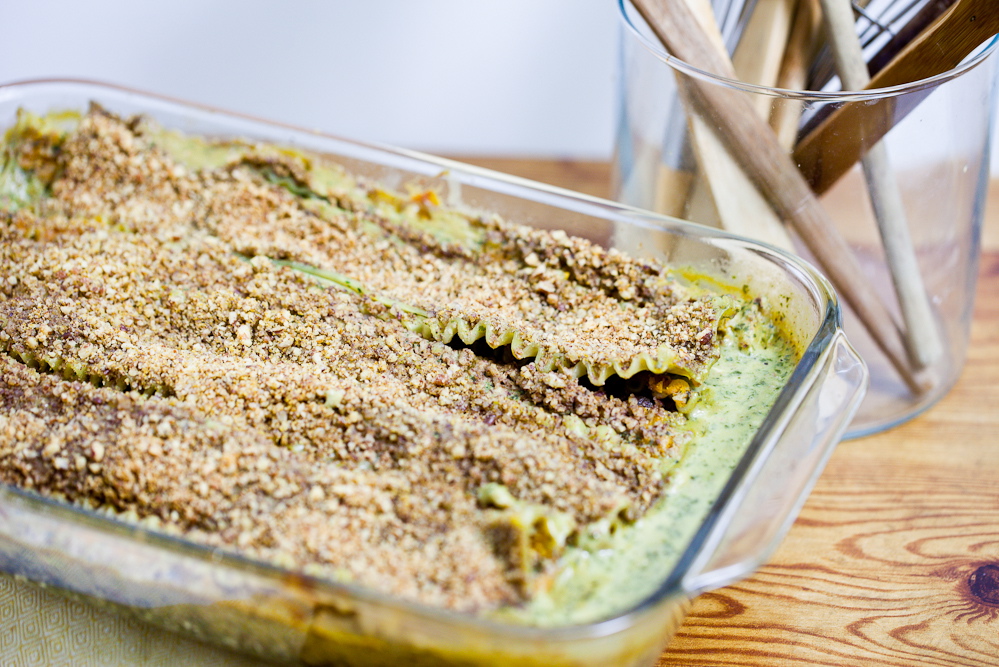 I grew up in a family that was pretty fond of casseroles.  If it could be baked in a 9 x 13 dish and serve a small crowd, we were fans.  If it contained some sort of Campbell's condensed soup and was topped with something fried and/or crunchy, even better.  A good casserole was always great for bringing the family together.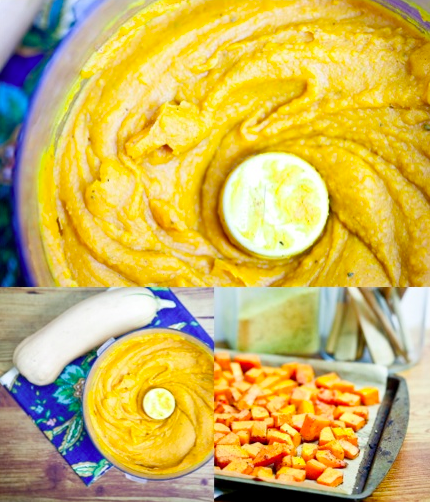 The only casserole-style dish my family wouldn't touch was lasagna.  Because there was such a strong aversion to the dish, I never tried lasagna until I was in my late teens, and to be perfectly honest, I felt jipped that I hadn't been eating it my whole life.  I'm sure you can understand why, when I got my very own kitchen, I had to make up for lost time in the lasagna department.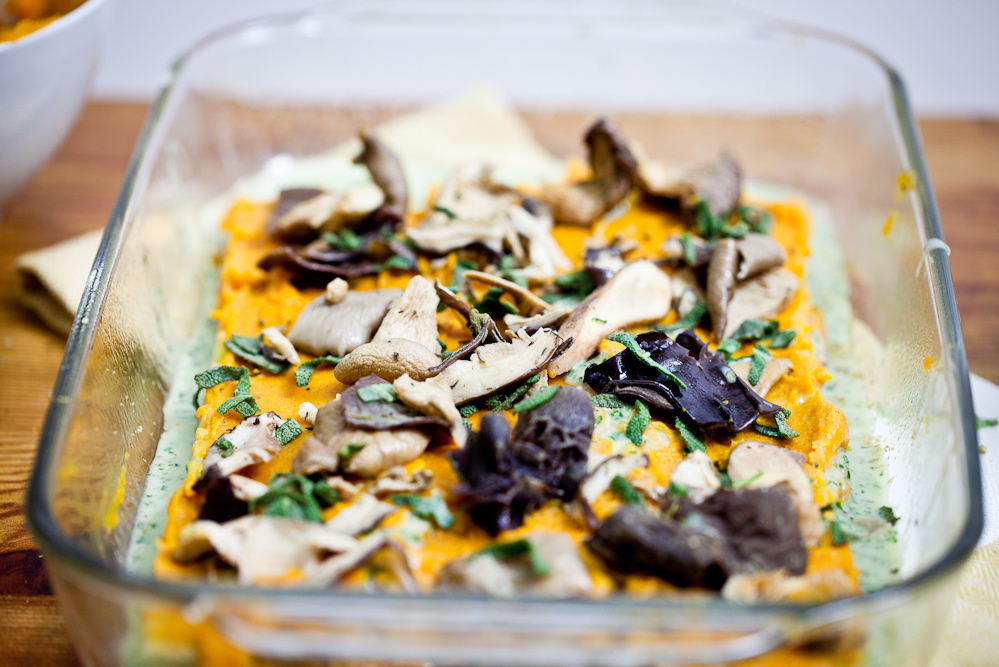 For awhile there, lasagna was my "thing."  I made tons of different types until I discovered butternut squash lasagna.  Hands down, my favorite lasagna of all time, and I made it a lot.  And I became pretty dang good at it.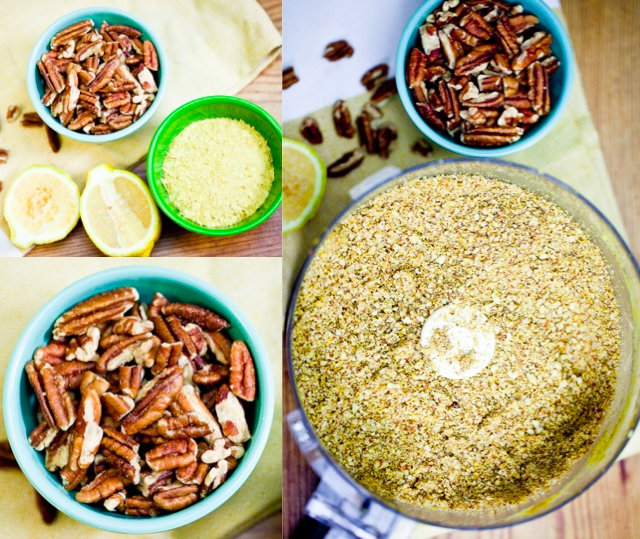 Since becoming vegan, however, I haven't attempted this dish because, well, you know how it goes:  You have some kale you need to use up or you've been wanting to try that one recipe you saw on that one site, and before you know it, it's summer and you don't really feel like eating lasagna.  Then you realize it's fall again and it's been almost two years since you've had butternut squash lasagna and it's high time that you veganize your old favorite.
So, right when I was realizing that I needed to get my lasagna on, so to speak, something really awesome happens.  Christy Morgan, the amazing talent behind The Blissful Chef, asked me to do a guest post in her series dedicated to cooking tools, more specifically in November when she was going to be featuring the casserole dish.  It felt like fate calling and telling me that there was no better time to put the vegan spin on this awesome dish.
Butternut & Wild Mushroom Lasagna with Pecan Parmesan

Ingredients
for the butternut squash puree:

1 medium butternut squash, peeled, seeded, and cut into 1-inch cubes
2 teaspoons olive oil
1 teaspoons cinnamon
salt and pepper to taste

for the pecan parmesan:

3 cups raw pecan pieces
1 cup nutritional yeast
juice of half a lemon
1 teaspoon minced garlic

for the wild mushrooms:

hot water
1 8oz package of dried wild mushrooms
10-12 sage leaves, chopped into small strips
½ teaspoon olive oil
salt and pepper to taste

for the basil cream sauce:

3 tablespoons vegan butter
3 tablespoons whole wheat flour
4 cups almond milk (or other vegan milk)
1 cup fresh basil leaves, loosely packed
a couple dashes of dried thyme
1 teaspoon arrowroot powder (optional)
salt and pepper to taste

for the lasagna:

12 no-boil lasagna noodles
olive oil spray or olive oil to grease the casserole dish
Instructions
Place your dried mushrooms in a bowl and cover with hot water. Let sit until rehydrated, about 10-15 minutes, then drain.
Prepare your squash puree. Preheat the oven to 400. Line a baking sheet with parchment paper. Spread your butternut cubes out on the baking sheet and drizzle with the olive oil. Sprinkle the cinnamon evenly over the squash and add salt and pepper to taste. Toss to fully coat each piece. Roast in the heated oven for 30 minutes, flipping halfway through to ensure even cooking. Once your squash is done roasting let cool on the sheet for about 5 minutes. Then place the cubes in the bowl of your food processor and puree until smooth. This might take awhile and you might be tempted to add water to get it to puree more quickly, but if you give it time, you will have a super thick butternut puree, which we all know is better than a thinned out puree. Rinse and dry the food processor- you'll need it later for the parmesan.
While the squash is in the oven, make the pecan parmesan. Combine all of the parmesan ingredients in the bowl of the food processor and pulse until it has a crumbly texture with tiny pieces of pecan. Do not overprocess- You do not want a flour-like or nut butter-type consistency. Pour the pecan parmesan into a bowl and set aside.
Also, while the squash is in the oven, you can cook your mushrooms. Heat the olive oil in a skillet over medium heat for about 30-60 seconds. Add the sage strips and sauté in the oil for about 1-2 minutes, then add the mushrooms. Saute for about 4-5 minutes then remove from heat. Add salt and pepper to taste and set aside.
To make the basil cream sauce, melt the butter in a medium-size pot over medium heat. Add the flour and whisk for 1 minute. Gradually whisk in the milk. Bring to a boil over medium-high heat. Reduce the heat to medium and simmer until the sauce thickens and reduces by about 25%, whisking often, about 7-8 minutes. Whisk in the thyme. Pour about half of the sauce into a blender or food processor, add the basil and blend until completely combined. Return the basil sauce to the sauce in the pan and stir to blend. If you would like the sauce to be thicker, whisk in the arrowroot powder. Add salt and pepper to taste.
Lower the oven heat to 375. Spray a 9 x 13 casserole dish with olive oil spray or lightly grease it with olive oil. Pour about ½ a cup of the cream sauce into the casserole dish and evenly spread it out.
For the first layer: Place 3 lasagna noodles on top of the sauce. Evenly spread about 1/3 of the butternut puree on the lasagna noodles. Sprinkle about a ½ cup of the pecan parmesan on top of the butternut puree, then drizzle about ½ cup of the sauce over the parmesan.
For the second layer: Place 3 more lasagna noodles on top of the sauce, spread with 1/3 of the butternut puree, then evenly spread the wild mushrooms over the top of the puree. Top with about a ½ cup of the parmesan, and drizzle ½ cup of the sauce over the parmesan.
For the third layer: Repeat the steps for the first layer. Top with three more lasagna noodles, pour the rest of the sauce over the top, then cover the top with pecan parmesan (about 1-1½ cups).
Tightly cover the baking dish with foil and bake the lasagna for 50 minutes, then remove from heat. Let the lasagna sit for 15 minutes before serving. Enjoy!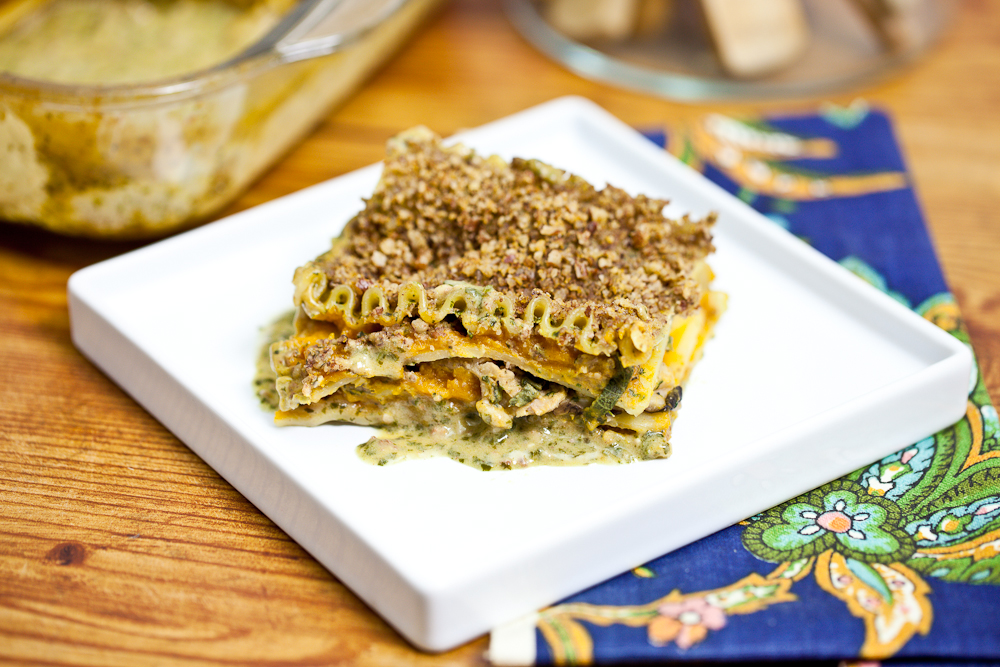 Photography by Chris Miller