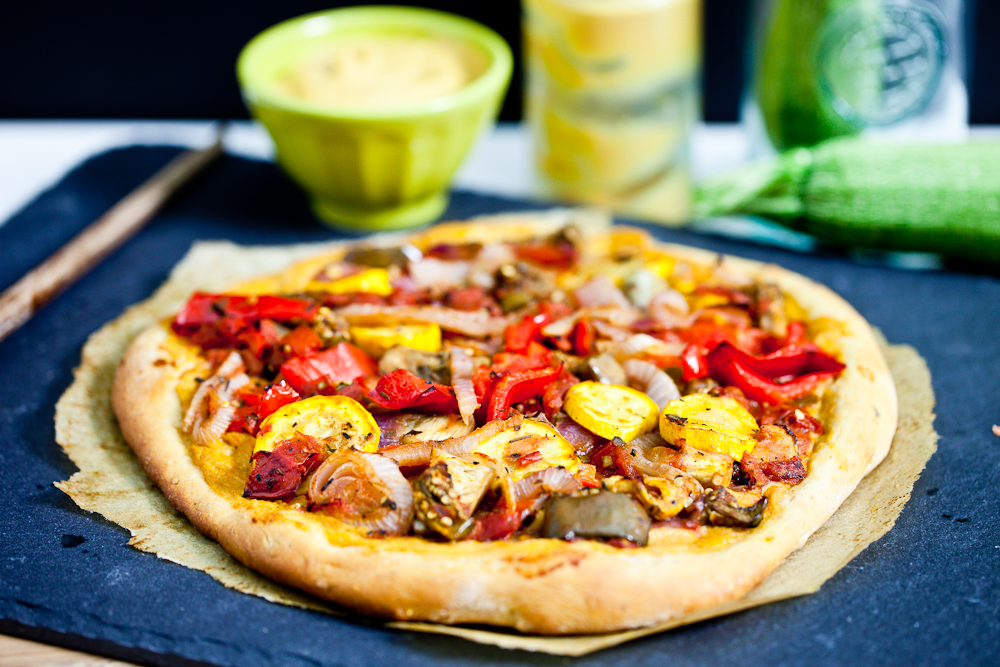 I have to commute pretty far to and from work for the project I'm on right now.  After working all day and then driving over an hour to get home, cooking an elaborate dinner is not something that interests me.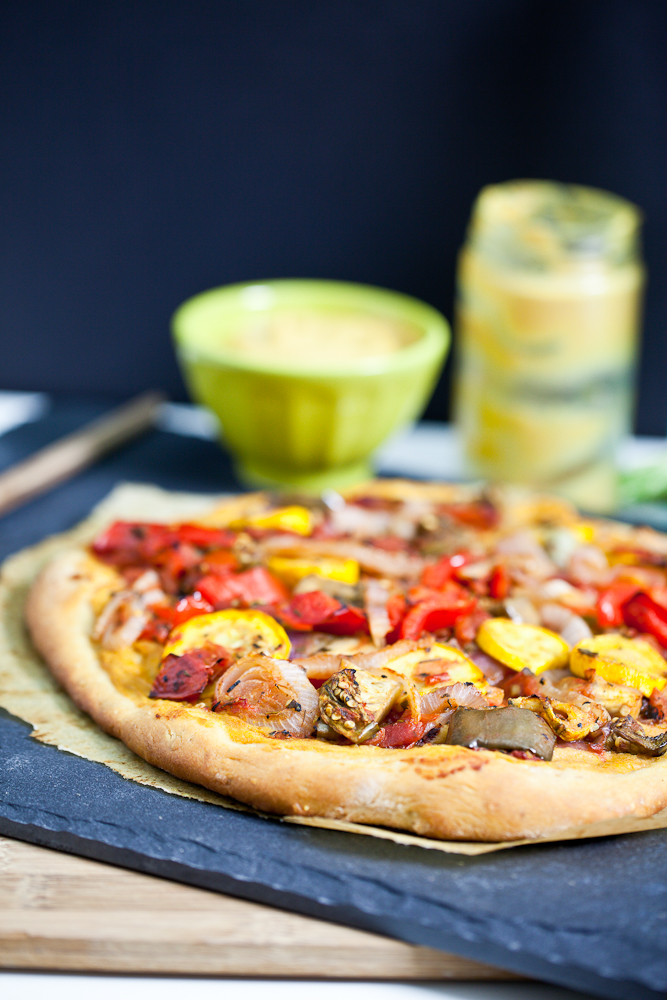 I would much prefer that I had a 1950's housewife to have dinner ready and on the table for me the minute I walk in the door.  And since we're talking about what I want, having my laundry done and my slippers at the ready would be pretty cool too.  And if Samantha could walk and feed herself- even better.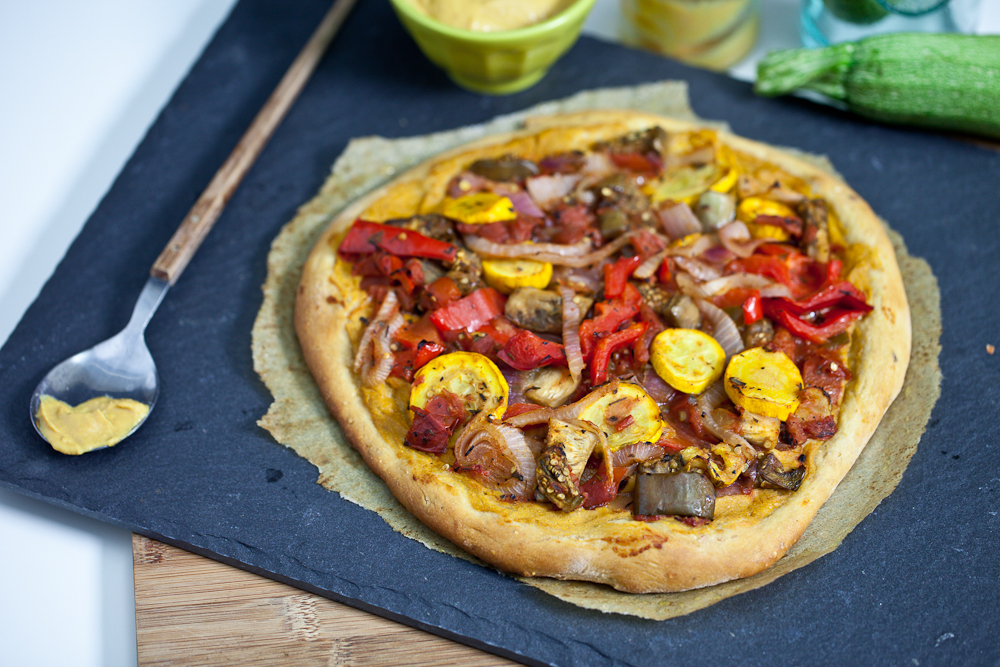 I don't have a housewife, though.  What I do have is The Chickpea.  He is so helpful when it comes to helping me prepare a quick and healthy meal when I'm too exhausted to think.  On such an eve, when I was so hungry, I considered just standing at the kitchen counter, eating baby carrots and hummus until I fell asleep, The Chickpea had a better idea.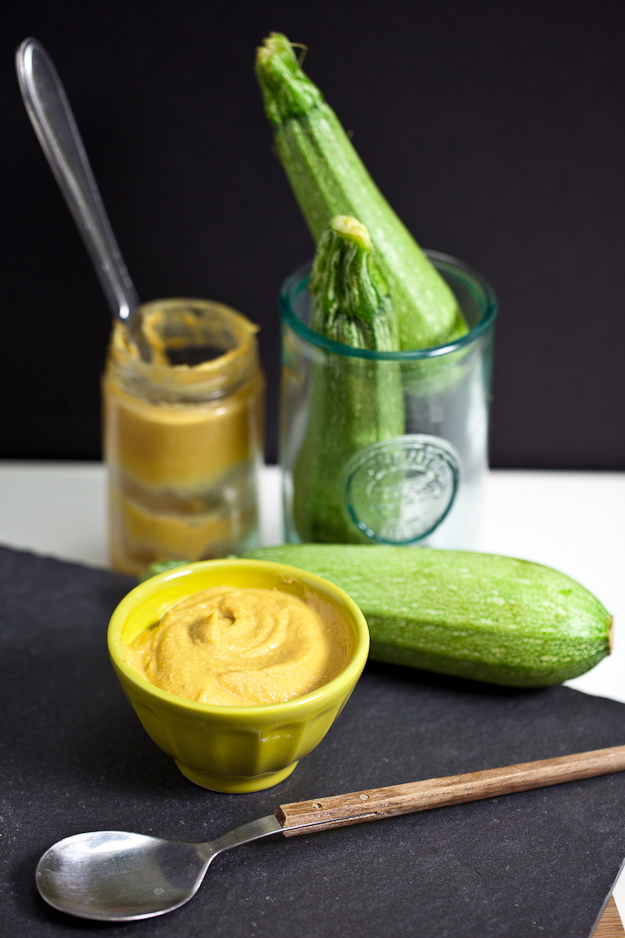 "Let's chop up all those veggies from the CSA that have been stockpiling in your crisper drawer of the fridge, and roast them in the oven," he instructed me.  "While that's happening," he continued, "you can make a quick cheese sauce out of chickpeas and roll out that pre-made pizza dough you bought at Whole Foods the other day.  You'll also have time to go get in your sweats and wash your face.  Then all you have to do is slather the cheese sauce on the dough, throw the veggies on top, pop the whole thing in the oven, and baby, you got a pizza goin'!"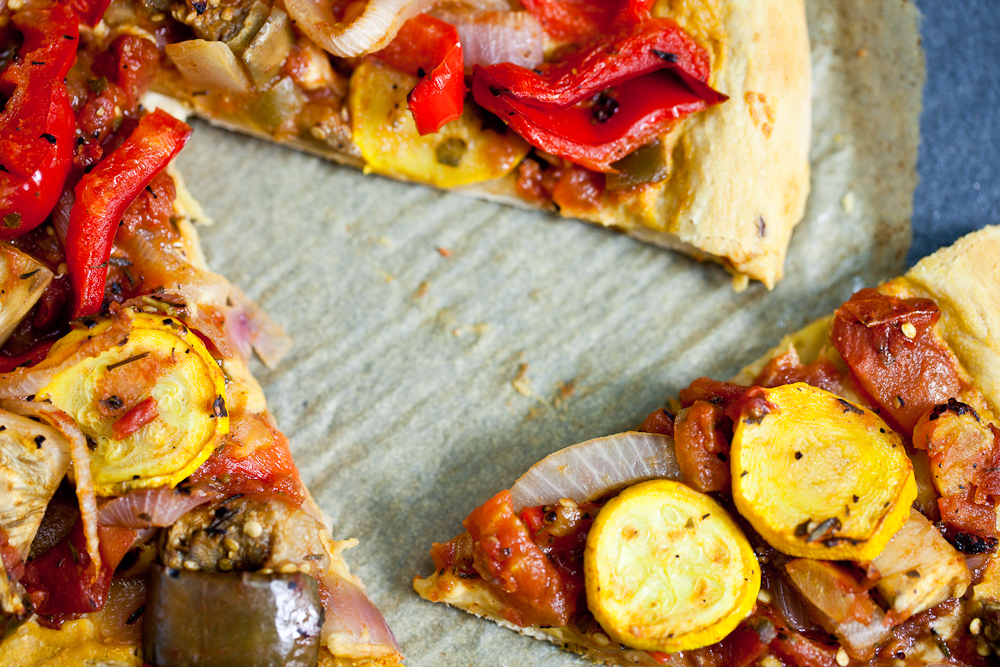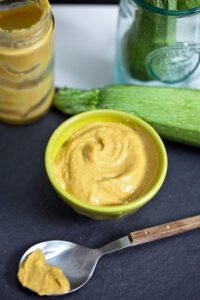 So that's what we did, and I have to tell you, it's one of the best vegan pizzas I've ever had.  The chickpea cheese sauce gets warm and gooey and makes every bite full of what seems to be, super melty cheese.  The roasted ratatouille (I realize this is not traditional ratatouille) was a spicy, robust compliment to the cheesy sauce and the pizza crust was the perfect vessel to deliver the goods to my face balanced it all out perfectly.  The best part was that there were leftovers so we had enough for dinner for the next two nights as well and we were able to have dinner at the early hour of 8:30pm.  By the third night of that incredible pizza, I was feeling like one of those awesome chicks who can work and be a domestic diva (for lack of a better term) all at the same time.  Until I realized at bedtime that I had no more clean socks...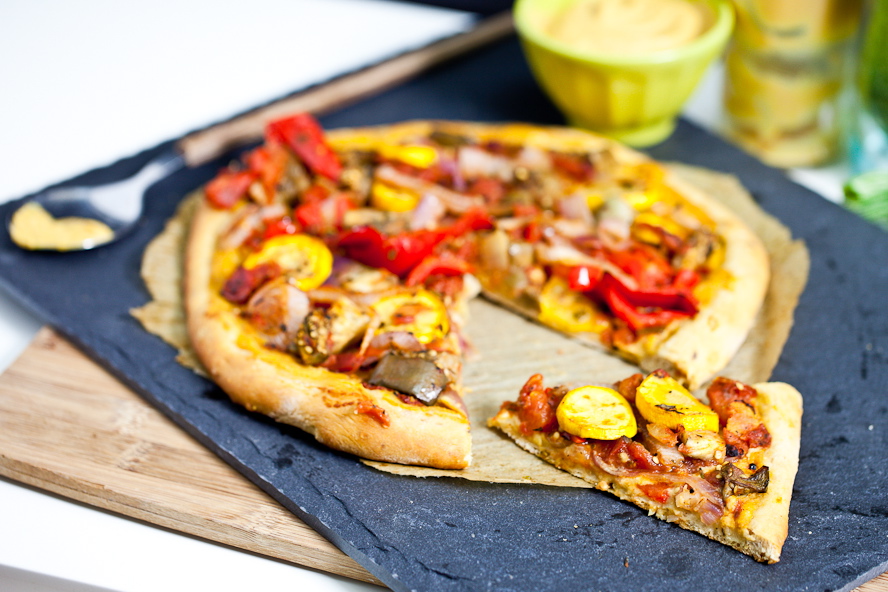 Roasted Ratatouille Pizza with Chickpea Cheese Sauce
Ingredients
1/3 recipe pizza dough (or use pre-made dough from the grocery store, like I did) per pizza tha tyou plan to make
1 eggplant, diced
3 Gold Bar squash (or other zucchini type of squash), diced
1 large red bell pepper, thinly sliced
½ large red onion, thinly sliced
olive oil spray
2 teaspoons oregano
1 teaspoon marjoram
1 teaspoon thyme
salt and pepper to taste
1 15oz can fire-roasted tomatoes

for the chickpea cheese sauce

1 15oz can chickpeas, rinsed and drained
1/3 – ½ cup nutritional yeast
juice from 1 lemon
1 teaspoon white miso
1 teaspoon garlic powder
several dashes smoked paprika
salt to taste
Instructions
Preheat oven to 400. Line 2 baking sheets with parchment paper. Spread chopped/sliced eggplant, squash, bell pepper, and onion out on the baking sheets. Spray with olive oil and evenly sprinkly spices over the vegetables. Add salt and pepper to taste and toss to fully coat.
Roast the vegetables at 400 for 20 minutes, flipping halfway through to cook evenly.
While the veggies are cooking, roll out your pizza dough into a round shape and place on a parchment paper lined baking sheet or use a pizza pan/stone.
Make the cheese sauce: In a food processor, combine the chickpeas, nooch, lemon juice, miso, garlic powder, paprika, and salt. Puree until smooth.
When the vegetables are done roasting, place them in a bowl with the can of fire-roasted tomatoes and stir to combine.
Increase the oven temperature to 475. Spread about 1/3 of the sauce on the prepared pizza dough. Top with 1/3 of the tomato/vegetable mixture. Bake at 475 for 12-15 minutes, or until crust is risen and slightly browned. Remove from oven and serve hot. Enjoy!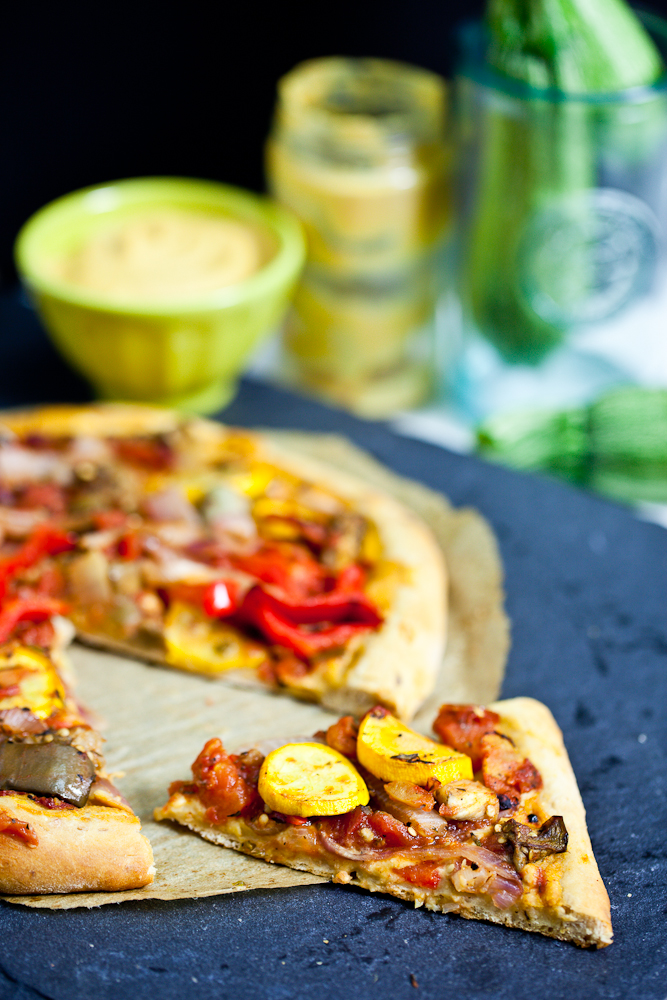 First time here?  Check out the rest of my 
Chickpea Love Affair
Vegan MoFo Entries
!
Photography by Chris Miller