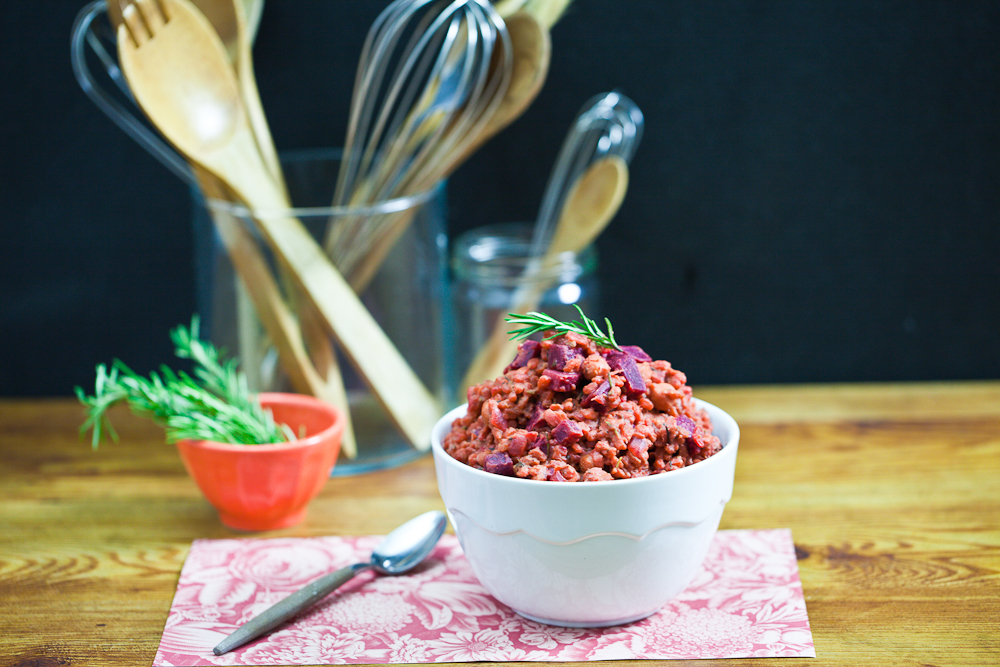 Being inspired by other bloggers on a daily basis has become so commonplace for me, that I can't believe I never used to read blogs at all.  Every day, in my inbox, or in my Facebook or Instagram feeds, I see amazing creations, made by incredibly talented people.  There are times, however, when something just grabs my attention and I think about it daily until I recreate it in my own kitchen.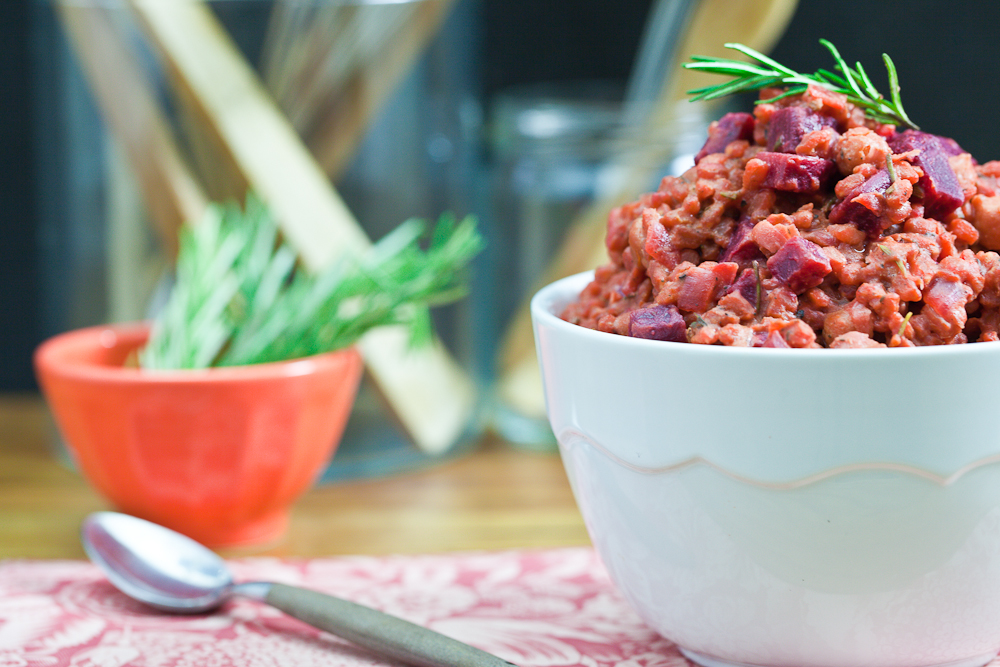 This meal was inspired by two bloggers who are both so crazy talented in the kitchen and with a camera, that I can never leave their blogs without being totally stunned.  Courtney of The Fig Tree is always wowing me with her photography and her Vegan Tuesdays consistently amaze me.  Awhile back, Courtney shared this Corn Farrotto that I went totally gaga over.  Farro in risotto form?  Heck, yes!  Since farro is one of my favorite grains, you can count me in!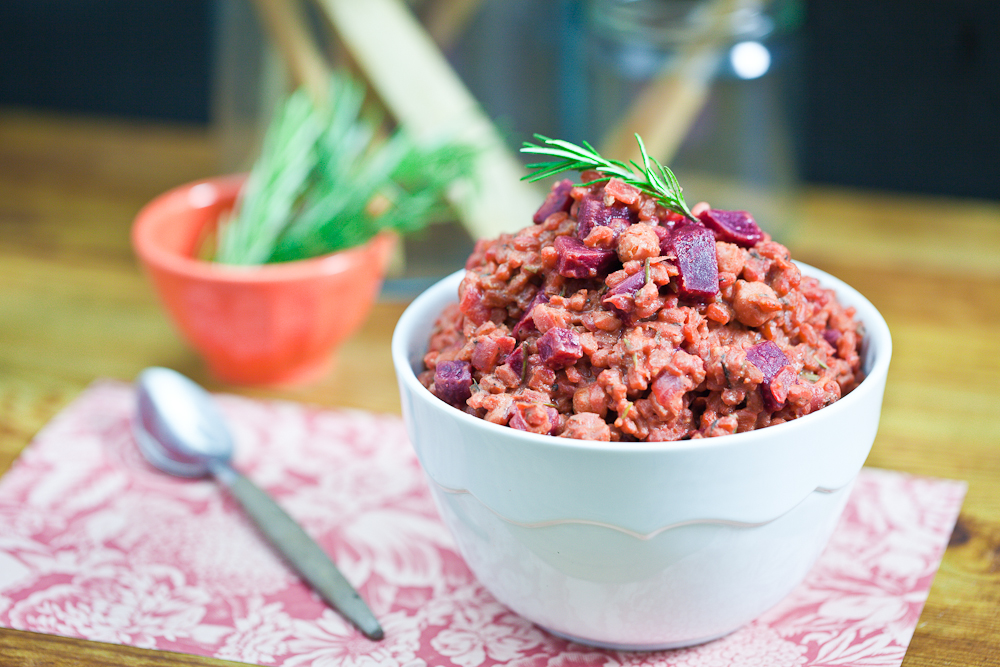 Then, a couple weeks ago, Heather from Sunday Morning Banana Pancakes, shared some Rosemary Roasted Beets that were so gorgeous, I couldn't not make them.  I love roasting beets, but I have no clue as to why I had never thought to roast them with rosemary.  This is why Heather rocks my world.  That and her amazing cakes, breads, and photography.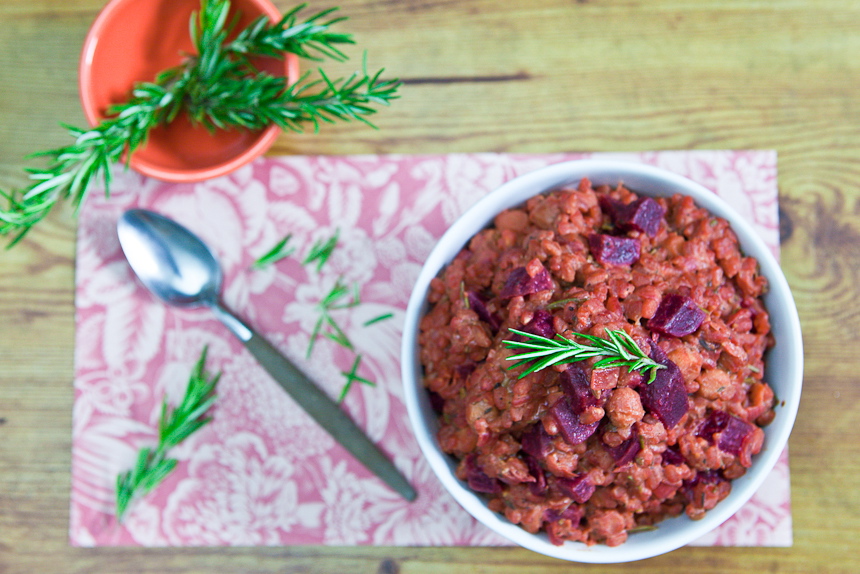 I had been planning on making Courtney's farrotto, but when my CSA sent me beets, I knew that Heather's beets had to be part of it.  Rosemary roasted beets, mixed into a creamy chickpea farrotto made for an unforgettable dinner.  Cooked farro has a very nutty taste a pleasant chewy feel to it to begin with, so when it's slow-cooked, risotto-style, those attributes are highly accentuated.  The rosemary roasted beets give the farroto, a beautiful scarlet color and bursts of rustic, earthy flavor, and the chickpeas, as per usual, give the entire dish that little extra "oomph."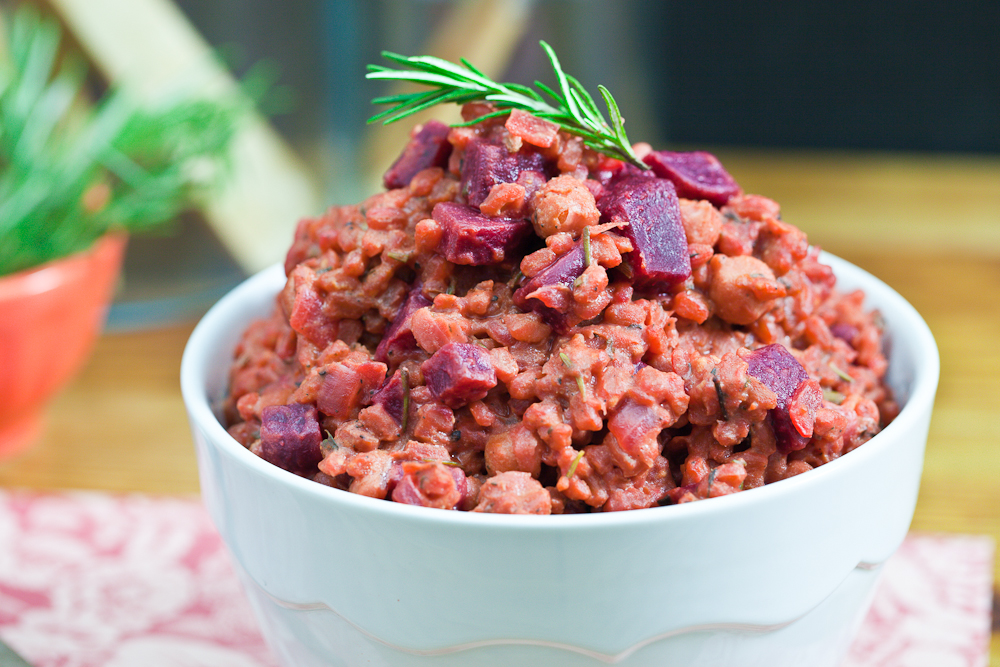 This was the type of dinner that is so unbelievably delicious that it renders you incapable of participating in any sort of conversation because you're so busy focusing on taking tiny bites, very slowly, so that the meal does not end.  I wish Heather and Courtney could have been there to enjoy this long, silent dinner with us.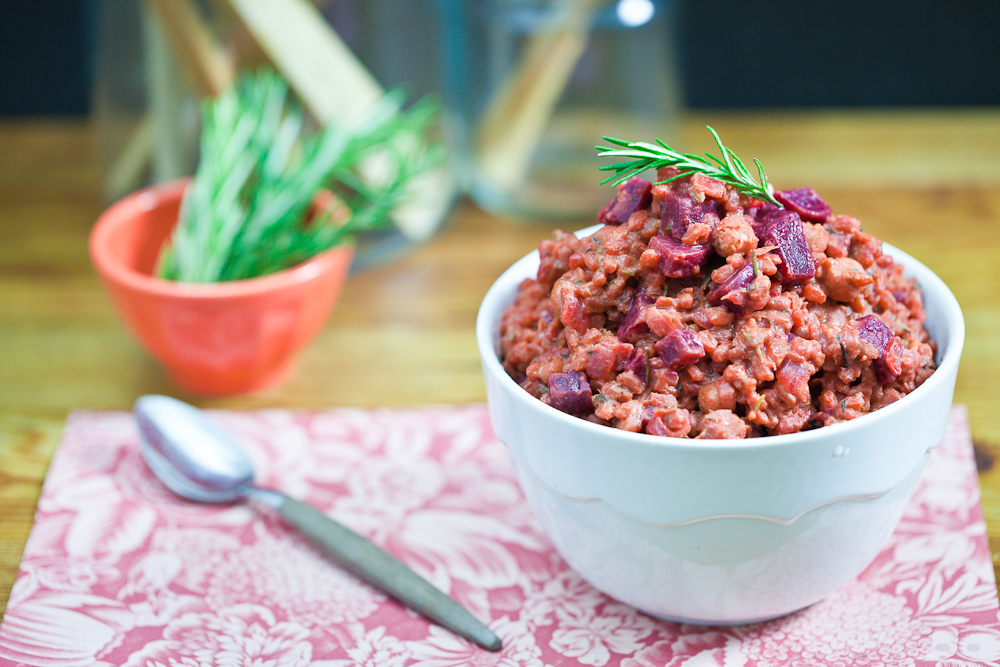 Scarlet Rosemary Chickpea Farrotto
Ingredients
4 red beets, peeled and diced
½ tablespoon + 1 teaspoon olive oil
1 tablespoon + 1 tablespoon fresh rosemary, separated
½ onion
2-3 cloves garlic
1 can chickpeas
1 ½ cups farro, rinsed
1 ½ teaspoon thyme
1 teaspoon fennel seeds
1 teaspoon dried ground sage
4 cups vegetable broth
½ lemon
½ cup nooch
salt and pepper to taste
Instructions
Preheat the oven to 400.
Place your peeled and diced beets on a piece of tin foil. Drizzle 1 teaspoon of olive oil on the beets and sprinkle 1 tablespoon of fresh rosemary and salt and pepper to taste. Toss to fully coat the beets and fold the foil over to create and enclosed pouch. Place a baking sheet and roast in the oven for 20 minutes. Remove from oven, but do not open the foil pouch until ready to use.
Heat ½ tablespoon of olive oil with the garlic in a large, shallow saucepan over medium heat for about 1-2 minutes, or until garlic is fragrant. Add the onion and sauté for about 3 minutes. Add the chickpeas, farro, ¼ cup vegetable broth, thyme, sage, fennel seeds and the remaining 1 tablespoon rosemary. Sauté for about 2 minutes or until liquid has mostly cooked away.
Add 1 ¼ cups vegetable broth and the roasted beets, stir, and cover the pan. Let cook for about 5 minutes or until the liquid has mostly cooked away. Add ½ cup of vegetable broth, stir and cover. Once the liquid has mostly cooked away, add another ½ cup of vegetable broth, stir and cover. Continue this pattern until all broth has been used and the farro is fully cooked and thick. Add lemon juice, nutritional yeast, and salt and pepper to taste, and stir to fully combine. Serve warm and enjoy.
Notes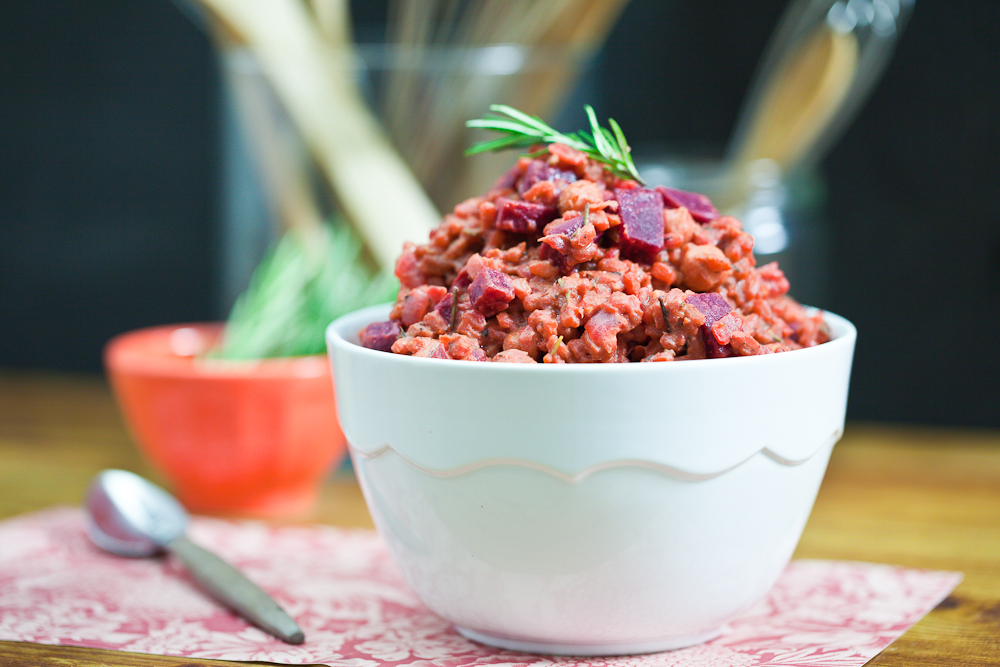 First time here?  Check out the rest of my Chickpea Love Affair Vegan MoFo Entries!
Love animals? Help support Farm Sanctuary's mission to protect farm animals from cruelty! Keepin' It Kind's goal is $500, but we can't do it alone! Together, we can make a real difference for farm animals everywhere. Donate today!  Learn more about Why I am Walking for Farm Animals and join our team!
Photography by Chris Miller