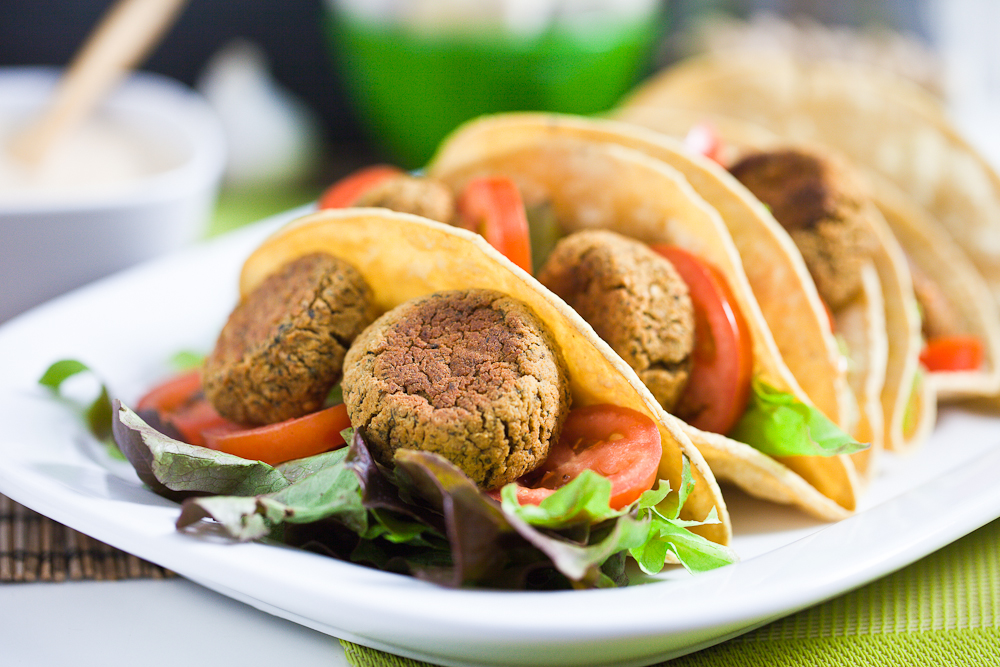 So, I heard of this thing called "Taco Tuesday."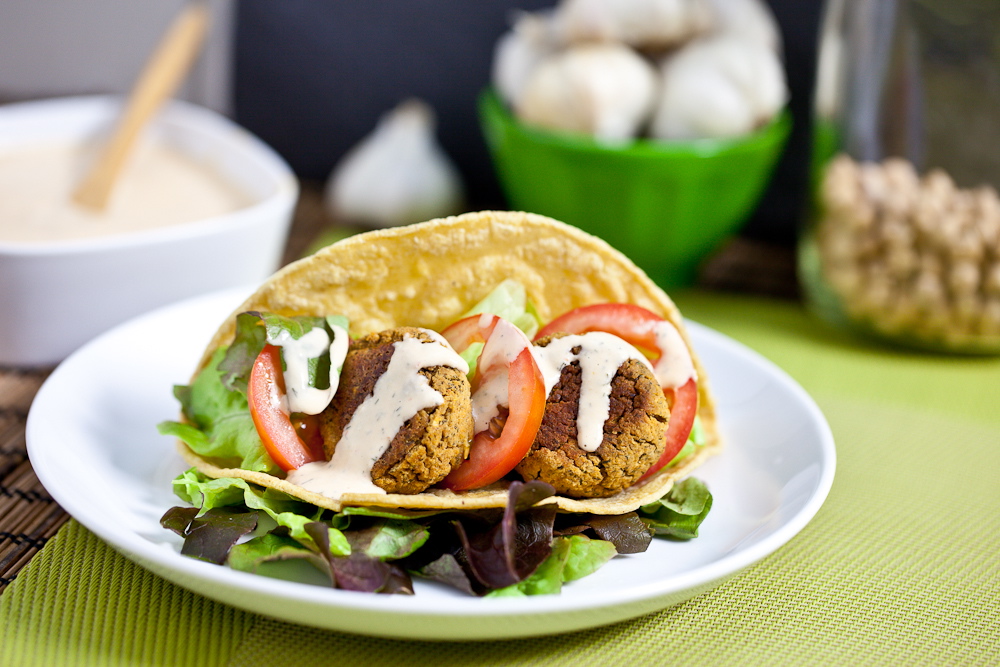 Apparently, some people designate one day a week, Tuesdays, for eating tacos.  How genius is that?  I can't necessarily make those kinds of rules in my life because if a taco craving comes on, I need to be able to have them immediately, regardless of the day is Tuesday or not.  I really, really, really like this concept, though, and I am going to designate today as Taco Tuesday.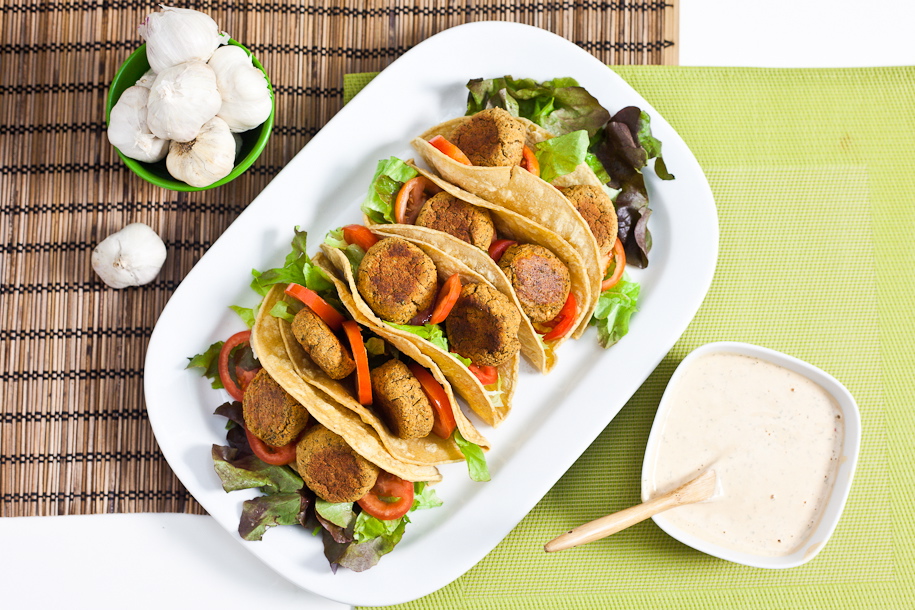 The Chickpea really digs this concept too.  We brainstormed for about 6 minutes hours for ways to put chickpeas in a taco, something I've done and loved in the past.  We came up with a lot of great ideas but finally settled on one idea: Falafel Tacos.  I have never been more excited for any other Tuesday in history.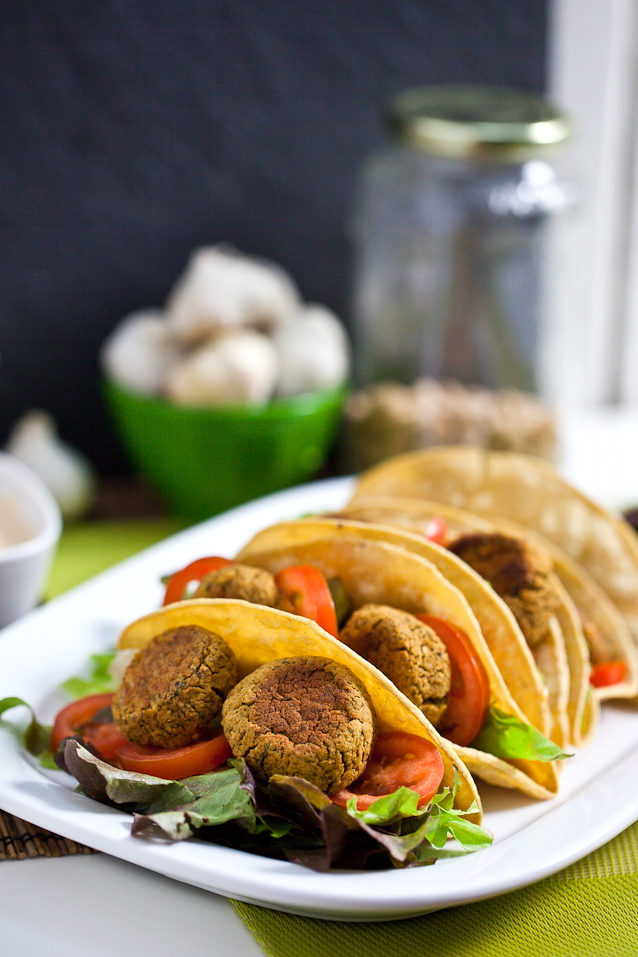 Falafel wraps and/or sandwiches are one of those things I love with a passion but don't eat nearly enough.  I usually order them at restaurants but about six years have passed since I last made falafel at home.  Once I made the little falafel ball/patties for these tacos, I had no idea why I hadn't been doing this the whole time.  Like, every Friday.  For Falafel Friday (do I smell a new trend?).  Because they're baked, they're extremely easy and healthy, and because they can't help themselves, they are unbelievably delicious.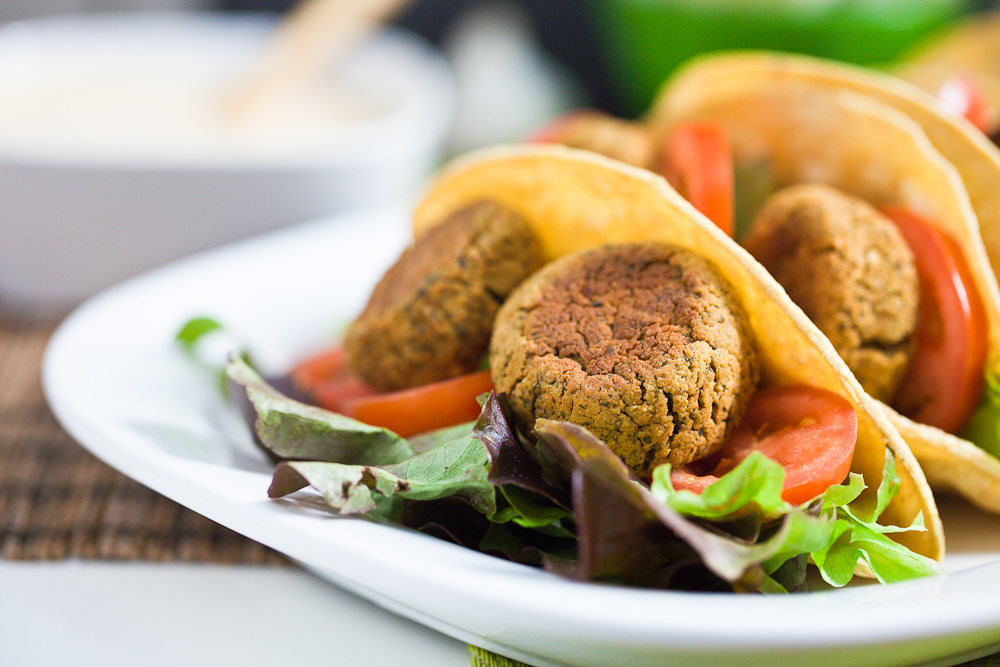 Putting the falafel ball/patties in taco shells and drizzling them with a Sriracha Tahini Sauce might be the best idea I've had since The Philly Reuben (I guess I'm a sucker for fusion).  The Sriracha Tahini Sauce has the heat of a normal hot sauce that one would add to their tacos, but the tangy creaminess of a tahini sauce one would drizzle on their falafel.  The falafel have a crisp outer coating but are soft and chewy on the inside, a perfect filler for crisp taco shells.  The combination of flavors and textures in these falafel tacos is pretty spectacular.
These Falafel Tacos are a perfect choice for your Taco Tuesday or your Falafel Friday.  Or your I-Like-To-Eat-Amazing-Vegan-Food-On-Days-That-End-In-"Y" Days.  Your choice.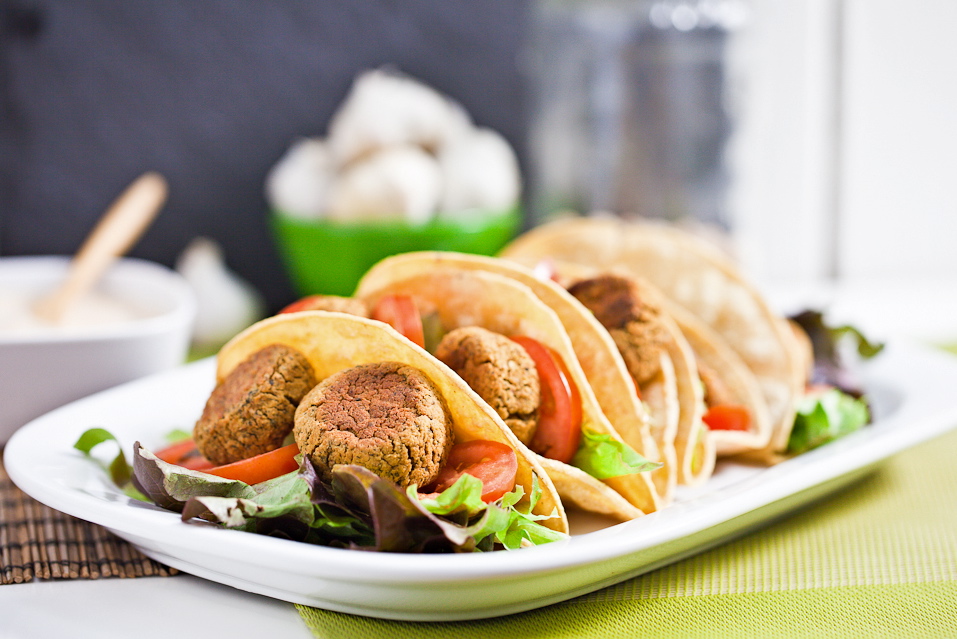 Falafel Tacos with Sriracha Tahini Sauce
Ingredients
1 ½ cups cooked chickpeas or 1 15oz can of chickpeas, rinsed and drained
½ cup loosely packed fresh cilantro (or mixture of fresh parsley and cilantro)
¼ red onion, chopped
2-3 cloves garlic
juice from ½ a lemon
1 ½ teaspoons dried dill
1 ½ teaspoons dried oregano
1 teaspoon smoked paprika
1 teaspoon cumin
several dashes of black pepper
salt to taste (I used about 3/4 tsp)
3 tablespoon chickpea flour
1 teaspoon nutritional yeast (optional, but adds a little extra oomph)
6 taco shells
1-2 cups lettuce
tomato slices
other taco fillings

for the sriracha tahini sauce

¼ cup tahini sauce
¼ cup water
1-2 tablespoon Sriracha
juice from 1 lemon
1 clove garlic, minced
1 teaspoon dried dill
Instructions
for the sriracha tahini sauce

Combine all ingredients in a food processor or if using an immersion blender, a small bowl. Blend the ingredients until smooth. Chill until ready to use.
Preheat the oven to 350. Line a baking sheet with parchment paper. Set aside.
Combine all falafel ingredients (chickpeas through nutritional yeast) in a food processor and process until you have a mostly smooth ball of "dough."
Use a tablespoon to scoop the dough and use your hands to roll the scoop into a ball. Flatten it slightly and place on the prepared baking sheet. Repeat until there is no more dough left. You should have about 18-20 falafel
Bake in the oven for about 20 minutes, flipping halfway through to ensure even cooking. Remove from oven. Stuff a little lettuce in each taco shell, then stuff about 3 patties into each taco shell. Top with tomato slices and any other taco fillings you would like to use (cucumber, avocado, bell pepper, etc.). Drizzle the taco with the Sriracha Tahini Sauce (recipe below) and serve warm. Enjoy!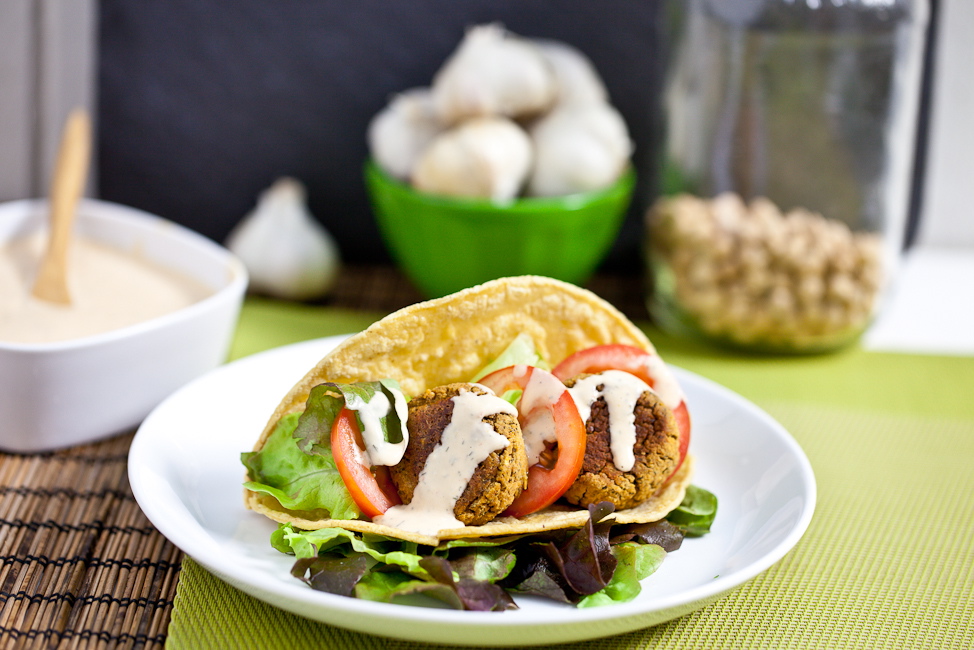 First time here?  Check out the rest of my Chickpea Love Affair Vegan MoFo Entries!
Keepin' It Kind is participating in the Walk for Farm Animals to give hope to millions of abused and neglected farm animals! Please support me by making a Donation today. Together we can make the world a more compassionate place for animals!  Learn more about Why I am Walking for Farm Animals and join our team!
Photography by Chris Miller