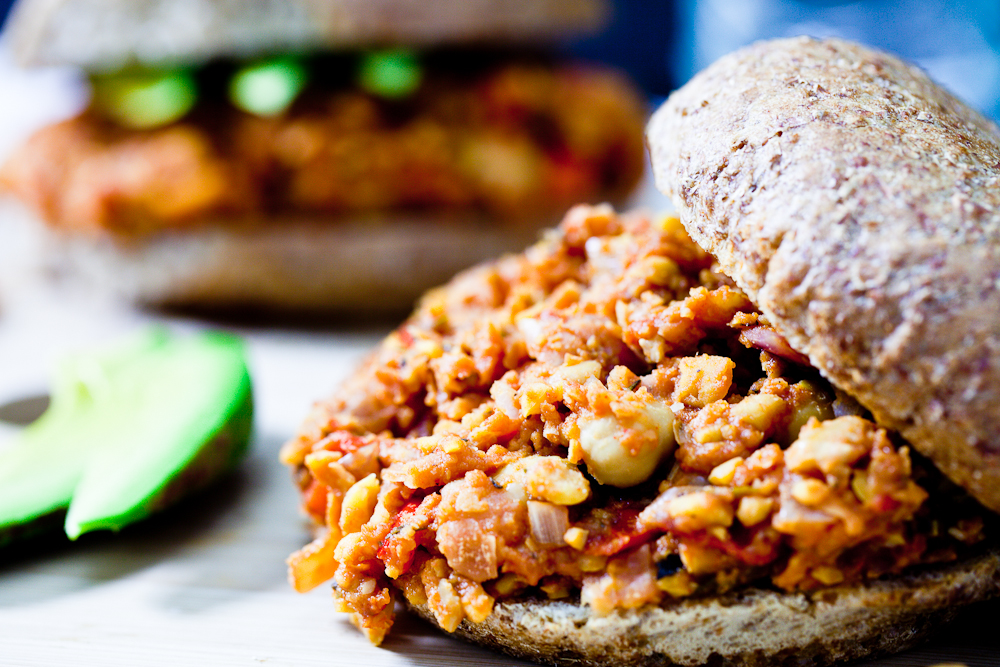 The Chickpea and I had our first fight.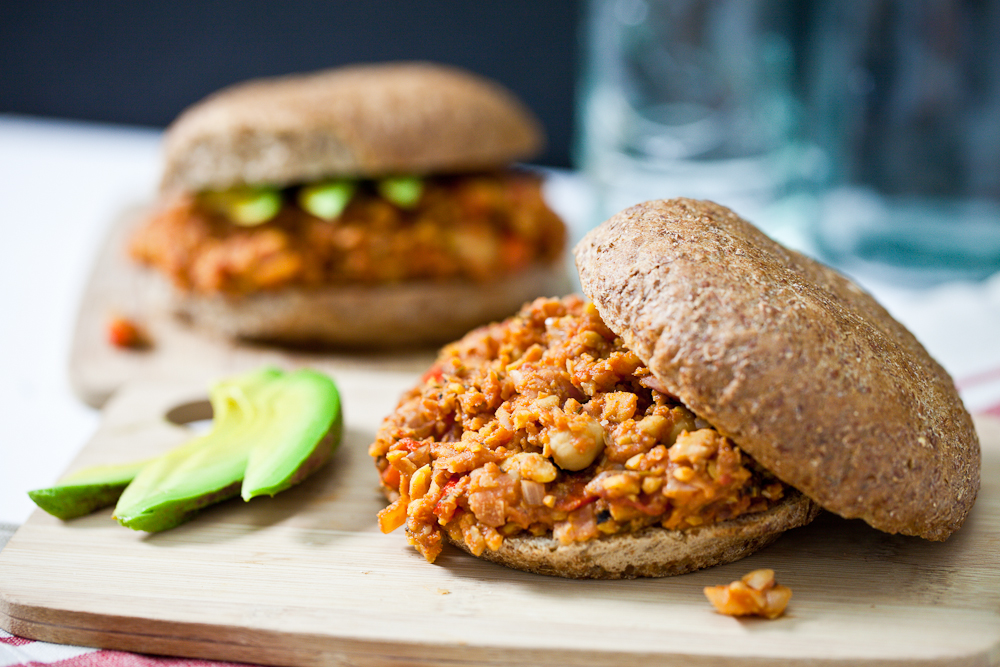 I am a pretty neat person.  I like to have everything organized in a logical, easy-to-find manner and I'm a whiz with the label-maker.  I clean the kitchen before, during, and after I cook dinner.  I'm that person who will pick your drink up and place it on a coaster (If I just lost readers by making that statement, I completely understand).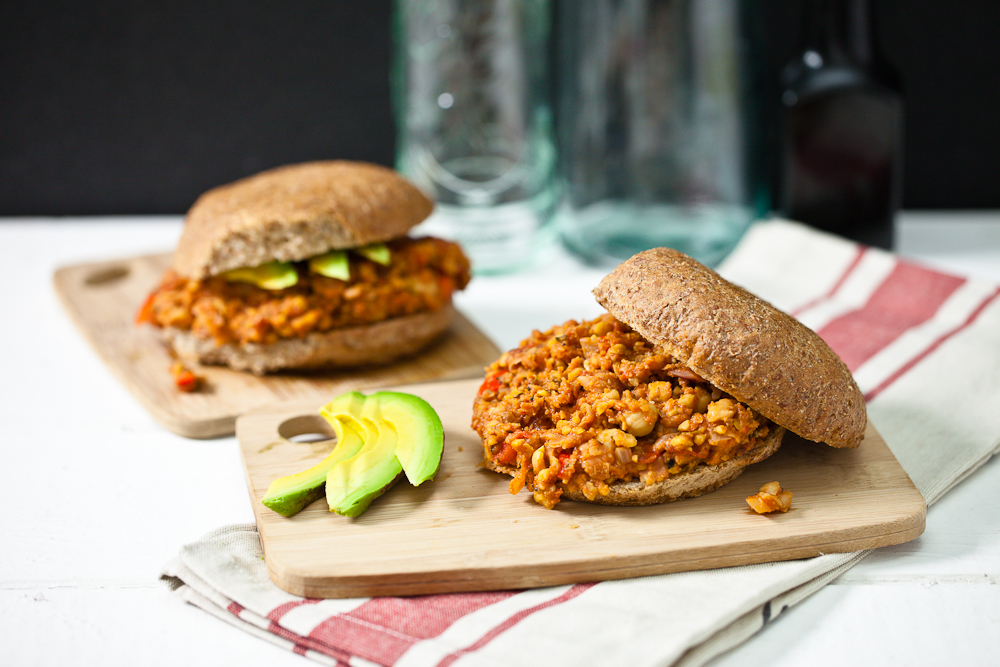 Sometimes, however, I... slip.  Since I've been working again, my mornings are a little rushed.  I have forty-five minutes from the time I get home from the gym before I have to be on the road to the office.  A couple times last week, I may or may not have left my dirty gym clothes on the bathroom floor because I was in such a rush.  When I get home, usually about twelve hours after I left that morning, I'm exhausted and all I want to do is throw on my sweats and cuddle on the couch with my puppy and some Family Ties reruns.  I may or may not have gotten into a little habit of throwing my work clothes in a pile in the middle of the bedroom floor in order to lessen the time in between putting on my sweats and catching up with Alex P. Keaton.  I always pick them up later, though (even if "later" sometimes usually means "the following weekend")!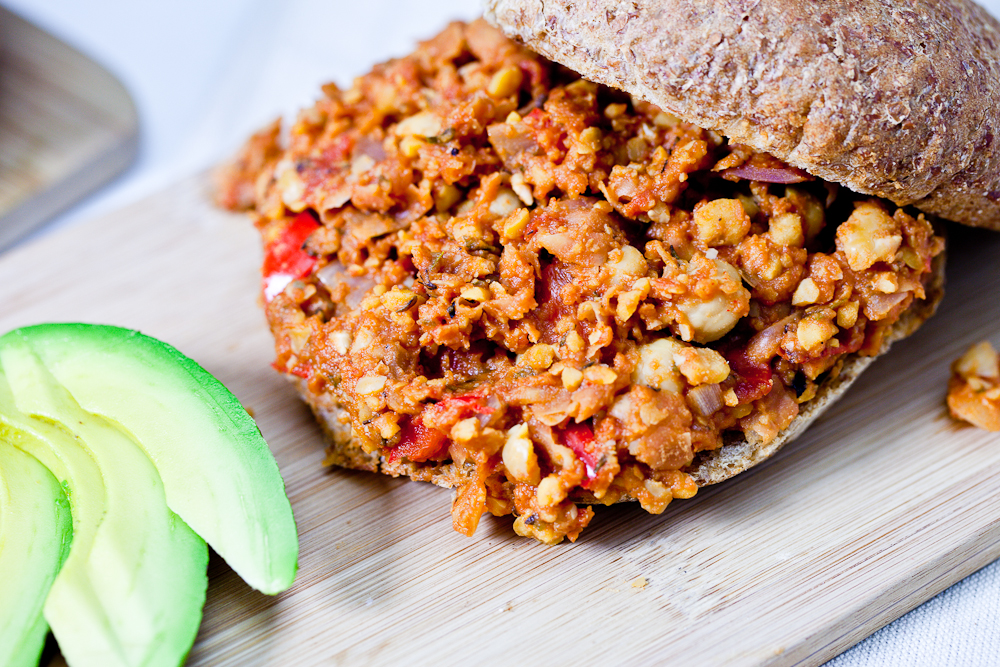 I don't know what happened but one night, The Chickpea was livid.  I had just gotten home and changed into my sweats when he completely went off on me.
"I am getting sick and tired of looking at your piles of dirty clothes everyday!" He yelled at me.
"I always pick them up!" I responded, angrily.  "At least I'm not the one who is constantly shedding their skin, and leaving it for some one else to clean up after you!"
"I have a condition, Kristy!" he defensively replied.  "You know this.  I can't believe you would sink that low.  Ever since you've gone back to work, you've turned into a rude, sloppy chick."
I gasped.  "How dare you?!   I.  Am.  Not.  Sloppy!  You need to leave the room.  I just can't even stand to look at you right now."
He grabbed his motorcycle jacket and stomped out the door.  A few minutes later, I heard his motorcycle take off down the street.
I was flabbergasted.  I couldn't believe he would call me that.  After angrily pacing the kitchen for a few minutes, I thought to myself "I'll show him what a sloppy chick is!"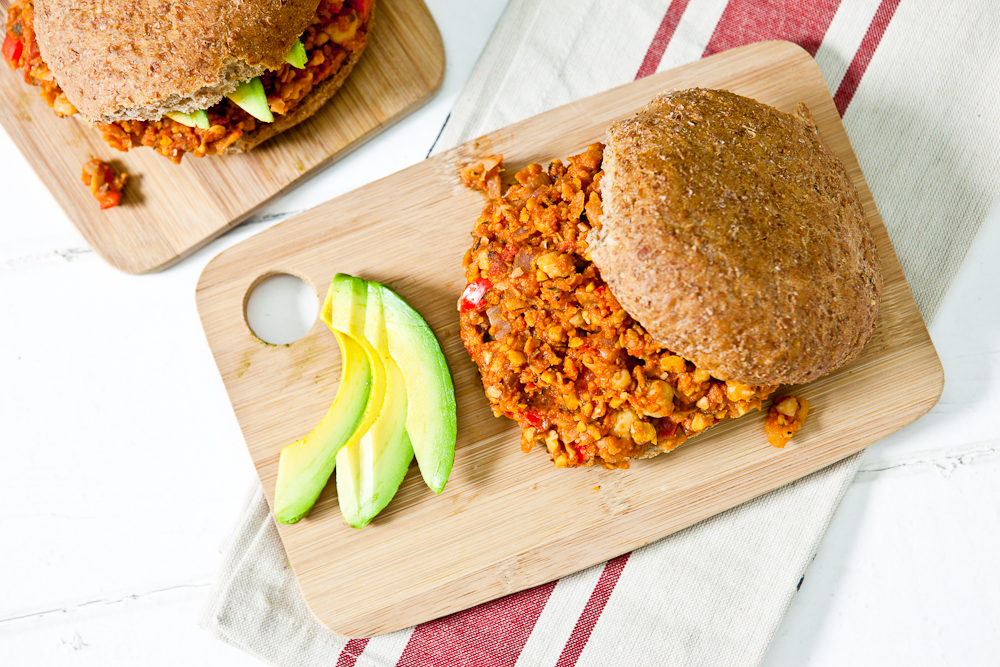 I hastily began throwing things in a saucepan on the stove, with one goal in mind: Chickpea Sloppy Joes.  About twenty minutes later, I was was stationed on the couch with a Sloppy Chick, Family Ties in full-swing.  Every spicy bite was filled with meaty chunks of smashed chickpeas and bell pepper.  The overstuffed hamburger buns leaked bits of tomato sauce all over my plate, my face, and well, everywhere, but I didn't care.  I was letting myself be a sloppy chick, eating a Sloppy Chick, just to spite The Chickpea.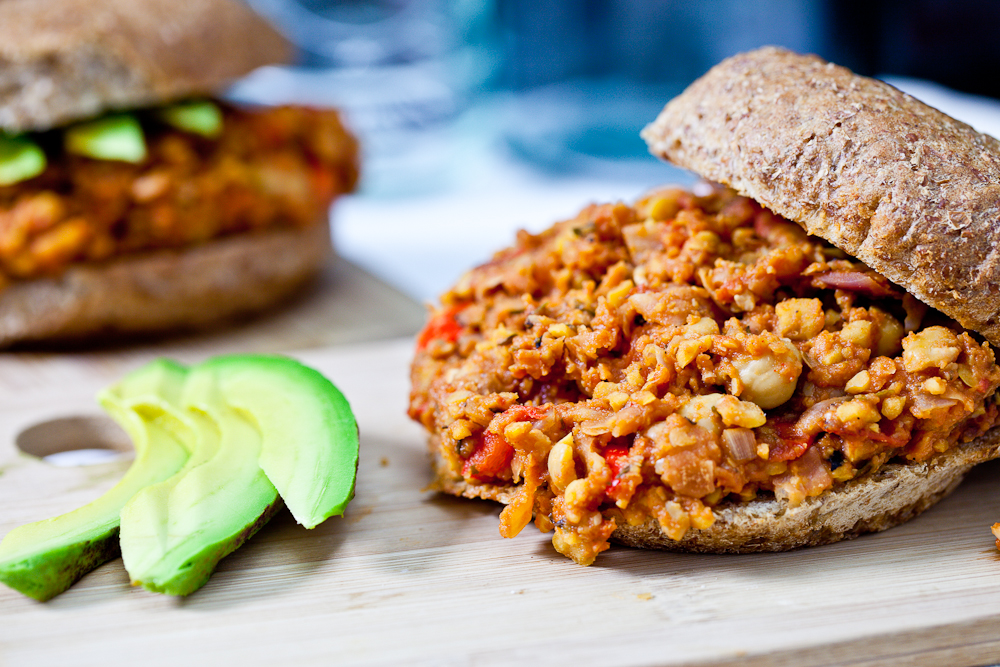 Awhile later, The Chickpea came home.  He picked up the remote and turned Family Ties off and thinking he was starting another fight, I prepared to throw down.  Instead of fighting, however, Chickpea apologized, but after looking at the tomato sauce dried up on the corner of my mouth and the pile of dirty napkins I had used to clean myself up, he smiled and said "I may be sorry I said it, but I still think you're a pretty sloppy chick."  We both laughed and like the ending to any 80's sitcom, we froze in place and the credits began to roll while playing our theme song.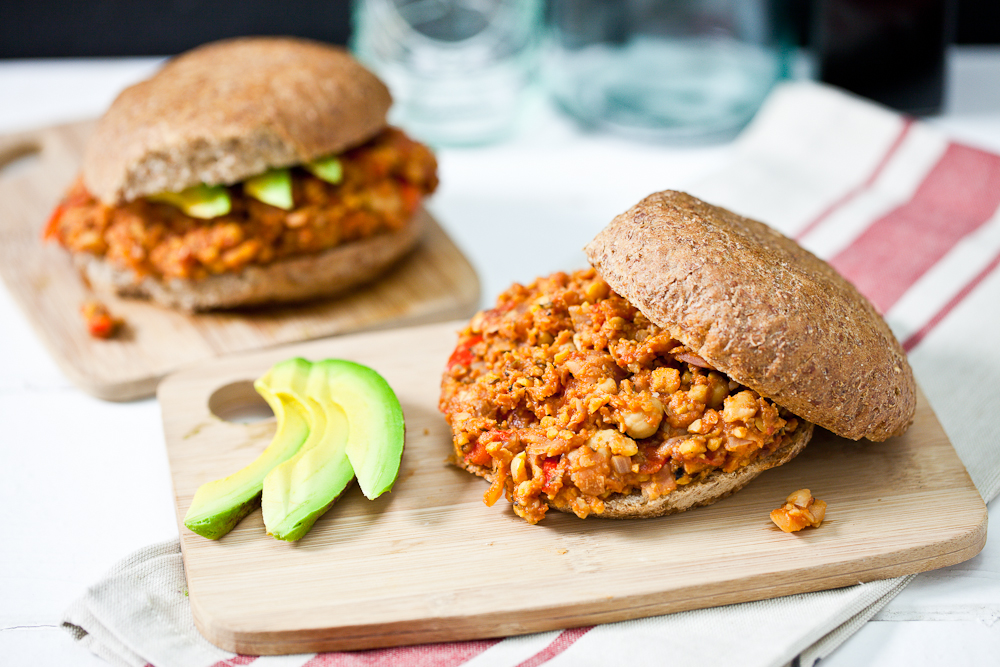 Sloppy Chicks (Chickpea Sloppy Joes)
Ingredients
1 teaspoon olive oil
½ red onion, diced
2-3 cloves garlic, minced
½ red bell pepper, diced
2 15oz cans of chickpeas, rinsed and drained
1 15oz can of fire roasted tomatoes
¼ cup tomato paste
2 tablespoons Bragg Liquid Aminos
2 tablespoons Sriracha Sauce
1 tablespoon Maple Syrup
2 teaspoons dried oregano
1 ½ teaspoons cumin
1 teaspoon dried thyme
1 teaspoon smoked paprika
1 teaspoon liquid smoke
1 tablespoon nutritional yeast (optional)
salt/pepper to taste
vegan hamburger buns (gluten free, if required)
Instructions
Pour the chickpeas into a bowl. Use a fork to mash them until they are in small chunks/shreds. Set aside.
Preheat the oven to it's lowest temperature. Open the buns and place the halves, cut side up, on the center rack (or on a baking sheet). Let them heat up for about 10-15 minutes.
Heat the olive oil in a large shallow saucepan over medium heat for about one minute. Add the onion and garlic and sauté until onions are translucent and garlic is fragrant. Add the bell pepper and the chickpeas and sauté for about two minutes. Add the rest of the ingredients and let it simmer, stirring occasionally, for about 10-15 minutes, until heated through and slightly thickened. If it sticks, add a little water to scrape the pan and lower the heat a bit.
Once the buns are warmed and the chickpea mixture is hot, scoop the mixture onto the four buns. Serve while hot. The filling can be kept for about 4 days. Enjoy!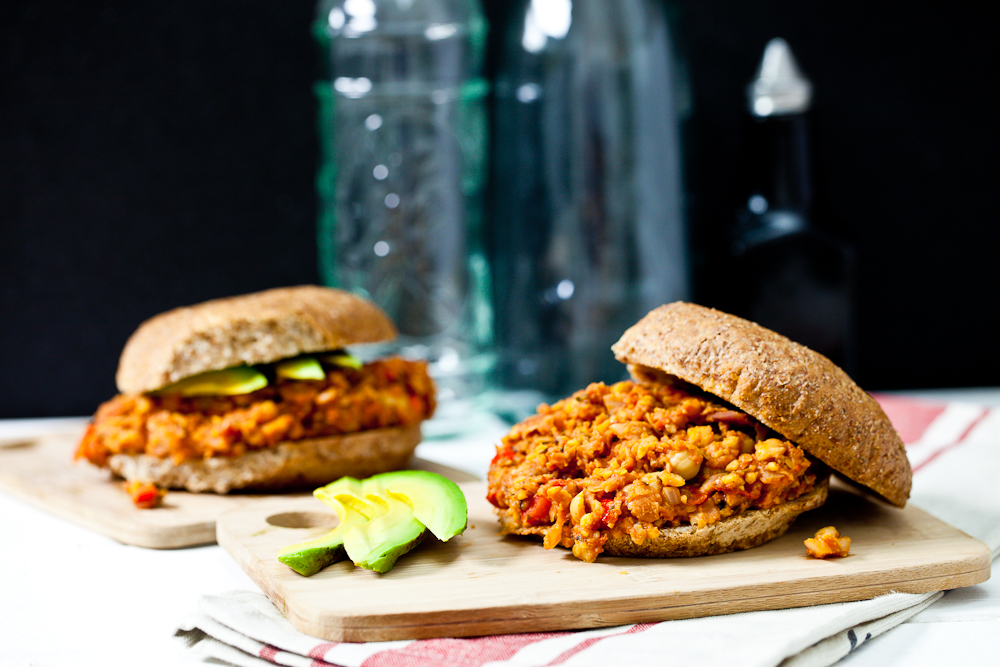 First time here?  Check out the rest of my Chickpea Love Affair Vegan MoFo Entries!
Keepin' It Kind is participating in the Walk for Farm Animals to give hope to millions of abused and neglected farm animals! Please support me by making a Donation today. Together we can make the world a more compassionate place for animals!  Learn more about Why I am Walking for Farm Animals and join our team!
Photography by Chris Miller