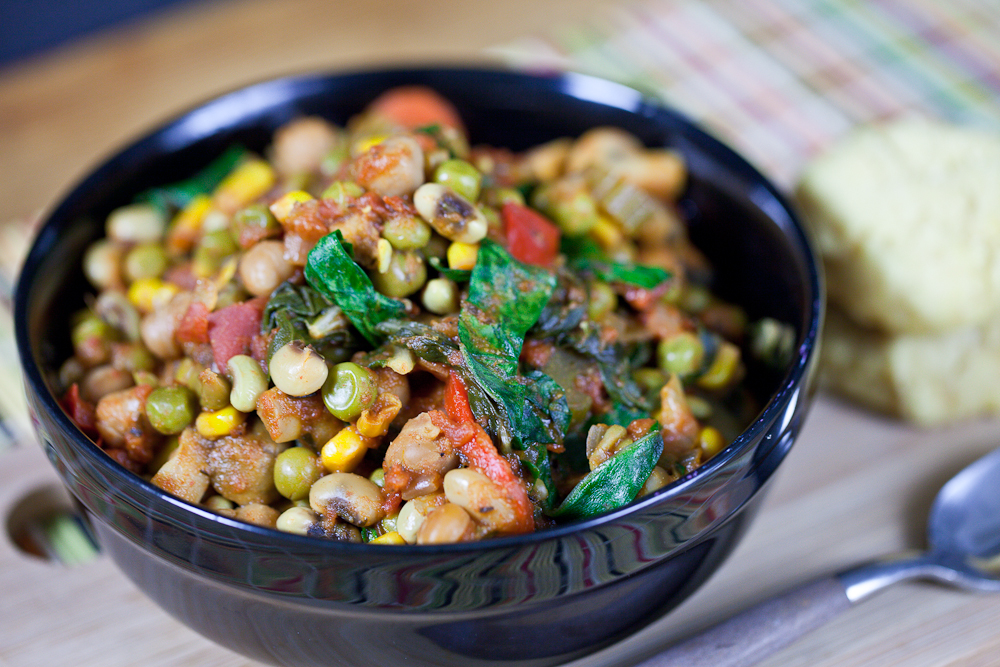 My current love affair just got pretty hot and steamy.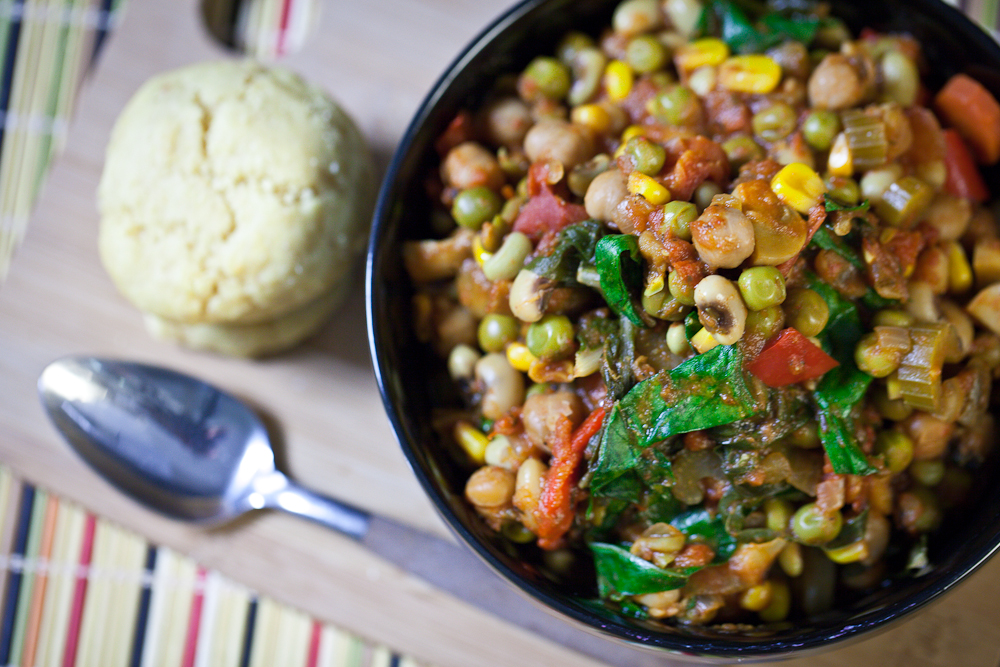 He managed to wow me by bringing along a couple of his friends, The Black-Eyed Pea and The Green Pea.  Things got pretty exciting...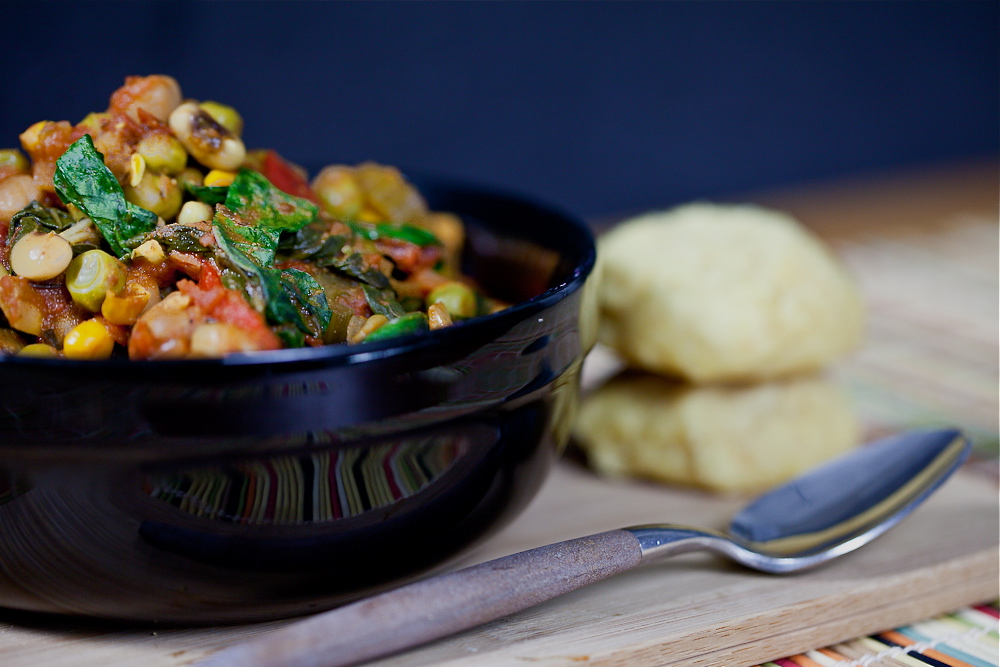 And by "exciting", I mean "I made some chili!"  Then I ate that chili with some Chickpea Cornbread Biscuits!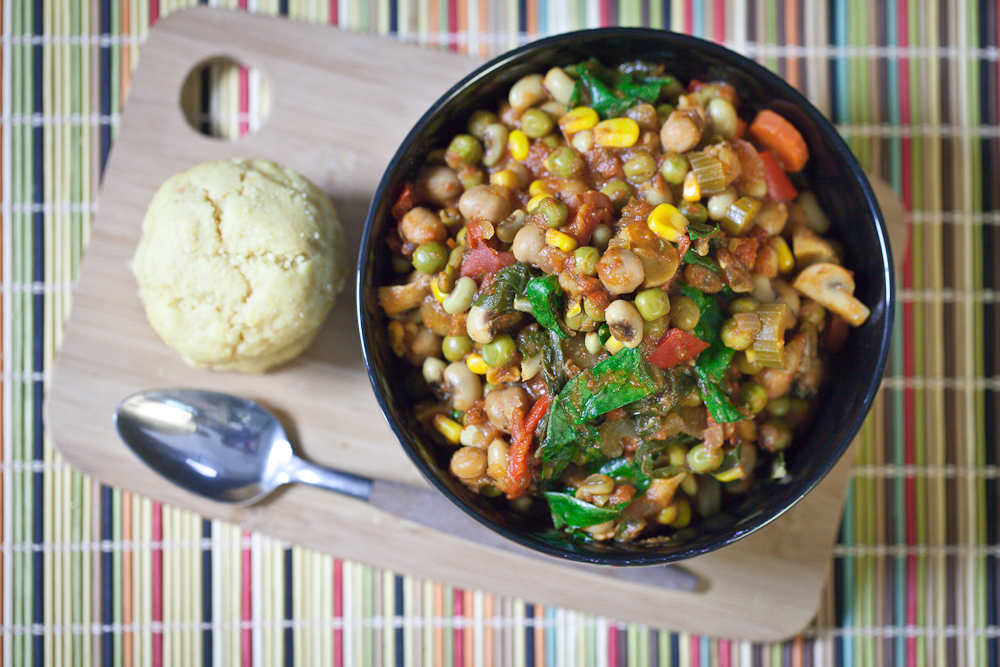 This recipe came about out of a need to use the fresh black-eyed peas and the huge stock of veggies from my CSA, and it was, in fact, my first time ever making chili from scratch!  I always left that business to my grandmother, who would feed the masses with her huge pots of chili (one with meat and one without) on Superbowl Sundays.  My dad would often make chili as well, but it was usually Dennison's Chili from a can.  I also had several run-ins with canned chili in college, as I remember, which is probably what turned me off of chili for the past ten years.  Any way, I can now proudly say that my first try at chili from scratch was a complete success!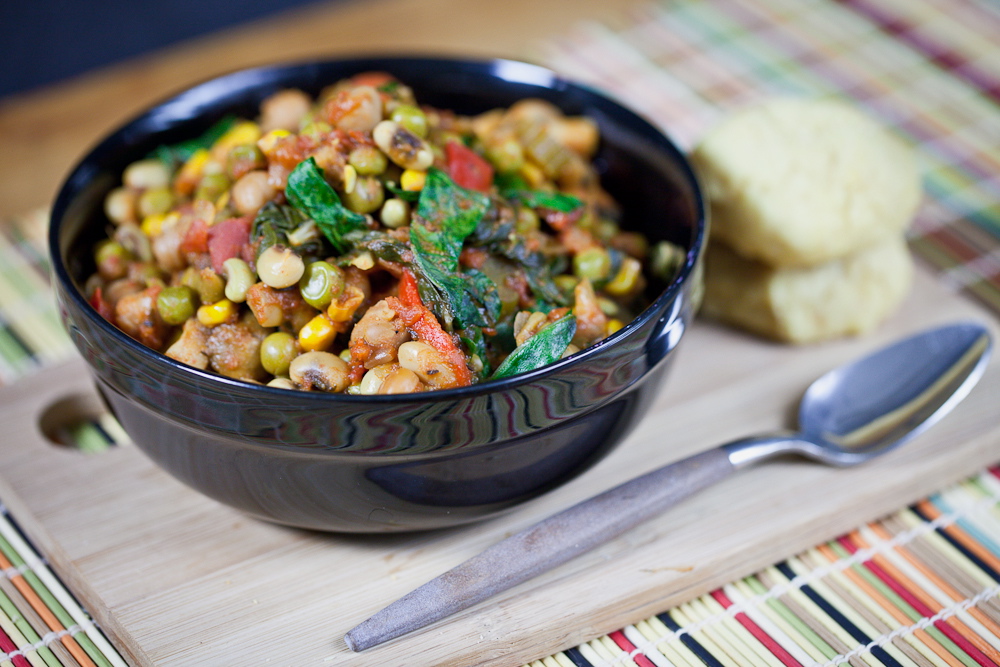 Loaded with veggies, three types of "peas," and a smoky sweet heat coming from a Sriracha-laced sauce, this chili is super nutrient dense as well as incredibly delicious and filling.  I sat my Chickpea Cornbread Biscuit right on top of the chili, and I would break off a little piece with my spoon for every tasty, hearty bite.  It took me right back to all of those old Superbowl Sundays, minus all the screaming coming from my grandpa in the living room.  Good times.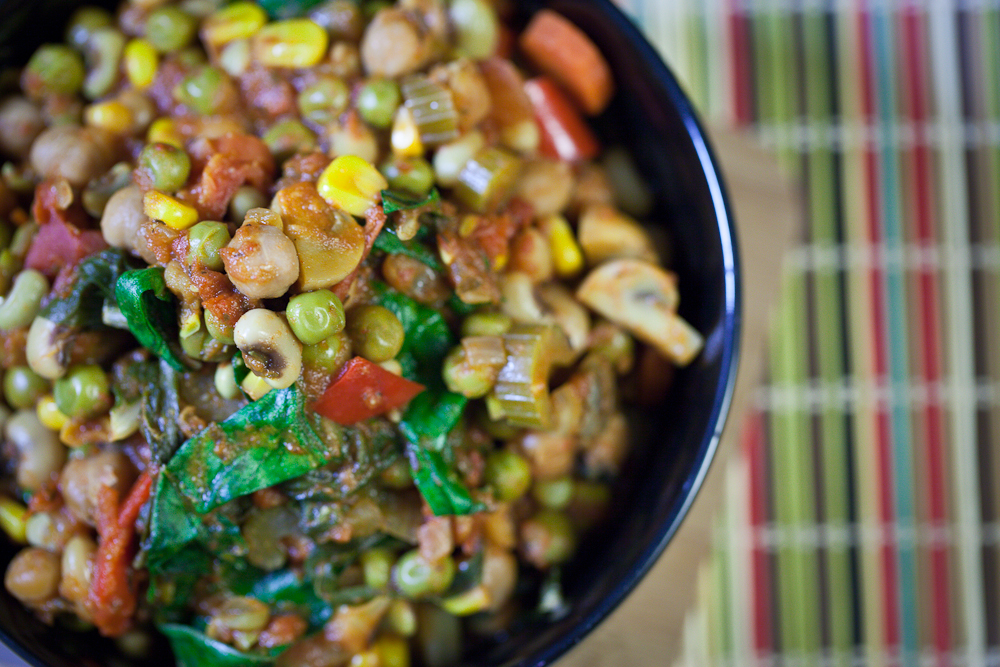 Ingredients
1 teaspoon olive oil
1/2 onion, chopped
3 cloves garlic, finely minced
3-4 medium carrots, peeled and chopped
3-4 celery stalks, chopped
1 red bell pepper, chopped
2 cups of crimini mushrooms, cut into quarters
1 15oz. can Fire-Roasted Tomatoes (organic and BPA-free, like Eden's Organic)
1 cup of corn kernels (fresh or frozen and thawed)
1 1/2 cups fresh black-eyed peas, or 1 15oz. can, rinsed and drained
1 1/2 cups cooked chickpeas, or 1 15oz. can, rinsed and drained
1 1/2 cups frozen green peas, thawed
2 1/2 – 3 cups vegetable broth
1 bunch chard, stems removed and roughly chopped
salt and pepper to taste (smoked salt is really good here, if you have it)
2 tablespoons tomato paste
2 tablespoons Bragg Liquid Aminos
2-3 tablespoons Sriracha Sauce
1 teaspoon liquid smoke
2 1/2 teaspoons cumin
2 teaspoons smoked paprika
1 1/2 teaspoons dried thyme
1 1/2 teaspoons dried oregano
1 teaspoon coconut sugar (or vegan brown sugar)
Instructions
Heat the olive oil in a large pot over medium heat for about 1 minute. Add the onion and garlic and sauté until the onion has softened, about 3 minutes. Add the carrots, celery, bell pepper, and mushrooms and sauté for about 5 minutes. If things begin to stick, lower the heat a bit.
While the vegetables are sautéing, make your sauce. Combine the sauce ingredients, tomato paste through coconut sugar in a small cup and mix thoroughly. Add this sauce, along with the fire-roasted tomatoes to the pot and mix to fully combine. Allow to cook for 2-3 minutes. Add the corn, the three types of peas, and 2 1/2 cups of vegetable broth and stir to fully combine. Cover the pot, increase the heat and bring to a boil. Once the chili is boiling, lower the heat to a simmer, partially uncover the lid (just a crack) and let cook for about 30-40 minutes, until most of the liquid has cooked away. If it cooks too quickly, add another 1/2 cup broth, lower the heat a bit, and let cook until most of the liquid has cooked away.
Once the liquid has mostly cooked away, remove from heat, mix in the chard and cover the pot. Once the chard has wilted a bit, the chili is ready to serve, preferably with some Chickpea Cornbread Biscuits. Enjoy!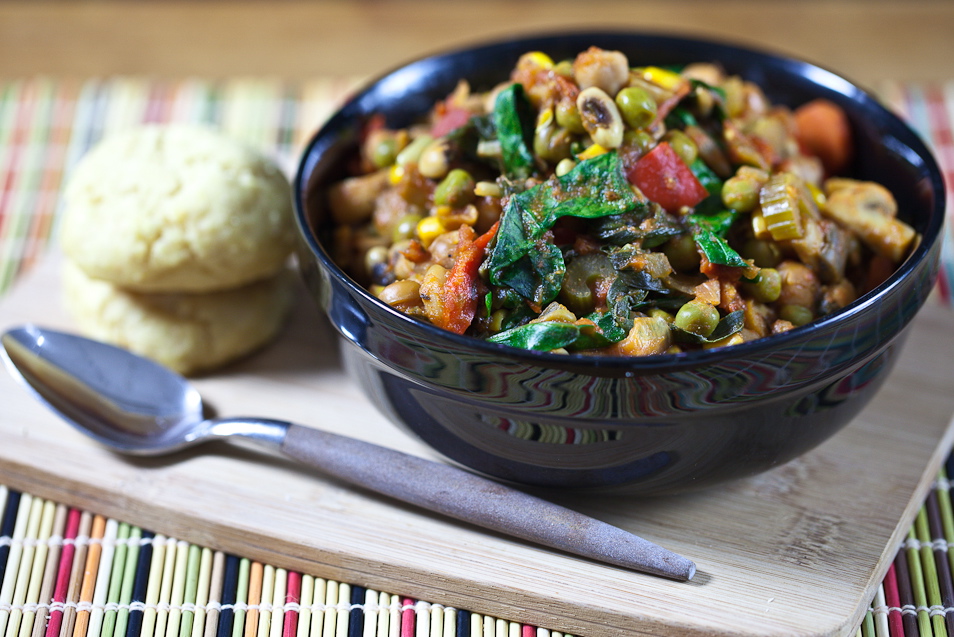 First time here?  Check out the rest of my Chickpea Love Affair Vegan MoFo Entries!
Keepin' It Kind is participating in the Walk for Farm Animals to give hope to millions of abused and neglected farm animals! Please support me by making a Donation today. Together we can make the world a more compassionate place for animals!  Learn more about Why I am Walking for Farm Animals and join our team!
Photography by Chris Miller