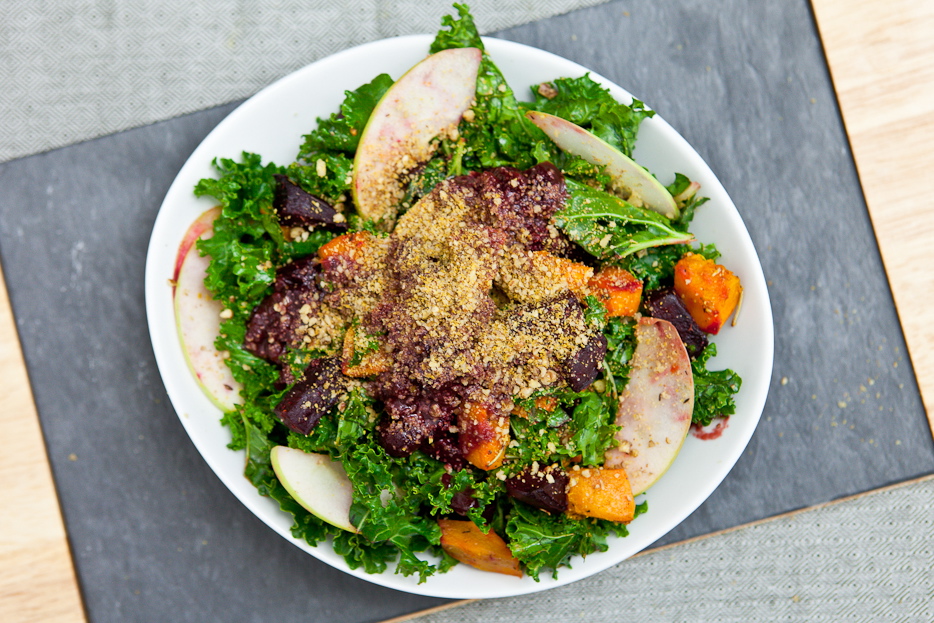 I'm one of those people who, in order to feel better about the not-so-healthful food choice they are consuming, like to enjoy a salad on the side.  It's like adding something super healthy to something not-so-healthy makes it all balance out.  Ordering pizza?  I'll throw together a salad to go with my 2 slices.  Vegan Bacon Cheeseburger?  I'll have the side salad with that, please.  Piling up my plate full of Thanksgiving goodies?  Yeah, I'll designate a quarter of the plate to some mixed greens.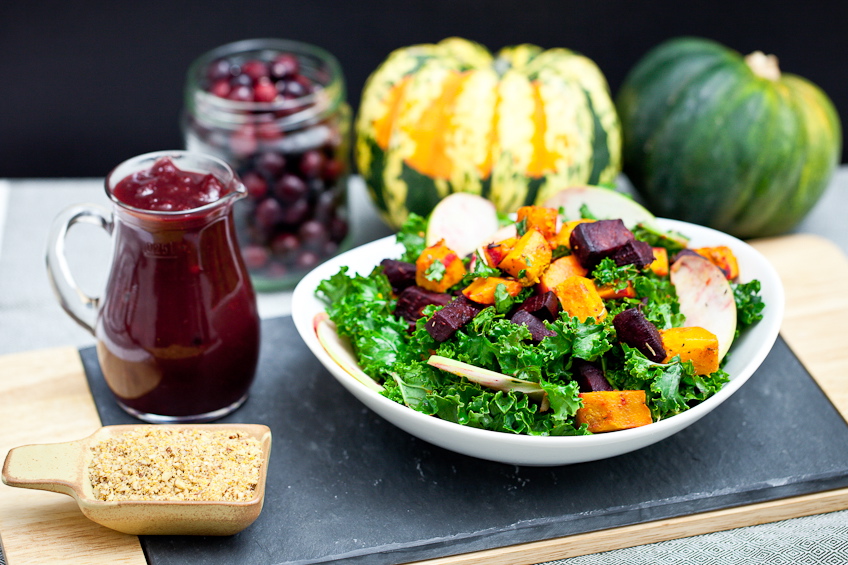 This year, I decided to make the salad more of a star player, one of the "goodies," if you will, rather than the afterthought pile of greens it usually is.  I wanted it to  be a side dish that would really shine, something that would have people going back for seconds (even though, this year, the people I'm referring to is actually just Chris and I) and still be healthy enough to "balance out" all the other stuff.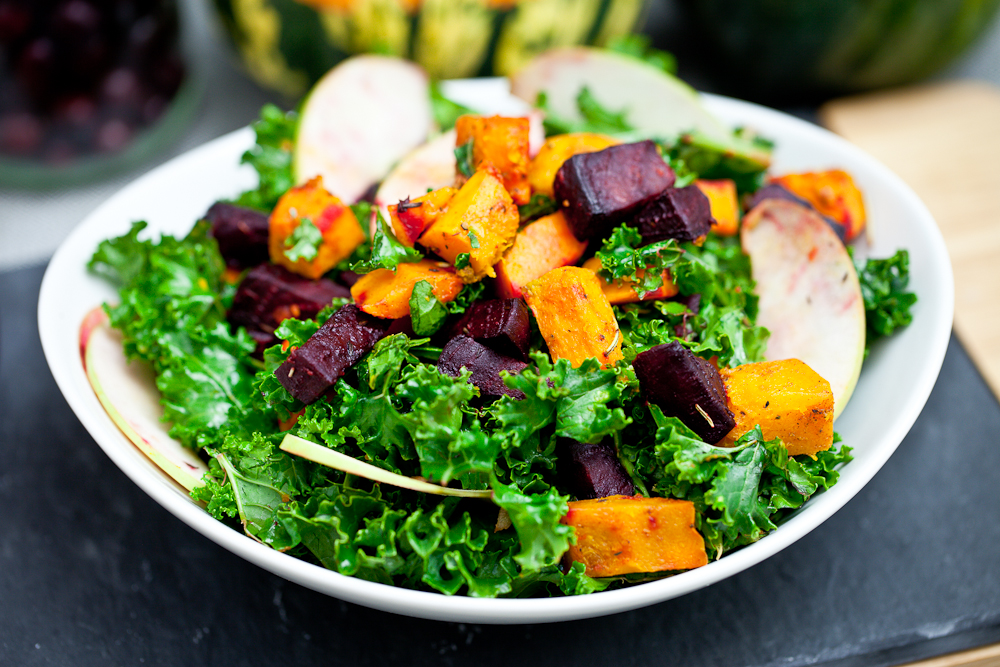 I decided to use some kale, massaged with lemon juice and olive oil as the foundation for my healthy Thanksgiving salad.  Red Kuri Squash is one of the sweeter winter squashes, so when it's roasted with just a bit of cinnamon, nutmeg, salt and pepper, it takes on some subtle caramel undertones.  I love roasted Red Kuri squash so I knew it was going to be a main component of the salad (but any other winter squash would work here as well).  Because I loved how well the rosemary worked with roasted beets in this recipe, I decided to add that combo to the salad as well.  One of the greatest gifts of fall are apples, so I used some crisp, tart, slices of green apple to brighten up the salad.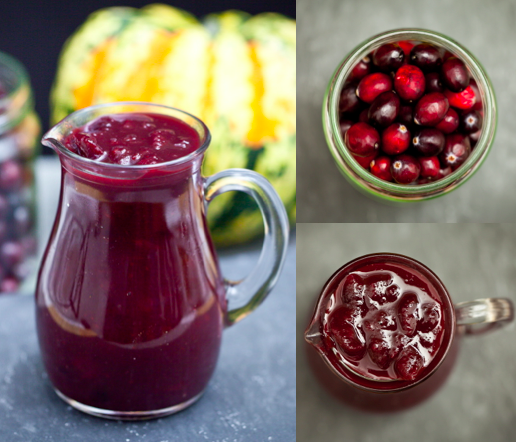 I thought the highlight of the salad was going to be the roasted squash, or maybe the apple slices, but I was wrong.  The tangy cranberry orange balsamic dressing, made with fresh cranberries, completely stole the show.  I can't seem to find the words to describe how delicious this dressing was, but trust me- I had a hard time not drinking it straight.  The nutty, salty pecan parmesan, my new most favorite thing ever since that butternut squash lasagna happened, tied it all together.
Chris doesn't dislike kale, but he doesn't love it.  He doesn't like the way it gets stuck in his teeth so he never goes out of his way to eat it. This salad, however, was Chris's most favorite kale salad ever.  Me?  Well, it was probably my most favorite kale salad ever too.  I know that I'll likely change my mind about this, but I kind of just want to have this for Thanksgiving.  Just a big bowl of this salad with a big glass of that dressing would be enough for me.  If you want to be all traditional, and serve all the regular sides, this salad will still be a great addition to your menu.  Although, if you you were planning on having leftover salad with cranberry dressing on Black Friday then you can kiss that idea good-bye.  I'm going to be that guest who filled half my plate with this salad... three times.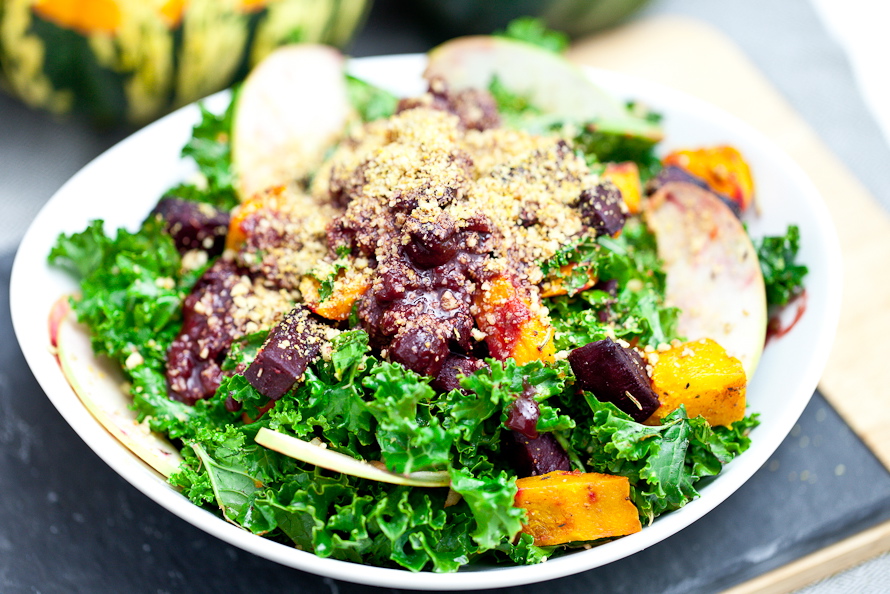 Red Kuri & Beet Kale Salad with Cranberry Orange Balsamic Dressing & Pecan Parmesan
Ingredients
1 bunch of kale, de-stemmed and roughly chopped
juice of 1 lemon
1 teaspoon olive oil
olive oil spray
1 red kuri squash, seeded, peeled, and chopped into cubes
2 teaspoon cinnamon
a few dashes of nutmeg
salt and pepper to taste
3-4 large red beets, peeled and chopped into cubes
1 teaspoon dried rosemary
salt and pepper to taste
1 green apple, thinly sliced (I used a mandoline)

for the cranberry orange balsamic dressing

1 1/2 cups fresh cranberies
1 cup orange juice
1/4 cup coconut sugar
1/4 cup balsamic vinegar
3 cups raw pecan pieces
1 cup nutritional yeast
juice of half a lemon
1 teaspoon minced garlic
Instructions
Preheat the oven to 400. Line two baking sheets with parchment paper. On one baking sheet, spread out the red kuri squash cubes, and on the other, spread out the beet cubes. Lightly spray each with olive oil spray (or drizzle with a bit of olive oil). Sprinkle the cinnamon and nutmeg over the red kuri squash and the rosemary over the beets. Salt and pepper both to taste, then toss to fully coat. Place both sheets in the oven and bake for 30 minutes, tossing halfway through to ensure even cooking. Once the vegetables are done baking remove from oven and let cool for 5-10 minutes.
While the vegetables are cooking, place your kale in a large bowl and drizzle the lemon juice and 1 teaspoon of olive oil over it. Spend about 5 minutes rubbing the lemon juice and olive oil into the kale, massaging it, if you will. Set aside- the lemon juice will continue to break down the fibers in the kale leaves and make it a bit softer.
Add your apple slices and veggies to the bowl of kale and toss to combine. To serve, place a bit of the salad on a plate/in a bowl, drizzle some cranberry orange balsamic dressing on top and sprinkle with pecan parmesan. Serve immediately. Enjoy!

for the cranberry orange balsamic dressing

Combine the orange juice and coconut sugar, letting the sugar dissolve, in a small saucepan and bring to a boil. Once it is boiling, lower to a simmer and add the cranberries. Once the cranberries begin to pop, after a few minutes, add the balsamic vinegar and lower the heat to a dull simmer. Let cook, stirring occasionally, for about 5-7 minutes. Remove from heat and chill until ready to use. Enjoy!
Combine all of the parmesan ingredients in the bowl of a food processor and pulse until it has a crumbly texture with tiny pieces of pecan. Do not overprocess- You do not want a flour-like or nut butter-type consistency. Pour the pecan parmesan into a bowl and chill until ready to use. Enjoy!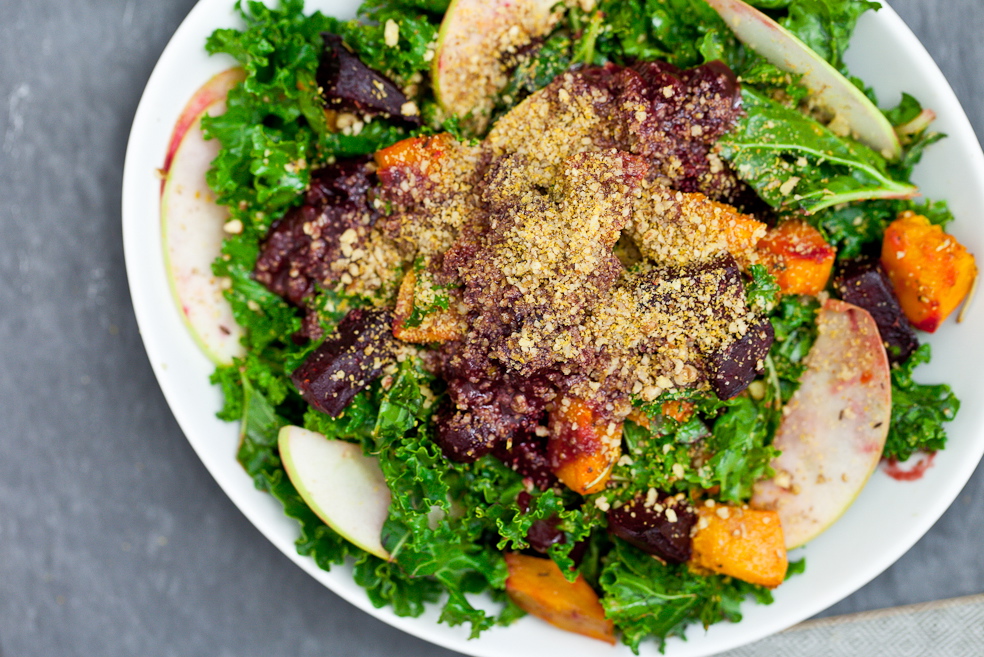 Photography by Chris Miller 
 For more vegan Thanksgiving recipes, check out my Cornucopia of Thanksgiving Goodness.