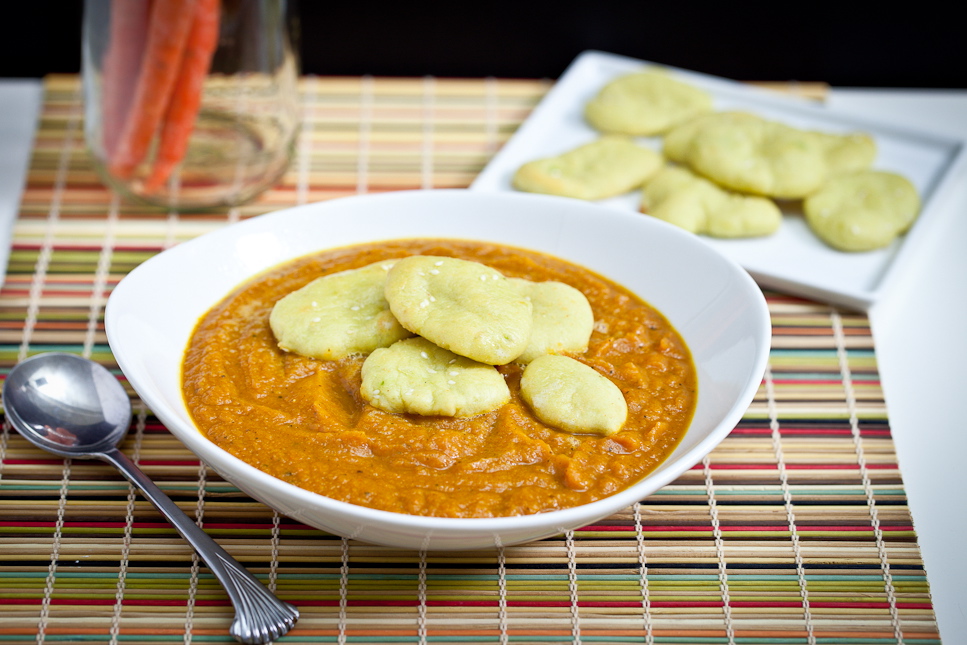 I have had such the hankering for Indian food lately.  I mean, I love Indian food but usually I'm satisfied with having it once or twice a month.  Recently though, I want "masala-this" and "curry-that" all the time.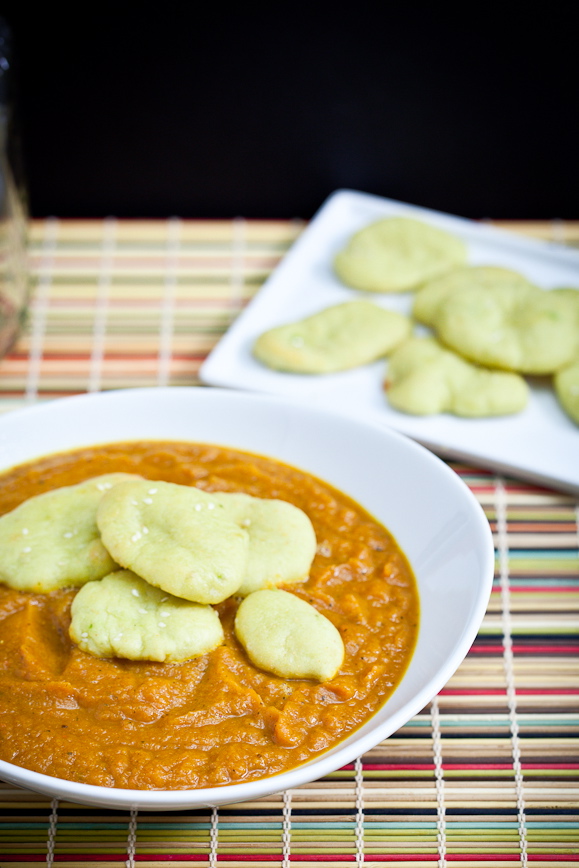 This is why, when looking at the stock pile of carrots in the fridge and the acorn squash sitting on my counter (both courtesy of my CSA), curry was the first thing that came to mind.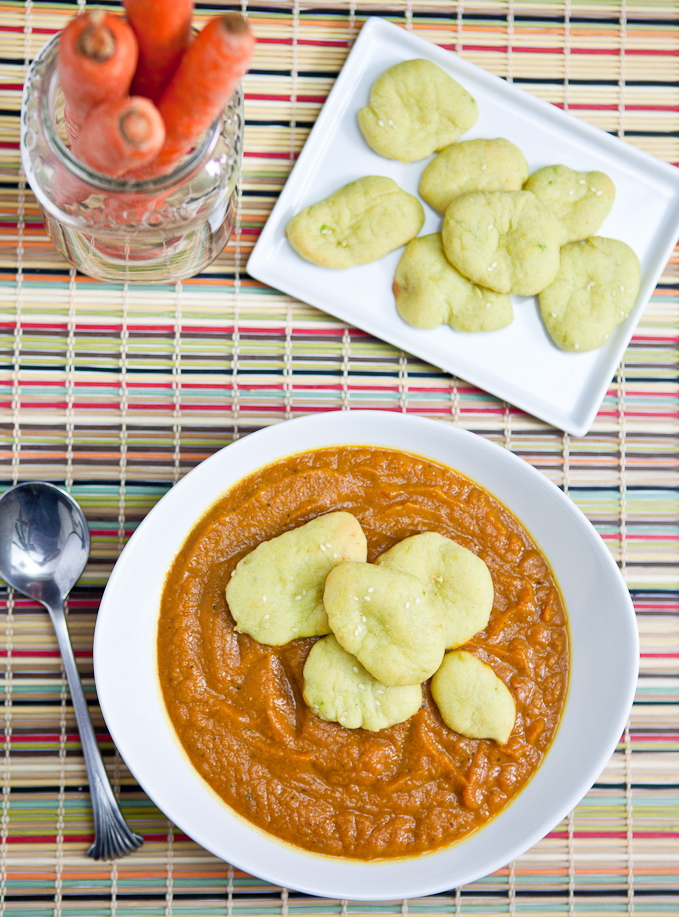 When thinking about what bread to serve it with (all good soup needs good bread), a crusty loaf of sourdough just didn't seem to work.  What was I craving?  Well, naan of course!  And not just any naan- mini naan "croutons" floating around on the top of my curry soup was the only thing that would satisfy me at that point.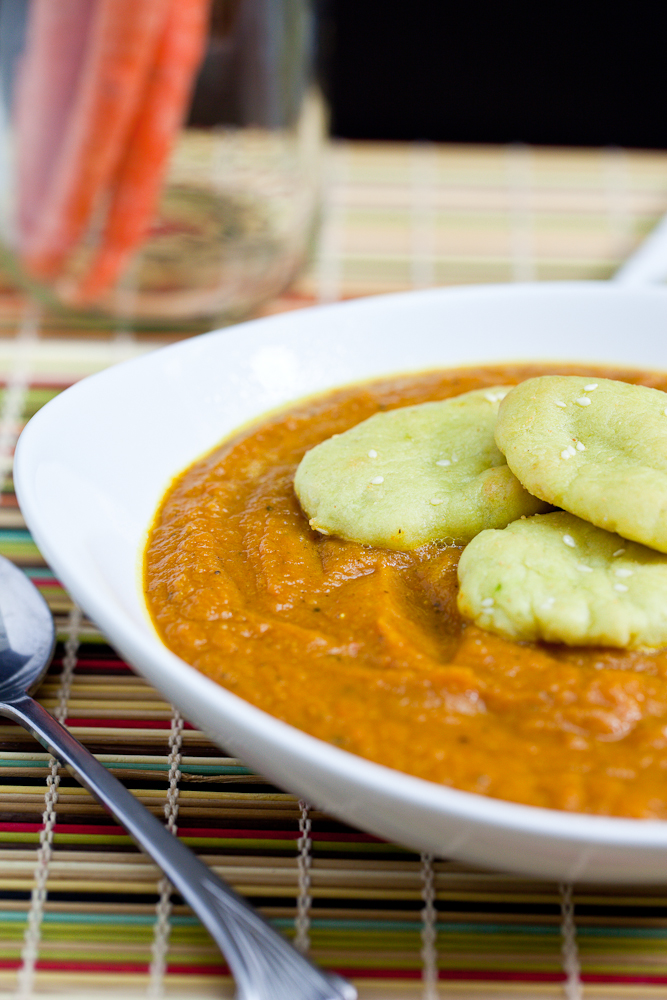 This led to a day of turning my kitchen into an Indian heaven.  With avocado naan dough rising in a bowl on the counter and garam masala-spiced carrots and squash roasting in the oven, you can bet this girl couldn't have been more excited.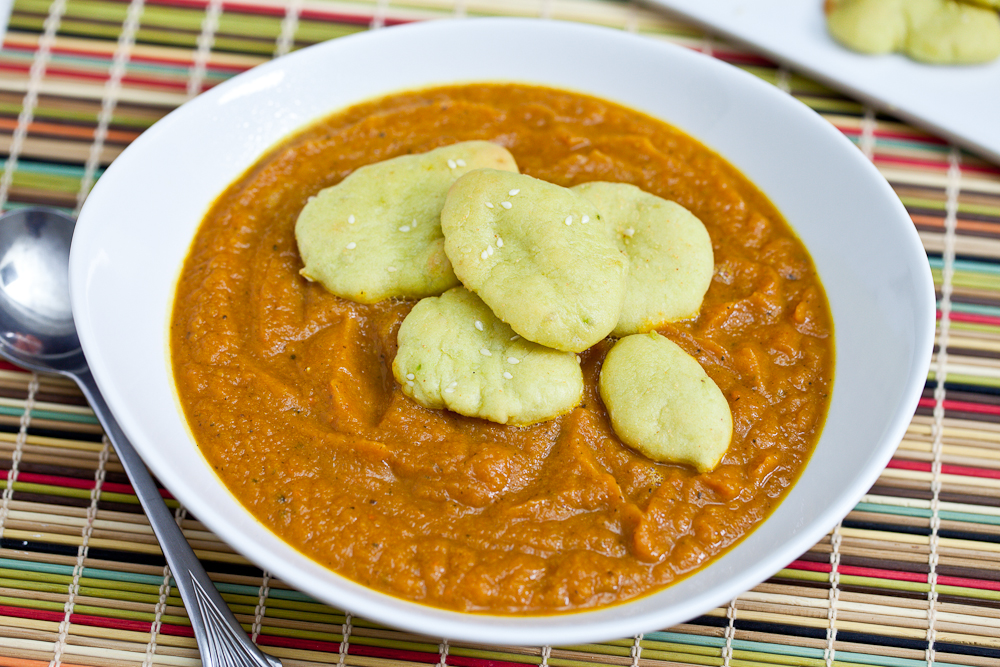 Once the adorable little mini naan croutons were out of the oven, my soup pureed, and my house smelling like spicy curry and garam masala, we were ready to sit down to dinner.  It was the perfect, comforting bowl of soup, which can't be beat on an autumn evening, but it also satisfied my Indian food cravings in every way.  Every bite of this curried acorn carrot soup was like a scoop of complexly-spiced, vegetable curry on a piece of moist, fluffy naan.  I was astounded by all of the intricate layers of flavors.  I've made a lot of carrot squash soups in my time, but this one absolutely takes the cake.  It was also a big batch of soup, meaning there was enough leftover to have for lunch for the following three days as well, which was perfect because this craving doesn't seem to be leaving anytime soon.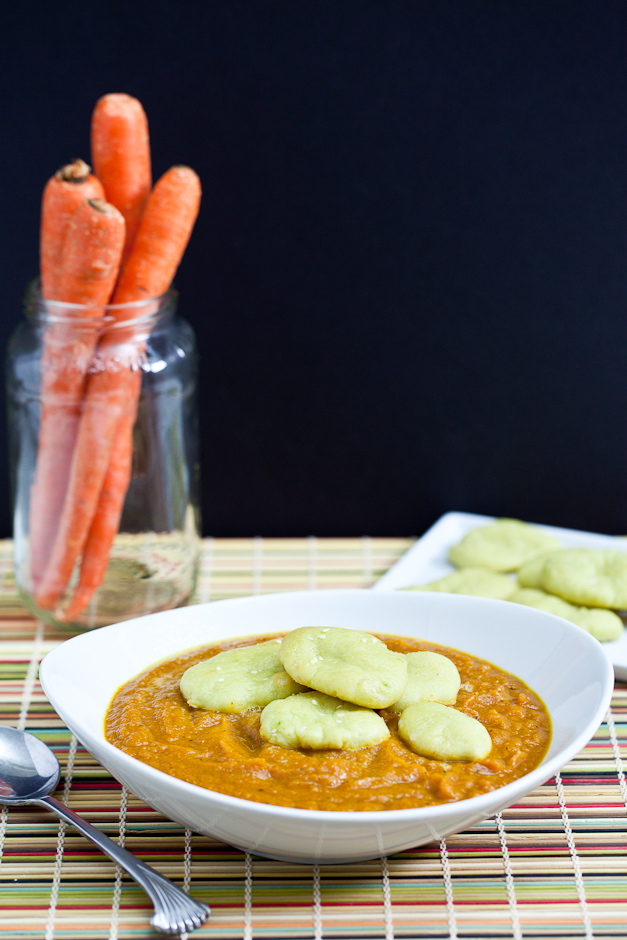 Curried Acorn Carrot Soup with Avocado Naan "Croutons"
Ingredients
8-10 carrots, peeled and chopped
1 large acorn squash, halved and seeded
2 teaspoons garam masala, separated
olive oil spray
2 teaspoons olive oil
½ teaspoon cumin seeds
1 teaspoon fennel seeds
1 onion, diced
4 cloves garlic, minced
1 ½ inch piece of ginger, peeled and grated
1 teaspoon ground cumin
2 teaspoons curry powder
1 teaspoon smoked paprika
1 teaspoon dried thyme
½ teaspoon tumeric
a few dashes of cayenne pepper
1 teaspoon liquid smoke
4 cups vegetable broth
2 cups water
salt and pepper to taste
Instructions
Preheat oven to 450. Line 2 baking sheets with parchment paper.
Spread the carrots out on one baking sheet and place the acorn squash halves on the other sheet, cut sides up. Spray the carrots and the squash with olive oil. Sprinkle garam masala evenly over both the carrots and the squash. Add salt and pepper to taste. Toss the carrots to fully coat each piece. Bake at 450 for 30-40 minutes, until squash is soft enough to easily be pierced by a fork. Toss the carrots halfway through the baking time in order to let them cook evenly. Remove from oven and let cool until the squash is cool enough to touch.
Once the vegetables are out of the oven, heat the olive oil in a large pot over medium heat for about 1 minute. Add the fennel seeds and cumin seeds and fry in the oil for about 3-4 minutes, until very fragrant. Add the garlic and sauté for one minute. Add the onion and sauté until translucent.
Once the onion is translucent, scoop the flesh of the acorn squash out of it's skin and place in the pot with the roasted carrots. Add spices and thoroughly mix together. Add the vegetable broth, water, and liquid smoke, cover and bring to a boil. Once it is boiling, crack the lid a bit and lower the heat to a simmer. Let it simmer for 20-30 minutes.
Once it's had time to simmer for awhile, remove the soup from heat and use an immersion blender to puree the soup until smooth. Alternatively, you can blend the soup in a blender, in batches, being careful of trapping too much heat inside the blender (or you will have an explosion to clean up). Add salt and pepper to taste. Serve with mini naan croutons (recipe below) and Enjoy!

for the mini avocado naan "croutons" *(these are NOT gluten-free)*

Use this recipe for Avocado Naan, but rather than splitting the dough into large pieces to make regular sized naan, set aside about a third of the dough. Use your fingers to pinch pieces of the dough into small balls and flatten them between your fingers. Follow the rest of the regular cooking instructions with these mini naan, just keeping an eye on them in the oven (the method I used) because they may require less cooking time than the regular sized naan. Follow this recipe to make gluten-free naan.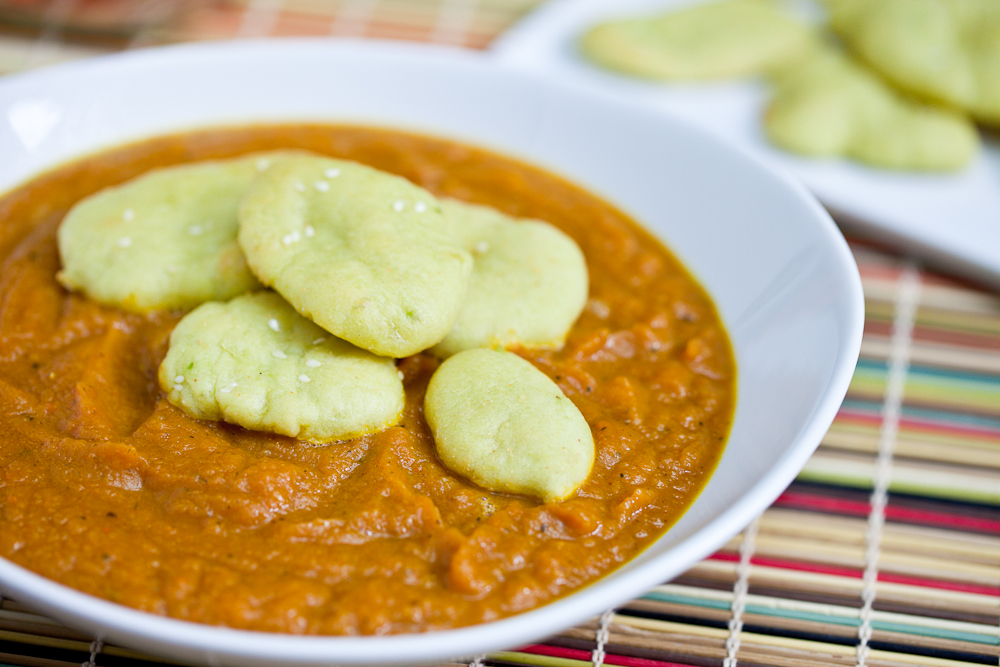 Photography by Chris Miller