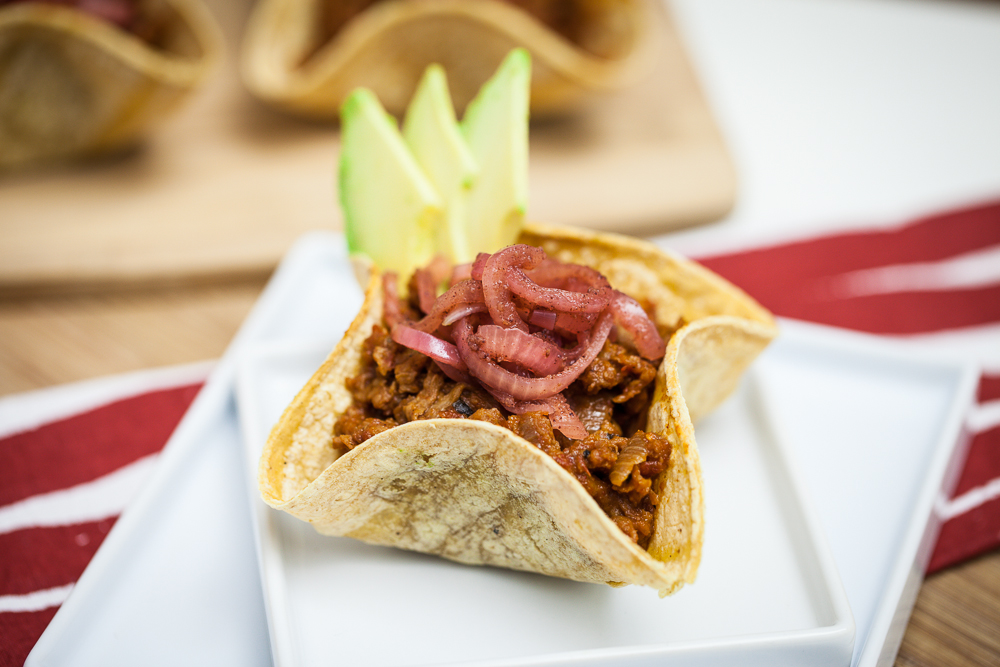 I have a history of occasionally giving in to peer pressure.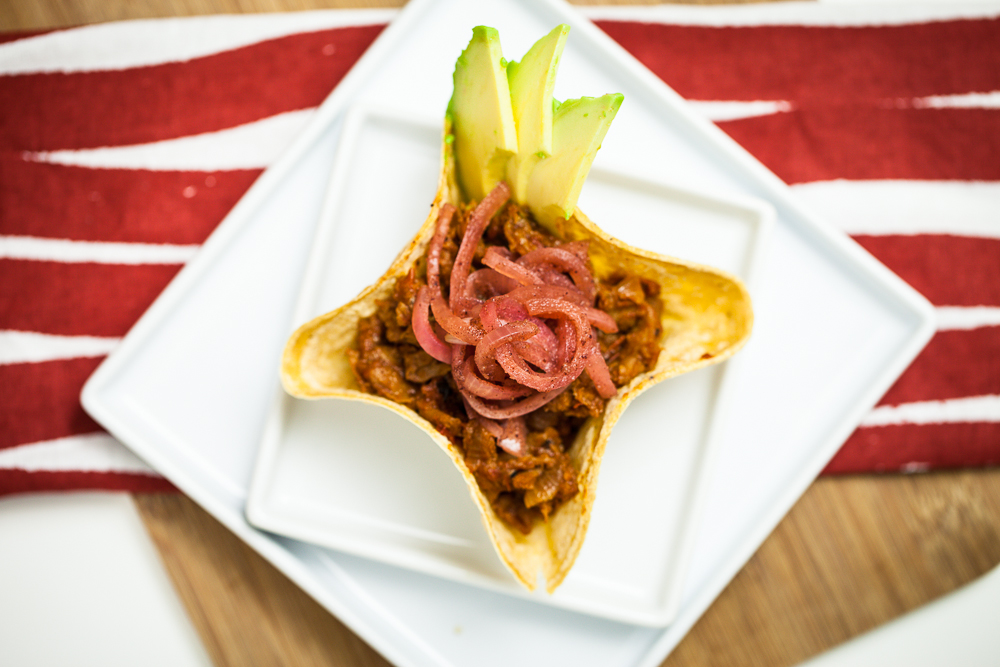 There was that period in the late eighties where my bangs became all to familiar with my mom's old curling iron.  Then there was year I tried to dress like Clarissa and wished I could explain it all.  Who cares if my shoes didn't match?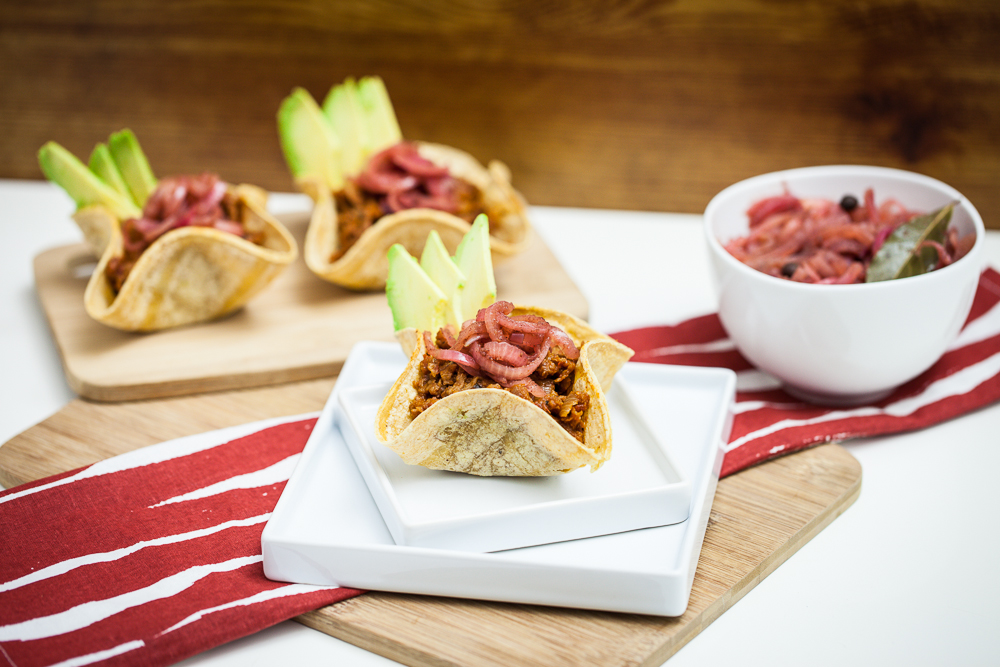 When I graduated highschool, my entire wardrobe was black, I wore dark lipstick, and I only wore Doc Martins because it was the nineties and I was in theater and I needed people to understand that I was dramatic.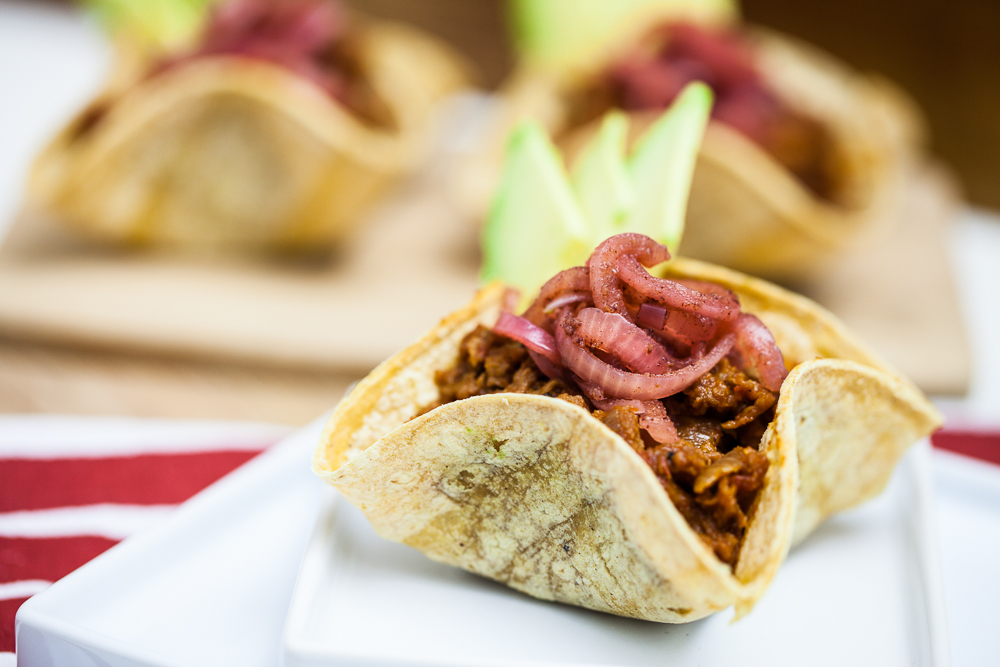 When I lived in northern California, I may or may not have thrown around the term "hella" because that's what you did up there.  I learned quickly after moving to Los Angeles that it was similar to saying "y'all" anywhere but in the south.  I quickly traded it in for adding "the" before mentioning any highway (i.e.  "I took the 10 to the 405.").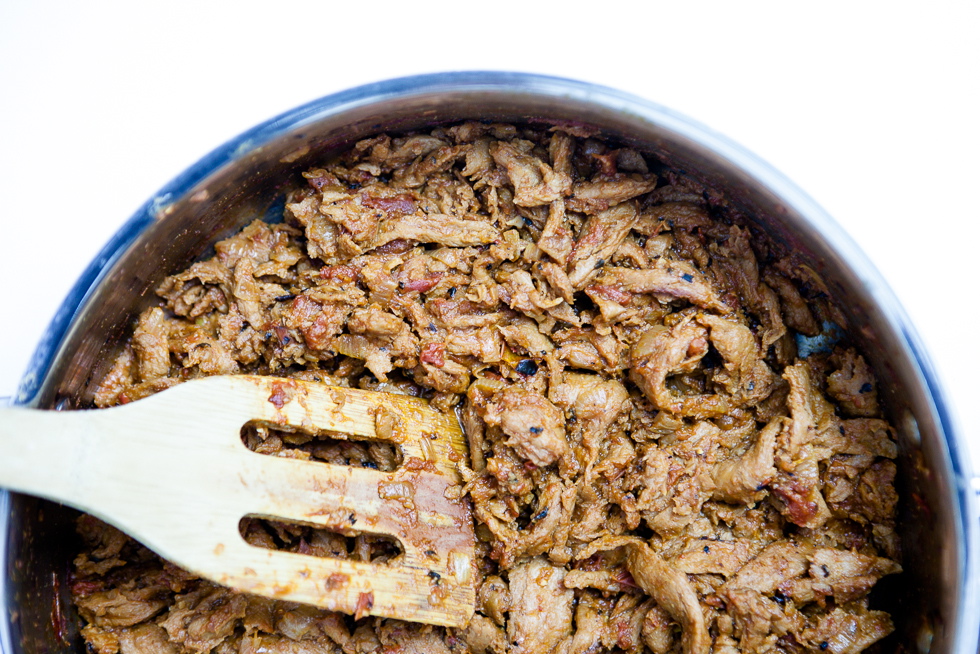 Most recently, I gave in to peer pressure and ordered a bag of Burton's Soy Curls.  I mean, Andrea, Somer, and Cadry were all doing it, so I had to try it, right?  From what I can tell, soy curls prepared in some sort of spicy, smoky, barbecue-y goodness is the way to go.  I just "winged it" and had fantastic results, but there are a hundred variations of this recipe (like I said, everyone is doing it!), so by all means, choose your favorite and go with it.  Or wing it like I did.  Whatever floats your boat or finds your lost remote.*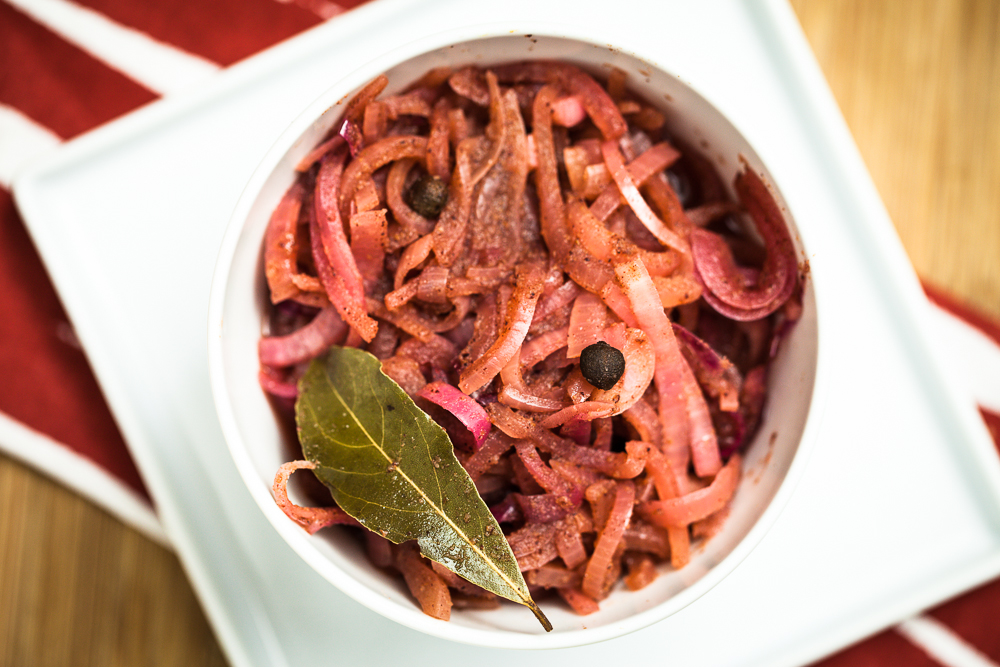 Over the summer, I did some recipe testing for an upcoming cookbook which I can't yet tell you about (but oh my gosh, I'm so excited about it!!!) and one of the recipes I tested incorporated barbecued flavors with pickled onions, something I had never experienced.  I loved it and I've been craving it ever since.  I decided that since I was making barbecue soy curls that the pickled onions were totally happening too.  I adapted my recipe from David Lebovitz because apparently, at the moment, I'm all about doing what the cool kids are doing.  I decided to combine all of these great flavors in a little taco bowl because they're so much fun, but this would probably make a great sandwich too.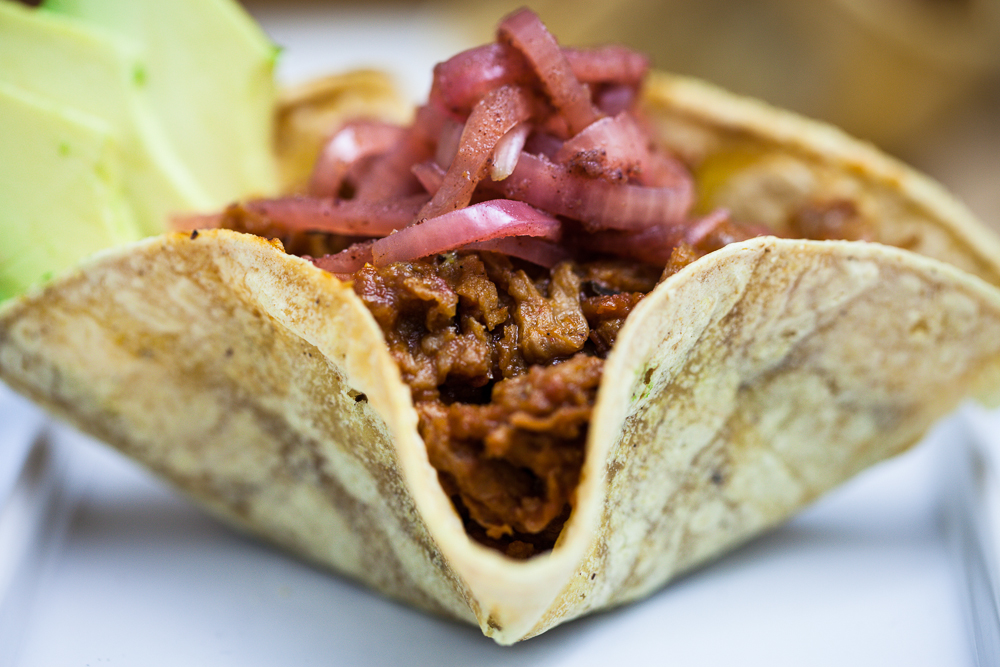 If you haven't tried soy curls yet, you need to get on that.  If soy curls aren't your thing, this would be great with BBQ tofu, Buffalo Cauliflower, or even some kind of barbecued tempeh, seitan or mushrooms.  Whatever you choose, however, you need to pair it with pickled onions and do so ASAP.  It's totally in right now.**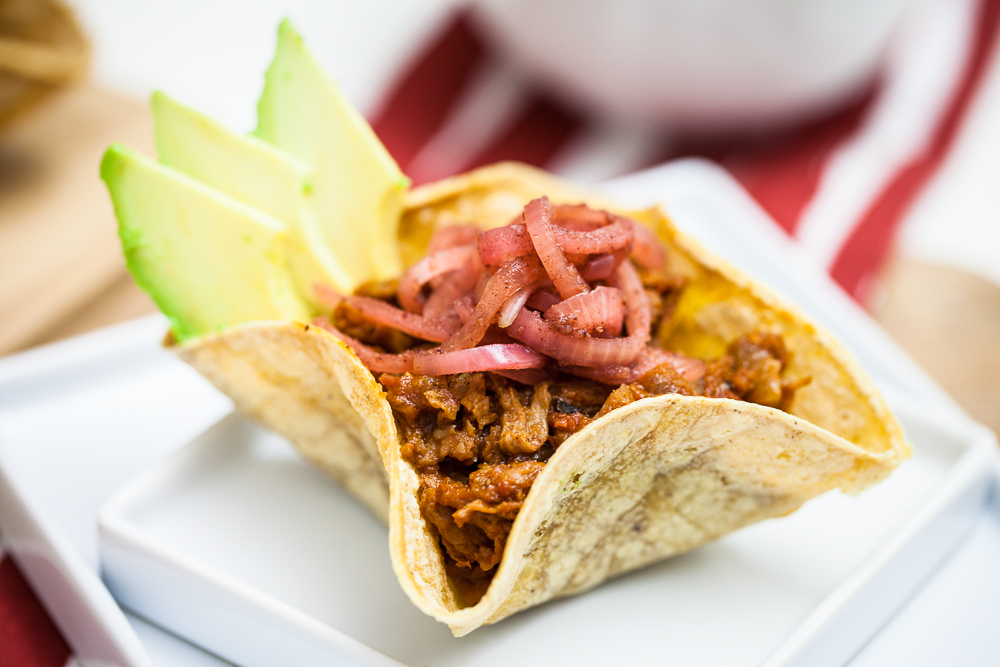 Mini BBQ Soy Curl Taco Bowls with Pickled Onions
Ingredients
1 8oz. bag of Butler soy curls
enough vegetable broth to cover the soy curls
1/2 teaspoon olive oil
1/2 white onion
3 cloves garlic, minced
1 tablespoon Bragg Liquid Aminos
1 teaspoon liquid smoke
1 can of organic fire-roasted tomatoes, diced
1 1/2 teaspoons cumin
1 teaspoon oregano
1/2 teaspoon paprika
juice from 1/2 a lemon
1-2 tablespoons Sriracha sauce
1/3 cup + 1/4 cup barbecue sauce, separated
salt and pepper to taste (I used smoked salt and it was a great touch)
1 cup apple cider vinegar
3 tablespoons coconut sugar (or other unrefined sugar)
1 bay leaf
5 allspice berries
5 whole cloves
1 red onion, peeled, halved and very thinly sliced
12 taco shells (or just do 6 and save 1/2 of the soy curls to do tacos another day)
1 avocado, thinly sliced
Instructions
At least one day prior to making taco bowls, follow the instructions here, using my ingredient list (or use his, whatever floats your boat).
Place the soycurls in a bowl and cover with warm vegetable broth. Let them rehydrate for about 5 minutes before draining (reserve broth for possibly deglazing the pan or for future use). Use your hands to squeeze excess moisture from the curls.
In a large saucepan, heat the olive oil over medium heat. Add the onion and saute until translucent. Add the garlic and saute for about 1-2 minutes. Add the soy curls, Bragg's, and liquid smoke and mix to combine. Saute for about 5 minutes, stirring occasionally to prevent sticking, until excess moisture has cooked away. Add the fire-roasted tomatoes and spices, mix well, and let saute for about 7-8 minutes, until most of the liquid has cooked away. If at any point the curls begin to stick, deglaze the pan with the reserved broth and turn the heat down a hair. If the liquid does not cook away fast enough, turn the heat up. Add 1/3 cup of barbecue sauce and Sriracha and let saute for another 7-8 minutes, until excess liquid has cooked away. Add salt and pepper to taste, and the remaining barbecue sauce and set aside.
Follow these instructions to prepare the taco bowls.
Once prepared, fill each taco bowl with about 1/3 cup of BBQ soy curls and top with avocado slices and pickled onions. Serve immediately. If you want to save half of the soy curls (and tortillas) for another day, the soy curls will keep for about 3-4 days. Enjoy!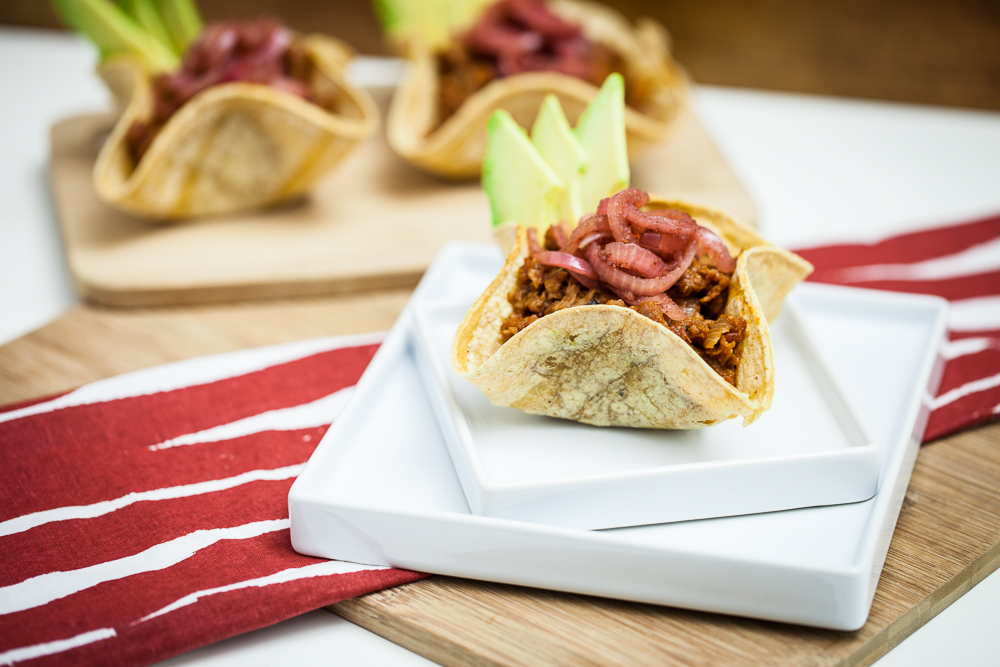 *if you know where this is from, let's totally hang out.   
**or at least I'm trying to make it the "in" thing right now.
Photography by Chris Miller