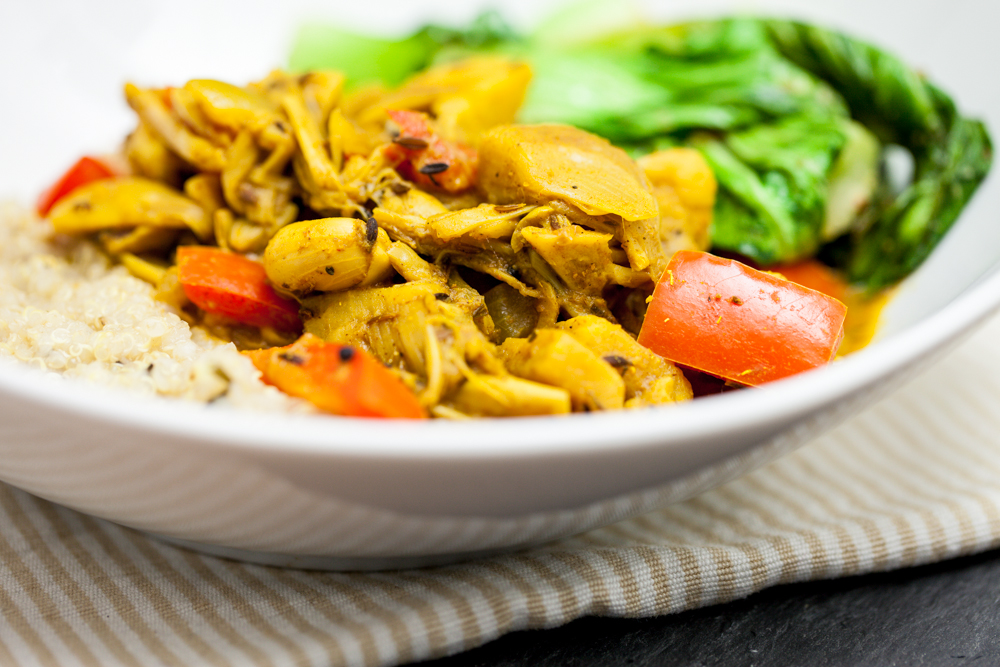 Shortly after getting home from our vacation in NYC, Chris and I got a pretty bad head cold.  It was the first full-blown cold that we've had in a looooong time and I'm so thankful that it wasn't the flu, but we were pretty tore up.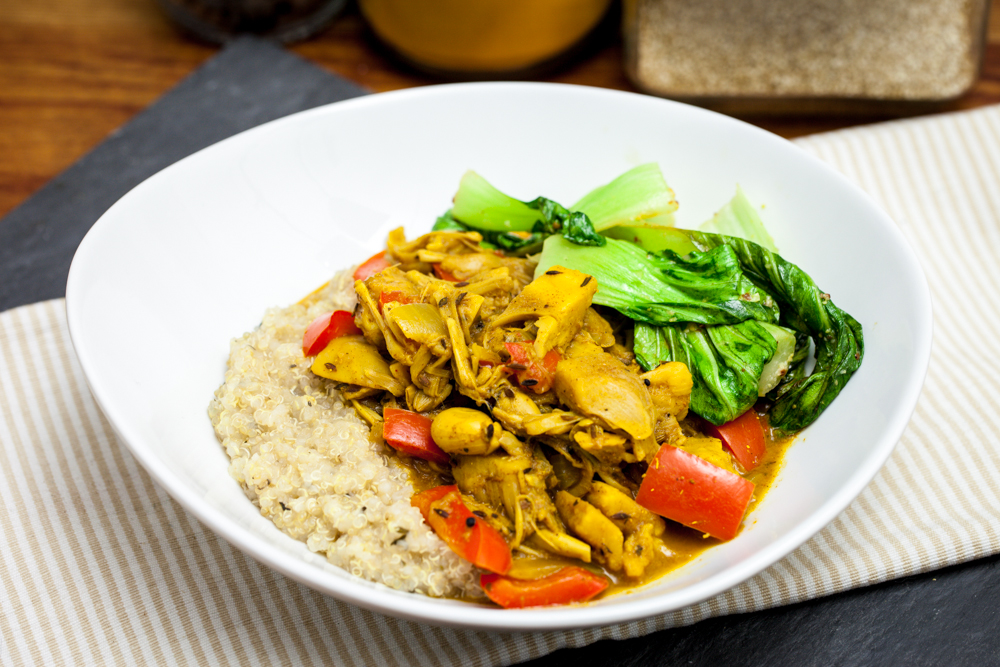 When both of us were both achy and exhausted and had runny noses, we did what any pair of responsible adults would do:  We acted like babies.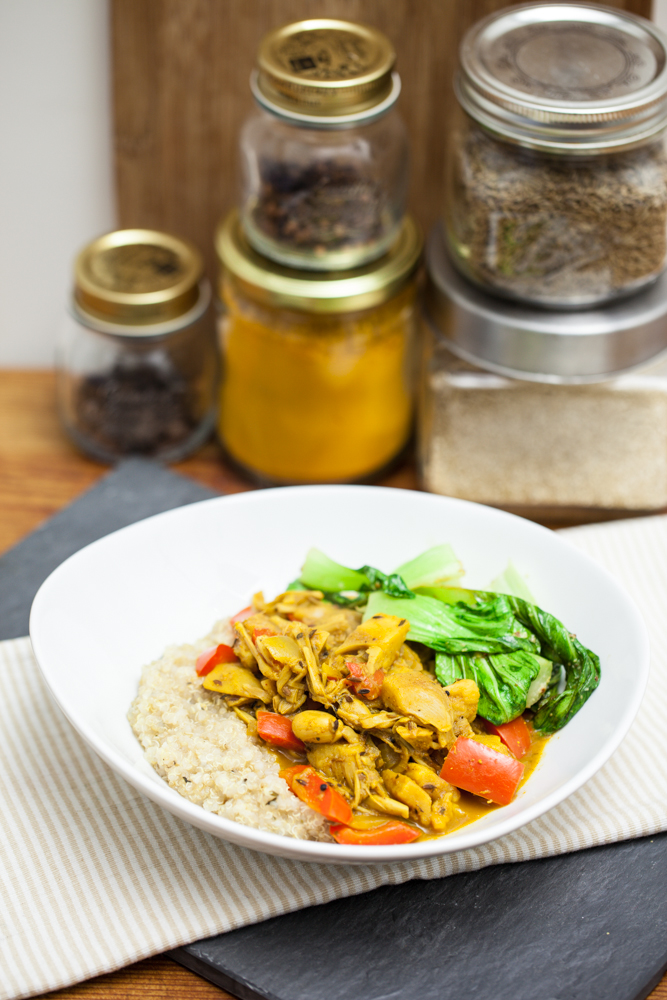 Ok, maybe not babies.  More like sick kids, roughly around the age of 9 or 10.  One day we stayed in bed all day long.  We ate kid's cereal for breakfast in bed.  We repeated that for lunch.  We geeked out on our laptops until our heads hurt too much and then we just watched movies for the rest of the day.  Samantha (our canine roommate) kept watch over us the entire time, cleaning up any cereal we may have spilt and making sure we stayed warm by laying as close to us as she possibly could.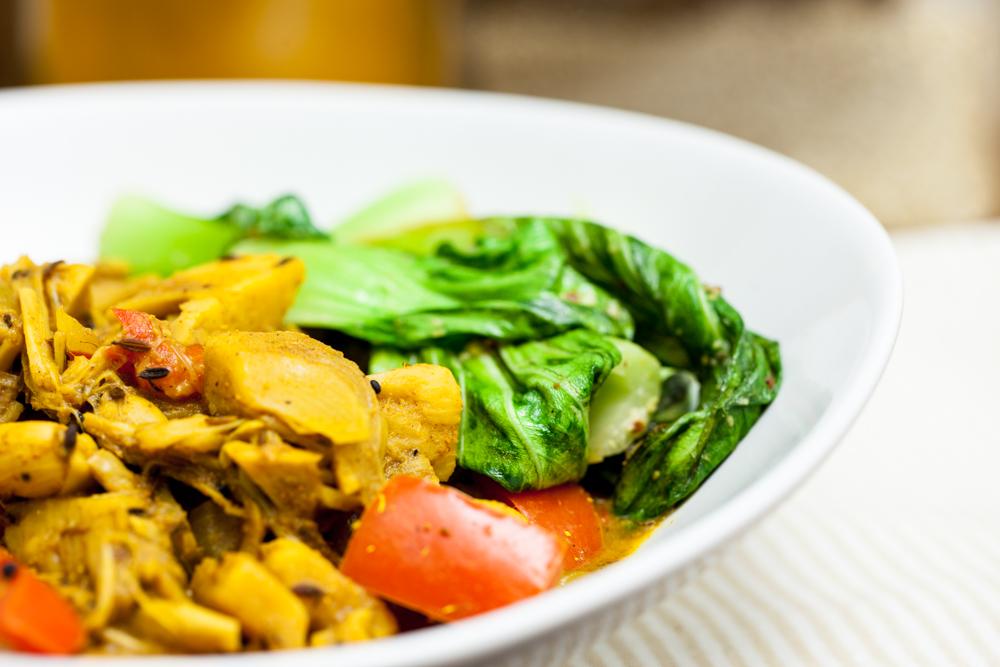 When we started to get a little hungry for dinner, we called in an order at Cafe Gratitude and Chris went to pick it up (luckily, it's only about five minutes away).  I ordered the I Am Humble, a curried lentil dish which I had once attempted to replicate.  I was once again amazed at how comforting this dish was and how much it cleared my sinuses, even if just for a short period of time.  We ate that in bed too, in case you were wondering.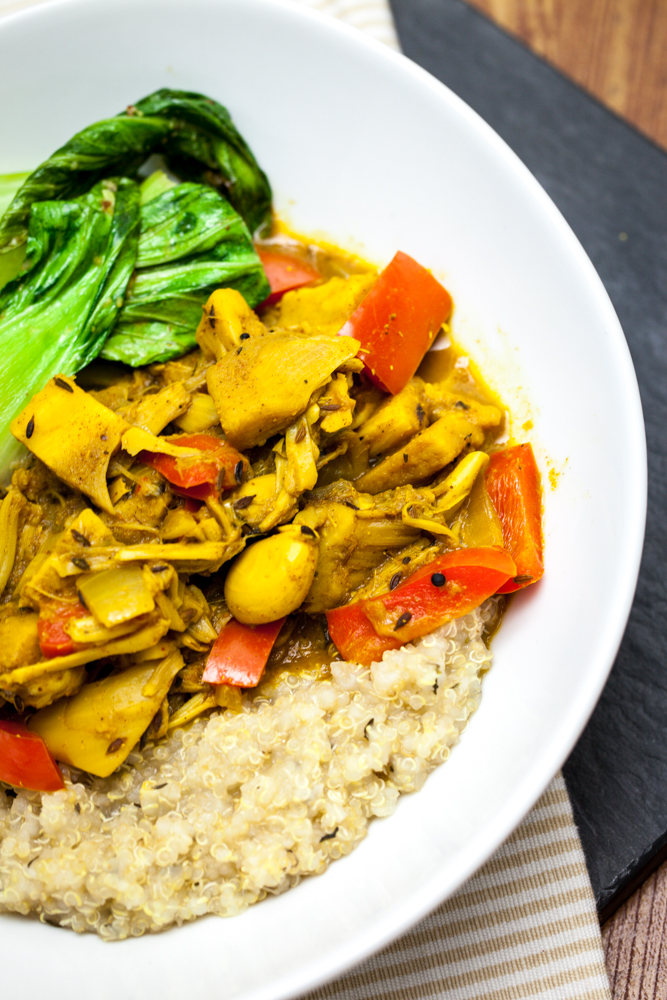 The next day, we were feeling a little better and ended up on the couch all day, acting like sick teenagers, circa 1994, watching episodes of My So-Called Life (I was introducing Chris to my 15 year old self, 90's grunge and all.  "Did I really wear that much flannel?"  Yes.  Yes, I did.) on Netflix.  Again, too sick to actually make dinner, Chris grabbed some take-out from Native Foods while he was picking up the twins for the weekend.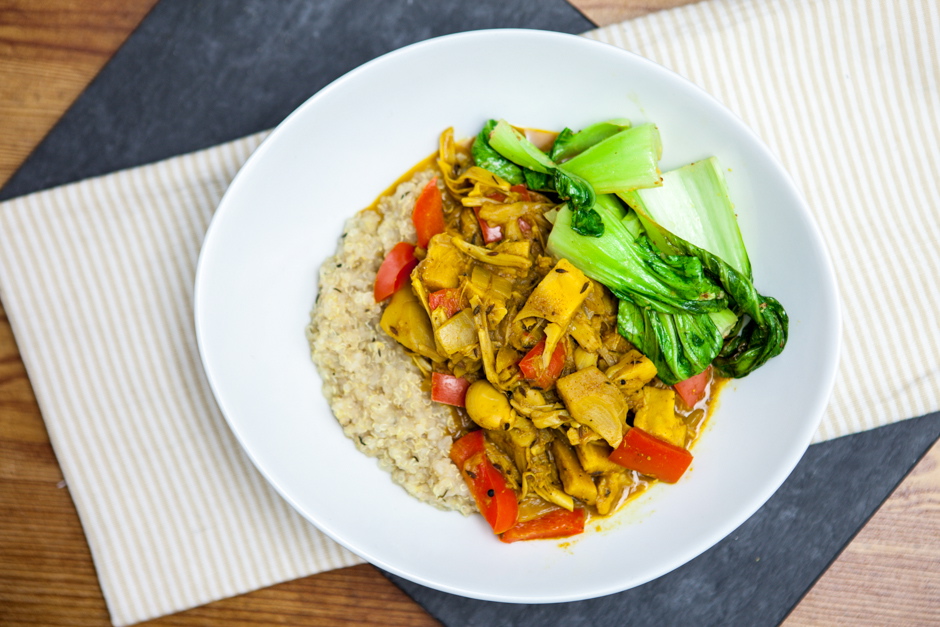 The following day, there was still a lingering cold, but I felt up to making dinner.  I wanted something to clear my sinuses just as the curry had a couple nights earlier.  So jackfruit curry it was.  This dish bursts with tons of flavor and has just the right amount of spiciness.  Enough to clear my sinuses but not make me cry.  I served it up with some quinoa and lemon mustard greens (my new favorite way to prepare greens.  I've done escarole, spinach, and this time it just so happened to be bok choy).  It was a great meal.  And the next day, my cold was gone.  Coincidence?  I think not.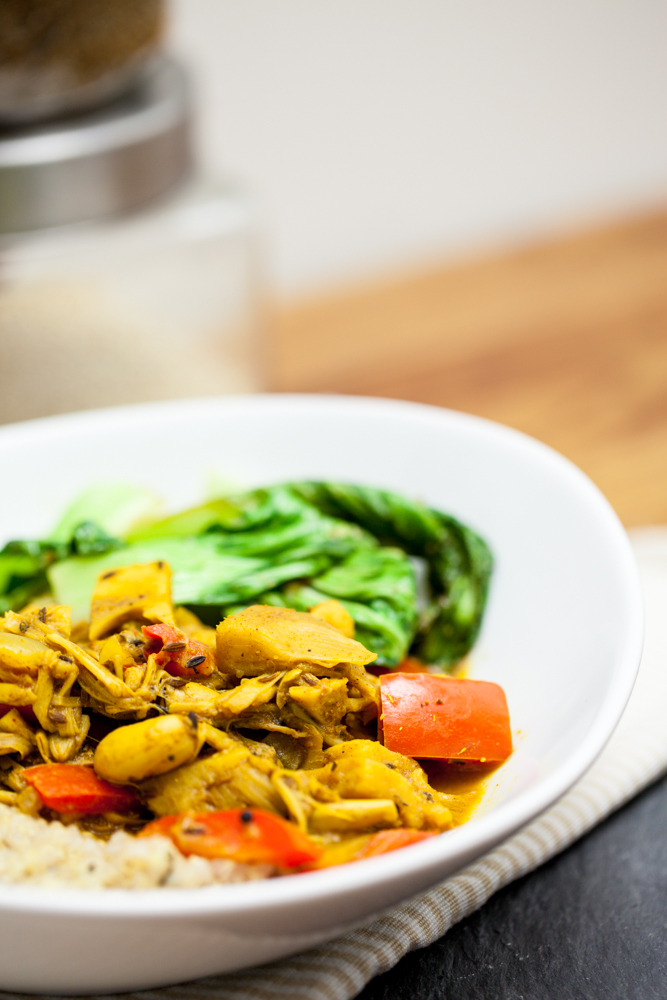 Ingredients
2 1/2 teaspoons curry powder
2 teaspoons garam masala
1 teaspoon ground coriander
1 teaspoon dried thyme
1 teaspoon turmeric
1/2 teaspoon smoked paprika
1/4 teaspoon cayenne pepper
2 tablespoons water
1 tablespoon olive oil
1 1/2 teaspoons cumin seed
1/2 teaspoon mustard seeds
1/2 teaspoon fennel seeds
3 cloves garlic, minced
1 inch piece of ginger, peeled and grated
1/2 large onion, chopped
1 red bell pepper, seeded and chopped
2 cans of jackfruit, rinsed and drained
3 cups vegetable broth
juice of 1 lime
2 teaspoons arrowroot powder (optional)
salt and pepper to taste
Instructions
Place the jackfruit in a bowl. Use your fingers or a fork to pull the pieces part in to shreds and chunks. Set aside.
In a small bowl, mix the curry powder, garam masala, coriander, thyme, turneric, paprika, and cayenne pepper. Mix well. add the water and stir until it becomes a thick paste. Set aside.
In a large shallow saucepan, heat the olive oil over medium heat for one minute. Add the cumin, fennel, and mustard seeds. Stir and fry the seeds until they begin to pop and sputter, about three minutes. Add the ginger and garlic and quickly mix together, stirring constantly for one minute, before adding the onion. Sauté the onion until translucent.
If there is anything sticking to the bottom of the pan, use a few tablespoons of water tyo deglaze the pan and scrape it all up. Add the bell pepper and mix to combine. Add the spice paste and mix until fully combined. Allow to cook for about two minutes.
Add the jackfruit and mix until fully combined. Add the vegetable broth and lime juice and mix to combine. Scrape the bottom of anything that may be sticking, if needed. Cover the pan and bring to a boil.
Once it is boiling, reduce heat to a simmer and crack the lid just a bit. Let simmer for about 40-45 minutes, until sauce is thickened. If you want to make it a little thicker, you can add the arrowroot powder, but it's not necessary. Add salt and pepper to taste. Serve with quinoa or rice (or another type of grain), along with the greens. Enjoy!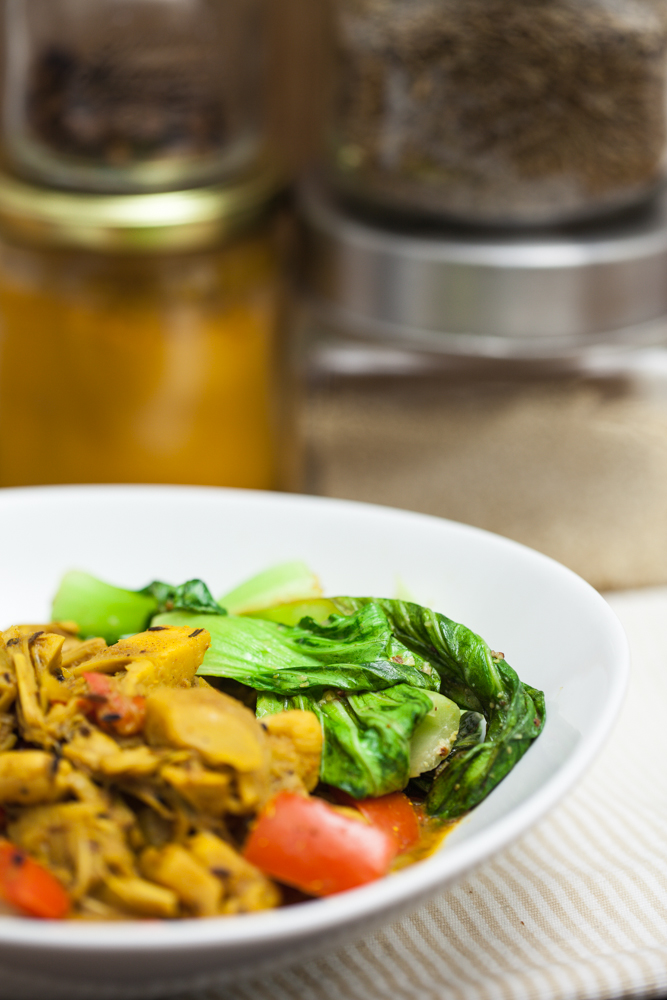 lemon mustard bok choy
Ingredients
1 teaspoon olive oil
1/2 teaspoon whole grain mustard or 1/2 teaspoon mustard seeds
1/2 teaspoon minced garlic
2 bunches of baby bok choy
juice of 1 lemon
salt and pepper to taste
Instructions
Heat the olive oil in a frying pan over medium heat for about 30 seconds. Add the mustard or mustard seeds and the garlic and stir until fully combined. Add the greens and stir until fully coated with the mustard garlic mixture. Saute for about 3 minutes, until the greens are slightly wilted. Add the lemon juice and toss to fully combine. Use the juice to deglaze the pan, if needed, scraping up any sticking bits. Allow to cook for 1 minute more before removing from heat. Serve immediately.
Do you ever act like a kid when you're sick?  What are you favorite sick-at-home activities?
Photography by Chris Miller