During the first week of January, Chris and I were fortunate enough to be able to spend a week in New York City.  We had so much fun and enjoyed so much great vegan food!  New York City, without a doubt, has Los Angeles beat when it comes to incredible vegan food.  We were just blown away with the quality of vegan eats in this city, and I can't wait to tell you all about them in this series, "Vegan Travel: NYC."  
We ventured into Brooklyn twice during our trip and it was not nearly enough.  I fell in love with this borough of New York City and I cannot wait to return someday.
One day, we were hunkering for a sit-down, greasy-spoon-style breakfast and after consulting Yelp, we discovered that there was such a place that offered only vegan food and baked goods.  And it was in Brooklyn.  So we decided that the next morning, we would grab some coffee and hop on over to Brooklyn to visit Champ's.
176 Ainslie St, between Lorimer St & Manhattan Ave, Williamsburg- North Side, Brooklyn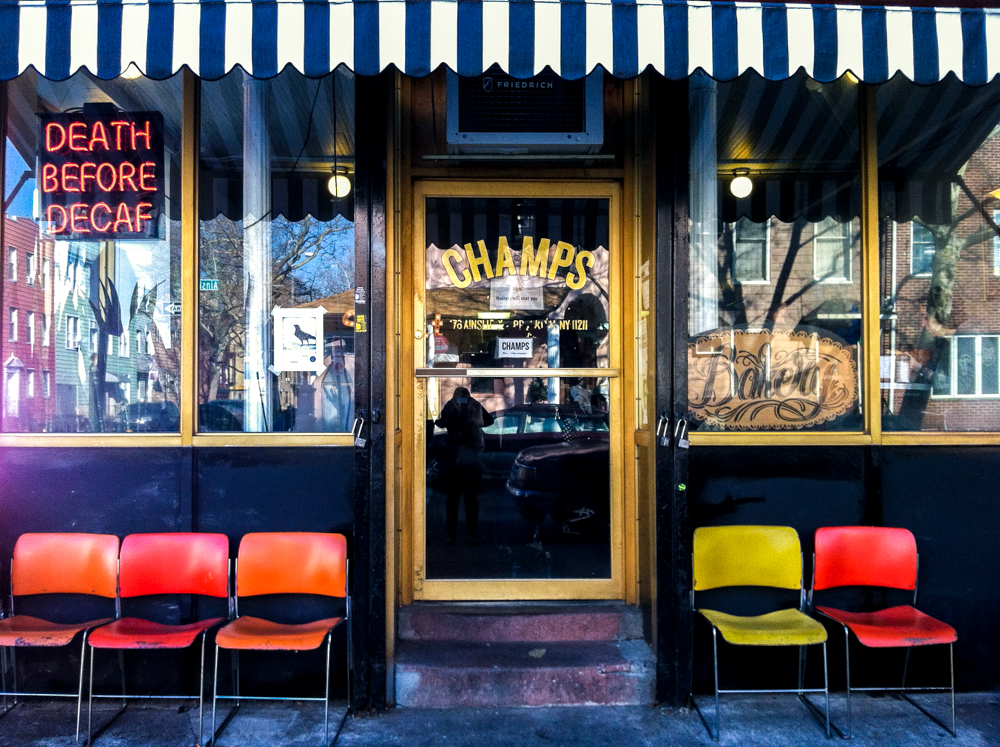 Weekend brunch is one of my most favorite things on earth.  Before I became vegan, getting up on a Sunday morning and going out for brunch made the weekend absolutely perfect.  We would usually go to some sort of ol' fashioned, semi-greasy-spoon (well, LA doesn't get too greasy, but still) sort of restaurant, full of families, groups of young people with hang-overs, and cute ladies who brunch, and get a full meal that involved some sort of potatoes and some sort of toasted bread on the side.  We would linger over coffee until we felt ready to venture back out into the world.  I loved those mornings.  Due to the fact that there are barely any good vegan breakfasts available on the west side of LA (Real Food Daily has a very limited brunch menu that I find merely satisfactory and very overpriced.  The east side has some options, but nothing that really compares) after we became vegan, our brunches became limited to what I would get up and make at home.  Don't get me wrong- I love that, but I miss those days of having someone else make me brunch and coffee.
After we got off the subway, we walked the few blocks to the restaurant, taking in late-Saturday morning Brooklyn.  When we arrived, I fell in love with Champ's as soon as we stepped in to put our name on the list.  It looked like a classic, old-timey diner, with a hip, pro-vegan twist.  The place was packed and I couldn't stop staring at everybody's plates of food.  It was like the vegan breakfast spot of my dreams.  We were given a 30 minute wait time and we gladly sat outside and dog-watched (so many people walking their dogs!) until our names were called (and we had a celebrity sighting while we waited- Leanne Mai-ly Hilgart, founder of Vaute Couture, left while we were sitting there, and I grabbed Chris's arm and whispered "Oh my gosh- She designed the coats we are wearing right now!  Oh my gosh!"  I got more excited when I saw Leanne than when we had our other celebrity sighting.  I was too shy to say anything.).
Once we did get our seats, we spent a long time looking over the menu.  There were so many great options, with many "Slam"-style plates, reminiscent of a certain diner-chain that I will not mention.  We were both giddy (and pretty hungry by this point), but finally settled on our choices.
Chris chose the French Toast Slam.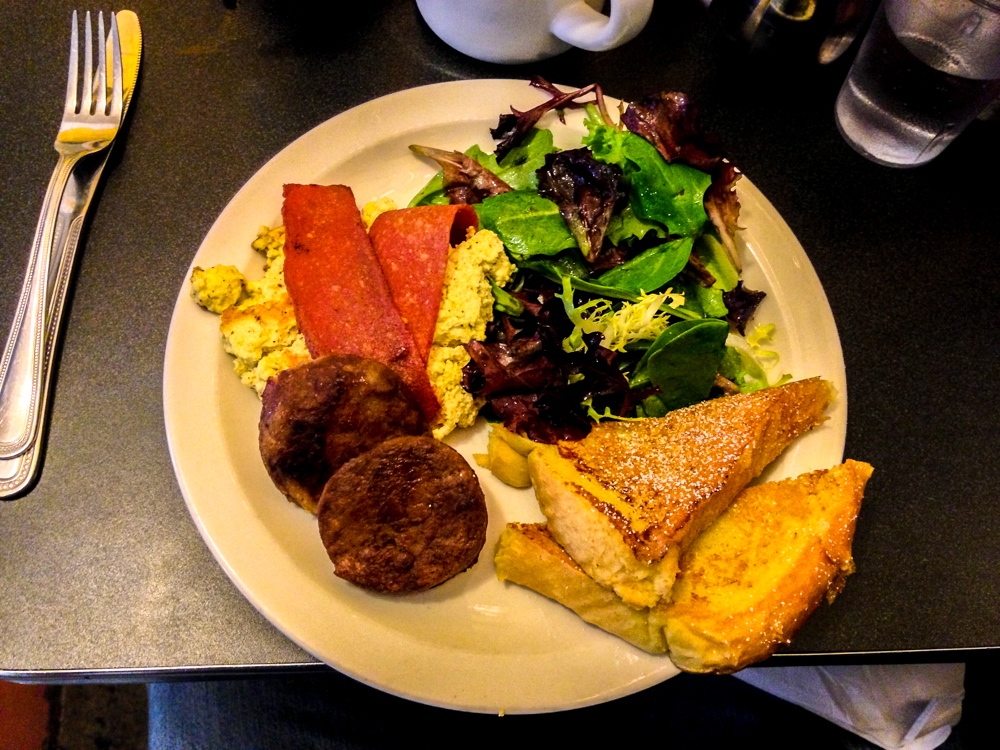 I chose the All Vegan Slam.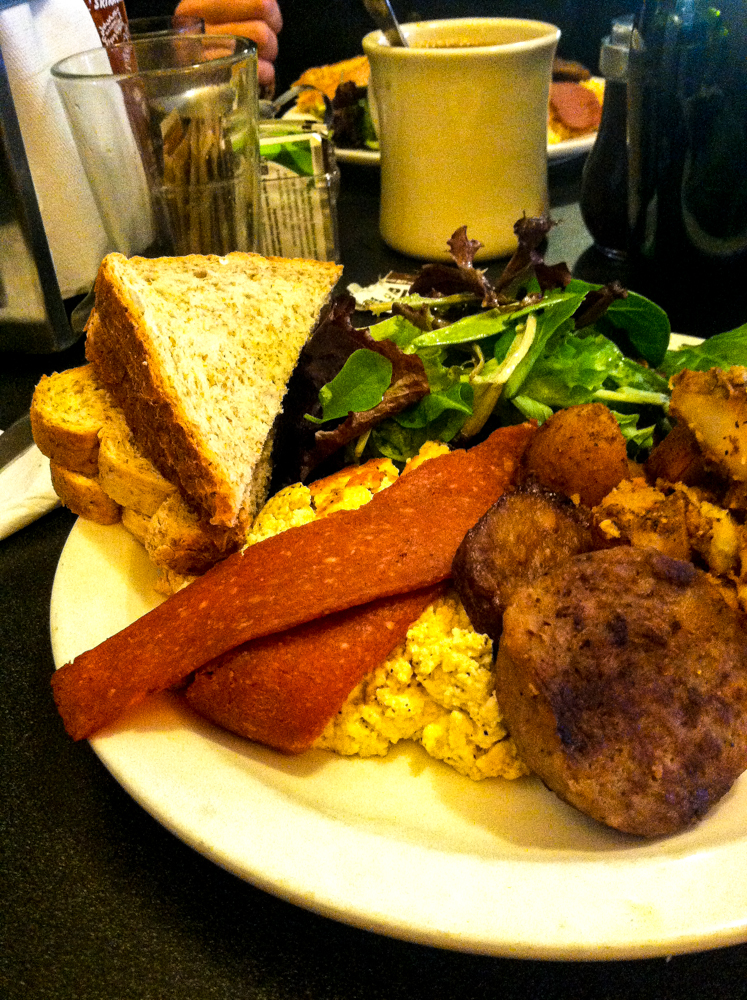 Both of our Slams were fantastic.  Incredible.  Chris's French Toast was so good- tasty, but not too sweet.  The potatoes were absolutely delectable.  The vegan sausages were the best vegan sausages I've ever had.  Unreal.  Without a doubt, this was the best breakfast we had on our trip and by far, the best vegan breakfast we've ever had at a restaurant.  I wished we were staying closer so that we could've experienced more of what they had to offer (like, everything in their dessert case, for example).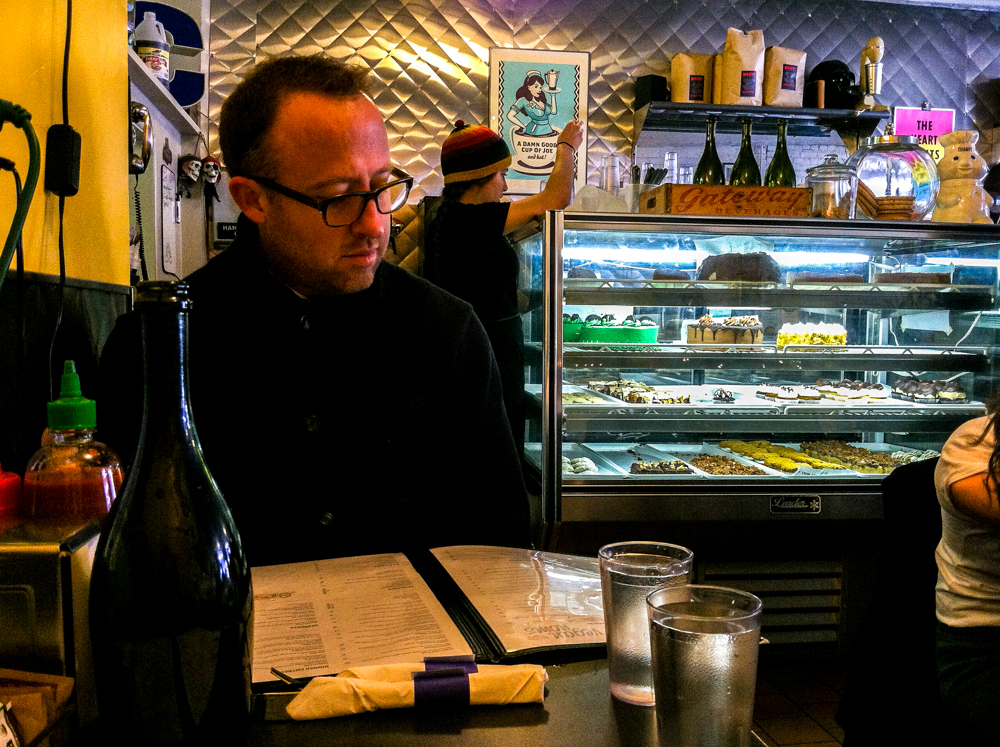 If Champ's didn't have me wishing we could move to Brooklyn, the rest of Williamsburg certainly did.  We spent a few hours just walking around, perusing the cute shops, and working off our breakfast.  We also stopped in at the only store I had on my list of must-visits (I had more restaurants on that list than anything else): Vaute Couture.
234 Grand St., between Driggs & Roebling, Williamsburg, Brooklyn
Before coming to New York, knowing that it was going to be much colder there than either of our flimsy Los Angeles winter coats could handle, we decided to splurge and purchase some very warm coats.  I'd been stalking Vaute Couture's website for about a year, so I knew that our best option for eco-friendly, sustainable, weatherproof, and vegan coats would be with them.  I ordered the Belden a month before we left, and though it was never cold enough to wear it, I would often just put it on and model it in the mirror.  The eggplant color (in the ultra warm, "luxe" fabric) I chose was so vibrant and gorgeous and the fit was absolutely perfect.  It is the nicest coat I have ever owned.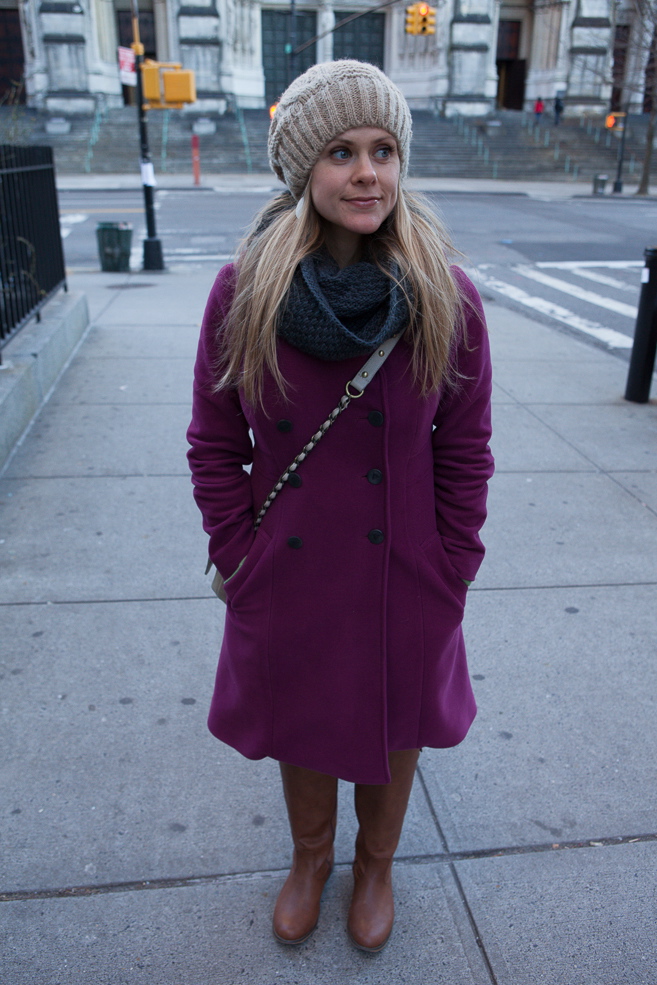 Chris chose the Whitman, but placed his order at the very last minute, right before Christmas, when Vaute Couture was slammed.  He had wanted the brown, but after conversing with one of the ladies at Vaute Couture, via email, he settled on the black, because it was all that was available in his size and they did their best to get it to us in a hurry.  It arrived the day before we left.  I don't have any pictures, but boy can this man wear the heck out of a pea coat.  Seriously- this coat is awesome (ironically, Cadry also has the Belden and her husband, David, also has the Whitman and she did a review awhile back and you can see both coats in action there).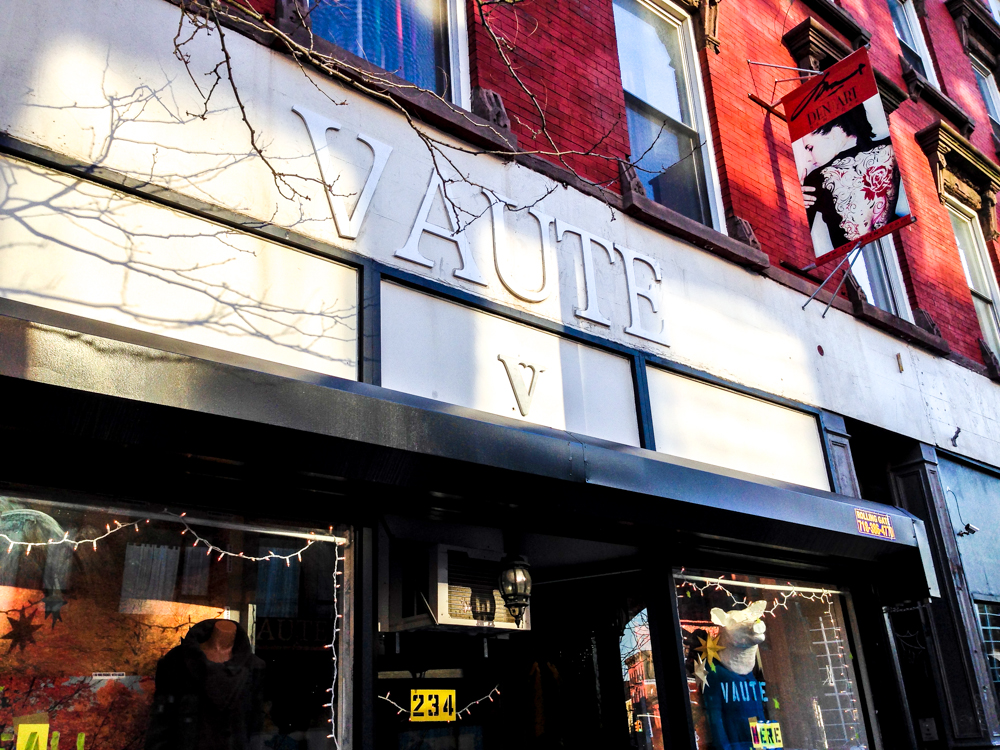 I was so excited as we arrived.  I don't get excited about brands, or fashion in general, really, so this flutter in my stomach, over a clothing store, was new to me.  Once we entered, we were greeted very warmly, and the girl behind the counter, said "I know those coats!"  After eyeing Chris's coat for a minute, she asked if he was the Chris they had just shipped that coat to.  I was just flabbergasted that they would know that.  He said he indeed was that Chris, and she told him they just got a brown Whitman in his size and told him he could switch the coats out, if he wanted to.  Chris excitedly made the switch, since he had really wanted the brown coat.  At this point, I was blown away by the customer service of this company.  I knew right then that I would be a life-long customer.
We perused the store for a little while and I picked out a sweatshirt, since I had been wanting one of their sweatshirts for a long time.  It's pink and has elephants on it and it's my new favorite sweatshirt.  All of their sweatshirts are terribly soft and I know that I'll probably get another one next year (they're on the expensive side for sweatshirts, but I really admire this company and don't mind supporting them).  I wore it on our last day in NYC, along with my Christy Robinson necklace and my Vaute Couture Belden coat.  I was a walking billboard for veganism, and I loved it.  If you're ever in Brooklyn, do stop in to Vaute Couture and give some love to this awesome vegan business.
After walking around, exploring Brooklyn for awhile, we decided we need a little snack to hold us over until dinner.  There was this place in Brooklyn I had been hearing about for ages and needed to check it our for myself.
222 Montrose Ave., between between Bushwick Ave & Humboldt St, East Williamsburg, Brooklyn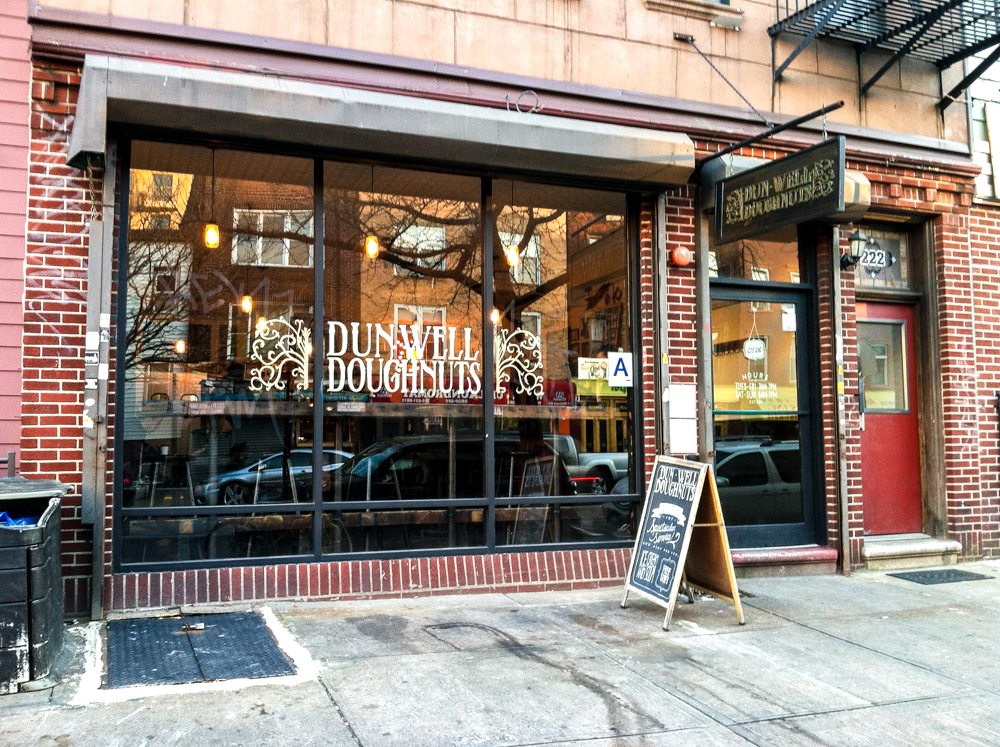 Like sushi, I did not care for doughnuts until I became vegan.  Still, they're never something I crave, but I do appreciate a really good vegan doughnut every now and then.  I'd been quite taken over all the photos I'd seen of Dun-Well's amazing and beautiful selection of donuts on countless blogs and instagram feeds, so I was pretty eager to check out their goods.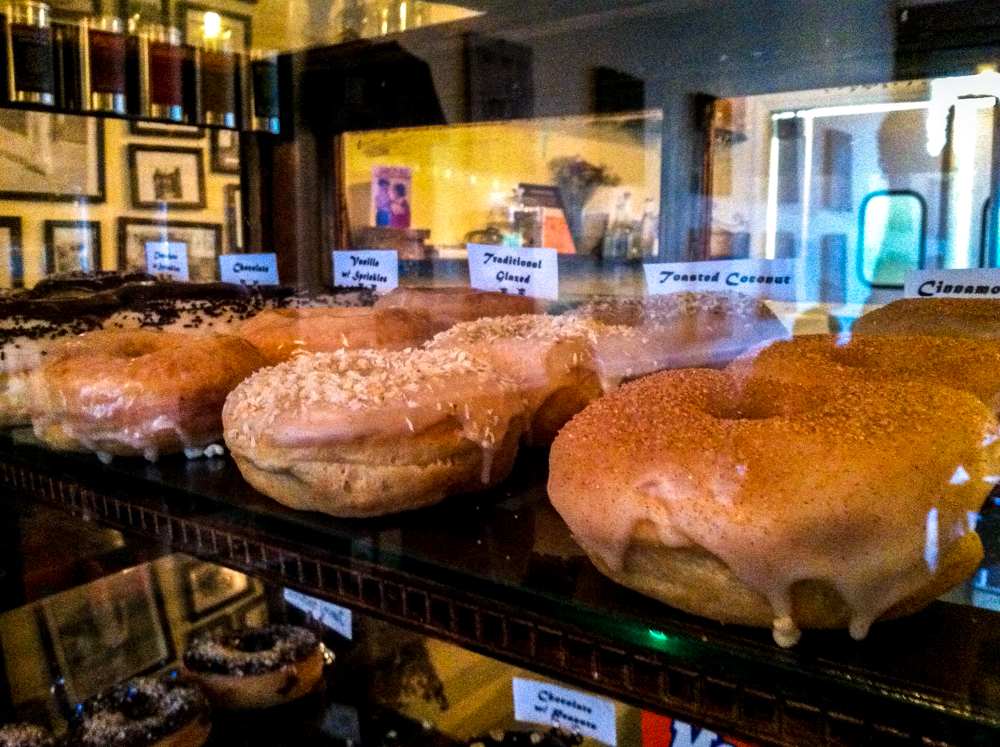 This place could not have been cuter (or more "hipster-ish," but I was still quite taken by it).  Since we got there so late in the day, the selection was kind of low, but there were still some great choices.  I had picked one donut that I wanted when Chris said "I'm thinking we should get that one, that one, that one, that one, and a couple of those little things.  What do you think?"  Chris likes doughnuts.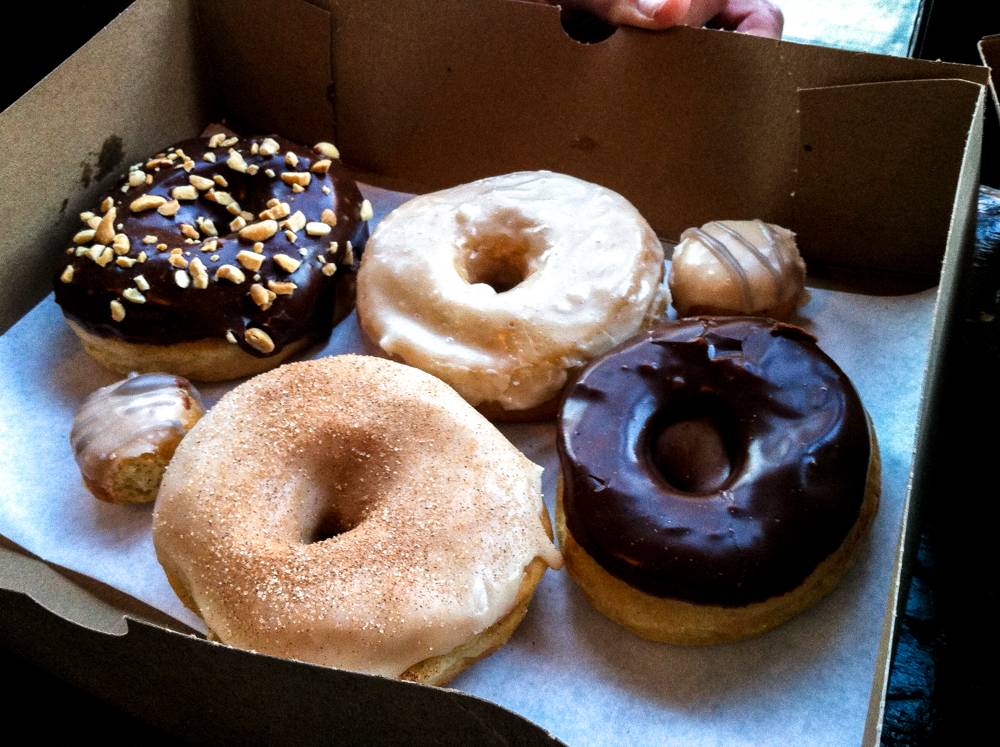 So we chose a selection and ordered some coffee to go along with it, because having doughnuts without coffee would be criminal, according to Chris.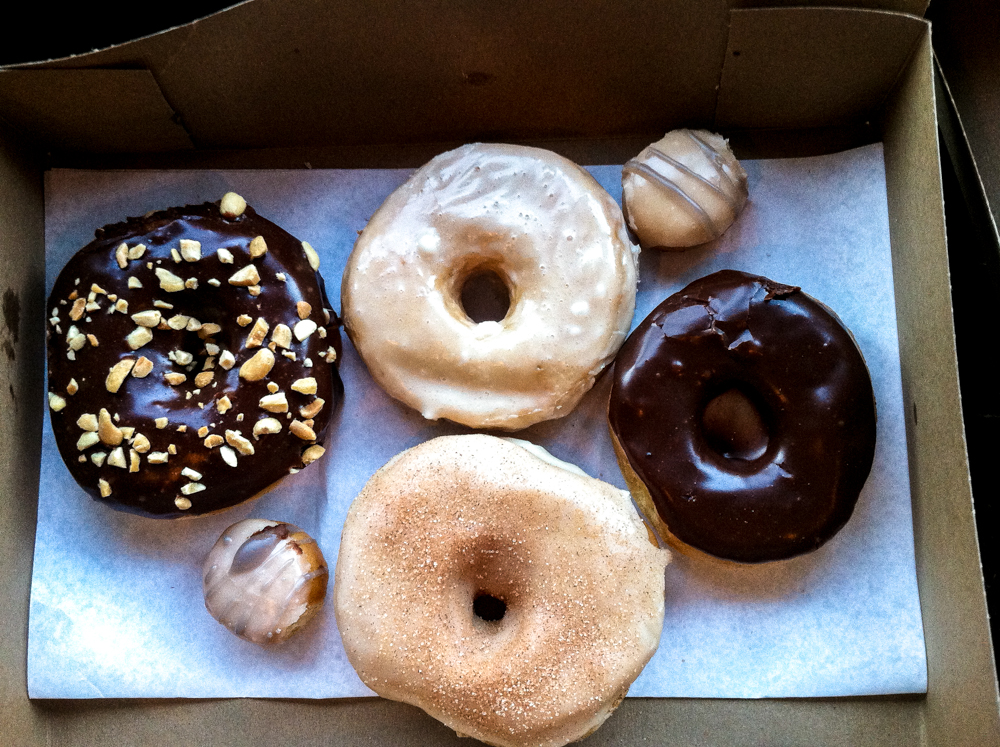 We ordered the classic glazed, chocolate glazed, glazed with cinnamon and sugar, and chocolate with peanuts (my choice), along with a couple of Moxie Dots (a type of doughnut hole).  And yes, they are as good as everyone says they are.  And they're baked, not fried, and have the right amount of sweetness.  We saved a couple for breakfast the next day, and they were still super soft and moist.  Dun-Well is another must-visit if you're in Brooklyn.
Whilst enjoying our doughnuts and coffee, Chris realized that there was a great football game starting soon and said he wished could see it.  So I consulted Yelp again, and found a vegan bar (not that we were going to get anything after just having coffee and doughnuts, but games can go on for awhile and I get grumpy when I'm hungry so I needed to make sure...) to hang out at while Chris watched the game.
12 Grattan St., between Bogart St. & Morgan St., East Williamsburg/Bushwick, Brooklyn
One super-quick subway ride and a short walk later, we were at Pine Box Rock Shop less than 20 minutes after Chris even muttered the word "football."  We quickly found a table with a couple stools against the wall and we sat down to watch the game.  Even though we just drank water, this bar instantly won me over.  A bar that has only animal-friendly ingredients, including a menu of vegan snacks (vegan empanadas!), and they ALLOW DOGS!  I mean, I saw no fewer than 10 dogs while we were hanging out there.  Two tables down from us, there were two little dogs, chilling on stools, while their owners stood and watched the game.  If we lived in Brooklyn, I could easily see myself as a regular at this bar:  eating empanadas and drinking water, with Samantha on the stool next to me, and Chris watching the game.  We would be barflies.  I sat in my comfy stool, leaning against the wall, pondering this thought, when I fell asleep.  Yes.  I fell asleep in a bar.  And it wasn't a quiet bar, either (In all seriousness, I could fall asleep in a bowling alley with the lights on).  Chris woke me when the game was over and we headed back to Manhattan.
We ventured back into Brooklyn one more time before we left.  Knowing that we full-well couldn't leave New York without trying some pizza, we headed back to Brooklyn to visit what Yelpers claim to be the best vegan pizza in New York.
60 Greenpoint Ave, between West St & Franklin St, Greenpoint, Brooklyn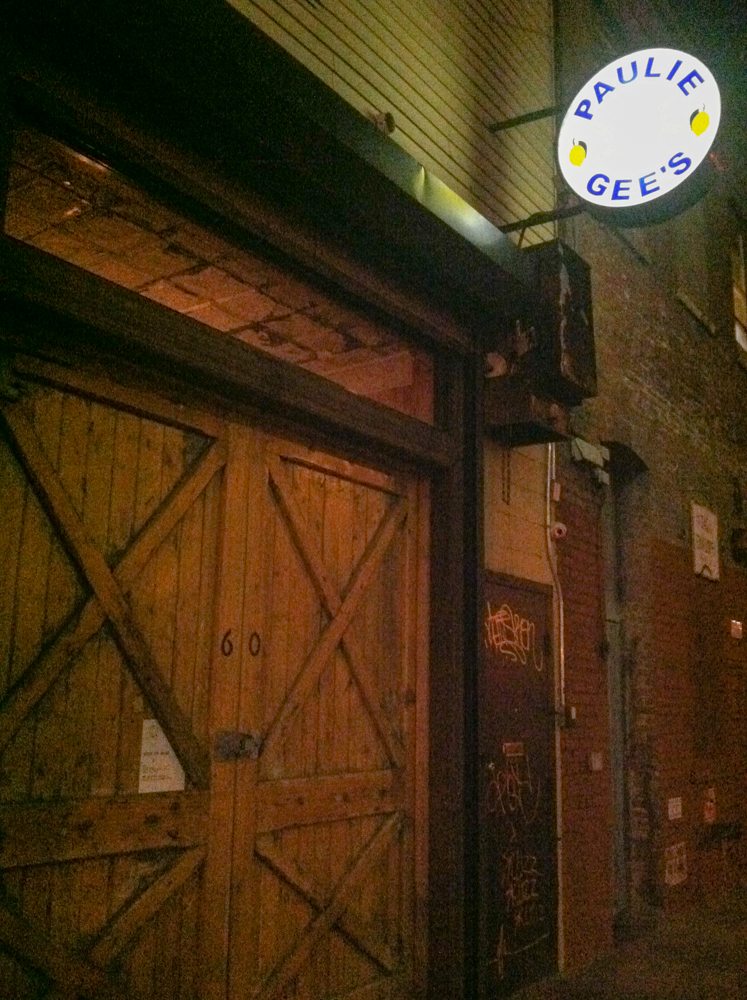 When we arrived, this place was packed.  And loud.  Always a good sign that a place is good.  We were given a 20-30 minute wait time, which we were cool with.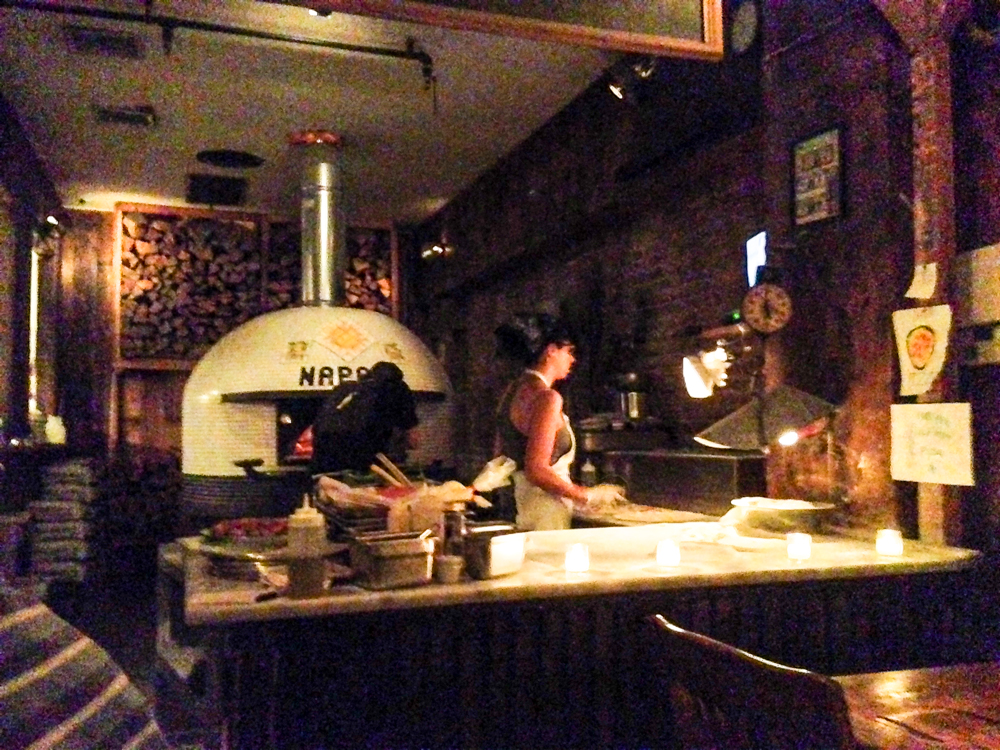 We were seated in the back, very close to the kitchen where you could watch them make your pizza and put it in the old-school brick pizza oven.  I always love that part, so I was kind of entranced for the entire time we were there.  It's also on the dark side in there, so our pictures are very hard to see (my apologies).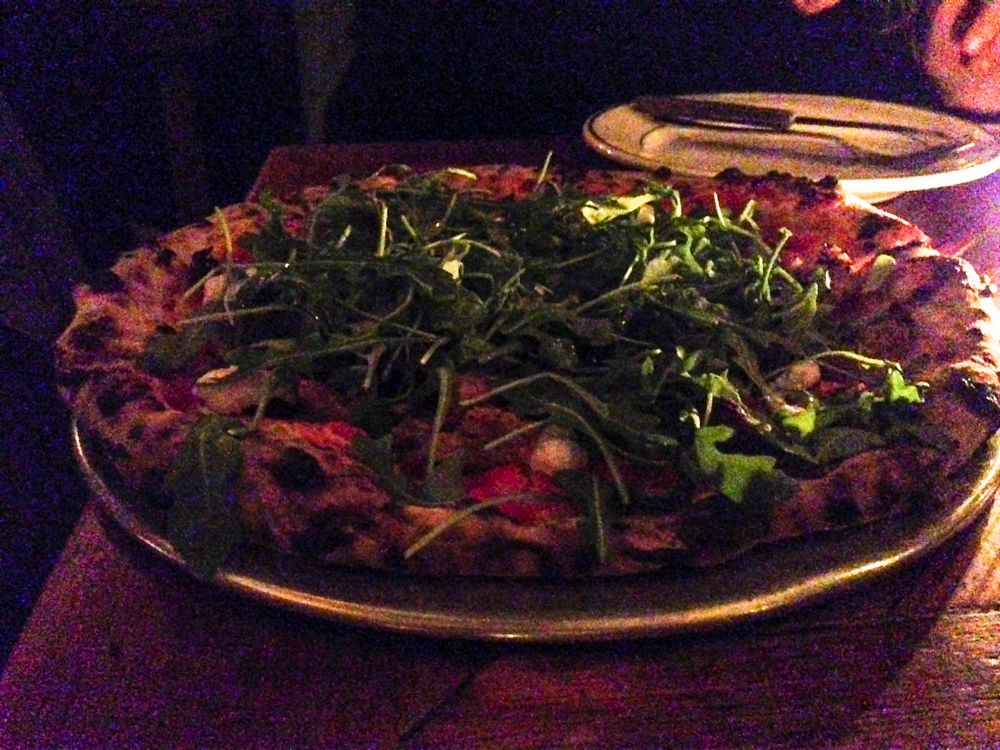 We ordered the In Ricotta da Vegan to share.  At the tables on either side of us, people were getting their own, individual, humongous pizzas, so I was worried that 1 pizza wouldn't be enough.  It totally was, though.  And it was delicious.  The In Ricotta da Vegan comes with italian tomatoes, house made vegan fennel sausage, house made cashew ricotta, arugula, and extra virgin olive oil.  The fennel sausage was pretty incredible, as was the cashew ricotta.  It was pretty fantastic.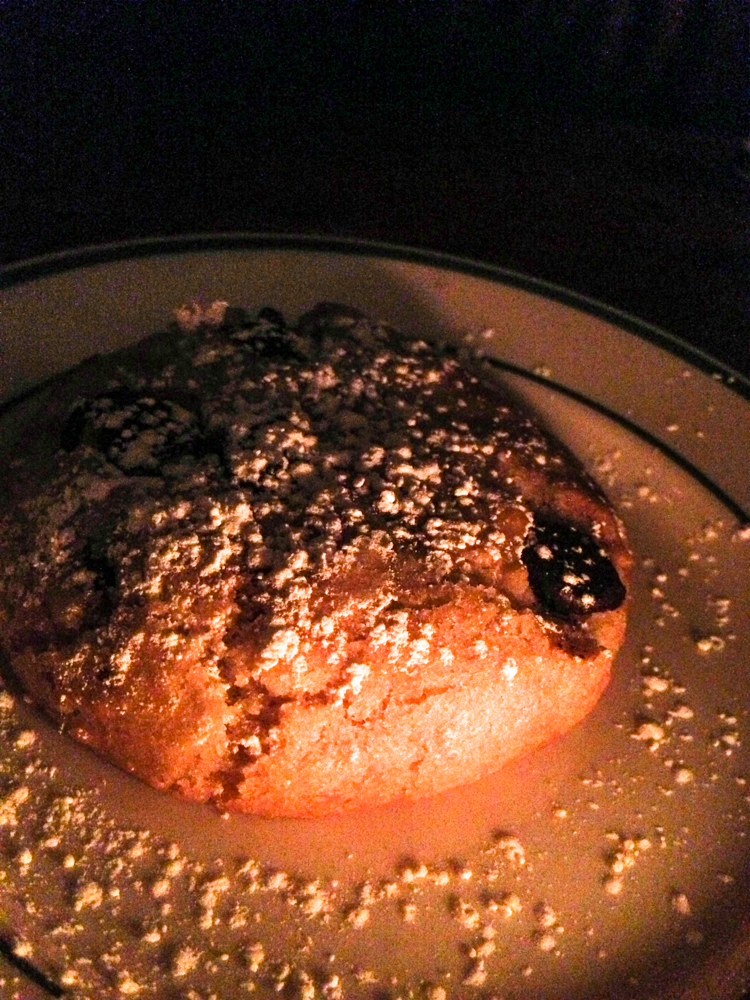 For dessert, Paulie Gee's carries Ovenly's Vegan Salted Chocolate Chip Cookies.  Sounds pretty great, right?  So we got a couple, and they too, were pretty wonderful.  Overall, we were very happy with our experience at Paulie Gee's.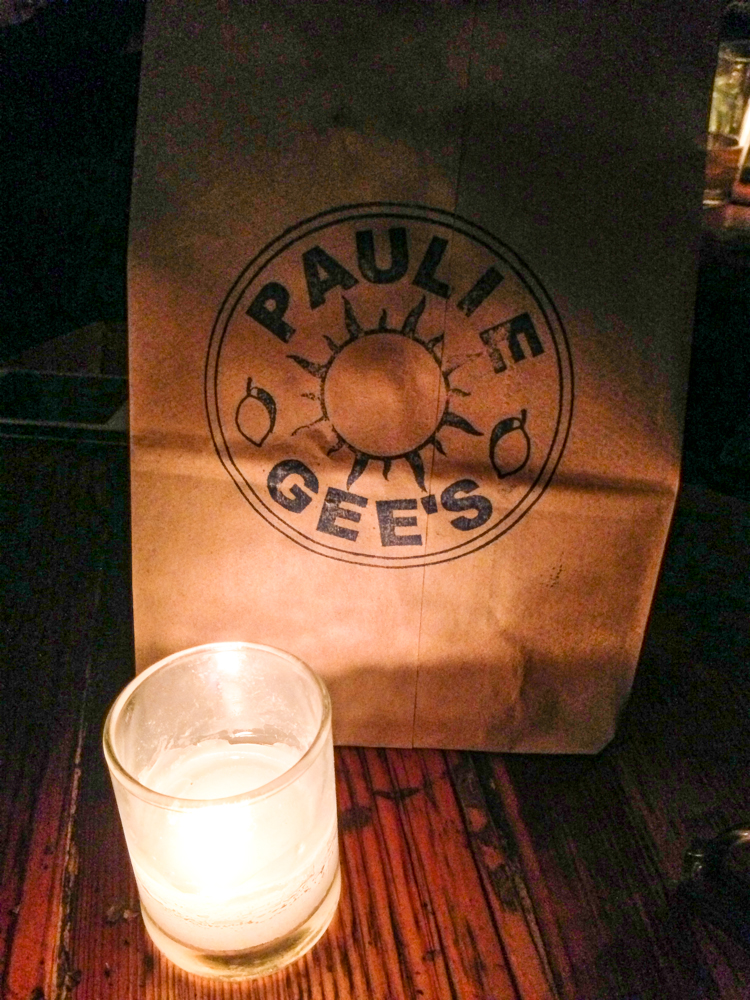 In fact, we were astounded with New york, in general.  It was the perfect place to get away to after the semi-stressful project we had been working on.  There's so much to visit, to look at, to take in, that it becomes very easy to forget everything back home and become fully engrossed in exploring this beautiful, incredible city.  Almost every day, either Chris or I say to each other "Wouldn't it be nice to take a walk through the East Village and get some vegan sushi?" or "Doesn't Champ's sound good right now?"  NYC also has the best vegan food we've ever had, no question.  It may be because there are so many restaurants and everything is so compact and squeezed together, making it easy to find a vegan restaurant anywhere at anytime (the complete opposite of LA, where everywhere you want to go is a 45-60 minute drive away).  The quality of the food seemed so much better too- the flavors were so layered and so complex and the food so creative and well-crafted.  If you are looking for the perfect vegan vacation, then look no further than New York.
Be sure to check out all of the posts in the "Vegan Travel: NYC" series: