During the first week of January, Chris and I were fortunate enough to be able to spend a week in New York City.  We had so much fun and enjoyed so much great vegan food!  New York City, without a doubt, has Los Angeles beat when it comes to incredible vegan food.  We were just blown away with the quality of vegan eats in this city, and I can't wait to tell you all about them in this series, "Vegan Travel: NYC."  
Imagine a line splitting the island of Manhattan in half, ignoring all of the cute neighborhoods, beautiful parks parks and incredible landmarks- today I'm sharing with you "Part 1" of what we did/ate on the western side of that line.  And please pardon some of our not-so-great iphone pics...
We took the red-eye into JFK and by the time we hopped on the subway and found ourselves at our midcity hotel, it was only 9 am and too early to check-in.  The hotel held our bags while we set out to rustle up some breakfast and do a bit of exploring.  I had bookmarked a list of vegan eats on Yelp (a tool that became extremely helpful during this trip), and the closest place, serving up a vegan breakfast was Blossom du Jour.
617 9th Avenue, between 43rd & 44th, Midcity West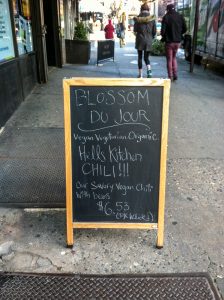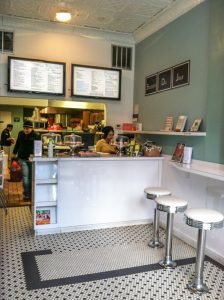 By the time we found this place I was pretty ravenous so I was thrilled to see that they had two different breakfast wraps, as well as some pancakes with tempeh bacon, on the menu.  One wrap was called the Anytime Breakfast Scramble Wrap, which sounded alright,but we were both blown away by the other wrap: the Blossom Benedict Wrap.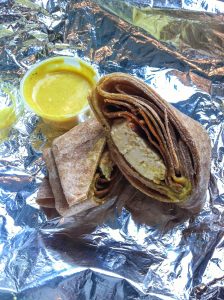 The wrap included a pressed and baked slab of perfectly seasoned tofu, Lightlife vegan "ham," cooked with their own seasonings, and a hollandaise sauce (with more on the side) wrapped in a whole wheat tortilla.  Insane.  Ridiculous.  Stupid.  All of these words don't even begin to describe the level of deliciousness in those wraps.  We even found ourselves there for breakfast one more time during our trip.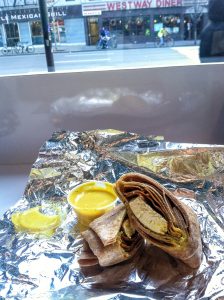 This was just our introduction to the line of incredible Blossom restaurants.  Our last day in NYC, following an incredibly filling breakfast somewhere else (which I'll be telling you about soon), we were walking through Chelsea when we just happened to pass Blossom Bakery.
174 Ninth Avenue, between 21st & 22nd, Chelsea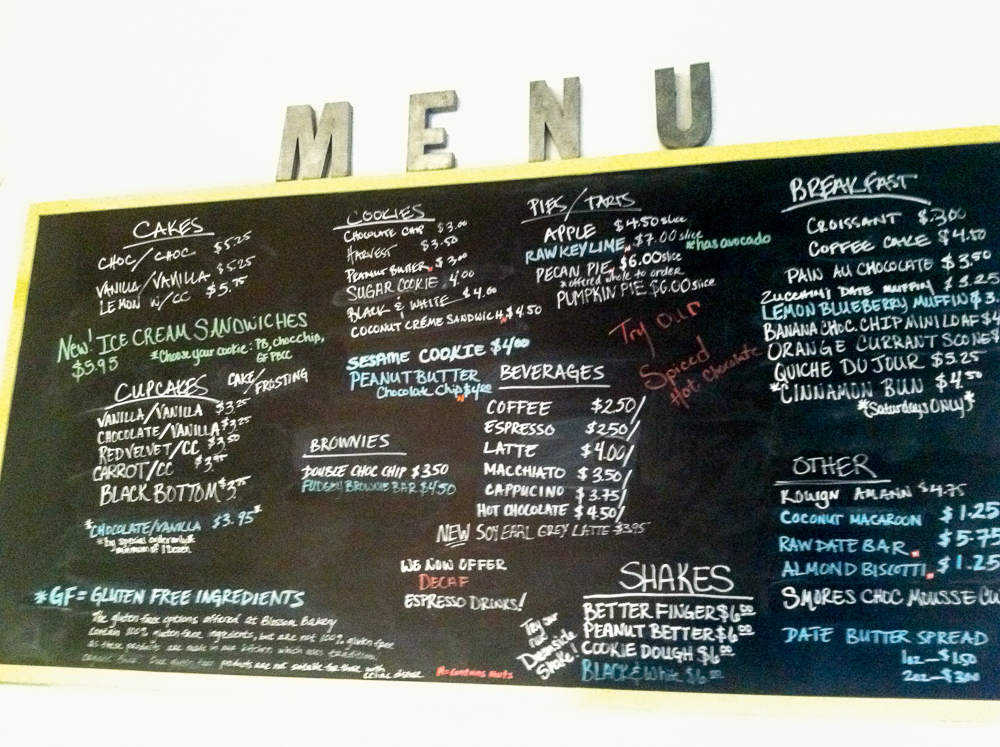 How often do you just happen by an all vegan bakery?  I never thought I would just be walking along and stare longingly into a beautiful bakery, only to notice a vegan sticker on the window.  We were very happily surprised.  Of course we had to run in and stare into the case at all of the decadent little vegan goodies.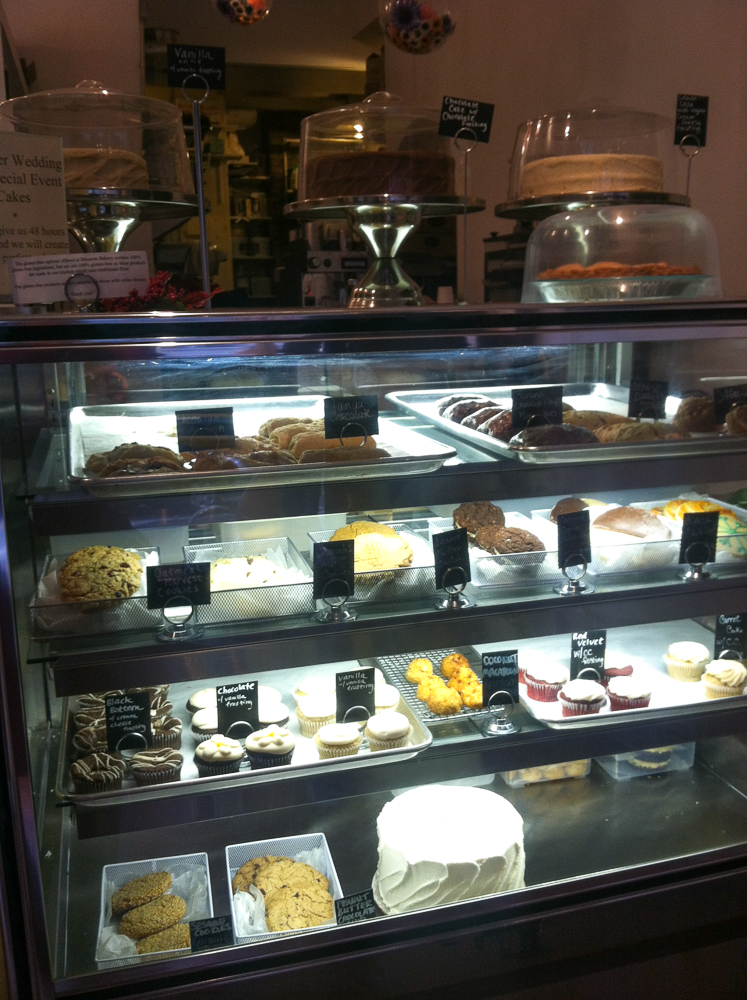 However, if you were to look up the definition of "hell" in the dictionary, it would likely say something along the lines of being in a vegan bakery but too stuffed to even consider purchasing anything.  We did talk to the shopkeepers for awhile and they offered us a little sample of one of their brownies, and my friends, it was amazing!  I can't wait to go back to NYC and try an entire brownie from Blossom Bakery!
On our second day in the city, we took the subway down to the World Trade Center Memorial.  The last time (the only time) I had been in New York Cit prior to this visit, I was 13 and with my cousin and our grandparents.  I remember standing outside one of the Twin Towers with my family, marveling at its height, when a man in a trench coat walked over to us.  He flung open his coat to reveal a large inventory of watches and offered my grandfather a Rolex.  My grandfather turned him away and I remember thinking how lucky we were to have seen a guy with a trench coat full of watches, just like you saw in the movies!  And in front of the tallest building in the world, no less!  Almost twenty years later, I found myself walking right where I had stood when the man offered us fancy watches, yet the buildings were gone.  It was a very surreal and emotional experience and the memorial that has been built in the Twin Tower's place is terribly beautiful and serene.  I was very thankful to be able to see it.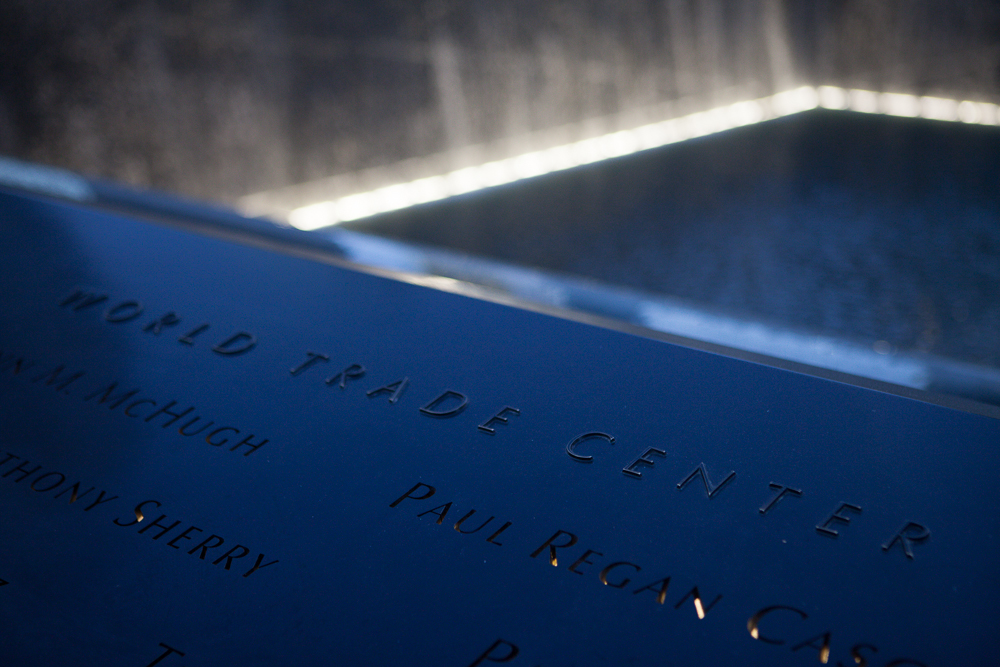 After the memorial, we walked north towards the West Village.  The sun was setting and we didn't get to see very much, but after consulting Yelp, we decided to stop at Café Blossom (the Blossom company's more upper-scale, sit-down restaurant) and meet up with one of Chris's old friends, A.Y., for dinner.
41 Carmine St., between Bedford & Bleeker, West Village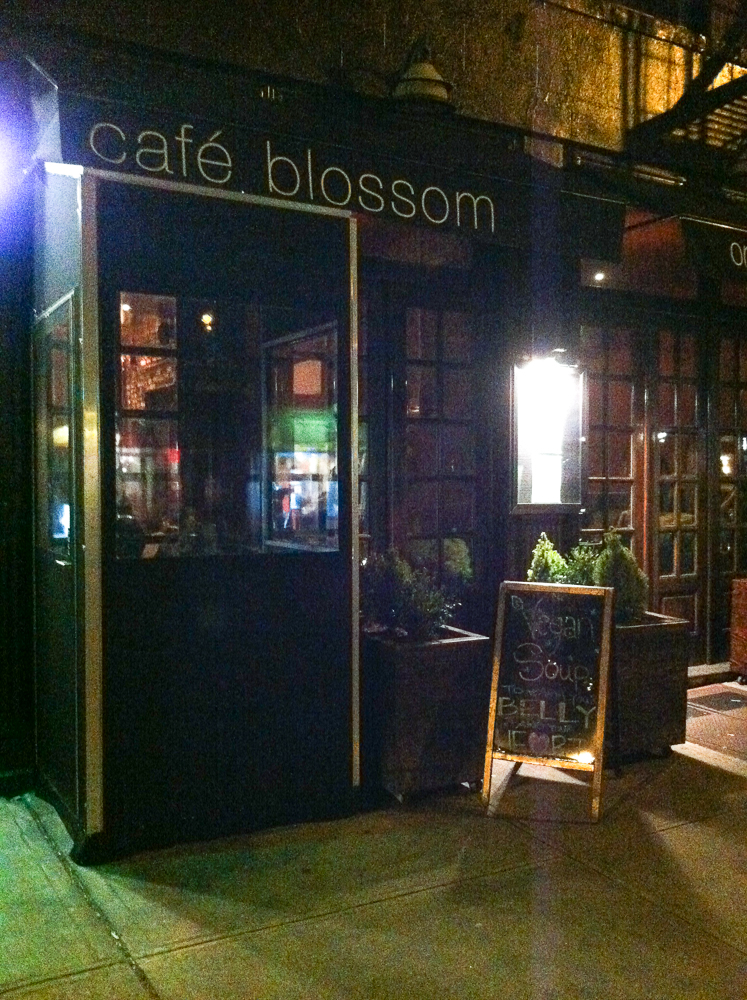 Since we didn't make a reservation, the host told us we would have to finish in an hour because there were reservations for that table.  We were more than happy to accept, and were quickly seated.  Our server soon greeted us and informed us that she had talked to the host and told us that we could take our time- we didn't need to leave in an hour.  That scored huge bonus points with us and we relaxed and took our time to peruse the menu.
I kind of wanted to try everything on the menu- it all sounded so good!  However, we eventually settled on the Chickpea Fritters as a starter.  They were crisp on the outside, and smooth and creamy on the inside.  They were more like mozzarella sticks, but about 100 times better.  They were each topped with a dollop of spicy mayonnaise and housemade whiskey barbecue sauce.  A definite winner in our books.  Sadly, we were overexcited about said fritters and forgot to take pictures.  Also not pictured- the kale and avocado salad that A.Y. ordered.
Chris's and A.Y. both ordered the Flatbread Pizza as their main course.  Topped with marinara sauce, cashew ricotta, vegan mozzarella, onion jam and basil, these pizzas were out of this world!  I almost wished I ordered one myself...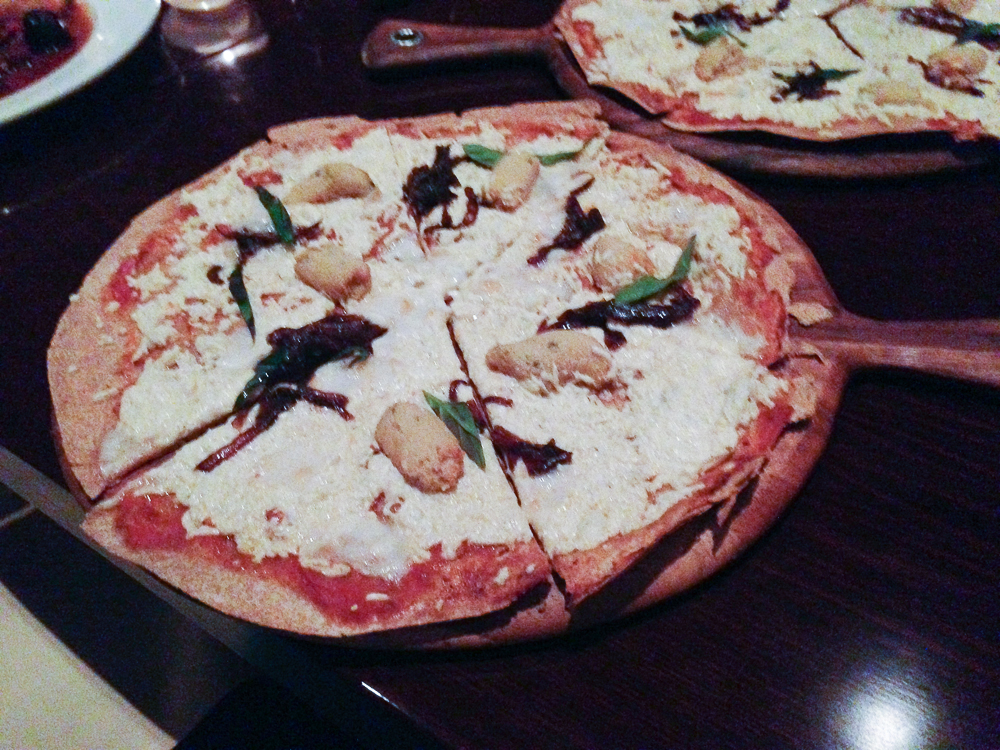 But I'm so glad I didn't!  I ordered the Seitan Marsala as my main course and couldn't have been more pleased.  This dish is served with  roasted potato, sauteed spinach, shallots, beets, jalapeno, figs, and marsala sauce.  Every bite was incredible, but THE FIGS!  I will forever need figs with my seitan now.  And my potatoes.  And my beets.  What an incredible combination!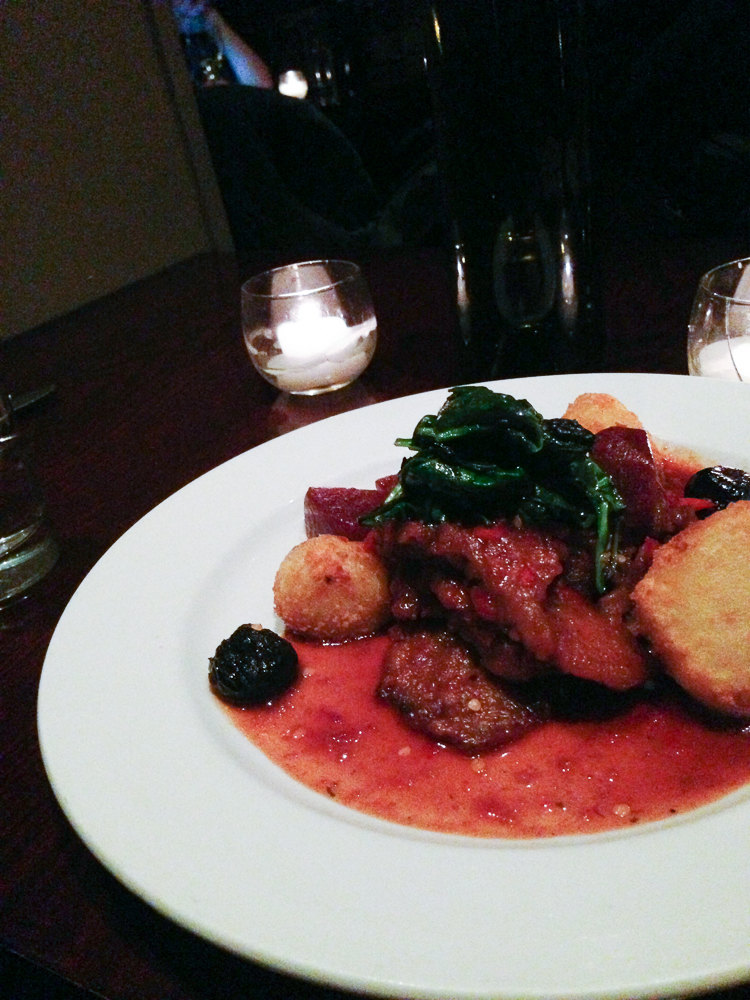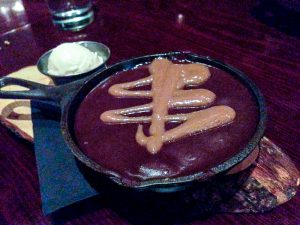 After dinner we decided to look over the dessert menu and A.Y. said that all she could think about was chocolate- a woman after my own heart!  We settled on the Chocolate Kahlua Tart.  This tart had a date and hazelnut crust, a caramel drizzle on top and was served with vanilla ice cream.  I probably never would have chose this dish on my own because I don't usually love Kahlua-flavored things, but MY HEAVENS!  This dish changed all that.  We all politely took little bites, trying to equally share this dish, but I knew Chris and I were both wishing we each got our own.  The chocolate was so rich and velvety and the date and hazelnut crust was so flavorful and not overly sweet.  The caramel drizzle really put it over the top, though.  Man, that was a great dessert.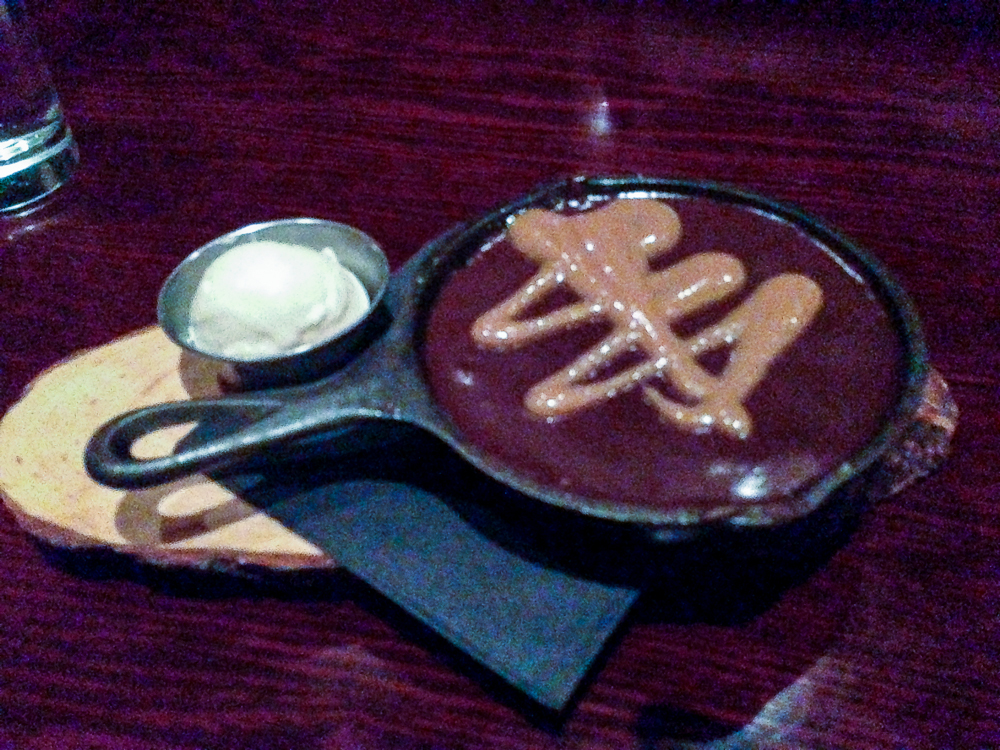 After dinner, we walked A.Y. to the subway but ended up standing outside talking for about an hour more.  In 25 degree weather.  By the time we bid A.Y. farewell, my fingers and toes were frozen.  We walked around West Village for a while because the night was still young, but eventually, I needed to stop somewhere and get warm/regain the feeling in my fingers.
GOBO (now out of business)
401 Avenue of the Americas, between Waverly Place & 8th St., West Village
It should be noted that Chris and I slept in until noon on our second day in NYC.  It was completely unintentional, but I guess since we didn't really sleep on the overnight flight and Chris wouldn't let us nap when we got our room, our bodies really needed the rest.  We'd only had light snack at Pain de Quotiden for "breakfast" and our "dinner" at Cafe Blossom was really more like lunch.  And we'd walked a lot that day.  What I'm getting at is that the fact that we were hungry again after "dinner" is completely understandable and our "snack" at GOBO, though just a couple hours after said "dinner," was completely justified, so don't judge.
Gobo claims to have food that awakens the five senses.  All of their menu items are plant-based and all sounded very appealing.  We were going to settle on the homemade hummus with carrots and wonton chips until we saw the yam fries on the "sides" portion of the menu.  There was no question.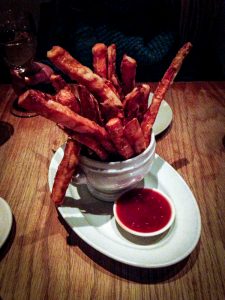 With a tasty and crispy outer crust and a sweet, soft interior, these fries were terribly indulgent and delicious and we savored each bite.  We promised that if we were in the area again, we would come back and eat a full meal here, but unfortunately, that never happened.  Just one more place we need to add to our "Next time we're in NYC" list.
Please check back in next week for Part 2 of our west Manhattan adventures!
Be sure to check out all of the posts in the "Vegan Travel: NYC" series: