During the first week of January, Chris and I were fortunate enough to be able to spend a week in New York City.  We had so much fun and enjoyed so much great vegan food!  New York City, without a doubt, has Los Angeles beat when it comes to incredible vegan food.  We were just blown away with the quality of vegan eats in this city, and I can't wait to tell you all about them in this series, "Vegan Travel: NYC."  
Imagine a line splitting the island of Manhattan in half, ignoring all of the cute neighborhoods, beautiful parks parks and incredible landmarks- today I'm sharing with you "Part 2" of what we did/ate on the eastern side of that line.  Be sure to check out what we did in "Part 1."  Please pardon our not-so-great iPhone photography...
While we were in New York City, we ate at two upper-scale, vegan fine dining restaurants.  They were both two of the most amazing, most memorable restaurants I've ever been to.  In my whole life.  Seriously, Los Angeles, you need to step up your vegan fine-dining scene!
54 Irving Place, between 17th & 18th st., Gramercy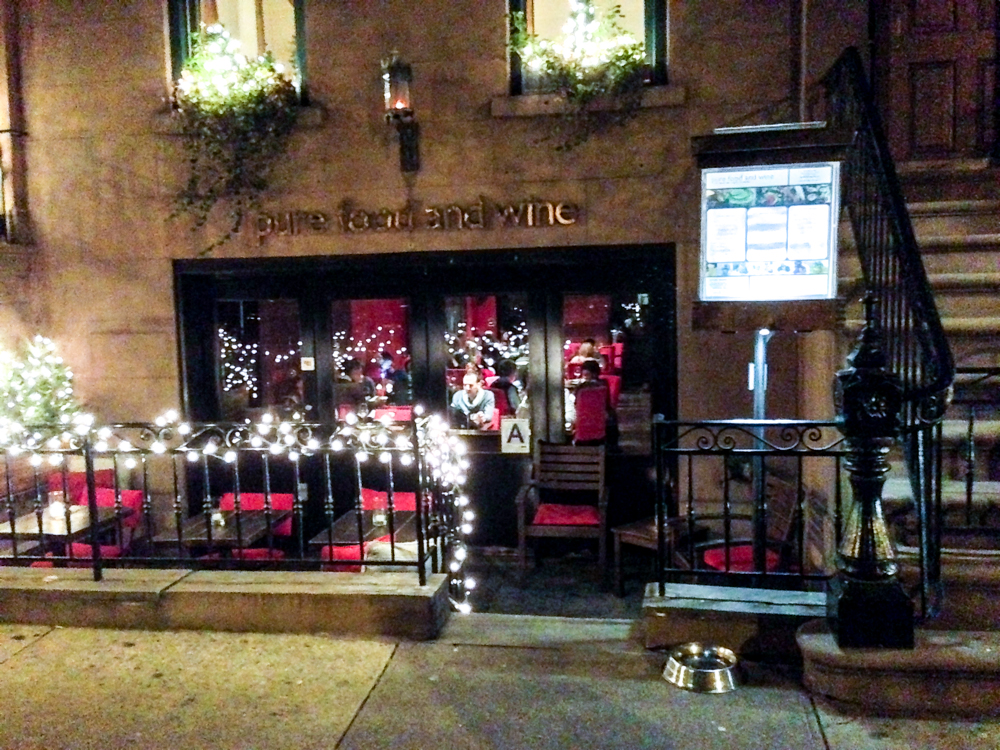 I absolutely love fancy, raw vegan restaurants.  In my opinion, these restaurants create some of the most creative, the most stunning, and the most delicious dishes and I'm consistently amazed.  Pure Food and Wine is no exception.
We arrived a tad early for our reservation and even though they were packed, they found room for us in the back room, which seemed to be a heated indoor/outdoor sort of situation.  It was a little more quiet and secluded than the rest of the restaurant, so it made for a more romantic atmosphere.  It was also very dimly lit, so again, please pardon the photography.
We spent a long time drooling over the menu and the wine selection.  We chose to have a glass of wine with dinner, though I can't remember what we had.  Their selection is pretty great and choosing was pretty difficult.  We chose to share two appetizers, then share one entree.  We were tempted to order a third item but decided to wait and see how hungry we were after the three dishes (our eyes are typically much larger than our stomachs, so it should be noted that this was a very grown-up responsible move on our part).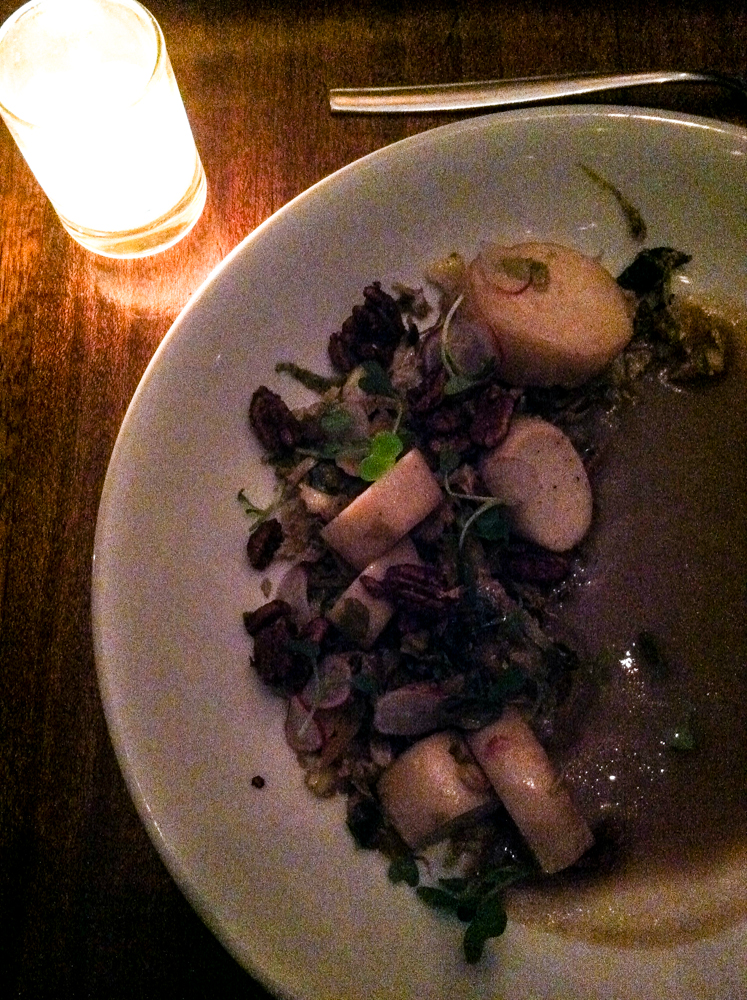 We started with the King Oyster Mushroom Scallops with Brussels Sprouts and Shiitake Miso Broth.  This was my first time having king oyster "scallops" and after trying them, I know it certainly won't be my last.  There was so much flavor in each bite, and the miso-glazed pecans were stellar.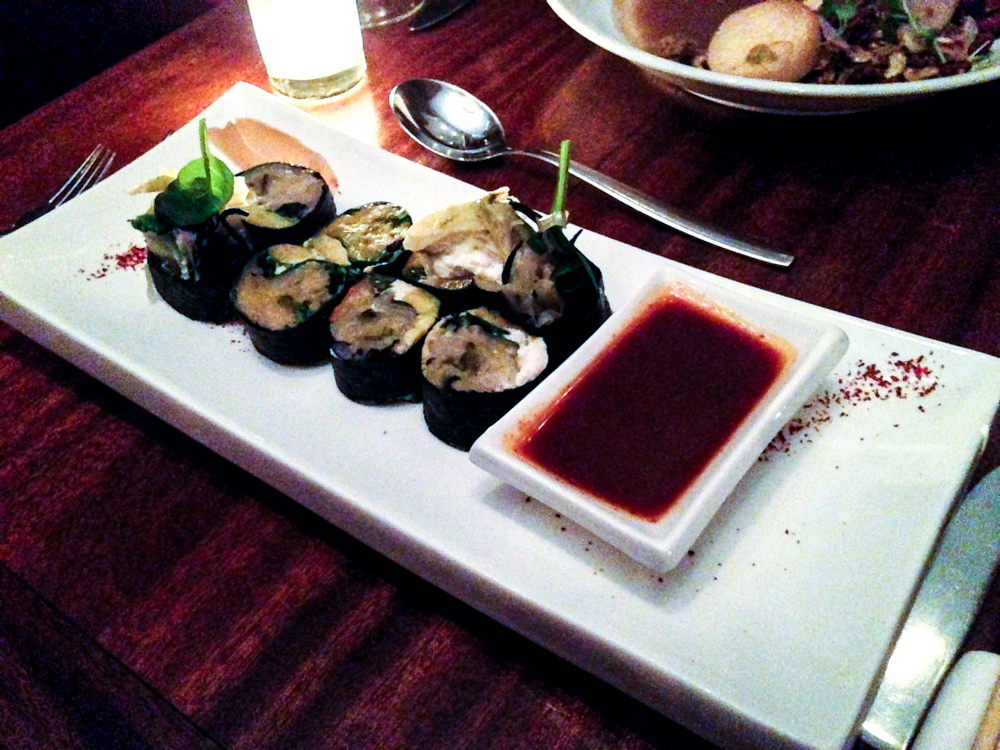 Our second appetizer was the Philly Roll with Avocado, Kim Chee, and Creamy Cashew Cheese.  This was my favorite part of the meal.  It was so boldly flavored and the creamy cashew cheese with a nori roll was just unreal.  It wasn't as great as Beyond Sushi, but still, it was pretty amazing.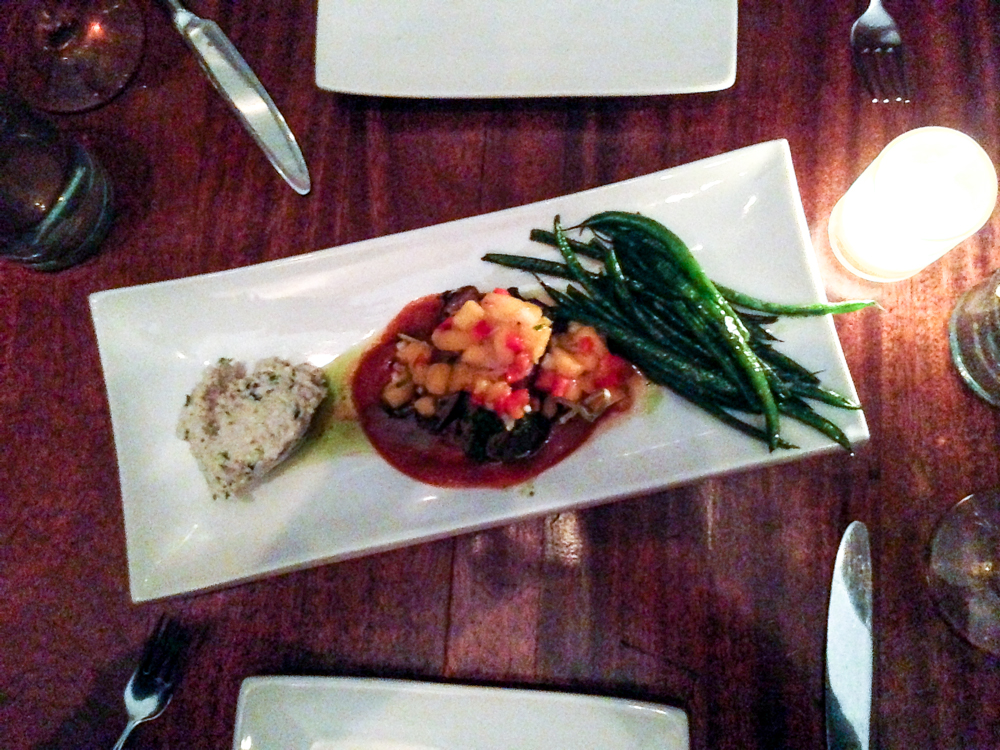 For our main course, we chose the Portabella Mushroom with Cauliflower and Horseradish Aioli because we, apparently, can't get enough mushrooms.  The portabella was incredible with it's mango salsa and barbecue sauce, but what really blew our minds was the cauliflower and horseradish aoli.  I wish there was a word stronger than "love" that I could use to describe this complexly flavored side.  I wish I could buy tubs of this stuff to keep stocked in my house.  Insane.
We were perfectly satisfied after two dishes (pat on the back for us).  And because we had a giant cookie from Babycakes NYC waiting for us at the hotel room, we decided to forgo dessert.  It felt criminal to leave without tasting their pumpkin cheesecake or salted caramel tart, but you can bet your sweet toosh that we'll be coming back here the next time we're in NYC.
154 East 79th Street, at Lexington Avenue, Upper East Side
Candle 79 was one of the places we knew that we needed to visit while we were visiting New York.  Since Chris's birthday fell during this time, it felt appropriate to go there for his birthday dinner.
When I made the reservation, I was asked it if was a special occasion.  I told them that it was my husband's birthday, and they replied that they would surprise Chris with a cake.  I was excited until I got off the phone and remembered that Chris really doesn't care for that sort of thing and definitely does not like a big deal being made about his birthday.  I was nervous all day about this, so when we got there, I waited for Chris to use the washroom before finding my waiter and explaining the situation.  He completely understood and nixed the cake plans and I was able to breathe a sigh of relief.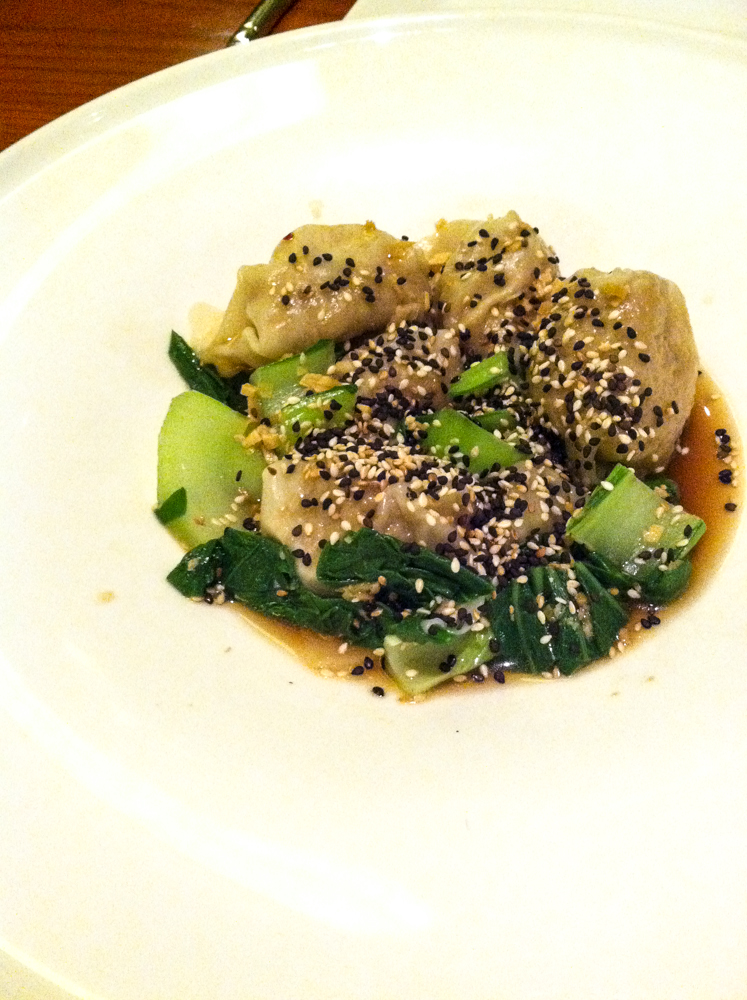 We chose to start with the Steamed Dumplings as our appetizer.  These dumplings were filled with seitan and shiitake mushrooms and served with baby bok choy and a sesame-ginger soy sauce.  I don't remember the last time I had dumplings of any sort, but these dumplings were so incredible that as soon as we got home, I started researching how to make dumplings myself.   So incredibly amazing.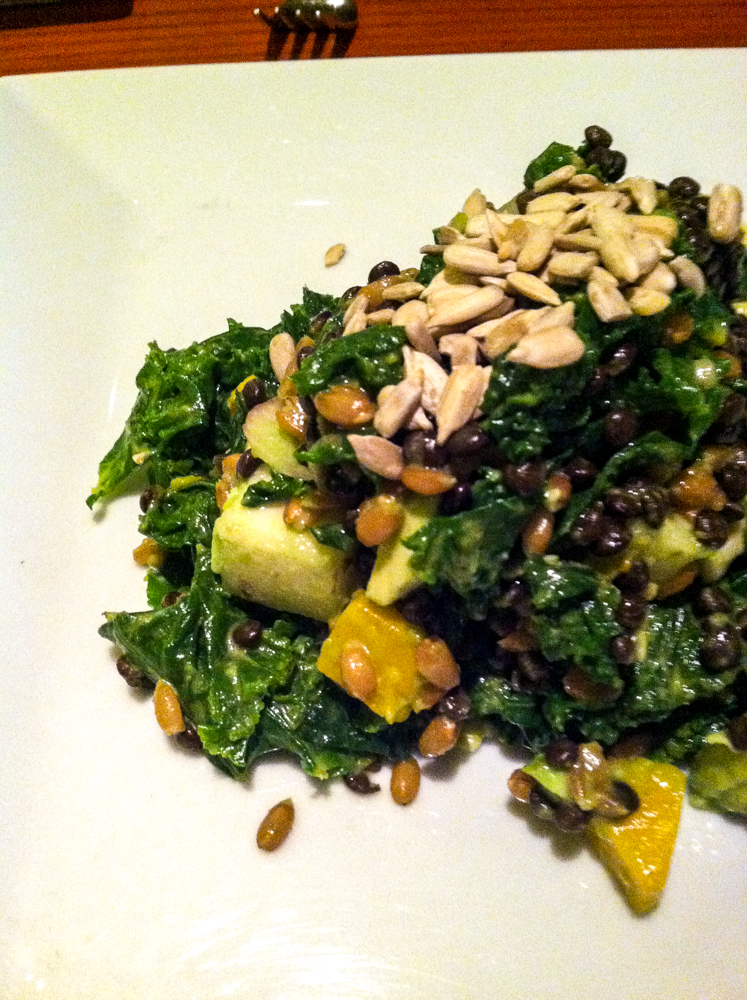 We then decided to share a salad and an entree.  For the salad, we shared the Grilled Kale Salad, filled with haricot verts, beluga lentils, red onions, turnips, sunflower seeds, squash, avocado, and spelt berries with a chive vinaigrette.  Turnips, squash, and avocado in one salad!  With kale!  It was like the kale salad of my dreams and made me wish I had ordered it all for myself.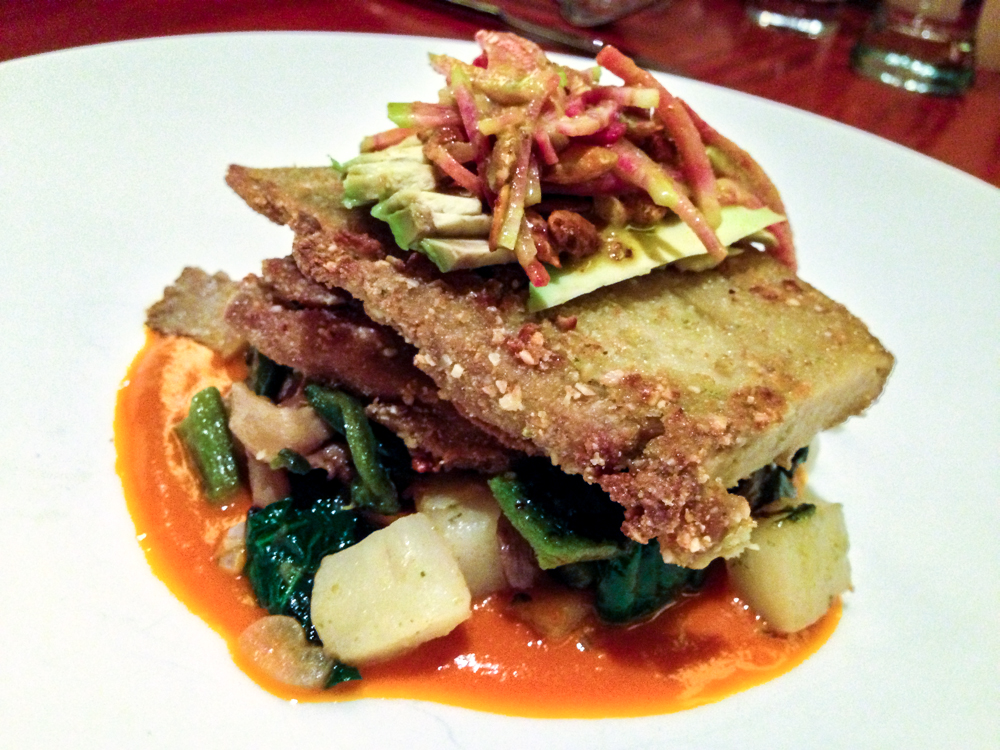 For our entree, we shared one of the specials they had for the evening: Pumpkin Seed Crusted Seitan.  The seitan sat on a bed of potatoes, canelloni beans, and greens, in a pool of chipotle tomato sauce.  It was topped with pablaño peppers, sautéed shallots, and slices of avocado.  I never in a million years could have dreamt up a dish this great.  It was so brilliant and so perfect. and so delicious.  I was in awe.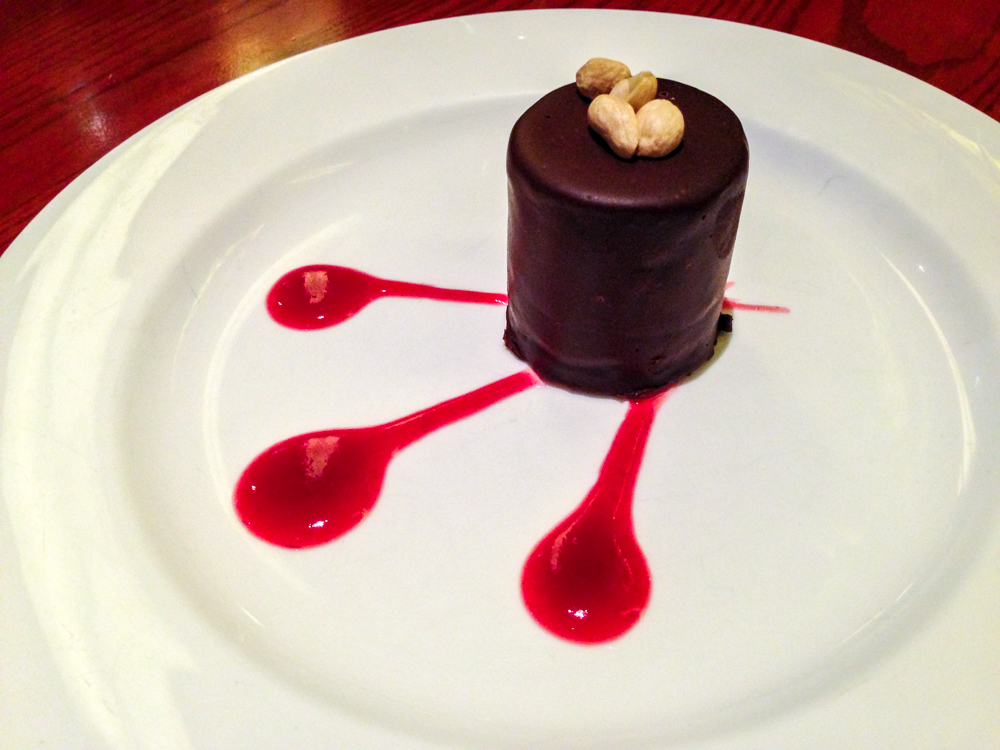 For dessert, I wanted to try the brownie that Bex raved about, but alas, the birthday boy saw something else that caught his eye.  "How can we not order something called 'Chocolate Peanut Butter Bliss?" he asked.  I couldn't argue- I loved all the words in the title, so Chocolate Peanut Butter Bliss it was.  I would have to say, however, this dessert is not appropriately named.  "Bliss" does not accurately describe this dessert.  "Euphoria" or "Insanity" might be more appropriate.  The chocolate and peanut butter mousses enrobed with that perfect chocolate shell absolutely left me speechless.  Chris muttered a lot of expletives, as he does when he's excited about something he's eating.  It was perfection on a plate.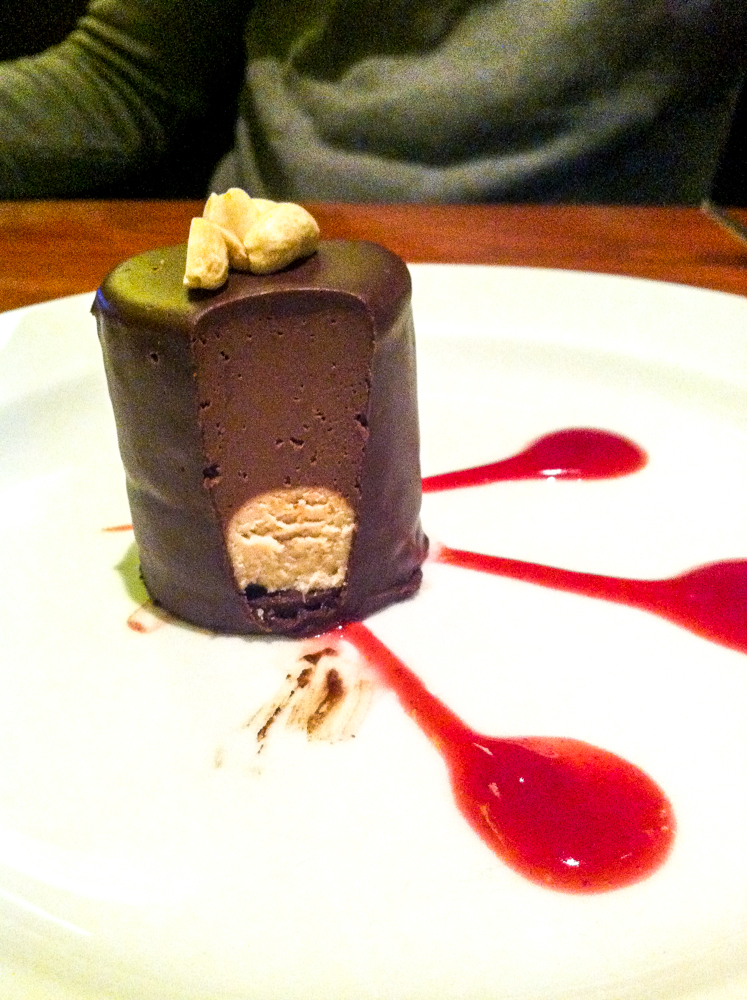 Our entire meal at Candle 79, however, was perfection.  Chris said it was the best birthday dinner he'd ever had.  And we spotted a famous vegan while we were there (a certain "Batgirl" who, I must say, is even more stunning in person than she is on screen).  It was a wonderful night.
Please join me next week for the last part of our adventure in New York: Brooklyn!
Be sure to check out all of the posts in the "Vegan Travel: NYC" series: