During the first week of January, Chris and I were fortunate enough to be able to spend a week in New York City.  We had so much fun and enjoyed so much great vegan food!  New York City, without a doubt, has Los Angeles beat when it comes to incredible vegan food.  We were just blown away with the quality of vegan eats in this city, and I can't wait to tell you all about them in this series, "Vegan Travel: NYC."  
Imagine a line splitting the island of Manhattan in half, ignoring all of the cute neighborhoods, beautiful parks parks and incredible landmarks- today I'm sharing with you "Part 1" of what we did/ate on the eastern side of that line.  Please pardon some of the not-so-great iphone photography...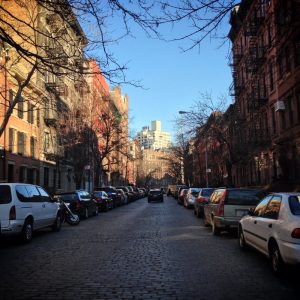 There was one day where we spent most of the day walking.  We took the subway to Greenwich Village (technically on the West Side of Manhattan, but it was our starting point for the day) and we spent a long time walking around the cute streets and looking in the windows of adorable shops.  We walked southeast until we hit Washington Square Park and marveled at the Arch and the charming college town atmosphere.  After that, we decided we needed something warm to drink, like coffee, and something sweet to go with it.  After consulting Yelp, we knew where we needed to go.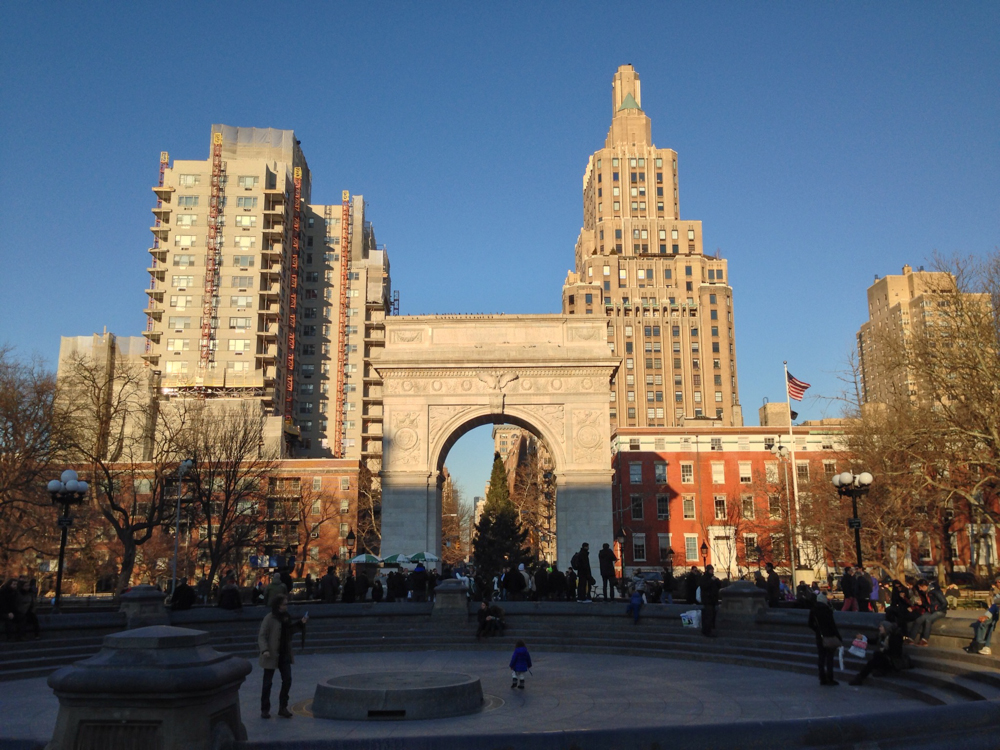 We left Washington Square Park and continued southeast, wandering through SoHo, Little Italy, and Chinatown until we found ourselves in the East Village and our destination: Babycakes NYC.
248 Broome Street, between Orchard & Ludlow, Lower East Side
Now, I've been to the Babycakes location in Los Angeles and I've had the pleasure of sampling several of their treats, but because I'm such a fan of theirs (everything is vegan, mostly gluten-free, sugar-free, and crazy-delicious!), I was thrilled to walk in the doors of their original location.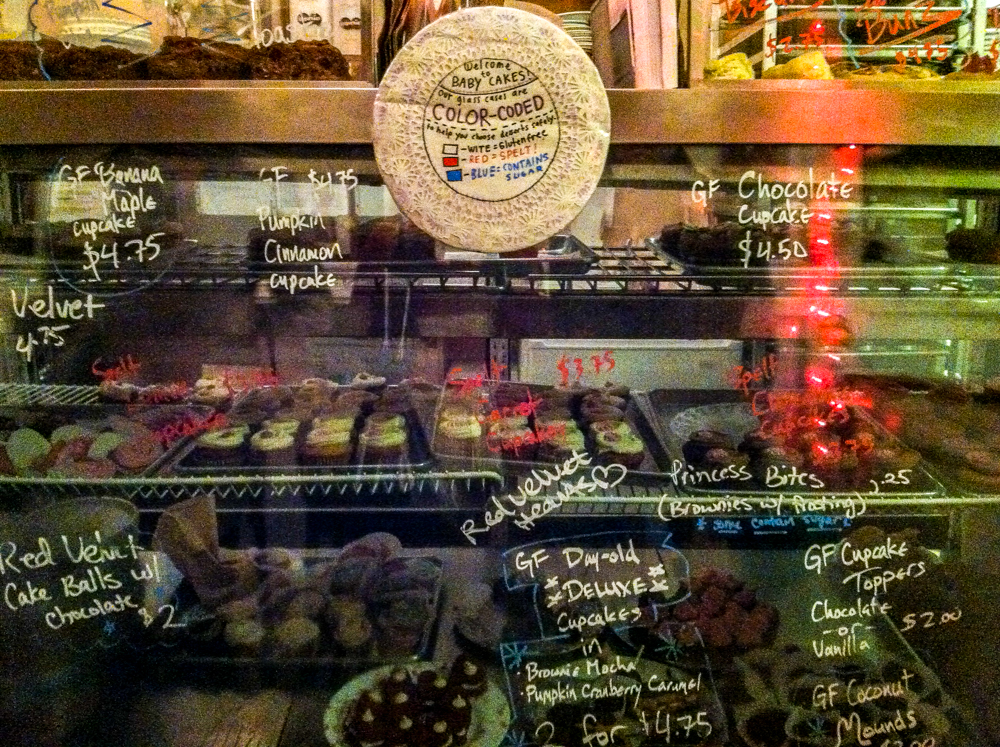 It's a small little space so Chris and I spent a good amount of time squished onto one stool, staring at all of the goodies.  There was so much amazing choices, we just couldn't make up our minds.  Cupcakes, donuts, cakepops, whoopee pies, cookies, and so much more.  We finally made a selection of a few sweet things, and one savory thing (to be more of a "healthy" snack to balance out the dessert snack we were about to have).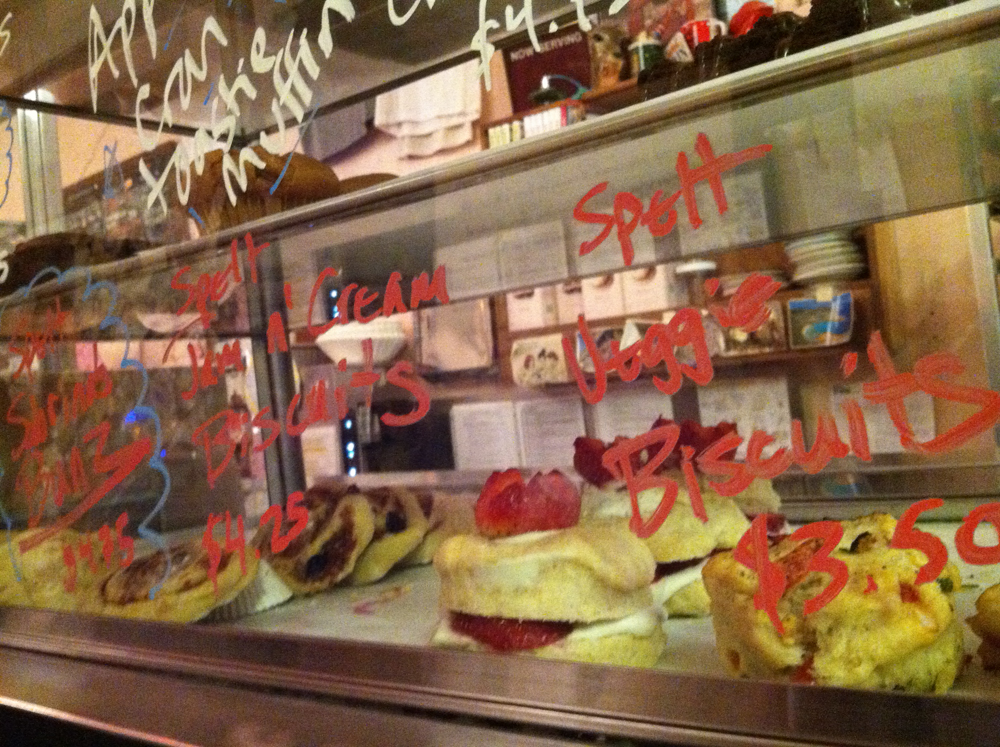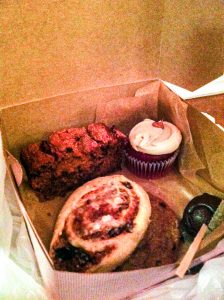 We chose a chocolate-covered red velvet cakepop (ridiculously good),  a red velvet cupcake (can you tell we love red velvet?), a sticky bun sort of thing (oh. my. lord.), a chocolate chip cookie (because we needed to include at least one cookie), and pumpkin chocolate chip bread (the best thing ever).  Then for our "healthy" snack, we got this mixed veggie spelt biscuit (which you can see in the case in the picture above) but seriously, you need to try this once in your life.  What a biscuit!  And just so you know, we didn't eat all of those desserts at once.  We just shared the biscuit, the sticky bun, and the cakepop (because it would melt if we didn't eat it right away), and before you say "Damn, girl!," it was about 4:30pm and we hadn't had lunch yet, so we were pretty hungry.  The cookie happened after dinner, and the pumpkin bread was our breakfast the next day.  And there's my Babycakes food diary.  Moving on...
Just a little north of the Lower East Side is the Gramercy and the East Village neighborhoods.  One night, we had just the most spectacular night of vegan food.  It was an excellent night to be vegan.  We took the subway to Union Square and walked to the Gramercy neighborood where we had the best sushi either of us had ever had, and one of the best meals we had while in NYC.
229 East 14th Street, between 2nd & 3rd Ave., Gramercy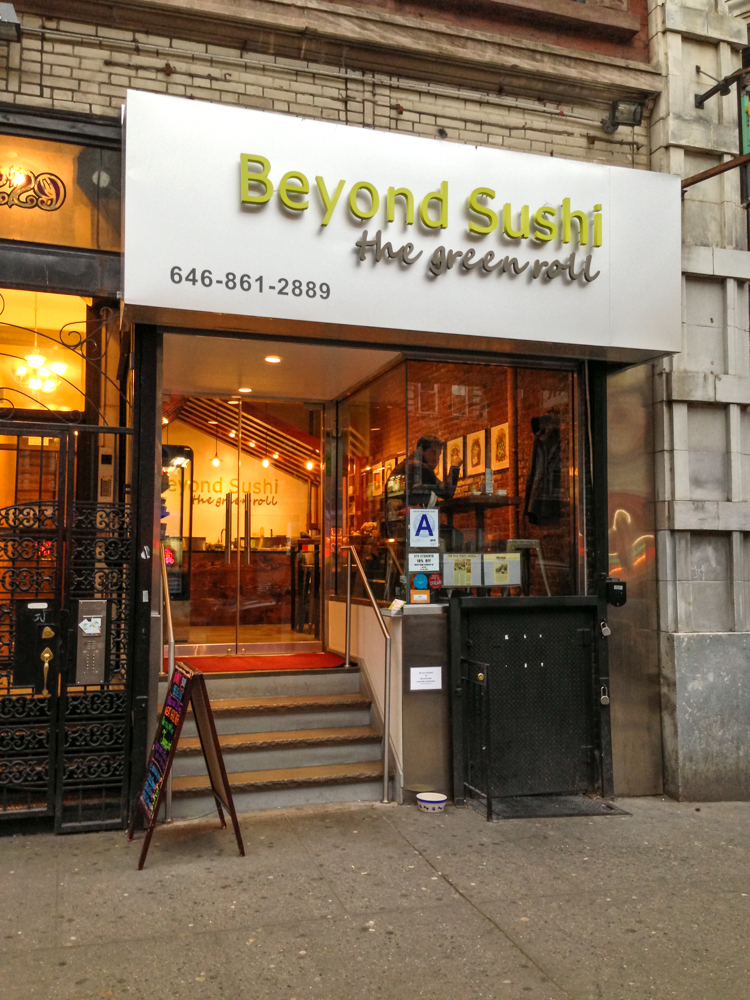 If you were to ask Chris what food he missed most when he became vegetarian several years ago, he would tell you it was, without a doubt, sushi.  I, on the other hand, never liked sushi until I became vegan and began trying incredibly creative and delicious sushi creations at various restaurants in LA.  All of those great rolls, however, are nothing compared to the rolls we had at Beyond Sushi.
Beyond Sushi is a completely vegan sushi restaurant, offering 8 different rolls, and one special roll per month.  There are also a few salads and soups on the menu, along with four individual "pieces," but the highlight are these beautiful rolls.  We decided to share four different rolls and we were told that with the purchase of two rolls, you get two separate pieces.  Bonus!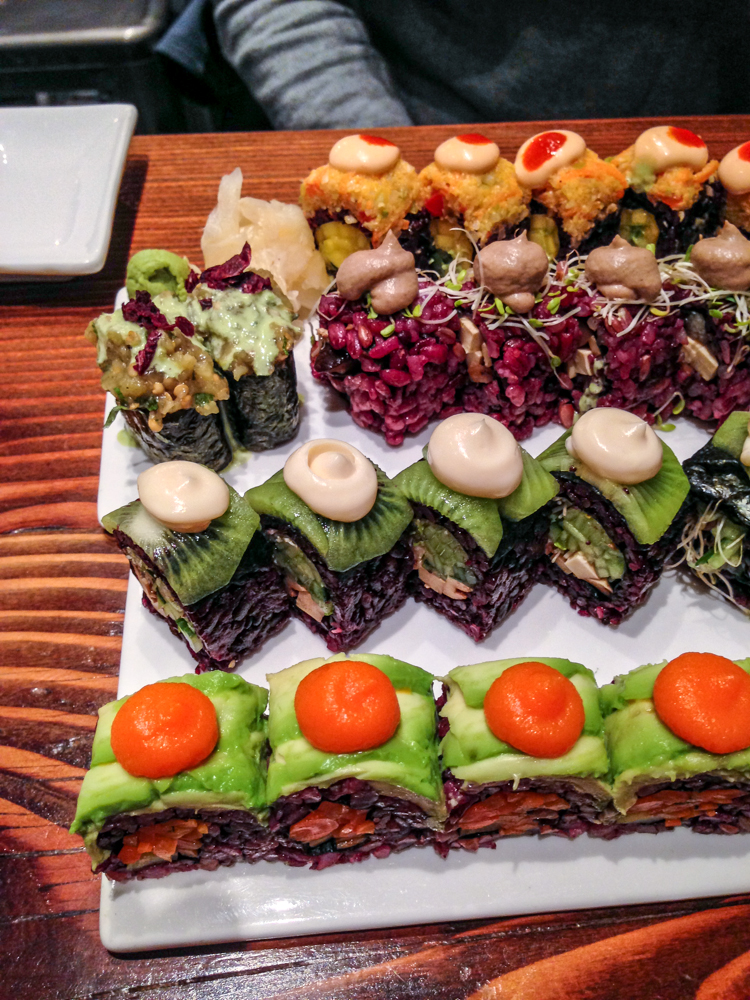 Here are the rolls that we ordered: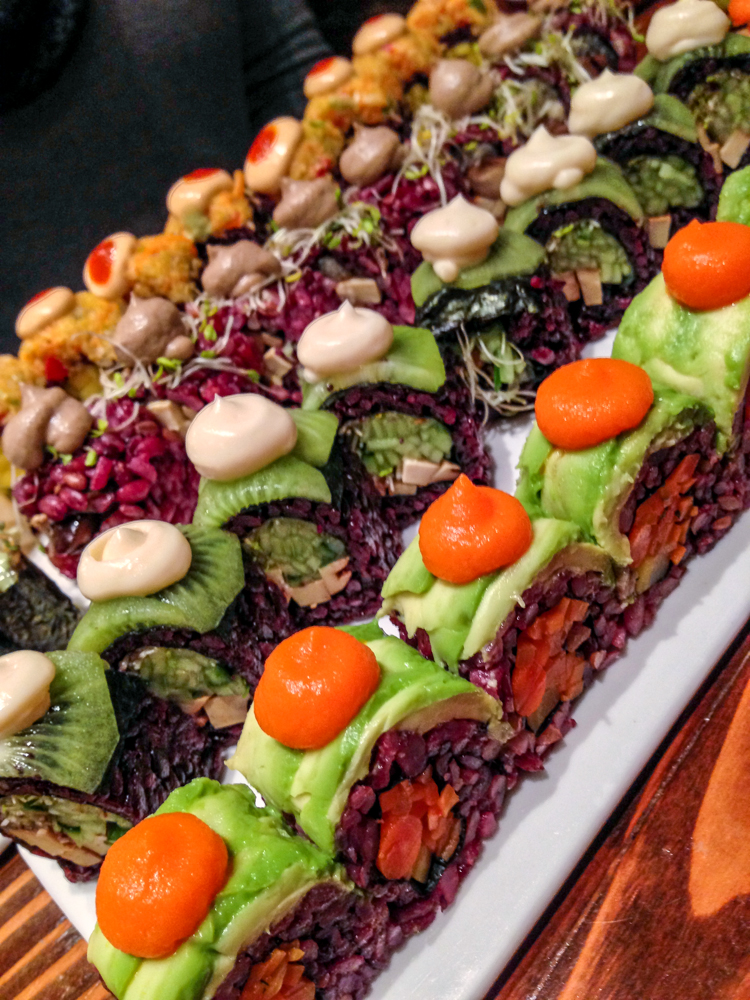 Crunch N' Munch (pictured above, 2nd row).  This roll comes with black rice, alfalfa, English cucumber, baked tofu, and kiwi, then topped with white miso sauce.  I loved all of the different textures in this roll, and the kiwi on top is gorgeous.  The white miso sauce really makes this roll pop.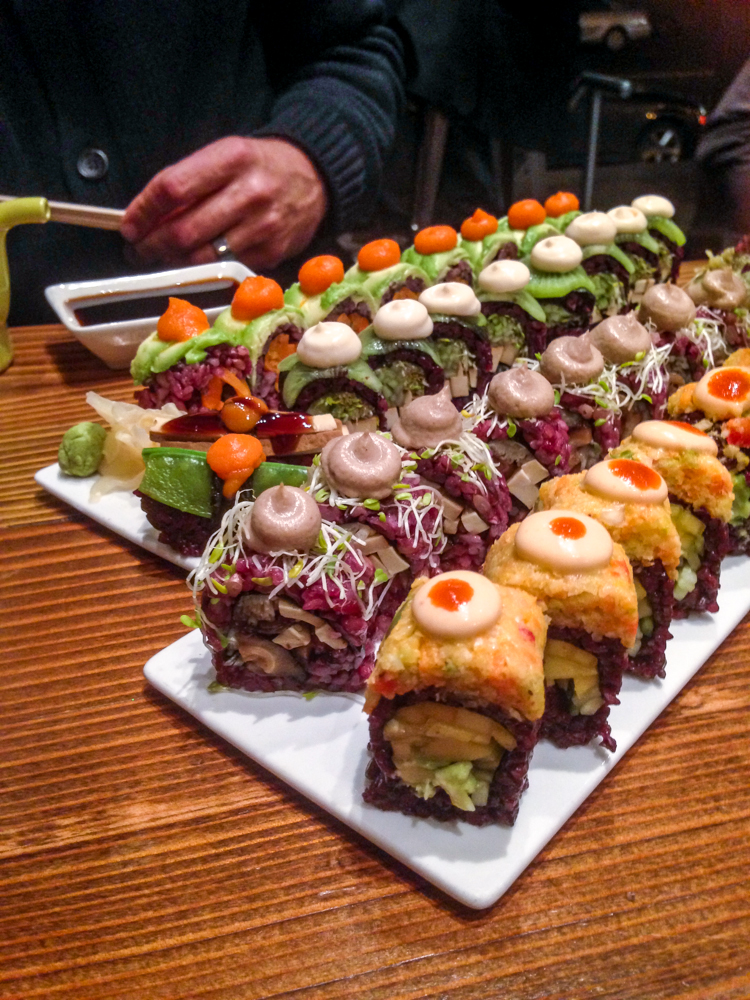 Mighty Mushroom (pictured above, 2nd row).  This roll comes with six-grain rice, enoki and shiitake mushrooms, tofu, and micro arugula.  It's served with an incredible shiitake teriyaki sauce.  Mushroom lovers, this one is for you.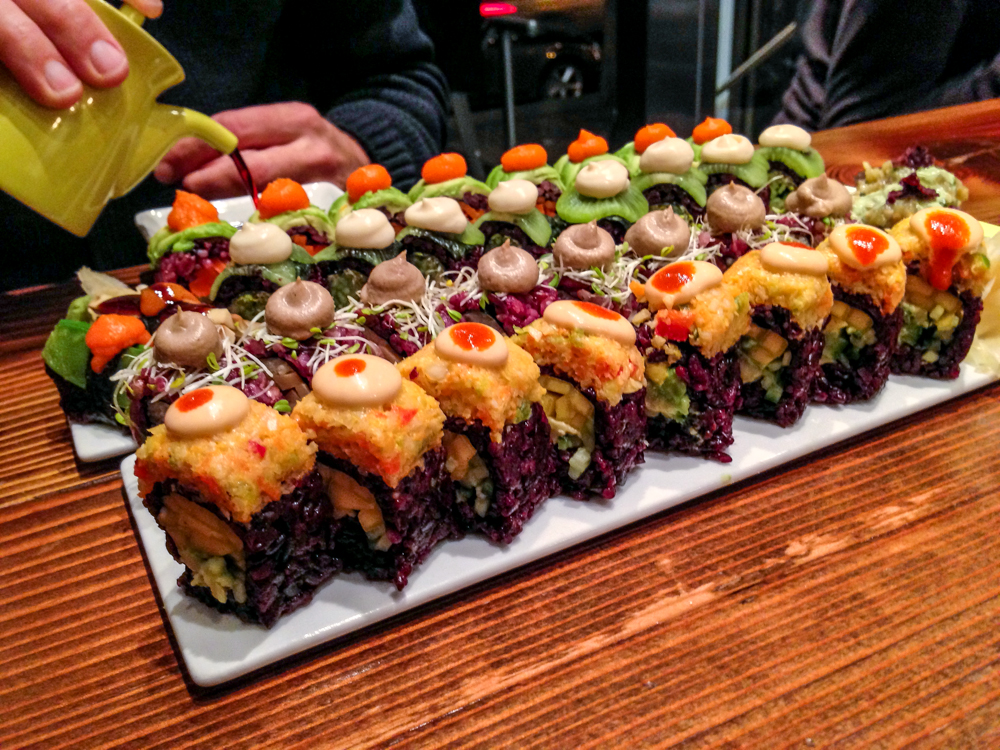 Spicy Mang (pictured above, 1st row).  This roll comes with black rice, avocado, mango, cucumber, and spicy veggies, then topped with toasted cayenne sauce.  We both loved this one, but I think this one was Chris's favorite.  The combination of the avocado, mango, and cayenne sauce is just absolutely superb.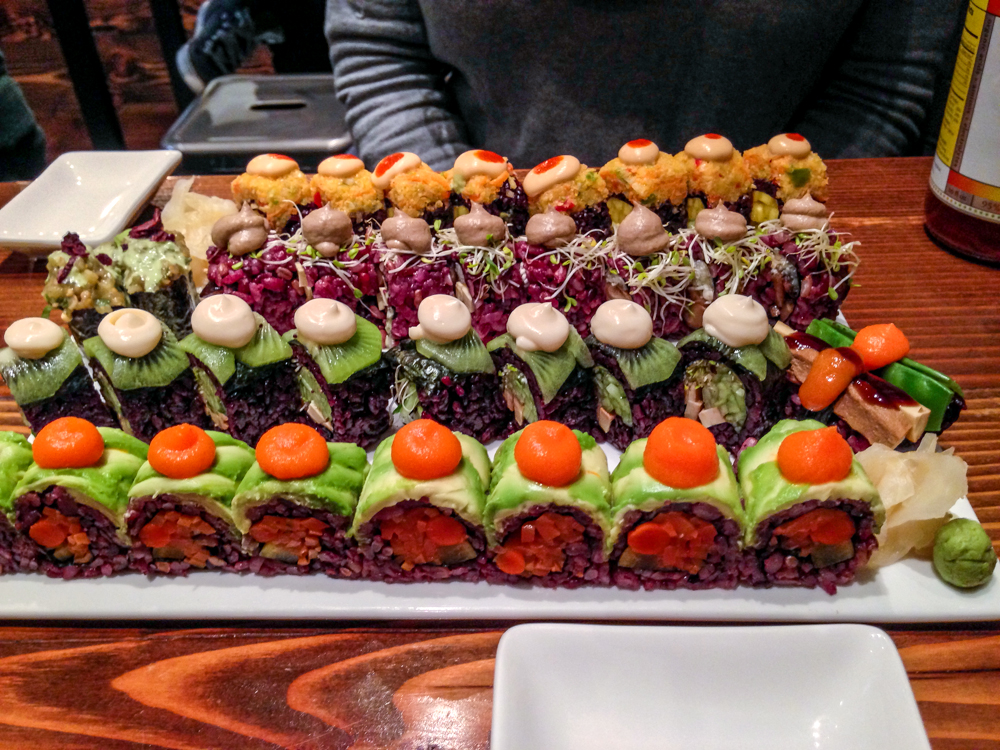 Pickle Me (pictured above, 1st row).  This roll comes with six grain rice, gobo, carrot, pickled daikon, and avocado. The carrot ginger sauce that tops this roll makes it a huge winner in my book.  The owner recommended this roll to us because it is his favorite.  I would have to say that it was my favorite too.  There's just so much flavor!  I could eat this roll everyday for the rest of my life.
We were absolutely over the moon about this place.  We even came back and got some to take with us for dinner on our flight back home.  Beyond Sushi is an absolute must if you are visiting New York City.
After sushi, we walked down to the East Village to get dessert at the legendary Lula's Sweet Apothecary.
516 East 6th St., between Avenue A & Avenue B, East Village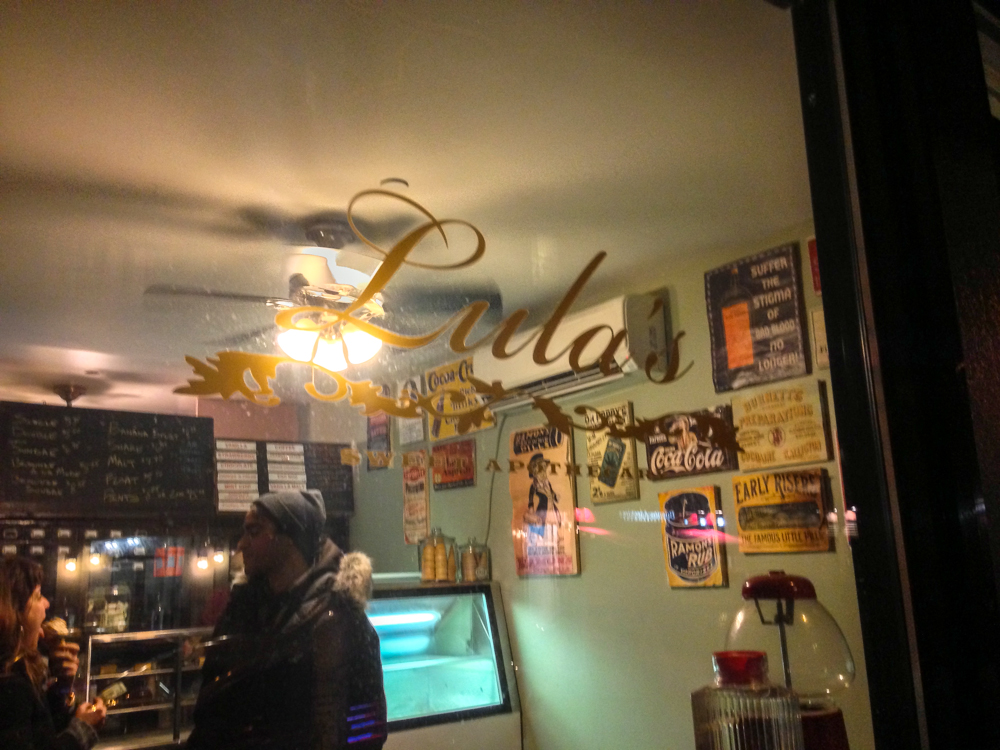 Imagine an old school ice cream parlor in small town USA.  The shelves are stocked with candy and the ice cream flavors are written on a chalkboard behind the ol' fashioned cash register.  Perfect, right?  Now, make all of that ice cream and candy vegan and place it right in the middle of the adorable East Village in NYC and you've got yourself Lula's.
As soon as we walked in, Chris and I behaved like children, staring through the glass of the ice cream case, gazing at all the flavors.  Even though we were stuffed with sushi, we rationalized that ice cream melts and fills in all of the cracks so it would be okay if we had a tiny bit on a full stomach.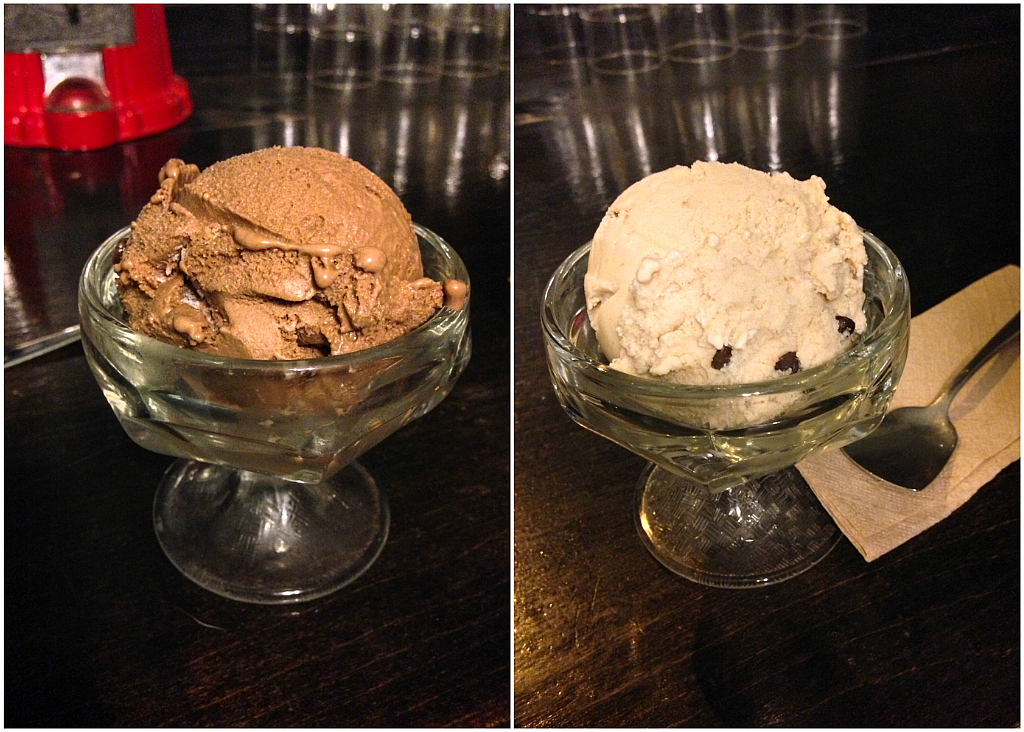 Chris chose chocolate and I chose peanut butter.  At first bite, I wanted to scream.  It was the best peanut butter ice cream I've ever had in my life.  Like, ever.  And it had little chocolate chips in it.  Chris's chocolate ice cream was just as incredible.  We took turns taking chocolate/peanut butter combo bites until there was no more left in our tiny, little, antique glass bowls and our bellies were full.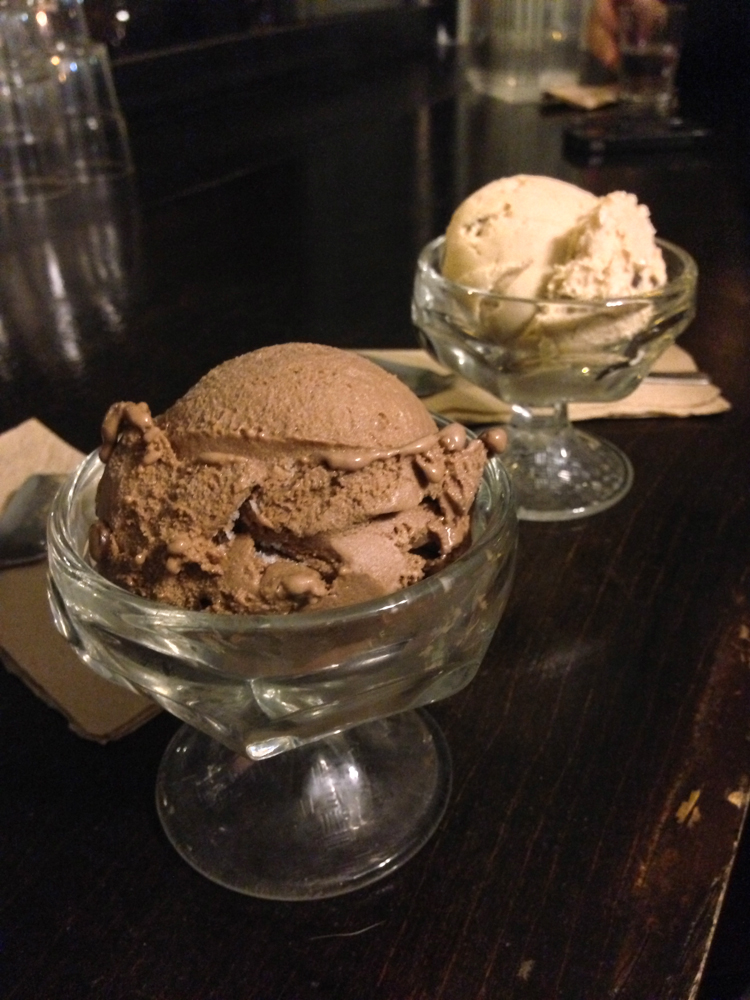 Since then, Vegansaurus announced that Lula's may be closing due to yucky divorce stuff.  I sure hope it doesn't because it truly is a one of a kind establishment and a place where vegans and non-vegans alike can sit and enjoy some ridiculously fantastic ice cream.  Seriously- go now, before it's too late!
After our ice cream, we decided that the only way we could justify all of the food that we ate would be if we walked all the way back to our hotel.  Lula's is on 6th street.  Our hotel was on 44th.  It was definitely a walk that justified indulging in ice cream on a full stomach.  It was a great walk, which led us past the Empire State Building, the Flatiron Building, and tons of other charming New York City streets and buildings.  It was the perfect end to a perfect day.
Please join me next week for Part 2 of our adventures in East Manhattan!
Be sure to check out all of the posts in the "Vegan Travel: NYC" series: