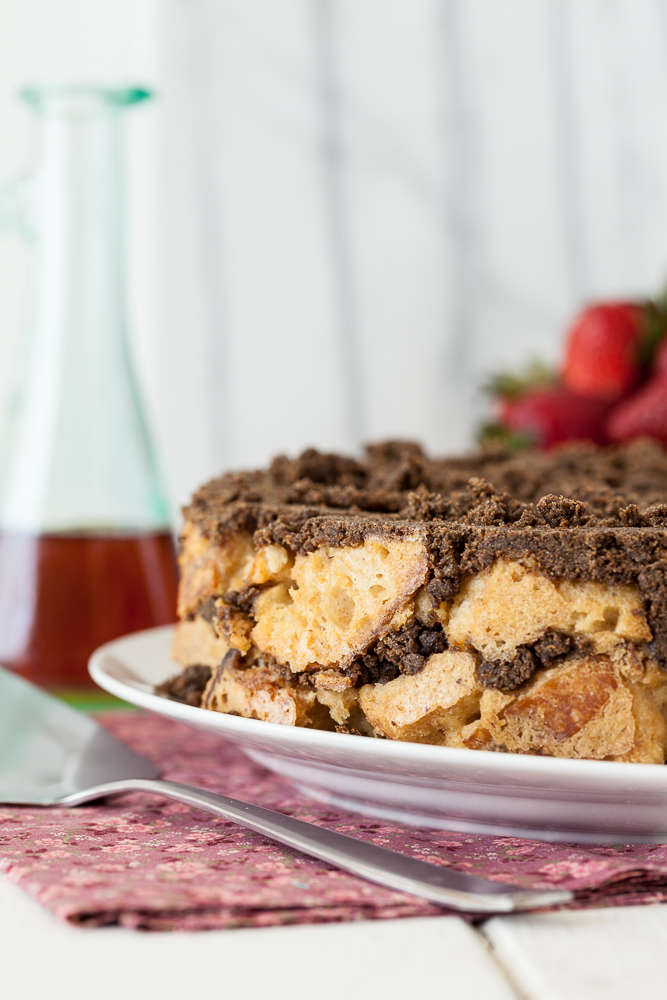 One of the things I love about Chris (there are lots.  I'm sure I've shared with you some and I'm sure I'm going to share more), is that he has just as much of a sweet tooth as I do.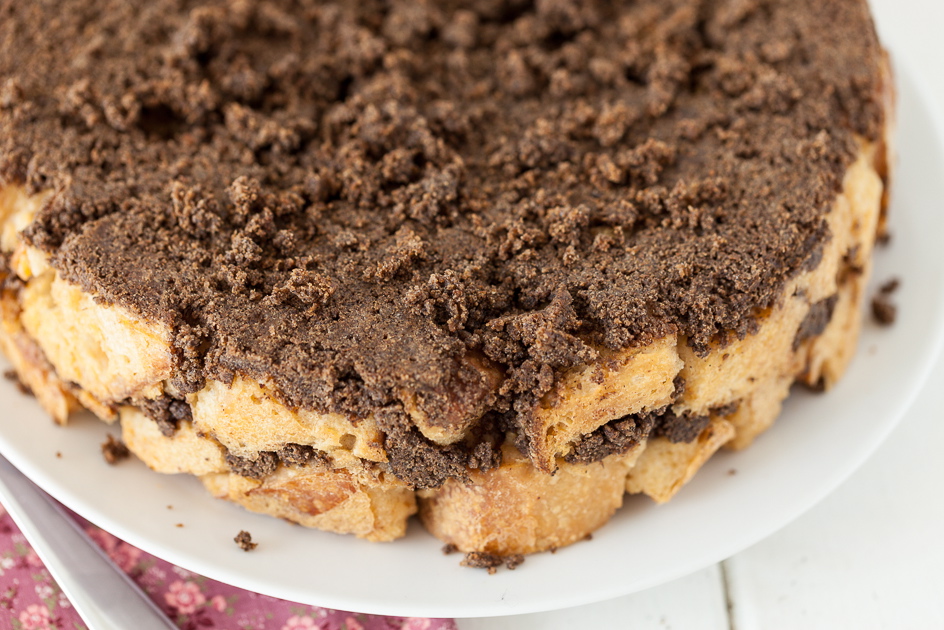 He loves a good piece of high quality dark chocolate and he will never turn down a vegan cupcake if there's one nearby.  He's probably just as much of a cookie monster as I am.  One of his favorite desserts, however, is coffee cake.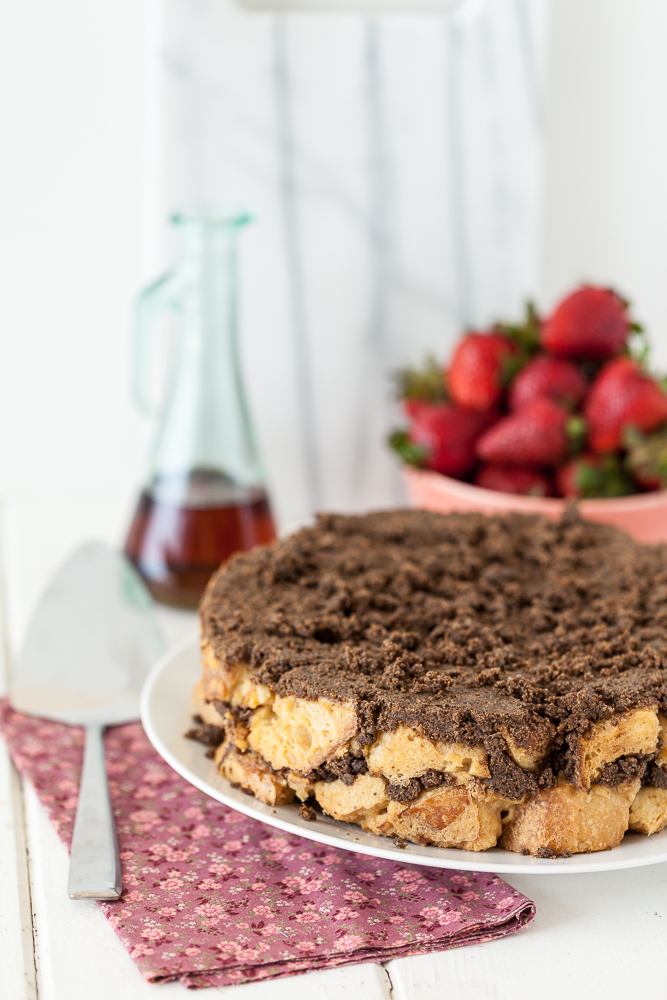 For Easter brunch, I wanted to make him something kind of special but I also wanted to make something I knew the twins would go for (I was unsure of how they would react to straight-up coffee cake).  I also wanted something a little heartier than coffee cake and since I knew the twins like baked french toast, I decided to create some sort of coffee cake/french toast hybrid.  It was kind of a risky stunt- trying out a new recipe for Easter brunch.  I figured, though, how bad could some baked french toast with streusel topping turn out?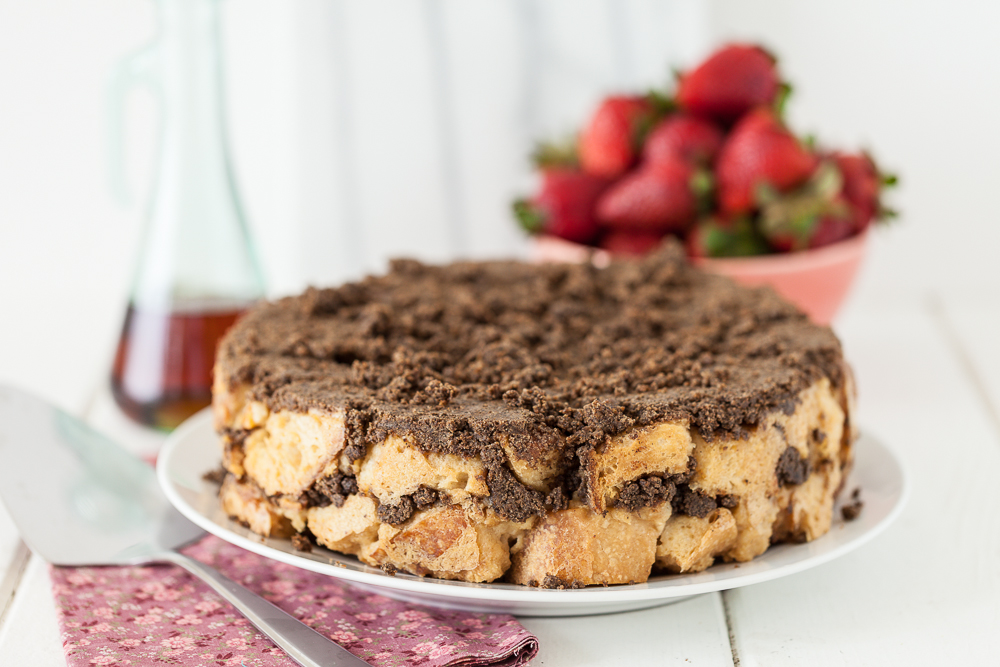 I used a two day-old loaf of crusty sourdough bread, cut into thick slices and then into large cubes.  I used chickpea flour in the french toast mixture, which adds that slightly eggy french toast taste as well as some protein.  I also sweetened the french toast with maple syrup.  I made the french toast mixture the night before so it could soak overnight.  I also made the streusel the night before so all I would have to do in the morning was assemble it and bake it.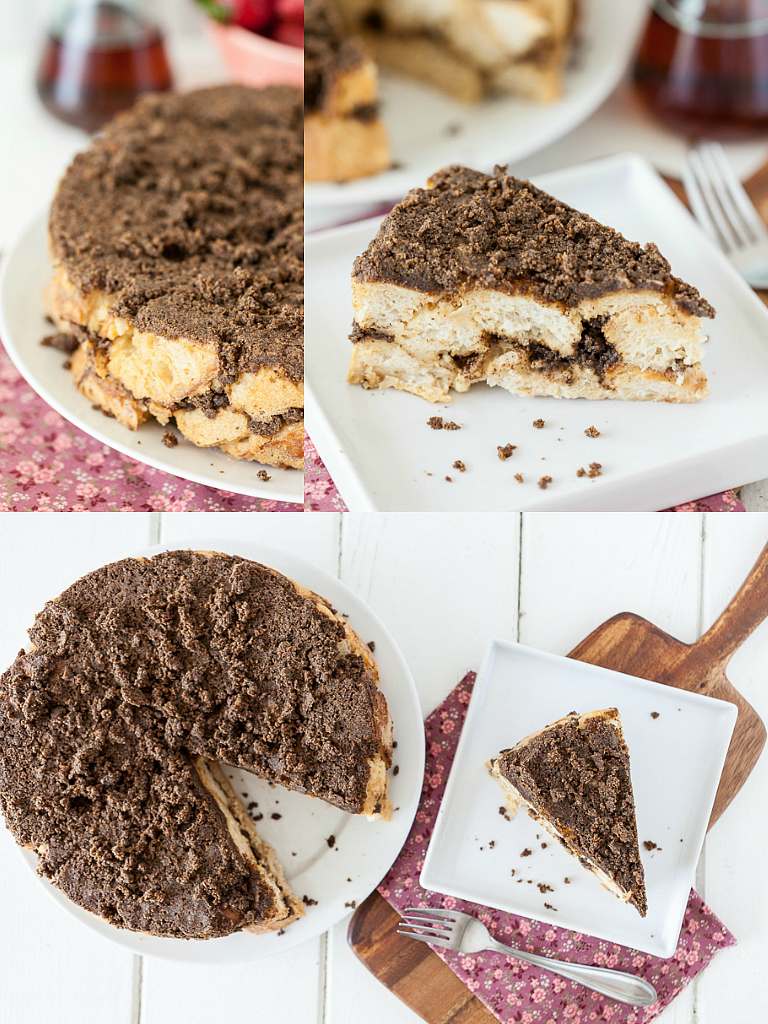 I decided to used a springform pan purely for aesthetic reasons.  I wanted to be able to see the crumbly layer of streusel between the layers of french toast and I wanted to be able to slice it like a cake.  Hearing Chris and Sophia "Ooooooh" and "Aaaaahhh" as I pulled the outer ring off the cake and then again when I turned it out onto it's serving plate made it all worth it.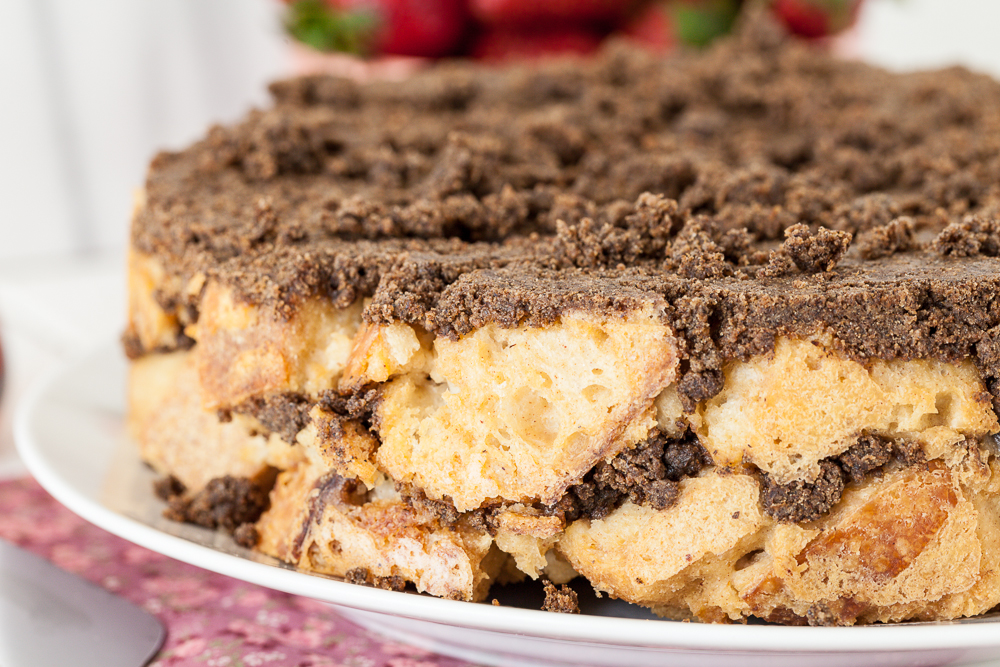 In my mind cinnamon and french toast go hand-in-hand but this took it a step further.  As it turns out, crumbled streusel topping was just what my french toast has been missing all these years!  I also loved how my brain was tricked into feeling like we were eating cake for breakfast, even though it was a hearty french toast.  Chris and I even had to split a second slice because it was just so dang good.  It was truly a decadent breakfast treat and totally worth the gamble.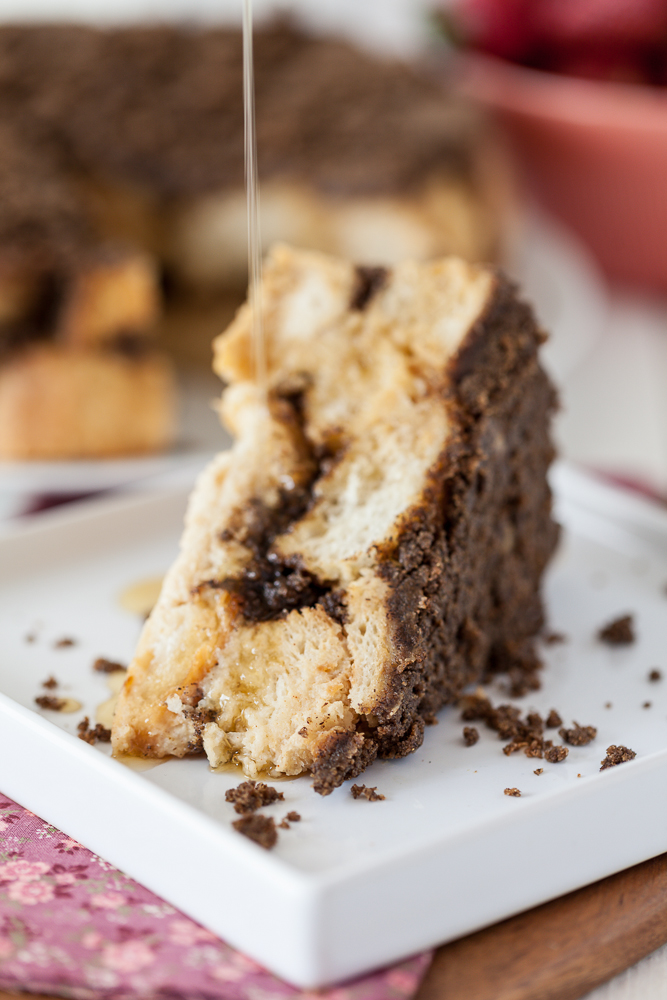 What made this the absolute perfect meal for brunch was not so much how pleased I was with how the recipe turned out but really how excited Chris was about it.  He was muttering "wow" throughout our little photoshoot, and the "wows" kept on coming once he sat down to eat it.  It's one thing to please my sweet tooth, but to please Chris's is so much more satisfying.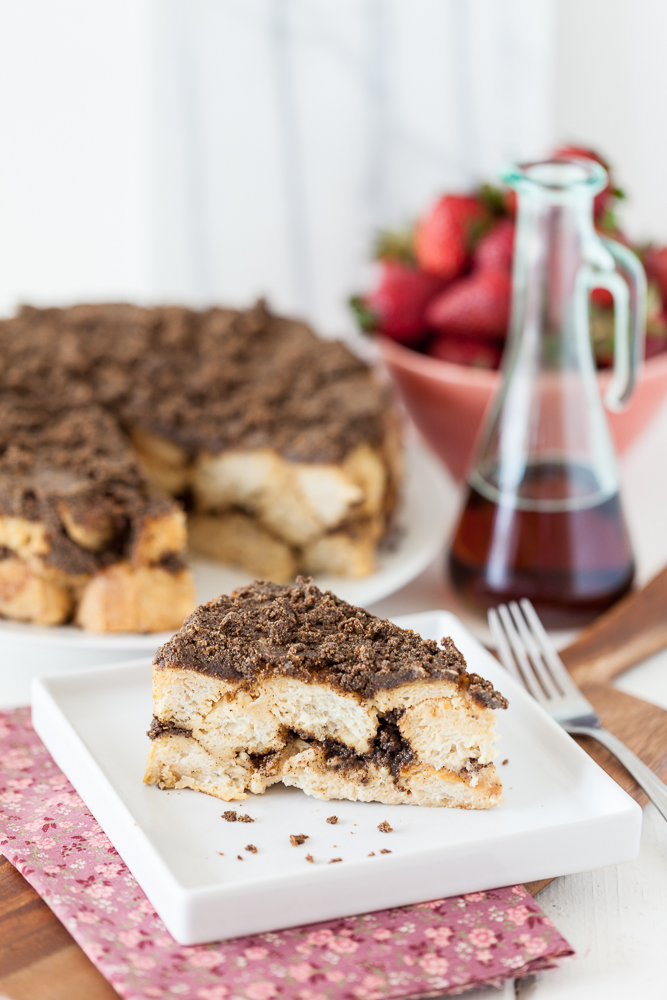 Baked Coffee Cake French Toast
Ingredients
2 cups almond milk
1 cup vegan creamer
1 cup chickpea flour
¼ cup maple syrup
3 tablespoons cornstarch
2 teaspoons vanilla extract
1 teaspoon cinnamon
dash of nutmeg
dash of salt
1 lb loaf of french/sourdough bread (or use a gluten-free loaf, if necessary), thickly sliced and cubed (about 8-10 cups)
1 cup flour (I used buckwheat)
1/2 cup coconut sugar
2 teaspoons of cinnamon
1/2 cup vegan butter (I used Earth Balance Coconut Spread)
Instructions
Grease a 9-10 inch springform pan, or lightly spray with canola oil. Set aside.
In the bowl of a food processor, combine the streusel ingredients. Pulse about 10-12 times, until you have small streusel-type chunks. You can also do this in a bowl with a pastry cutter. Set aside.
Whisk together all of the french toast ingredients, except for the bread, in a large bowl. Once combined, add the bread cubes and toss until every cube is soaked. Cover with plastic wrap and refrigerate overnight.
When you're ready to bake the french toast, preheat the oven to 325. Lightly grease or spray a springform pan with oil. Spread 1/2 of the streusel mixture onto the bottom of the pan. Add 1/2 of the bread cubes. Spread the remaining streusel onto the bread cubes. Add the remaining bread cubes, pour any remaining liquid over the top and press it all down into the pan.
Place the pan in the oven and bake for 25-30 minutes. Remove from oven and let sit for about 5 minutes. Remove the outer ring of the pan. Use your serving plate and the bottom of the pan to invert onto the serving plate. Slice and serve warm with maple syrup. Enjoy!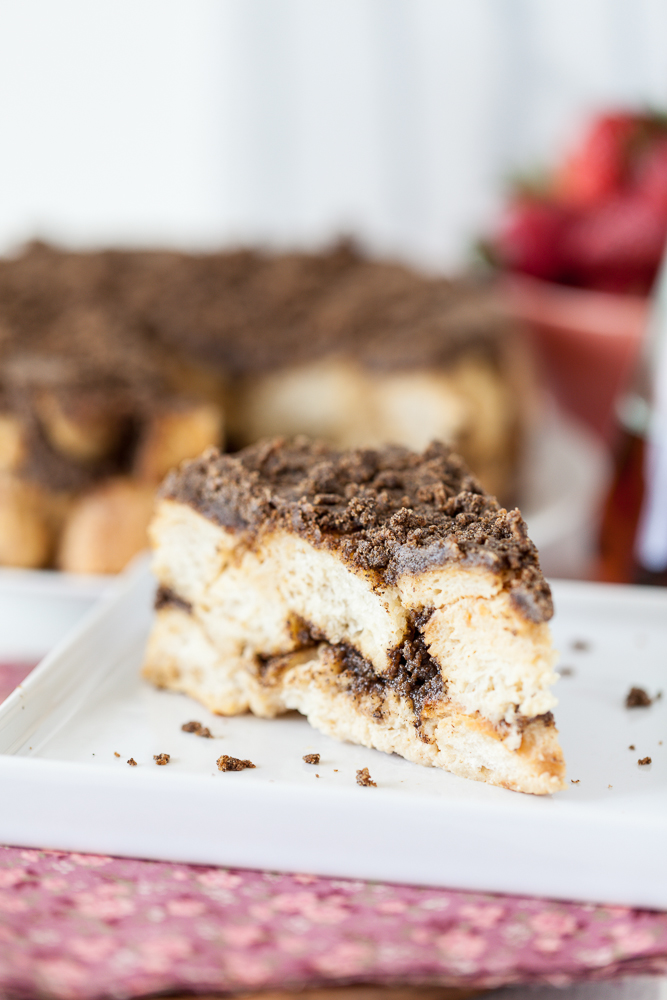 Did you do anything fun for Easter or Passover brunch?  What did you make?
Photography by Chris Miller