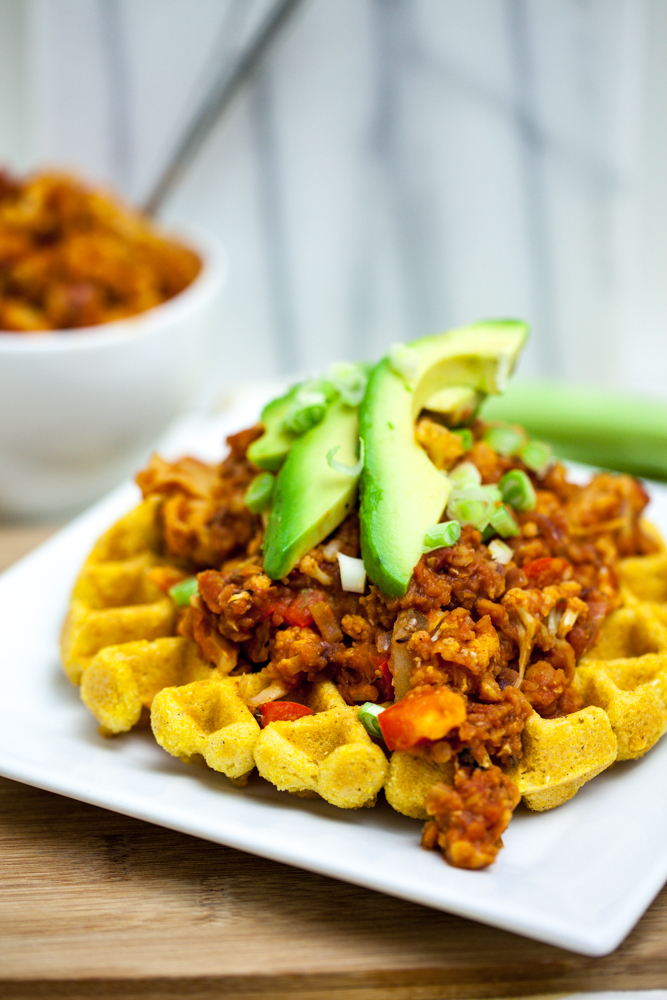 Do you remember your first sloppy joe sandwich?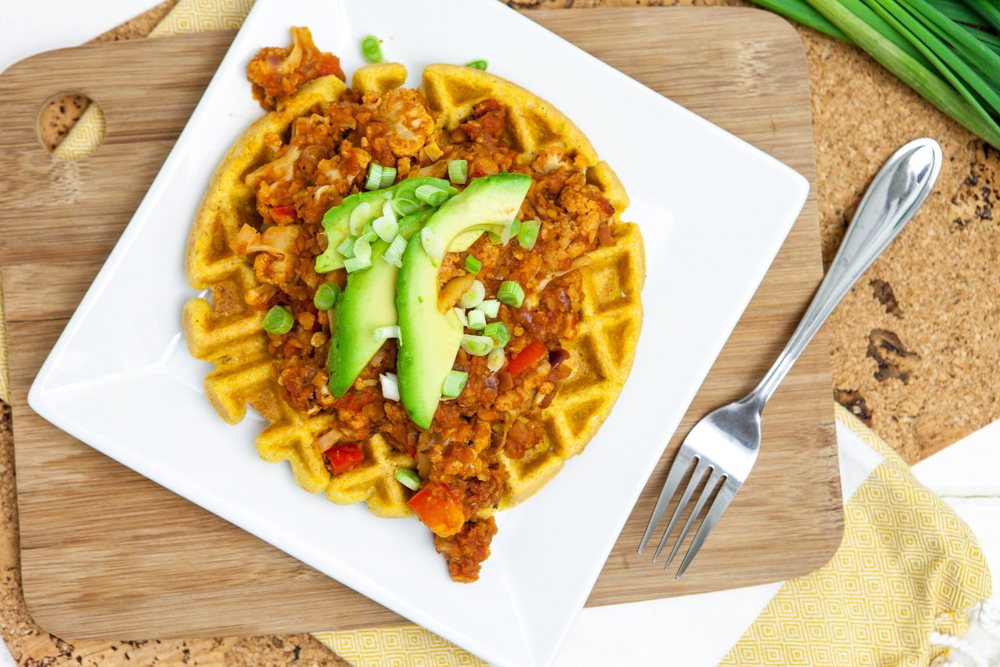 I do.  And it was definitely a far cry from the most recent sloppy joe creation to emerge from my kitchen.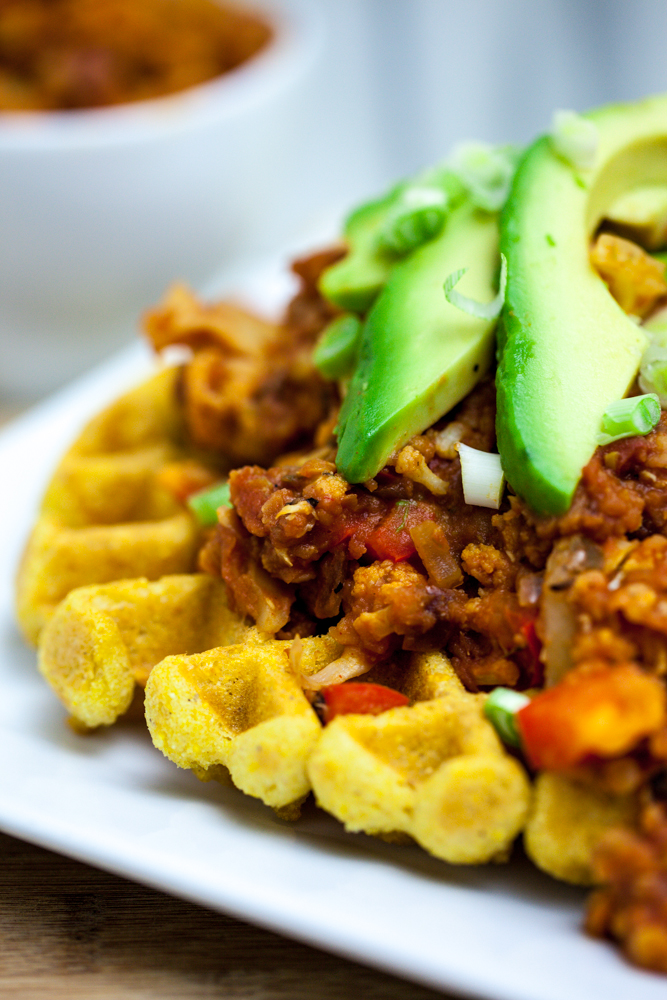 My first sloppy joes experience was at my elementary school cafeteria.  My dad always woke me up, got me ready and took me to school.  This was pretty obvious from my mismatched clothes, my messy odd-looking pony-tail, and the fact that I almost always forgot the lunch one of my parents had made the night before.  I wouldn't realize this until it was time to go to lunch and I'd notice that my She-Ra Princess of Power lunchbox was not on the shelf with all of the other kids' lunchboxes.  My heart would fill with dread and the slow walk to the cafeteria would begin.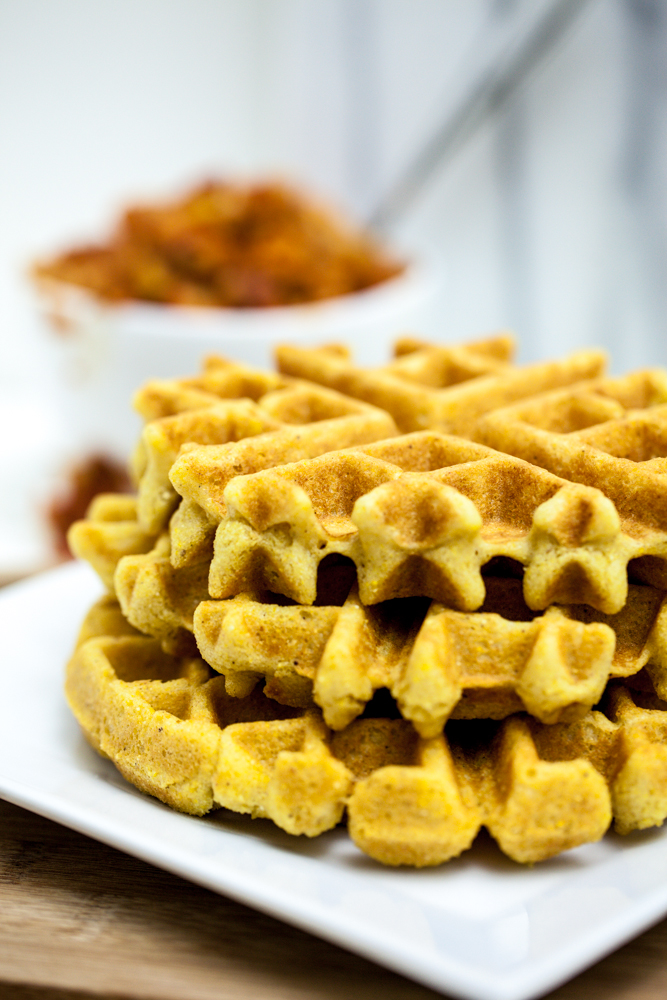 Our cafeteria did not have a selection of items from which the students could pick and choose from.  Instead, the same meal with the same side dishes, dessert and carton of milk was given to each child that needed "hot lunch," as it was called.  I had great disdain for every hot lunch meal I'd ever been served.  Everything had the same flavorless taste, the breads were rubbery, the fruit salads watery, the vegetables mushy.  Even then, I appreciated a good-tasting meal and every hot lunch I had felt like a lunchtime wasted.  In the grand span of my life, I had lost yet another precious meal period to gross food.  It made me grumpy.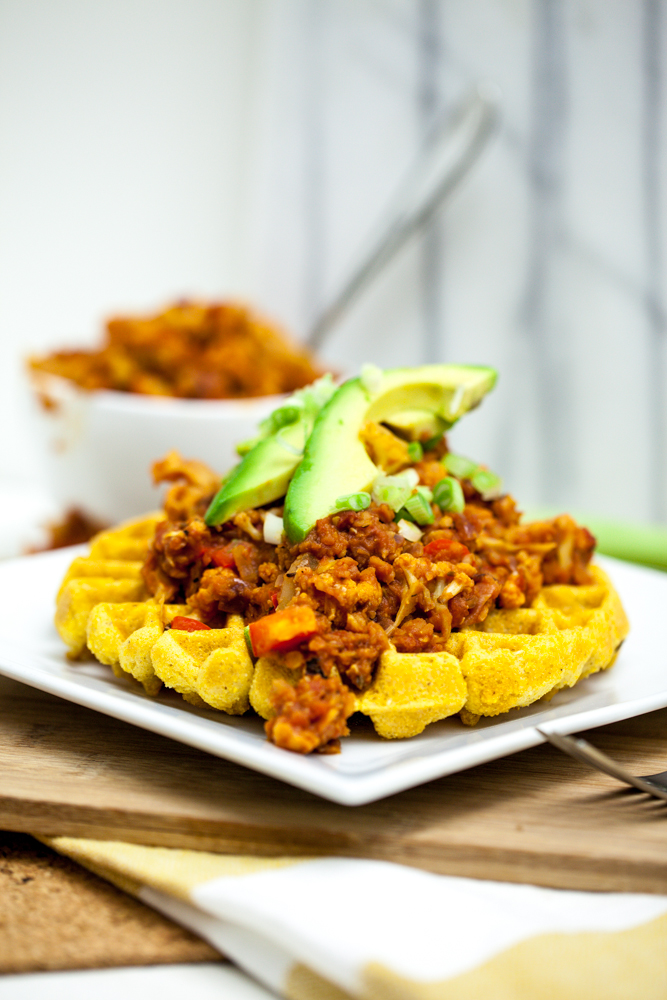 It was one of these forgotten lunchbox days that I was served sloppy joes for the first time.  I didn't want to like it.  I wanted my friends to feel bad for me for having to eat this mush.  I wanted to be dramatic and grumpy for the rest of the afternoon so that when my mom picked me up, she would instantly see that I was depressed and malnourished and find a way to strap my lunchbox permanently to my body so that I could never leave home without it again.  Instead, I took a bite of my sloppy joe sandwich, and was pleasantly surprised.  Aside from the hockey puck bun, this stuff was tasty!  But I had a reputation to uphold.  "The bread is terrible," said my eight-year-old self.  I set it on my tray and proceeded to eat the sloppy joe filling with my plastic spork.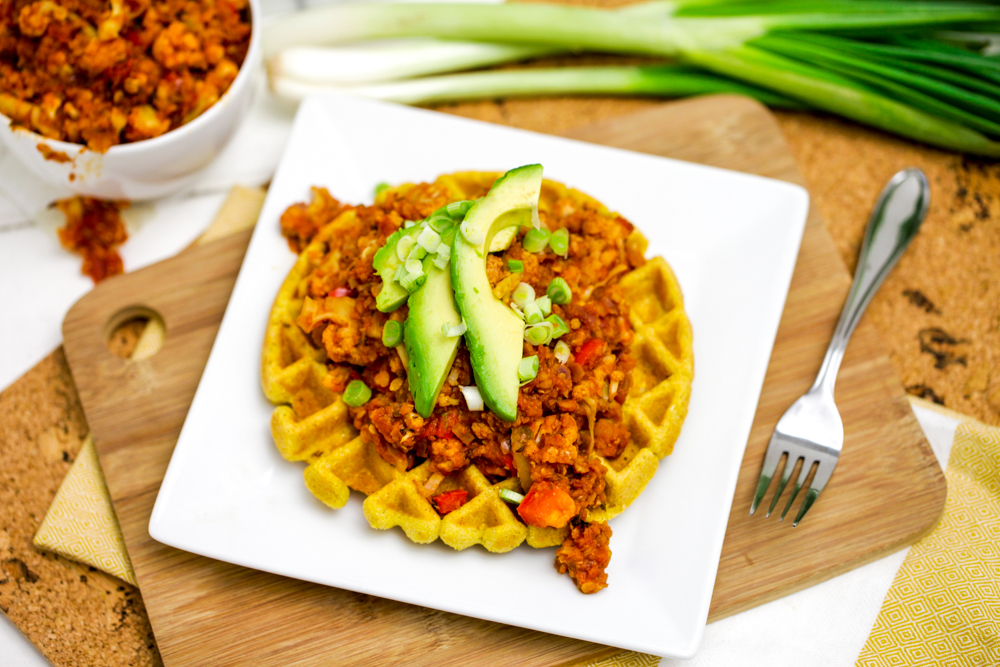 I couldn't let on that I liked this particular meal, though.  It would tear down the facade of the "girl who didn't like hot lunches" that I'd worked so hard to build (I was one dramatic and stubborn child, let me tell you.  God bless my parents for putting up with me!).  So I acted as I usually did when I had to eat hot lunch- pouty and mistreated (Seriously, I was that kid.).  But from then on out, I secretly kept one eye on the hot lunch calendar every student was given each month, noting which days the sloppy joes were to be served.  Of course, I would always conveniently forget my lunch on those days.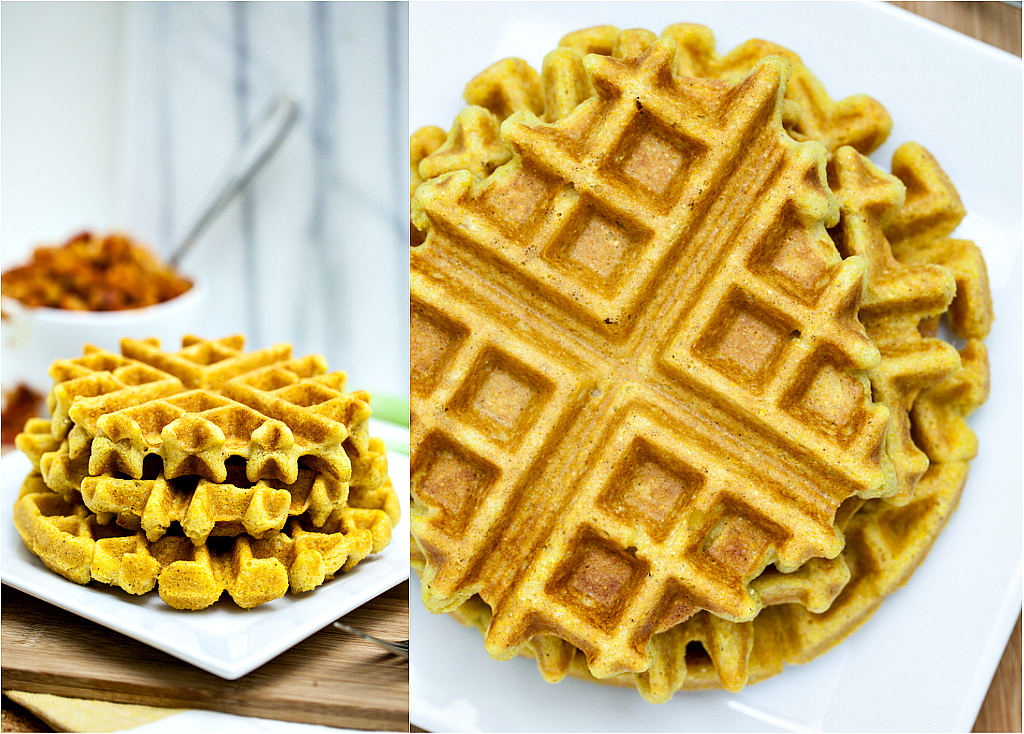 As I said earlier, my most recent sloppy joe creation couldn't be more different than my first sloppy joe.  Instead of ground beef, these sloppy joes were made of roasted cauliflower and red lentils.  And there's no rubbery bread here.  In fact, I replaced the whole bun with a cheesy cornbread waffle.  These zesty lentil sloppy joes with small chunks cauliflower throughout were so tasty and comforting.  The waffles were crisp on the outside and soft and well, cornbready on the inside.  The subtle cheesy flavor in these waffles just pulls it all together, making every bite, combined with the sloppy joes, a dose of super-delicious comfort-food goodness.  Now, if only I had a spork...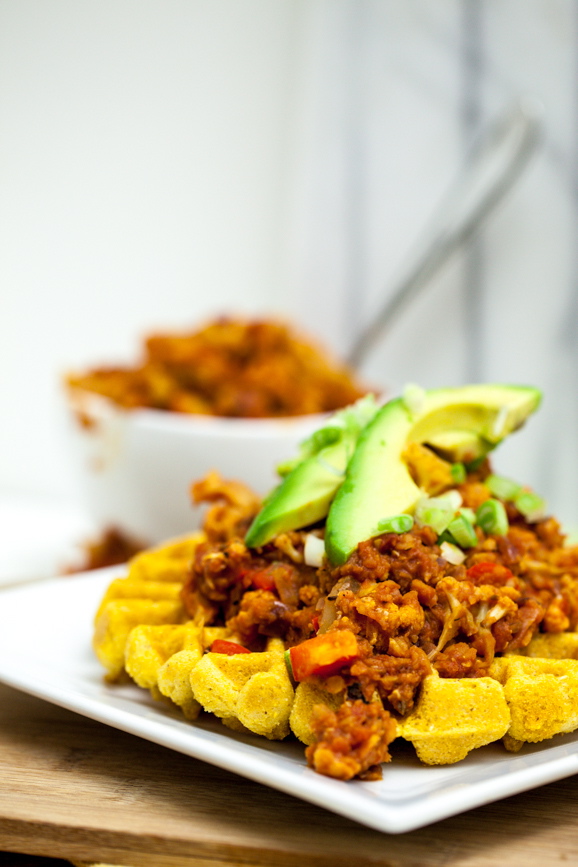 Cheesy Cornbread Waffles with Cauliflower Lentil Sloppy Joes
Ingredients
For the cheesy cornbread waffles:

1 1/2 cups almond milk (or other non-dairy milk)
2 teaspoons apple cider vinegar
¼ cup melted coconut oil
2 tablespoons maple syrup (or agave syrup)
1 1/2 cups ground cornmeal
3/4 cup gluten-free flour blend (all-purpose would also work)
1/3 cup nutritional yeast
1 tablespoon baking powder
1 teaspoon of Ener-G egg replacer
1 teaspoon fine sea salt

For the cauliflower lentil sloppy joes:

1 head of cauliflower, chopped into very small florets
coconut oil or olive oil spray
a few dashes of garlic powder
a few dashes of cumin
a few dashes of smoked paprika
smoked salt (or sea salt) to taste
pepper to taste
1 cup red lentils (or other lentils, rinsed and picked through
2 cups water
1 teaspoon olive oil
½ red onion, diced
2-3 cloves garlic, minced
½ red bell pepper, diced
1 15oz can of fire roasted tomatoes, diced
¼ cup tomato paste
2 tablespoons Bragg Liquid Aminos
2 tablespoons Sriracha Sauce
1 tablespoon Maple Syrup
2 teaspoons dried oregano
1 ½ teaspoons ground cumin
1 teaspoon dried thyme
1 teaspoon smoked paprika
1 teaspoon liquid smoke
1 tablespoon nutritional yeast (optional)
salt/pepper to taste
Instructions
Preheat the oven to 400. Line a baking sheet with parchment paper. Spread the cauliflower florets out on the baking sheet. Lightly spray with olive oil (or drizzle a tiny bit of olive oil). Sprinkle with spices and add salt and pepper to taste. Toss to fully coat each piece.
Roast the cauliflower for about 15 minutes, tossing halfway through. Remove from oven. Set aside until ready to use.
Once you've placed the cauliflower in the oven, cook your lentils. Place the lentils in a small pot, cover with the water and place the lid on the pot. Bring to a boil, then reduce to a simmer, leaving the lid cracked open a bit. Cook for about 8-10 minutes (if you are using regular lentils, as aopposed to red, this time may be longer), until just barely undercooked (DO NOT FULLY COOK THE LENTILS). Remove from heat, drain, and set aside.
Heat the olive oil in a large shallow saucepan over medium heat for about one minute. Add the onion and garlic and sauté until onions are translucent and garlic is fragrant. Add the bell pepper and sauté for about two minutes. Add the rest of the ingredients, along with the cooked lentils and the roasted cauliflower. Use your spatula/spoon to break up the cauliflower as you mix it in. Let it simmer, stirring occasionally, for about 10 minutes, until heated through and slightly thickened. If it sticks, add a little water to scrape the pan and lower the heat a bit.
Once it is fully cooked, keep warm until it is ready to be added to the waffles. Enjoy!
Combine the almond milk and the apple cider vinegar and allow to sour for about 10 minutes.
In a large bowl, combine your dry ingredients and thoroughly mix. Set aside.
In a small bowl, combine the coconut oil, maple syrup, and soured almond milk. Add the wet ingredients to the dry ingredients and mix until just combined. Let stand for 10 minutes, while you let the waffle maker heat up.
Cook waffles according to your waffle maker's instructions. Top with sloppy joes, vegan cheese (if using), green onions and avocado. Enjoy!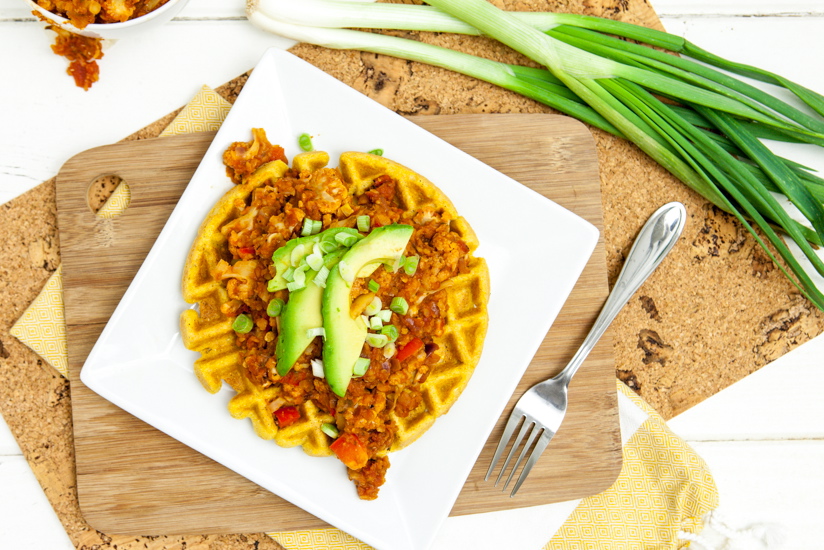 Did you like your elementary school's cafeteria food?
Photography by Chris Miller