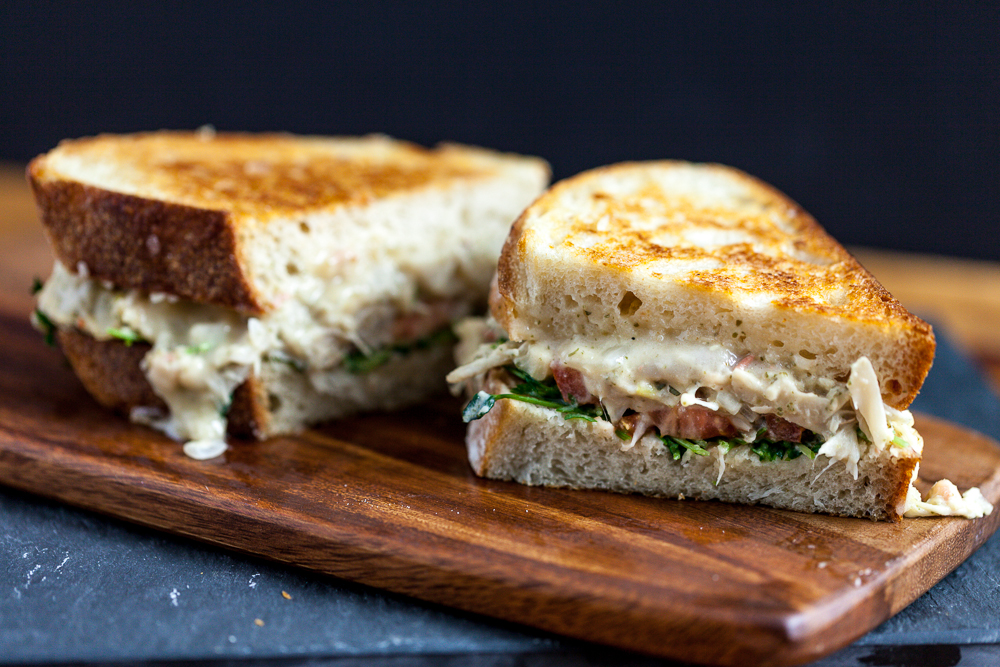 I just couldn't let National Grilled Cheese Month slip away without doing at least one grilled cheese sandwich!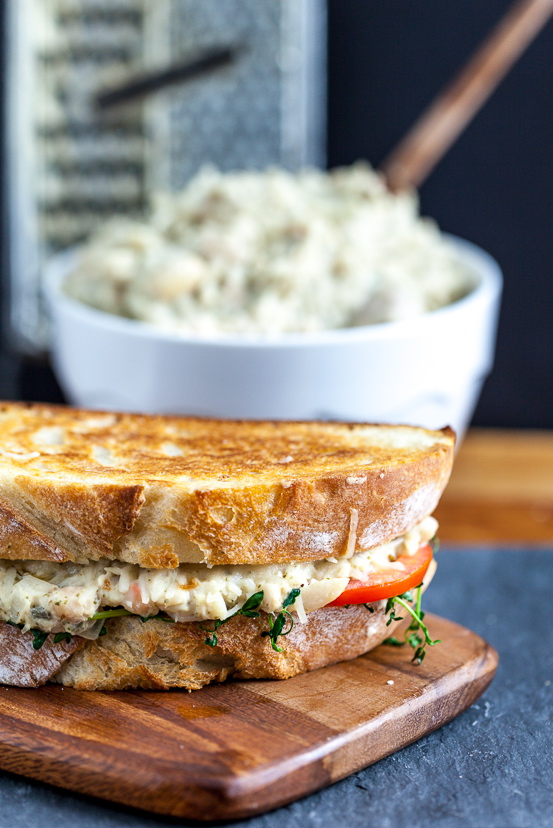 Before I became vegan, grilled cheese sandwiches were my specialty.  A fancy grilled cheese was the first thing I ever cooked for Chris.  He asked me to marry him that night.  We'd been dating less than a month.  I didn't answer- I just laughed.  Little did I know...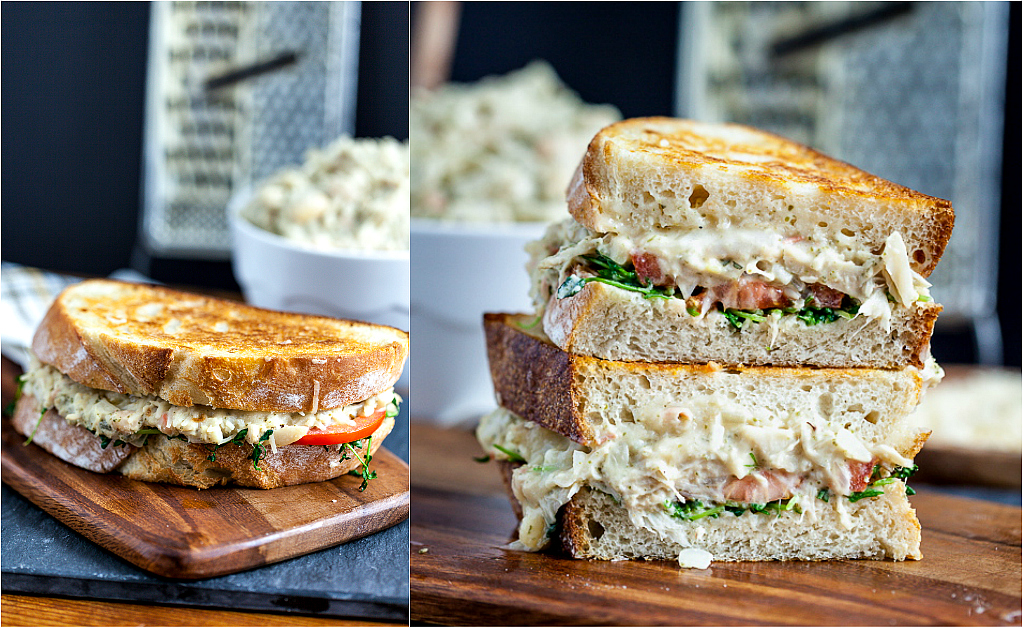 A very basic grilled cheese was the first thing I ever cooked for the twins.  I had to cut off the crusts for them because they didn't eat crusts back then.  Chris and I disposed of the crusts by eating them.  We don't like to waste food.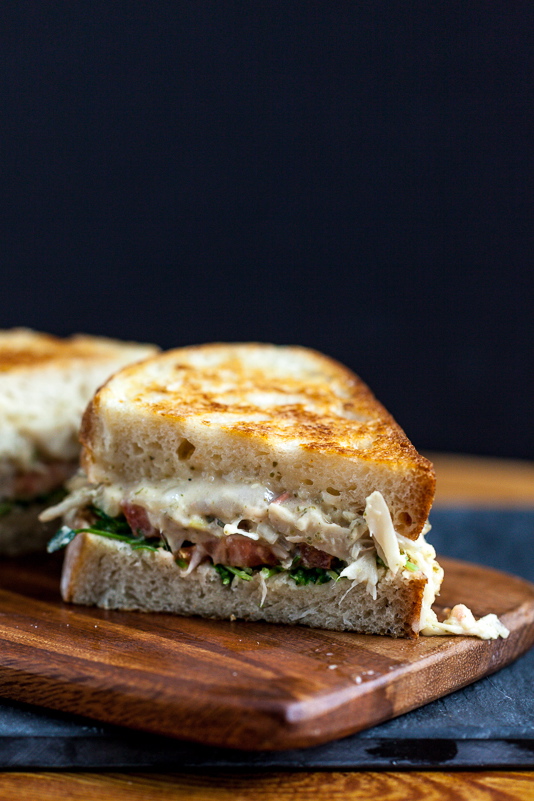 Though the grilled cheese sandwich and I have quite a history (the white bread/Kraft single combo and I got pretty close during my college years), I've never had a tuna melt.  Before I was vegetarian, back when I ate tuna, I only liked tuna mixed with mayo, mustard, and pickled relish.  Nothing else.  Melted cheese?  Uh, no thank you.  That just sounded gross.  By the time I was into crazy grilled cheese sandwich combos, I didn't eat tuna anymore.  I can happily say that I honestly don't know what I was missing.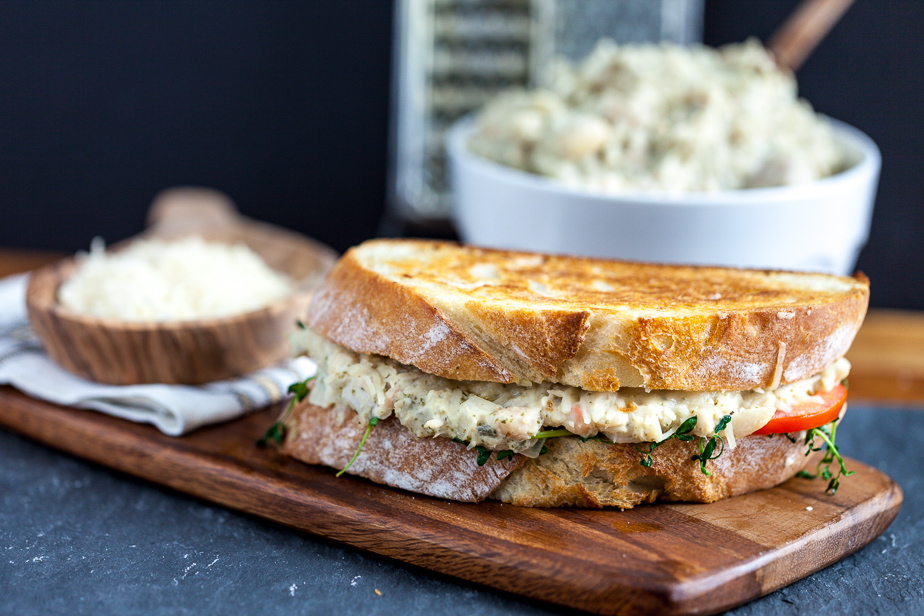 I can also happily say, though, that when I first tried a vegan "tuna" melt, it was love at first bite.  It was at a restaurant in LA, called Flore, and the salty, vinegary tempeh "tu-no" salad (as they call it) topped with warm creamy cashew cheese rocked my world.  Rocked. My. World.  I've been a fan of vegan "tuna" melts ever since.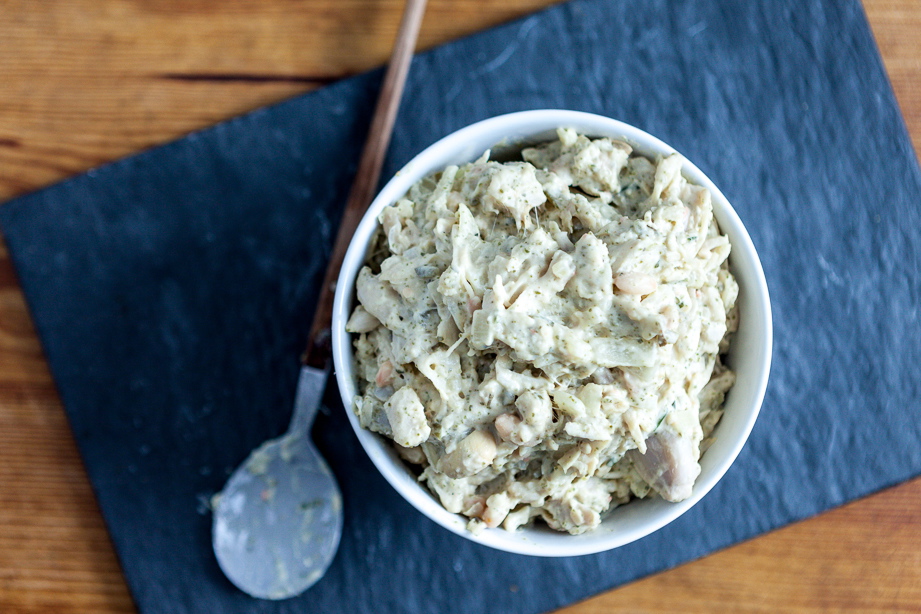 The "tuna" salad for this sandwich is made with shredded jackfruit (is there anything this fruit can't do?) and mashed white beans, then mixed with mayo, dijon mustard, and pickled relish, just like I like it.  The jackfruit is cooked briefly and seasoned with kelp granules, giving it that seafood taste.  It was absolutely perfect.  For the sandwich, I topped the salad with a generous helping of Trader Joe's new vegan mozzarella shreds.  For store-bought vegan cheese, this stuff is awesome.  It melts and stretches better than daiya, in my opinion, and it did not disappoint in this sandwich.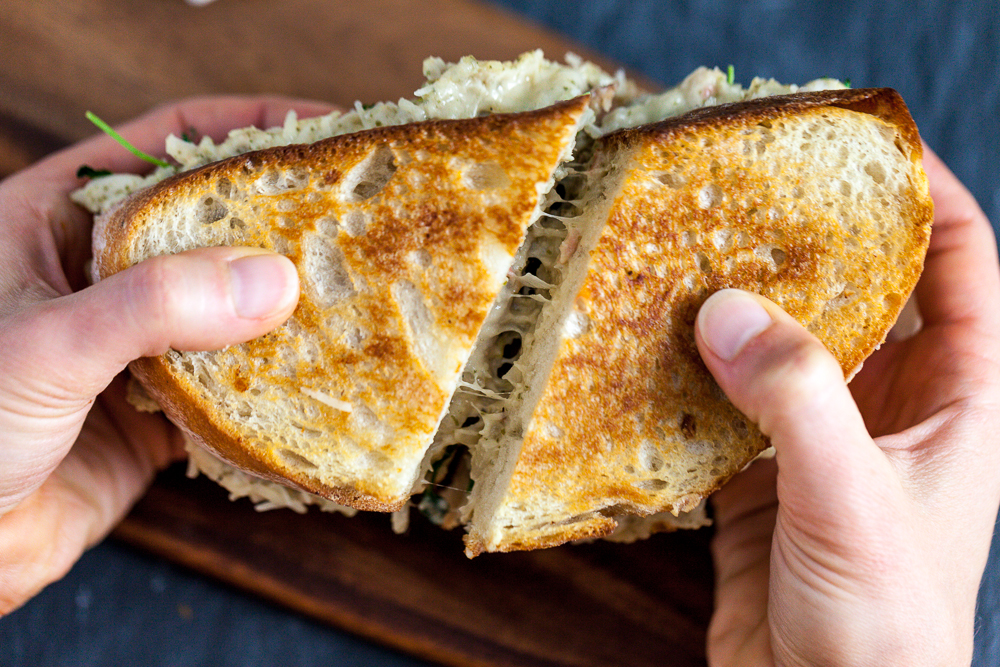 It's been a long time since I've made any sort of grilled cheese sandwich for Chris and I.  It was so fun to sit and have a melty, cheesy sandwich, packed with a super tasty filling, just like we used to back in the day.  The fact that the sandwich was wonderfully compassionate and ridiculously delicious didn't hurt either.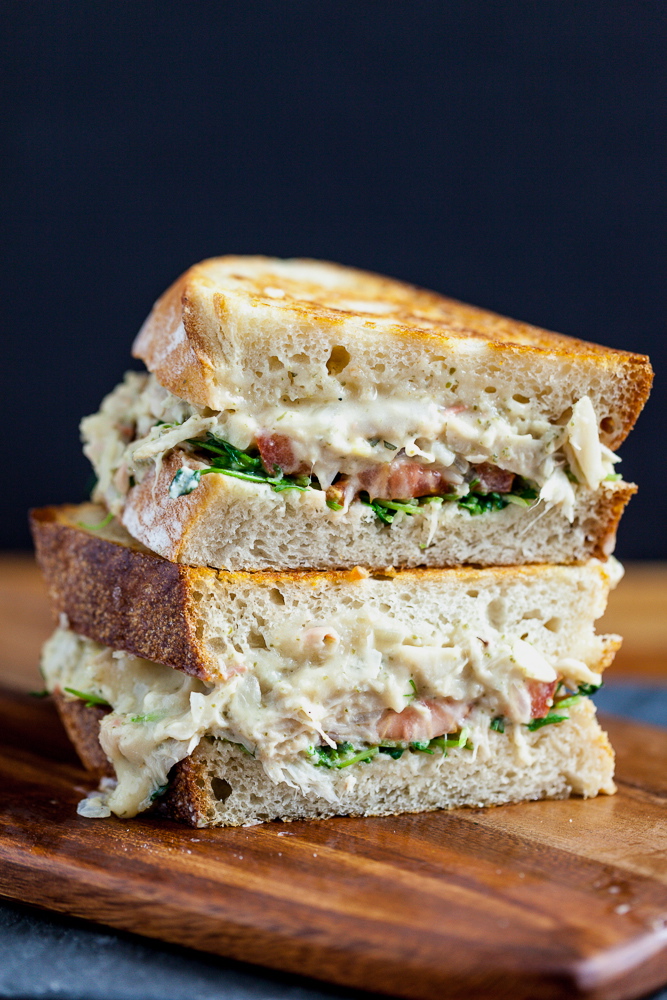 Jackfruit "Tuna" Melt Sandwich
Ingredients
for the jackfruit "tuna" salad

1 can of jackfruit (packed in water or brine, not syrup), rinsed and drained
1/2 teaspoon olive oil
1/4 onion, diced (about a 1/2 cup)
2 cloves garlic, minced
1 teaspoon kelp granules
1/2 teaspoon dried tarragon
1 cup cooked great northern white beans
1/4 cup vegenaise
2 tablespoons pickled relish
1 1/2 tablespoons dijon mustard
juice of 1 lemon
4 slices of bread
greens of some sort (optional- I used pea shoots)
1 tomato, sliced
2/3 cup shredded vegan cheese
olive oil spray
Instructions
Use a fork to pull apart the jackfruit into shreds (until it has a tuna-like consistency).
Heat the olive oil in a large frying pan over medium heat. Add the onion and garlic and sauté for a couple minutes. Add the jackfruit and let it cook, stirring occasionally, until the jackfruit's moisture is gone. Add the kelp granules and add salt to taste. Remove from heat.
While the jackfruit is cooking, start the salad. In a bowl, use a fork to mash the white beans. Once they are thoroughly mashed, add the rest of the salad ingredients and mix together. Once the jackfruit is done cooking, add it to the salad mixture and mix until fully coated. Taste and add seasoning, if necessary.
Turn on the broiler of your oven. Layout the 4 slices of bread. Place a small amount of greens (your choice) on two of the slices of bread. Top the greens with the tomato slices, then top the tomato with the jackfruit salad (about a heaping 1/2 cup per sandwich). On the remaining slices of bread, spread out the grated cheese.
Place the two slices of bread, topped with cheese, on a baking sheet and place it in the oven, under the broiler. Let sit under the broiler, just until the cheese begins to melt, about 2-4 minutes. Remove and place the slices on top of the slices topped with the jackfruit salad.
Heat a large frying pan over medium-low heat and lightly spray with olive oil. Place the sandwiches in the pan, cheese side down. Let cook until cheese begins to melt. Lightly spray the tops of the sandwiches with the olive oil. Flip the sandwiches and cook on the other side. Flip again if needed. The sandwiches are done when the cheese is melted and the bread is toasted. Remove from the pan and serve immediately. Enjoy!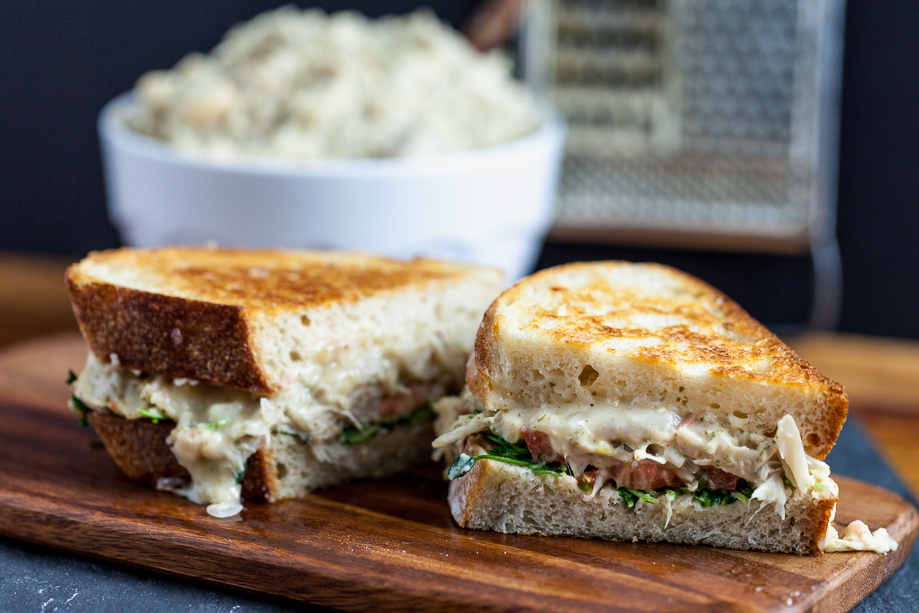 What's your favorite type of (vegan) grilled cheese sandwich?
Photography by Chris Miller