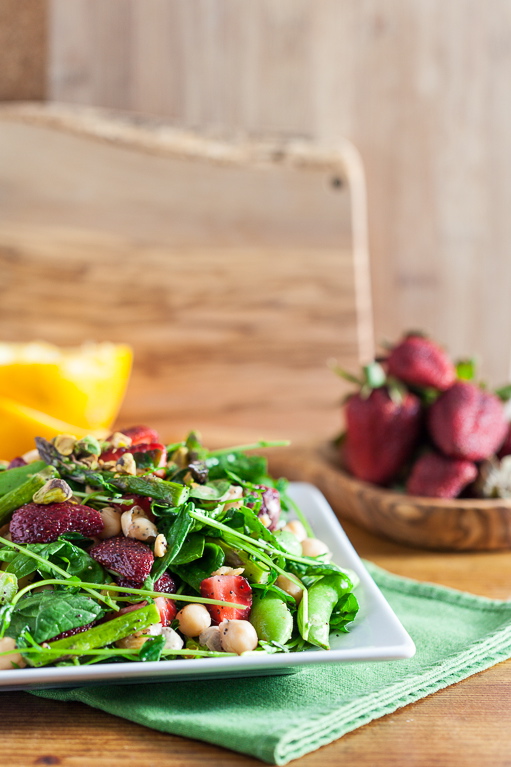 Nothing feels more like spring to me than when strawberries and asparagus start popping up at the market or in my CSA delivery.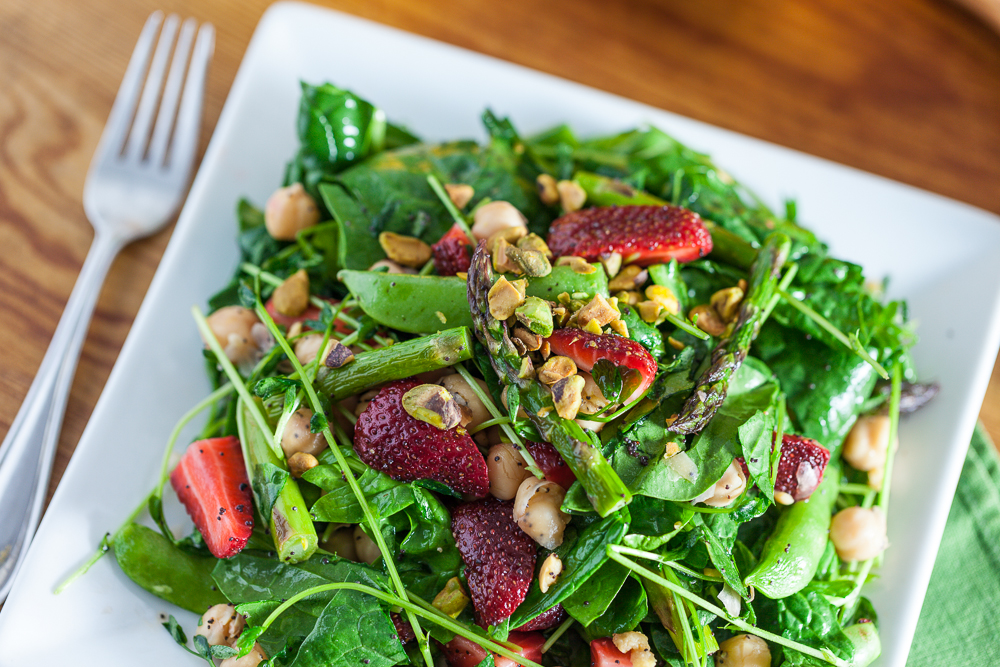 Well, the tree outside of our dining room window beginning to bloom comes pretty darn close.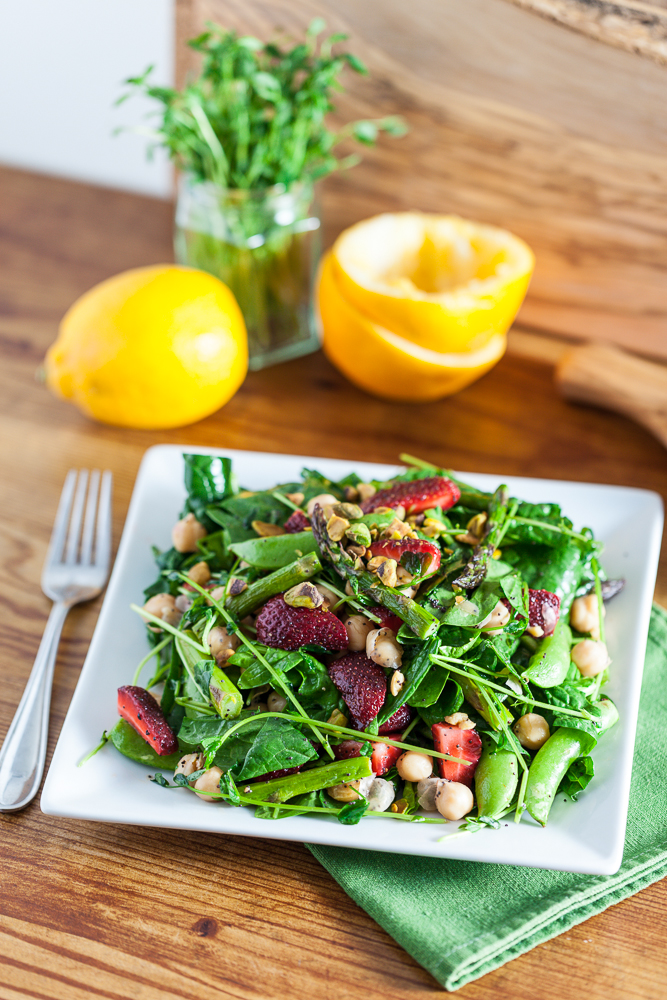 And the part where I can start driving with my sun-roof open is pretty great.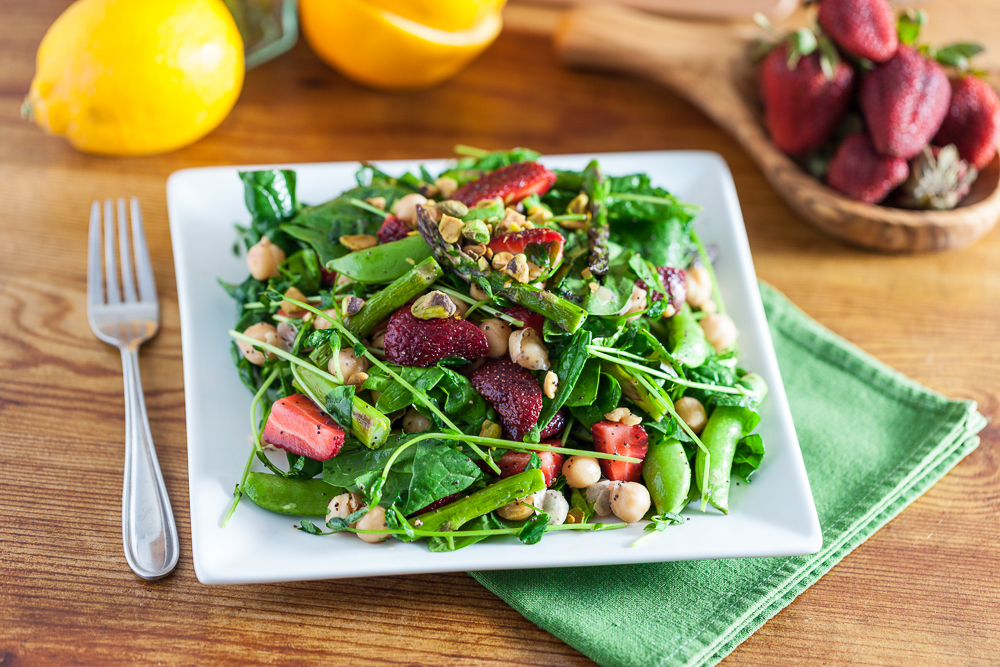 Oh, and when my little toes start feeling adventurous enough to venture outside wearing flip-flops, spring really begins to feel like it's really here.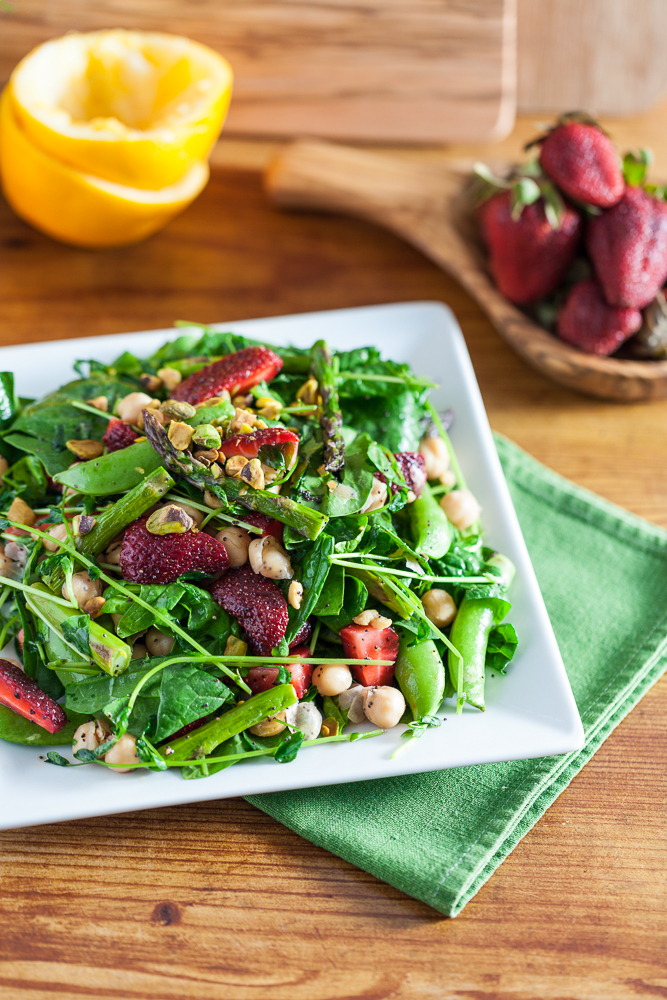 Then I start having to do things like talking myself out of buying flowers every time I'm at the market.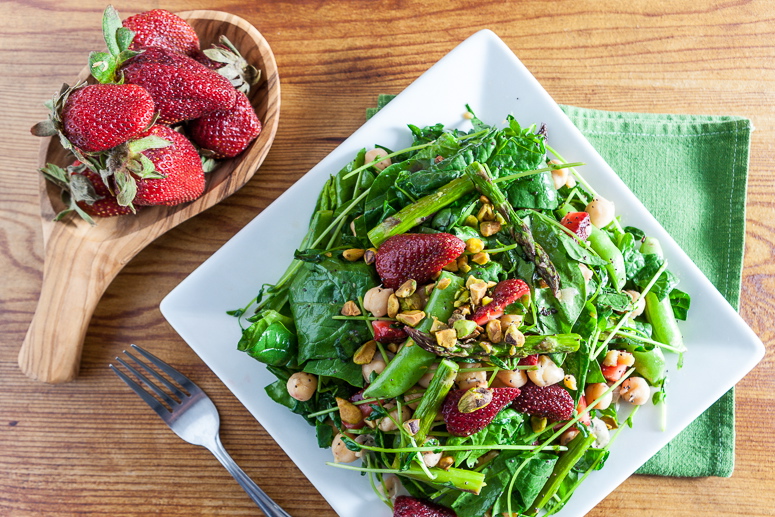 I start spending more time shopping for sundresses and wedges and sunglasses.  Because I can never have enough pairs of sunglasses.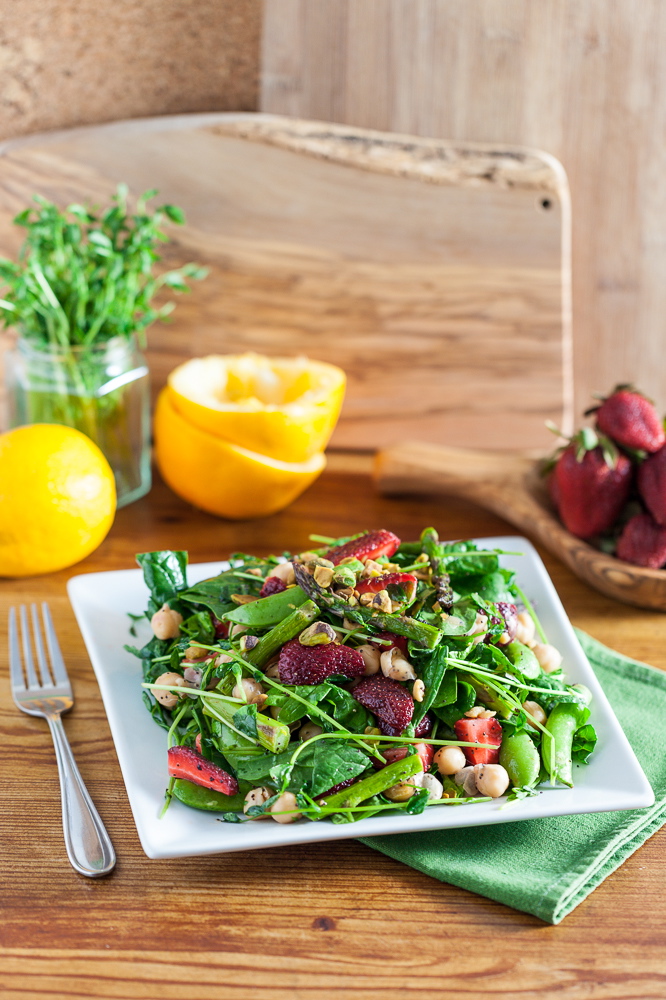 I get the urge to re-organize and clean everything.  Scrub the crisper drawer?  Check.  Alphabetize all of the DVD's?  Check.  Organize all of the photo props?  Well, kind of...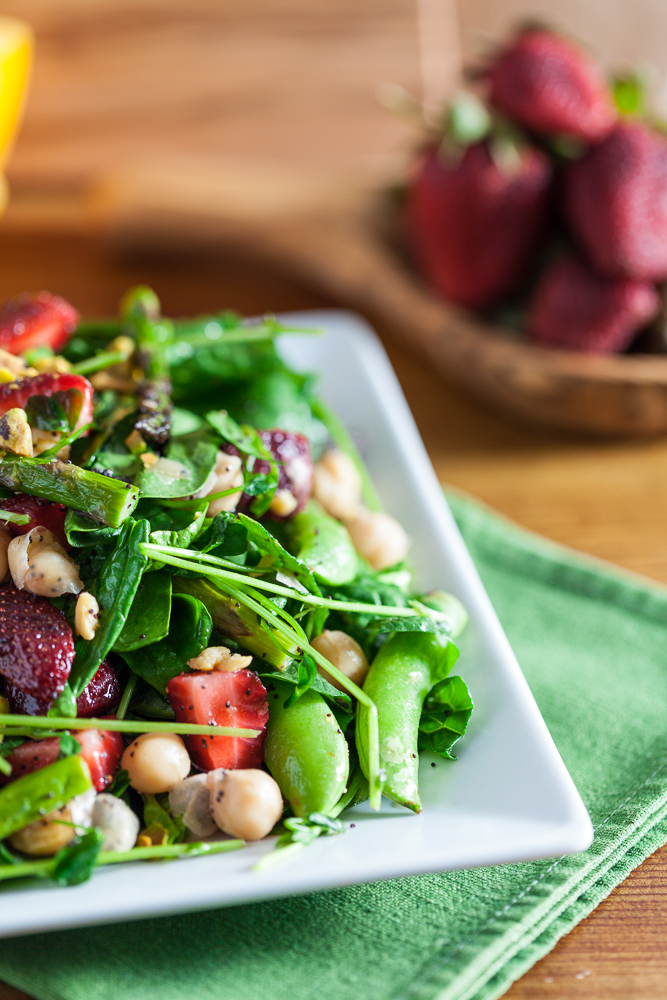 And our standard, go-to dinner switches from big bowls of cooked veggies and greens, grains, and beans to big bowls of filling, flavor-packed salads.  All of those strawberries and bunches of asparagus that keep popping up everywhere?  Oh yes, those are going in.  Those sugar snap peas that the CSA sent us?  Yup, those will be in there too.  And we can't forget all of those lovely meyer lemons that also came in the last CSA delivery- they get turned into a bright lemon poppy seed dressing.  We'll also throw in some pea shoots because they're pretty (and tasty and nutritious.  But mostly pretty).  Of course, we need the salad to be filling, so some chickpeas will have to be tossed in as well, and some chopped pistachios lend a nice dose of healthy fat and a nice crunch to every bite.  The end result?  A huge bowl of  healthy and delicious salad stuffed with strawberries, asparagus, sugar snap peas, pea shoots, and pistachios dressed in sweet and tangy lemon poppy seed dressing.  My friends, I think it's time to get our Spring on.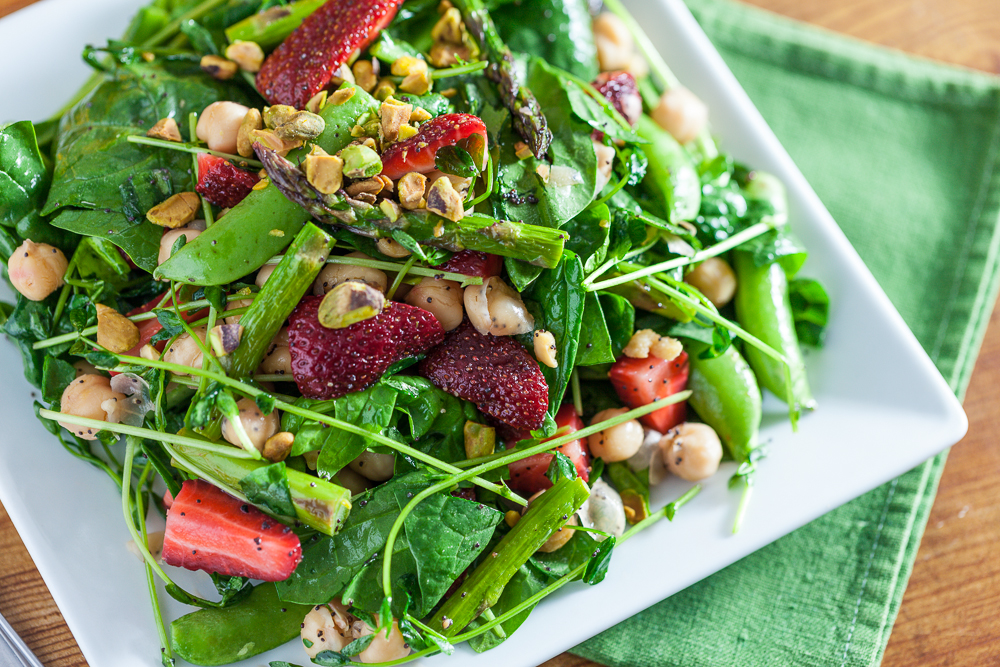 Springtime Strawberry Spinach Salad with Lemon Poppy Seed Dressing
Ingredients
1 large bunch of spinach, stems removed, roughly chopped
1 15oz can chickpeas, rinsed and drained (about 1 1/2 cups)
2 cups snap peas, stems trimmed
1 1/2 cups chopped strawberries
1 handful of pea shoots
8-10 asparagus spears
olive oil spray
sat and pepper to taste
1/4 cup roughly chopped pistachios

for the lemon poppy seed dressing

1/4 cup fresh lemon juice
2 1/2 tablespoons coconut nectar
2 tablespoons apple cider vinegar
1 tablespoon grapeseed oil (or other mildly flavored oil)
1 teaspoon dijon mustard
pinch of salt
1 tablespoon poppy seeds
Instructions
Preheat oven to 400. Line a baking sheet with parchment paper.
Chop the asparagus into quarters and spread the asparagus spears out on the baking sheet and lightly spray with olive oil. Add salt and pepper to taste. Roast in preheated oven for 10 minutes, turning them once halfway through to ensure even cooking. Remove from oven and let rest until it is cool to the touch.
While the asparagus is in the oven, make your dressing. Use a whisk to thoroughly mix together all ingredients except poppy seeds. Once the dressing is thoroughly mixed, add the poppy seeds. Cover and chill until ready to use.
In a large bowl, combine the spinach, pea shoots, strawberries, snap peas, chickpeas, and slightly cooled asparagus. Add about 1/2 of the dressing. Toss to combine. Divide amongst the bowls. Top with chopped pistachios. Serve immediately and enjoy!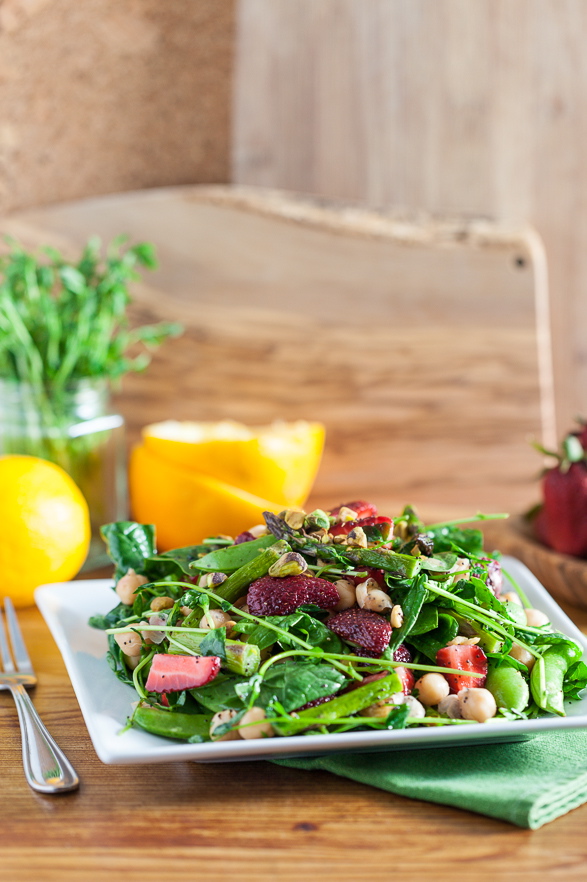 What are your personal signs that Spring is here?
Photography by Chris Miller