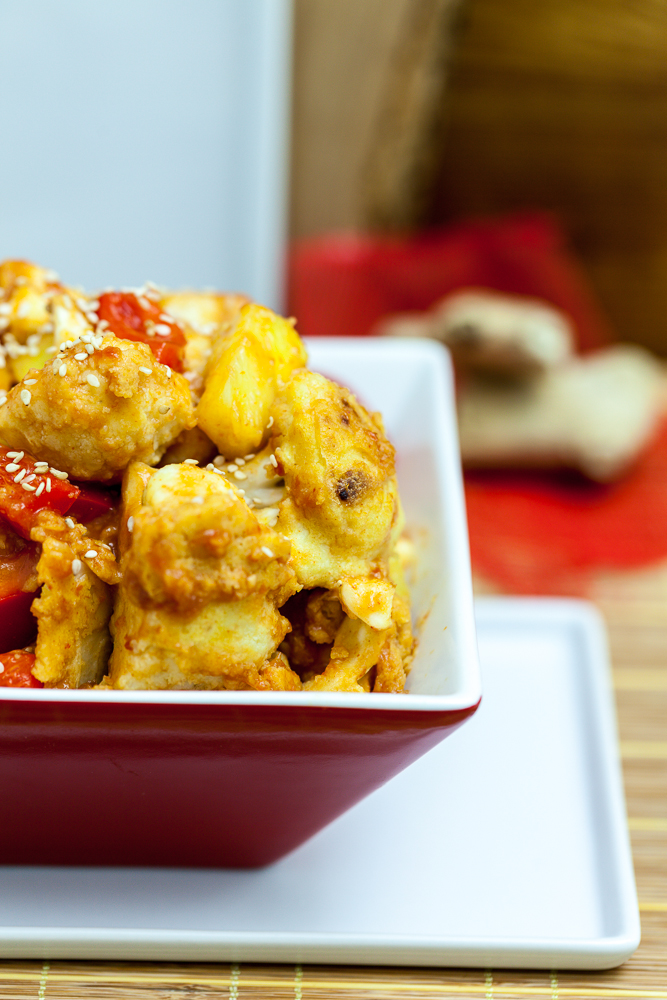 Cauliflower is quickly becoming my most favorite vegetable.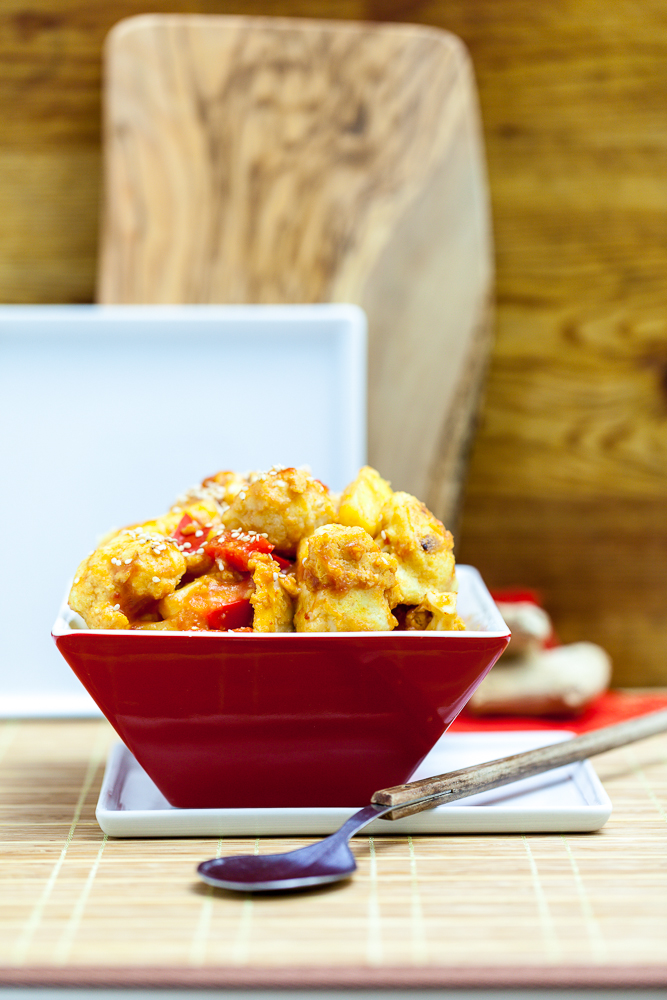 It's level of versatility never ceases to amaze me.  Whether it's disguising itself as buffalo wings, lightening up mashed potatoes, holding together an awesome burger, or hiding in a cheese sauce, I am always amazed.
Now it's popping up in one of my childhood favorite chinese take-out dishes.  When I was a kid, there was a Chinese restaurant very close to our house.  It was actually in the same strip mall as the Long's Drugs Store, Alpha Beta grocery store, dry-cleaner, video-rental store, and bank that my parents went to.  Often times, after an afternoon of running errands at this particular strip mall, my mom would pick-up Chinese food for dinner.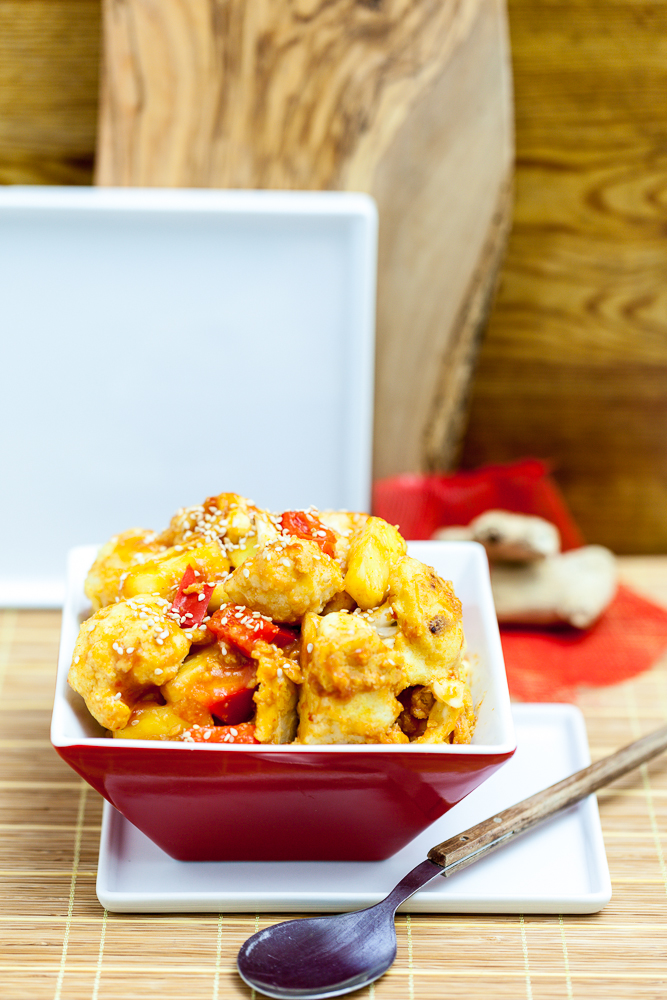 Back in those days, I loved Chinese food.  I could probably inhale a carton of chow mein by myself.  I had to share with the family, though, so I would fill the rest of my plate with my other favorite: Sweet & Sour Pork/Chicken.  I loved that bright red tangy sauce with the little pineapple chunks in it (truth be told, the pineapple may have been my favorite part!) and as a young child, I didn't think twice about what was actually underneath that sauce. I think I overdid it on Chinese food, however, because by the time I was in my early teens, I was done.  I couldn't stand the stuff.  It was too oily and salty and that brightly-hued sauce no longer appealed to my changing taste buds.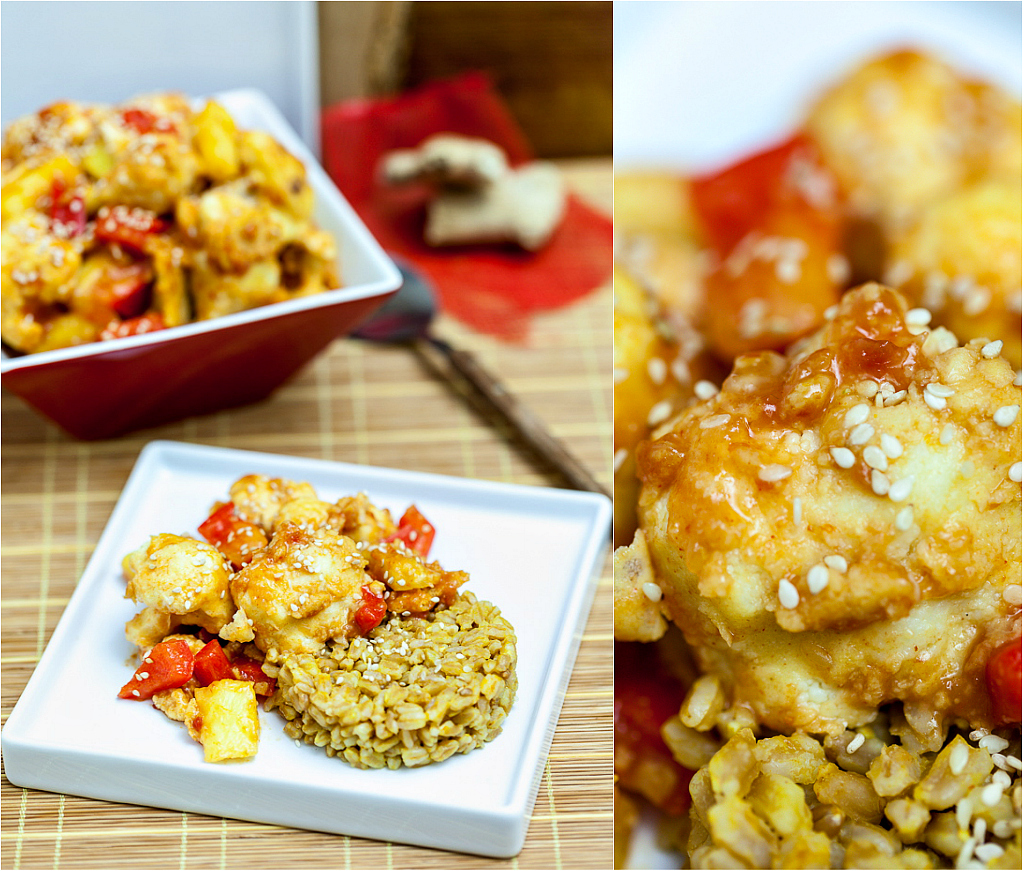 Twenty years later, my tastebuds are changing again.  I recently found myself craving the taste of that sweet & sour sauce.  I definitely wasn't craving the dead animal that was cooked in the sauce, just the tangy sauce itself.  So I set out to recreate this childhood favorite and I, of course, thought of cauliflower as the compassionate substitution in this recipe.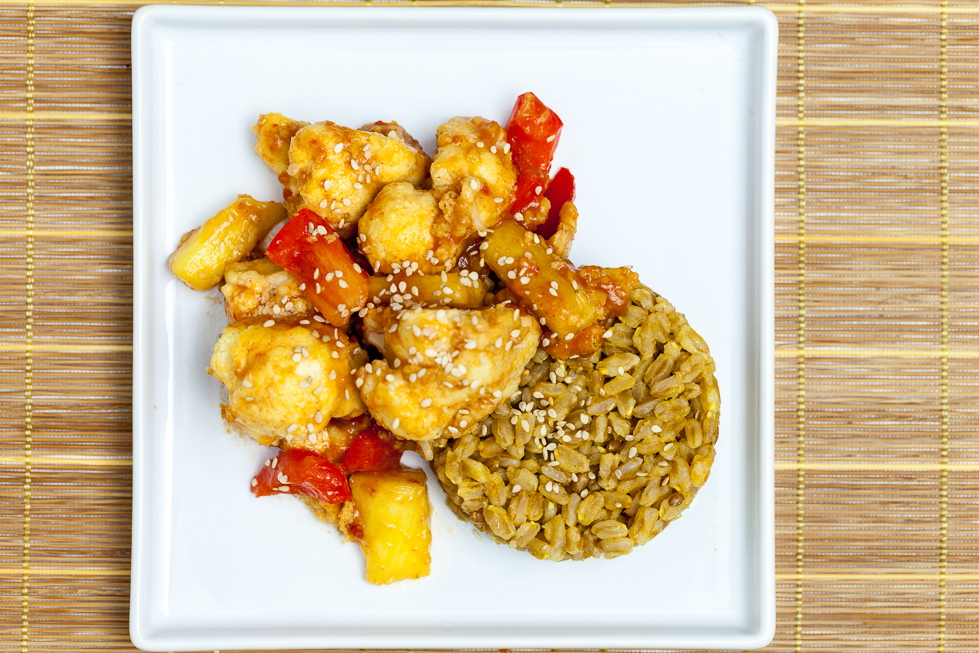 I played with this recipe a couple of times before getting it to what I feel is perfect.  The sweet & sour sauce is probably far healthier than the sauce I remember.  It's a combination of pureed pineapple and sun-dried tomatoes, water, rice vinegar, lemon, coconut sugar- tons of flavor without the loads of salt and MSG.  Because my grown-up tastebuds like a bit of heat, I also added some hot sauce, though it's not a required ingredient.  I was pretty excited as I prepared this sauce, but once I added the chunks of roasted cauliflower and pineapple, I was just beside myself.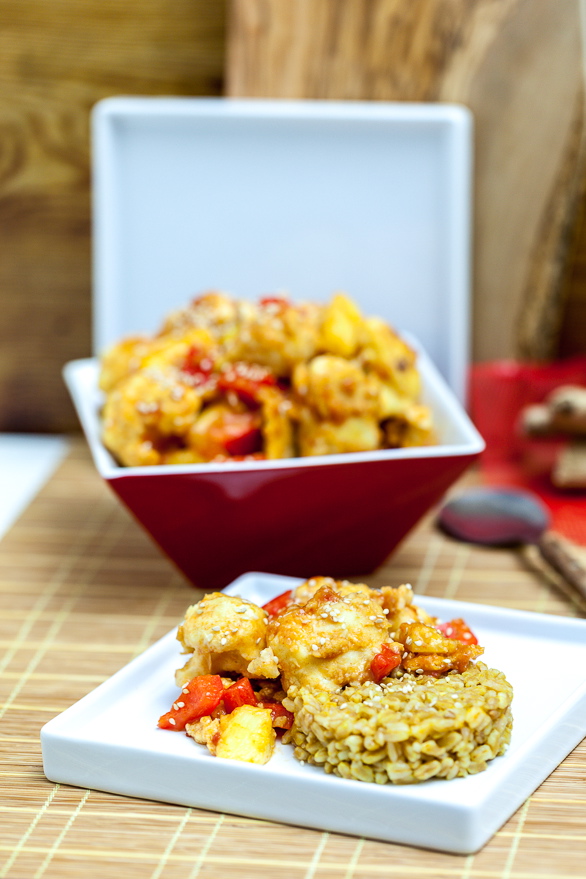 Served up with some farro (or another type of grain, like rice or quinoa) this sweet and sour cauliflower, with chunks of pineapple throughout, makes for an incredibly delicious and filling meal.  What makes it even better is how easy it was to make!  It's perfect for a quick easy dinner and the leftovers keep well for three to four days (and FYI, they are amazing in a sandwich).  Whether you're a Chinese food lover or just a cauliflower fanatic, this recipe is for you.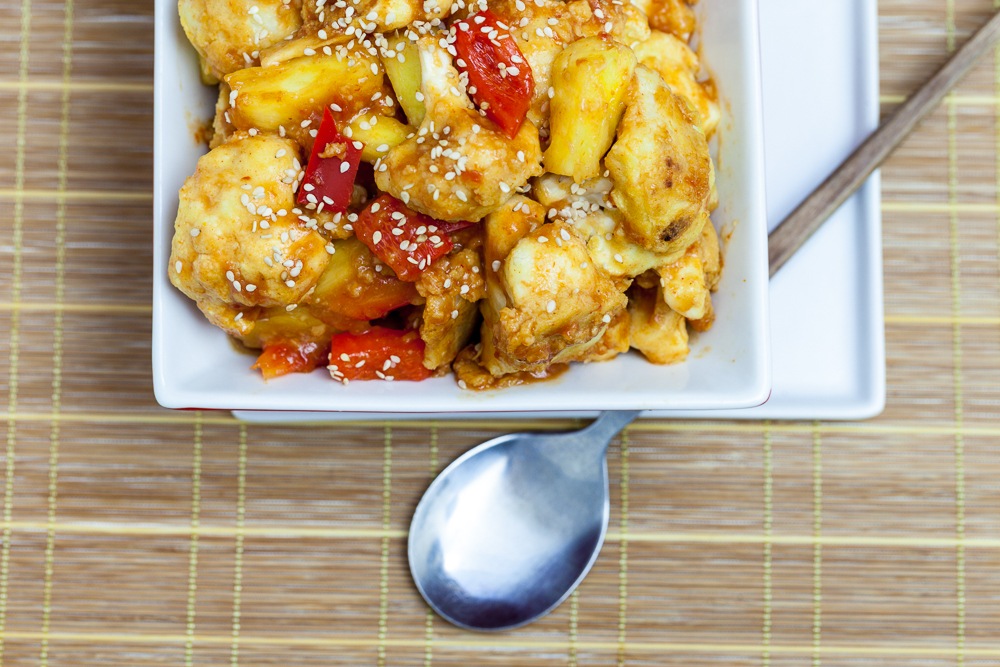 Sweet & Sour Cauliflower with Pineapple
Ingredients
1 head cauliflower, broken into florets
olive oil spray
several dashes of garlic powder
several dashes of ground cumin
several dashes of smoked paprika
salt and pepper to taste

for the sweet & sour sauce

1/3 cup finely diced pineapple
2 1/2 tablespoons sliced sun-dried tomatoes
juice of 1 lemon
1/2 cup water
1/3 cup rice vinegar
4 tablespoons coconut sugar
1 tablespoon Bragg Liquid Aminos (or tamari/soy sauce)
1 tablespoon cornstarch mixed with 1/4 cup water, fully dissolved
1/2 tablespoon Sriracha sauce
1/2 teaspoon ground ginger
1/2 teaspoon sea salt
1 cup diced pineapple
1/2 red bell pepper, diced
cooked rice, quinoa or other grain
sesame seeds for sprinkling
Instructions
Preheat oven to 450 degrees. Line a baking sheet with parchment paper. Spread the cauliflower florets out on the baking sheet. Lightly spray with olive oil. Sprinkle the garlic powder, cumin and smoked paprika on the cauliflower, then add salt and pepper to taste. Toss to fully coat.
Roast in the oven for 20 minutes, tossing halfway through to ensure even cooking. Remove from heat.

for the sweet & sour sauce

While the cauliflower is in the oven, make your sauce. Place the 1/3 cup finely diced pineapple along with the sun-dried tomatoes and lemon juice in a food processor. Process until smooth.
In a large shallow sauce pan, heat the water, rice vinegar, ginger, sugar, soy sauce, Sriracha, and pineapple/sun-dried tomato puree over medium-low heat. Stir in the cornstarch mixture and stir until fully combined. Add the pineapple and bell pepper and continue to cook for about 5 minutes, stirring occasionally to prevent sticking. Add the roasted cauliflower and stir to fully coat each piece. Serve immediately along with cooked rice (or other grain) and top with sesame seeds if desired. Enjoy!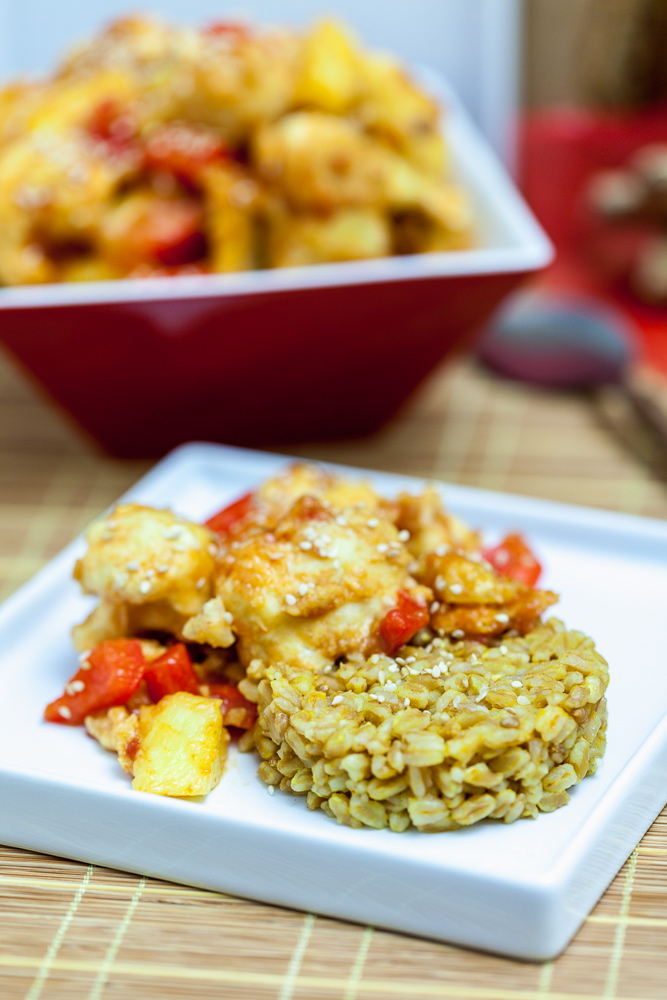 What are your favorite ways to enjoy cauliflower?
Photography by Chris Miller