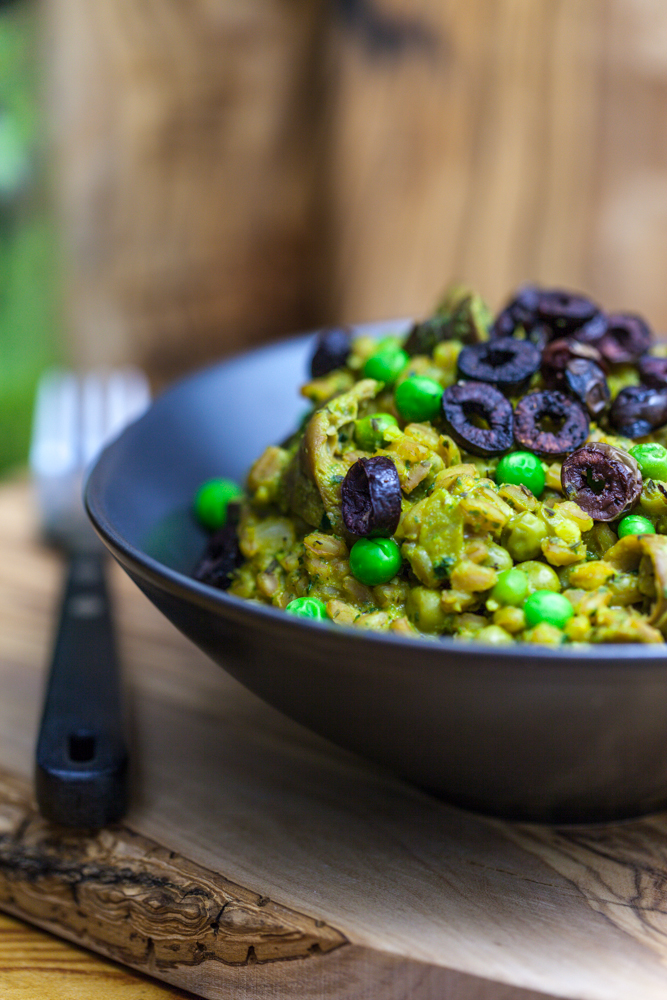 This time of year, we get a lot of different types of greens in our weekly CSA delivery.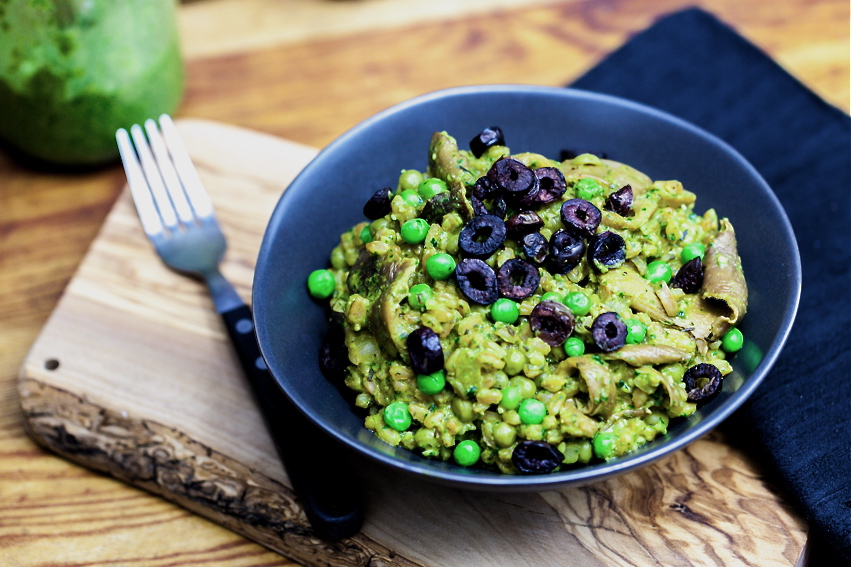 I'm not complaining- I love my greens!  Kale, chard, collards, spinach, mustard greens, arugula, cabbage, and more- I love them all!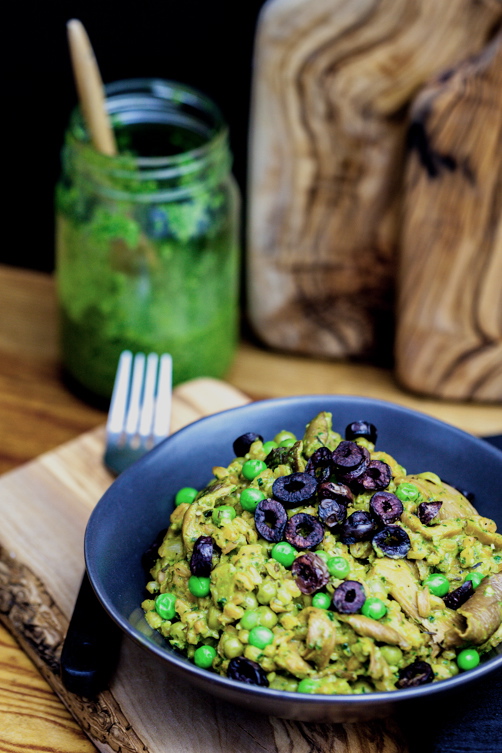 The problem arises when I get more greens than I have time to eat.  I put them in smoothies, soups, salads, tacos, pizzas, or sauté them up by themselves to have as a side dish.  Sometimes, though, when life gets busy, I'm still left with some greens that are beginning to wilt by the time our next delivery comes around.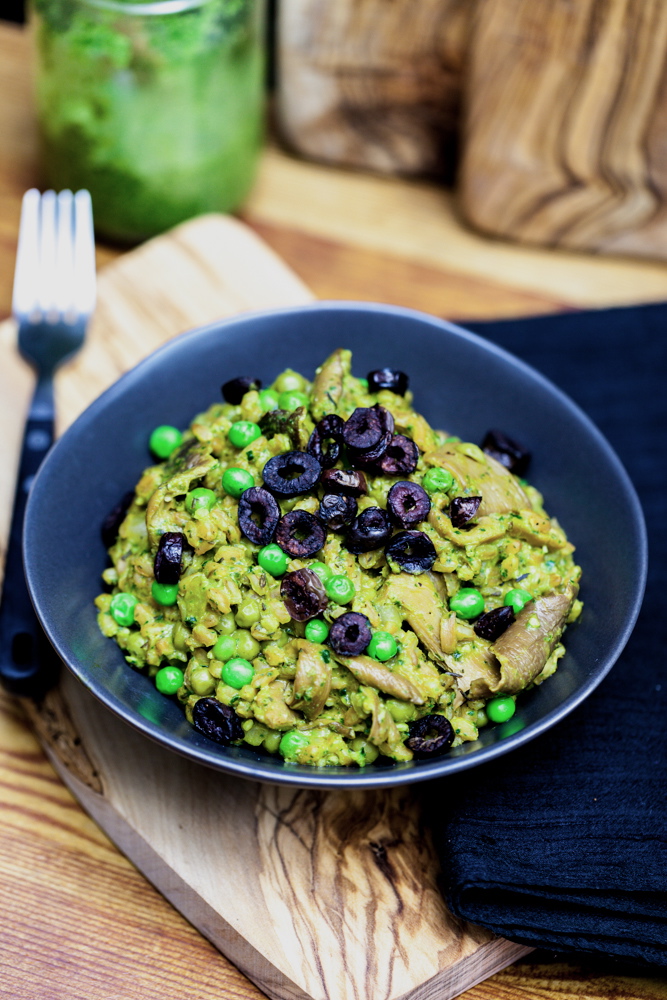 When I need to hurry up and use some greens, pesto is always one of my favorite staples to put greens to good use.  Most recently, I ended up with a beautiful bunch of mizuna that, between eating leftovers and going out to dinner the week prior, we never got around to using.  I knew instantly that pesto would be its fate.  Mizuna is very similar to arugula, though maybe slightly less peppery.  It adds a bold flavor to your pesto without making it too overpowering to pair with a variety of other ingredients.  If you can't find mizuna, arugula, spinach, kale, or even the traditional basil would be perfect in this pesto.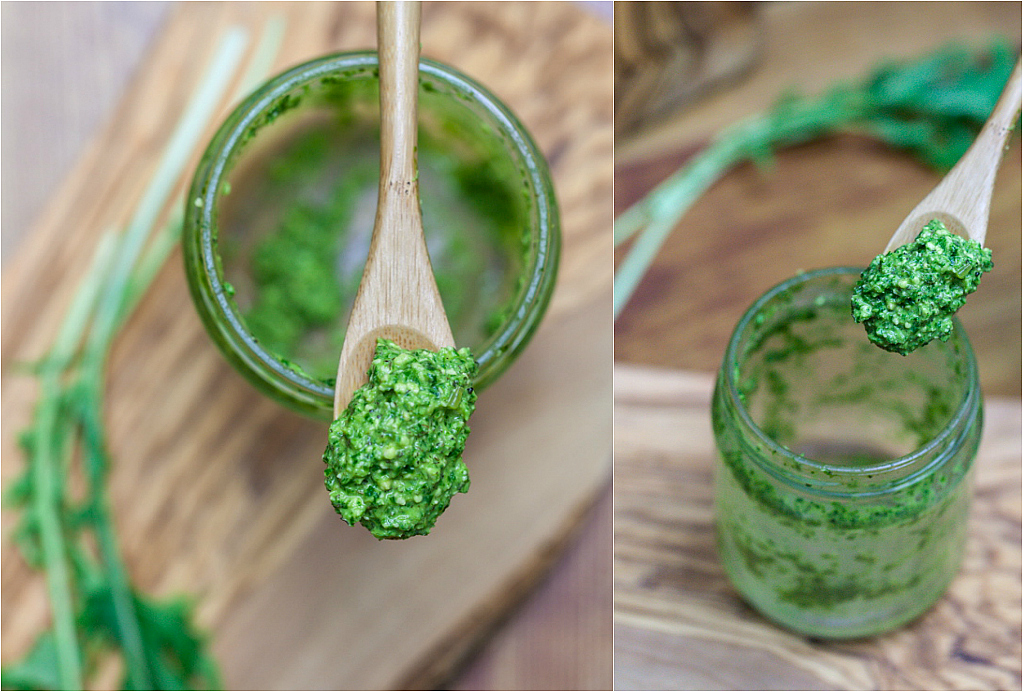 The next day, I was jonesing for some farrotto (I swear, I cannot get enough of farro these days) and decided that the tasty jar of mizuna pesto in the fridge would be perfect to stir into the finished product.  I also added some dried oyster mushrooms (re-hydrated, of course) that my local market had on sale, as well as some frozen peas (because I love pesto and peas together).  There was also this roasted olive idea I'd been thinking about that I wanted to try.  Can you tell I was pretty excited when I got into the kitchen that night?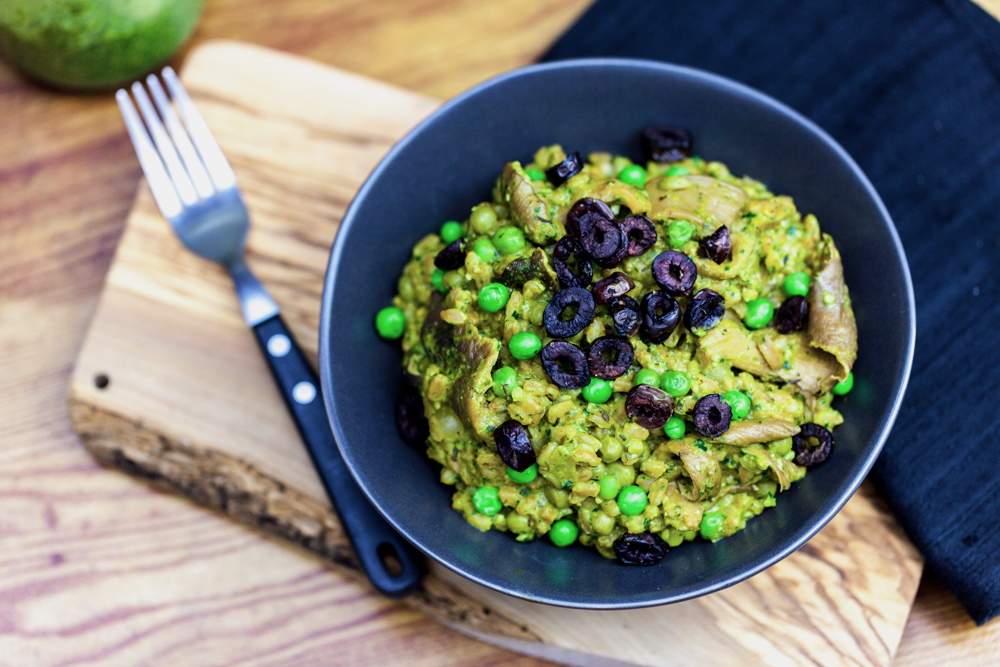 The result was better than I'd anticipated.  Creamy farrotto made even creamier with zesty pesto is wonderful alone, but combined with the big chunks of oyster mushrooms and little bursts of sweet peas just made my day my week my month.  Then there were the olives.  The roasted olives.  The roasting truly highlighted the salty brininess of these olives, but since I had sliced them, they got a little crisp on the outside.  The texture and taste of these crispy, salty olive slices against the creamy pesto farrotto was astonishing.  I couldn't get enough.  I was sad when I was too full to take another bite.  Thank goodness for leftovers!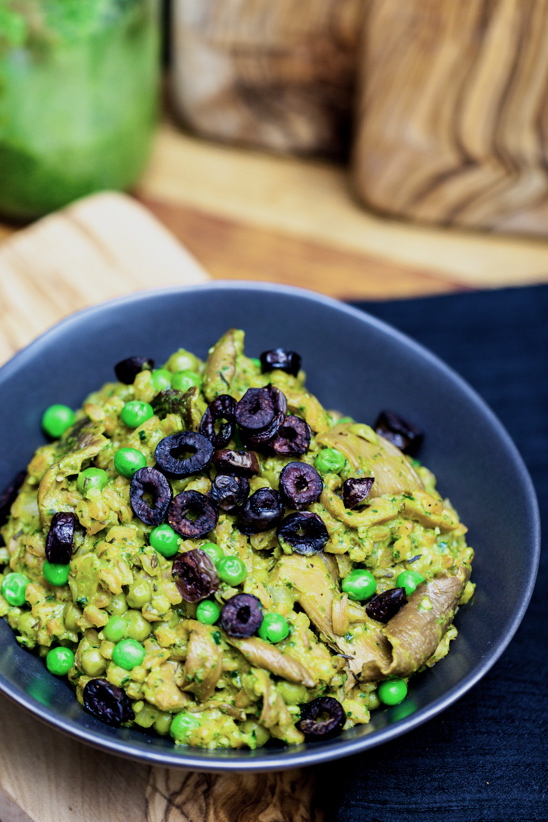 Mizuna Pesto Farrotto with Oven-Roasted Olives
Ingredients
1/2 cup raw cashews
2 cloves garlic
2 tablespoons nutritional yeast
1 tablespoon fresh lemon juice
3 teaspoons dried basil (or 3 tablespoons fresh)
2 teaspoons dried thyme (or 2 tablespoons fresh)
pinch of smoked paprika
3 1/2 cups mizuna leaves (no stems), or arugula or other green
2 tablespoons olive oil
2/3 cups vegetable broth (or water)
salt to taste
several dashes of black pepper
1/2 tablespoon olive oil
2-3 cloves garlic, minced
1/2 onion, diced small
1 1/2 cups farro, soaked for 1 hour
4 cups vegetable broth
2 teaspoons dried thyme
1 teaspoon dried oregano
1 teaspoon dried basil
8 oz dried oyster mushrooms, rehydrated or 2 cups fresh and chopped
1 1/2 cups frozen peas, defrosted
1/3 cup nutritional yeast
juice of 1/2 a lemon
1/2 cup black olives, thinly sliced
1/2 teaspoon lemon juice
a couple dashes of garlic powder
a couple dashes of dried oregano
a couple dashes of black pepper
salt to taste (optional- it was salty enough as it was, so I didn't add any)
Instructions
Combine all ingredients except for the salt and pepper in the bowl of a food processor. Process until fully combined. Taste and add salt and pepper as necessary. Store in an airtight container in the refrigerator until ready to use.
Preheat the oven to 450. Line a baking sheet with parchment paper.
Spread the olive slices out on the baking sheet. Top with the lemon juice, garlic powder, oregano, pepper, and salt (if using). Toss to combine.
Roast olives in the oven for 20 minutes, tossing them once halfway through. Remove from oven and set aside until ready to use.
Heat the olive oil with the garlic in a large, shallow saucepan over medium heat for about 1-2 minutes, or until garlic is fragrant. Add the onion and sauté for about 3 minutes. Add the farro, ¼ cup vegetable broth, thyme, basil, and oregano. Sauté for about 2 minutes or until liquid has mostly cooked away.
Add 1 ¼ cups vegetable broth and the mushrooms and peas, stir, and cover the pan. Let cook for about 5 minutes or until the liquid has mostly cooked away. Add ½ cup of vegetable broth, stir and cover. Once the liquid has mostly cooked away, add another ½ cup of vegetable broth, stir and cover. Continue this pattern until all broth has been used and the farro is fully cooked and thick. Add the lemon juice and nutritional yeast and stir to combine. Mix in 1 cup of pesto sauce and stir until combined. Add salt and pepper to taste. Serve warm and enjoy!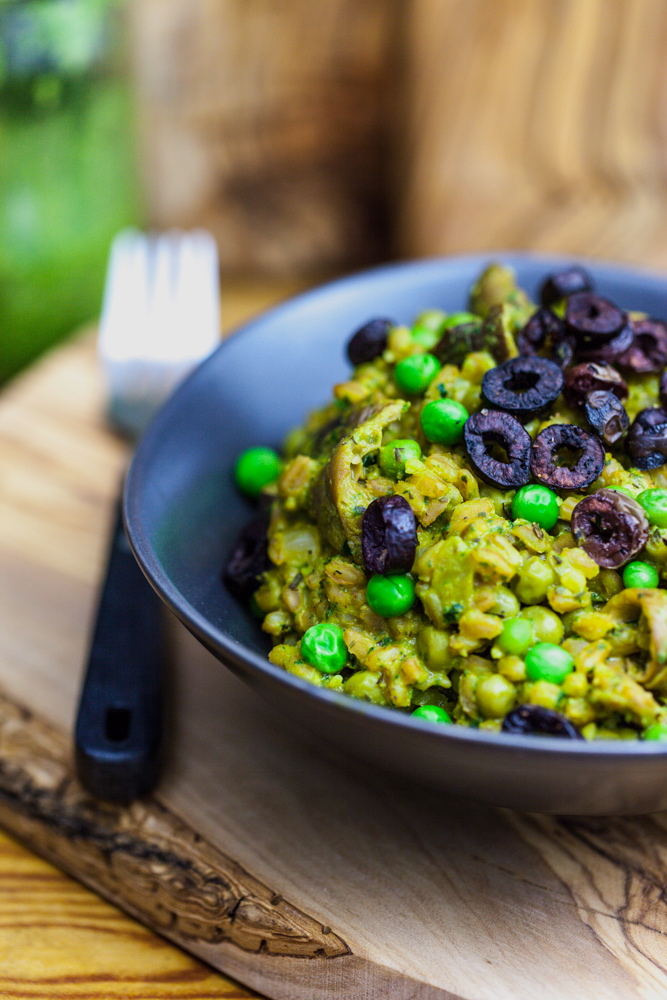 What are your favorite ways to eat your greens?