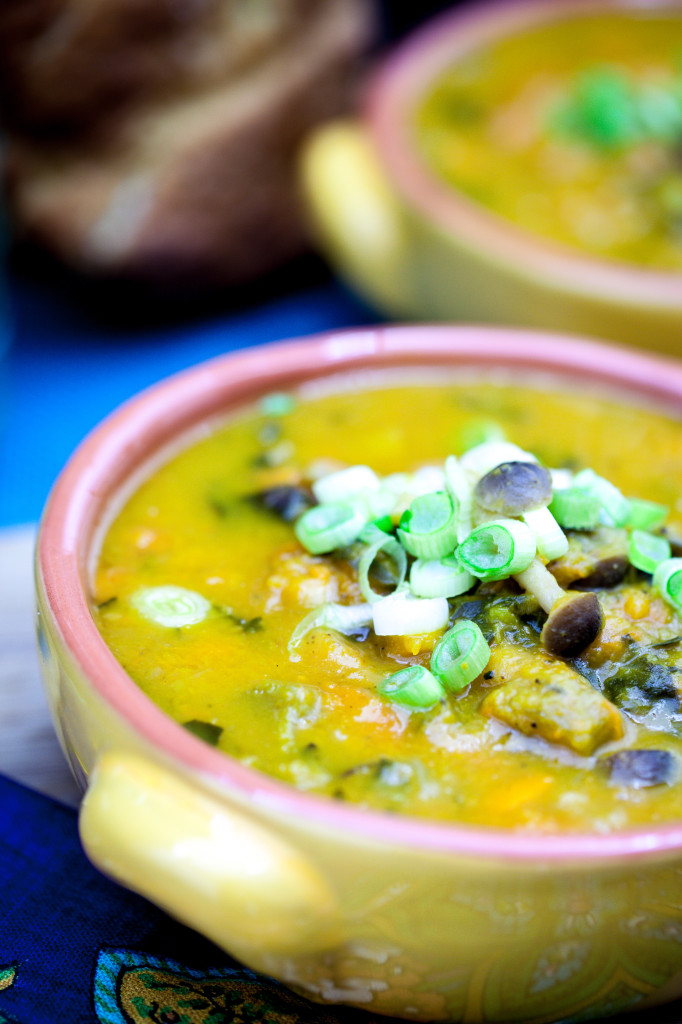 I don't ask for much in order to have a perfect winter evening.  A fire going in the fireplace.  Sweats, warm socks, and slippers on my feet.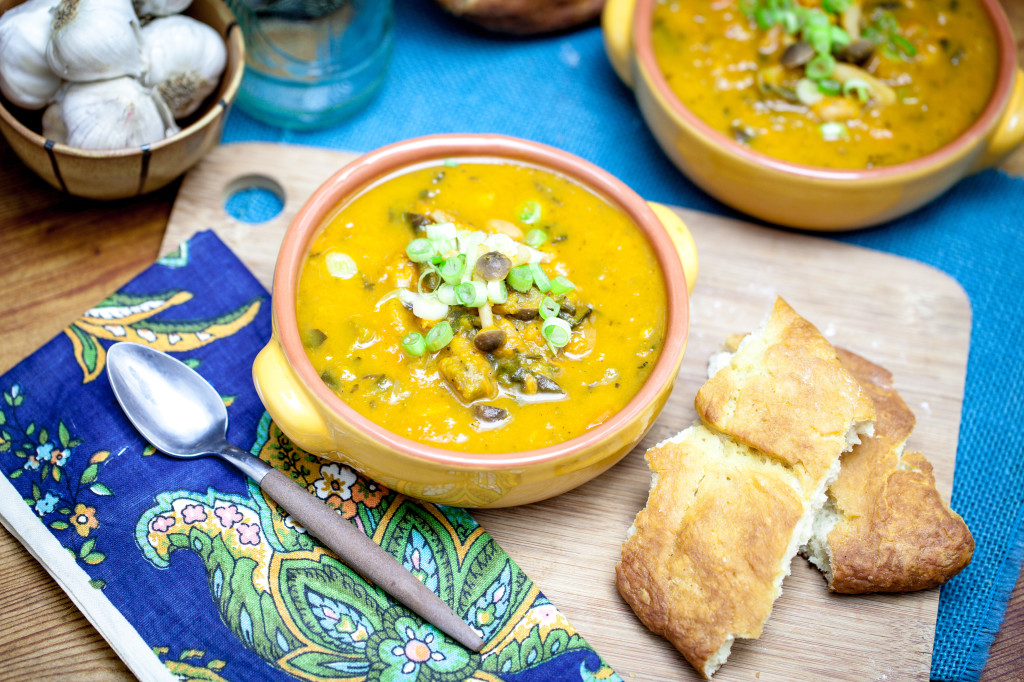 A nice hearty stew or thick, velvety soup.  Some sort of warm, crusty bread to go with said stew or soup.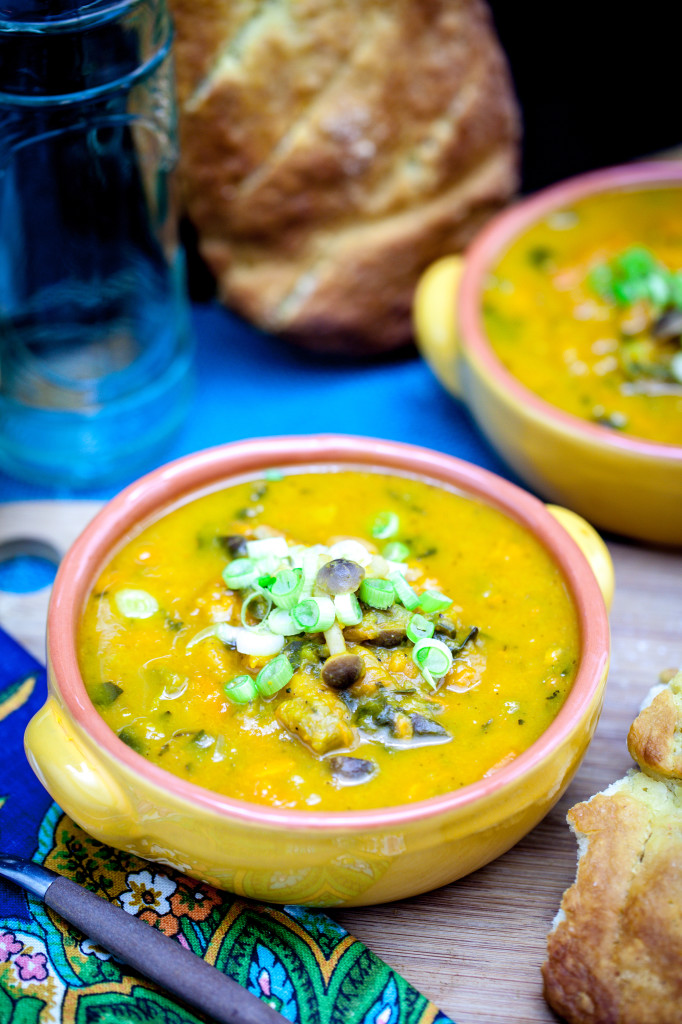 A good movie, perhaps, or just some nice music.  And most importantly, my husband by my side.  When Samantha curls up and goes to sleep next to the fire, well, that's just icing on the cake.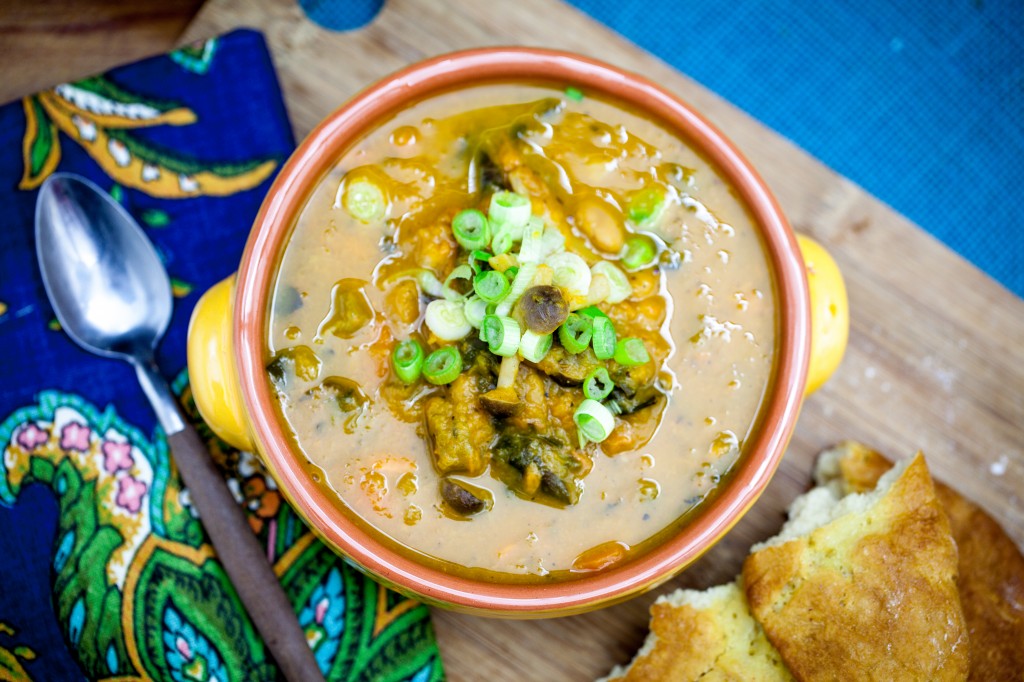 Most recently, the healthy, hearty stew that's been putting the finishing touch on my perfect winter evenings has been this sweet potato butternut stew, filled with white beans, mushrooms, and chard.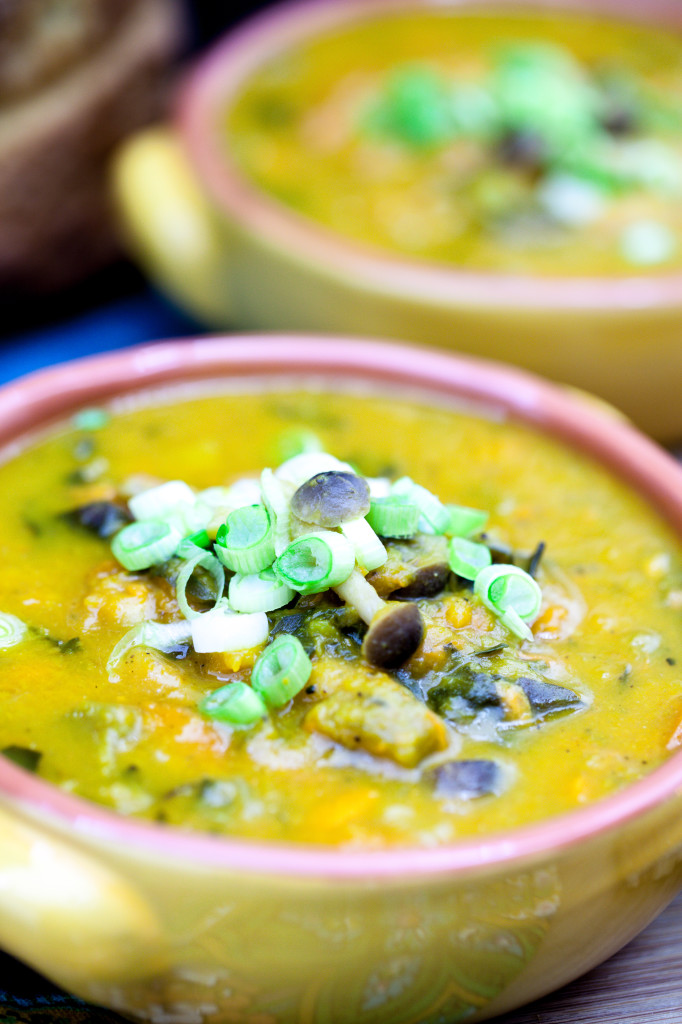 This stew, though awfully tasty on the first day, only gets better and better with time.  It actually provided us with four dinners, the final dinner being the absolute best!  The sweet potato and butternut get really soft and almost mushy, giving the stew a slightly sweet base.  With carrots, celery, cremini mushrooms and little bunapi mushrooms floating around and pieces of chard throughout, each bite is filled with vegetable goodness.  I also added a combo of navy beans and great northern beans which made the stew super filling.  The best part, aside from it being extremely delicious, is how easily it comes together, once you've chopped up your veggies.  Then you just let the stove (slow-cooker, if you prefer) do all of the work.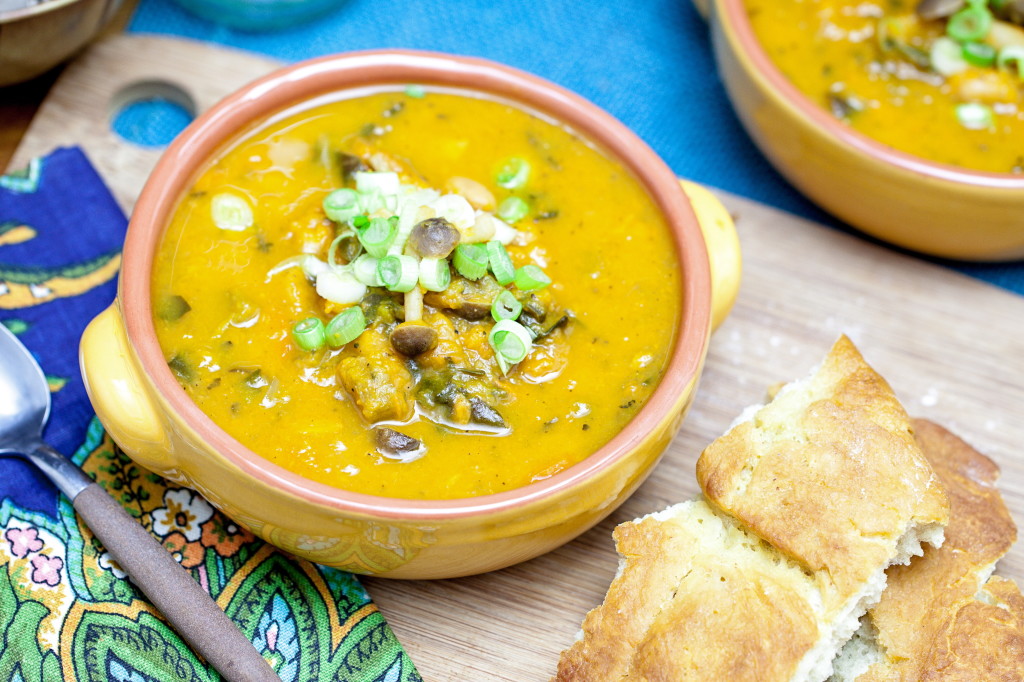 This stew is also perfect when scooped up with some freshly baked bread.  The night I made it, I also made an incredible rosemary olive bread, and the saltiness of the olives was perfect with the slight sweetness of the stew.  A few days later, when I baked my soft pretzel bread, I decided to dip some in my soup and was floored by how perfectly paired the two were.  I highly recommend making both.  You can thank me once you incorporate them into your perfect winter evening.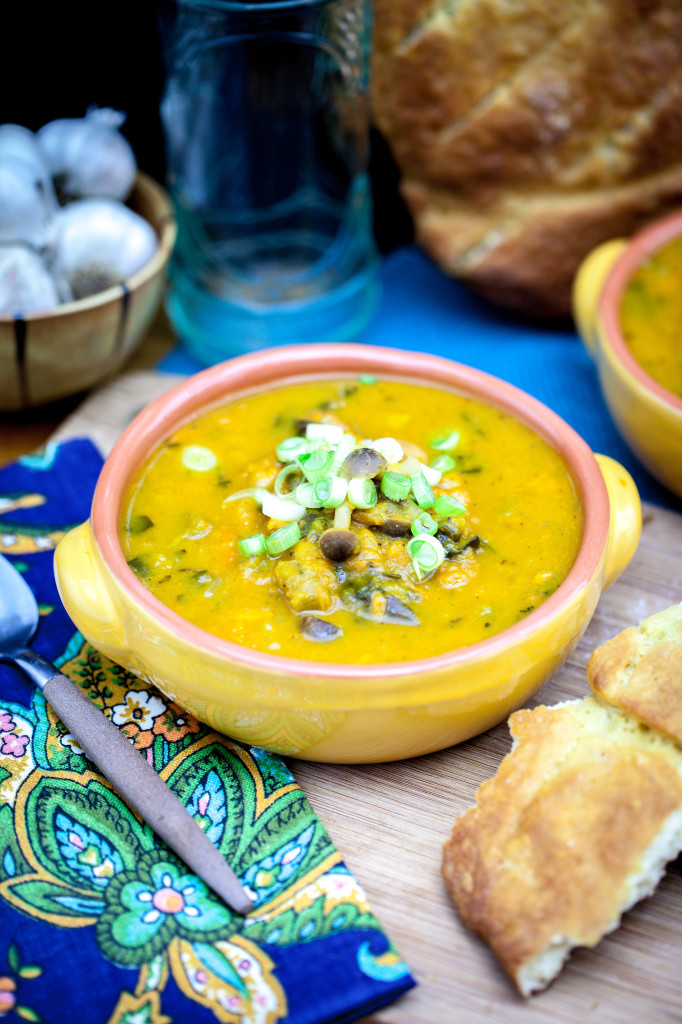 Sweet Potato Butternut Stew with White Beans & Chard
Ingredients
1 teaspoon olive oil
1 onion, diced
3-4 cloves garlic, minced
2 cups crimini mushrooms, sliced
1 cup bunapi mushrooms, separated from their base
2-3 carrots, peeled and sliced
2-3 stalks of celery, sliced
1 bunch of chard stems cleaned, sliced and reserved
1 small/medium butternut squash, peeled, seeded, and diced
2 sweet potatoes, peeled and diced
2 teaspoons dried thyme
1 1/2 teaspoons dried rosemary
1 teaspoon dried basil
1 teaspoon smoked paprika
1/2 teaspoon dried, ground sage
1/4 teaspoon ground nutmeg
1 teaspoon liquid smoke
1 15oz. can navy beans, rinsed and drained
1 15oz can great northern beans, rinsed and drained
6 cups vegetable broth
2 cups water
1 bay leaf
1 bunch of chard (stems removed and used earlier), roughly chopped
1/4 cup nutritional yeast
salt and pepper to taste
Instructions
In a large pot, heat the olive oil over medium heat for 30 seconds. Add the onion and garlic and sauté until onion is translucent. Add both types of mushrooms and sauté for about three minutes. Add the carrots, celery, and chard stems and sauté for about five minutes. Add the herbs and spices and about 1 tablespoon of water to help the spices keep from clumping. Mix in well. Add the beans, the butternut squash, and the sweet potato and mix to combine. Sauté for about 3-4 minutes before adding the vegetable broth, water, and bay leaf. Stir well, cover the pot and bring to a boil. Once it is boiling, crack the pot and lower the heat to a simmer. Let the soup simmer for about 30 minutes, or until sweet potato and squash are both tender.
Add in the nutritional yeast and add salt and pepper to taste. Add the chard and cook until the chard just starts to wilt. Remove the bay leaf. Remove the stew from heat and serve with some crusty french bread.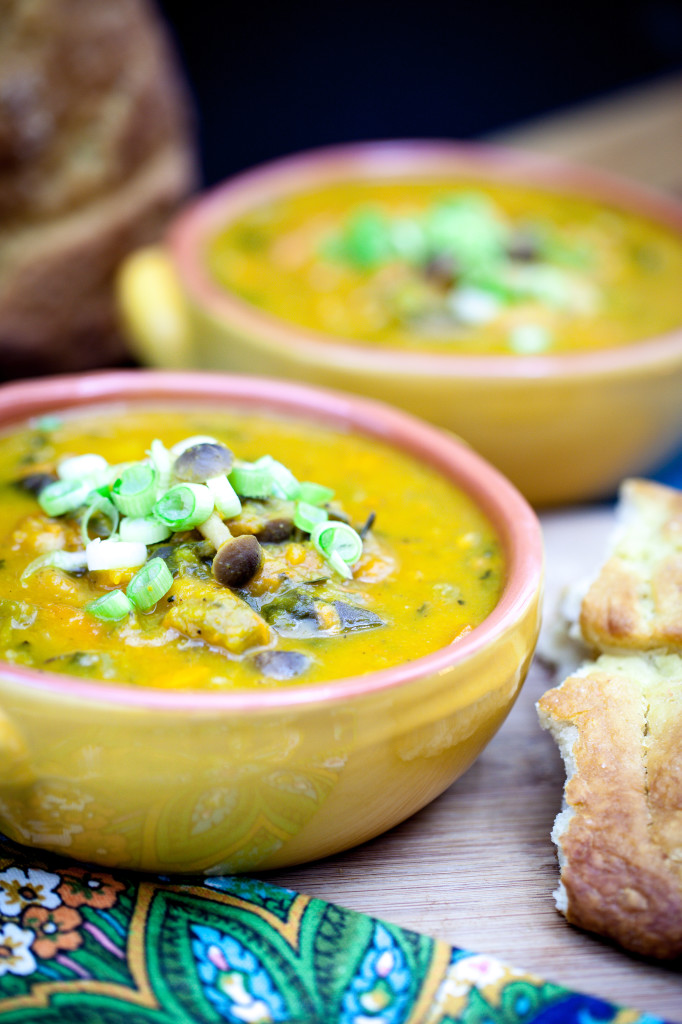 Photography by Chris Miller