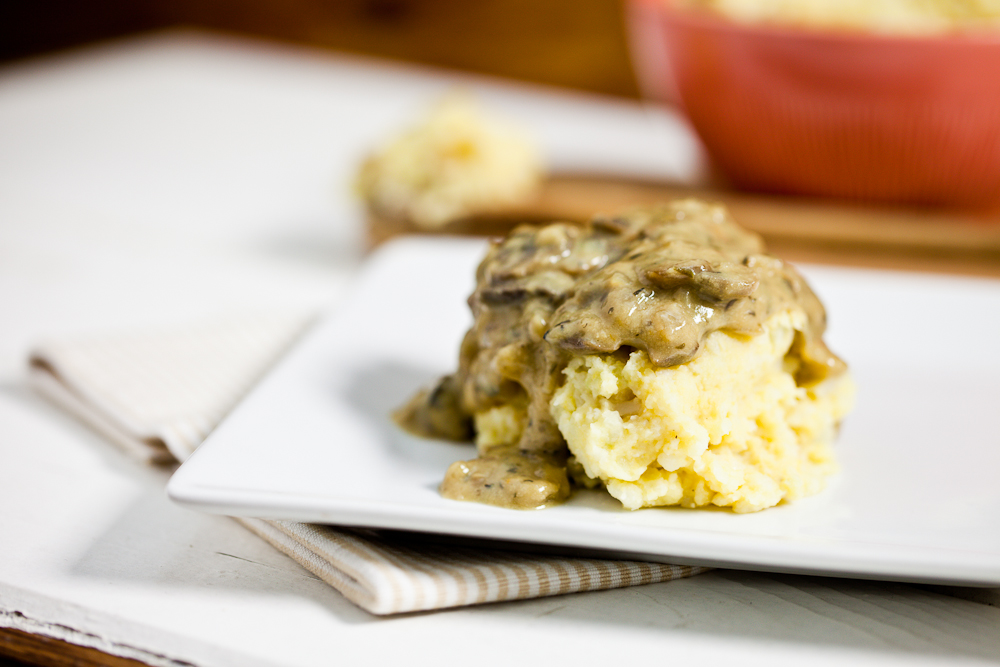 For our first Thanksgiving, after becoming vegan, we told Chris's family not to worry about us- we would bring our own food.  We didn't want to overwhelm people with having to prepare vegan food and I had no problem bringing a bunch of vegan dishes to share with everyone.  Chris's sister, a super healthy-eating vegetarian, insisted on bringing the mashed potatoes and I agreed to bring a healthy vegan gravy.  She even texted us several times to make sure certain ingredients were ok (She is just the sweetest- I truly have some of the best in-laws around!).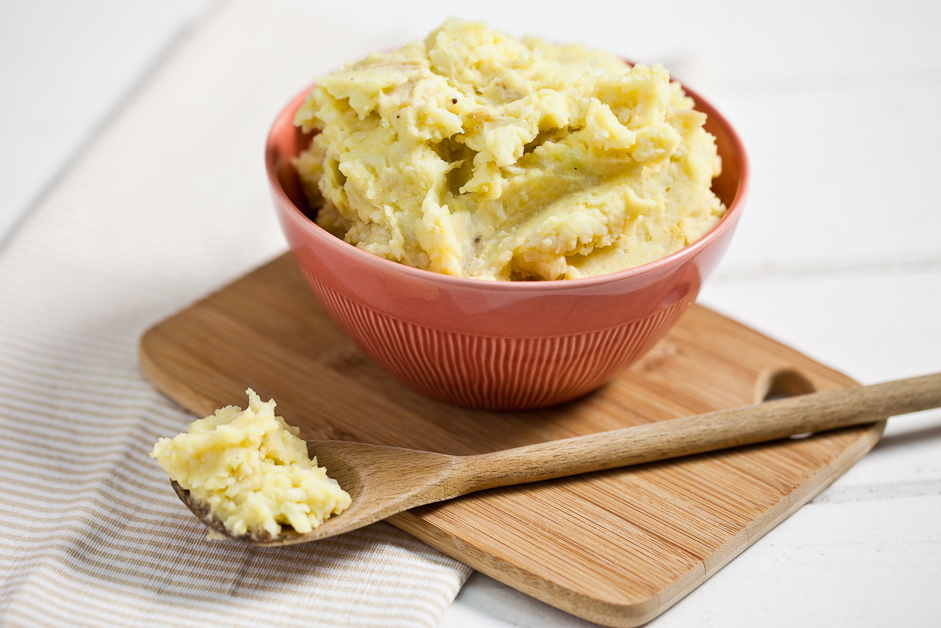 On Thanksgiving, I was blown away by Sharla's mashed potatoes.  I asked her how she made them and she told me: She substituted half of the potatoes with cauliflower and used almond milk and Earth Balance to make it creamy.  I have made them again at home, several times since thanksgiving.  Only a few months ago did I learn that Isa Chandra Moskowitz had a similar recipe in Appetite for Reduction and she appropriately named them "Caulipots."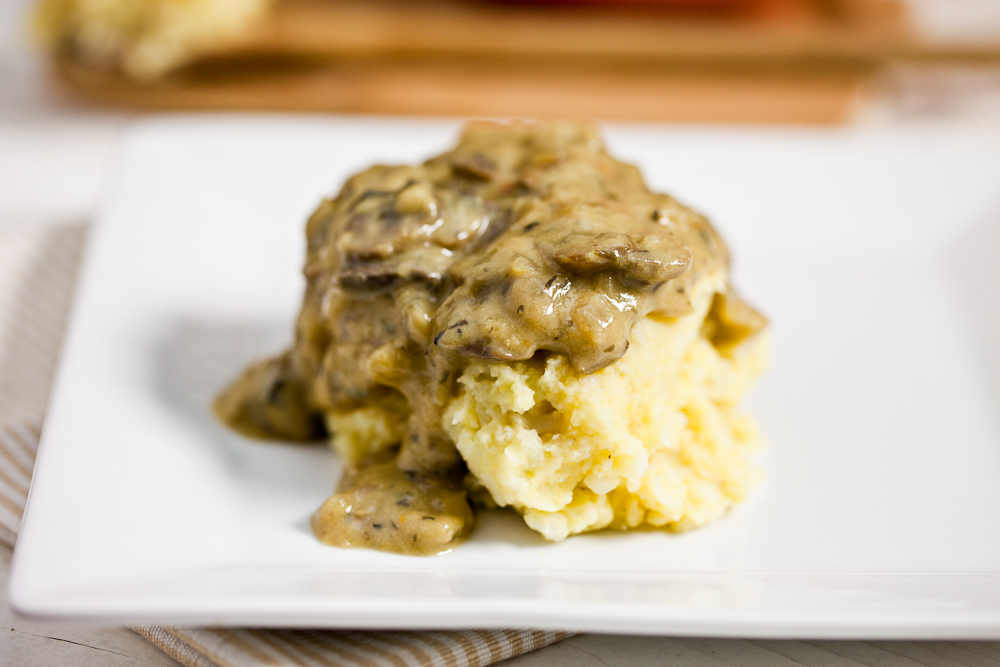 Because I have an intense love for words, and "caulipots" is like music to my ears, I kept the name.  Because my sister-in-law's recipe is so good and has sentimental value, I still use her recipe.  And because I'm having a small love affair with The Chickpea, I decided to do a chickpea version of one of my favorite recipes.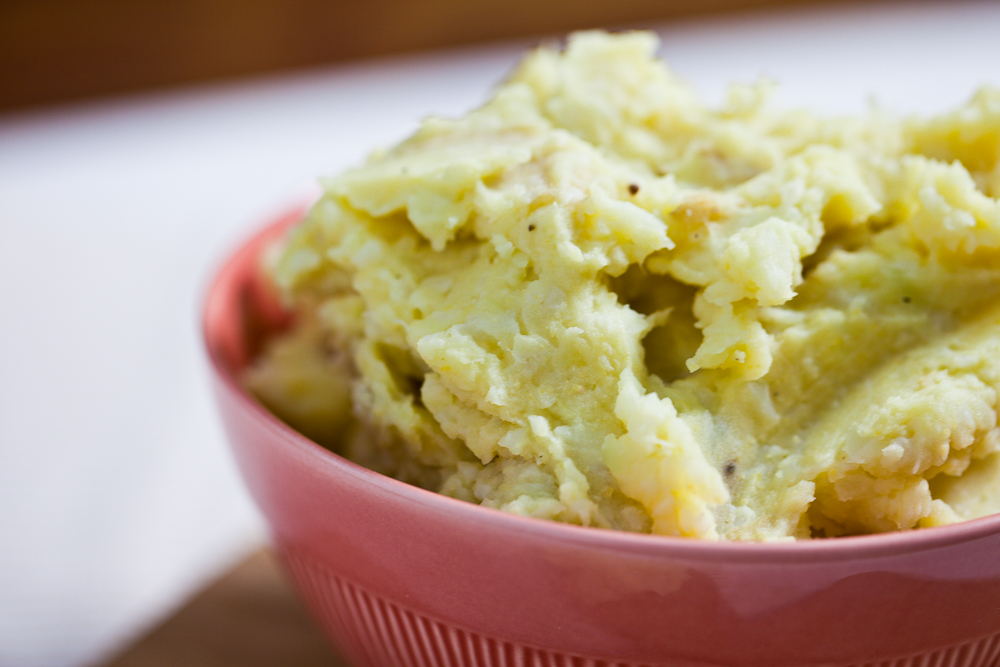 These caulipots get their creaminess from a puree of chickpeas, almond milk, and olive oil.  The chickpeas also add a nutty richness to the caulipots while adding a bit of protein.  I topped the caulipots (Man, I love that word!) with some Miso Mushroom Gravy and served it alongside a delicious chickpea-infused entrée (but you'll have to wait until tomorrow to see what that is!).  In the meantime, enjoy this wonderful side dish brought to you by Sharla, Isa, and the letter F The Chickpea.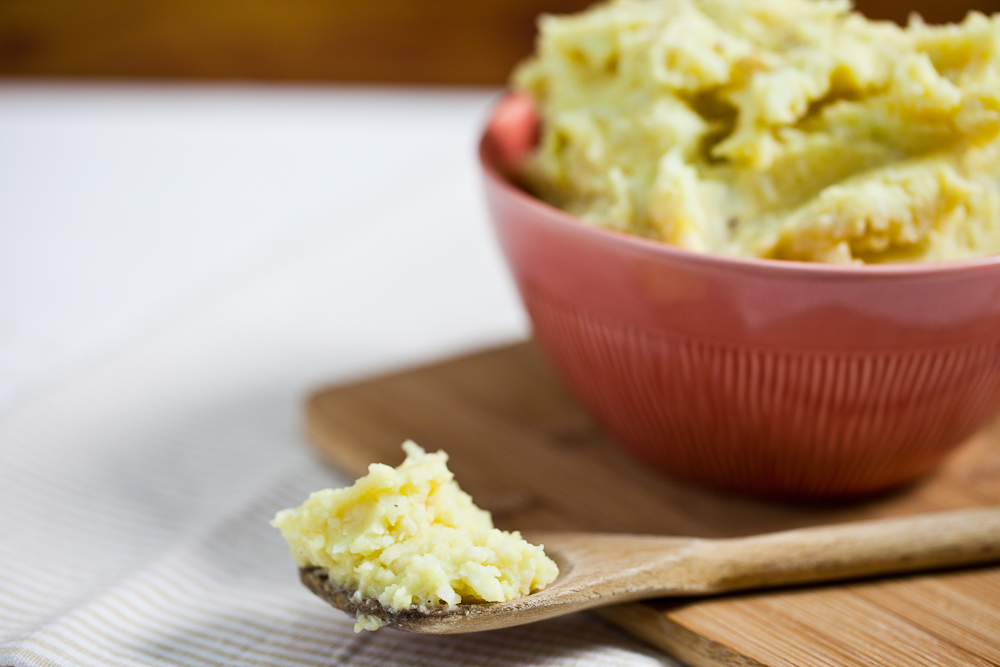 Chickpea Caulipots with Miso Mushroom Gravy
Ingredients
6-8 small baby golden "creamer" potatoes
½ head cauliflower, broken into pieces
¾ cup cooked chickpeas (or canned, rinsed and drained)
5 tablespoons almond milk
1 tablespoon olive oil
salt and pepper to taste

for the miso mushroom gravy

2 cups + 1 tablespoon vegetable broth
3 tablespoons chickpea flour
1 tablespoon Bragg Liquid Aminos
½ teaspoon white miso
1 teaspoon dried thyme
1 teaspoon dried sage
2 teaspoons olive oil
1/2 red onion, diced small
2 cloves garlic, minced
2 cups crimini mushrooms, sliced
1 tablespoon nutritional yeast
pepper to taste
Instructions
If you do not like potato skins in your mashed potatoes, you should peel the potatoes. I like the texture the skins add, so I leave them in. Chop the potatoes into small chunks.
Place the potatoes in a medium pot and cover with water. Cover the pot and bring to a boil on the stove. Once it is boiling, remove the lid, place a steamer on the pot. Place the cauliflower in the steamer and cover. Let the cauliflower steam while the potatoes cook, until cauliflower can be easily pierced with a fork, about 5-7 minutes. Alternatively, you can steam the cauliflower separately from the potatoes.
While the cauliflower and potatoes are cooking, place the chickpeas in the bowl of a food processor. Add the almond milk and olive oil and process until it is a smooth puree.
Once the cauliflower and potatoes are done cooking, drain the water from the potatoes and add the cauliflower to the potatoes. Use a masher to mash them until they are roughly mashed. Add the chickpea puree and begin mashing again until you reach your desired texture. If you like your mashed foods super smooth, just add the roughly mashed potatoes and cauliflower to the food processor with the chickpea puree and process until smooth.
Add salt and pepper to taste. Serve with gravy and enjoy!

for the miso mushroom gravy

Whisk the 2 cups of broth together with the flour and set aside.
Mix the 1 Tablespoon of broth with the Bragg Liquid Aminos and miso paste. Mix in the thyme and sage and set aside.
Heat the olive oil in a large, shallow saucepan for about one minute. Add the onion and sauté until translucent. Add the garlic and mushrooms and sauté for about 4-5 minutes, or until mushrooms have browned. Add the miso mixture and mix to combine. Let it cook in the liquid for 2-3 minutes, then add the broth mixture and nutritional yeast. Mix thoroughly and bring to a boil. Once it is boiling, reduce to a simmer and let it cook for about 20 minutes or until it reaches a desired thickness. Remove from heat and serve. Enjoy!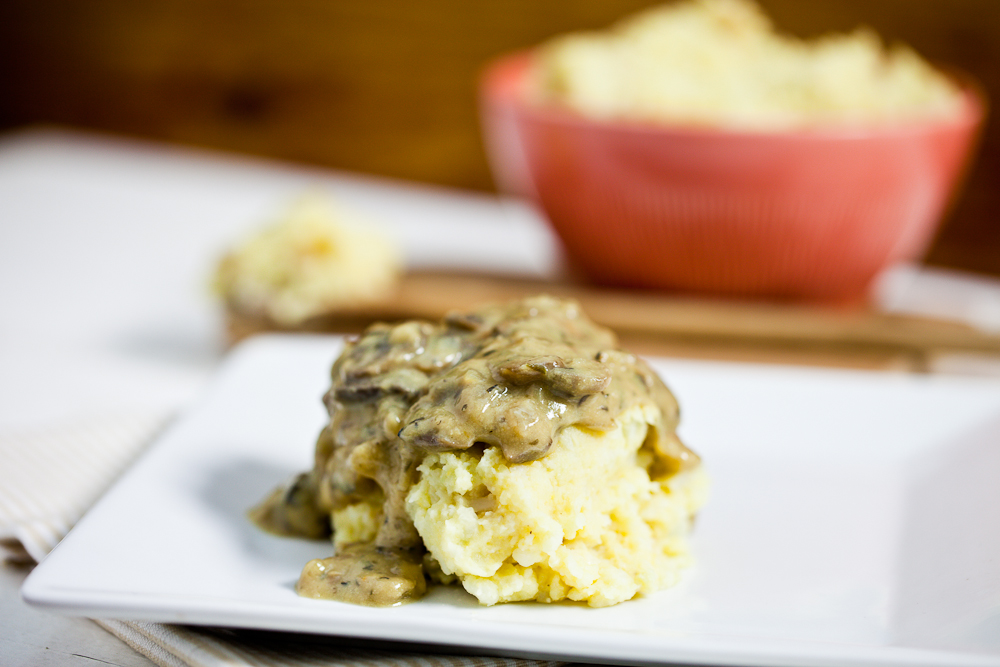 First time here?  Check out the rest of my Chickpea Love Affair Vegan MoFo Entries!
Love animals? Help support Farm Sanctuary's mission to protect farm animals from cruelty! Keepin' It Kind's goal is $500, but we can't do it alone! Together, we can make a real difference for farm animals everywhere. Donate today!  Learn more about Why I am Walking for Farm Animals and join our team!
Photography by Chris Miller