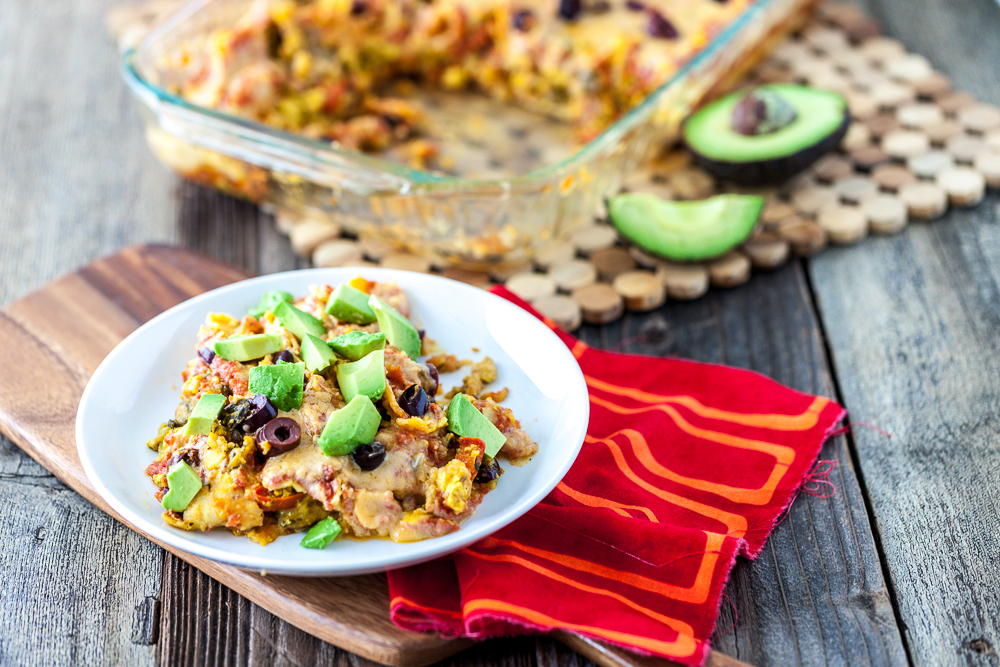 There are three things to note about the photographs in this post:  1.)  The swatch of red and orange fabric in this picture is famous.  It was used in Isa Chandra Moskowitz's upcoming book and I think she would appreciate that I make that perfectly clear upfront.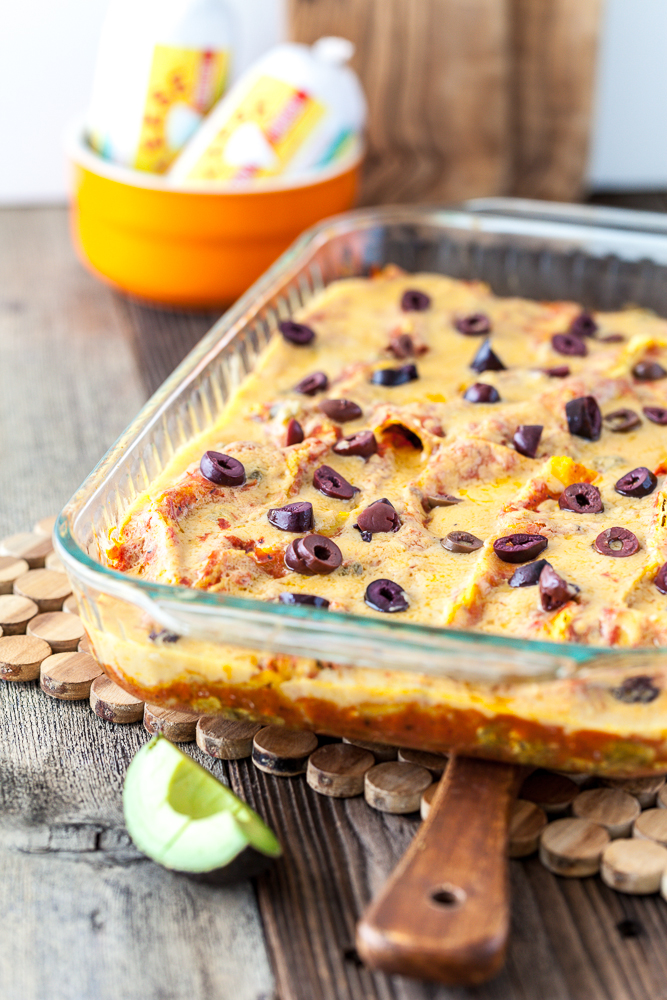 2.)  Chris and I currently have an abundance of Teese Nacho Cheese because we each got one in our VVC swag bags, plus I already had one leftover from my April Vegan Cuts snack box (by the way, have you subscribed yet?  You should- the monthly snack box is awesome).  Can you spot all the Teese (Hint: they're not hidden at all)?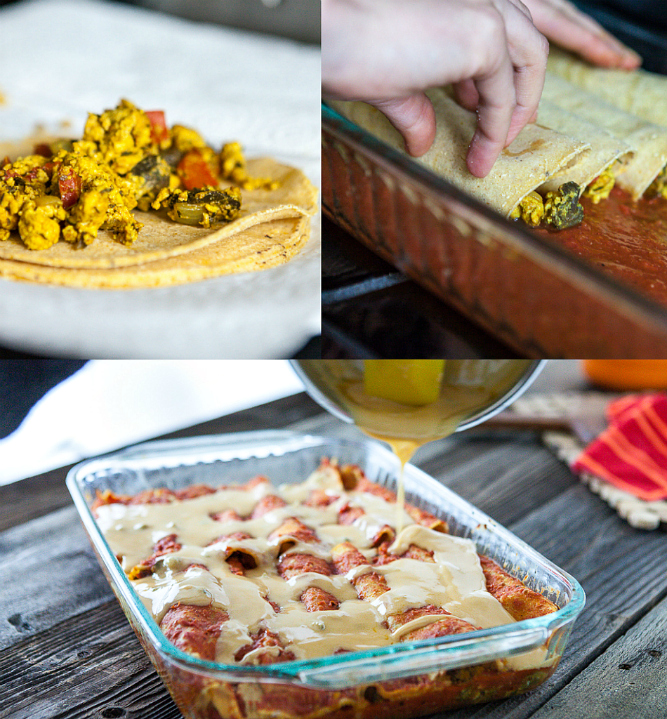 3.)  Nachos are messy.  Tofu Scrambles are messy.  Enchiladas are messy.  It goes without explaining that when combining all three, the result will also be messy.  It's just science.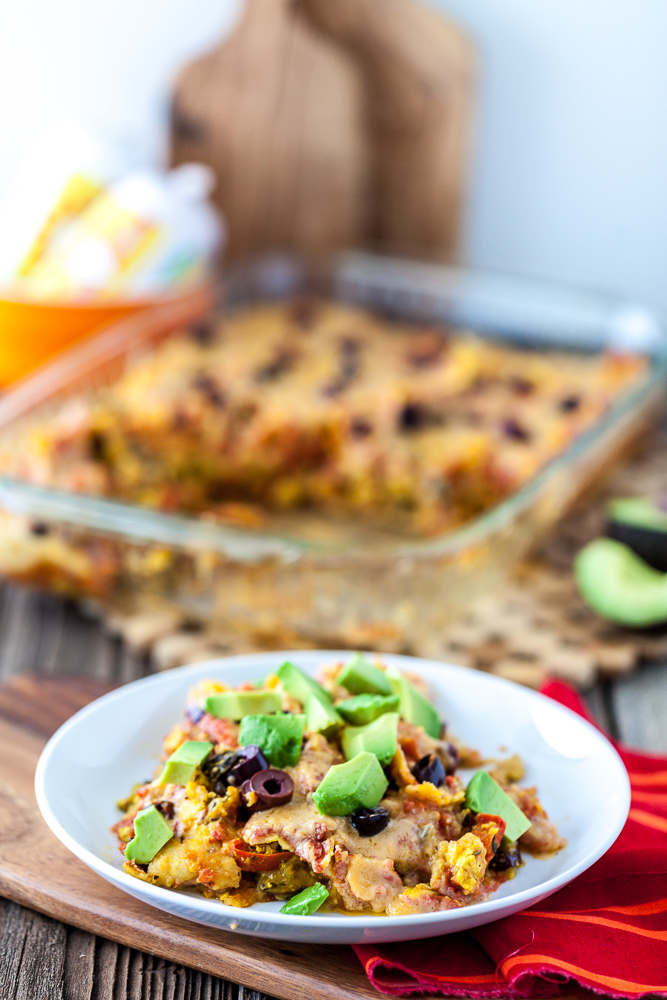 The first try at plating this dish was a total fail.  The spicy red sauce had made the corn tortillas a little soft, so when I tried to lift one enchilada out and onto a plate, mushroom and bell pepper-filled tofu scramble came spilling out, along with the hot melty nacho cheese.  It was a hot mess on a plate.  It was a ridiculously delicious hot mess, but a hot mess all the same.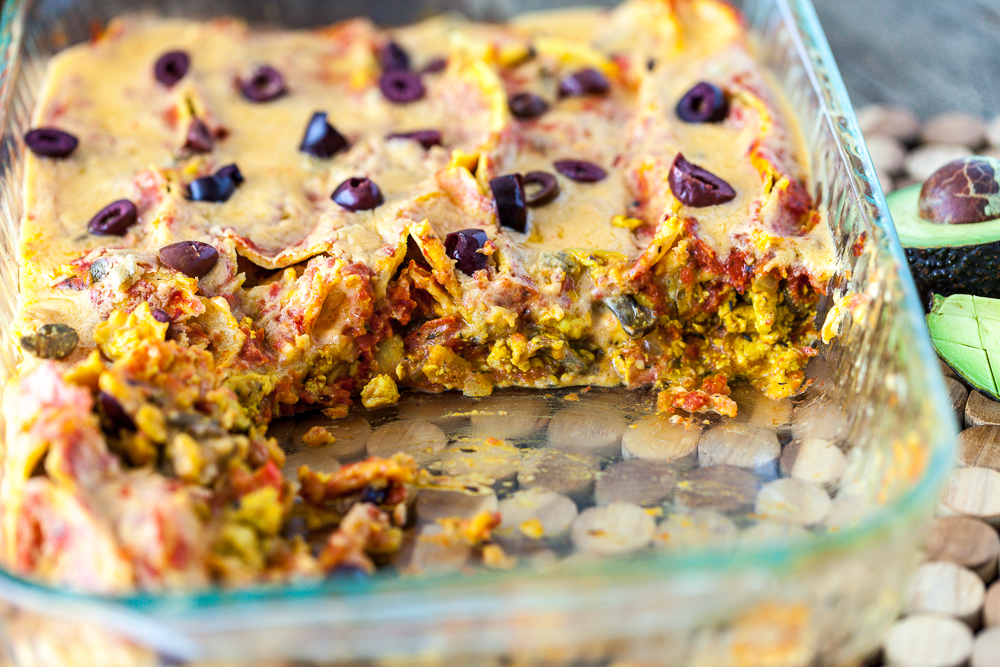 What you're seeing in these photographs is the second plating attempt.  It was also messy, but not as bad.  I decided to just embrace it and show you all what this messy and amazing meal really looks like.  The chopped avocado went on, very haphazard-like, just as I would do if I were not going to photograph it before eating it.  It's not pretty, but heavens to betsy, these nacho tofu scramble enchiladas are just the best enchiladas I've ever made!  Or devoured eaten!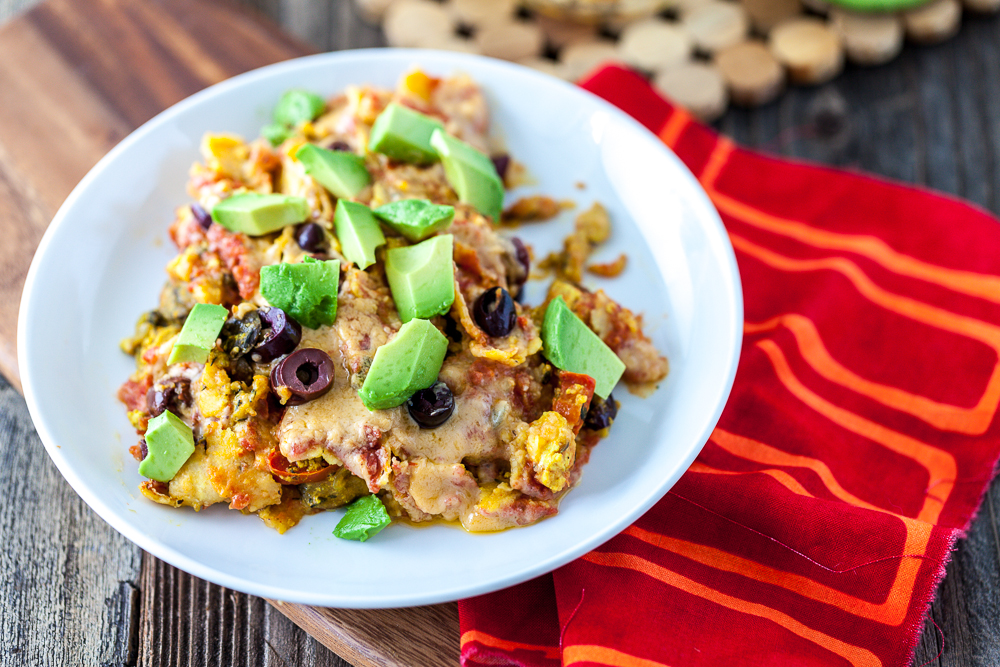 Three things you need to take away from this post:  1.)  Tofu scramble is made to go in enchiladas;  2.)  Teese's vegan nacho cheese is awesome and was made to go on top of tofu scramble enchiladas; and 3.)  Messy food just tastes better.  It's science.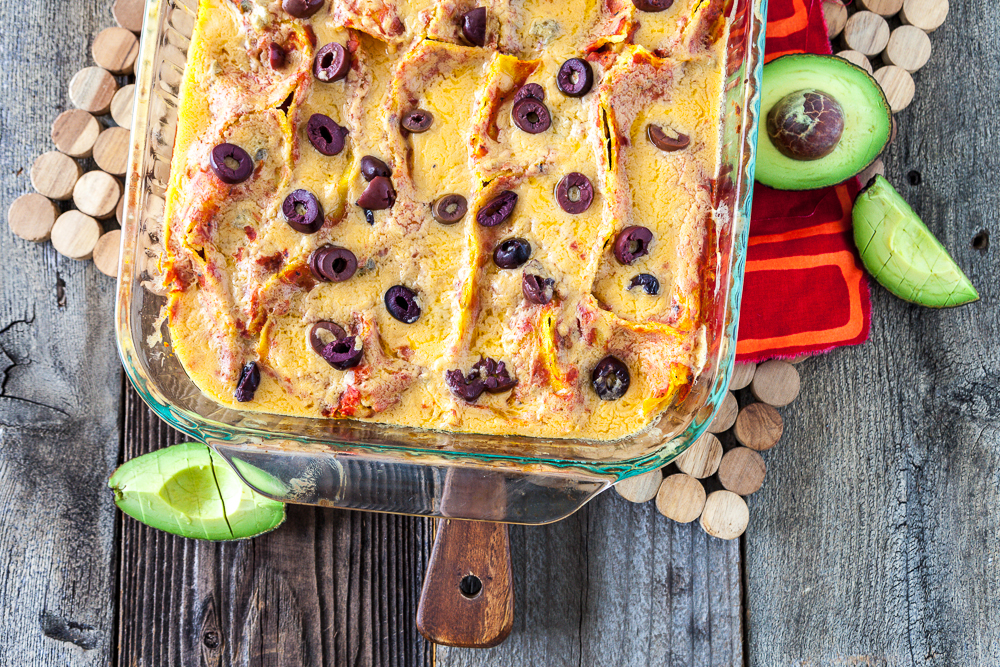 Nacho Cheese Tofu Scramble Enchiladas
Ingredients
1 15 oz. can of fire-roasted tomatoes
2-3 cloves garlic, minced
1 jalapeño, chopped (optional)
1 cup vegetable broth
salt and pepper to taste
1 12 oz. package of extra firm tofu
1 tablespoon olive oil
½ onion, finely chopped
2 cloves garlic, minced
2 cups sliced mushrooms
1 red bell pepper, chopped
2 teaspoon dried thyme
1 teaspoon ground cumin
½ teaspoon smoked paprika
½ teaspoon turmeric
1 teaspoon black salt (kala namak, but if all you have is white/sea salt, that will be fine)
¼ cup vegetable broth
¼ cup nutritional yeast (heaping)
12 corn tortillas
1 10oz. package of Teese nacho cheese
chopped avocado, for garnish (optional)
sliced black olives, for garnish (optional)
Instructions
Preheat the oven to 450. Remove all the cloves from a head of garlic and place on a piece of aluminum foil. Drizzle with 1-2 tsp olive oil and salt and pepper to taste. Wrap the cloves up in the foil and place on a baking sheet in the oven for 20 minutes. Remove and let cool before handling.
From the roasted cloves of garlic, squeeze each of them at one end until the insides ooze out. Place all of the "oozed out" garlic into the bowl of a food processor or blender. Add the can of fire-roasted tomatoes and vegetable broth and blend until smooth. Set aside.
Now you can make your scramble. Remove tofu from its carton and let drain it sit in a strainer while you prepare your vegetables.
In a large pan, heat the oil over medium heat for about 30 seconds. Add the onion and sauté until the onion is translucent, and then add the garlic. Sauté both for about 2 minutes.
Add the sliced mushrooms and bell pepper and saute for about 2 more minutes.
Tear the tofu into bite size chunks (not too small, but not too big) and add to the pan. Mix to combine. Let the tofu cook in the water it releases, stirring occasionally, letting it the tofu "brown." If it starts to stick, add a little more water to deglaze the pan.
After about 15 minutes, once the tofu has a nice tan color, add your spices and vegetable broth. Mix to combine and sauté until liquid is gone. Add the nutritional yeast and mix to combine. Remove from heat.
Preheat the oven to 350. Lightly spray a 9x13 casserole dish with olive oil spray or lightly grease. Pour a little bit of the enchilada sauce into the dish, just enough to cover the bottom.
Heat your corn tortillas. This is important because if you try to wrap the filling with cool tortillas, they will break and look ugly. I wrapped 5 tortillas at a time in a couple damp paper towels and microwaved for 30 seconds.
Carefully spoon roughly 1/3 cup of the scramble onto the center of a tortilla, wrap it up and place it fold side down in the casserole dish (I did it in two horizontal rows of 5 rolls each). Repeat with the rest of the filling and tortillas. Once your dish is filled with rolls, pour the rest of the enchilada sauce over the rolls. Cover the baking dish with aluminum foil and bake at 350 for 20 minutes.
While the enchiladas are baking, heat the nacho cheese. Pour it into a small pot and heat over meium heat until warm. Don't let it come to a boil.
Once the enchiladas have baked for 20 minutes, pour the nacho cheese over the top. Use a rubber spatula to evenly spread the crema over the top. Return to the oven, uncovered for 5-7 more minutes. Remove from oven and let sit for 10 minutes before serving. Serve with chopped avocado and olives, if desired. Enjoy!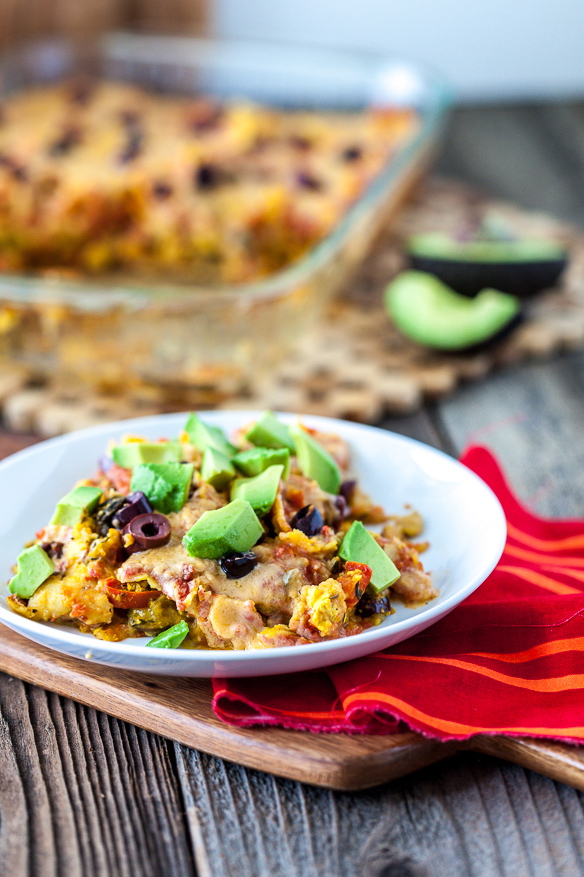 What's your favorite "messy" food?
Photography by Chris Miller