There was a time, about five or six years ago, when my weekends were far different from they are now.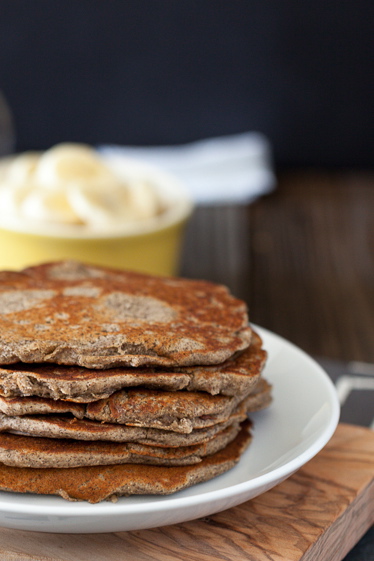 I would generally work during the day on Saturday.  Saturday nights were for dates, going dancing, or having a wine and movie night with my best friend.  Sunday mornings were spent sleeping in a bit, going out to brunch with my pup, and if the weather was nice, the two of us would go to the beach.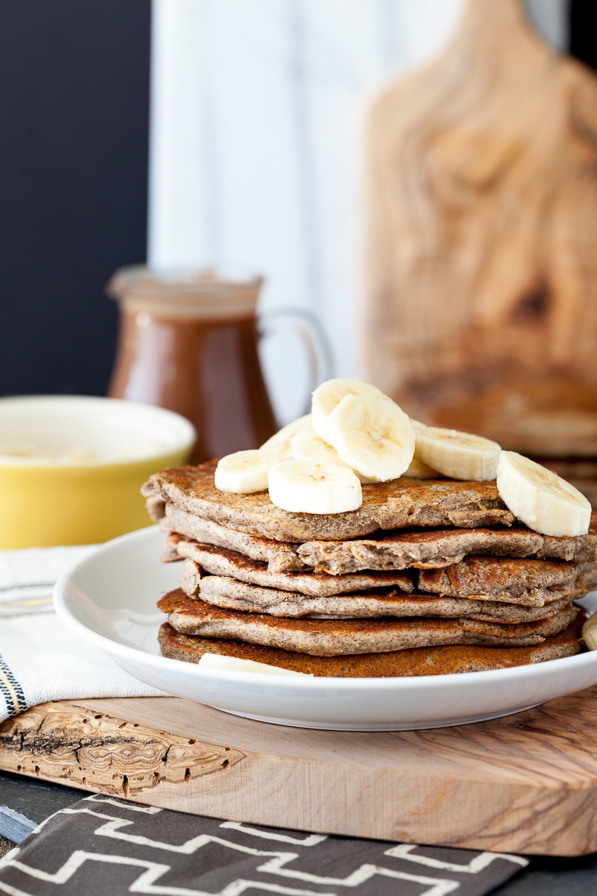 I loved my single girl weekends.  I loved making plans for Saturday night and getting dressed up.  All week I would look forward to my brunch date with Samantha.  I felt so alive, living it up as a single girl.  At that time, I thought I could never be happier.  I knew I would never trade it for anything.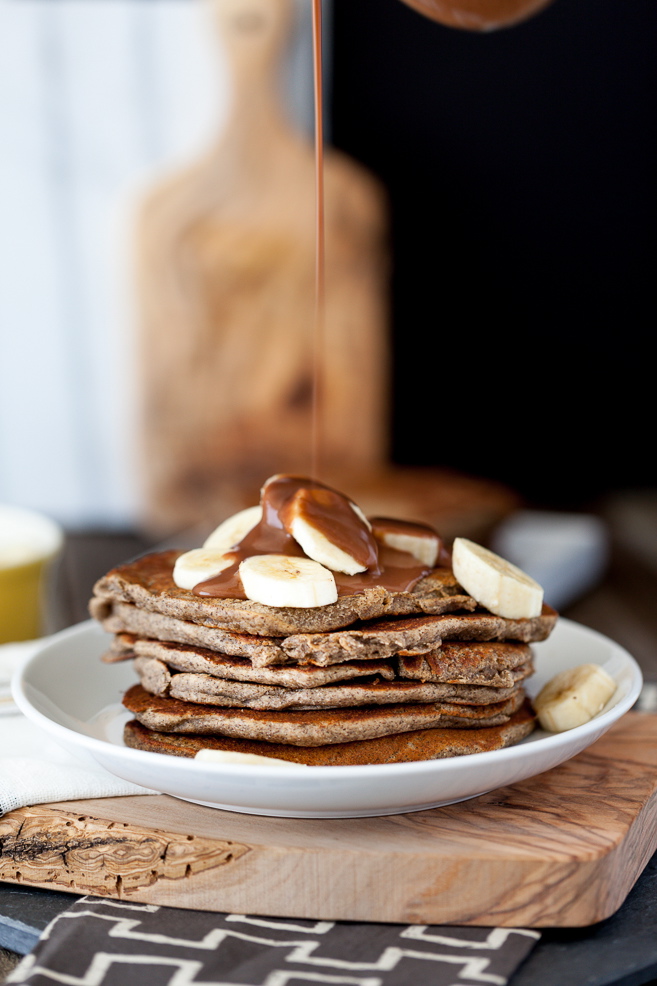 But then I met Chris.  And then I met his twins, Max and Sophia.  And my priorities changed in an instant.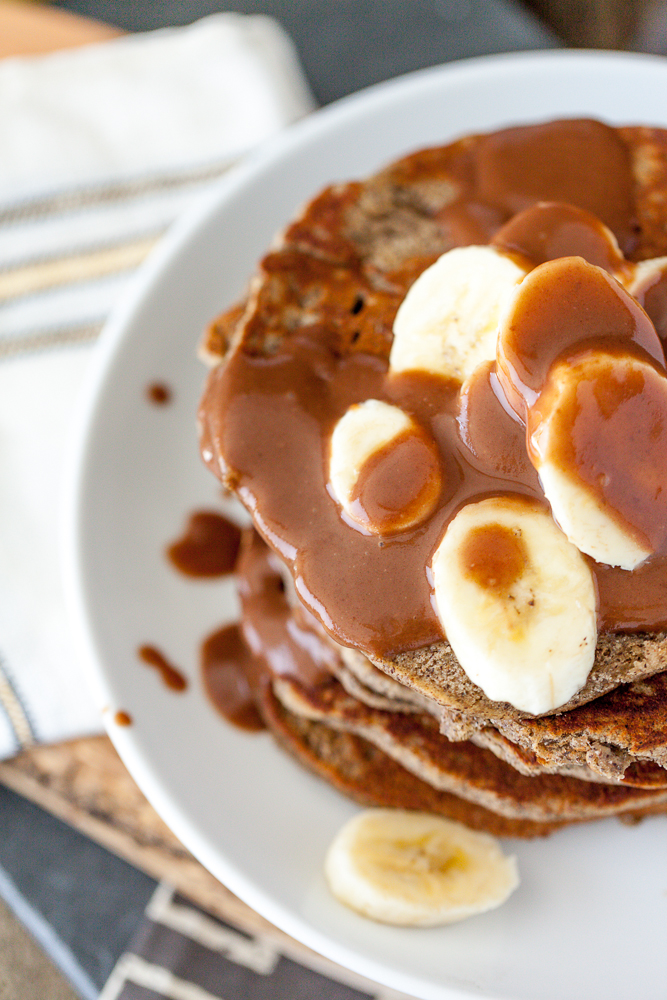 I began turning down nights of dancing with the girls to stay in and watch Finding Nemo with the twins.  Nothing sounded better than helping Chris prepare dinner for the twins and playing a board game with them.   Sunday brunch went from being a party of two to a party of five (two adults, two kids, 1 dog), and taking the twins to the beach or on a bike ride became our weekend ritual.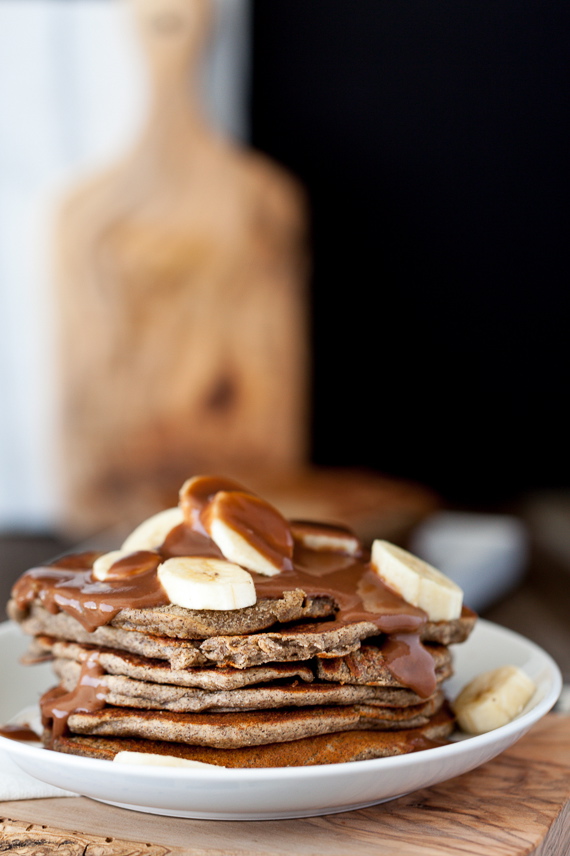 Now, our house doesn't feel completely like home until the twins come over for the weekend.  It's painful for me to give up one of our Saturday movie nights.  And I love our lazy Sunday mornings.  When I can make a brunch for the four of us, I'm in seventh heaven.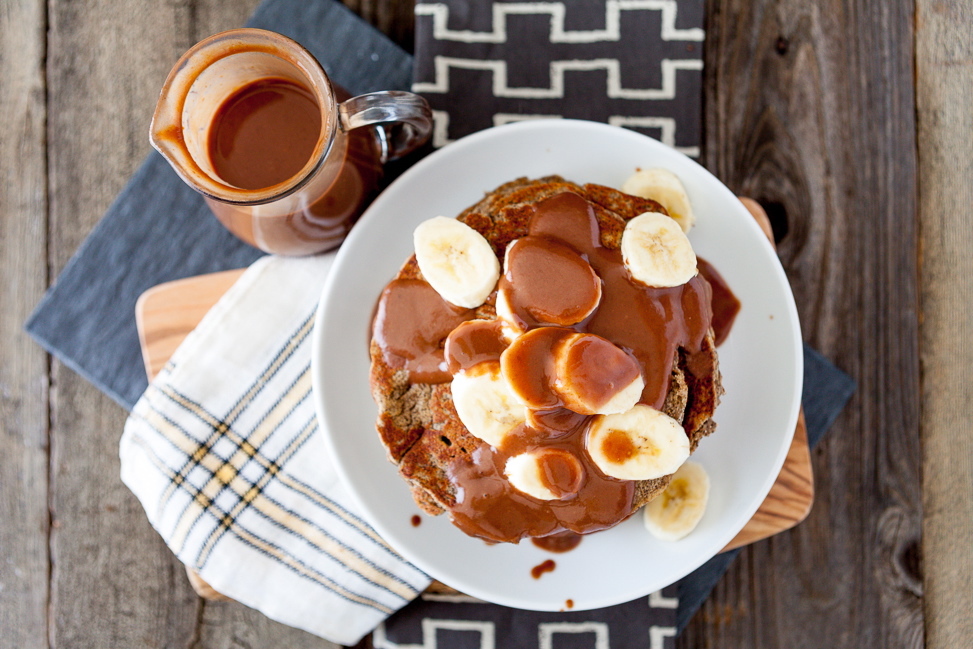 For our most recent brunch, I made these Peanut Butter Banana Pancakes with Salted Chocolate Caramel Syrup.  The pancakes were a compromise for the twins- peanut butter for Sophia, banana for Maxwell.  The pancakes were a perfect balance of both flavors, neither overpowering the other.  The syrup was for all of us, except Max, who prefers his pancakes dry and chocolate-free.   I started with a date caramel base and added cacao powder and liquid until I had a syrupy consistency, and it was so perfect!  Sophia, who usually does not like to eat banana, ate big chunks of banana drenched in this sauce.  All of us were pretty excited about this brunch- even Samantha, who got a little tiny pancake from the last scrapings of the batter.  It's mornings like this that I cherish.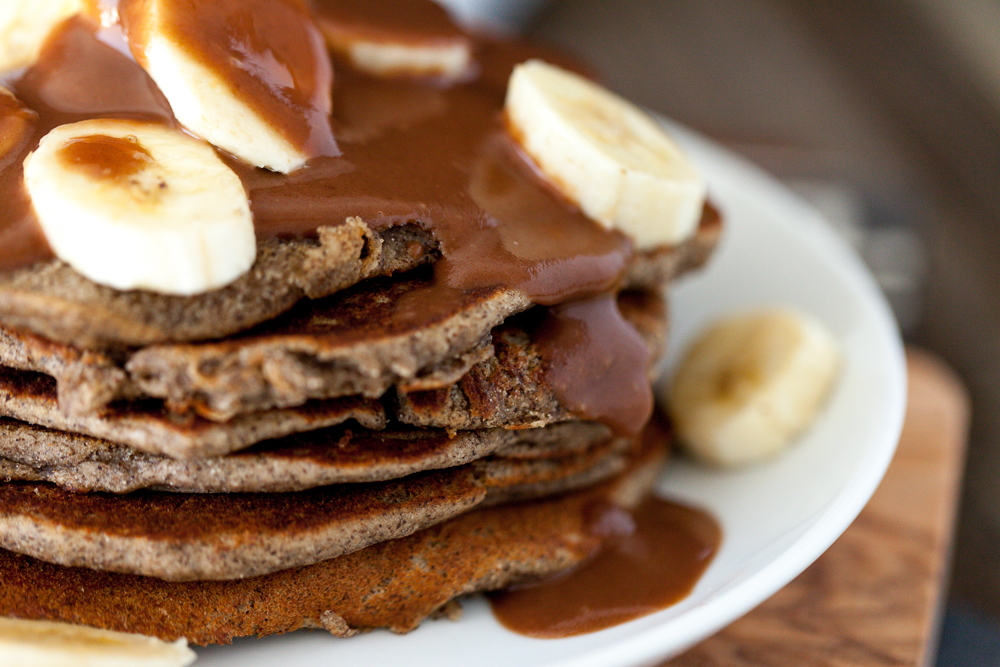 Mornings like this are also such a great reminder to look around and be grateful for all that makes you happy.  You might just find that this moment, right now, is your happiest moment yet.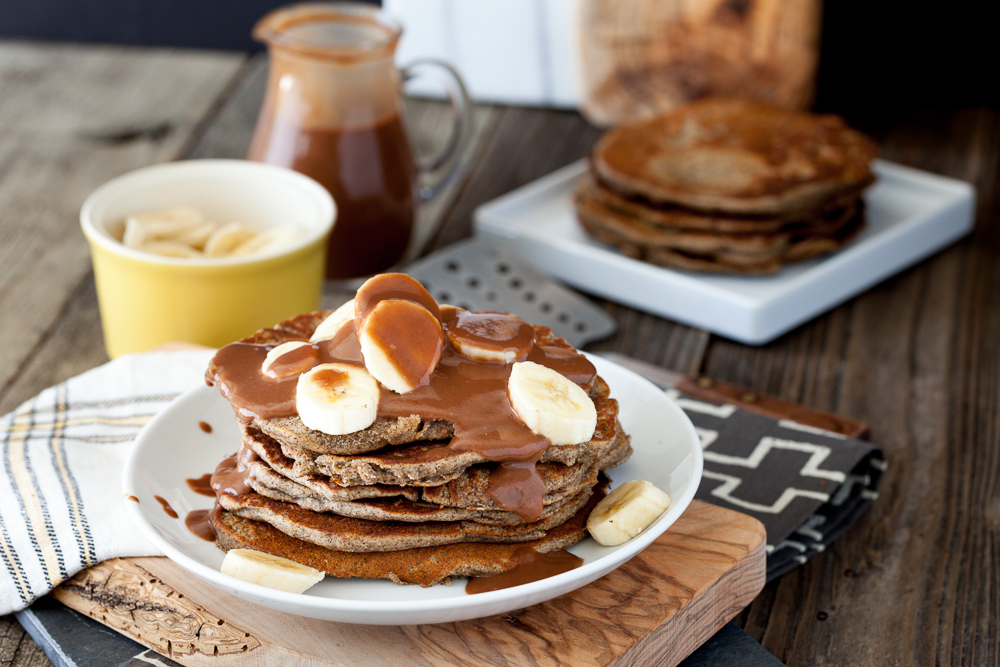 Peanut Butter Banana Pancakes with Salted Chocolate Caramel Syrup
Ingredients
for the salted chocolate caramel sauce

8 dates, seeded and soaked for 1 hour
1/2 cup + 2 tablespoons almond milk
1/4 cup water
2 tablespoons maple syrup
1 tablespoon cacao powder (or cocoa powder)
sea salt to taste

for the peanut butter banana pancakes

1 very ripe banana, mashed
1/2 cup creamy peanut butter
1 1/2 cups almond milk
1 tablespoon apple cider vinegar
1 tablespoon maple syrup
1 teaspoon vanilla extract
3/4 cup buckwheat flour
1/2 cup coconut flour
1/4 cup tapioca starch (or arrow root/cornstarch)
1 tablespoon baking powder
1/2 teaspoon sea salt
1/2 teaspoon ground cinnamon
dash of ground nutmeg
Instructions
for the salted chocolate caramel syrup

Pulse the dates in a food processor until they are in small pieces. Add the rest of the ingredients and process until very smooth, scraping sides as needed. Add more almond milk or water as need to thin it out. Chill until ready to use.
Mix together the almond milk and apple cider vinegar and allow to sit and curdle.
Whisk together the dry ingredients in a medium bowl. In a large bowl, mix together the banana and peanut butter. Add the rest of the wet ingredients and mix until fully combined.
Slowly add the dry ingredients to the wet, stirring as you go. Mix until just combined. This will be a thick batter.
Heat a large frying pan or griddle over medium heat. Lightly spray with oil. Once the pan is hot, use a 1/3 cup to scoop the batter onto the pan. Use a spoon or spatula to spread it out in a circular shape. Allow to cook until the batter begins to look dry on the top, about 3 minutes. Flip the pancake and allow to cook for about 2-3 minutes. Remove from heat and if not serving immediately, keep it warm on a plate covered with aluminum foil. Regrease the pan in between each pancake.
Serve with the chocolate caramel sauce and enjoy!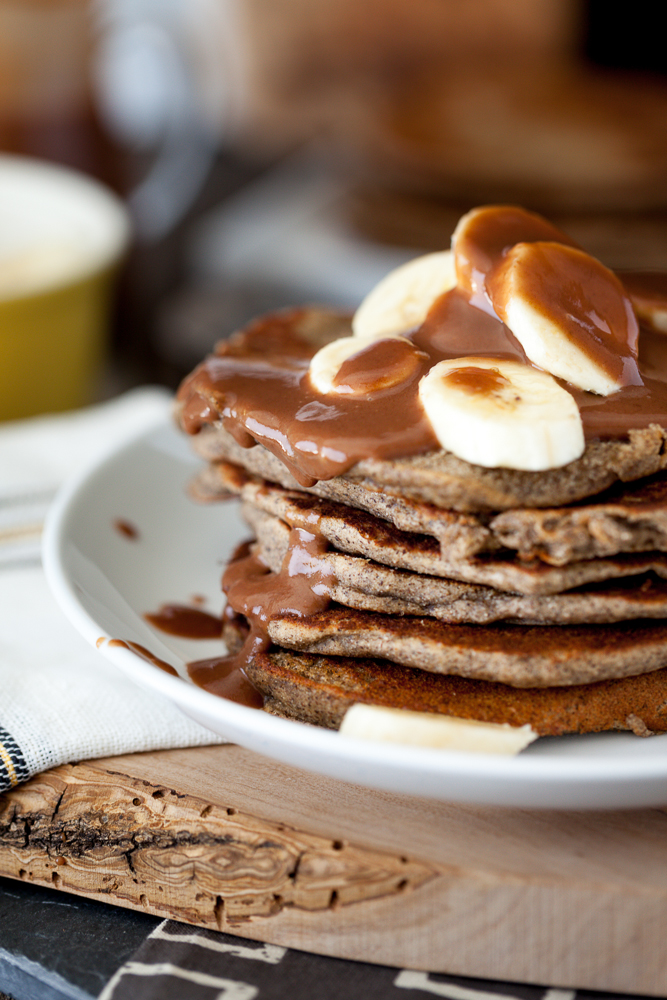 What are your favorite weekend rituals?