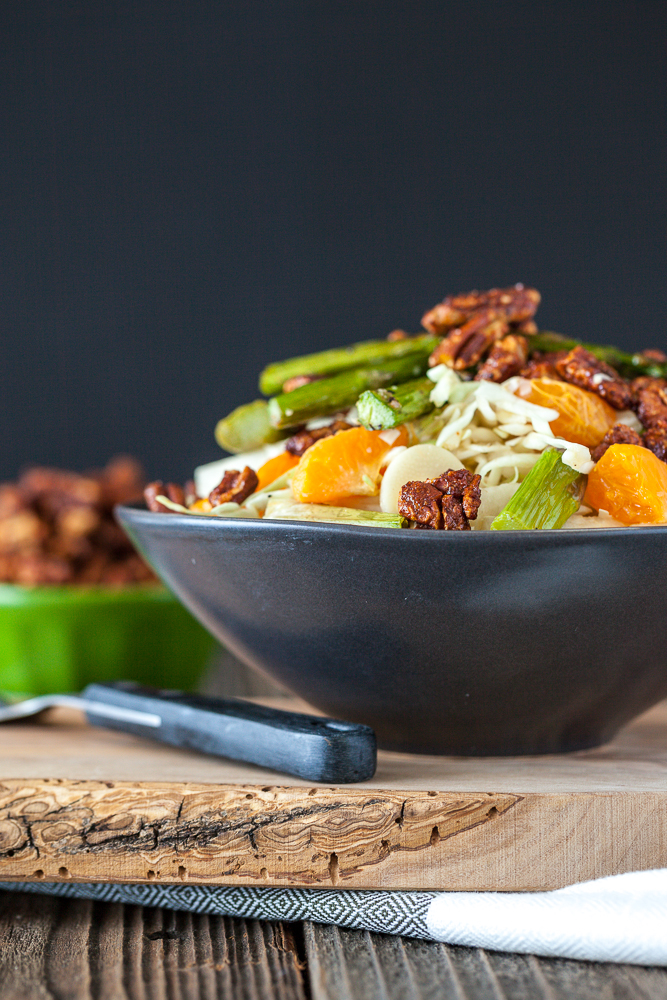 Heart of Palm, Jicama, Asparagus, Cabbage, Tangerines, and Maple Sriracha Pecans all in one salad?  Yes, it's true.  I know that sounds like a motley crew of ingredients but you have to trust me on this one.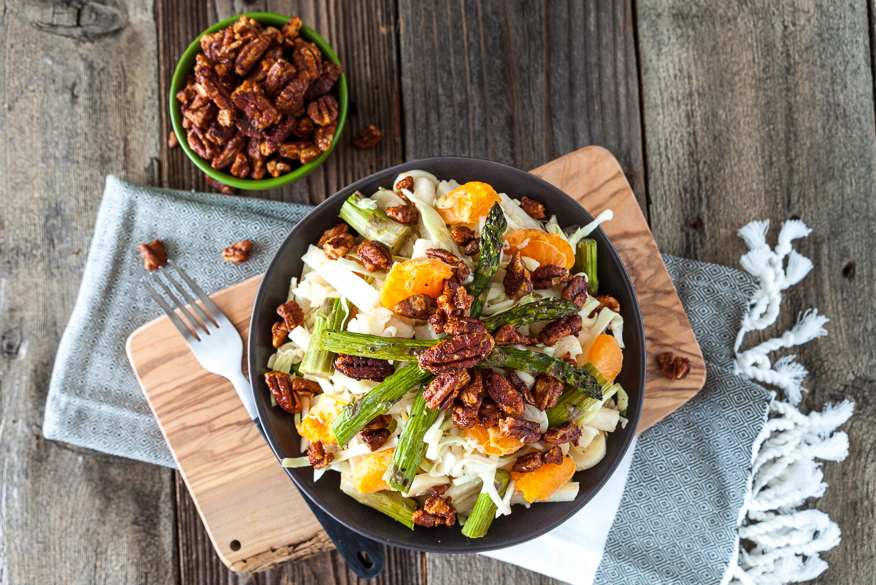 I tend to be a play-it-safe kind of gal.  It's very easy for me to stay in my comfort zone.  However, it is the times that I take blind leaps of faith that yield the best results.  When I go running, I have a very specific path that I follow, however, when I decide to take a random route and explore a new place is when I feel most alive.  I used to pre-plan every minute of every trip I would ever take, but the decision to sell almost everything I owned and leave for Europe for nearly a year with no concrete plan in mind, was one of the greatest, most life-changing things I ever did.  The times I let my imagination go a little wild are when I create some of my favorite things in the kitchen.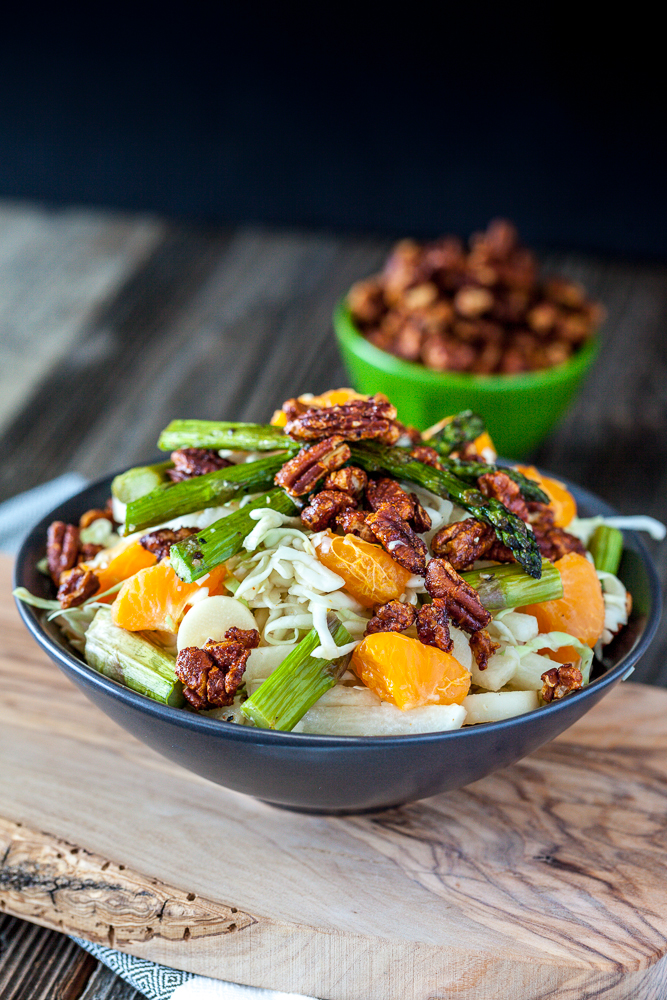 I'm going through a bit of a heart of palm obsession of late.  I've always loved them, but in the past, I've always forgotten about them.  Then one day, they appeared in a salad I had ordered and I was just taken aback.  I even texted Chris to say "Why aren't we eating hearts of palm ALL THE TIME?!?!"   He couldn't come up with a logical answer for me.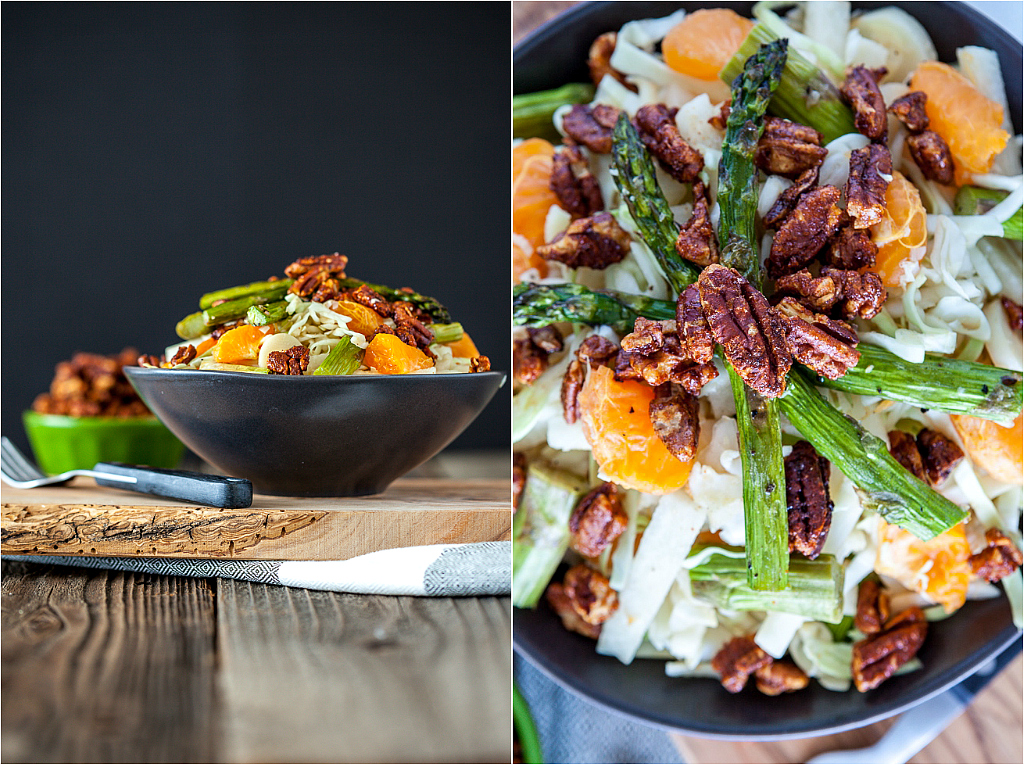 So the obsession began.  I bought them by the jar and began to add slices of this heavenly vegetable to everything- salads, sandwiches, stir-fries.  I combined a lot of different flavors and textures with heart of palm and this salad is a mixture of my favorite flavor combos.  The salty creaminess of the heart of palm pairs well with the sweet crunchiness of jicama.  The tangerines brighten up the heart of palm's mild flavor.  The roasted asparagus, well, I've had a hard time finding flavors that it doesn't pair well with.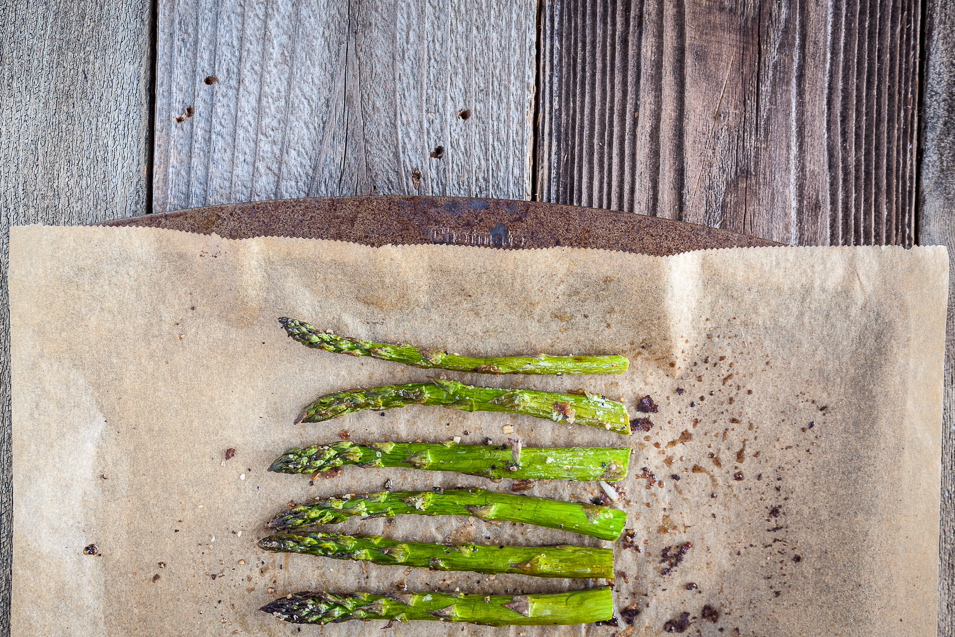 Then there's the Maple Sriracha Pecans.  They are the true star of this dish.  These roasted pecans are sweet and caramelized with a nice spicy bite in the aftertaste.  As much as I adore the heart of palm in this salad, without the pecans, this salad would be a simple yet tasty salad.  You would quite enjoy it while eating it, but you likely wouldn't tell your friends about it.  After one bite of this salad with the maple sriracha pecans, you will be wanting to tell every stranger you meet on the street about it.  Well, that part might just be me, but I trust that you will be excited about it as well.  To put it simply, the Maple Sriracha Pecans are what makes this salad go from "Yum" to "Daaaa**! That's what I call a salad!" (Chris's words).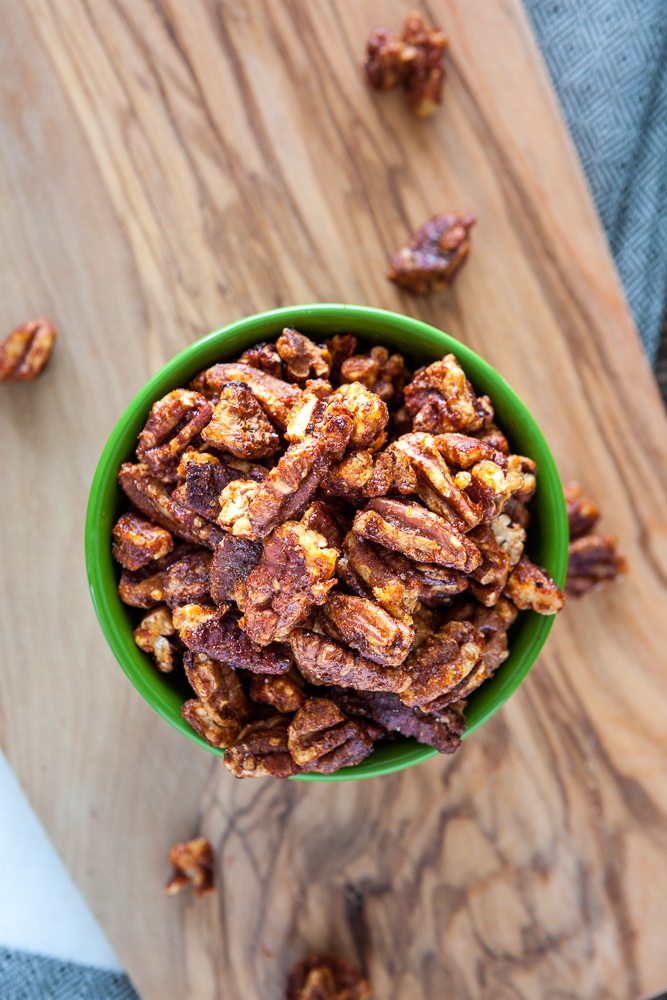 So yes, there is quite the hodge-podge of ingredients in this salad, but it stands as a testament to why I think it's great to get in the kitchen and experiment.  Try new (or not-so-new) ingredients. Play with different flavor combinations.  Get a little crazy and venture outside of your comfort zone.  You'll either learn something new or create something absolutely brilliant.
Heart of Palm, Jicama & Asparagus Cabbage Salad with Tangerines & Maple Sriracha Pecans
Ingredients
for the Maple-Sriracha Pecans

2 tablespoons maple syrup
3 teaspoons Sriracha sauce
1 teaspoon olive oil
1/4 teaspoon ground cinnamon
1/4 teaspoon smoked salt (or regular sea salt)
a few dashes of smoked paprika
a couple dashes of cayenne pepper
2 cups chopped pecans
salt to taste (optional)
12-15 stalk of asparagus, chopped into quarters
olive oil spray
salt and pepper to taste
4 cups shredded cabbage
1/2 bulb of jicama, peeled and chopped into matchsticks
6-7 heart of palm stalks, rinsed
2 tangerines, peeled and segments removed
1/4 cup sherry vinegar
juice of 1 lemon
1-2 teaspoons agave syrup
salt and pepper to taste
Instructions
Preheat the oven to 400. Line a baking sheet with parchment paper. Set aside.
Prepare the dressing. Combine the sherry vinegar, lemon juice, agave syrup, salt and pepper in a small bowl. Chill until ready to use.
Combine all of the maple sriracha pecan ingredients (minus the pecans and salt) in a small bowl. Spread the pecans out on the prepared baking sheet. Pour the sauce over the pecans, toss to fully coat and roast for 10 minutes, flipping once halfway through. Remove from the oven, toss with salt (if desired), and set aside to cool.
While the pecans are in the oven, line another baking sheet with parchment paper. Spread the asparagus out on the baking sheet and lightly spray with olive oil. Add salt and pepper to taste, toss to fully coat. Roast in the oven for 10-15 minutes, flipping once halfway through. Remove from the oven and set aside to cool.
Meanwhile, combine the shredded cabbage, hearts of palm, jicama, and tangerines in a large bowl. Add the dressing and toss until combined. Divide the salad amongst the serving bowls, top with asparagus and pecans, and serve. Enjoy!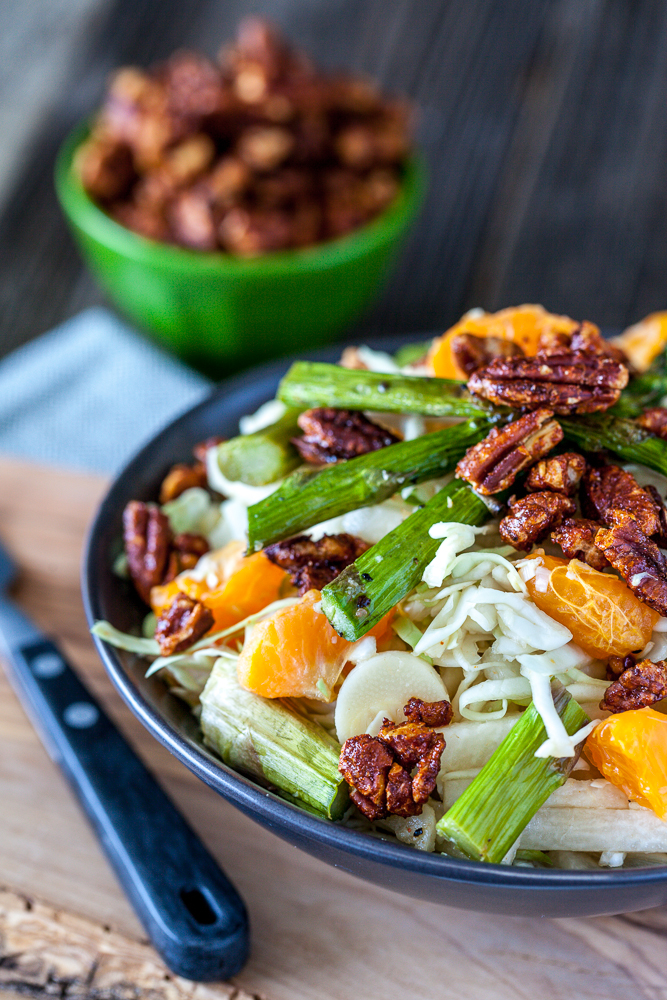 What do you do to step outside your comfort zone?