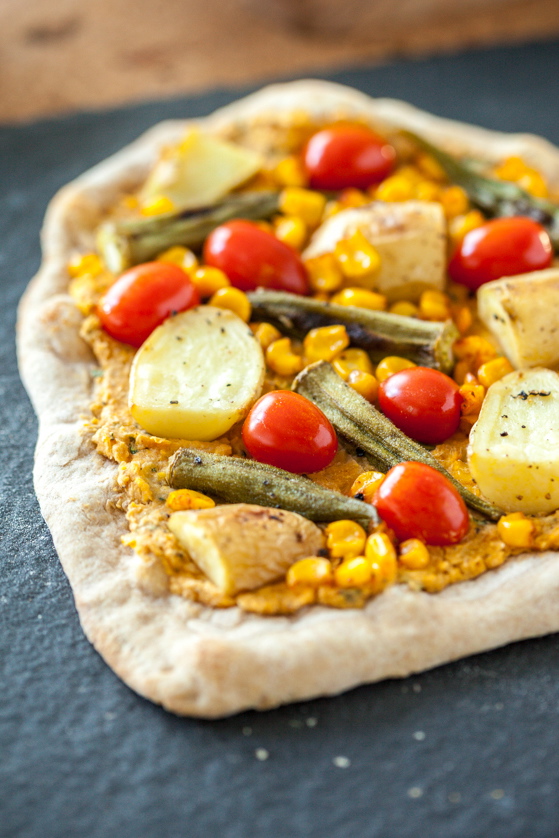 Chris and I recently just transformed our second bedroom/messy storage shed into an office/studio.  This room has gone from being my least favorite room (I would avoid this room at all costs, even though all of my props were somehow stored in there) to a very clean, organized and peaceful working space.  Instead of doing all of my work from the dining room table, I now have a little office which I love being in.  It's still a work in progress- there's still some minor details that we're working on, but once it's completed, I'll be sure to share it with you (there's something in it for you guys!!!).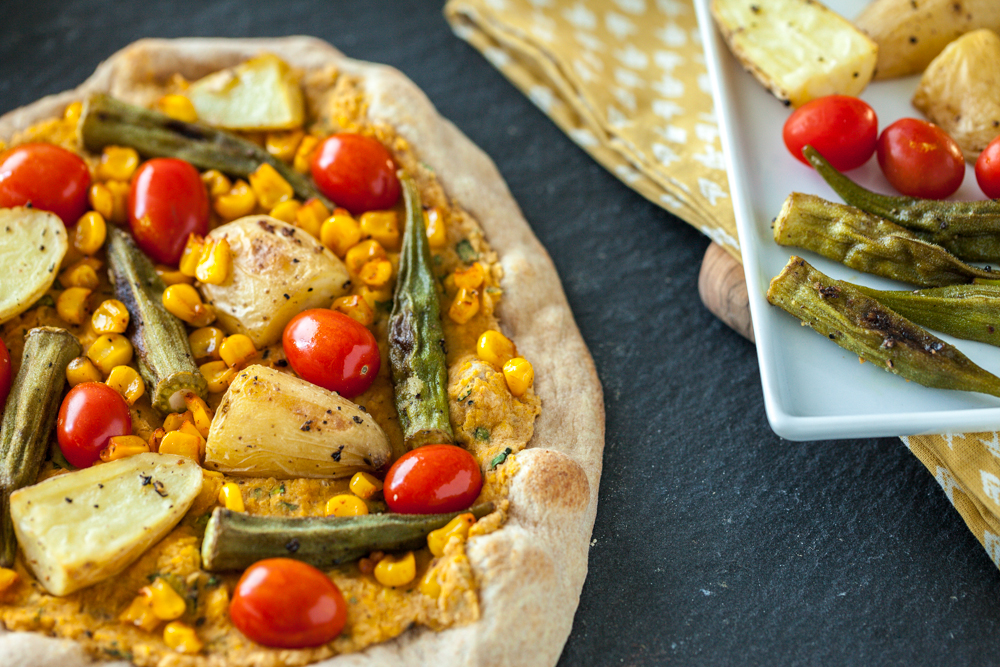 The best part of this new room is that my desk is up against the window, overlooking the sidewalk below and the canal across the street.  There's a lot of trees in front of the window so people can't really see in, but I can see out.  And I can hear everything that the passers-by below say.  It's a beautiful view to have while I work and it's great entertainment for when I need a break.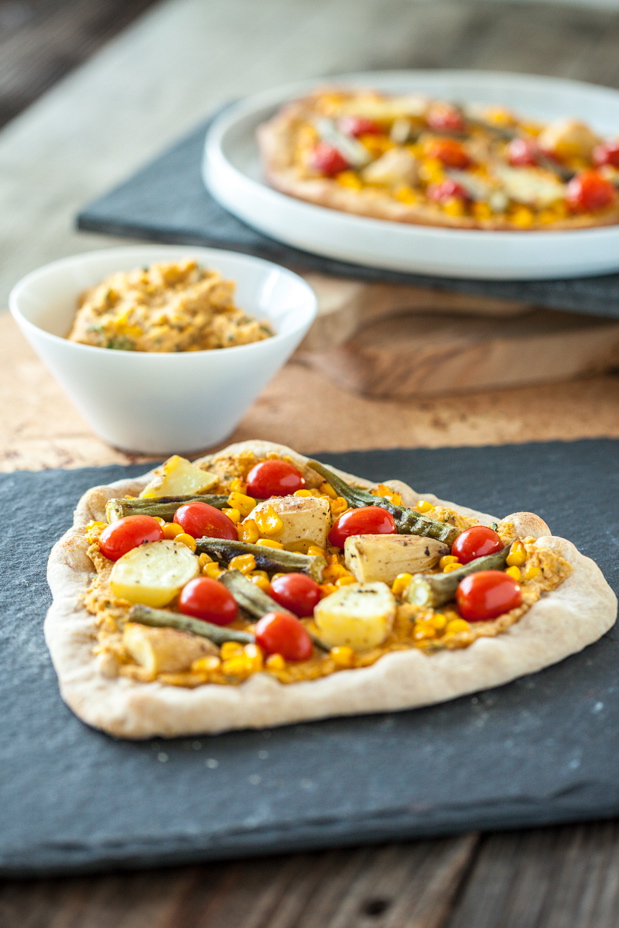 I listen to conversations between mothers and their children, people and their dogs (though, in this case, it's just the people talking), couples arguing, and people on the phone with their friends or family.  In the evenings, I hear the people on their way to the bar down the way and the drunk people on their way home.  Because we live near the beach, I listen to people get angry about the lack of street parking, families brainstorming on how to carry all of their things down to the beach, and the college kids trying to get the phone number from the hot chick they met at the volleyball court.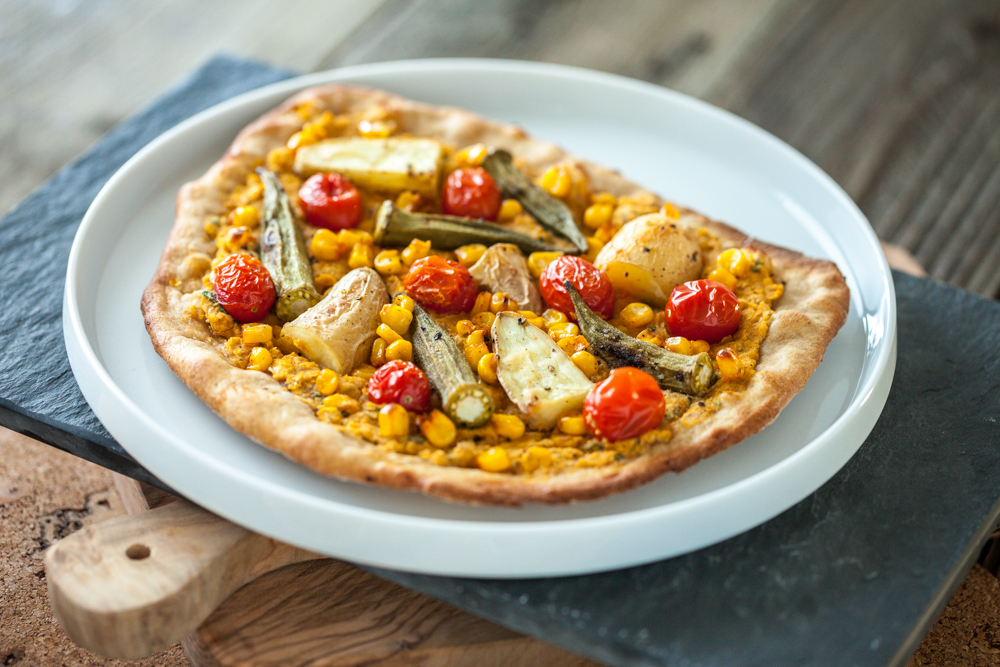 The other day, I overheard a conversation that has really stuck with me.  A woman was talking on the phone, making plans for some meal they were going to be having with another friend.  "I don't want any healthy food, I don't want any organic food and I certainly don't want any of that vegan bullshit she likes to eat," this woman heatedly told her friend.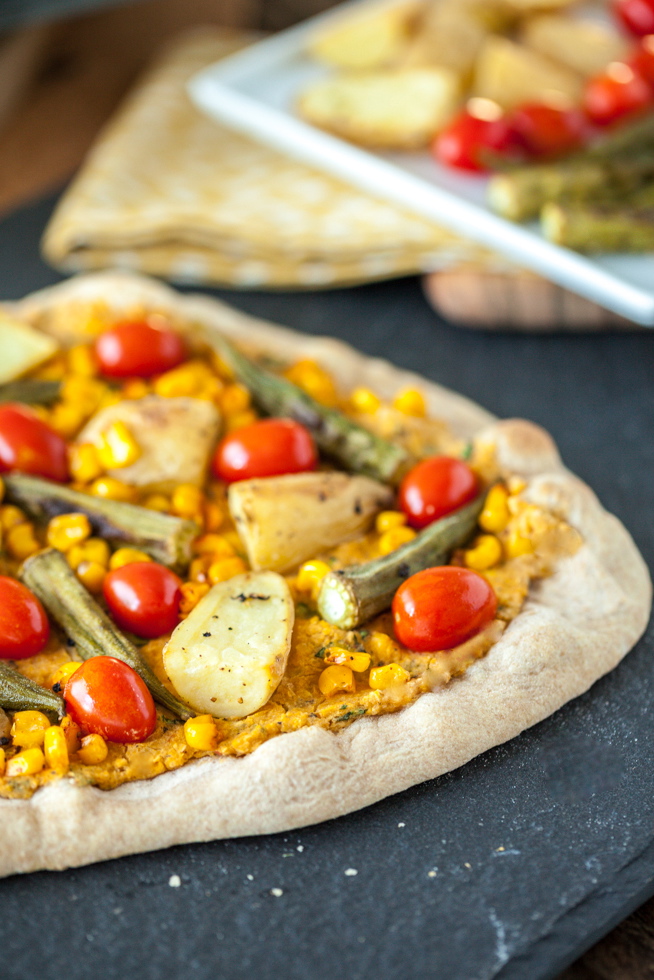 It was probably the disgust with which she spoke that amused me.  I know there are people who feel strongly against vegan food for a number of reasons ("It won't be filling," "It won't taste good," "Animals are meant to be eaten," "I need to eat meat for my health," and the list goes on and on) so as much as I disagree with all of those explanations, I can understand her not wanting to have vegan food.  That part stung a little, but I understood because I know people who feel this way.  But healthy and/or organic food?  I wondered what sort of experience this woman must've had with "healthy" or  "organic" food to fill her with such hate.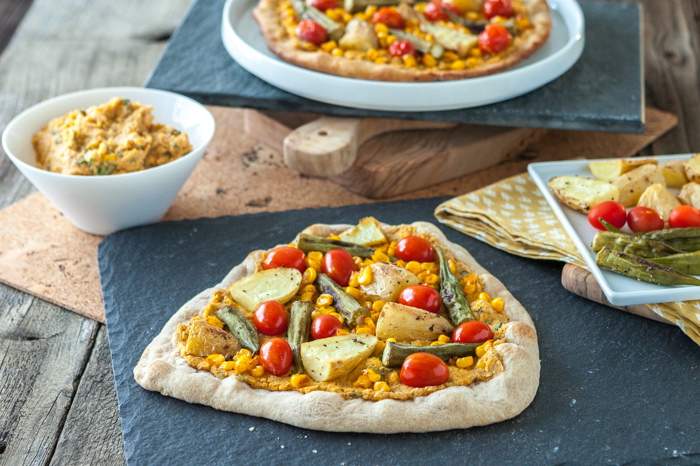 What would happen if they took this woman to a steak house and as she took a bite of her mashed potato, she noticed something was off.  "Are these organic potatoes?" I imagine she would screech right before she stood up, flipped the table over and stormed out of the restaurant.  What if they met at their friend's house for a barbecue and a healthy salad was served?  Would a fight break out?  What would they tell the cops?  "I told that #%*hole that I didn't want anything healthy!"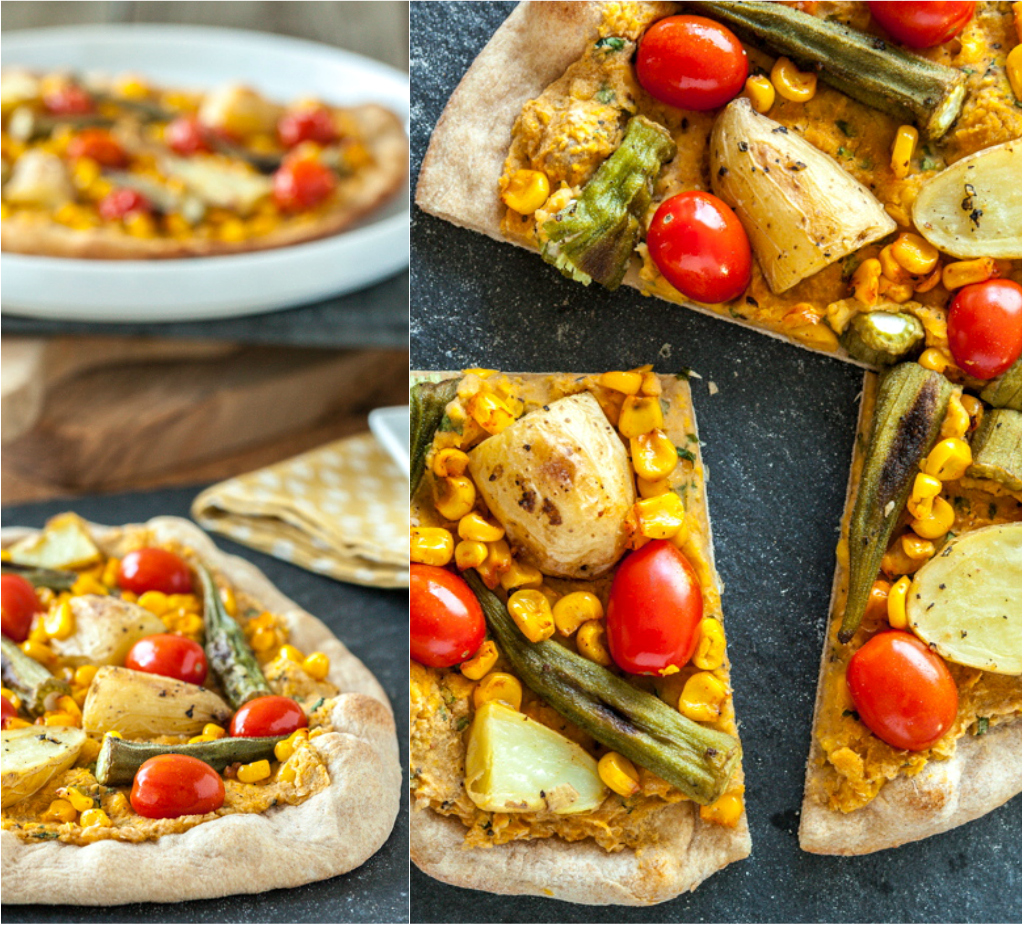 That evening, I made these smoky sweet corn pizzas.  It was inspired by a pizza I'd had on my birthday at Crossroads Kitchen.  The spread is made of a puree of organic corn and white beans and the toppings include roasted organic okra, potatoes, and cherry tomatoes.  Considering that there is very minimal oil in this dish (just enough to spray the corn, okra and potatoes with before roasting), no added sugar, and contains a variety of fruits, vegetables, and grains, I would consider it to be one healthy, organic and vegan pizza.  On top of that, it's ridiculously delicious.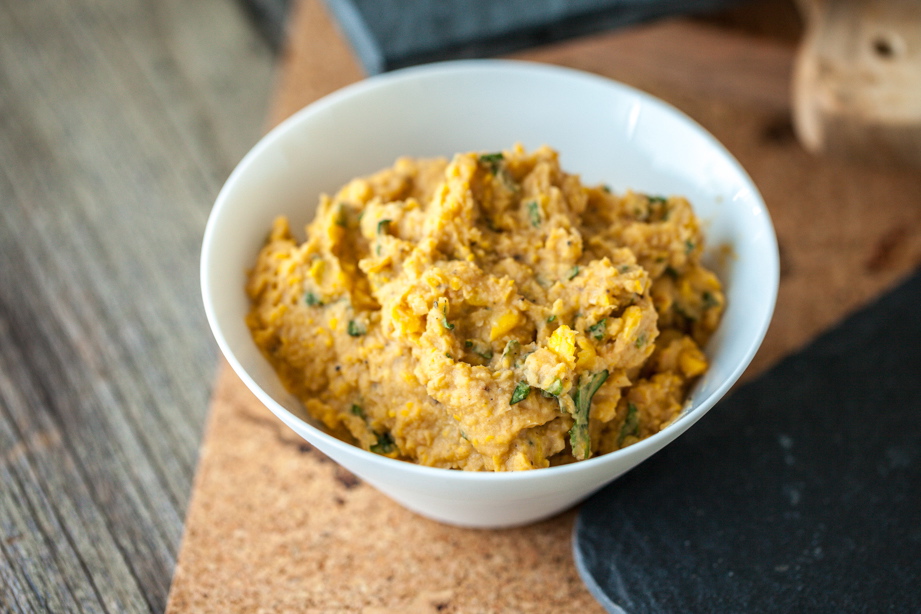 What would that angry woman do if I served this to her?  I like to believe that it's so good that she wouldn't even question whether or not it was healthy or of the ingredients were organic.  Because the smoky sweet corn puree is so tasty, and to be perfectly honest, downright addictive, that she wouldn't even miss the pepperoni or cheese.  Of course, if she did miss them, some Wayfare Pig Out bacony bits would be a delicious topping (something I realized the second time I made this pizza) and a tiny bit of daiya or Parmela spinkled on top wouldn't be a bad addition for the scrutinizing omnivore.  I like to think this is one of those recipes that can change the minds of those omnivores that despise all things healthy, organic, or vegan.  Go ahead- try it.  I'll be waiting to hear a person walk by, telling their friend all about that awesome vegan pizza they had.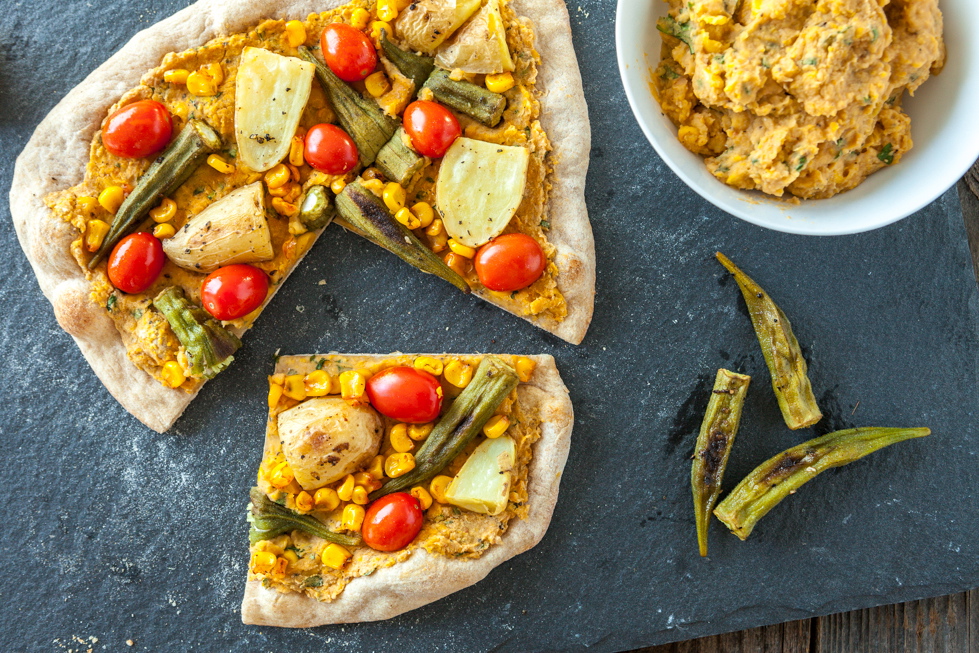 Smoky Sweet Corn Pizza with Roasted Okra & Potato
Ingredients
for smoky sweet corn spread

1 1/2 cups + 1/2 cup corn kernels (fresh or frozen), separated
olive oil spray
1/2 teaspoon smoked paprika
1 15oz can of great northern white beans (or 1 1/2 cups cooked beans)
1/4 cup vegetable broth
1 teaspoon minced garlic
1 teaspoon cumin
1/2 teaspoon liquid smoke (optional)
salt and pepper to taste
1/4 cup fresh chopped basil
1 recipe pizza dough (or used store-bought), split into four pieces
1/2 lb. fresh okra, tops trimmed with out opening the pod
1 cup cherry tomatoes
4-5 fingerling potatoes, thickly sliced (about 4 slices per potato)
olive oil spray
salt and pepper to taste
Instructions
Preheat the oven to 450. Line 2 baking sheets with parchment paper.
On one baking sheet, spread out the 2 cups of corn. On the other baking sheet spread out the potatoes and the okra. Lightly spray all with olive oil and add salt and pepper to taste. Add the paprika to the corn. Toss all to coat.
Place both baking sheets in the oven and roast for 10 minutes, flipping the corn halfway through. After 10 minutes, remove the corn and toss the okra and potatoes. Cook them for 10 minutes more then remove from the oven. Turn the oven up to 475.
While the okra and potatoes are cooking, make the corn puree. Combine 1 cup of the roasted corn with the other corn puree ingredients and puree until smooth. Add in a 1/3 cup more of the corn and the basil and pulse a few times until incorporated and the corn is broken up into chunks.
Make sure the oven is set to 475. On a floured surface, roll out the four small pieces of pizza dough into small crust (alternatively, you can do two large pizzas instead of 4 small).
Spread the corn puree on the four uncooked pizza crusts (or 2 large pizza crusts). Top with cherry tomatoes, okra and potatoes. Sprinkle the tops with the remaining corn. Bake them in the oven for 7-10 minutes, or until crust is crisp and golden. Remove from oven and serve immediately. Enjoy!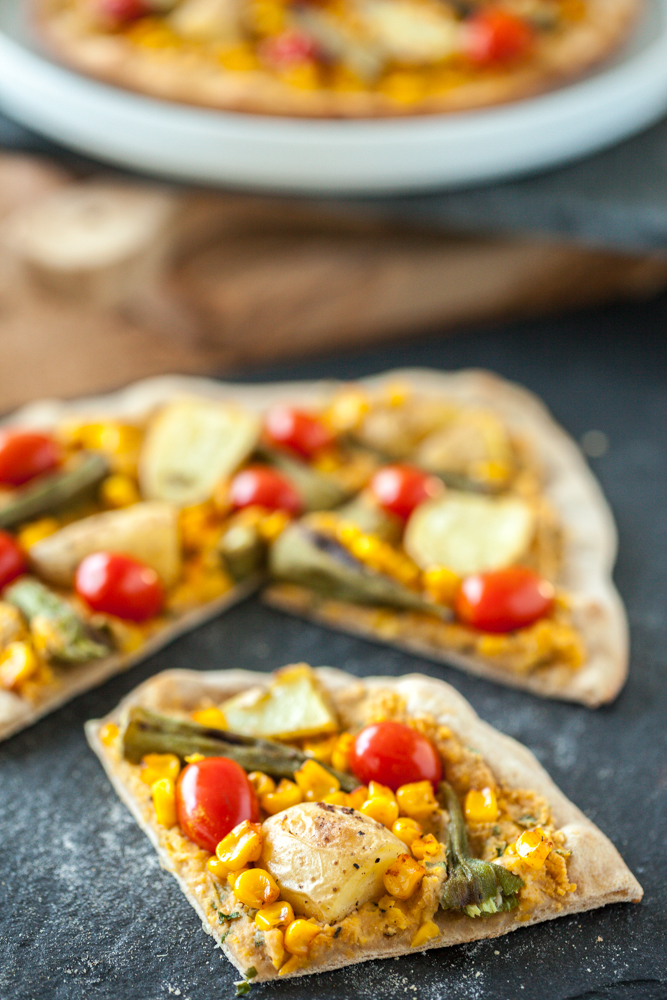 Do you know anyone who outright refuses to eat healthfully?  How do you deal with it?
Photography by Chris Miller