When Chris and I returned from New York City, we realized that what LA was missing was an upscale fine dining restaurant.  There was no place for a vegan to get all dressed up and have a fancy dinner on a special occasion.  Tal Ronnen has changed all of that with his new restaurant, Crossroads Kitchen.

Located on Melrose Ave., Crossroads Kitchen is everything the LA vegan dining scene has been missing.  The look and feel could easily be described as understated elegance.  There is a beautiful bar, lovely lighting, and the most comfortable restaurant chairs I have ever sat in.  With the way the restaurant is designed, you will want to eat slowly, enjoy your company, and linger a little longer over a nice glass of vegan wine or a signature vegan cocktail.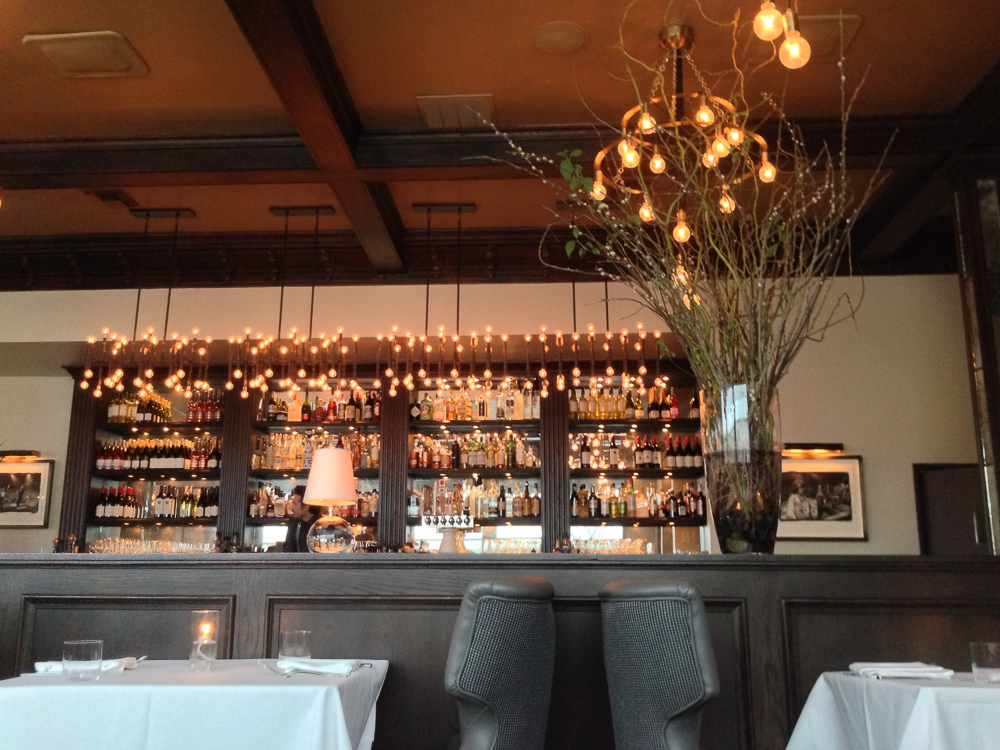 Chris and I went opening weekend and were just blown away.  Chris brought his camera, but because it was so busy, he felt awkward taking it out to take pictures of each dish.  We took iphone pictures, but the lighting was dim and none of them turned out that well.  We felt that a restaurant of this caliber deserved better photos than ones from our phones, so we came back the following weekend.  Chris brought his camera, but when he began snapping away, he was asked to put it away because there was a celebrity there and no pictures were to be taken.  No biggie- we decided to just go again.  This last time, we made a reservation for just after they opened, while it was still light out, and asked for a table by a window.  Our wishes were granted, though, we had forgotten the camera in the car and the valet had parked it.  We had nice lighting though and were able to take some decent photos with our cameras.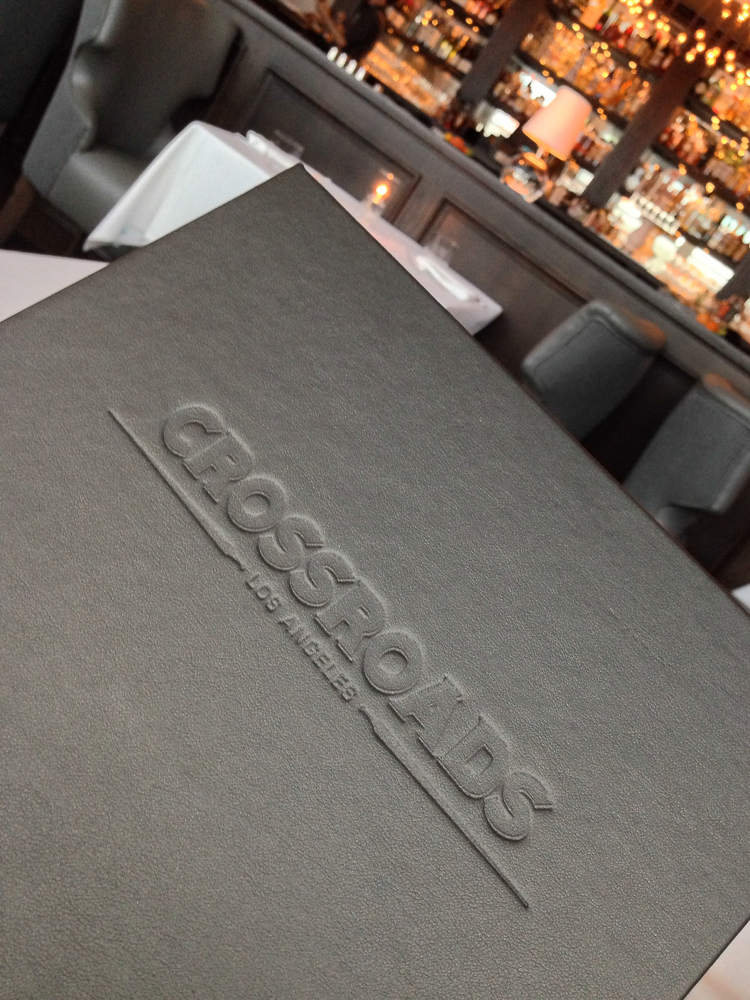 By our third visit, we had our favorites on the menu but were excited to try a couple of new things.  We started with their "bread service" which consists of lentil flatbread with leek pâté, smoked white bean hummus, and tomato braised banana peppers.  The flatbread was hot and fresh and while all three spreads are amazing, our favorite is definitely the leek pâté.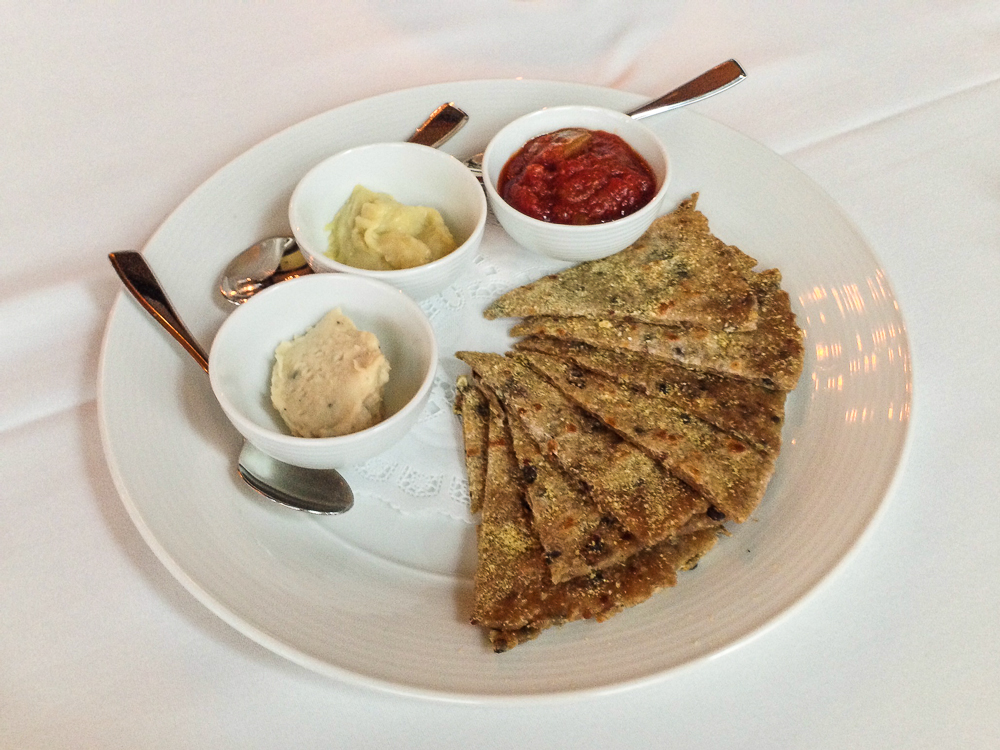 Because Crossroad's menu consists of small plates to share, we like to get a variety of things.  After our bread service, we had the artichoke oysters.  This was our second time having these- they are incredible!  They're basically artichoke leaves topped with artichoke purée, crispy oyster mushrooms, a yellow tomato béarnaise and finished with a beautiful kelp caviar.  This dish is a must-try.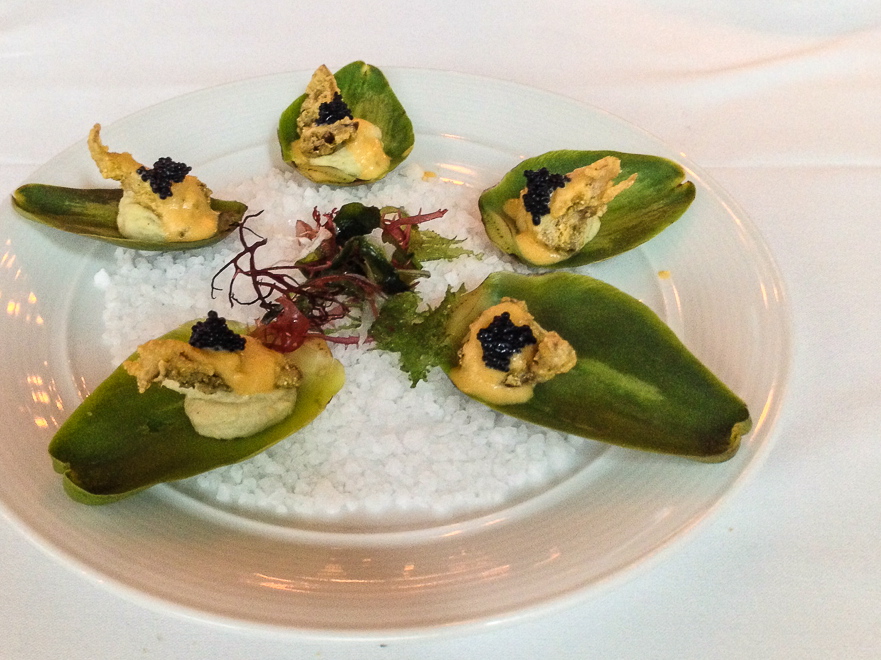 Next up were the crab cakes.  We've gotten these all three times we've gone.  They're one of our favorites.  I don't know if it's the tangy apples and beets on top, the horseradish cream, or the cakes made of hearts of palm themselves, but we can't get enough.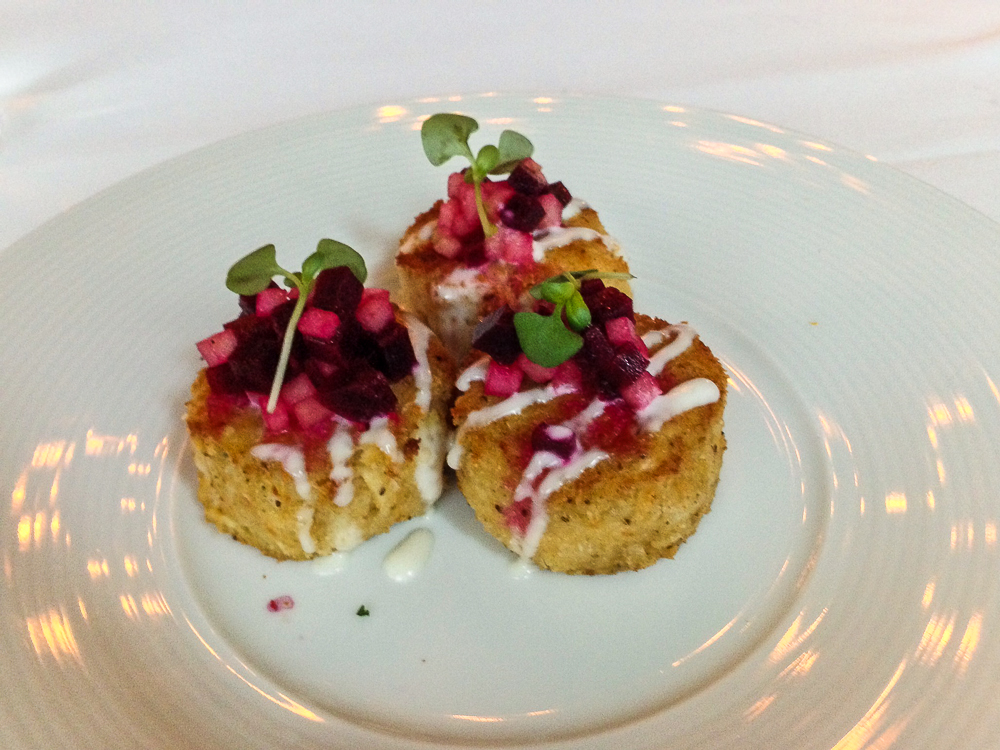 Our third plate was the kale spanakopita.  They're shaped more like small egg rolls, rather than the triangle spanakopita we are usually familiar with, and they're stuffed with a cheesy kale mixture (be still my heart!), and served with a harissa-spiced tomato dipping sauce.    It was our second time having these as well.
After the spanakopita came the special of the day.  After the waiter described this dish to us, Chris told me we were definitely having that.  The dish consist of foccacia, soaked in tomato broth, then coated and lightly fried.  It's then topped with an almond ricotta and garnished with greens.  This dish was amazing.  I think if they added it to their regular menu, we would definitely get it regularly.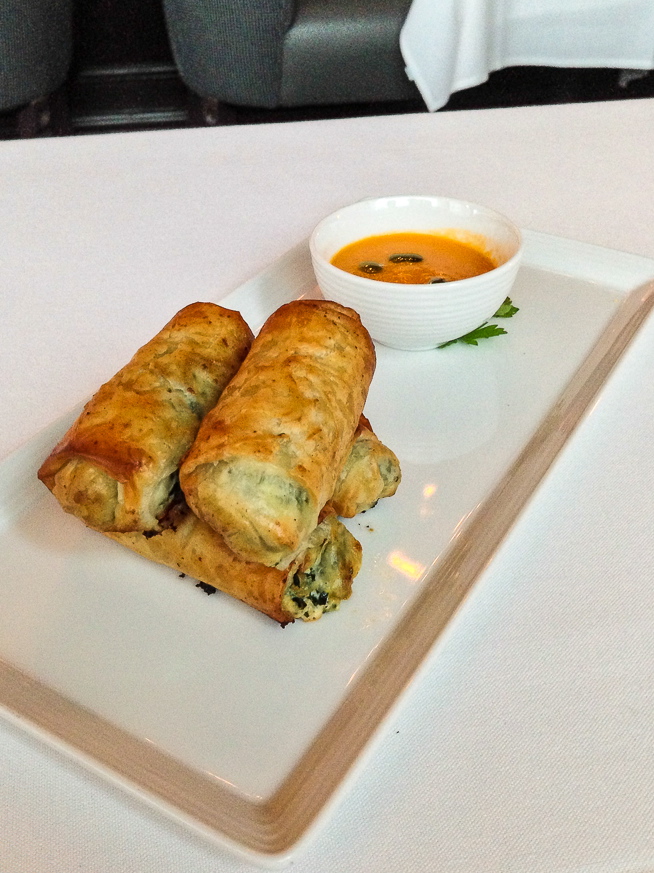 Our final dish is the one I was anticipating the most.  The first two times we had been to Crossroads, they did not have Tal Ronnen's Kite Hill Cheese yet because it was being distributed to Whole Foods in northern California.  This time, they finally had it in and we were thrilled.  Kite Hill Cheese is a pretty revolutionary aged nut cheese collection, which is actually being sold in the regular cheese case in several Whole Foods up north.  I nearly had tears in my eyes when they brought the plate to us and the waiter described each item on the plate.  Years ago, I was a fromagier in a fancy restaurant, just down the street on Melrose, and I used bring cheese plates to guests and describe the plate just as our waiter had, only this time I was on the receiving end and it was wonderful, compassionate cheese we were about to enjoy.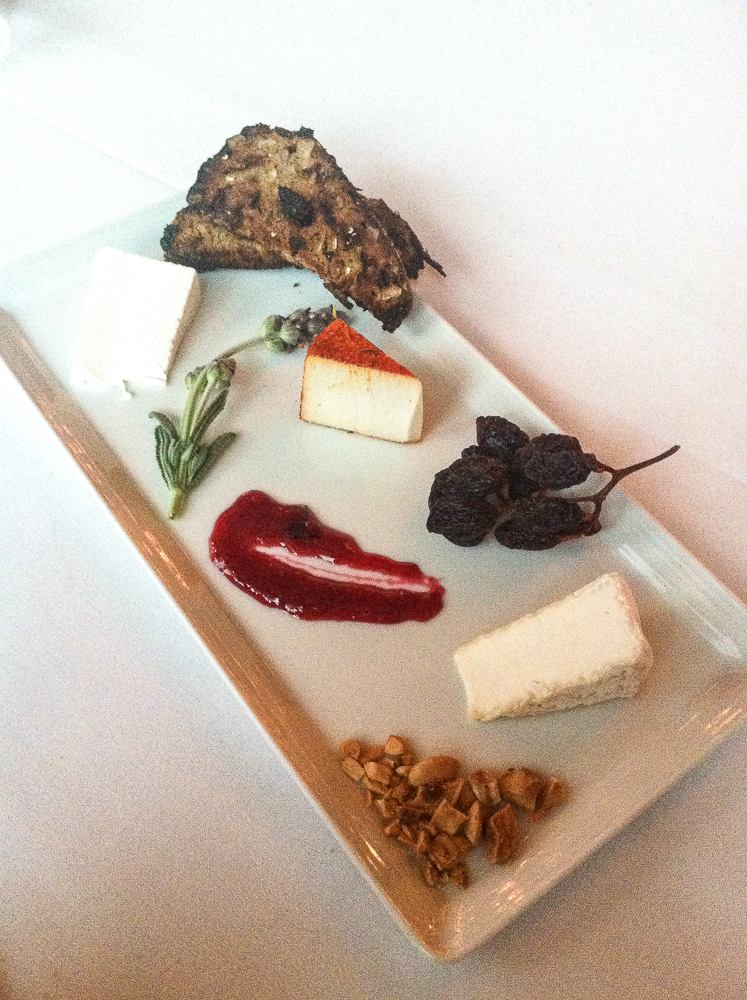 From the left to right, there was: the Cassucio, the Castanoa, and the White Adler.  Cassucio was the only fresh, non-aged cheese.  It was beautifully light and creamy.  Castanoa was a semi-soft aged cheese, encrusted with paprika and fennel pollen.  It was pretty great when paired with the dried grapes we were provided with.  My favorite was the White Adler, a soft-ripened cheese with a fluffy, silky white rind, similar to a camembert.  It was just slightly pungent with an earthy aroma and when spread on the raisin bread crostini, it was absolutely perfect.  A perfect end to a perfect meal.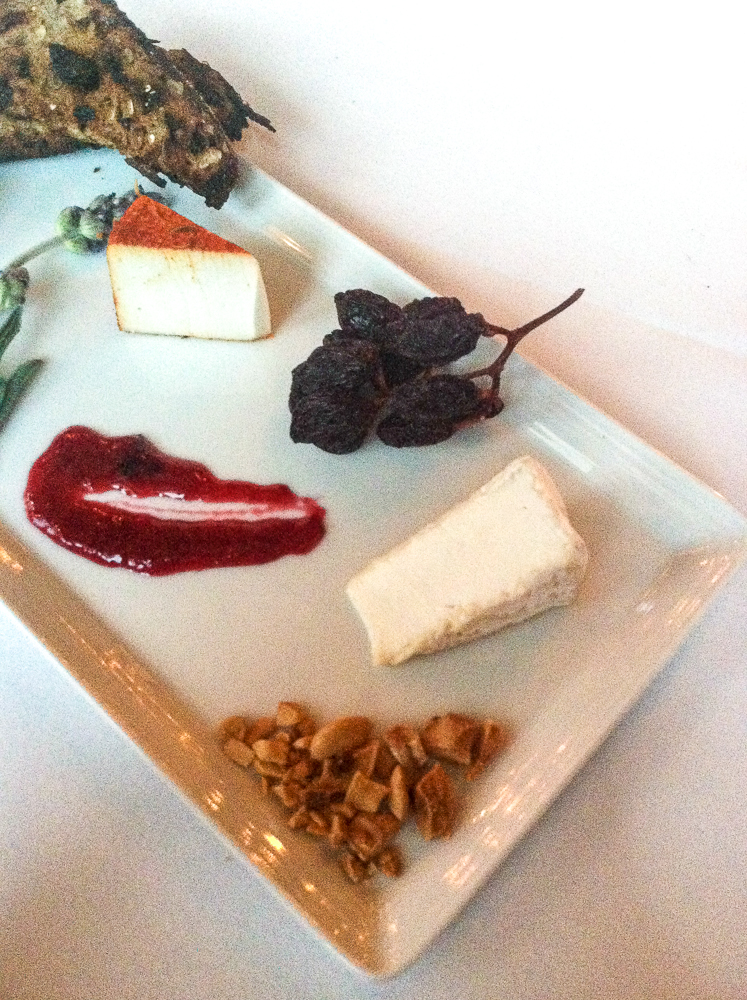 Though Crossroads has a lovely dessert menu, we were a little full after the cheese and chose to pass this time.  The assistant manager, however, felt we needed a little something sweet to finish our meal and brought us a couple of their biscotti to try.  Those too, like everything else we've had there, were wonderful.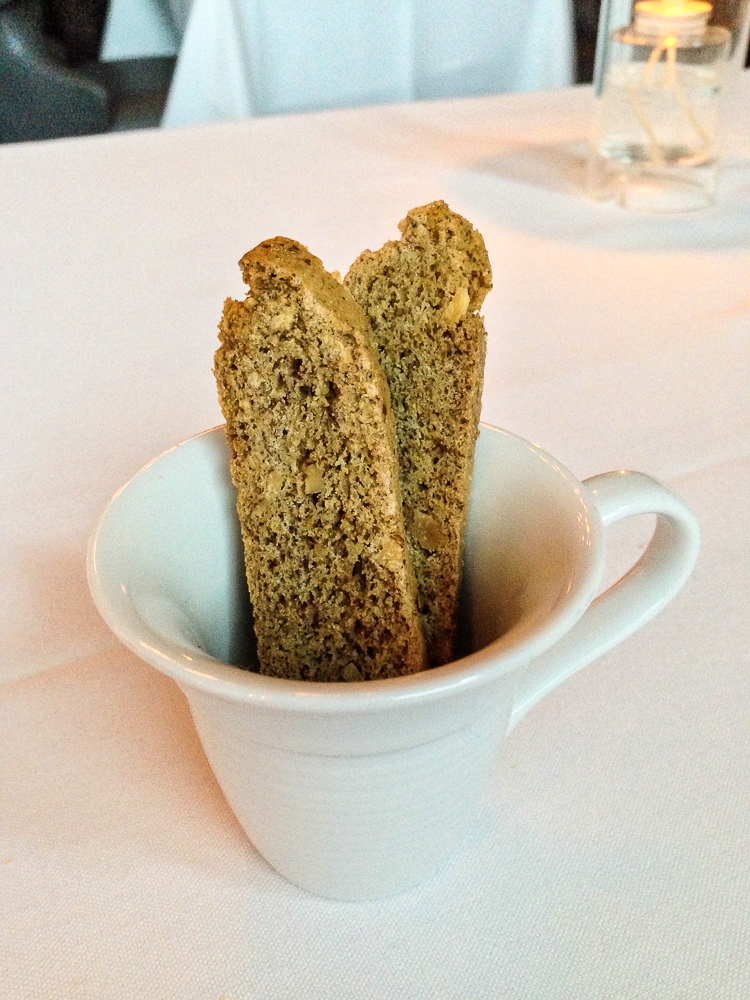 Other items on the menu that we've tried and loved were the Pistachio Kalamata Flatbread with Spicy Roasted Cauliflower, the Cassoulet, and the "Il Biscuits Di Funghi Di Bosco e Salsa" (or biscuits and morel mushroom gravy).  Though all three are great, I strongly urge you to try the flatbread- it is incredible.
I know us LA vegans have an embarrassment of riches when it comes to vegan options, but Crossroads Kitchen is exactly what we were missing.  Right now, Crossroads is only open for dinner but I hope that it will open for lunch sometime in the future, and maybe someday, if we're really lucky, a weekend brunch (please, pretty please!).  However, regardless of the time of day, I look forward to many more meals at this fine restaurant.
Crossroads Kitchen is located at 8284 Melrose Ave, Los Angeles, CA 90046.  You can follow them on Facebook and Twitter.  
Photography by Chris Miller