I have THE best readers of all time.  Yes, you.  You are simply the best.
Last month, just before the holidays, I received an email from a reader of mine, Michelle, whose comments I always love and whose conversations always make me smile.  Michelle is also a Los Angeles resident and had 2 extra Mendocino Farms coupons for free sandwiches that she was not going to be able to use by the expiration date and she wanted to know if we would be able to use them.  Since Chris regularly eats at the downtown Los Angeles location and we have another location about five minutes from our house, I was pretty sure we would be able to take them off her hands.  She popped them in the mail, along with an adorable Christmas card.  Michelle is just one reason why my readers are THE best.
Mendocino Farms is a chain of restaurants who pride themselves on using local and seasonal ingredients.  Though they have a great selection of salads, they do pride themselves on being "Sandwich Aficionados."  Mendocino Farms is far from being a vegan restaurant, but they have a vegan section of the regular menu and one sandwich in their seasonal monthly menu is always vegan.  In their deli case, a large portion of the salads are also vegan (you have to ask but they are always very knowledgable about which ones are vegan and are even willing to give you a little sample if desired- I once tasted their vegan potato salad and it was awesome!).
Chris and I chose to redeem our coupons on a Saturday, when we were both busy with lots of other holiday things and had little time to actually prepare food at home (thus the reason for the very few, very boring iphone pictures you see here).  At the Marina del Rey location, there is generally always a line out the door, but you can rest assured that this line moves quickly.  We were able to get in, grab our sandwiches, and get home in less than 30 minutes (and that says a lot, being that it was a Saturday before the holidays in Los Angeles).
Chris ordered the Vegan trip to India, the vegan sandwich from their winter menu.  The sandwich is described as "Indian spiced chickpea & spinach patty, tamarind chutney, vegan mint raita, red onions, and Scarborough Farm's baby spinach on ciabatta."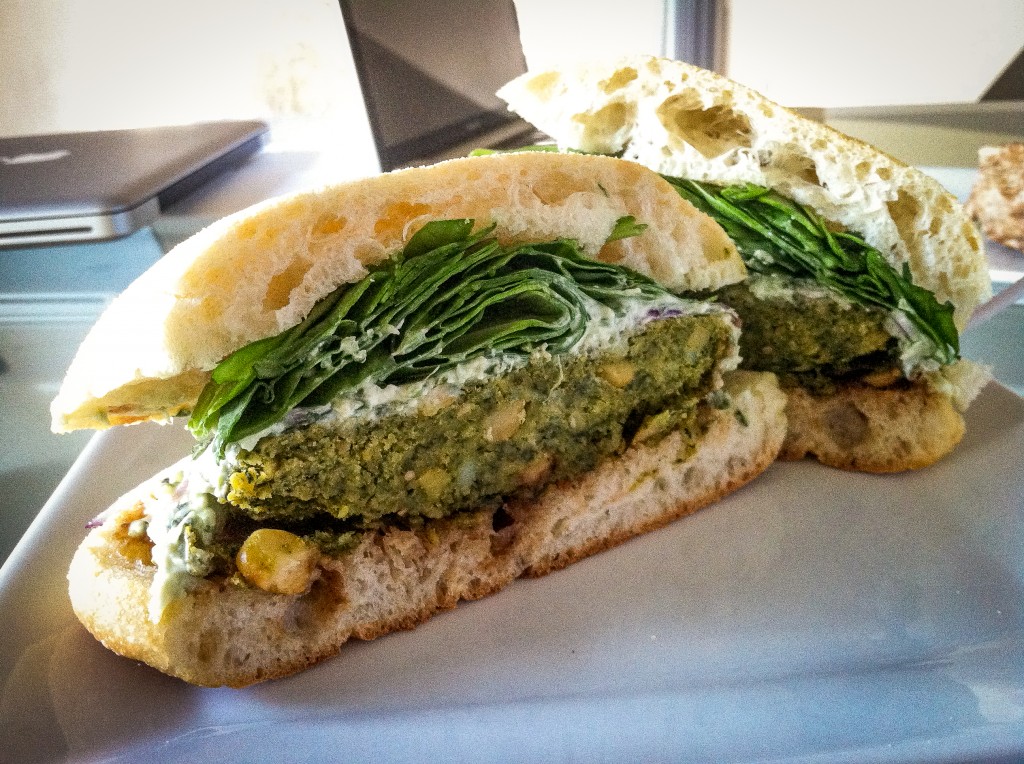 I ordered mine and Chris's favorite, the Vegan Shawarma.  The Vegan Shawarma is described as a "Mediterranean chickpea shawarma, with a bean puree, vegan tzatziki, red onions, cucumbers, tomatoes, and shredded romaine on a grilled honey wheat tortilla wrap (vegan tortilla available on request)."  We obviously got the vegan tortilla.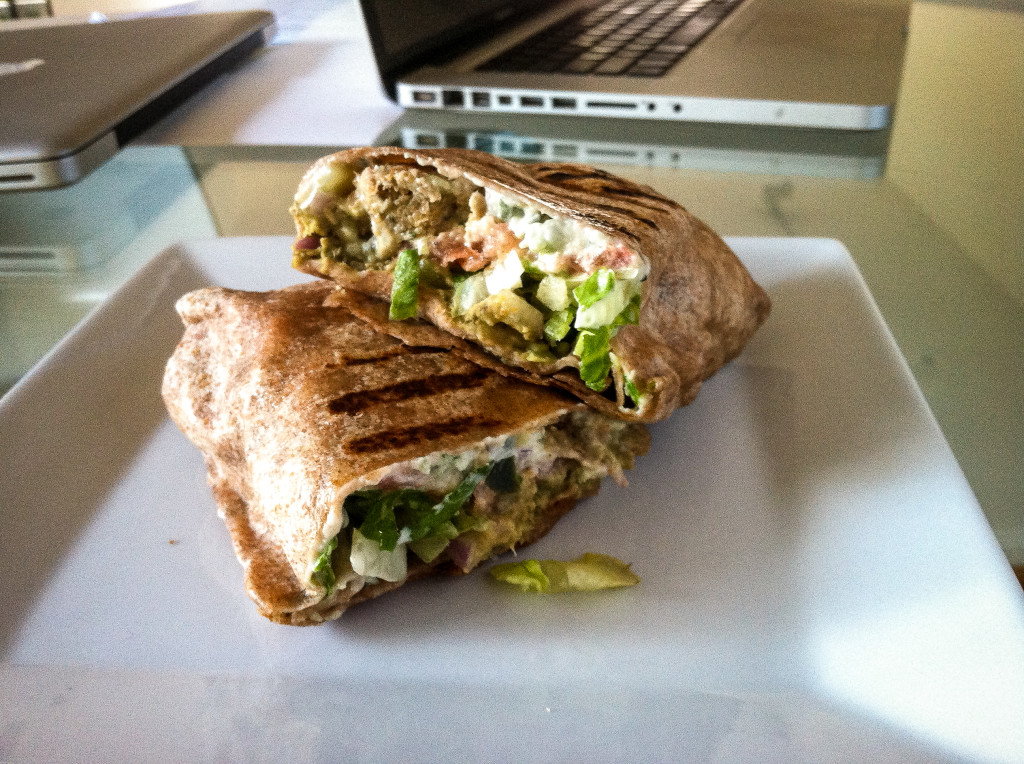 Both the sandwich and the wrap were awesome, though I still like the shawarma the best.  The ciabatta takes away from the "Indian-ness" of the Vegan Trip to India and the breadiness covers up many of the great flavors going on inside.  If I were to get it again, I would likely ask for a different bread.  The shawarma is just incredible and the tzatziki is just to die for.  It's a definite must-try.
Mendocino Farms is a great place to grab a vegan sandwich on the run, but has a nice enough ambiance and enough variety on the menu to make it a great place for meeting up with omnivore friends.  If you are in Los Angeles, checking out one of their locations should be on your to-do list.  Thank you again, Michelle, for the coupons- they were definitely put to good use!
Photography by Kristy Turner