Recently, Chris and I had our 1st veganversary and to celebrate, we wanted to treat ourselves at a vegan restaurant.  We wanted to go somewhere we don't often go, so we were headed across town in early evening LA traffic.  Halfway there, however, our stomachs were demanding that they be fed sooner rather than later.  I noticed that we were coming up on Fairfax Ave., and I suddenly remembered how much Cadry and her husband rave about Rahel Vegan Cuisine.  Since Little Ethiopia is on Fairfax and much closer than where we were originally headed, we decided to listen to our stomachs and head to Rahel.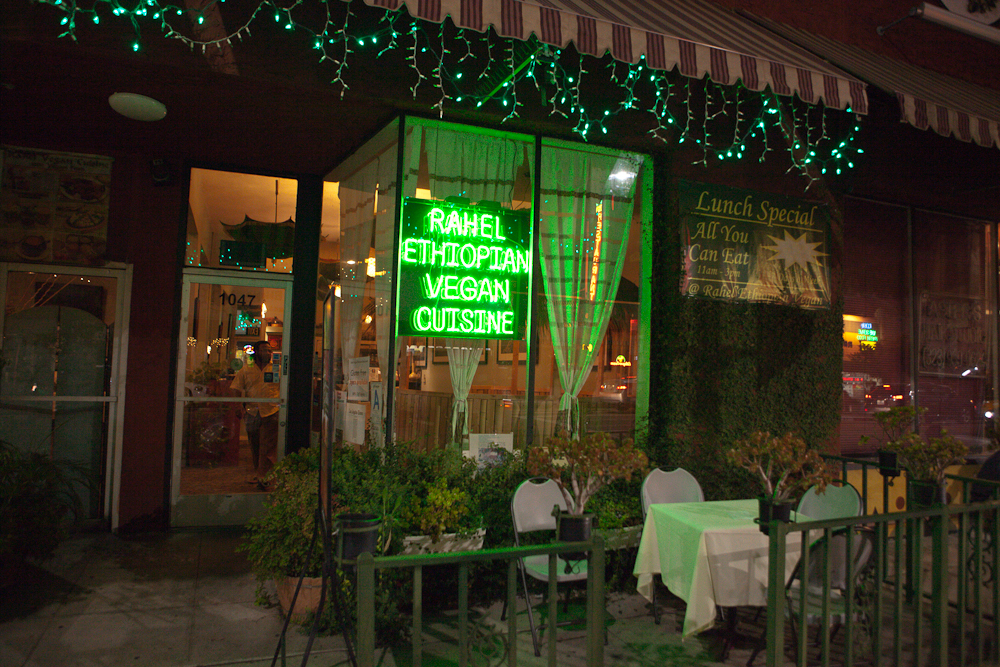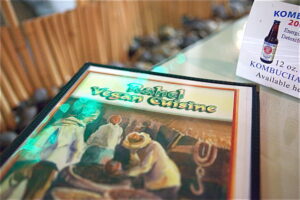 Chris and I had never tried Ethiopian food so we didn't know what to expect.  While looking at the menu, the waiter was very helpful in explaining what things were and what he suggested.  He suggested either the Hudade Special Combo or the Vegan Feast Combination.  Both have a selection of wots (stews) and are served with injera, a fermented teff flour flatbread.  Having pulled up Cadry's review on my phone for an idea of what to order, we decided to go with what Cadry recommended: The Hudade Special Combo.  We also ordered a couple sambussas to have as an appetizer (did I mention we were pretty hungry?) and ginger kombucha to drink.
While we were enjoying our kombuchas, the waitress brought over a pitcher and bowl with which we used to wash our hands before we ate.  Though they offer flatware upon request, Ethiopian food is traditionally eaten by hand so it is essential that they are clean.  She brought us our sambussas shortly after.  Sambussas are Ethiopian samosas, filled with lentils and spinach, and we loved them.  The wrapper is a little thicker, more doughy, and less flaky than the Indian samosas we were used to, and the filling was so rich and full of spices.  I can't think of a better way to have begun our first Ethiopian meal.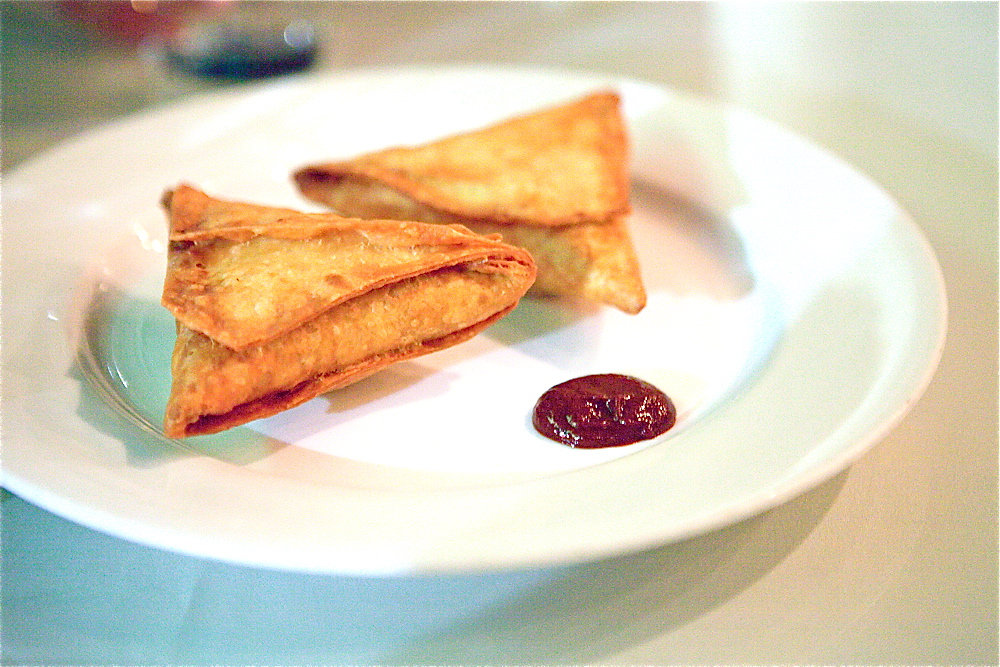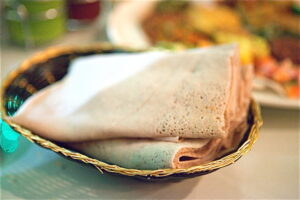 Once we had finished our sambussas, our main dish arrived.  The Hudade Special comes with Shiro Wot (chick pea stew), Split Lentil Stew, Yeatkilt Stew (steamed carrots and potatoes seasoned with assorted spices), Split-Pea Stew, String Beans mixed with Carrots, Yeshimbra Assa (powder chick-pea stew), Greens, Yebagela Siljo (broad beans paste), Stuffed Green Peppers, Injera with Sunflower, and Tomato Salad, all served on top of an injera.  You are also given some injera on the side to scoop the various stews with.  Since we had ordered the combo for two people, we had a blast trying each of the stews, all by hand.  I felt like a kid again, playing with my food, only this food was vegan, Ethiopian, and super delicious.  I even loved the spongy, crepe-like injera, with it's slighlty bitter taste.  It was so fantastic that even after I was stuffed, I found myself wanting to take one more bite.  Several times.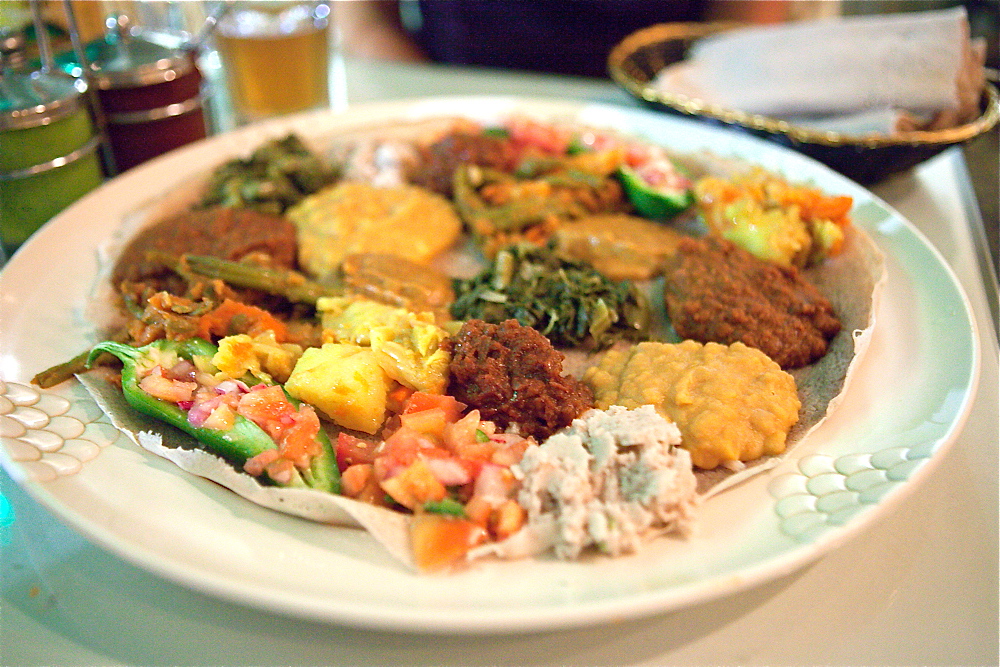 Rahel Ethiopian Vegan Cuisine is one of LA's true vegan gems, and the entire time I was devouring my food, I was thinking "Why have I not been eating Ethiopian food this whole time?  Why am I only discovering it now?"  On our drive home, I was already dreaming of our next visit.  Rahel Vegan Cuisine, I think this is the beginning of a beautiful friendship.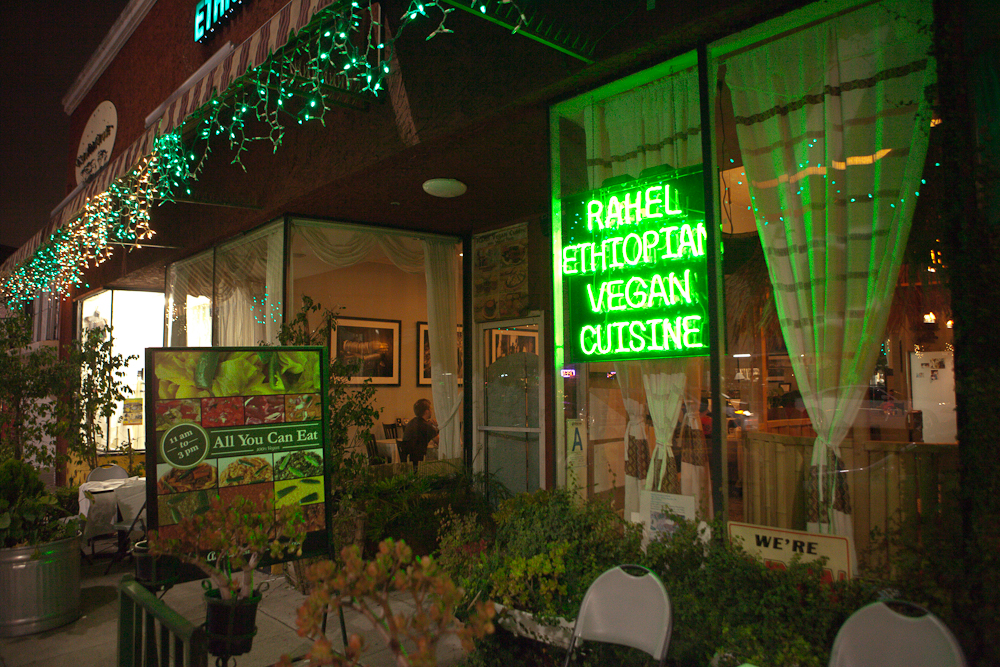 Please check out Rahel Vegan Cuisine's website for more information about their menu, their address and hours.
Love animals? Help support Farm Sanctuary's mission to protect farm animals from cruelty! Keepin' It Kind's goal is $500, but we can't do it alone! Together, we can make a real difference for farm animals everywhere. Donate today!  Learn more about Why I am Walking for Farm Animals and join our team!
Photography by Chris Miller