Until a few months ago, the vegan fine dining scene in West LA was pretty limited.  There are plenty of casual dining choices, but if you wanted to get gussied up for a nice dinner out on the town, well, you would have get ready for a drive across town.  Then Matthew Kenney opened his newest venue, an innovative raw food restaurant, in Santa Monica.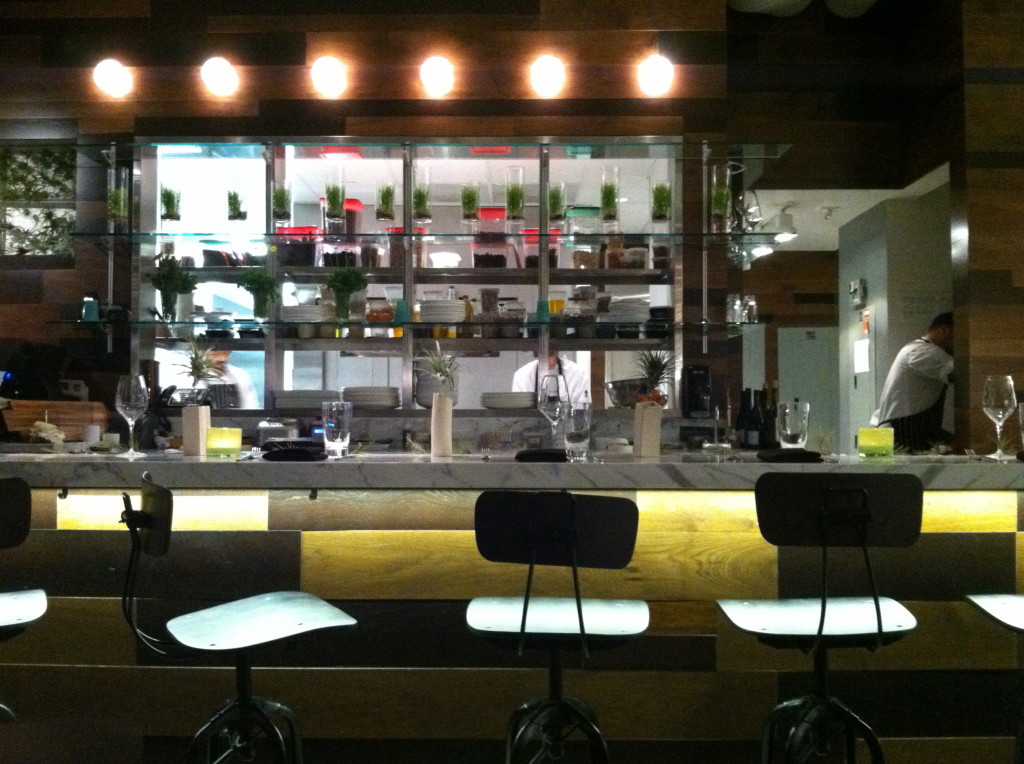 M.A.K.E. is located in the newish Santa Monica Place (mall), next to the Matthew Kenney Culinary School.  Even though the restaurant is located in the middle of a fancy, high-end artisinal food market and "food court," it hardly seems out of place.  The atmosphere is sophisticated and classy while being peaceful and zen without that "hippie-crunchy" feel that a lot of raw restaurants tend to have.  The menu is a display of creative spins on raw dishes, using organic and seasonal produce.  After reading several great reviews of this restaurant, I knew we needed to try it.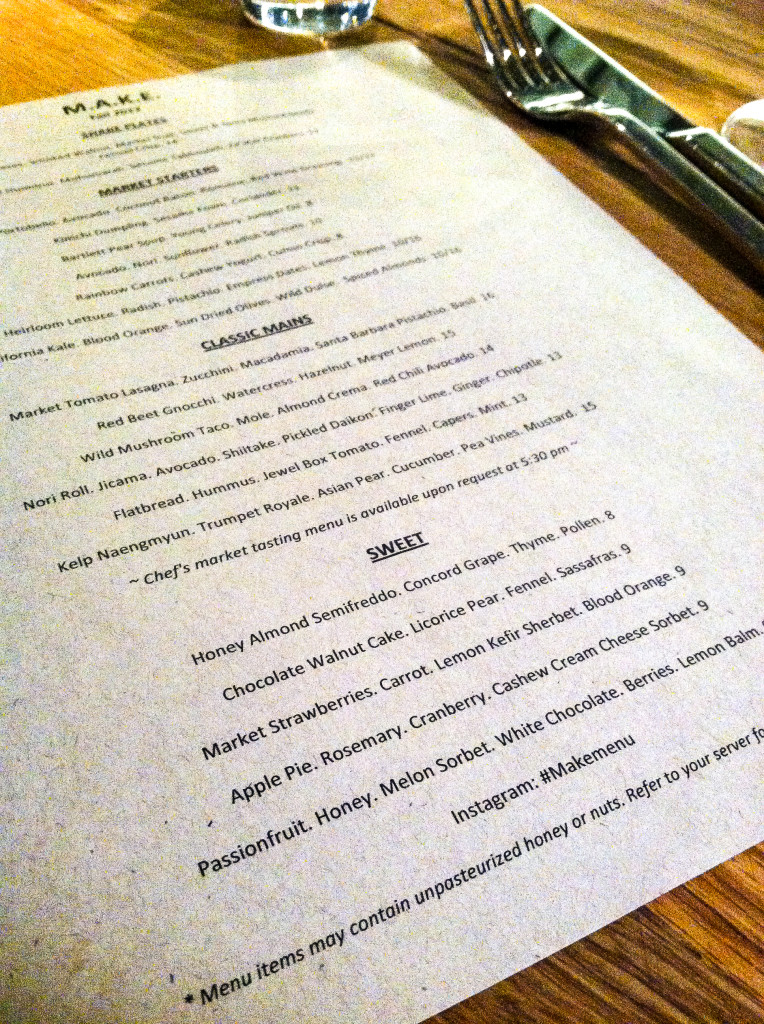 As soon as Chris and I had a free night where we felt like getting a little fancy, I curled my hair, put on my dressy shoes and we headed to M.A.K.E..  Once we were seated, we began looking over the menu.  The list of appetizing and delicious-sounding foods was overwhelming.  Once we finally settled on our order, my eyes wondered down to the wine list and when my eyes fell on the Vernaccia di San Gimignano, I almost wept.  Years ago, when I was a nanny in Florence, Italy, after Nina had been put to bed and I was dismissed for the evening, sometimes I would retire to my room, but if it had been a particularly trying day (as most of them were), I would walk down the street to a little wine bar.  I quickly became friends with all of the bartenders and one of them, in an successful attempt to get me to drink white wine, rather than red, introduced me to Vernaccia di San Gimignano.  I can't tell you much about this wine other than it is pretty rare and often overshadowed by Italy's great red wines, but it became my regular drink.  I've had it maybe once or twice since moving back to the states, but when I became vegan, I thought my days of ever sipping this wine again were over.  I mean, it's a hard to find wine as it is, but a vegan version of this wine?  I thought it would be impossible.  We had not been planning on having drinks that night, but when I saw this on the menu, in a vegan restaurant, I called the waiter over at once.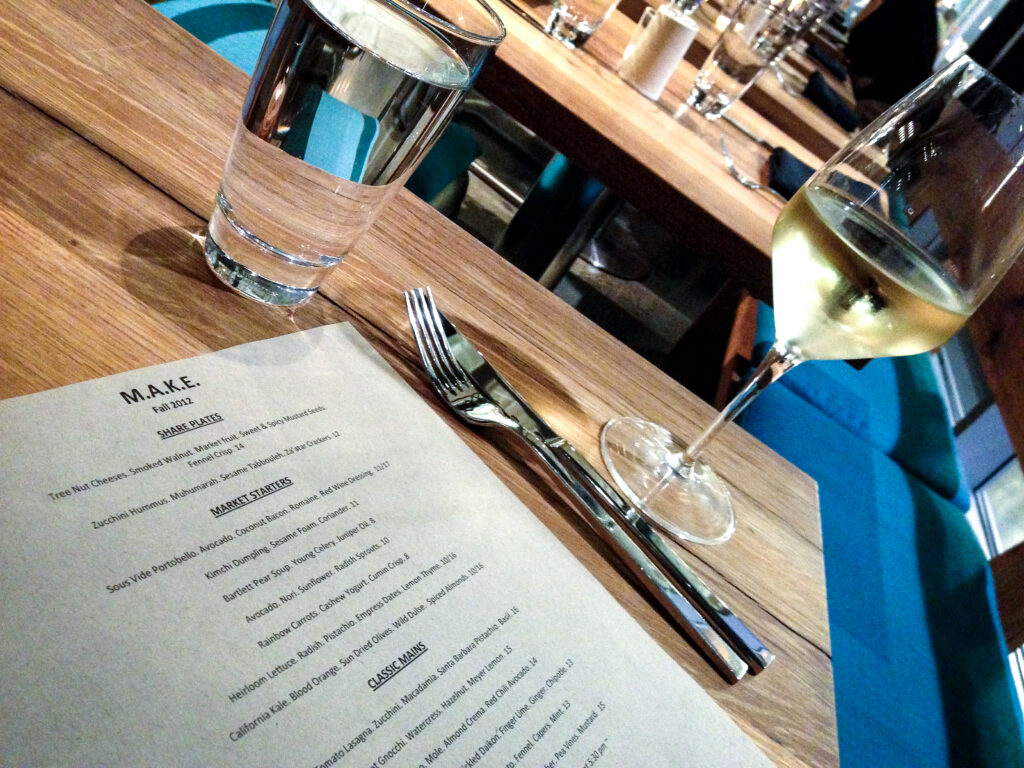 The wine was impeccable.  I savored every last sip as if it were the last few drops in my canteen during a trip through the desert.  I thought that part of the reason it tasted so great was because of nostalgic reasons, but Chris loved it too.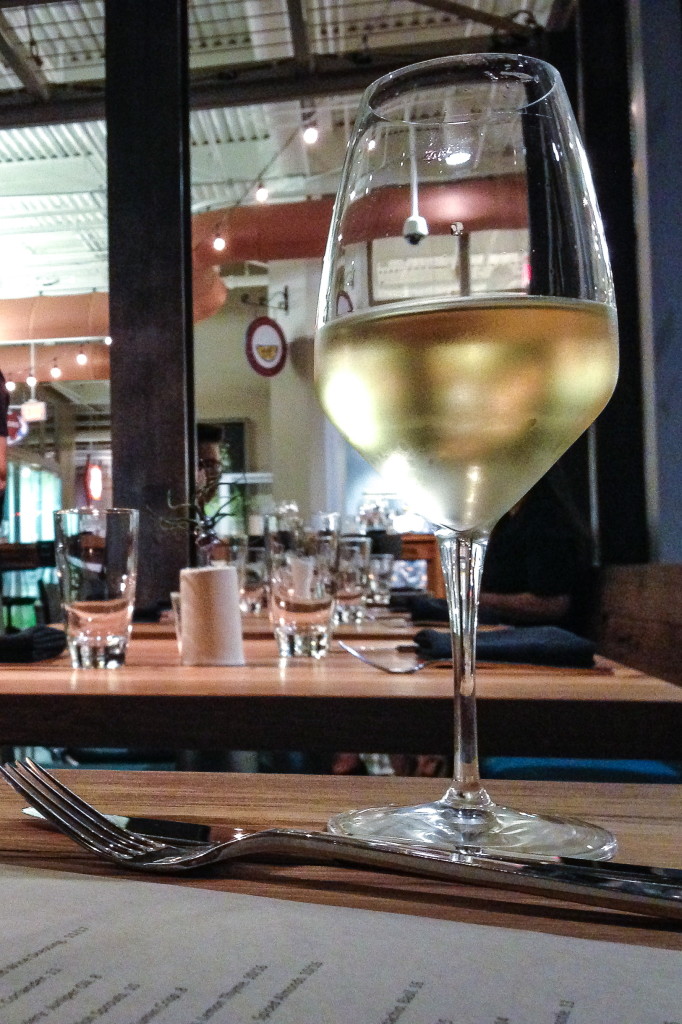 For our appetizer, since we can never seem to pass up hummus of any sort, we chose the zucchini hummus which comes with muhumarah (a Syrian spicy pepper dip), sesame tabbouleh, and za'atar crackers.  I could live on this dish.  Both the hummus and the muhumarah were delicious and the tabbouleh was a fresh, tasty addition to each bite.  The best part, however, were the crackers.  These dehydrated, flax seed-based crackers, seasoned with za'atar spices, are more addictive than your standard potato chip.  We had to get seconds on the crackers because we ate them too quickly.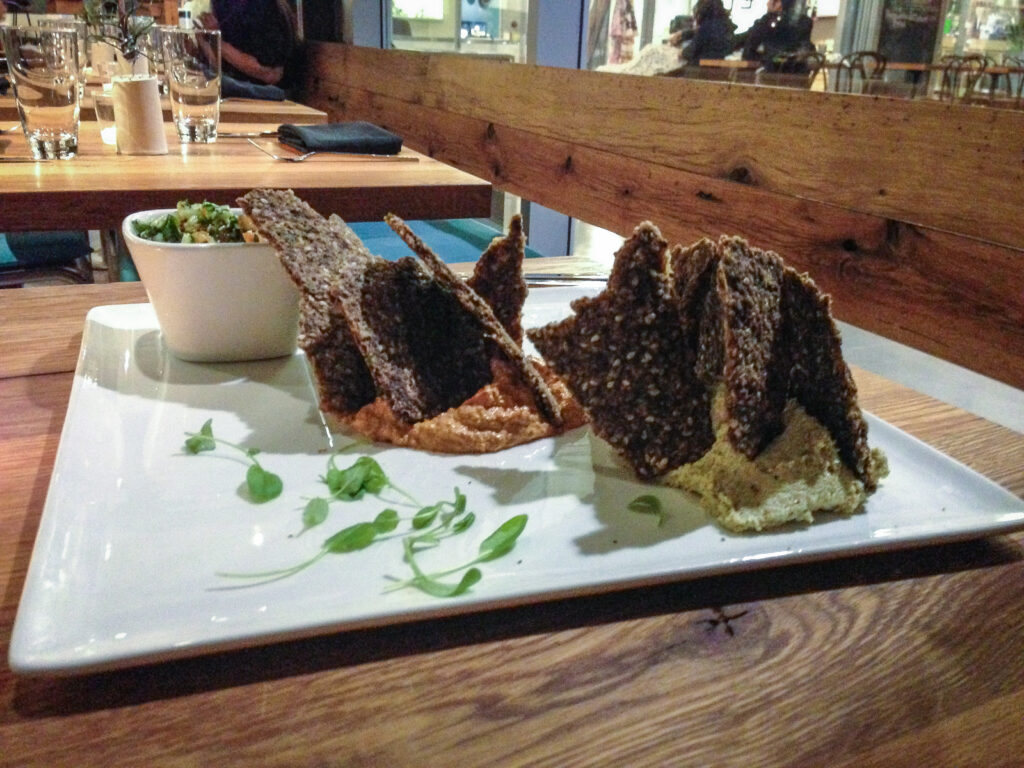 As we usually do, Chris and I split two separate dishes as our main course.  Chris chose the nori roll.  This nori roll is made from raw jicama rice, and stuffed with avocado and shiitake mushrooms, with pickled daikon, ginger, and chipotle for additional flavor.  This roll definitely did not disappoint.  The jicama rice was wonderful (I am a jicama lover) and the collaboration of flavors was truly magnificent.
I chose the wild mushroom tacos because it had two of my favorite words in the title: mushroom and taco.  Each taco was filled with wild mushrooms and chili dusted avocado, then drizzled with mole sauce and almond crema.  Raw taco perfection.  The mole sauce was rich and decadent, but not overly so, and made for a dreamy pairing with the mushrooms and avocado.  My only complaint was that I had chose to share with Chris, leaving me with only one taco.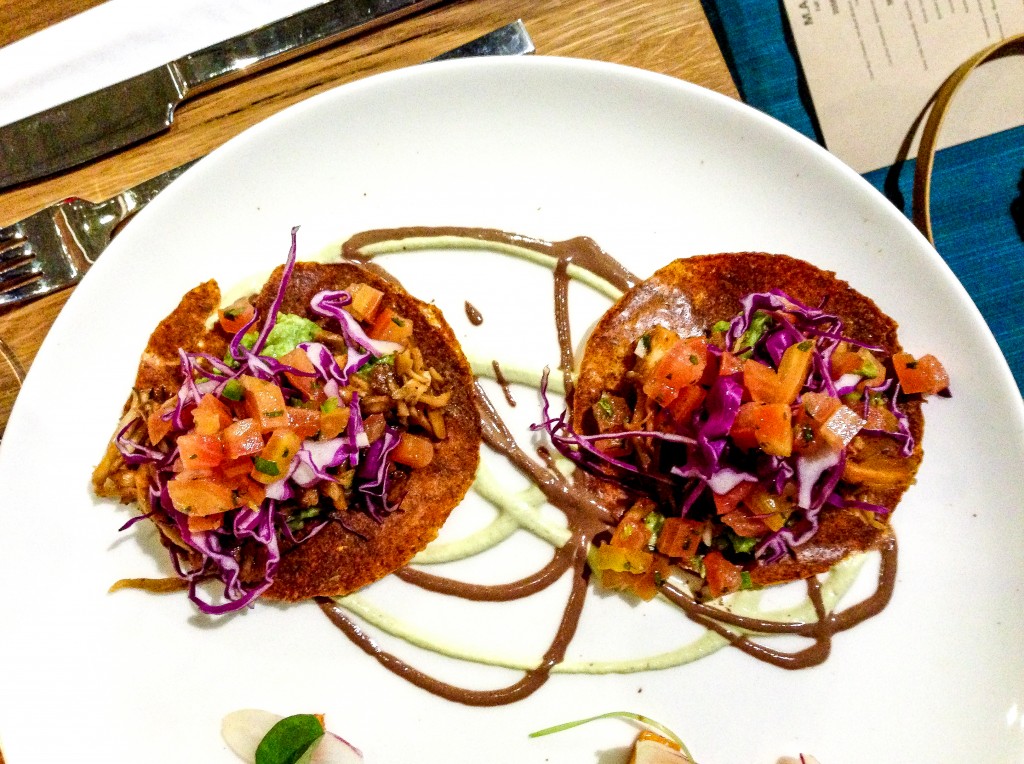 Since we were going all out with the fanciness that night (wine, appetizers, dressy shoes), we decided to try a dessert.  A few of the items contain honey so you need to check with your server if this is an issue for you.  All of the dessert items sounded pretty incredible, but we had to go with the chocolate walnut cake because the menu described it as coming with licorice pear, fennel, and sassafras. Licorice pear?!  Sassafras?!  Fennel?!  With a chocolate cake?! I was so intrigued by all of these flavor combinations that I needed to try it.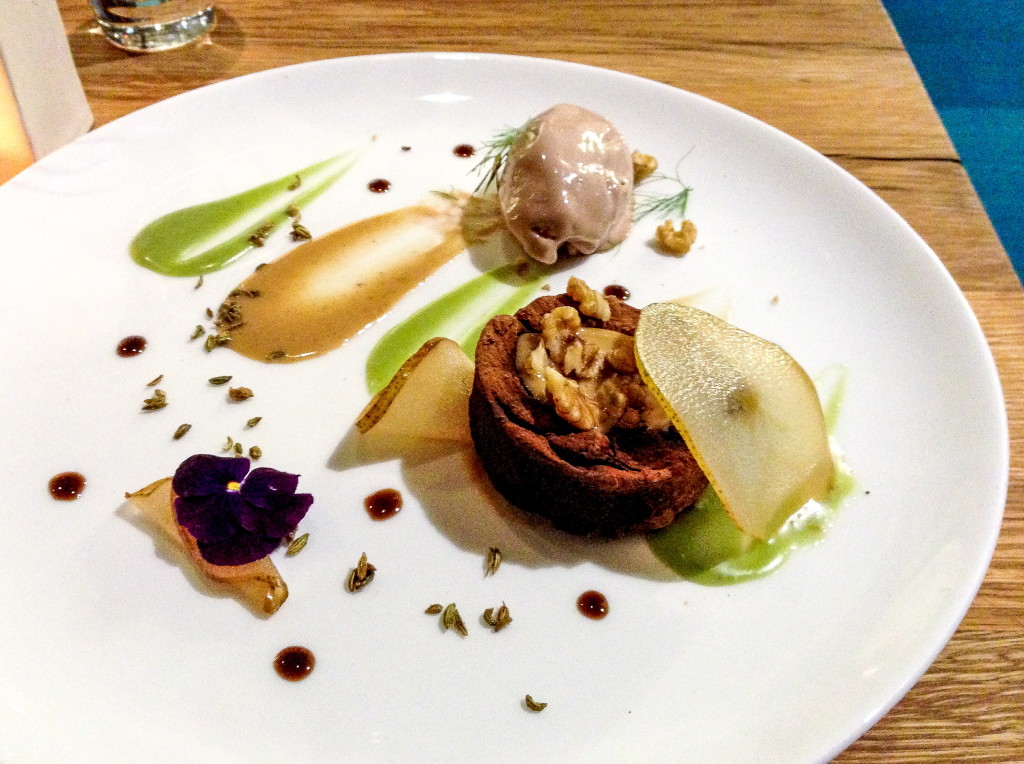 I love, love, LOVE black licorice, so the licorice undertones of this chocolatey cake blew my mind.  The cake itself was terribly moist and fudgy, not to mention insanely delicious, but the licorice pear was what I loved best.  The server was nice enough to ask the chef how it was made and to put it simply, the pear is marinated in a liquid with lots of anise seeds.  Yum.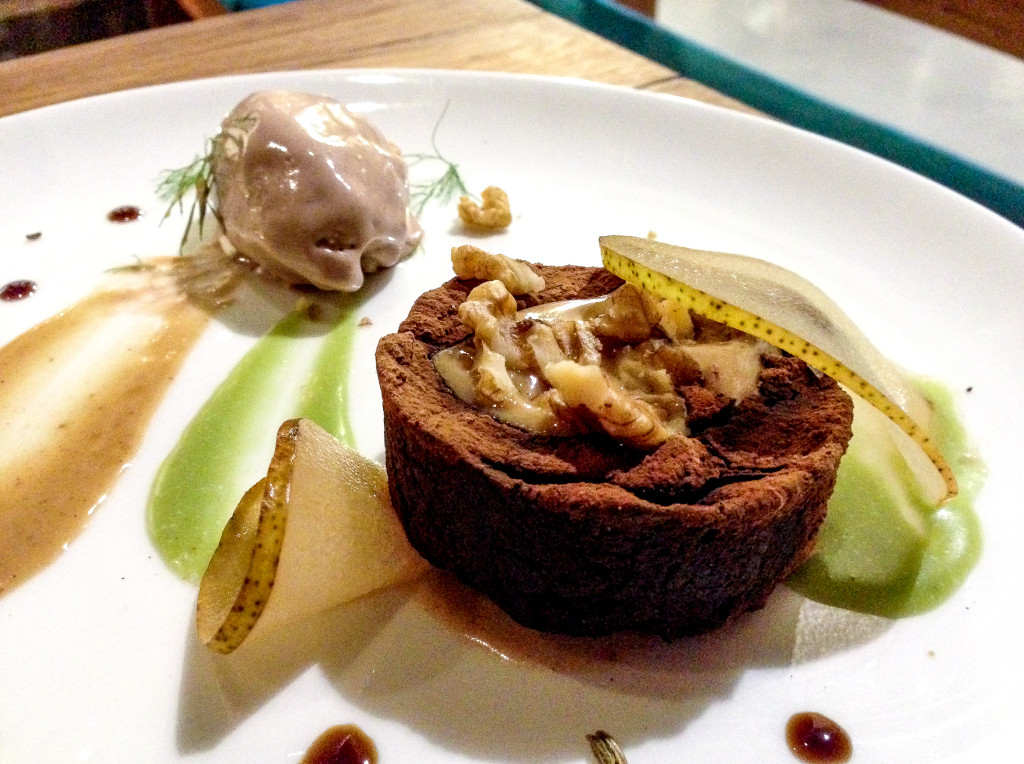 Chris and I have since gone back to M.A.K.E. and enjoyed it just as much as the first time.  This restaurant is a wonderful addition to not only the vegan LA vegan dining scene, but the LA dining scene in general.  If you are in LA, you must make time to check out this fantastic new restaurant.  Thank you, Matthew Kenney, for bringing your talents to Santa Monica.
Photography by Chris Miller