Not too long ago, you had to go to the more eastern end of LA to have an array of vegan options.  Between Silverlake, downtown, and Hollywood, there is a plethora of vegan goodness to explore.  However, more recently, the west side's vegan selection is growing pretty rapidly, especially in Culver City.  Most recently, Shojin, the amazing, all-vegan Japanese restaurant in downtown LA opened it's second location in Culver City- less than 10 minutes from my home!  You can bet that I was counting the days until their opening weekend.
We have been craving vegan sushi ever since we found Beyond Sushi in NYC.  Shojin is a different type of sushi, however- more traditional Japanese and probably a little less healthy, but delicious nonetheless.  Given that I've yet to learn how to make my own, and all other vegan sushi options seem bland in comparison, we welcome Shojin to our neck of the woods with open arms.
We scoped out the location of the new Shojin the day prior, and noticed that it did not have a sign.  A reader later told me that they had a hard time finding it when they went because there was no sign, so I'm glad we did.  When we arrived for our reservation, I was delighted to see that the place was packed!  This location is smaller than the original location, but it's cozy and feels very much like a ma-and-pa sort of restaurant.  We were taken to the back room, where there were large-bulbed christmas lights hanging across the ceiling.  I loved it.
Having been to the original location before, we knew we had to order two of our favorite rolls, but we also wanted to order some items that were new to us.  We were happy to see our favorite stuffed shiitake appetizer on the menu, but we chose to go with the Avocado Tempeh Chips (I don't think this is the exact name, but I can't verify with the Culver CIty menu online).  The avocado and crumbled tempeh is mixed into a creamy, subtly spicy concoction and placed on homemade corn chips.  I could have had a whole bowl of just that mixture.  It is sooo good (though perhaps for $8, it might have been a tad overpriced).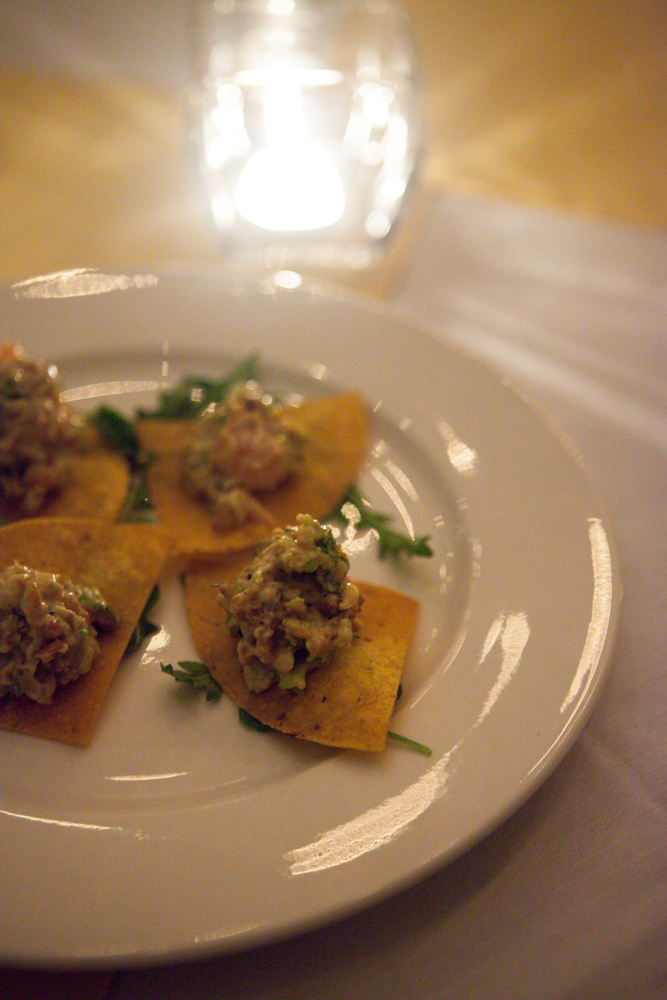 Though there are other items on the menu, we decided to just order rolls and because we had been saving our appetite for dinner, we were hungry.  This called for a total of four rolls.  We started off with the Landscape of Japan, which is filled with braised carrot and burdock root, topped with avocado and served with enoki mushroom sauce.  This one was so tasty and the mushroom sauce is wonderful, though this one was probably are fourth favorite roll.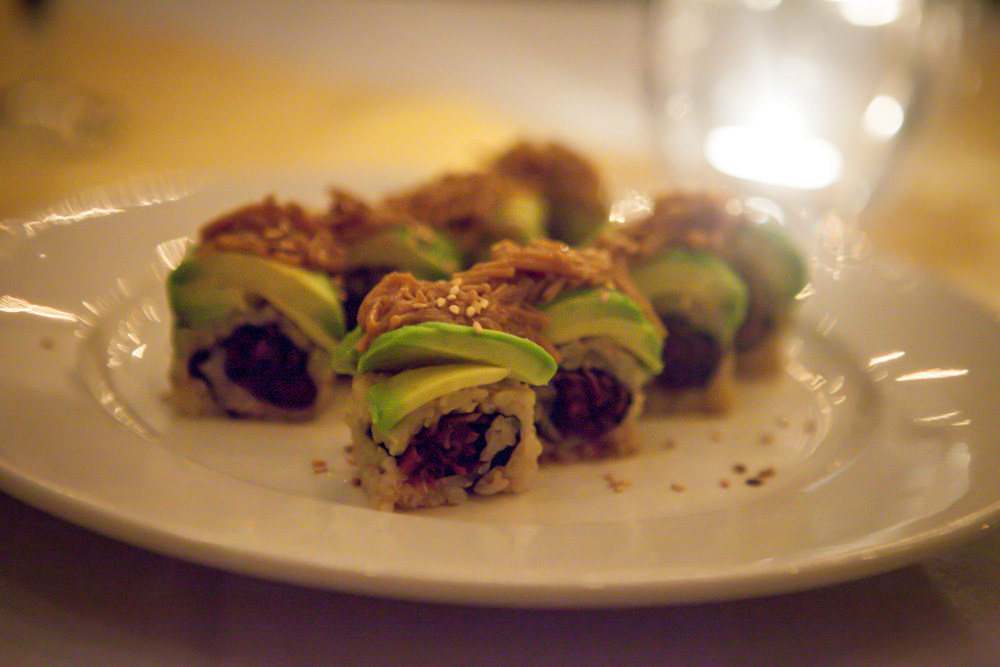 Next up was one of our previous favorites: The Dragon Roll.  This one is filled with shiitake mushrooms and avocado, topped with very thin slices of barbecued seitan and avocado and served with a sweet soy sauce.  This was Chris's favorite, though for me, it was a toss-up between this one and the next roll.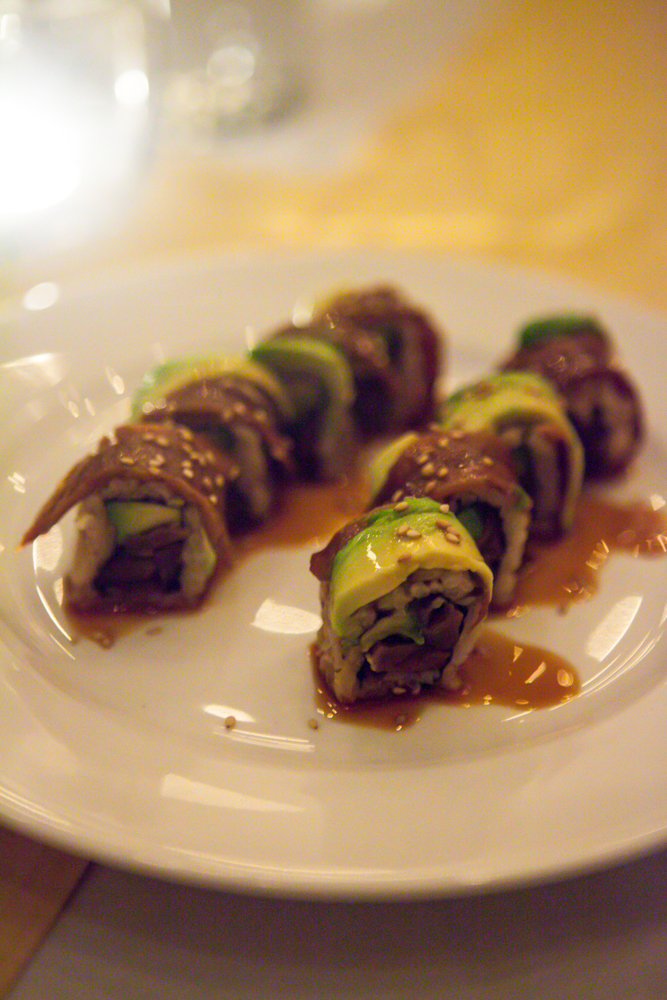 Our third roll was the Dynamite Roll, our other previous favorite.  It is filled with spicy "tuna" and avocado, topped with a spicy mayo with green onions and served with their spicy "Dynamite Sauce."  I don't know what it was about this one, but all of the flavors just rocked my world.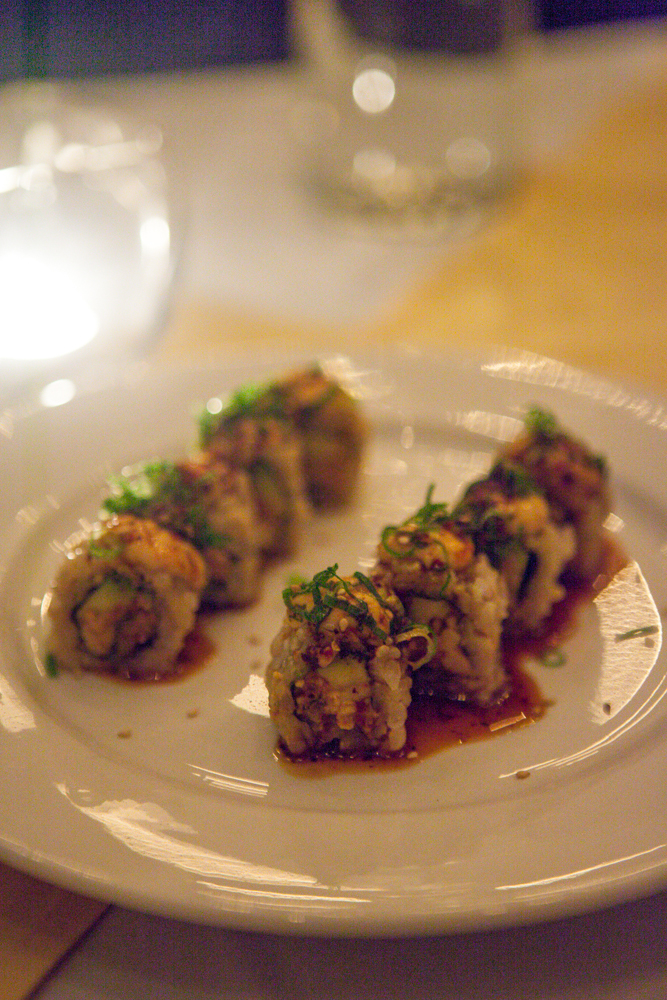 Our last roll, and our third favorite, was the Mother's Soul.  It is filled with green vegetables, topped with shiitake mushrooms and very thinly sliced fried tofu and served with a miso mayonnaise sauce.  The tofu on top was so bizarre yet delicious and the miso mayo sauce was such a great addition to the dish.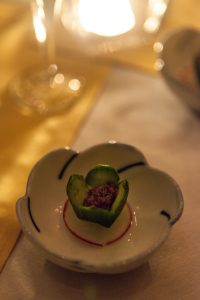 The prices for the new Shojin are a little on the high side, but I imagine the rent is higher on this part of town so I understand.  The service is impeccable- you truly could not ask for kinder, more attentive servers.  They sincerely care about their customers.  They unfold your napkins and place them in your laps and they brought complimentary sparkling wine and an amuse bouch at the beginning of the meal.  All throughout the meal, they are nearby to fill your water glass, take plates away, and ask if you need anything.  At one point, the host came and took a picture of us.  I thought it was for perhaps an opening weekend review sort of thing for Facebook or something, but at the end of the meal, they brought us a little homemade card with our picture inside.  Mind you- it's the worst picture I've ever taken in my entire life (I wasn't even aware that I could smile like that) and I can't look at it without laughing, but I thought it was a very thoughtful gesture on their part.
I am so thankful for Shojin's new home and I know we will be visiting them regularly.  If you're on the west side and craving some vegan sushi, japanese food, or just some great hospitality, stop on by Shojin.  You will not regret it.
Photography by Chris Miller