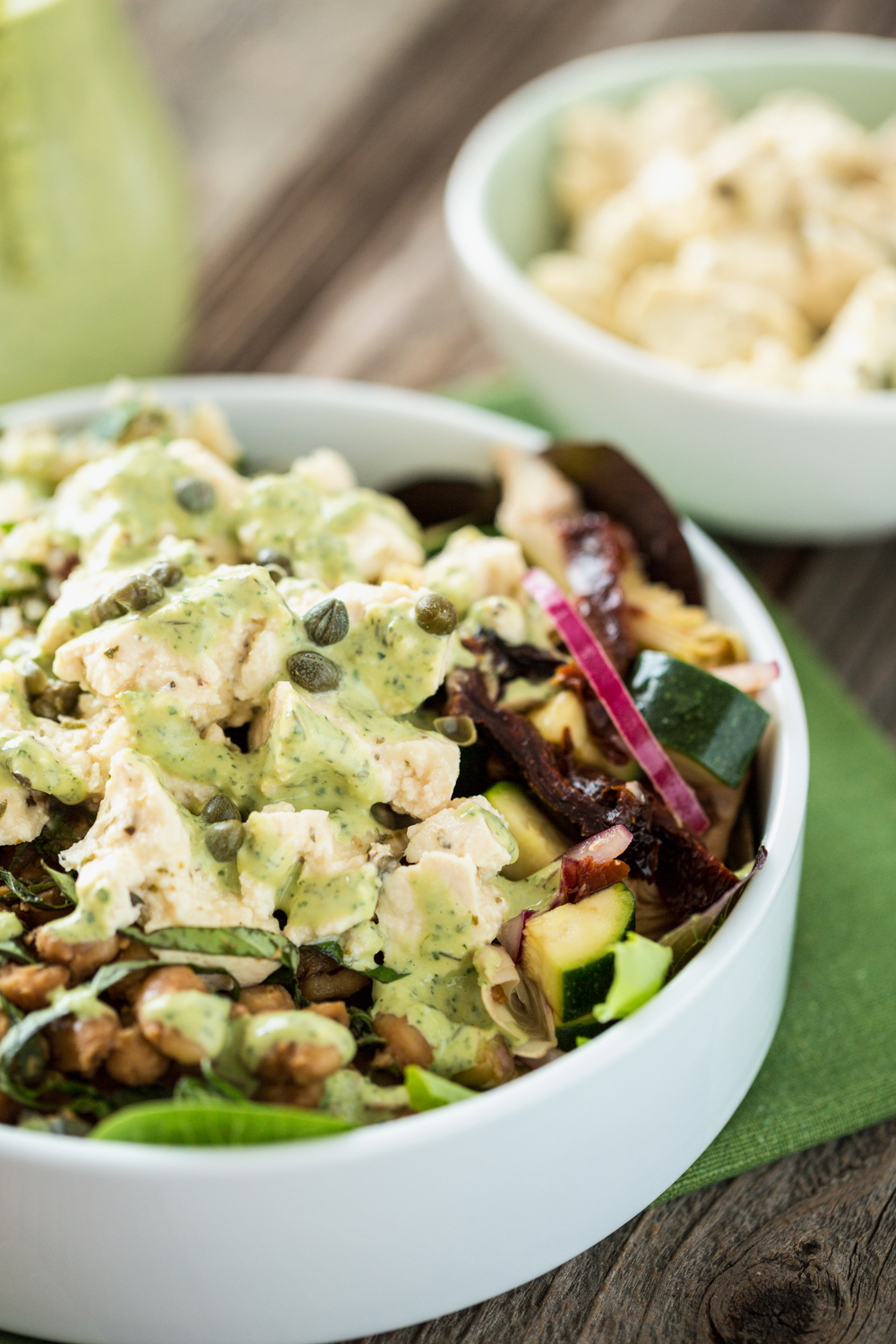 I'm kind of the worst when it comes to using fresh herbs.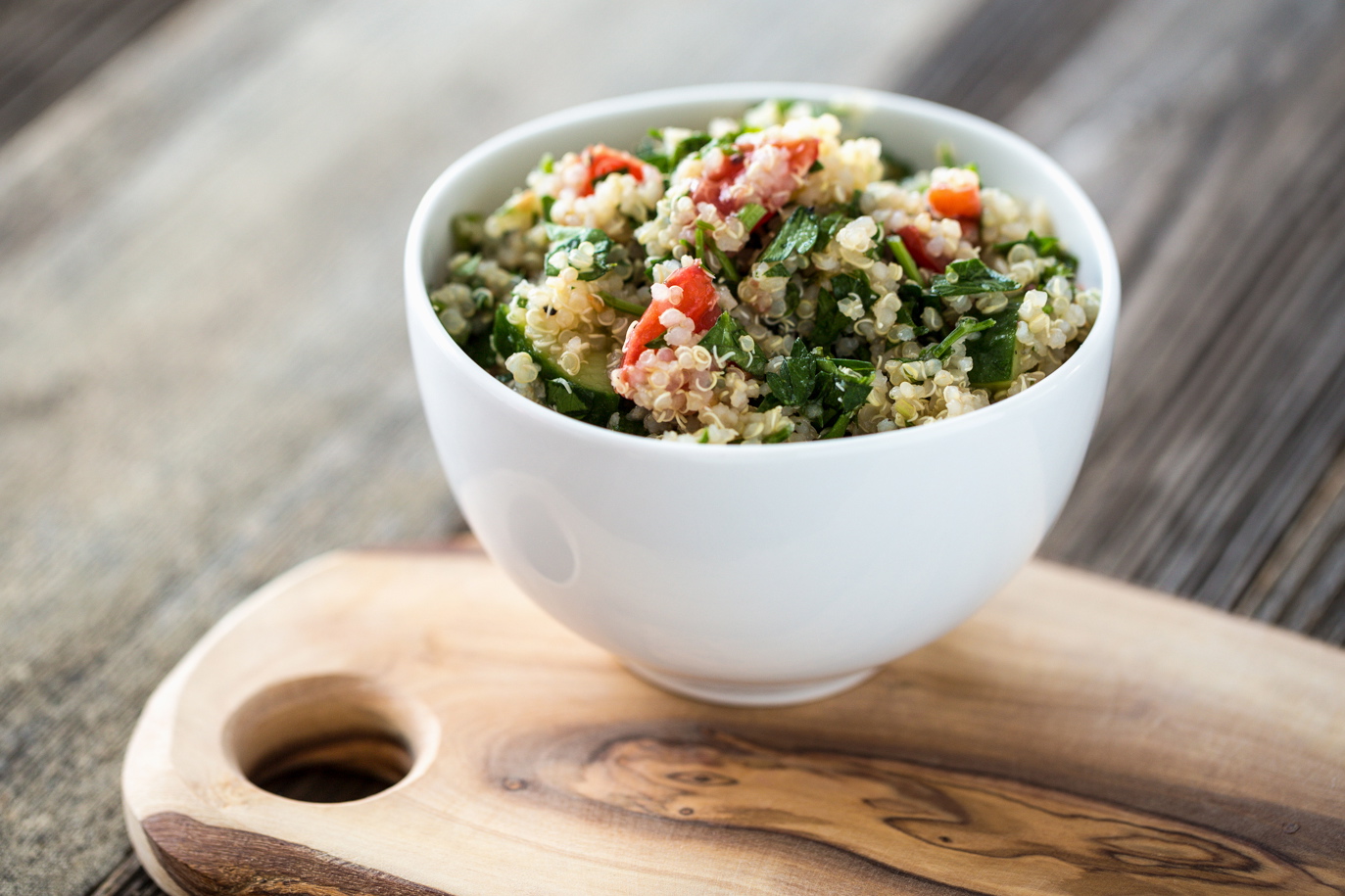 I absolutely love to use them but about 95% of the time, I forget them when I'm at the grocery store, or if I do have them, I forget to use them.  It's not uncommon to find a very sad bunch of once-fragrant cilantro completely wilted and stuck to the side of my crisper drawer.  It breaks my heart every time.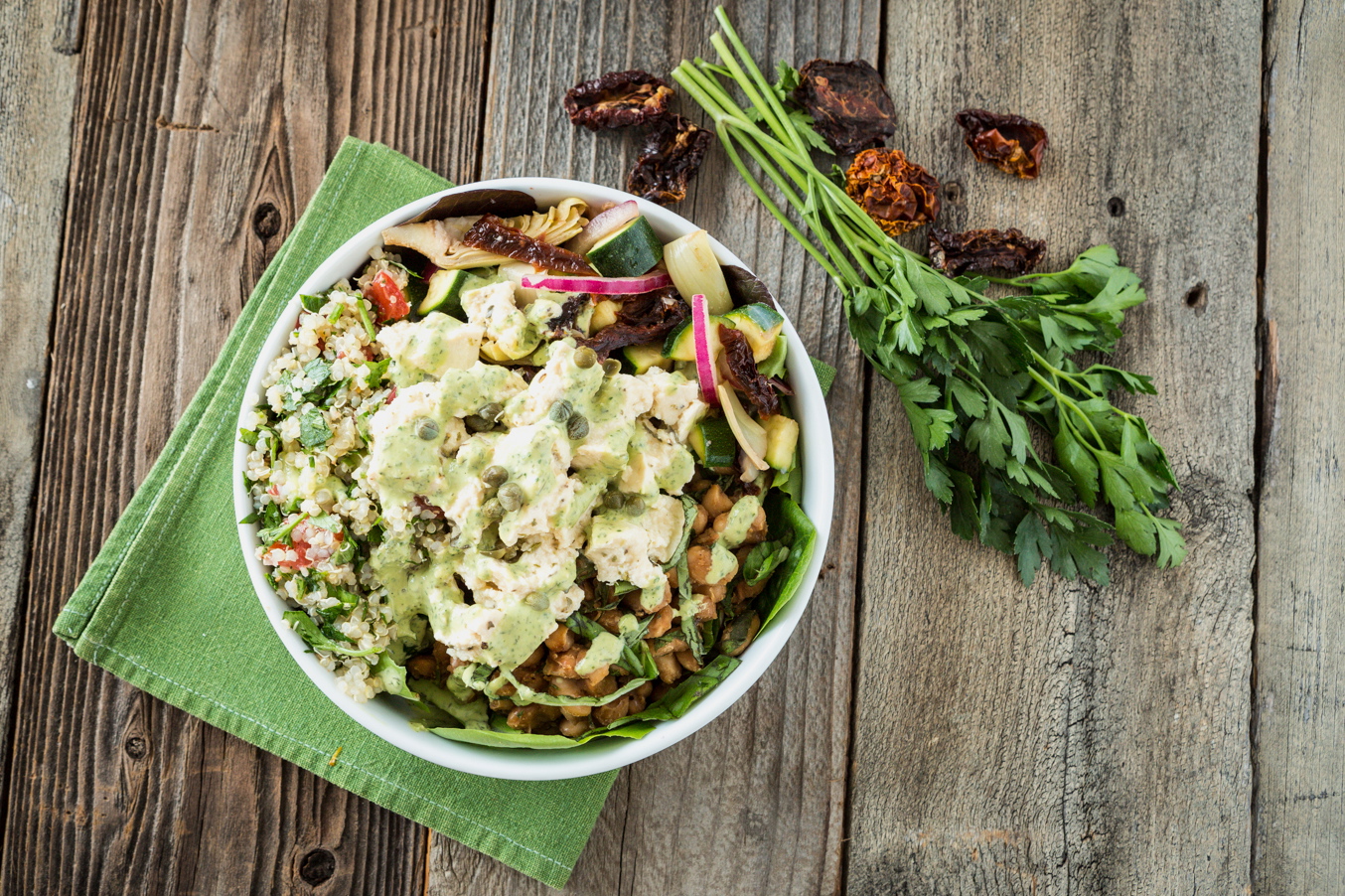 I've been making more and more of an effort to use fresh herbs, especially when my CSA sends me a bunch.  One day, when I found myself with a bunch of parsley from the CSA and a ton of fresh basil leftover from another recipe, I decided to go a little crazy with the fresh herbs.  I even went to the store and bought more- a nice little bunch of fresh mint!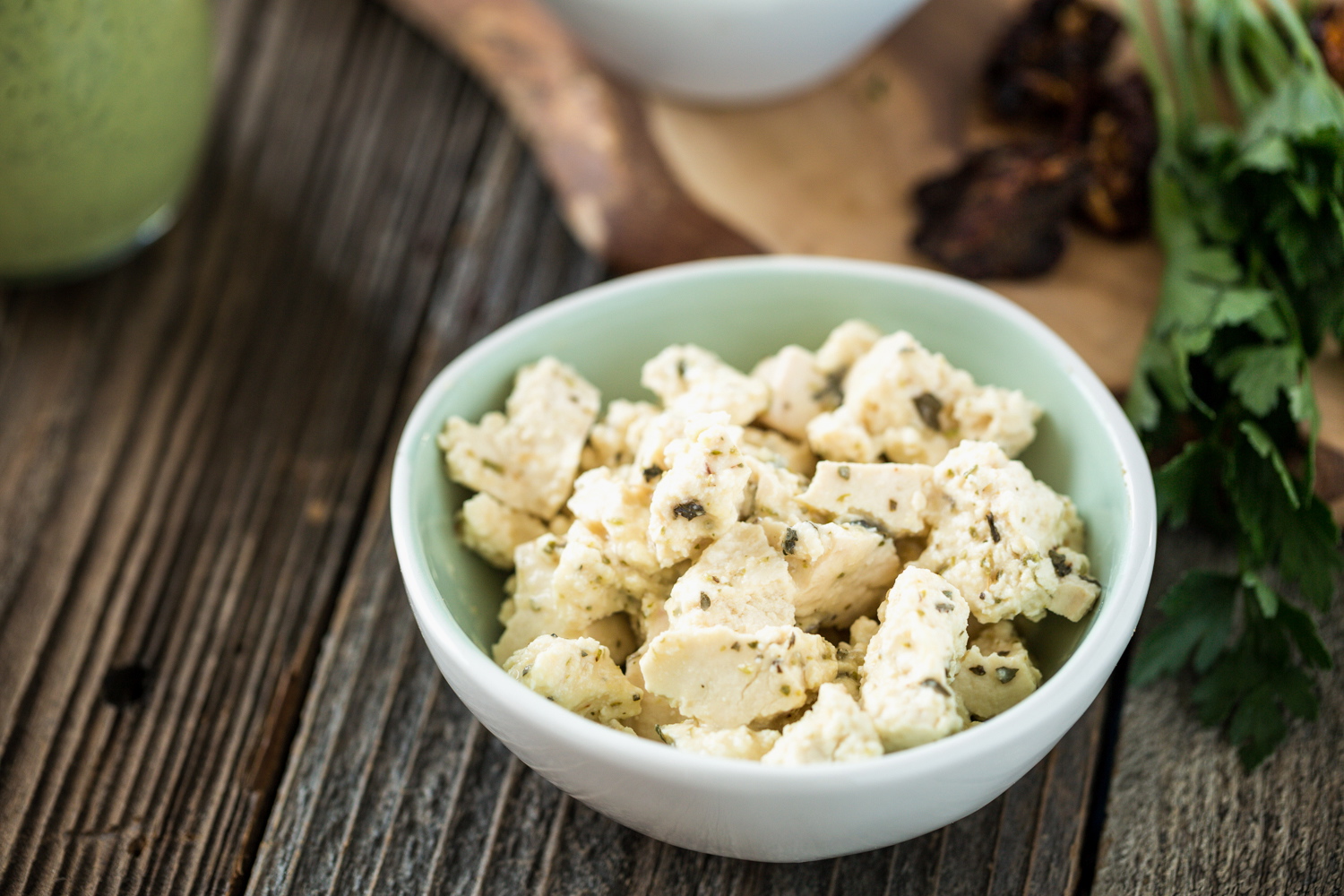 I'd been dying for an opportunity to make my tofu feta again so I decided to go Mediterranean.  As my feta was marinating in the fridge, I dreamt up this Mediterranean Bowl to help use up all of my herbs.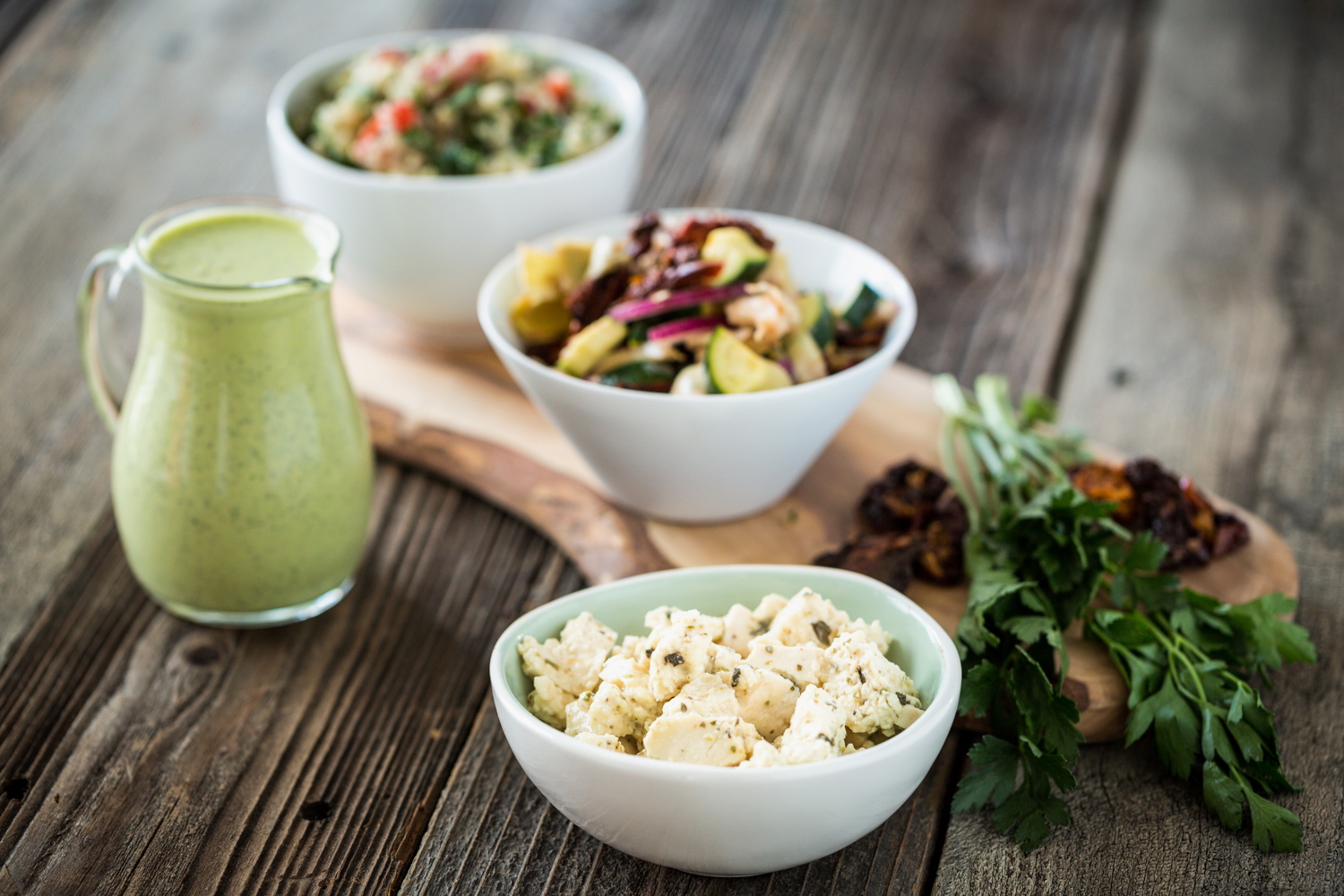 A delicious quinoa tabbouleh used up a large portion of my fresh parsley and most of my mint.  White beans, cooked in tamari and balsamic vinegar and tossed in fresh basil chiffonade lended some super flavorful protein to the bowl.  A quick salad of zucchini, artichoke hearts, and sun-dried tomatoes marinated in white balsamic and red wine vinegars brightened up the dish.  A simple tahini dressing (and probably my most favorite dressing that I've ever come up with) packed full of fresh parsley and basil put this bowl over the top.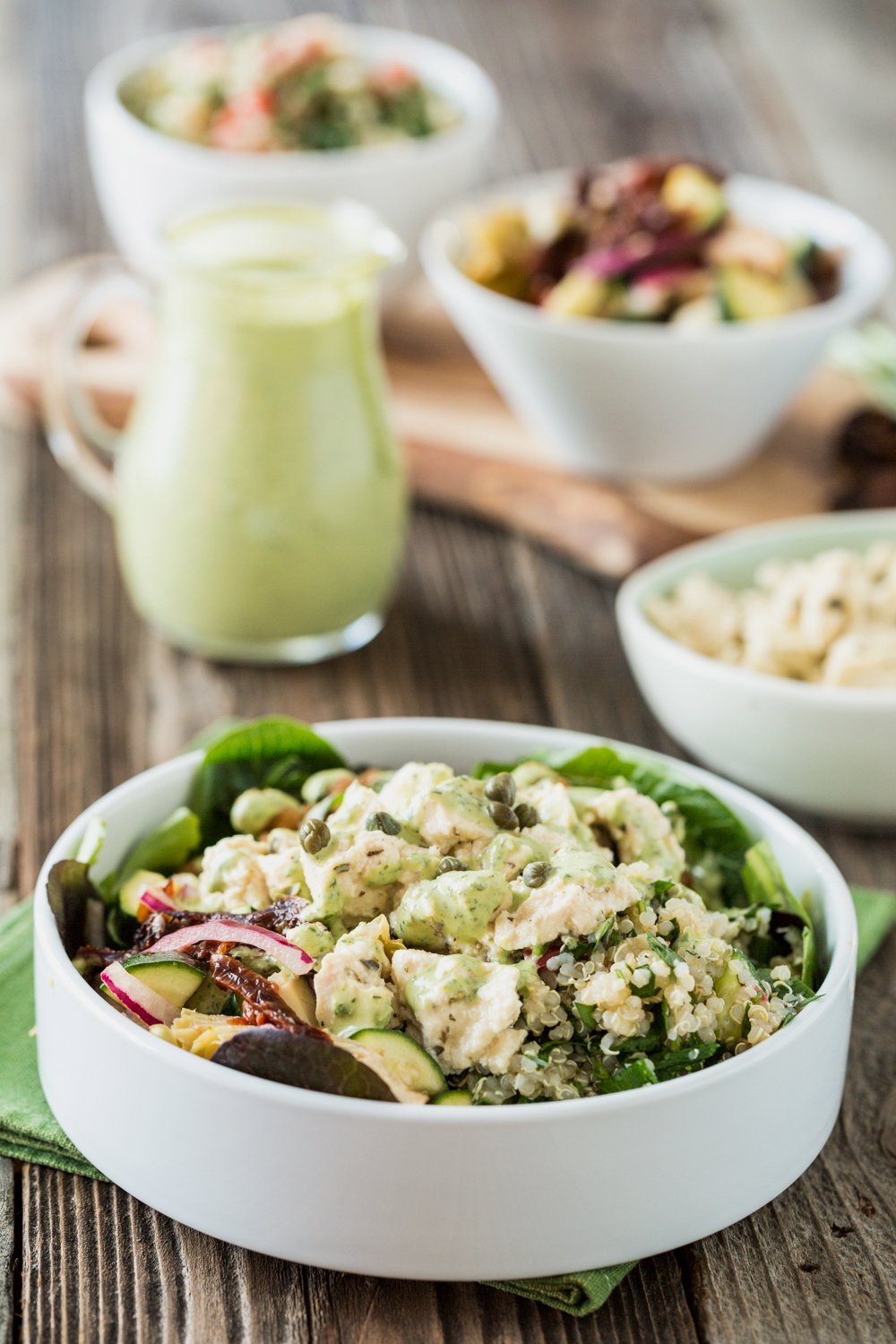 I've been really into bowls these last few months (as you may have guessed from my Mexican Bowl and my BBQ Bowl) but this bowl really just blew Chris and I away.  I wasn't expecting the incredible burst of bright, vibrant flavor in every bite.  I wasn't expecting the complete harmony the combination of these ingredients created.  Fresh herbs truly take your dish up a notch (or nineteen) and this meal was a testament to that fact.  There were leftovers of everything but the beans and the flavors continued to get more and more pronounced every day.  I enjoyed the leftovers mixed together in a pita, drizzled with that magnificent tahini herb dressing or just in a bowl as I had originally.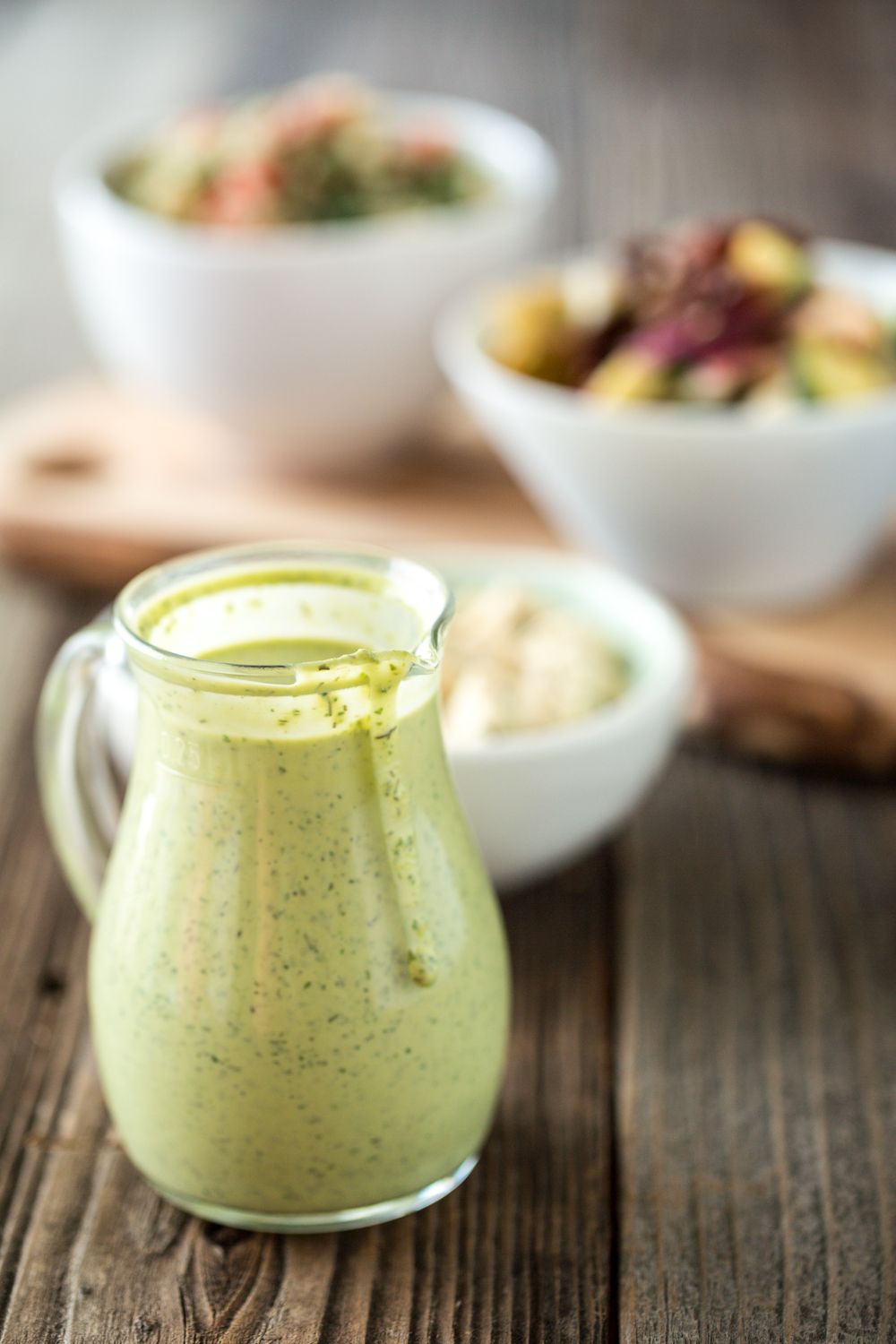 With recipes like this, my refrigerator's crisper drawer will no longer be a graveyard for fresh herbs.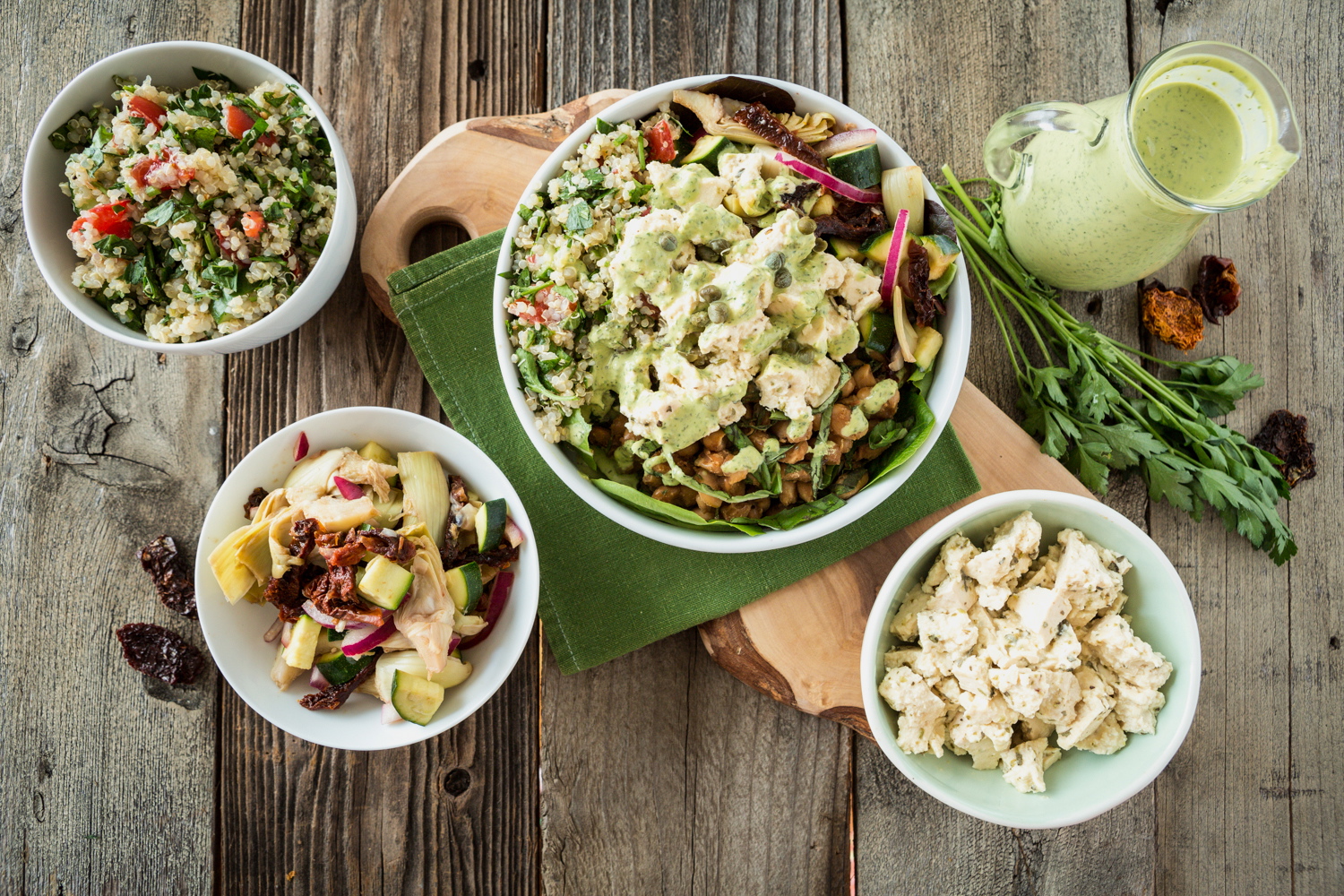 The Mediterranean Bowl with Quinoa Tabbouleh, Tofu Feta & Tahini Herb Dressing
Ingredients
2 cups cooked quinoa
1 cup chopped parsley
1/2 cup chopped mint
3/4 cup chopped tomato
3/4 cup diced cucumber
1/3 cup lemon juice
salt and pepper to taste

for the basil white bean salad

1 1/2 cups cooked great northern or cannelini beans (or 1 15oz. can, rinsed and drained)
1 tablespoon tamari sauce
1/4 cup basil chiffonade
1 cup diced zucchini
1/2 cup sun-dried tomatoes
6 cooked artichoke hearts from a jar, can or frozen, chopped into quarters
1/4 red onion, diced small
3 tablespoons red wine vinegar
3 tablespoons white balsamic vinegar

for the tahini herb dressing

1/2 cup tahini
1/3 cup water
1/3 cup lemon juice
1/3 cup chopped parsley
1/3 cup chopped basil
1/2-1 tablespoon coconut nectar (or agave syrup)
2 teaspoons dried dill
salt to taste
greens of choice
Instructions
Prepare the tofu feta at least 2-3 hours before you plan on serving this dish.
Combine all of the tabbouleh ingredients in a bowl and mix well. Cover and refrigerate until ready to use.
Combine all of the veggie salad ingredients in a bowl and mix well. Cover and refrigerate until ready to use.
Combine the tahini herb dressing ingredients, except for the dill, in the bowl of a food processor and process until smooth. Add in the dill and pulse a few times until incorporated. Transfer to an airtight container and refrigerate until ready to use.
Heat a frying pan over medium heat. Lightly spray with olive oil. Add the beans and cook for a couple minutes, stirring a few times, until they are heated. Add the tamari and cook until the liquid mostly cooks away, stirring as needed to prevent them from sticking. Add the balsamic vinegar and cook until the liquid has cooked away, stirring as needed to prevent the beans from sticking. Remove from heat and toss with basil chiffonade.
Add greens to each of the serving bowls (can serve up to about 4). Add the tabbouleh, veggie salad, and beans. Top with the tofu feta and then drizzle with tahini herb dressing. Serve immediately. Leftovers can be stored in the refrigerator for up to a week. Enjoy!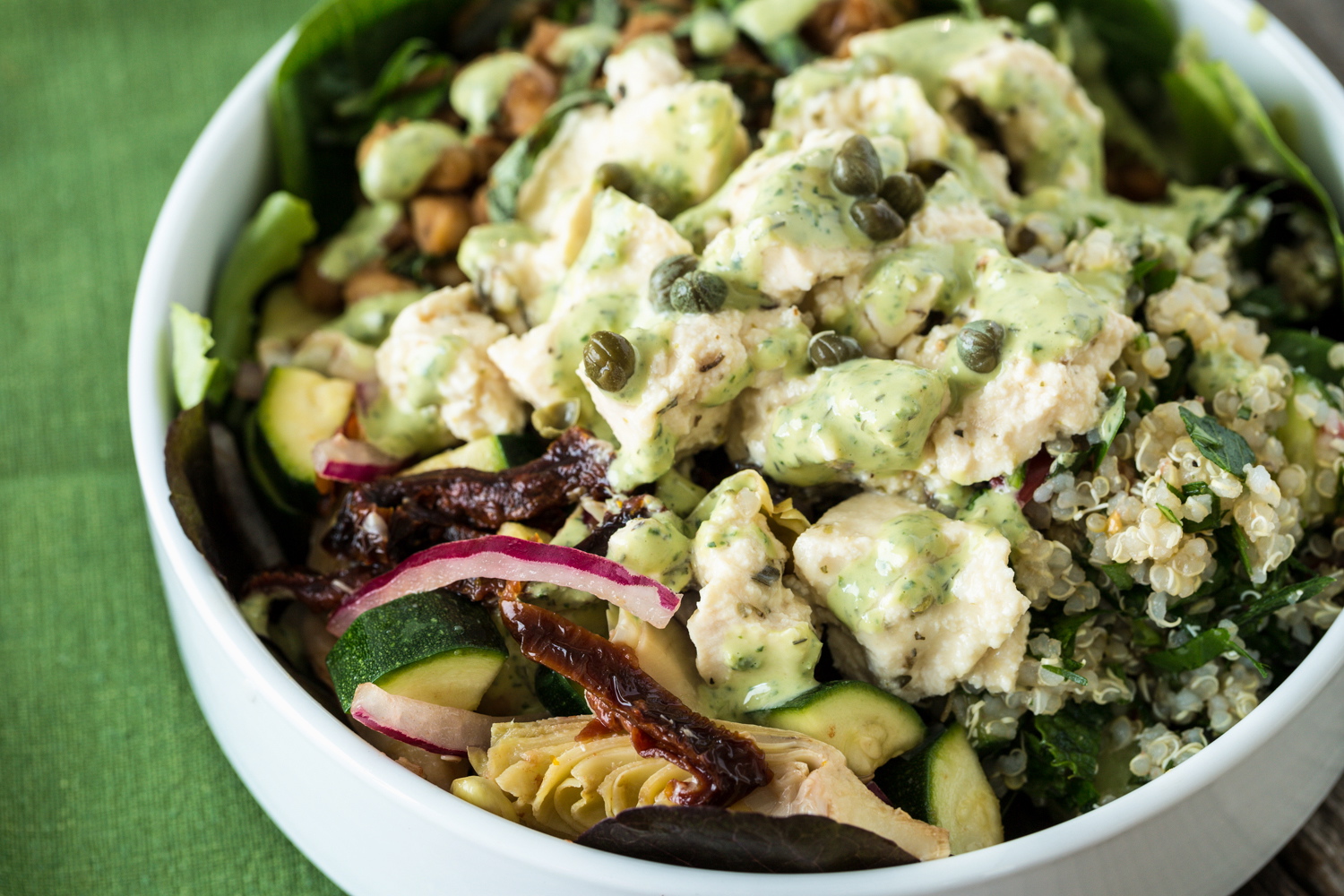 Thank you so much to everyone who participated in the Vega Starter Kit Giveaway!  There were so many entries and some of you even told me about products I haven't tried yet!  The big winner, though, is Emily Adler!  Congratulations, Emily!  
What are your favorite herbs?
 Photography by Chris Miller