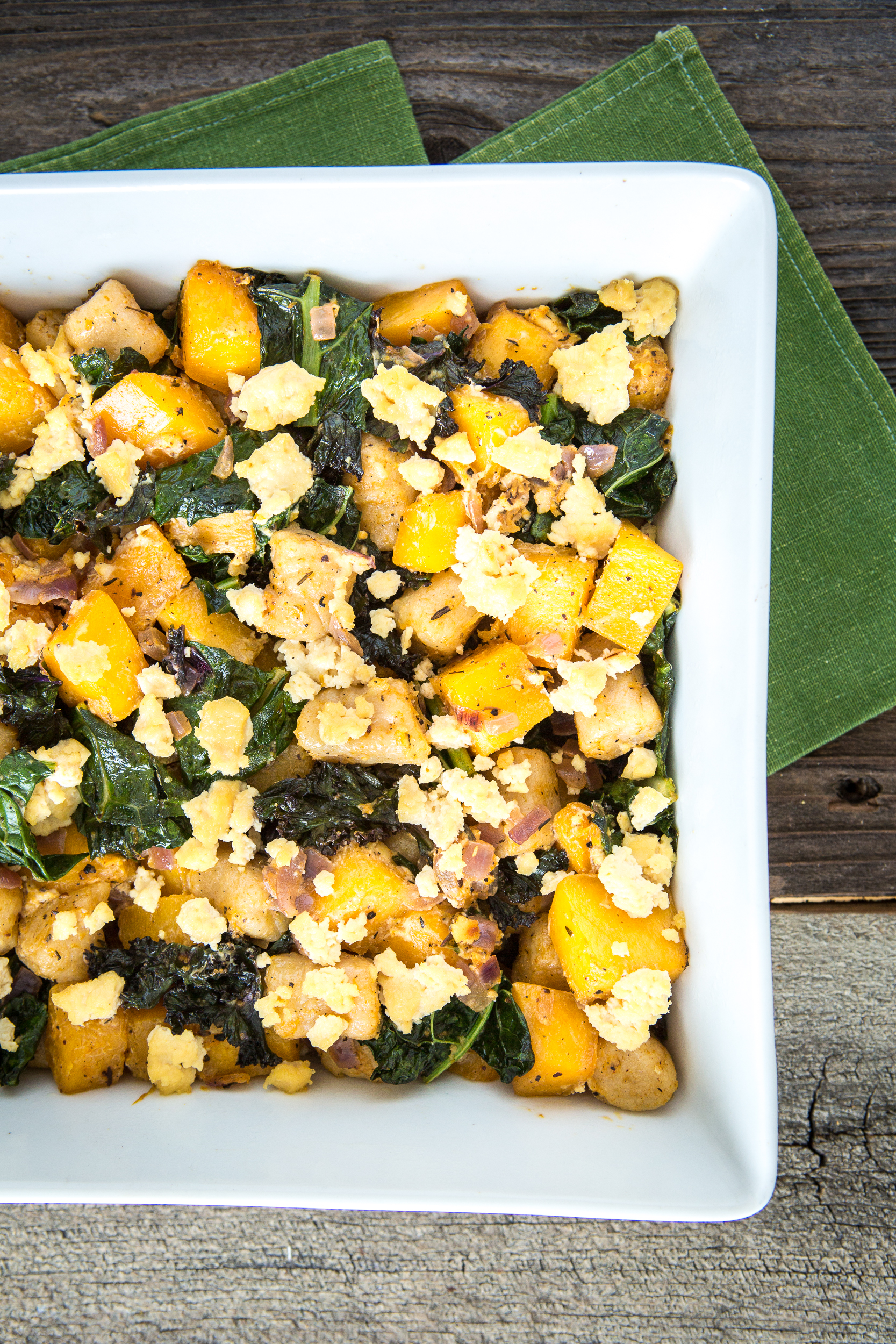 Gnocchi has always been a special kind of comfort food for me.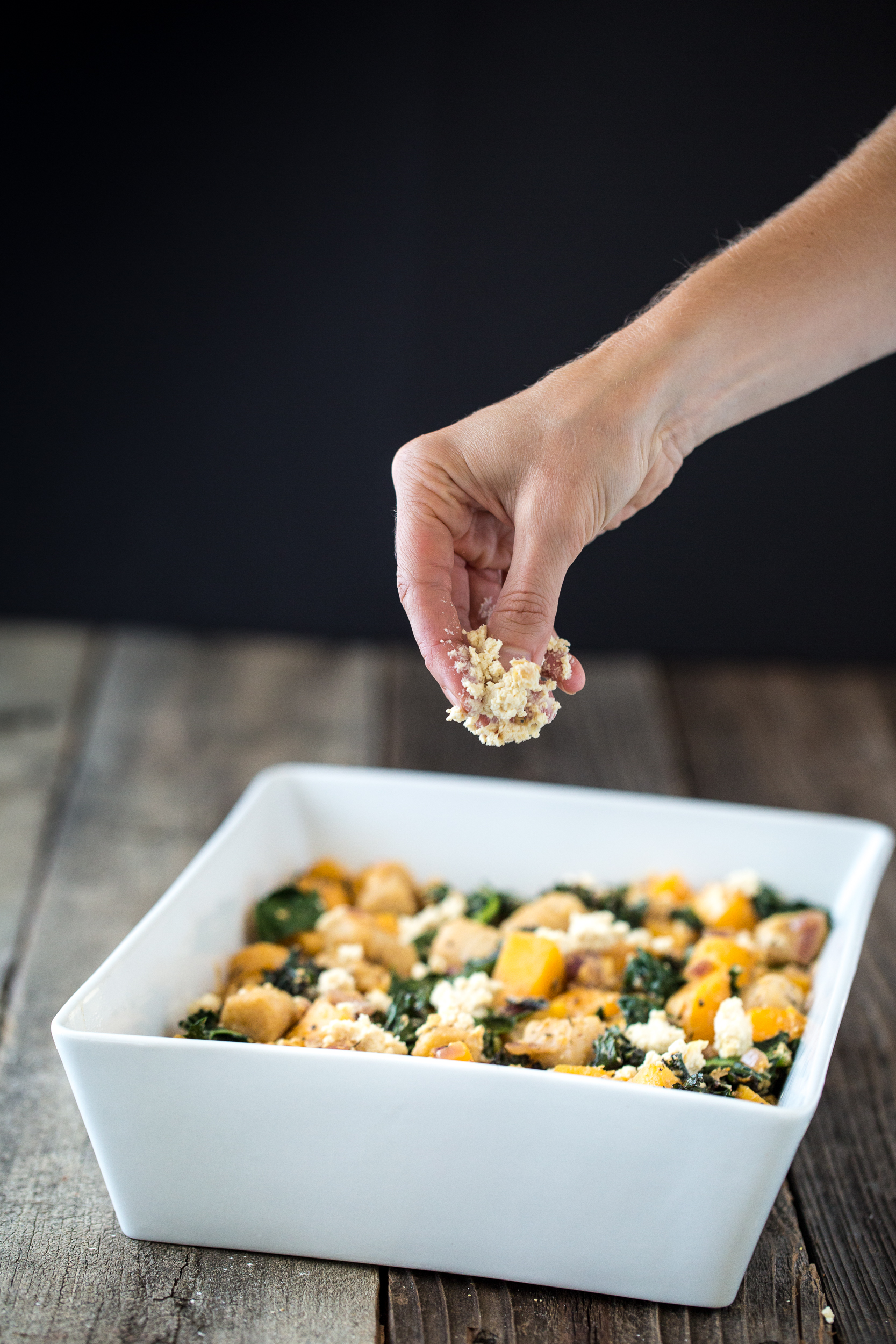 When my previous marriage was failing and I was too scared to admit it, I worked off my anxiety in the kitchen.  My inner Italian grandma came out and I was all about making homemade pizza, pasta, ravioli, and gnocchi.  My favorite to make, though, was the gnocchi.  The simple pattern of rolling the dough into a rope, chopping it into puffy little "pillows" and rolling them off the tines of a fork was soothing for me.  I was able to relax as I watched the gnocchi dance around the bottom of the pot of boiling water until they finally made their way up to the top and began to float.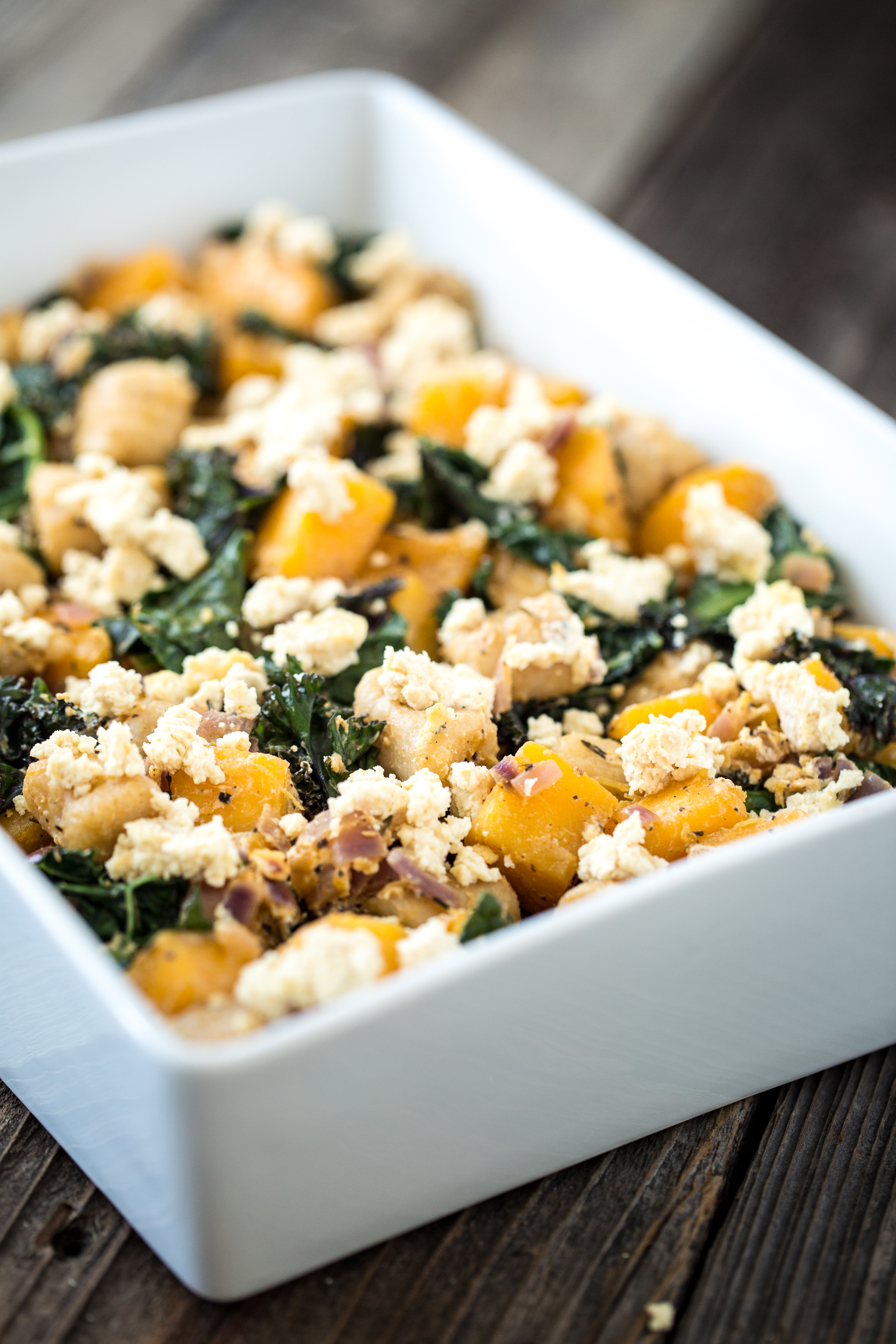 Dousing my homemade potato dumplings in pesto and curling up on the couch to watch reruns of Sex And The City while my ex worked late, was one of my favorite ways to ignore the pangs of loneliness and suspicion.  Those doughy little puffs of potato and flour were capable of making me forget any sort of pain I may had been experiencing.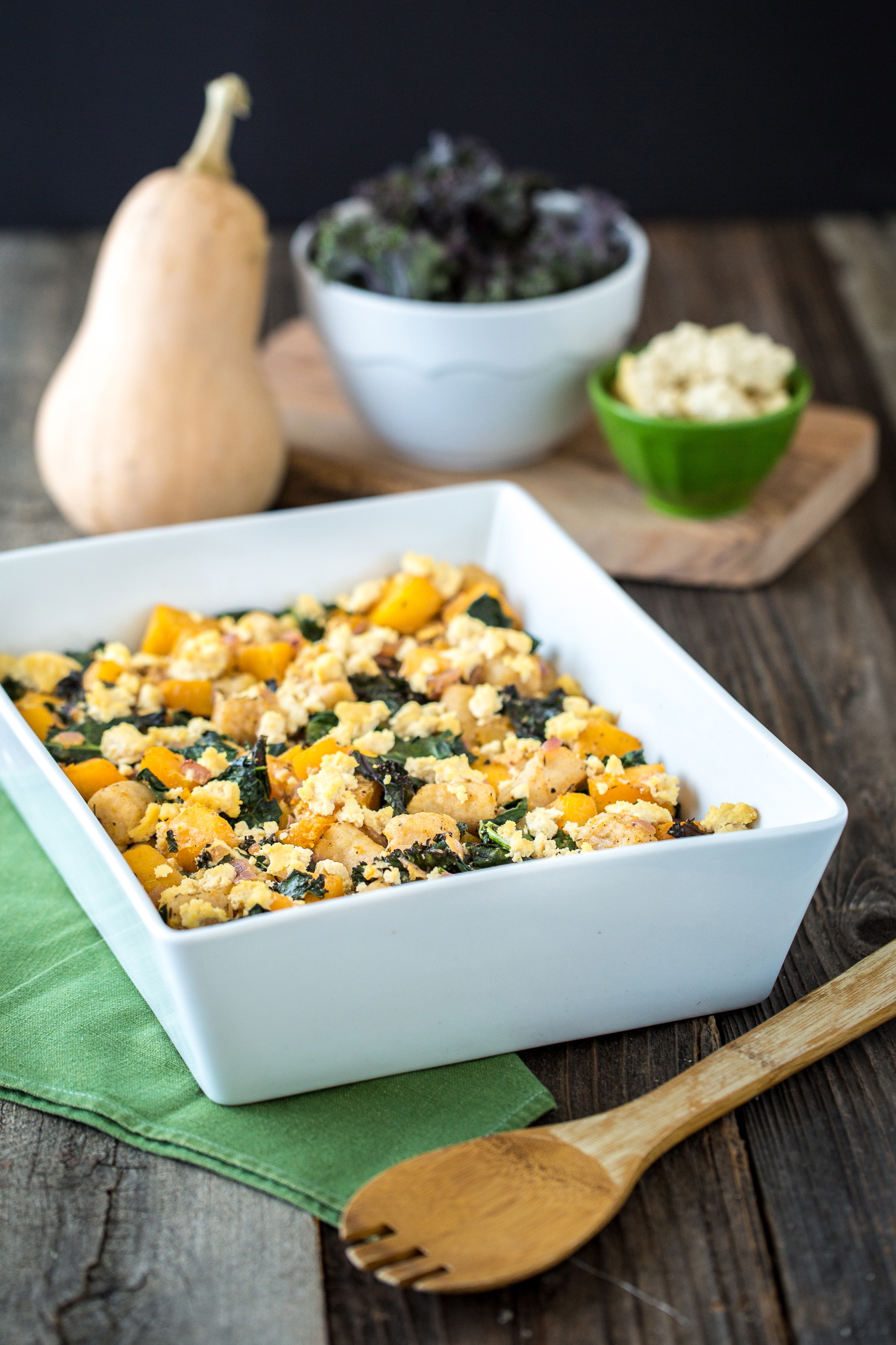 Over a year later, I found myself at a restaurant in Florence with my old roommate and dear friend, Danielle.  We typically did not go out to dinner because neither of us had much money.  We usually chose to stay in for dinner or perhaps go out for apertivo (at many bars, in the evening, you can buy one glass of wine and get access to a full buffet of food for free).  Going out to dinner was a rare treat and was definitely reserved for special occasions.  The occasion this night was bittersweet, though: It was my last night in Florence before coming back to the states.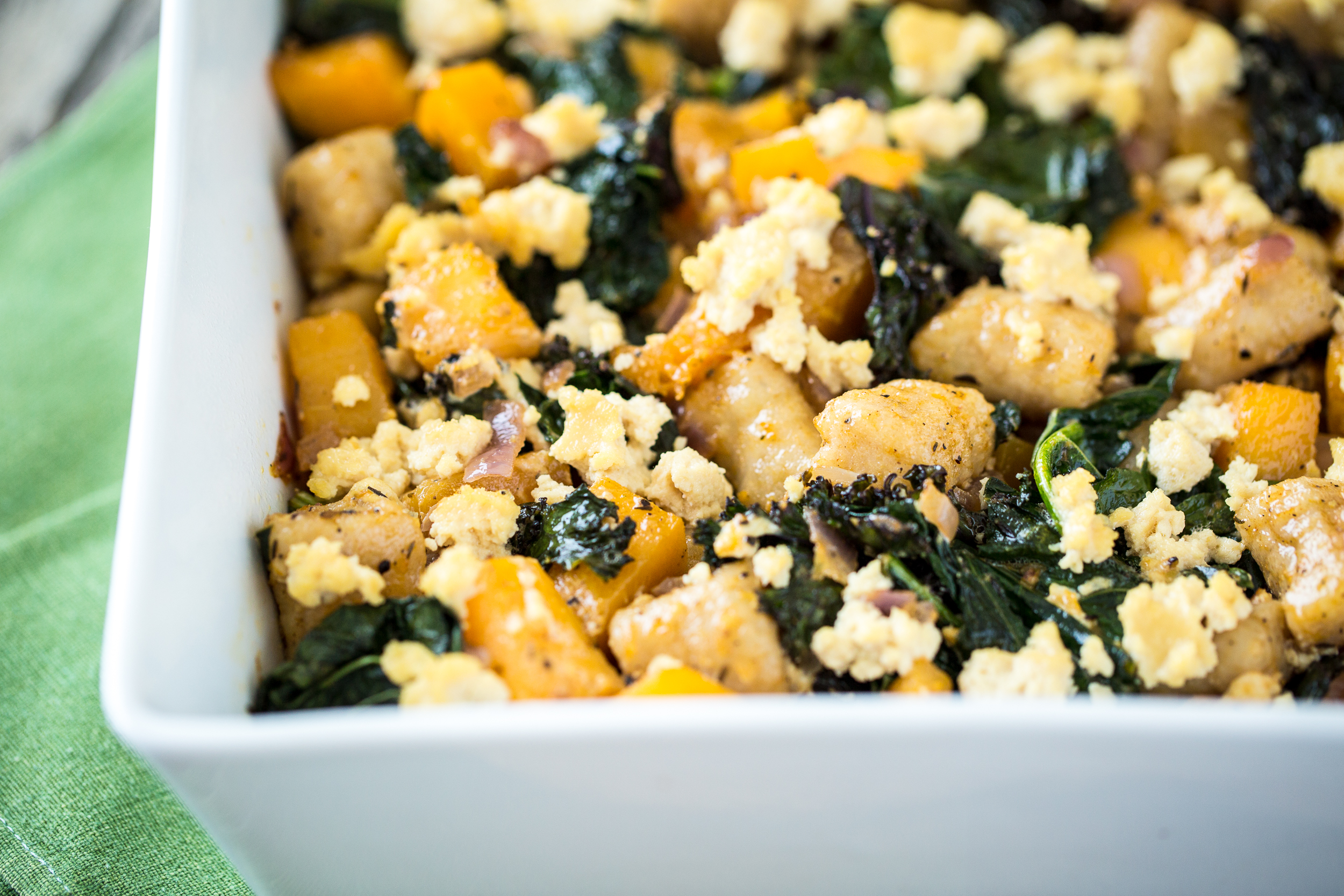 I was so excited to finally be going to this little restaurant in Piazza Santo Spirito- I had walked by it so many times before and admired the warmth and beauty of this little family-owned osteria.  I was also grief-stricken because this would be the last time Danielle and I would be able to talk about life, men, and the little things that happened throughout our days.  It would be the last time I would be able to walk through the streets of Florence and take in all of the little nooks and crannies of this town that I loved.  It would be my last authentic Italian meal for an indefinite period of time.  I was thrilled to be there but I was holding back tears all evening long.  I ordered the gnocchi that night and every doughy bite helped me forget that I had an early train to the airport the next morning. That night was all about celebrating, eating gnocchi and vowing to come back as soon as I could.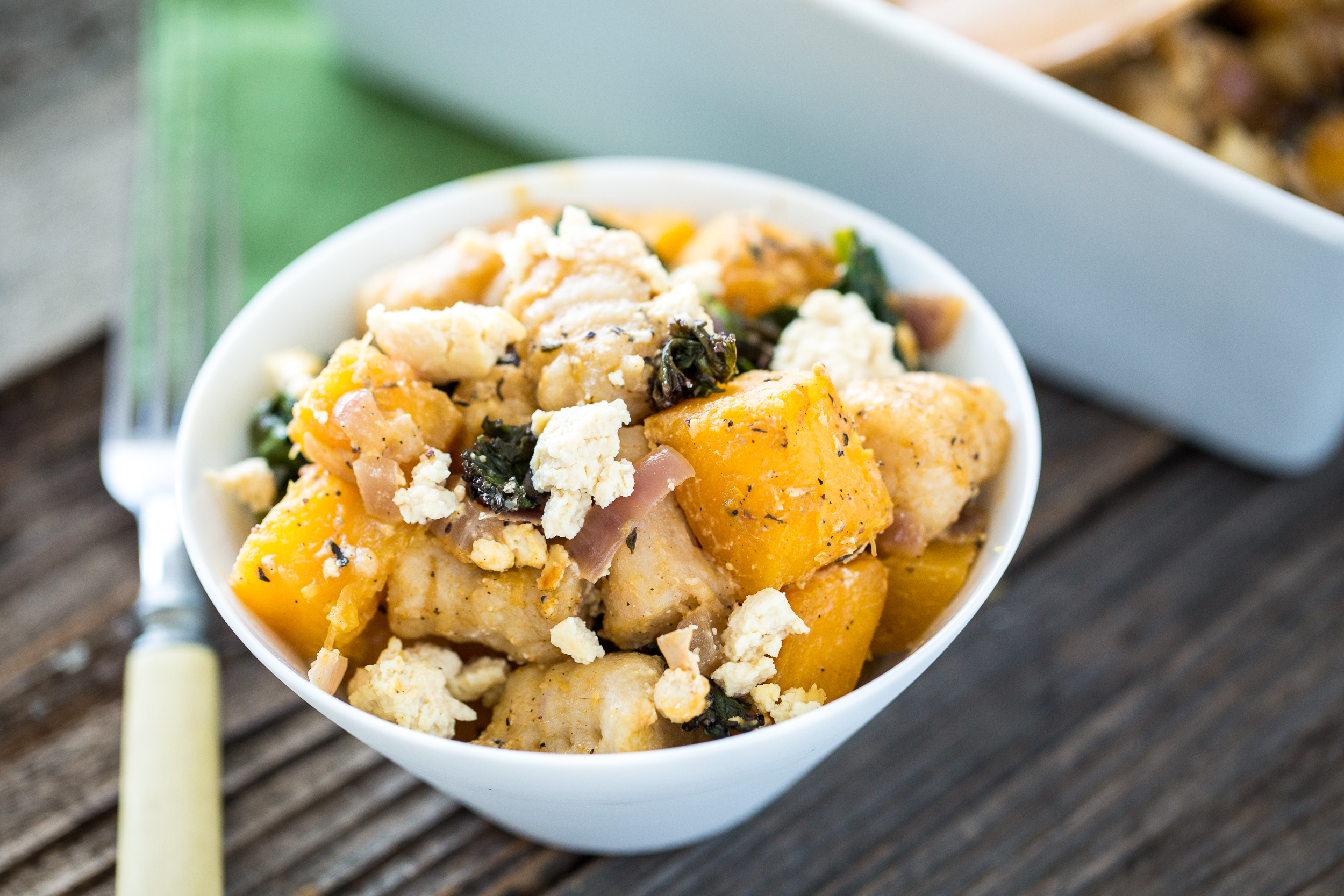 I didn't have gnocchi again until I finally made it back to Florence this last September. Before we flew to Barcelona, I was beginning to feel that familiar homesickness for Florence settling in.  For our last meal in my favorite town, I again ordered the gnocchi.  Again, it proved to be the champion of comfort foods.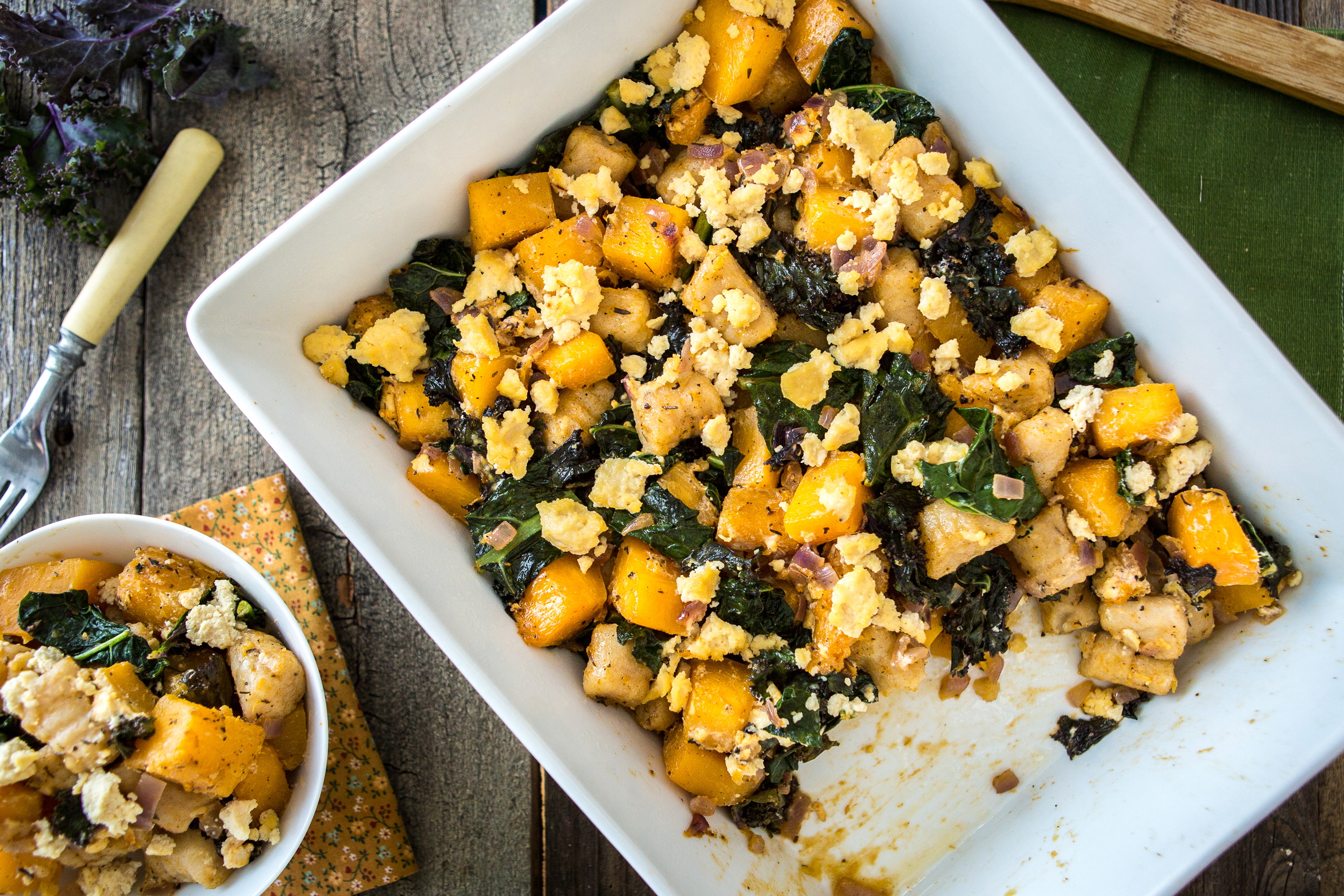 When we returned home, I started making gnocchi again.  It might be the change of the seasons that has me craving heavier comfort foods.  It might be because I'm still homesick for Florence.  It might be because that last bowl I had there was so incredibly perfect.  Whatever the reason, gnocchi is back in my life and I couldn't be happier.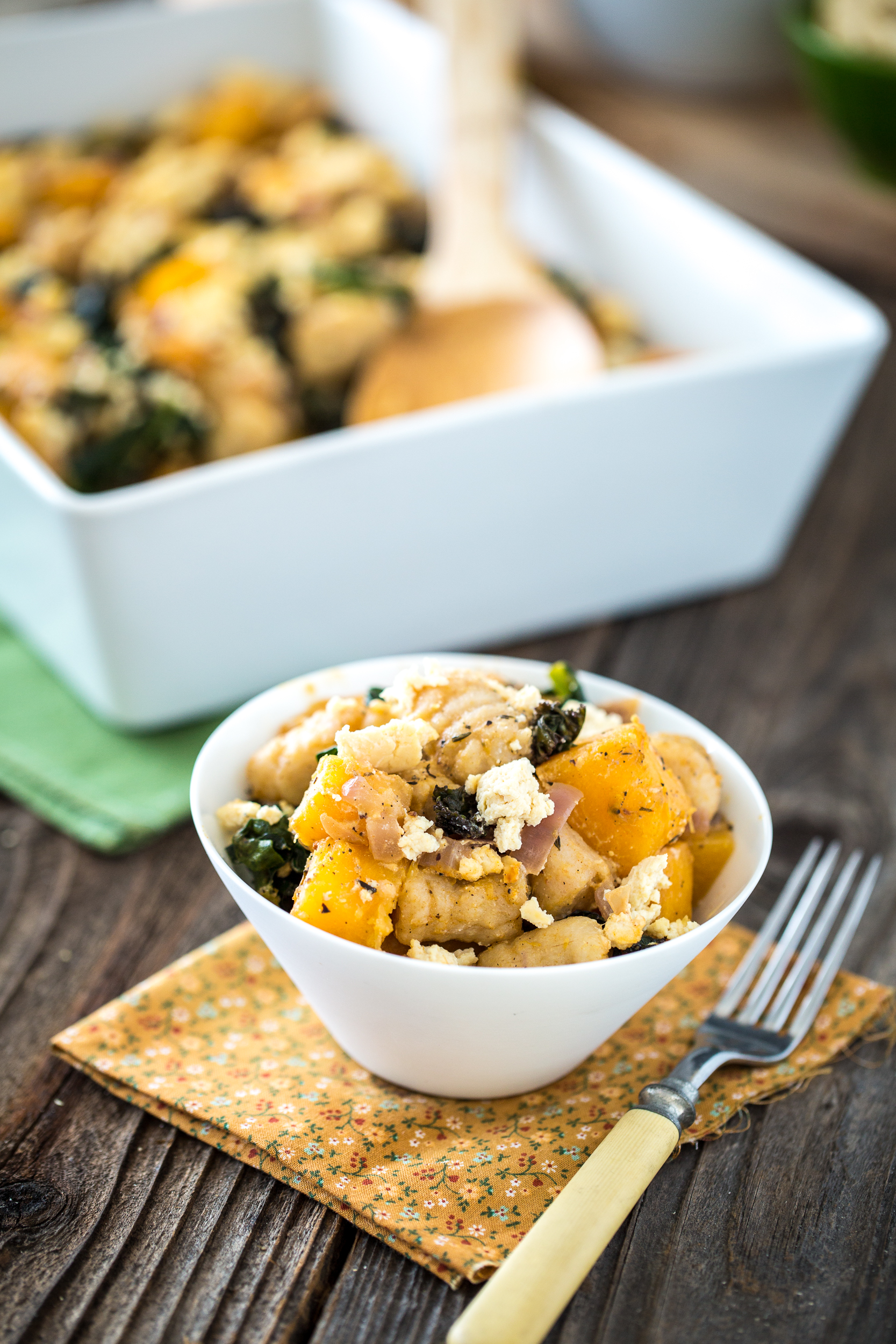 This recipe uses some of the homemade gnocchi I shared with you last week and it combines that gnocchi with butternut squash, kale and tofu chèvre to make a super hearty casserole.  It's a complete one dish meal: protein from the tofu chèvre, starch from the gnocchi and with the squash and kale, you've got your veggies covered!  Not only is it delicious, but it has "Autumn" written all over it.  This gnocchi casserole is perfect for this time of year, whether you need comfort or not.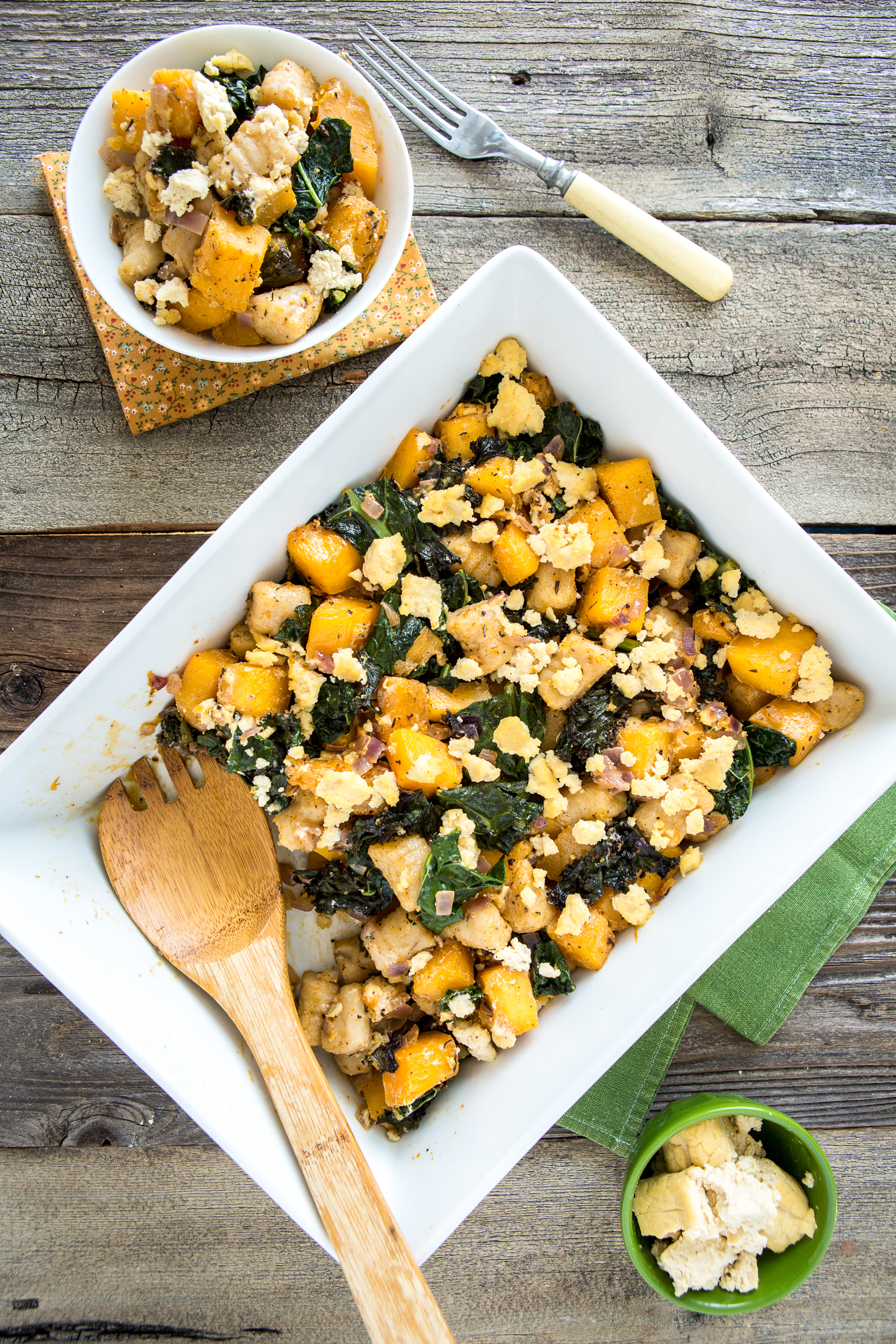 Butternut Squash, Kale, Chèvre & Gnocchi Casserole
Ingredients
1/2 tablespoon olive oil
1/2 red onion, diced
2 cloves garlic, minced
5 cups cubed butternut squash
3/4 cups + 3 tablespoons vegetable broth, divided
1 1/2 teaspoons dried thyme
1 teaspoon dried sage
a few dashes of smoked paprika
a few dashes of nutmeg
salt and pepper to taste
6 cups packed chopped kale, stems removed
3 cups prepared gnocchi (or 1 12oz package of store-bought vegan gnocchi)
1/2 recipe of tofu chèvre
Instructions
Preheat oven to 350. Lightly grease (or spray with olive oil) a 9x13 casserole dish. Set aside.
In a large shallow saucepan, heat the olive oil over medium heat for about one minute. Add the onion and cook for a few minutes, stirring as needed. Add the garlic and cook for a few more minutes, stirring as needed.
Once the onion is translucent, add the butternut squash, 1/4 cup vegetable broth, and the spices. Mix together and cover. Let cook for 3-4 minutes or until liquid has cooked away. Add 1/4 cup more vegetable broth and cover. Let cook for 3-4 more minutes until liquid has cooked away and the squash can easily be pierced with a fork (but it shouldn't be mushy). Add the kale and the remaining 1/4 cup of vegetable broth. Continue to stir in the kale until it just begins to wilt. Remove from heat.
Transfer the mixture to a large bowl. Add the gnocchi. You should have 1/2 a log of tofu chèvre. Cut it in half and crumble one half over the mixture in the bowl. Mix well.
Pour the 3 tablespoons of vegetable broth into the casserole dish, just so it coats the bottom. Pour the casserole mixture into the dish and spread out evenly. Crumble the remaining tofu chèvre over the casserole. Cover with aluminum foil and bake in the oven for 15 minutes. Remove the foil and bake for 5 more minutes. Serve immediately. Enjoy!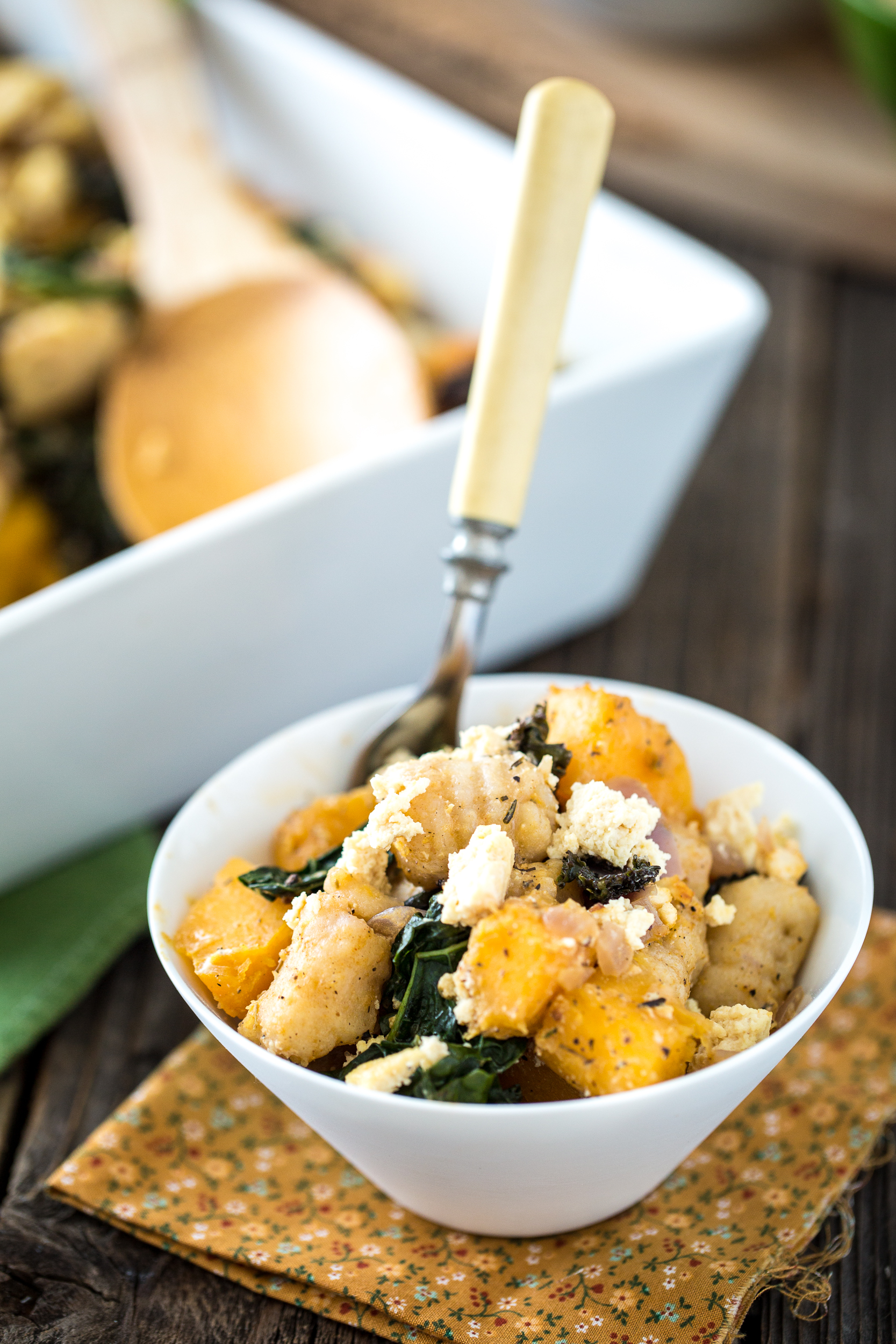 What's your go-to pick-me-up meal?
Photography by Chris Miller